Shrimp Po' Boy Pizza is where the Cajun classic sub sandwich meets pizza, and the result is epic good. Shrimp, veggies, cheese, and all topped with a creamy Remoulade for a crazy tasty gourmet Shrimp Po' Boy Pizza pizza unlike any you have ever had. Oh, and it is easy to make too. So make this one guys. Make. This. One.
All the feels with this Shrimp Po' Boy Pizza. Holy is this so good. Like Oh-emmmm this is delicious. It is like, no one ingredient is a standout, instead they all work together so perfectly.
Oh AND I complained in my last two posts about my recent kitchen fails here and here, …well got my mojo back with this recipe. Figures it would take a pizza to snap me out of my funk.
But pizza rocks like that, so I'm kinda not surprised. I may have teared up just eating it. Or pee'd a little. One or the other. ?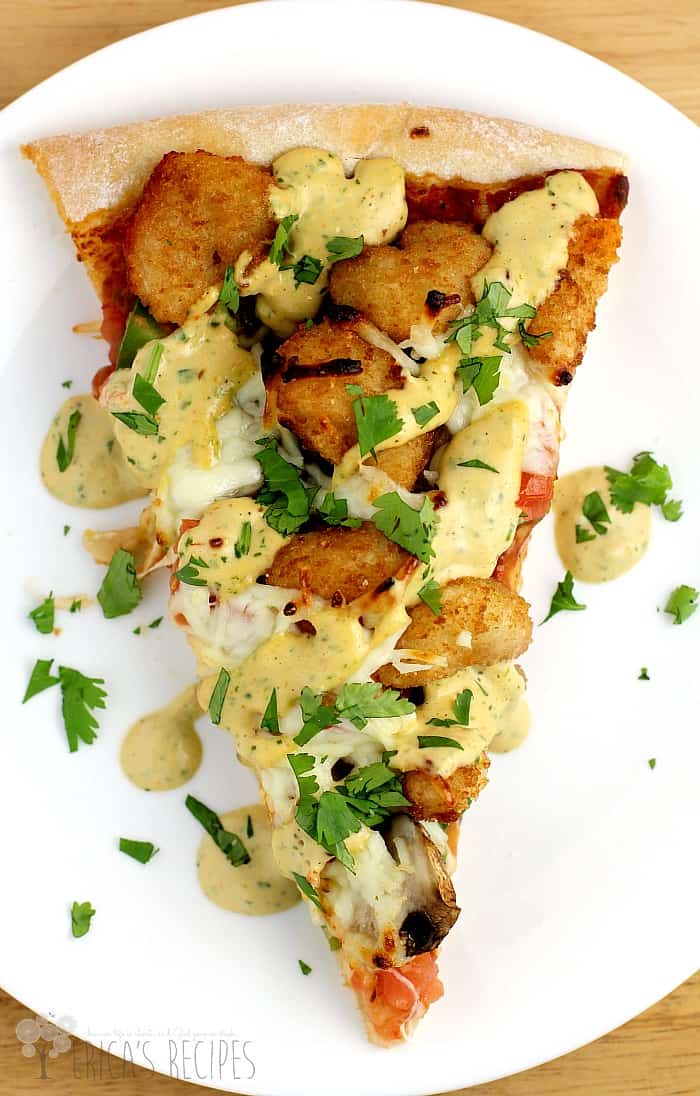 So what we have going on here in this delicious pizzzah is first the dough, of course. In the recipe, I have a link to my dough if you need one, or a lot of grocery stores sell fresh pizza dough in the bakery section anymore.
I may – just maybe – have cut that corner and bought dough for these photos. Maybe. ?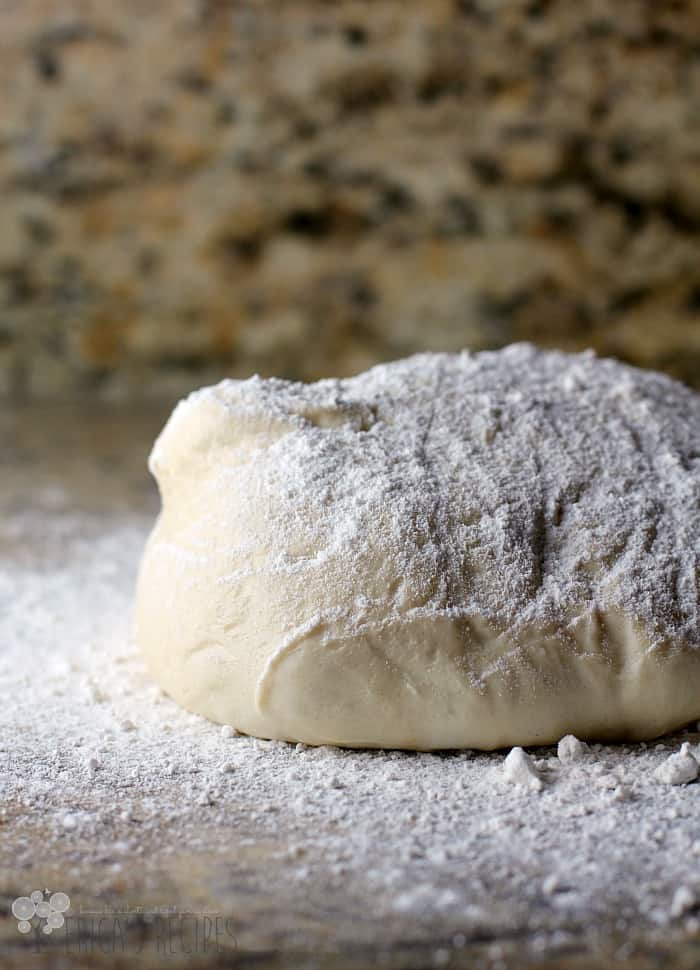 Then we have some pizza sauce.
I have a link to my homemade recipe below too, which I did use here, because seriously, homemade is soo much better.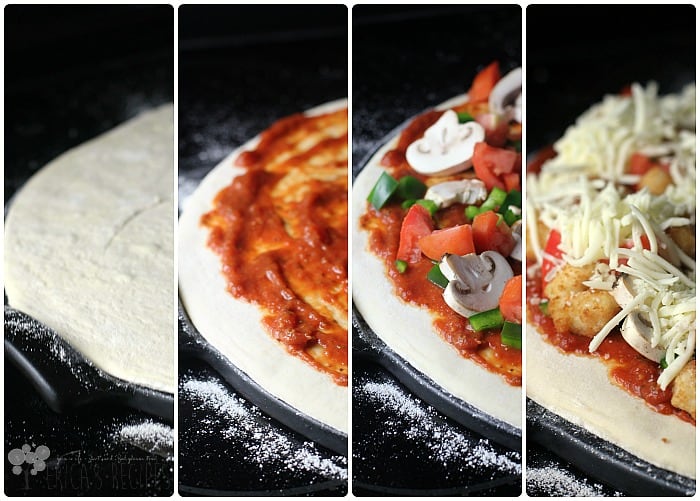 Then a couple easy veggies – bell pepper, tomato, mushrooms – pizza quintessentials – then shrimp and cheese.
If you have followed my site for any length of time, then you already know that I eat seafood like most women eat chocolate. Like, most days.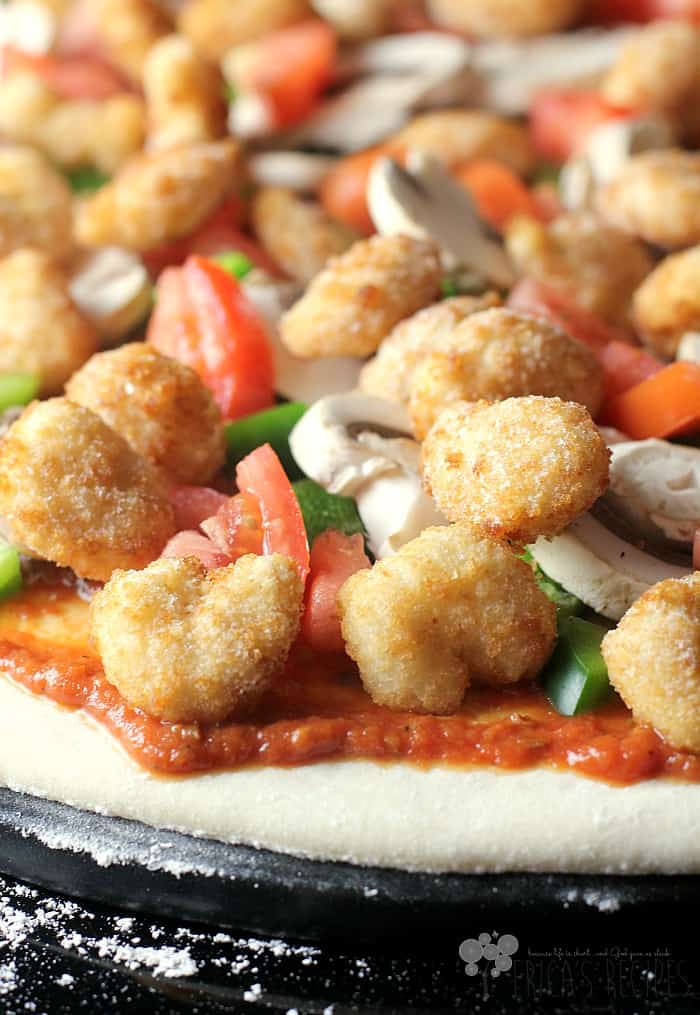 You may also know that in my rabid pizza addiction I have put shrimp on pizza, such as Four Cheese Shrimp Scampi Pizza and Cajun Pizza with Andouille and Shrimp.
Shrimp is excellent on pizza. So when the opportunity came up to work with SeaPak® and I started thinkingggg …fried shrimp, where do I love fried shrimp?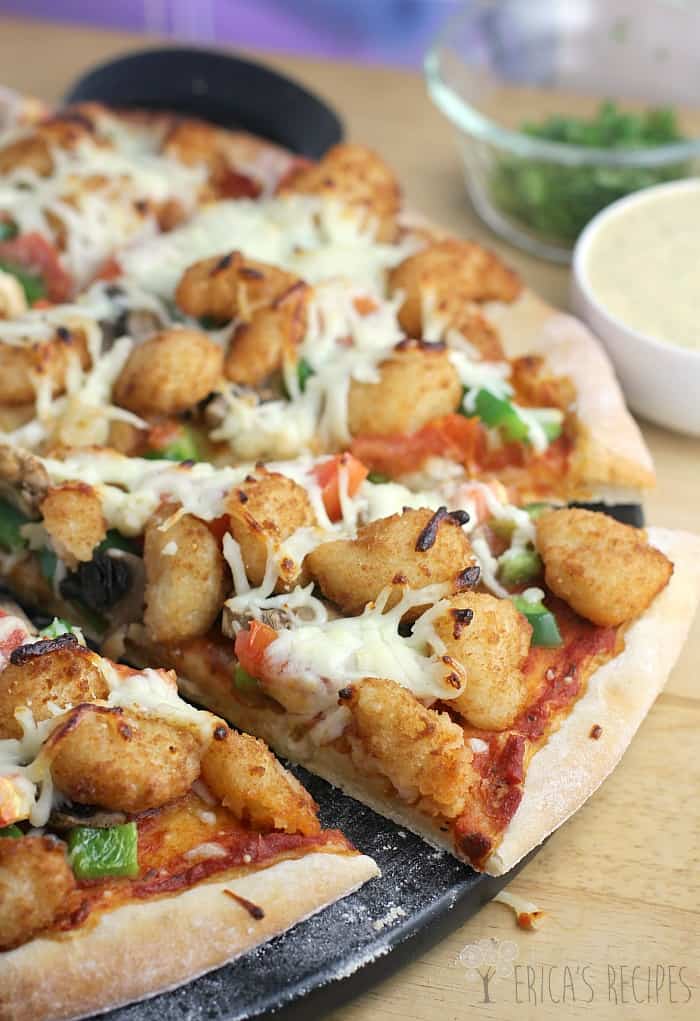 Hubs and I went out for lunch at a local seafood restaurant and I had a Po' Boy.
Neurons fired and BAM – Shrimp Po' Boy Pizza. Clearly.
..Now, you may not think to look for seafood at Walmart – I generally don't either, but am I going to peel, devein, bread, and fry shrimp for a pizza topping?
GAH of course not. I am going to buy that shrimp ?.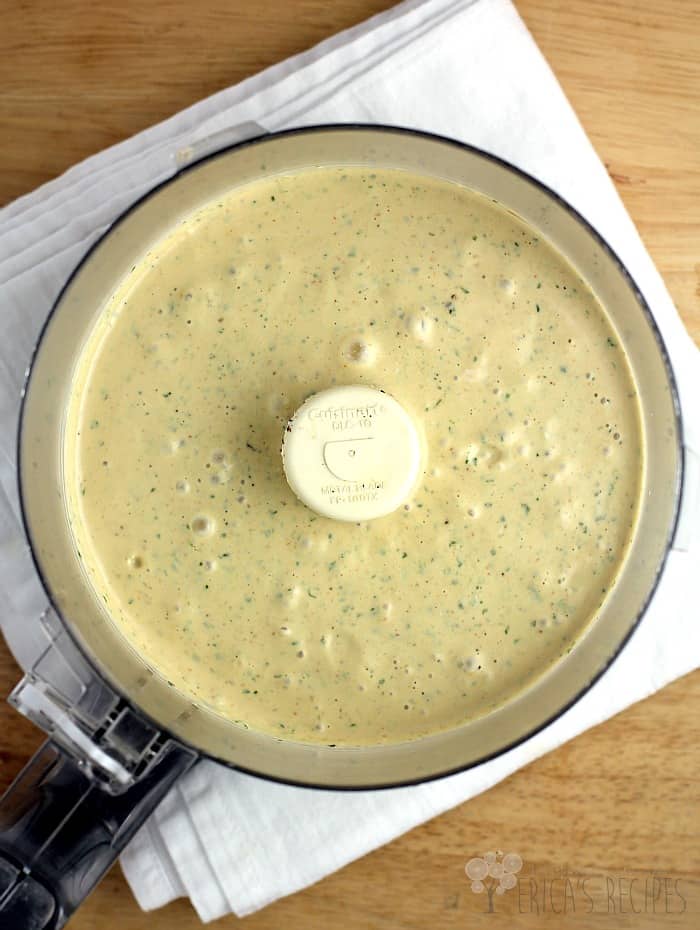 No thawing needed, just throw them on with the other toppings and go.
Lastly, but not leastly, we have a creamy Cajun Remoulade. This recipe is an adaptation of my own from my Cajun Salmon Sliders.
Aside from a couple minor tweaks like dialing down the heat a touch, all I really did otherwise was just throw it all in the food processor this time and whirl.
The cool Remoulade, with its little kick, on the cheesy crunchy pizza is so over the top, I can't even.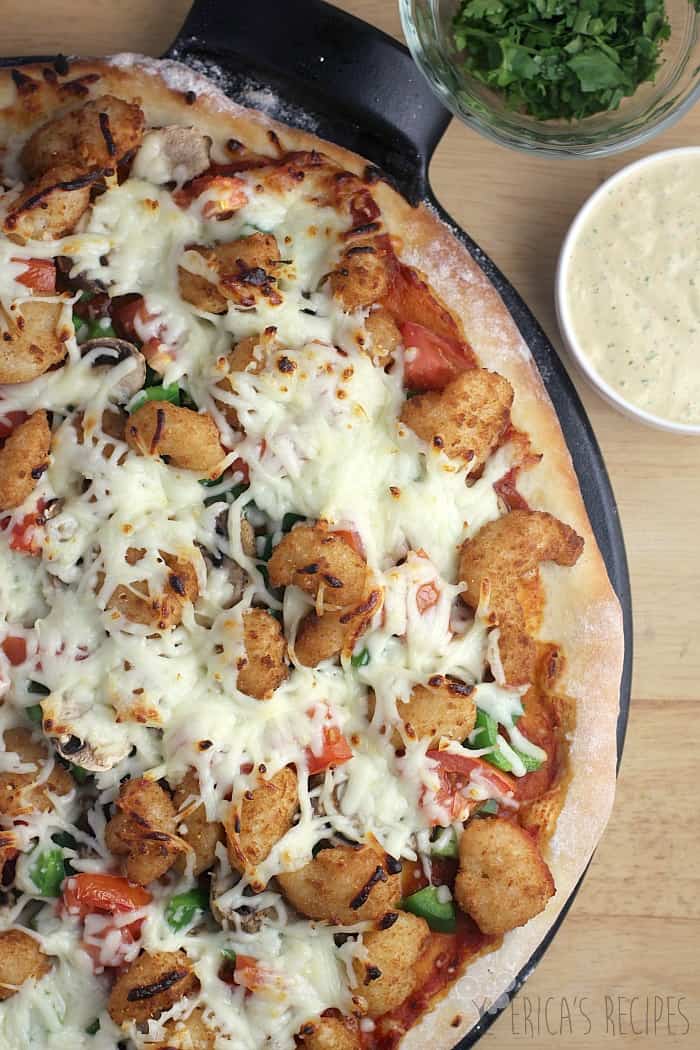 So that is it kids. A new Shrimp Po' Boy Pizza – approachable, impressive, delicious. So delicious.
If you love pizza and you love seafood (like I do!) then definitely make this recipe and come out the Rockstar.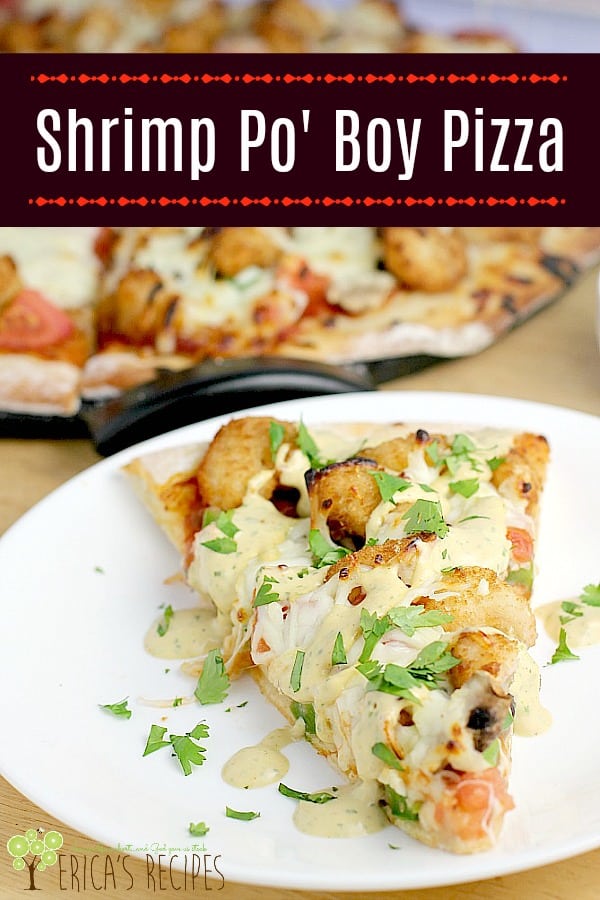 This recipe uses my Sam Adams Pizza Dough made with beer and my Homemade Pizza Sauce with wine and garlic.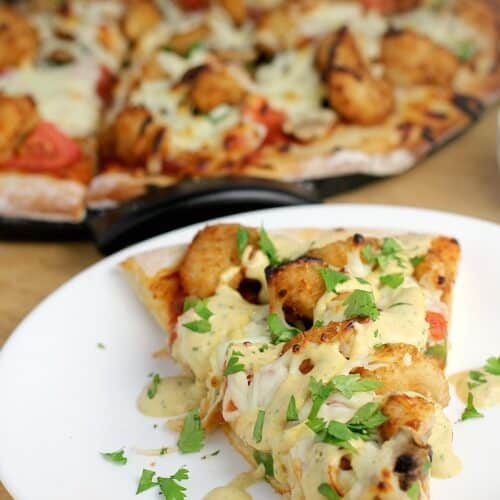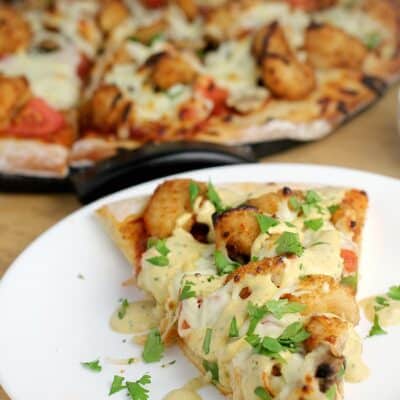 Shrimp Po' Boy Pizza
The Cajun classic sub meets pizza, and the result is epic good. Shrimp, veggies, cheese, and all topped with a creamy Remoulade for a crazy tasty gourmet Shrimp Po' Boy Pizza pizza unlike any you have ever had.
Ingredients
prepared dough for a large pizza

for a recipe, see my Sam Adams Beer Pizza Dough

½

cup

Pizza Sauce

1

green bell pepper

diced

2-3

Roma tomatoes

diced (~1 cup)

1

cup

sliced white mushrooms

~4 oz

9

oz

SeaPak popcorn shrimp

half of the 18 oz Party Size pkg, larger shrimp cut in half

2

cups

shredded mozzarella cheese

garnish: fresh chopped cilantro
For the Remoulade
1

cup

mayonnaise

4

green onions

chopped in ~2-inch pieces

2

large cloves garlic

smashed and skins removed

1

Tbs

prepared horseradish

2

Tbs

Dijon mustard

3

tsp

yellow mustard

3

Tbs

ketchup

1

tsp

hot sauce

1

tsp

Worcestershire sauce

pinch

kosher salt

½

tsp

Cajun seasoning

~1/4 cup

small handful fresh cilantro leaves
Instructions
Put the pizza stone in the oven. Heat the oven to 450F. Heat an additional 10-15 minutes to ensure the pizza stone is fully heated.

For the Remoulade, add the listed ingredients to a food processor and process until smooth. Set aside. This can be done a day in advance (store in the refrigerator).

Gather the pizza topping ingredients together.

On a floured surface, roll out the pizza dough. Remove the heated pizza stone from the oven. Transfer the dough to the stone. Working quickly, top the dough with the pizza toppings in the following order: pizza sauce, bell pepper, tomato, mushrooms, shrimp, and cheese. Put the stone back in the oven and bake at 450F for 10-12 minutes until dough is fully cooked and golden. Remove pizza from the oven.

To serve, drizzle Remoulade over pizza slices and sprinkle with cilantro. Yields 1 large pizza.
Notes
For the remaining shrimp in the package, throw them in the oven for 10 minutes and enjoy with the extra Remoulade. Nom.
Calorie estimation is approximate and does not include remoulade.
Nutrition
Calorie count is purely an estimate calculated using an online application to serve as a guide and not to be taken as accurate nutritional information. Percent Daily Values are based on a 2,000 calorie diet.
Tried this recipe?
Leave a comment below and let me know!