Crab Rangoon Pizza is an inspired Chinese pizza with succulent crab, creamy sauce, cheese, and a sweet and salty Balsamic-soy sauce drizzle. Combine your love for takeout Chinese food and Friday night pizza in one epic creative pizza.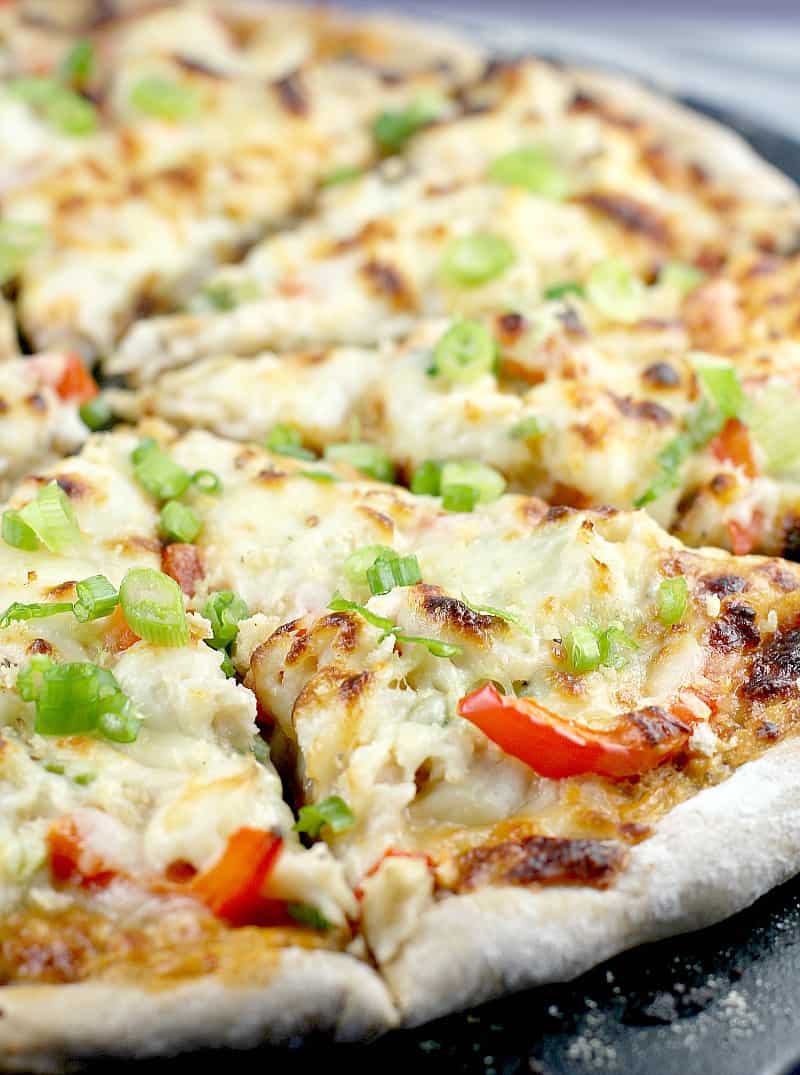 For the love of pizza
I DO LOVE ME SOME PIZZA. Let me just get that out there firstly. I make up new ones on the regular, and I LOVE getting super creative and putting things on that dough that you would not think should be there.
I mean, my French Onion Pizza? My Cuban Pizza? My EPIC Monte Cristo Pizza??? Pizza is my THING.
So, out of left field I made a Chinese food pizza using a spin of crab rangoon ingredients. Crab Rangoon Pizza for the win.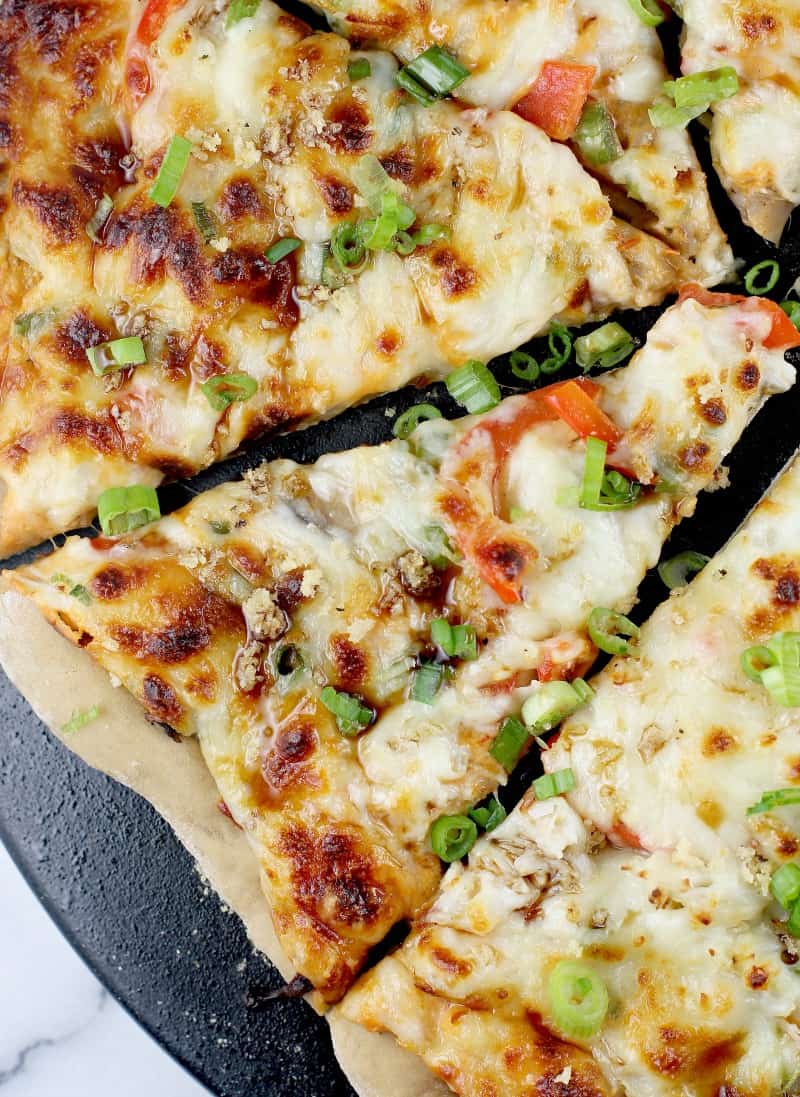 Why this pizza is special
This recipe is really straight forward and easy to assemble. I used my basic prepared Sam Adams Beer Pizza Dough, but you can use whatever pizza dough you like or even just pick some up at the bakery of your grocery store.
I mixed together pizza sauce and cream cheese, which yeah I admit is kind of the obvious thing to do for a Crab Rangoon Pizza. But it worked, so I went with that.
We use a couple great pizza toppings: crab, red bell pepper, mushroom, and green onion. These toppings give a perfect balance of crab (which has its own salty-sweet thing going on naturally), sweet bell pepper, deep umami mushrooms, and the subtle onion bite of green onion.
Then of course, there is CHEESE.
Then, the finishing touches that literally MAKE this pizza special: crunchy topping, because this is the pizza version of a Chinese appetizer after all.
Finally, we finish our glorious pizza with an extra special touch: a little drizzle of sweet-salt that deliciously makes your brain go "YuMMMM".
What ingredients do you need
The dough and sauce
Prepared pizza dough. If you would like to make your own, check out my Sam Adams Beer Pizza Dough, or use your dough of choice. Fresh pizza dough is available in the bakery section of my grocery store, so that may be another option. Also, in the interests of time and depending on your ability, you may purchase a precooked crust.
Pizza sauce. Only 1/4 cup is needed because we are combining with cream cheese to make the sauce. You can make your own (I LOVE my Pizza Sauce recipe) or you may purchase sauce in the pasta grocery aisle.
Cream cheese. Crab Rangoon traditionally has a filling based with cream cheese, so we use it here in the sauce.
Pizza toppings
Fresh lump crab meat. Find this in the seafood aisle. Opt for the mid-priced, white fresh lump as opposed to the cheaper (for a reason) claw meat or more expensive jumbo lump meat.
Red bell pepper. Seeded, ribs removed, and cut into colorful strips.
Mushrooms. White button or baby bella (cremini) mushrooms will work. I get them pre-sliced to save time.
Green onion. We are using half a bunch, and you can use both the white and green parts.
Mozzarella cheese. Mild mozzarella goes with everything else going on here. I normally love to throw any cheese on pizza, but with the other flavors going on in our Crab Rangoon pizza, we want to stay conservative.
The finishing touches
Plain panko breadcrumbs. Crab Rangoon bites are crunchy, so a topping of crispy light panko gives this Chinese pizza that feel.
Extra virgin olive oil. To help the breadcrumbs get their crunch while cooking.
Lite soy sauce. Use light soy sauce, which has just the right amount of salt. Crab and mozzarella are naturally salty on their own, and regular soy sauce would put the salt level over the top.
Balsamic reduction syrup. Also known as balsamic glaze and available in the condiment aisle of the grocery store.
So there is admittedly a lot going on here, but I hope you will see in the instructions that Crab Rangoon pizza actually comes together quickly without a lot of fuss.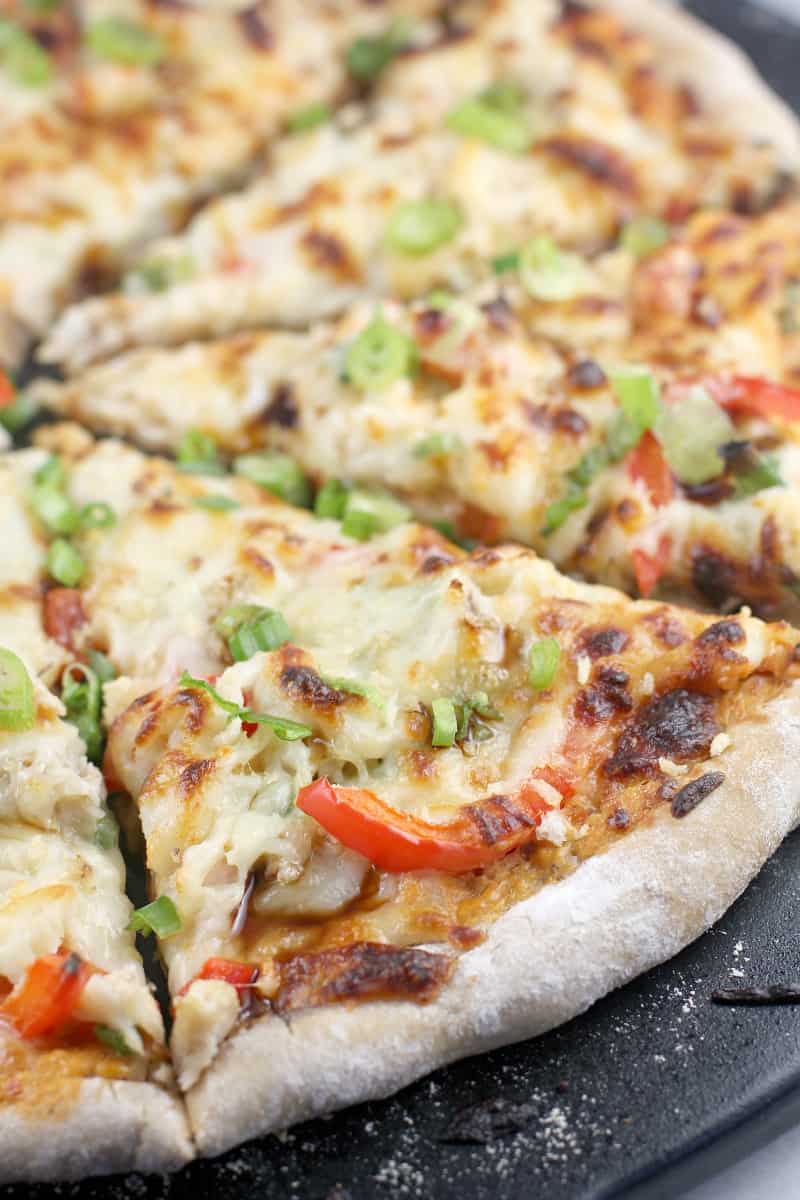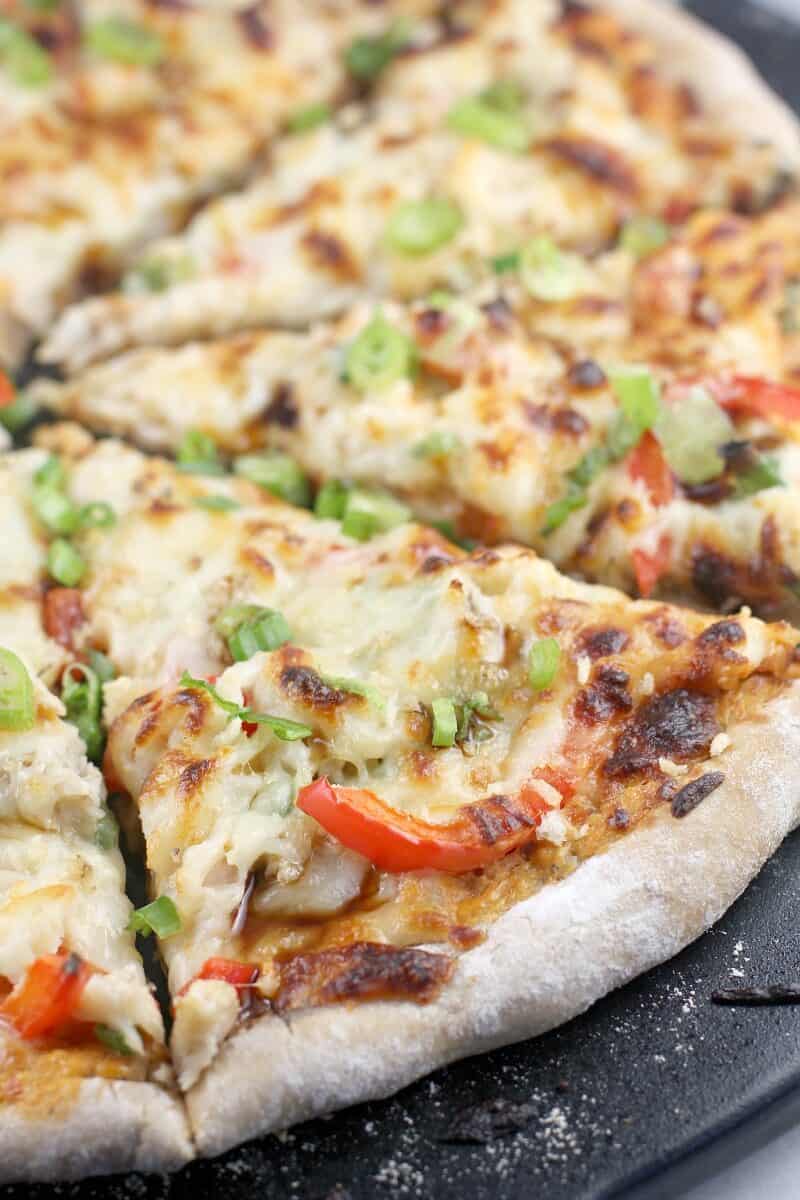 How to make this pizza
The first step to baking any pizza in the oven (or on a grill for that matter) is to thoroughly heat your pizza stone to ensure that the crust cooks completely through in the time before the toppings are done.
Therefore, first we heat our oven with the stone in the oven, then heat a few minutes more.
While the pizza and stone are heating, gather together all the ingredients and combine the different elements:
Combine the pizza sauce and cream cheese.
Mix the panko breadcrumbs and olive oil.
Combine the soy sauce and balsamic syrup.
Roll out the pizza dough (if using fresh dough), transfer to the preheated stone, top and bake.
See? Easy peasy, delicious yumminess.
Last tips
Heating the pizza stone thoroughly (longer than you would think) is essential to cooking the dough all the way through, especially in the center.
Once the dough is rolled out, drape it over the rolling pin to easily transfer to the pizza stone.
Have all the ingredients ready to go for once it is time for assembly.
Roasting the red bell pepper or cooking the mushrooms in advance is not necessary for this Crab Rangoon Pizza recipe.
Be sure to use LITE soy sauce so this will not be too salty.
If green onion (also called scallion) is not available, red onion may be substituted but go easy as red onion is more pungent. Once chopped or thinly sliced, red onion can be rinsed with water to take some of the bite out. This is not necessary with green onion.
Be sure to use plain panko breadcrumbs. I don't know how many times I have gotten home from the store only to see that I accidentally grabbed Italian seasoned panko.
Check out these pizza recipes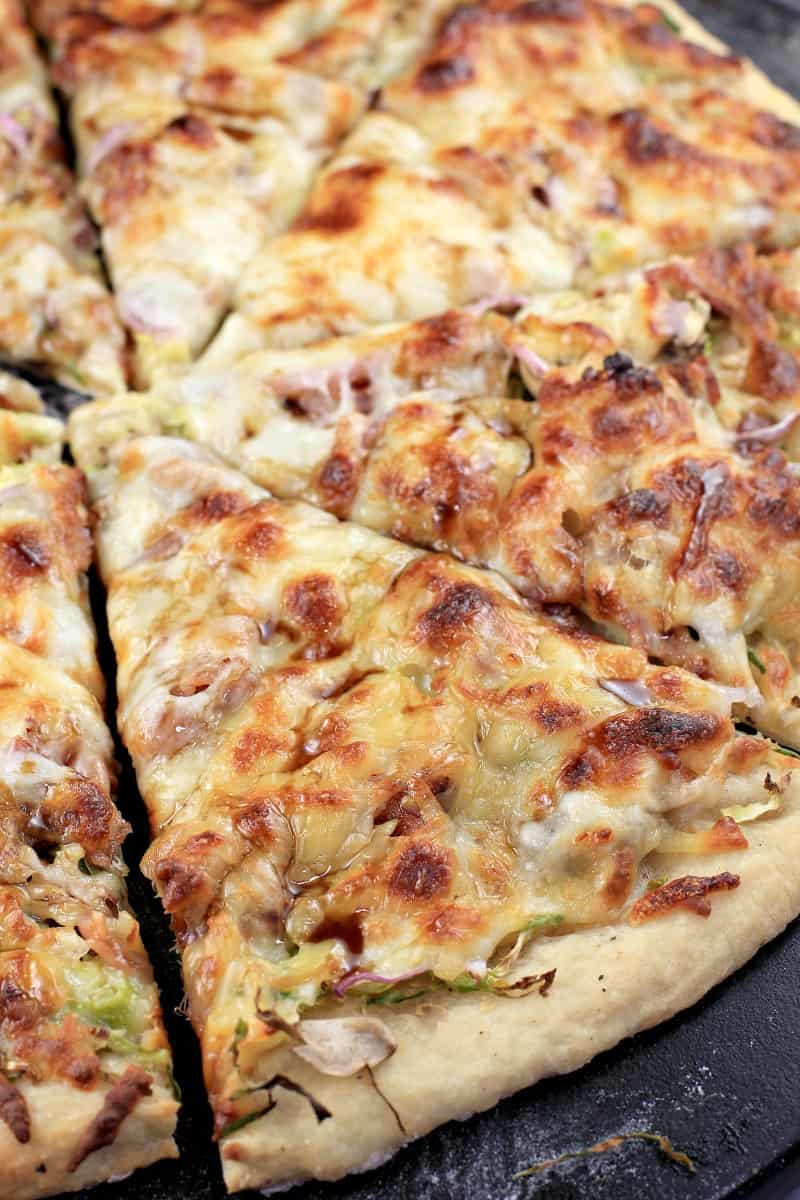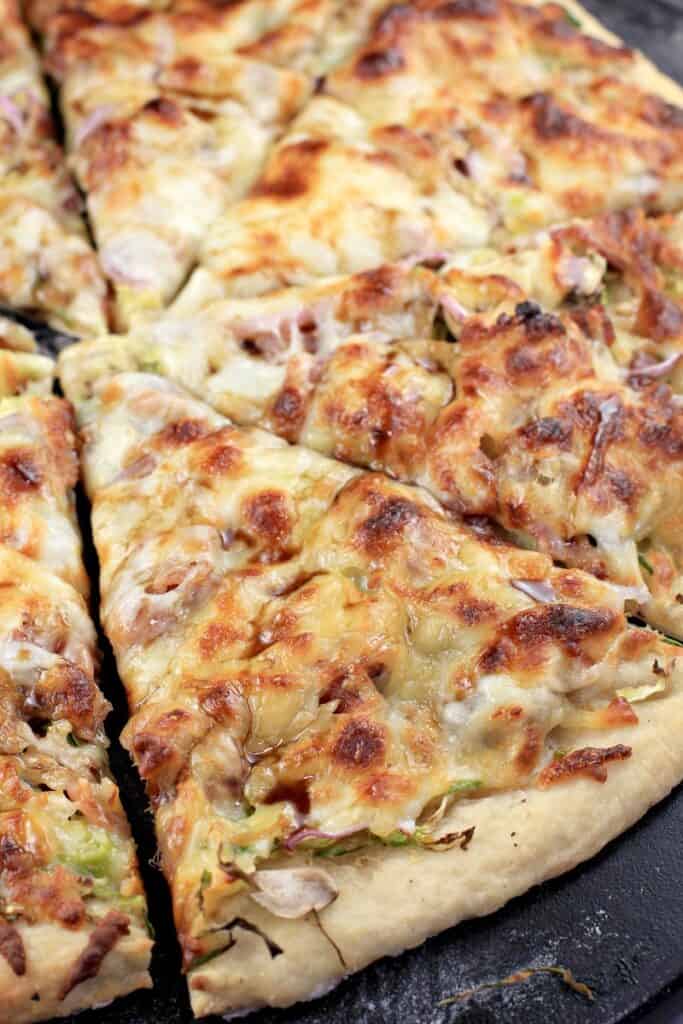 This recipe uses my Sam Adams Pizza Dough made with beer and my Homemade Pizza Sauce with wine and garlic.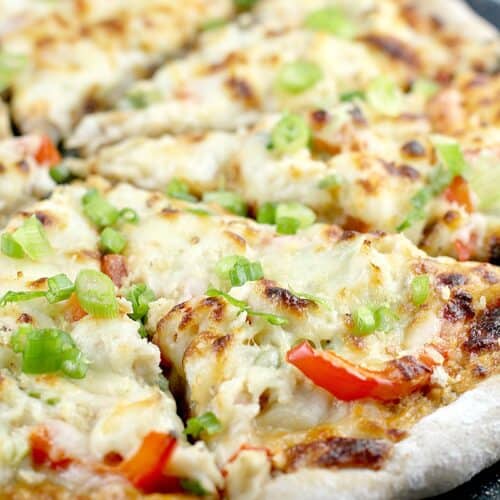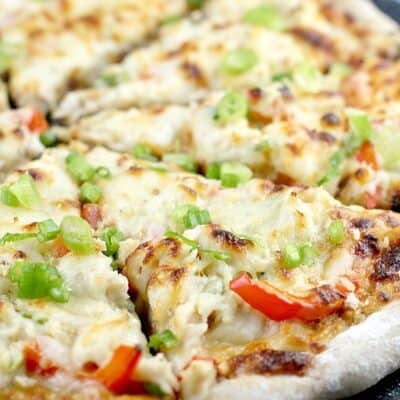 Crab Rangoon Pizza
Succulent crab and creamy sauce are just the beginning of this epic delicious pizza. Jazz up pizza night with this creative Crab Rangoon Pizza! This recipe even comes with a sweet and salty drizzle.
Ingredients
1

prepared Pizza Dough

¼

cup

Pizza Sauce

4

oz

cream cheese

softened

4

oz

fresh lump crab meat

1

red bell pepper, seeded and cut into strips

4

oz

sliced mushrooms

½

bunch

green onion, chopped

2

cups

shredded mozzarella

1

Tbs

plain panko breadcrumbs

1

tsp

extra virgin olive oil

1

tsp

lite soy sauce

1

Tbs

purchased balsamic reduction syrup

see Notes
Instructions
Heat oven to 450°F with a pizza stone in the oven. Heat an additional 15 minutes to ensure stone is thoroughly heated.

In a bowl, combine the pizza sauce and cream cheese until smooth.

In a small bowl, combine the panko breadcrumbs and olive oil.

In a small bowl, combine the soy sauce and balsamic syrup.

Roll out the dough. Transfer to the heated pizza stone. Top with the pizza toppings: crab, bell pepper, mushrooms, green onion, and cheese. Sprinkle the panko breadcrumbs over top.

Bake at 450°F for 15 minutes or until cheese is melty and crust is done. Serve pizza garnished with additional green onion and drizzled with the soy sauce-balsamic sauce. Yields 1 large pizza.
Notes
Look for balsamic syrup (also called balsamic glaze) in the grocery section with the oils and vinegars. If not available, you can make your own by reducing

½

 cup balsamic vinegar to the consistency of syrup.
Nutrition
Calories:
454
kcal
(23%)
|
Carbohydrates:
61
g
(20%)
|
Protein:
20
g
(40%)
|
Fat:
17
g
(26%)
|
Saturated Fat:
6
g
(38%)
|
Polyunsaturated Fat:
1
g
|
Monounsaturated Fat:
5
g
|
Cholesterol:
61
mg
(20%)
|
Sodium:
680
mg
(30%)
|
Potassium:
890
mg
(25%)
|
Fiber:
4
g
(17%)
|
Sugar:
20
g
(22%)
|
Vitamin C:
34
mg
(41%)
|
Calcium:
410
mg
(41%)
|
Iron:
7
mg
(39%)
Calorie count is purely an estimate calculated using an online application to serve as a guide and not to be taken as accurate nutritional information. Percent Daily Values are based on a 2,000 calorie diet.
Tried this recipe?
Leave a comment below and let me know!