Simple Turmeric Rice with Peas
Simple Turmeric Rice with Peas is basic and oh so delicious. This recipe for an easy rice side dish is perfect for any weeknight and completely kid approved. Hassle-free, ready in 25 minutes, this yellow rice and peas has your back.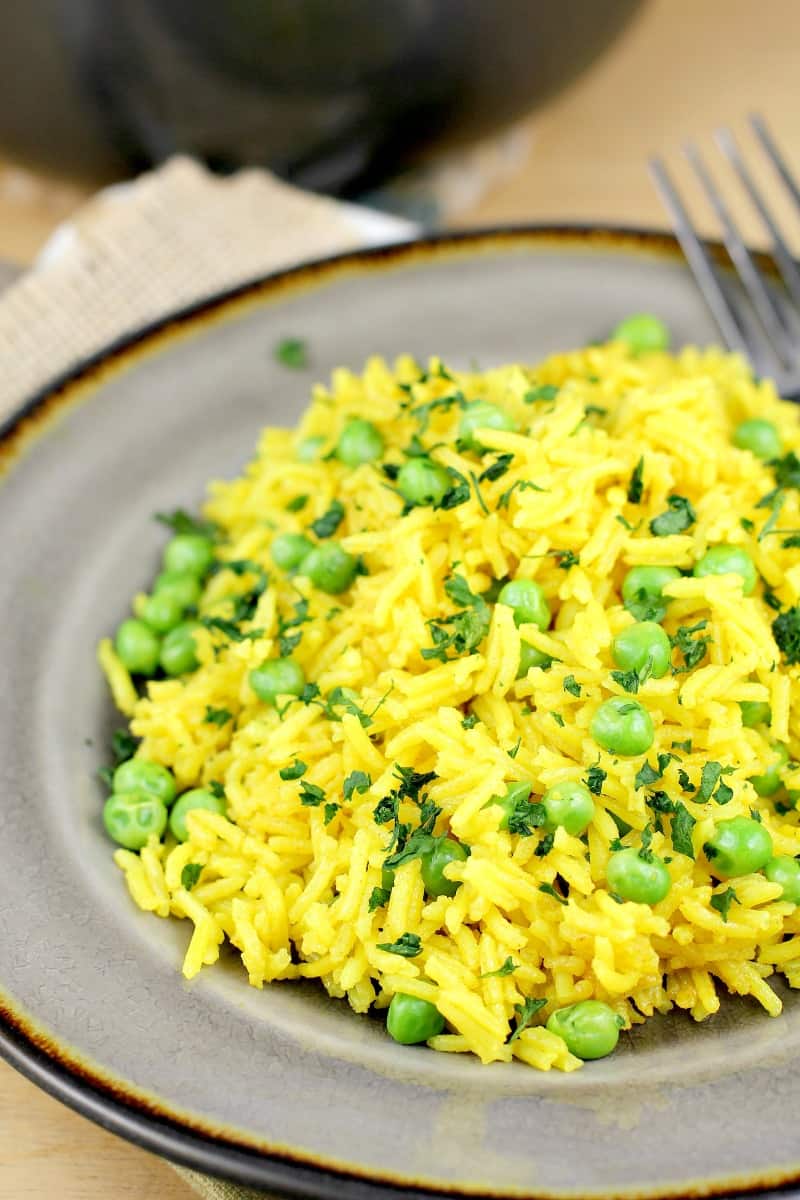 This rice side dish was originally published in 2014, then updated in 2020 for photos and content.
Oh my goodness, what a hit this Turmeric Rice with Peas dish was with all members of my family….even the 3 year old (who is now 9, as of the updating of this post).
This is rare. Very rare. A couple days ago, we had a "Persian night" for our Sunday dinner, and I made this up as an easy rice side dish so I could focus on cooking the other, more complicated recipes I had never cooked before….like naan bread.
The flavor of this yellow rice with peas was spot on with dishes I have had at restaurants and transcends any yellow rice or boxed rice products at the grocery store. Hassle-free, ready in 25 minutes, and we were happy.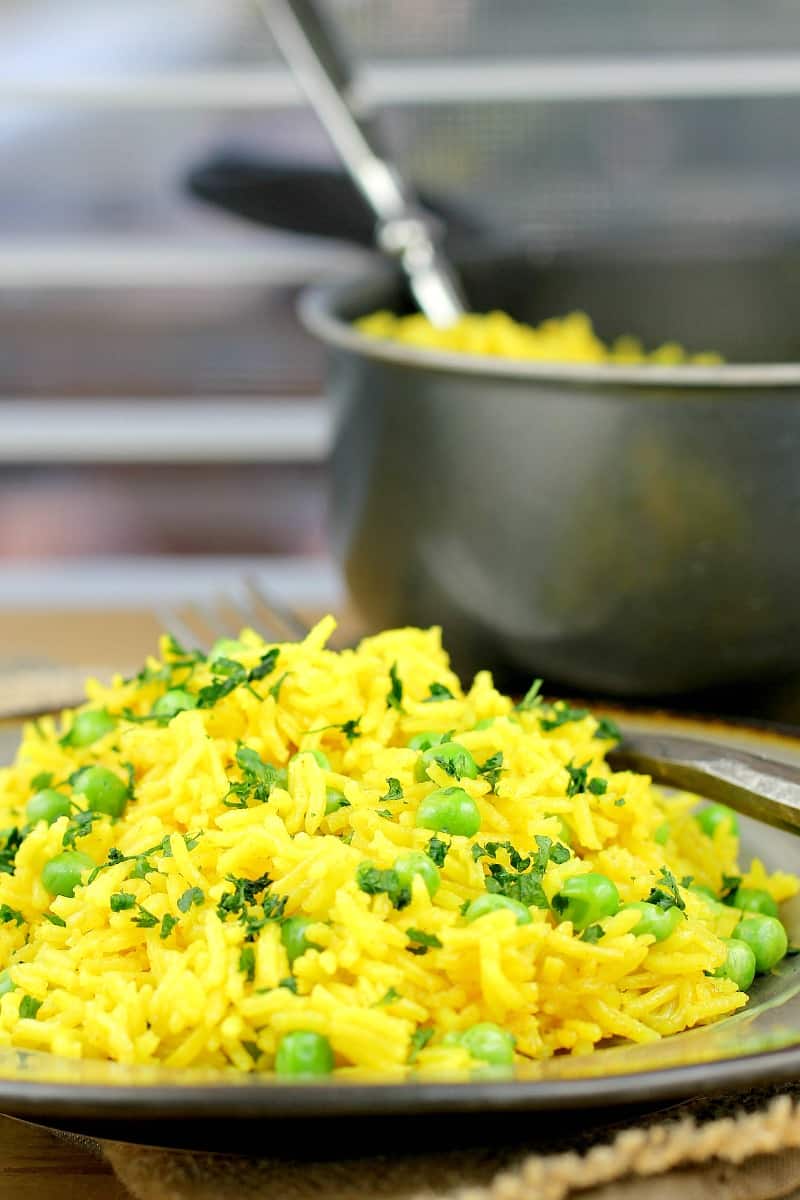 What is turmeric?
Turmeric is a member of the ginger family and is quite a yummy spice. It has been used in Asia for medicinal properties for centuries. India and Polynesia too, and it is also used to dye fabrics.
Isolated from a perennial, herbaceous plant, turmeric powder has had many uses historically. Culinary, fabric dye as mentioned above, and it even has its place in wedding ceremonies in India.
Like honey and vanilla, take care in purchasing turmeric to ensure that you are actually buying just turmeric. There have been times when the United States has imported turmeric with toxic additives (such as lead). Look for it at the grocery store with the rest of the spices.
As far as medicinal properties go, curcumin, a constituent of turmeric, is regarded as having anti-inflammatory properties. I am a scientist (food blogger by night), and as of this writing in 2020, I will simply say that there is robust anecdotal support for curcumin as an aid for inflammation, but there is no empirical study proving so.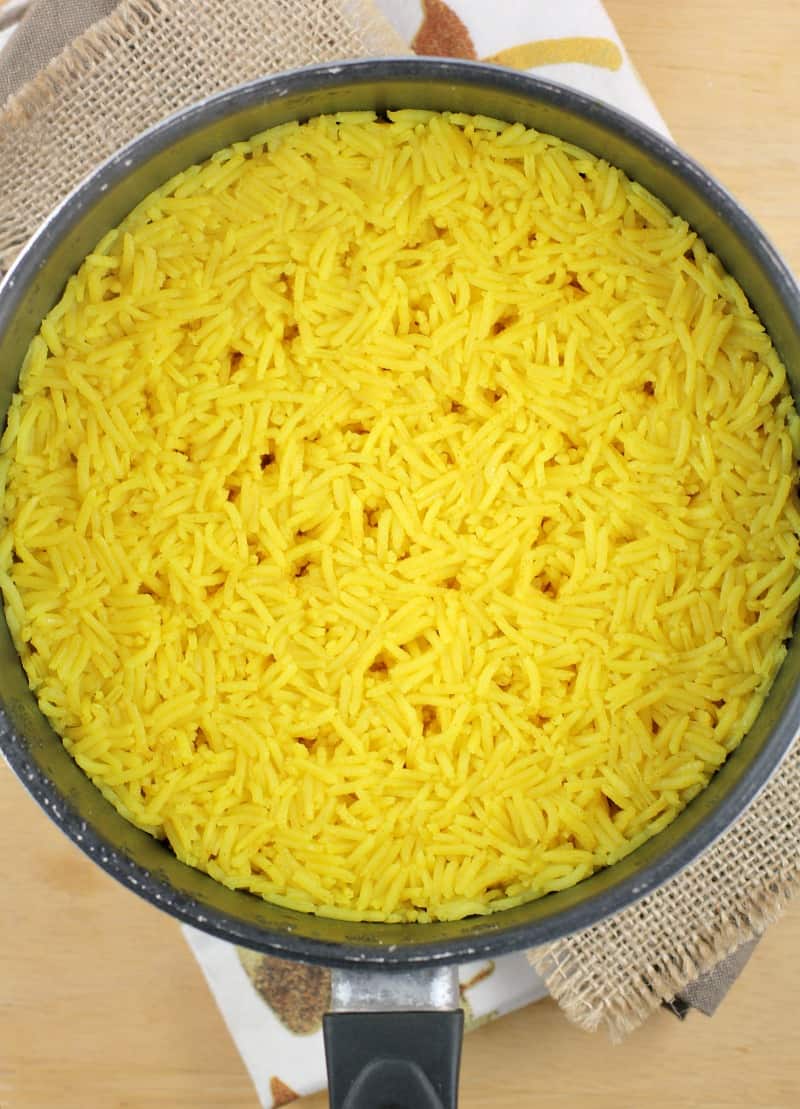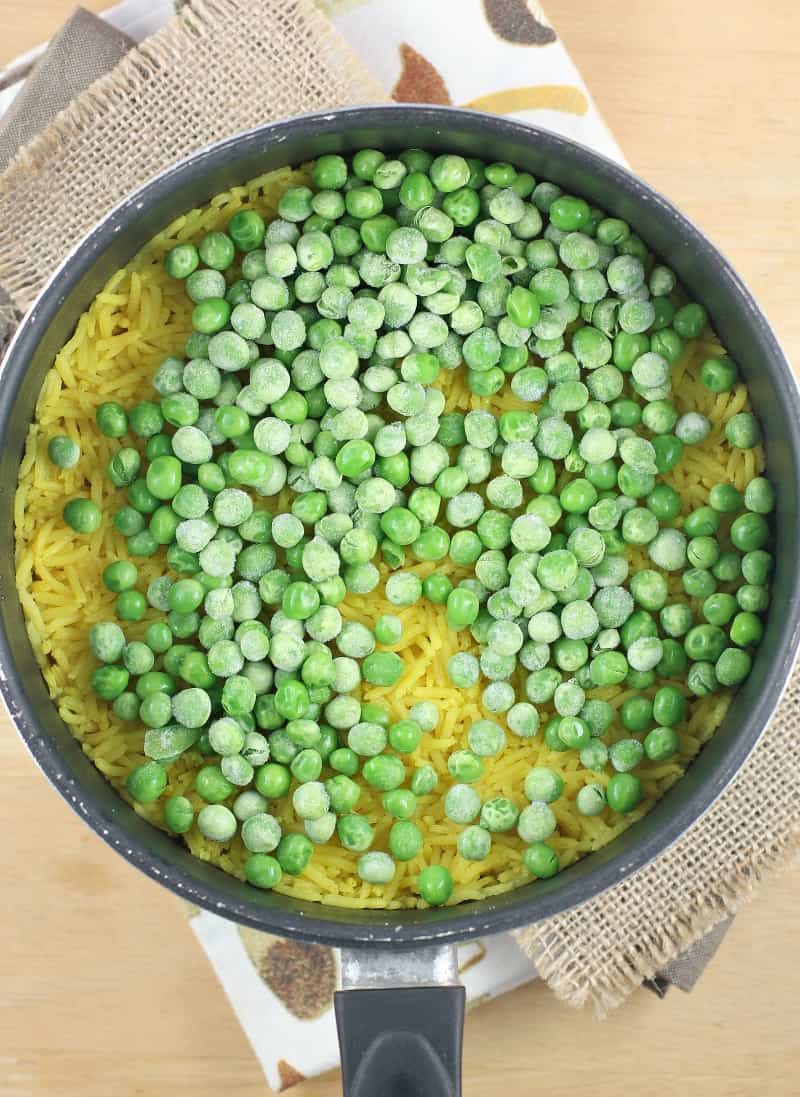 Simple yellow rice ingredients
Basmati rice. You may substitute brown basmati rice, but in that case adjust the cook time as needed according to package directions.
Vegetable or chicken stock. I have used both and I think I prefer vegetable stock in this recipe, but both are options. You can make your own chicken stock with

this recipe

.
Water.
Butter. Unsalted butter is a cooking rule.
Turmeric.
Salt. Use kosher salt and always taste for seasoning.
Peas. For lovely pearls of green.
Parsley. For more green. This is another cooking rule of mine: always finish with a sprinkling of green.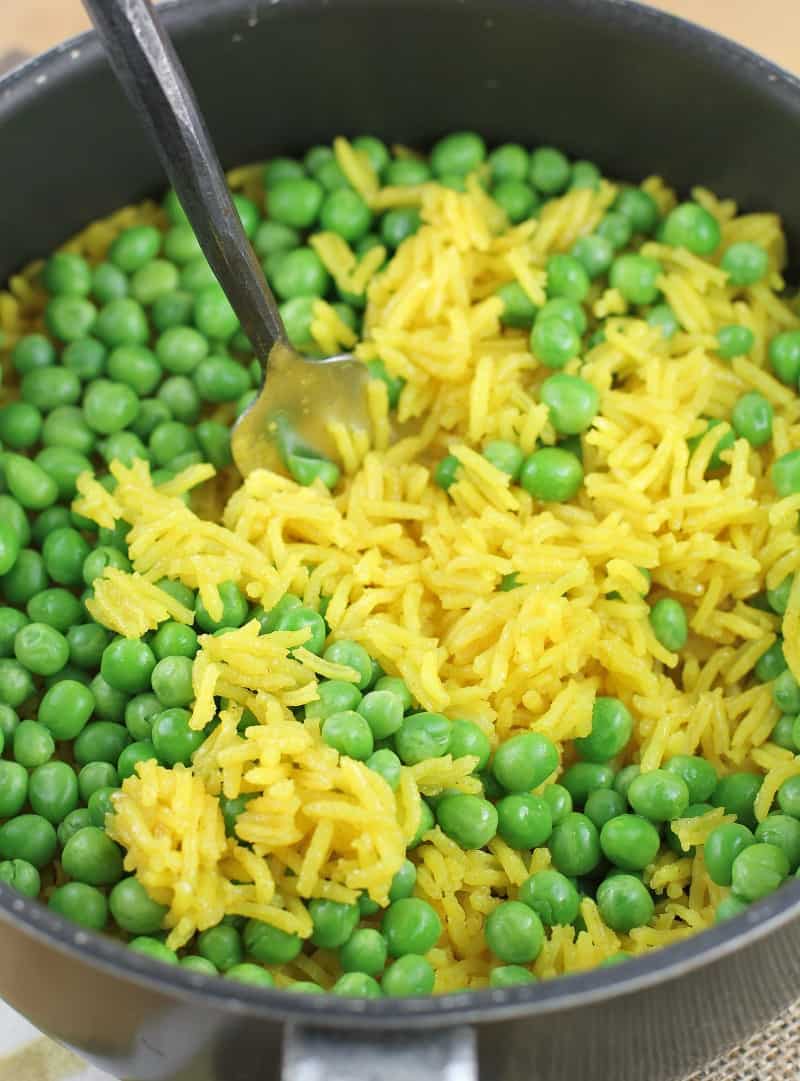 Steps for preparation for this rice side dish
This recipe is so EASY!
First, heat the water and stock. Give the rice and rinse and add to the pot.
Add the butter, turmeric, and salt, and cook the rice.
Once the rice is done, lift the lid, and add the peas. The heat from the rice will warm the peas. Couple minutes later we're done.
Garnish with a bit of parsley and serve. We are there in an easy 25 minutes.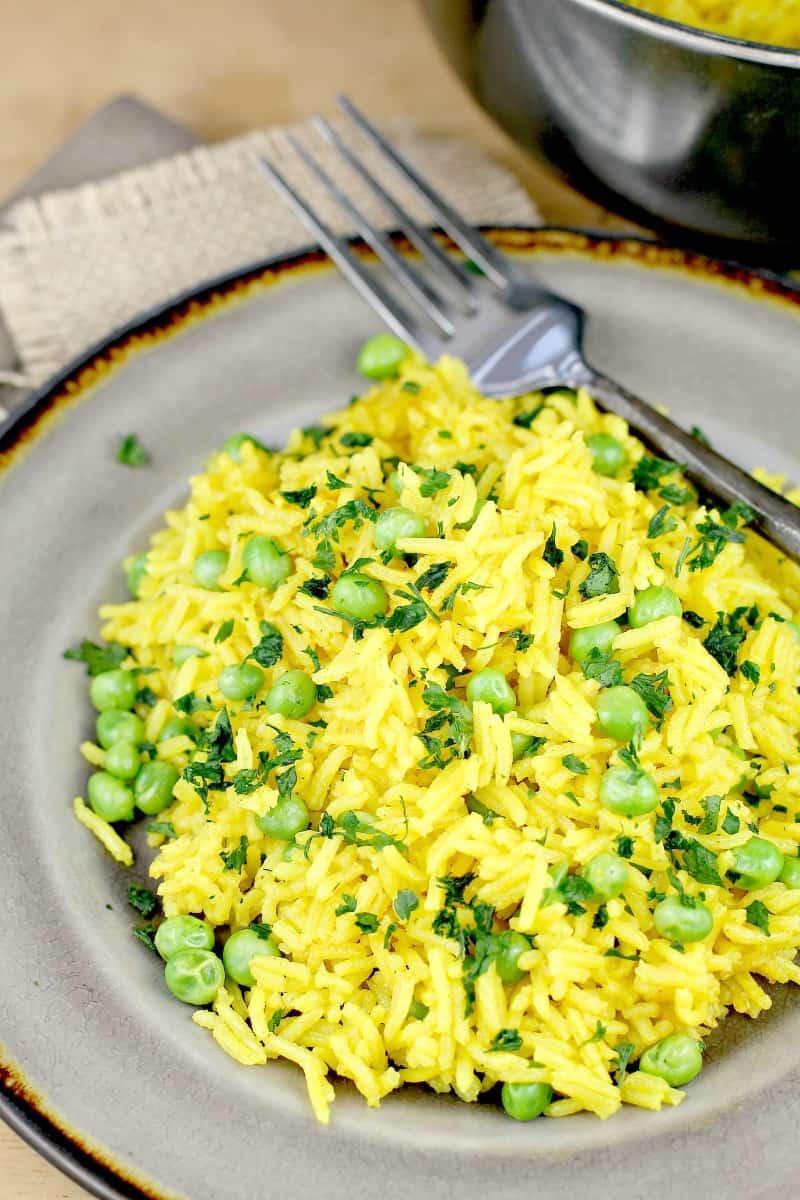 Last Tips
Any middle size pot with a lid will work for this turmeric rice with peas recipe, but a nonstick one is preferred.
If fresh peas are not available, canned peas may be substituted.
Leftover rice reheats well in the microwave.
Either vegetable stock or chicken stock work in the recipe. If using vegetable stock (which I prefer), you can also use vegan butter to make this recipe vegan.
This yellow rice recipe can be made in advance and reheated.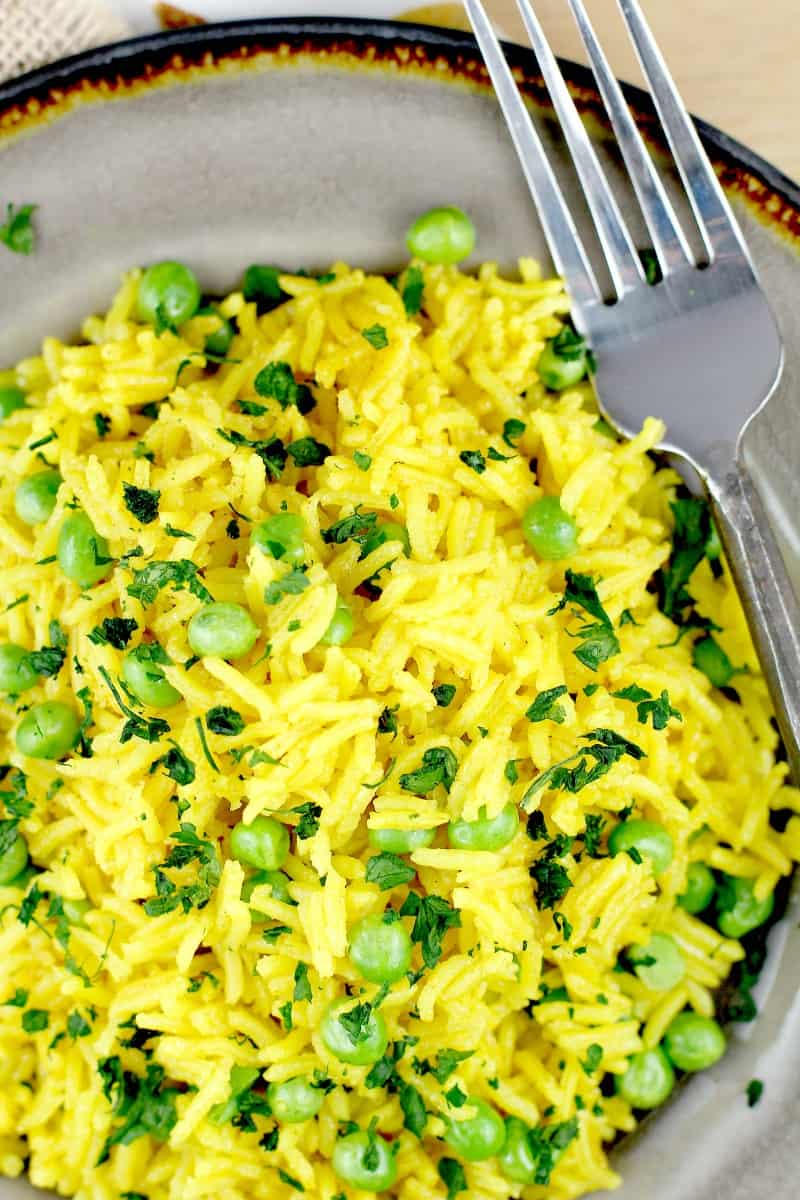 Looking for another side dish?
Twice Baked Broccoli and Kale Potatoes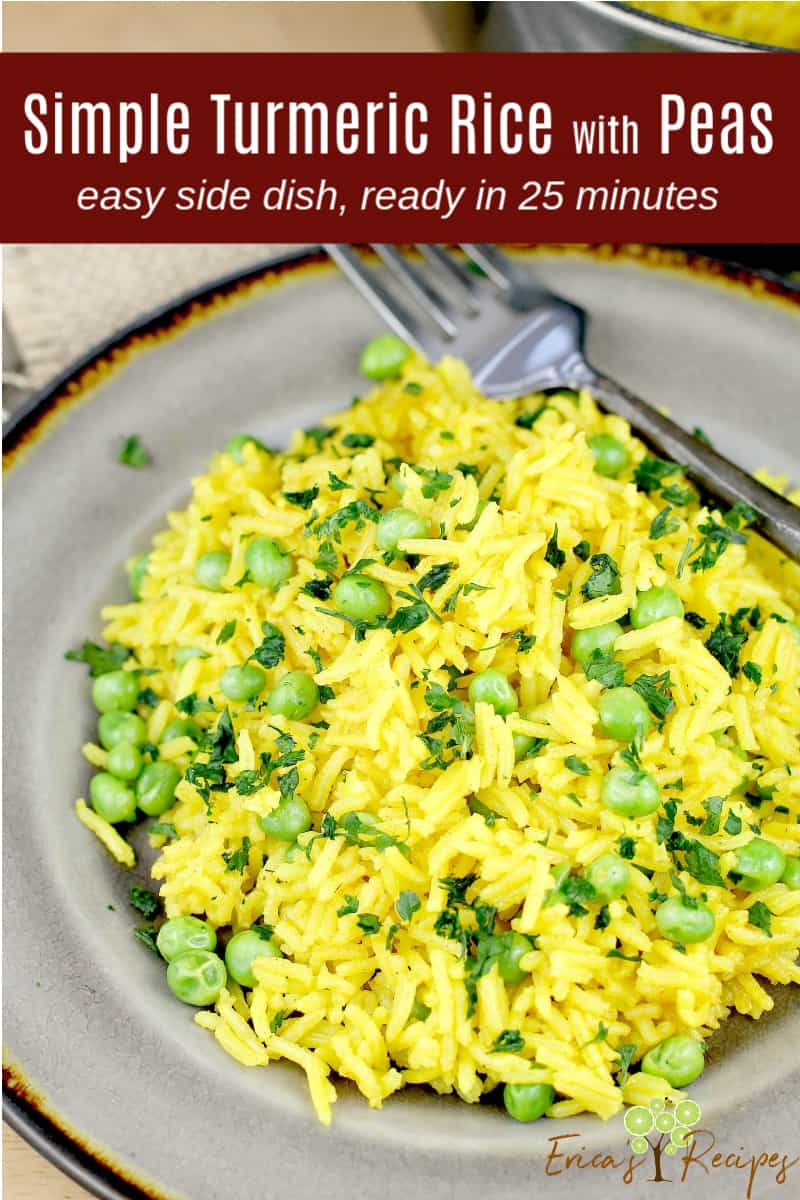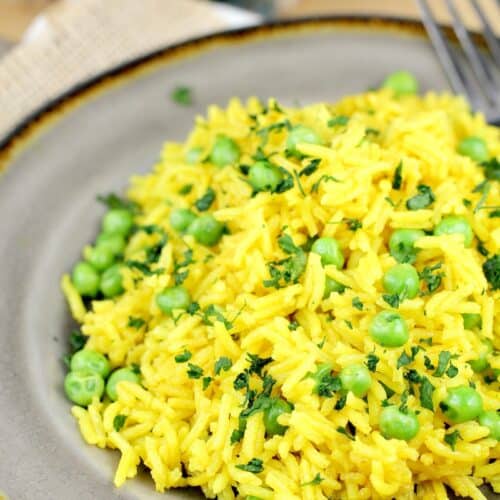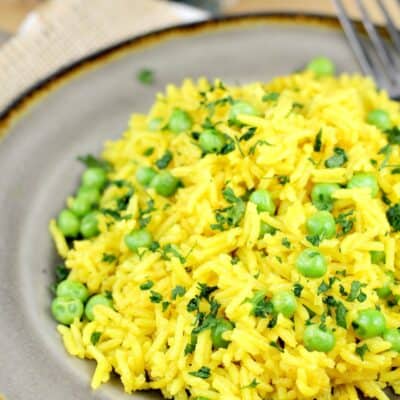 Simple Turmeric Rice with Peas
This Turmeric Rice with Peas recipe is basic, simple, and oh so delicious. Easy comfort food, perfect for any weeknight.
Ingredients
1

cup

basmati rice

1

cup

vegetable or chicken stock

1

cup

water

2

Tbs

unsalted butter

1

tsp

turmeric

1

tsp

kosher salt

1

cup

frozen peas

thawed

1

Tbs

fresh parsley

chopped
Instructions
In a large saucepan, bring the stock and water to a boil. Put the rice in a strainer and rinse with water for 30 seconds.

Add the rice to the boiling stock and water along with the butter, turmeric, and salt. Cover and reduce heat to low. Cook 18-20 minutes until water is absorbed. Remove from the heat.

Add the peas in a layer over the rice, cover, and let them steam to heat 5 minutes. Toss the peas in with the rice and taste for seasoning. Garnish with fresh parsley.
Notes
For an easy chicken stock recipe visit HERE. 
Nutrition
Calorie count is purely an estimate calculated using an online application to serve as a guide and not to be taken as accurate nutritional information. Percent Daily Values are based on a 2,000 calorie diet.
Tried this recipe?
Leave a comment below and let me know!
~✿♥✿~