Poblano Pepper and Pepperjack Popovers
Cheesy, flavorful Poblano Pepper and Pepperjack Popovers! This is a great new take on the traditional Yorkshires. Just be sure to have plenty of butter ready because you are going to need it.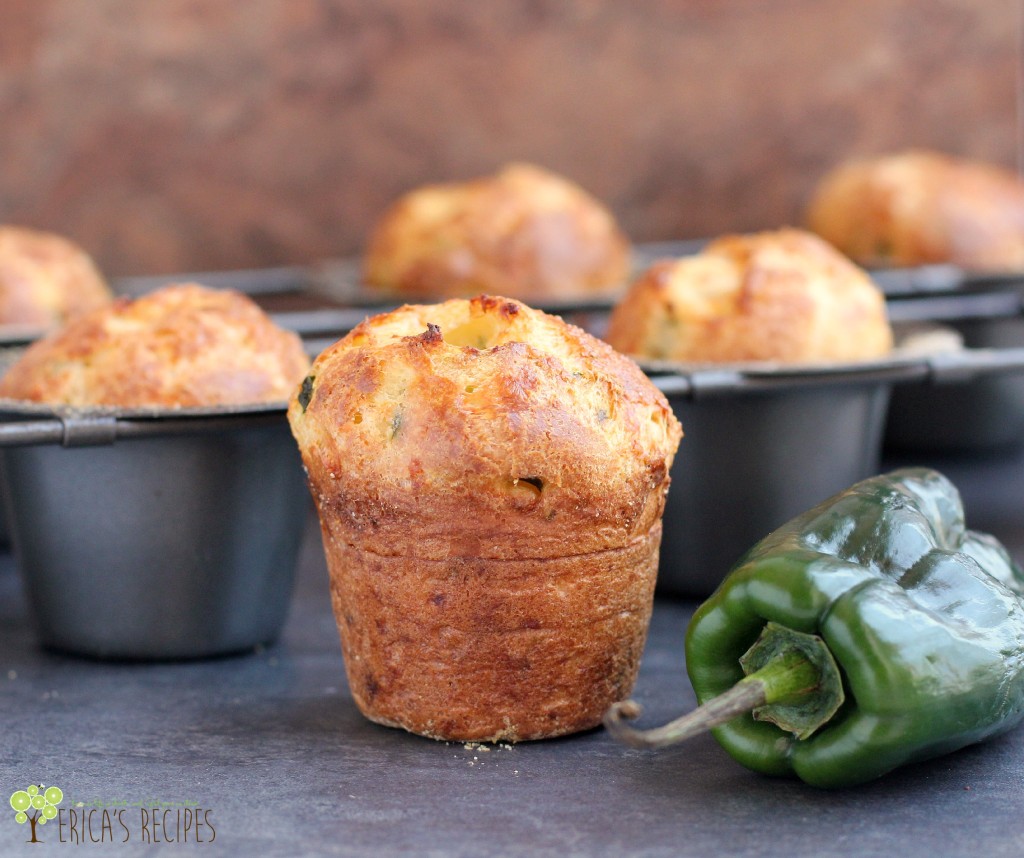 Poblano Pepper and Pepperjack Popovers …yeah, say that three times fast.
Recently, I stayed at the Trump Doral in Miami. Yes, the TRUMP Doral. Oh-la-la. Oh my. I was there for a convention for a philanthropic organization I belong to. Somehow, I managed to bring 6 pairs of shoes but completely neglected to bring a single spare pair of panties. Well, at the Trump Doral, $45 will get you a pair of panties. I will be buried in these panties.
Any-who, my point is the place was ridiculously expensive. So we brought our own cheap wine and tried our best to keep our eating costs down too (yes, I remembered to pack shoes and wine…but no panties). We went to the main restaurant, the BLT, one evening and each of us ordered just a side dish. The side dishes alone were $10-$15.
But THEN, while I was sitting there waiting for the $11 stuffed mushroom side dish that I was going to call dinner, the waiter appeared with the biggest, most gorgeous popovers ever. COMPLIMENTARY!! Three cheers for the bread basket especially when it has POPOVERS!! Big, crispy, brown, gruyere cheese-laden popovers! They were amazing. We asked for more, then had them for breakfast the next day too. And they left me totally motivated to make up a new popover.
…so here we are.
Poblano Pepper and Pepperjack Popovers are tasty, crispy good, and such a great new take on plain popovers. Love them!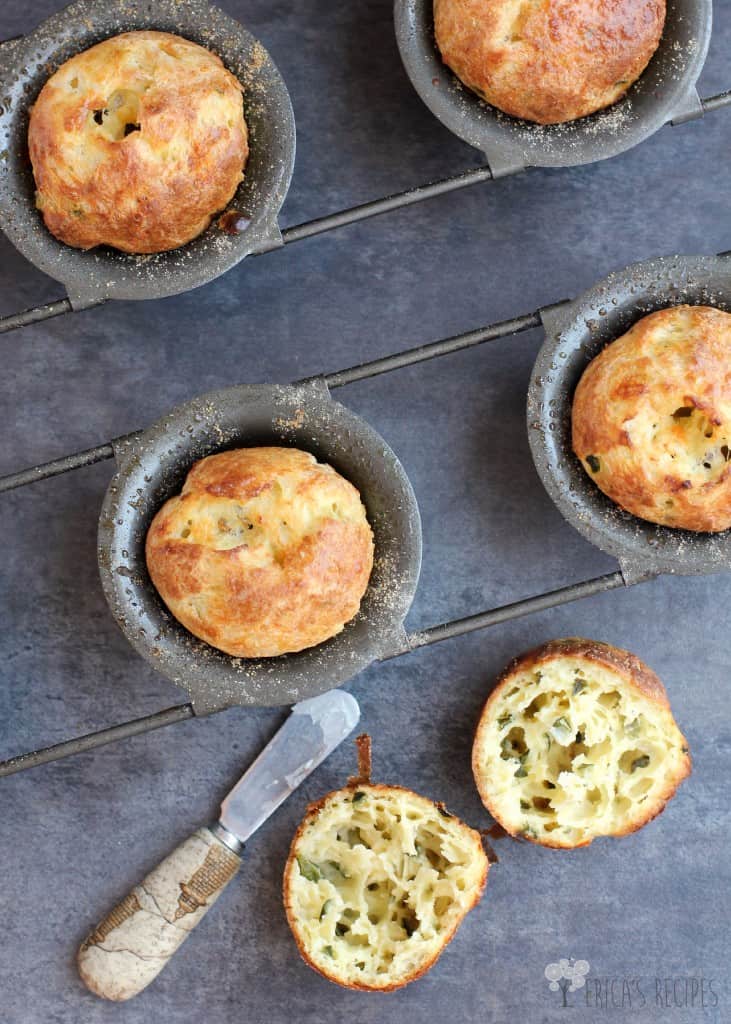 This is adapted from my traditional recipe for popovers available here.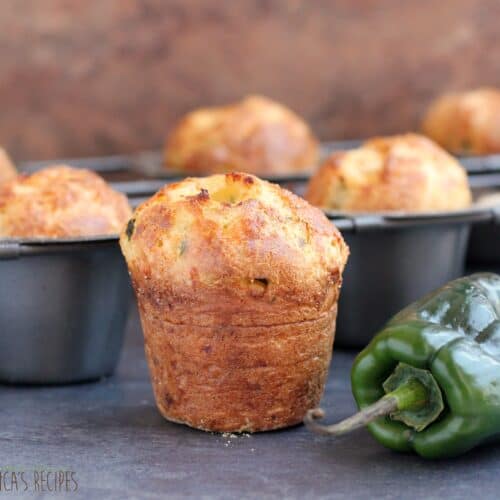 Poblano Pepper and Pepperjack Popovers
Ingredients
1

poblano pepper

2

eggs

room temperature

1

c

milk

room temperature

1

c

all-purpose flour

¼

t

kosher salt

1

T

unsalted butter

melted

½

c

shredded Monterey Jack cheese with jalapenos

cooking spray

cornmeal

for coating muffin tin
Instructions
Heat up the oven broiler. Broil the poblano pepper 1 inch from the heat, turning occasionally to get all sides charred and blistered. Transfer pepper to a ziploc bag, seal, and allow to steam 5-10 minutes. Discard the charred skin and seeds from the pepper. Dice the pepper finely.

Heat oven to 400F with the popover pan or muffin tin in the oven to preheat as well.

In a large mixing bowl, combine the following ingredients in the order given: eggs, milk, flour, salt, butter, cheese, and the diced poblano pepper. Take care not to overmix, especially after adding the flour. The batter should stay a bit lumpy.

Remove the preheated pan from the oven and spray with cooking spray. Dust the insides of the tins with cornmeal, shaking out the excess (this will give the dough something to cling to to help the popovers puff properly). Add the prepared batter to the popover or muffin tins. Bake at 400F for 30 minutes until puffed and golden. Pierce the tops with a knife and bake another 4 minutes. Remove from the oven and serve immediately. I always eat popovers schmered with butter. Yield: 6 popovers.
Calorie count is purely an estimate calculated using an online application to serve as a guide and not to be taken as accurate nutritional information. Percent Daily Values are based on a 2,000 calorie diet.
Tried this recipe?
Leave a comment below and let me know!