Poblano Pepper Popovers are cheesy delicious with pepperjack cheese and roasted poblano pepper. This is a great variation of traditional popovers with flavorful poblano pepper and herb. Just be sure to have plenty of butter ready because you are going to need it. Poblano Pepper Popovers with pepperjack cheese are tasty, crispy good.
This recipe variation is adapted from my recipe for Perfect Popovers.
Poblano pepper popovers were originally posted on this site June 2014, then updated for content and photos May 2022.
This post contains affiliate links. As an Amazon Associate I earn from qualifying purchases. See Privacy Policy for full disclosure.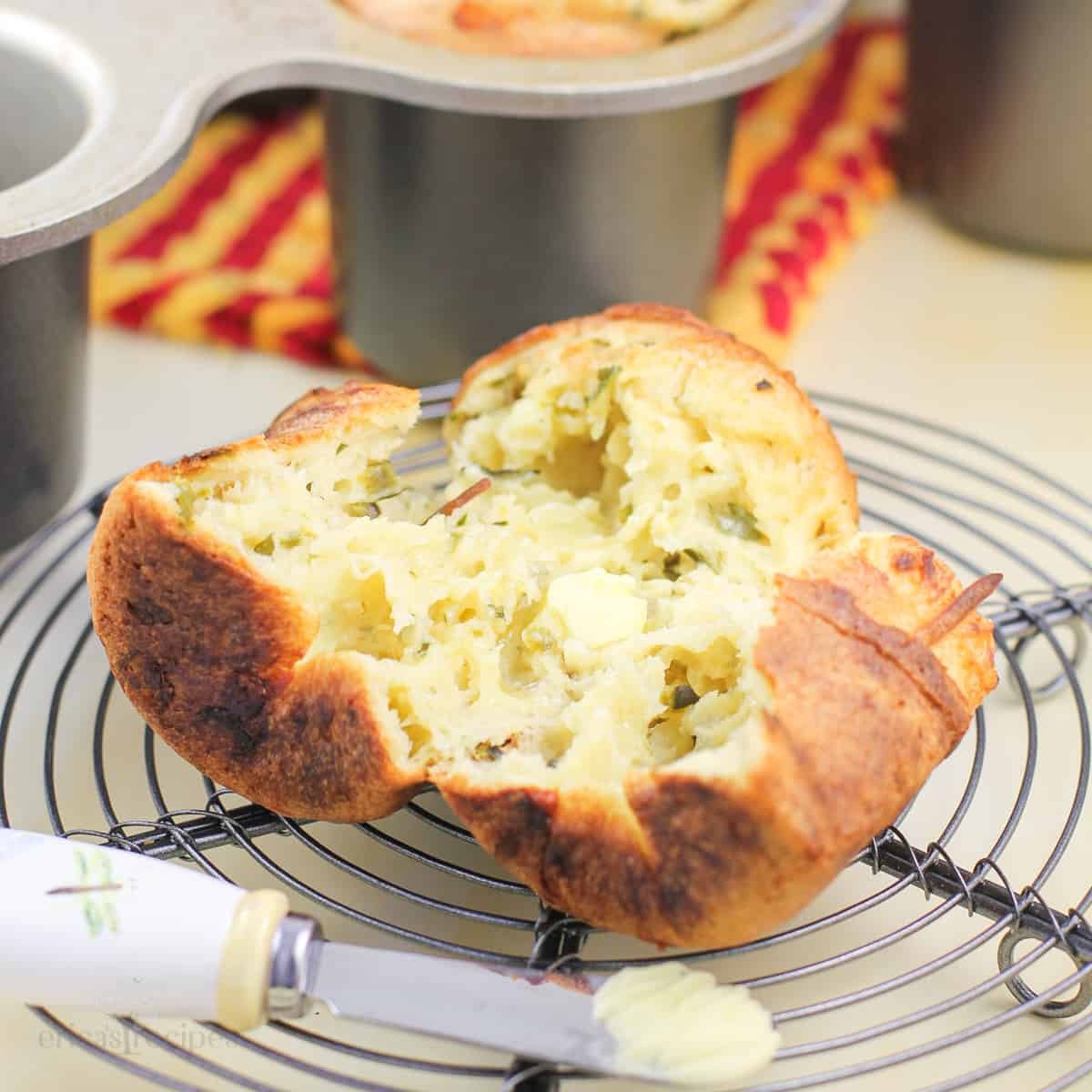 About this recipe
Poblano Pepper Popovers with pepperjack …yeah, say that three times fast.
The inspiration for this recipe came after I stayed at the Trump Doral in Miami. Yes, the TRUMP Doral. Oh-la-la. Oh my. I was there for a convention for a philanthropic organization I belong to. Somehow, I managed to bring 6 pairs of shoes but completely neglected to bring a single spare pair of panties. Well, at the Trump Doral, $45 will get you a pair of panties. I will be buried in these panties.
Any-who, my point is the place was ridiculously expensive. So we brought our own cheap wine and tried our best to keep our eating costs down too (yes, I remembered to pack shoes and wine…but no panties). We went to the main restaurant, the BLT, one evening and each of us ordered just a side dish. The side dishes alone were $10-$15.
But THEN, while I was sitting there waiting for the $11 stuffed mushroom side dish that I was going to call dinner, the waiter appeared with the biggest, most gorgeous popovers ever. COMPLIMENTARY!! Three cheers for the bread basket especially when it has POPOVERS!! Big, crispy, brown, gruyere cheese-laden popovers! They were amazing. We asked for more, then had them for breakfast the next day too. And they left me totally motivated to make up a new popover.
…so here we are.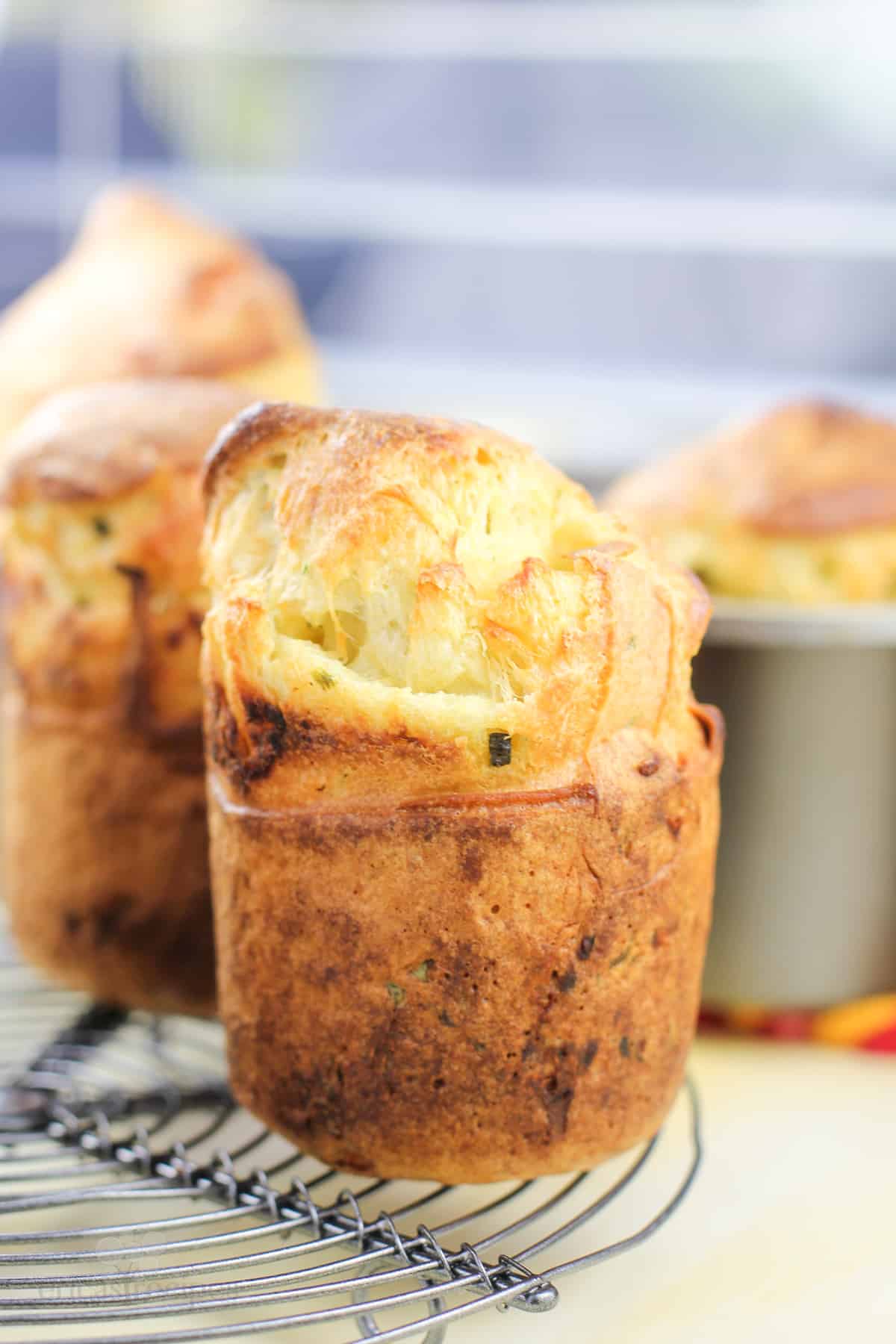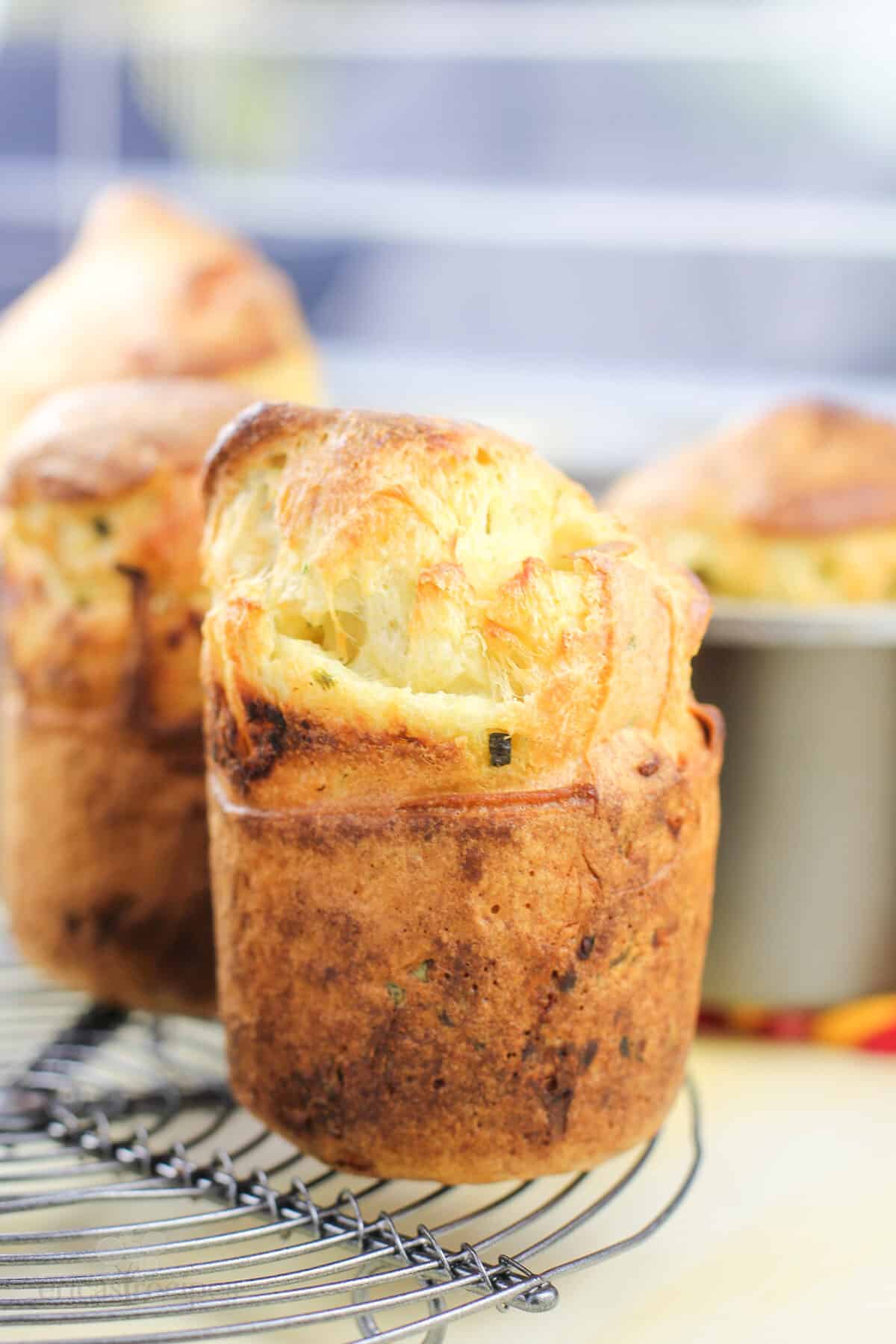 About the ingredients
This recipe starts with the same basic ingredients, in the same ratio, as my Perfect Popovers: eggs, milk, all-purpose flour, kosher salt, and unsalted butter. The crucial thing is to have the eggs and milk at room temperature. This helps the steam in the batter create quickly to create the popover 'puff". You will also need cooking spray for the pan.
Other than those above ingredients, we are adding a poblano pepper, shredded pepperjack cheese (aka Monterey Jack cheese with jalapenos), and cilantro.
If cilantro is not your thing, you can omit or substitute with flat-leaf parsley. Dried cilantro can also be used, but in that case reduce the amount from a tablespoon to a teaspoon.
Pepperjack cheese comes as a brick, so we need to shred it ourselves with a grater. Freshly shredded cheese is better for this recipe anyway since it doesn't have the anti-caking ingredients added to packaged shredded cheese. Walmart does sell preshredded pepperjack – I do not recommend that cheese [I've tried it and bleh].
How to roast poblano peppers
Roasting peppers takes about 15 minutes under the oven broiler. Put the pepper right on the oven rack under the broiler, then turn every 5 minutes or so until the skin is blackened and blistered all over. Put the pepper in a ziploc bag to steam, then once it is cool enough to handle, remove the skin and seeds and chop.
For this recipe, we want to chop the pepper pretty small, like a fine dice. Also, this step can be done a day or two in advance. Simply the chopped roasted pepper in a little resealable baggie or container with a lid.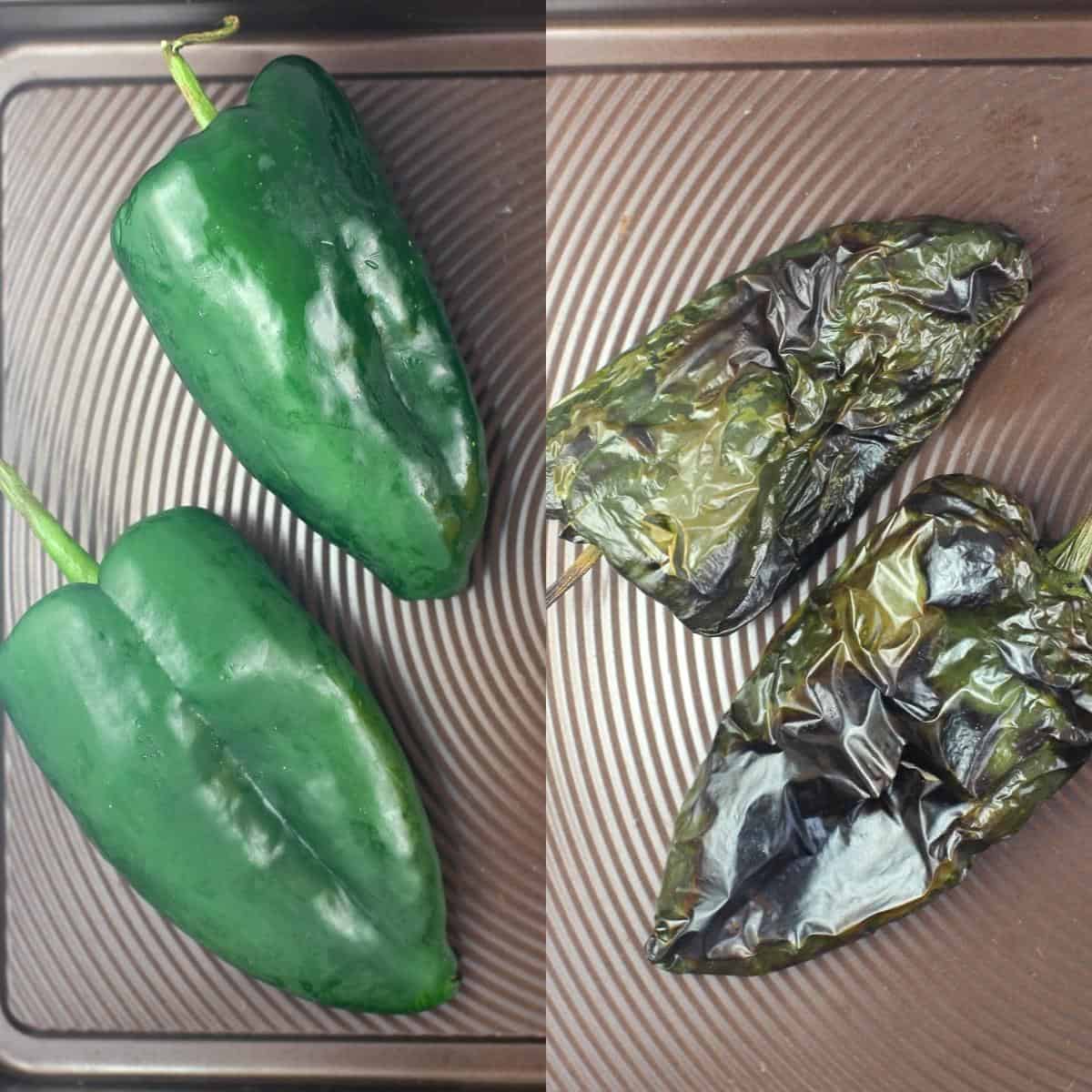 How to make poblano pepper popovers
There are key tricks and steps that get popovers to rise. That said, we are adding a whole poblano peppers and half a cup of cheese to this batter – that's a lot of bulk. So, these popovers will not grow sky high like a traditional popover, but they will puff up for a delicious tasty roll, crispy outside and soft inside with plenty of hollows to catch your melted butter.
Full instructions are in the recipe card below, but the key takeaways are thusly:
Roast poblano pepper using the oven broiler.
Make the popover batter using room temperature eggs and milk.
Let the batter rest 15 minutes while the oven heats.
Heat the popover pan for 2 minutes in the oven. Carefully remove and spray with cooking spray.
Fill the popover tins ~3/4s full with batter.
Bake popovers at 450°F for 15 minutes.
Reduce oven to 350°F without opening the oven door, and cook another 15 minutes. If you open the oven door, all the heat will escape and we don't want that.
Remove popovers from the oven and pierce with a knife to allow steam to escape.
Serve immediately.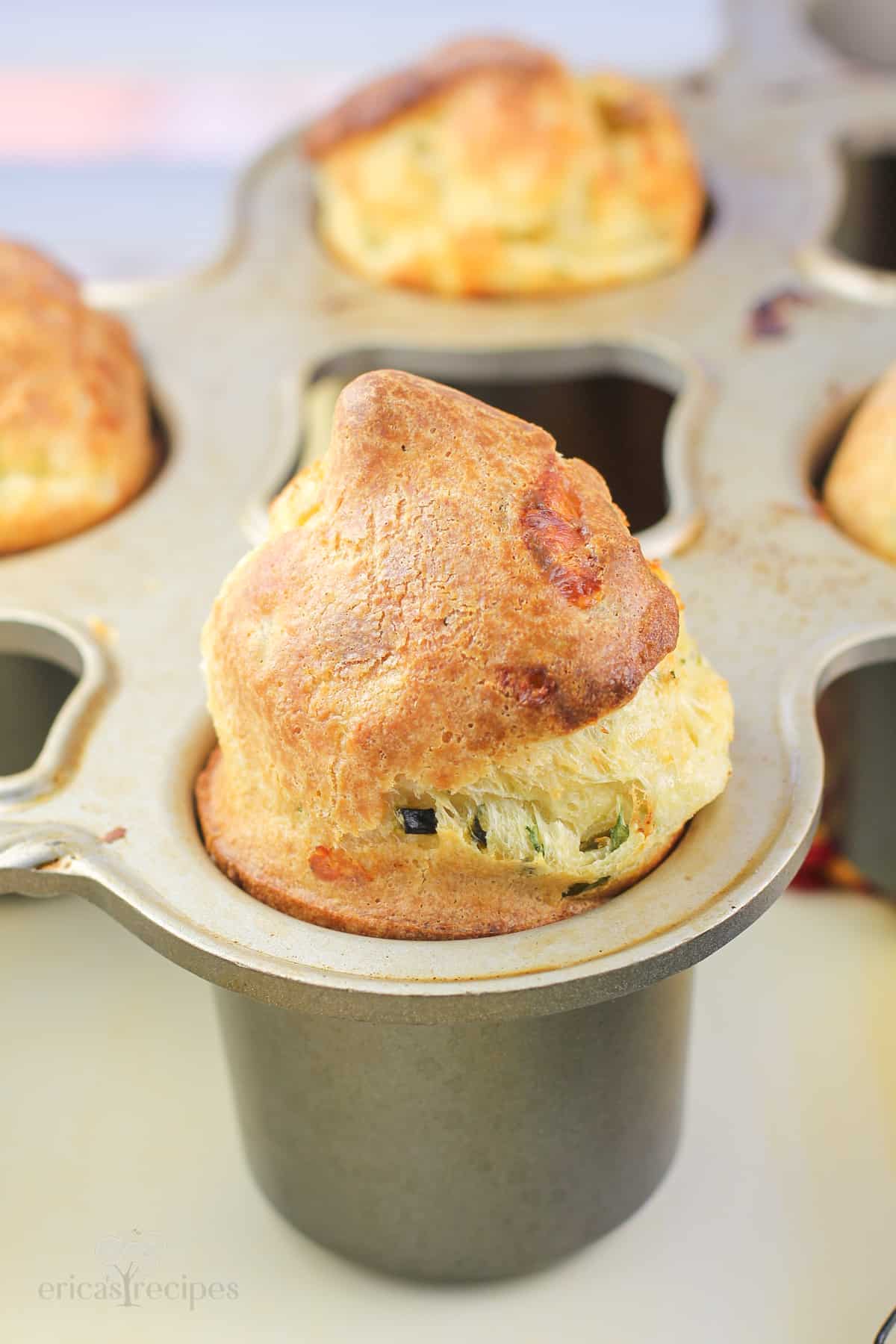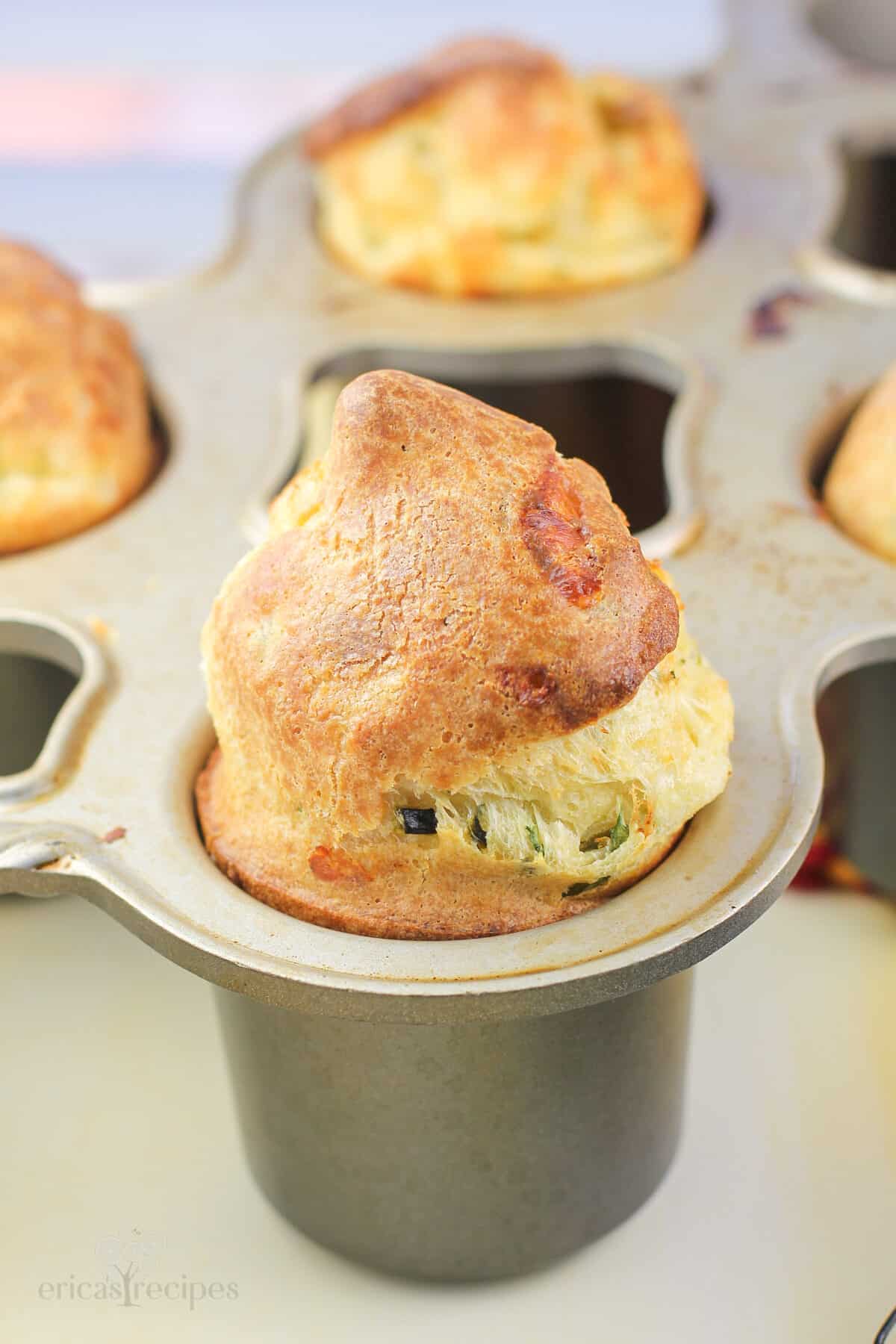 What to serve with poblano pepper popovers
There are so many recipes that are magic with these popovers, but I especially suggest casseroles that are made in advance or dinner recipes that are prepared entirely on the stovetop. This leaves the oven free for baking the popovers. Add a side salad to complete the meal.
FAQs
Can poblano pepper popovers be made in advance?
As a general rule, popovers are best fresh because once they cool, the outside softens and does not stay crispy. For this recipe, the pepper can be roasted well in advance (1-2 days). The batter can be made up to an hour in advance. So I recommend preparing the batter, setting aside while the rest of the meal is prepared, then make the popovers last to be able to serve fresh.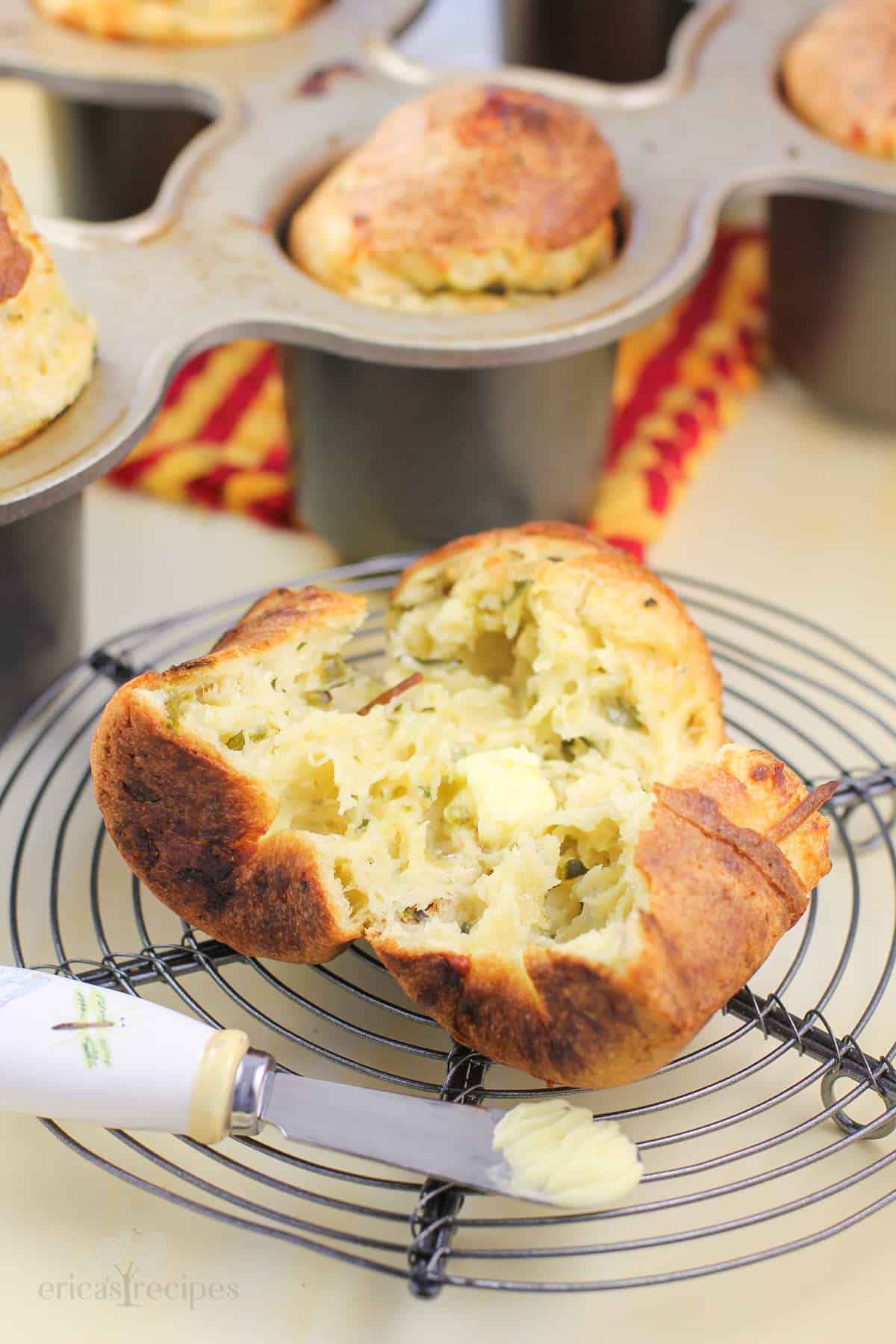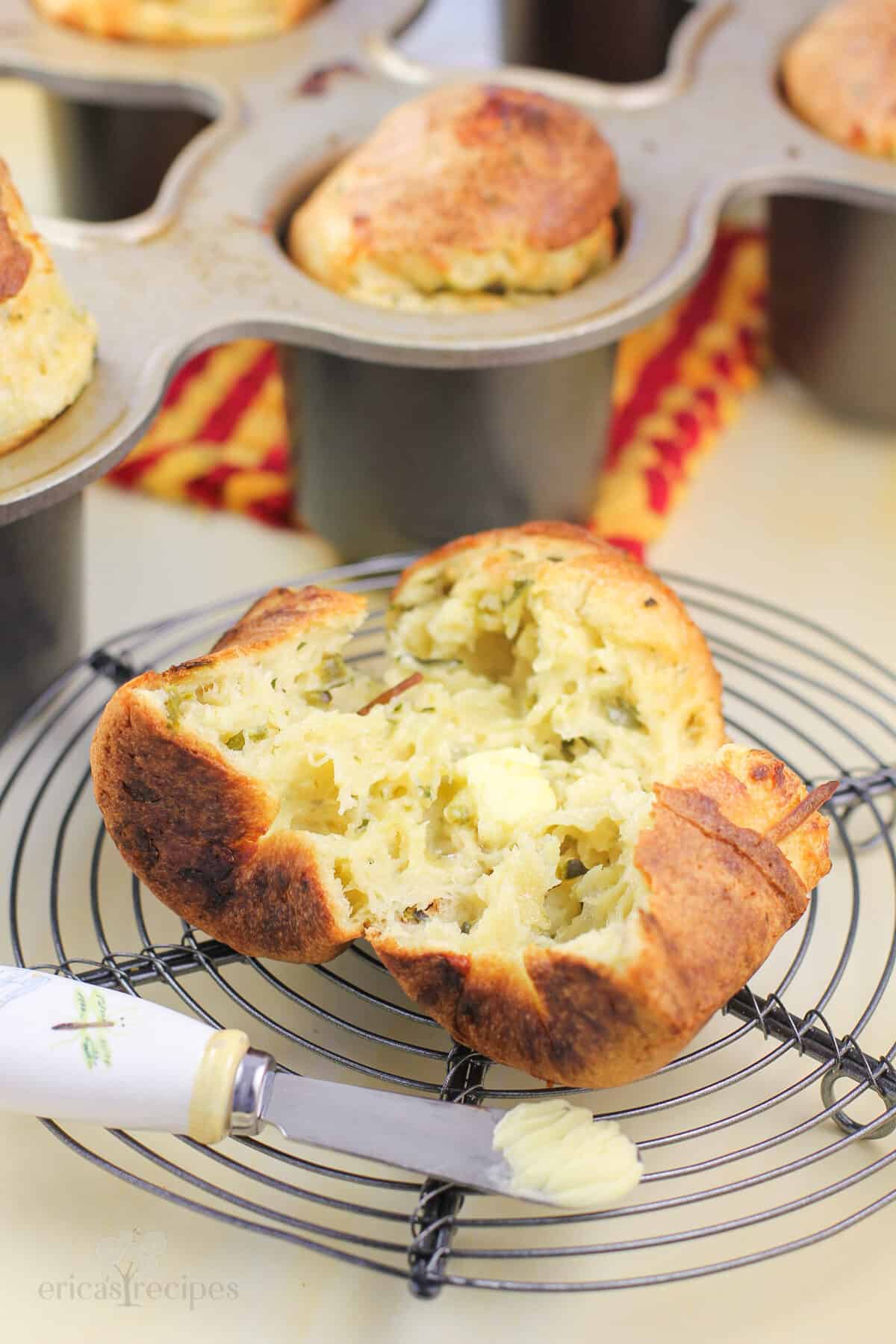 This recipe is adapted from my traditional recipe for popovers.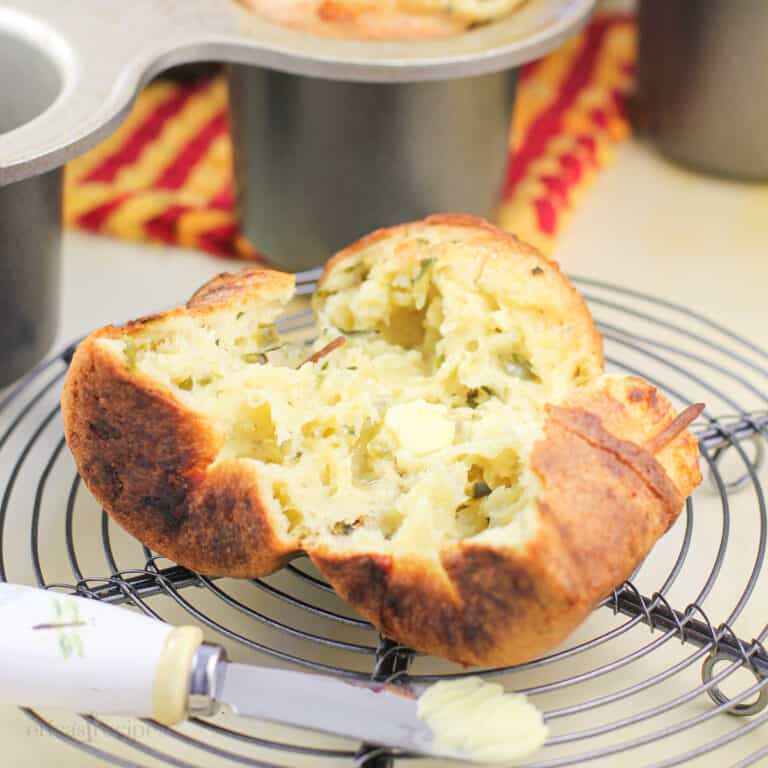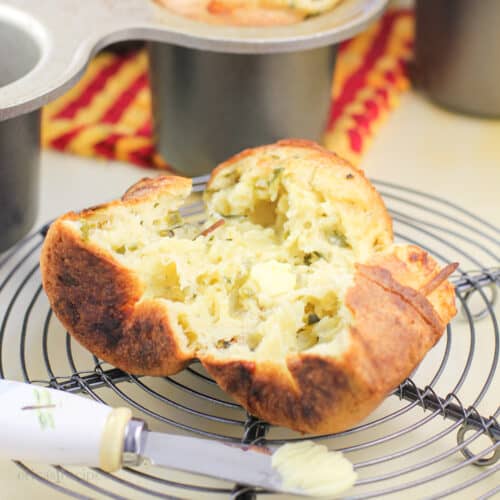 Poblano Pepper Popovers
Poblano Pepper Popovers are cheesy delicious with pepperjack cheese and roasted poblano pepper. This is a great variation of traditional popovers with flavorful poblano pepper and herb.
Ingredients
1

poblano pepper

2

large eggs

room temperature

1 ½

cup

milk

room temperature

1 ½

cup

all-purpose flour

½

tsp

kosher salt

2

Tbsp

unsalted butter

melted

½

tsp

hot sauce

2

oz

shredded Monterey Jack cheese with jalapenos

aka pepperjack cheese

1

Tbsp

chopped fresh cilantro
Instructions
Roast the poblano pepper
Heat up the oven broiler. Broil the poblano pepper 1 inch from the heat, turning occasionally to get all sides charred and blistered.

Transfer pepper to a resealable bag, seal, and allow to steam 5-10 minutes. Discard the charred skin and seeds from the pepper. Dice the pepper finely.
Prepare the popover batter
In a large mixing bowl, whisk the following ingredients in the order given: eggs, milk, flour, salt, butter, and hot sauce until batter is smooth. Stir in the cheese, cilantro, and poblano pepper.

Heat oven to 450°F. Allow the batter to rest while the oven heats (15 minutes).
Bake the popovers
Put the popover pan in the oven to heat 2 minutes. Carefully remove from the oven and spray tins with cooking spray.

Add the prepared batter to the popover tins. The wells will be ~3/4s full.

Bake at 450°F for 15 minutes.

Without opening the oven, reduce heat to 350°F and cook an additional 15 minutes until puffed and golden

Remove the popover pan from the oven. Pierce the popover tops with a knife and remove popovers from the pan. Serve immediately.
Nutrition
Calories:
233
kcal
(12%)
|
Carbohydrates:
26
g
(9%)
|
Protein:
10
g
(20%)
|
Fat:
10
g
(15%)
|
Saturated Fat:
5
g
(31%)
|
Monounsaturated Fat:
2
g
|
Cholesterol:
87
mg
(29%)
|
Sodium:
211
mg
(9%)
|
Potassium:
44
mg
(1%)
|
Fiber:
1
g
(4%)
|
Sugar:
4
g
(4%)
Calorie count is purely an estimate calculated using an online application to serve as a guide and not to be taken as accurate nutritional information. Percent Daily Values are based on a 2,000 calorie diet.
Tried this recipe?
Leave a comment below and let me know!