Smoked Salmon Crepes have gently scrambled eggs with smoked salmon and shallot in delicate crepes with a creamy white wine béchamel sauce. This salmon crepe recipe is special and elegant, yet easy and approachable. Both the white wine sauce and crepes can be made in advance, and the decadent smoked salmon scrambled egg filling is ready in minutes.
I heart these smoked salmon crepes so hard I just cannot even. I have made this salmon crepe recipe a couple times now, both inside on my stovetop and outside on my Blackstone griddle, and either way these are dreamy decadent fancy delicious crepes. Perfect balance of flavors, smoky salmon, cheese, shallot, and a DELICIOUS yummy white wine sauce to finish.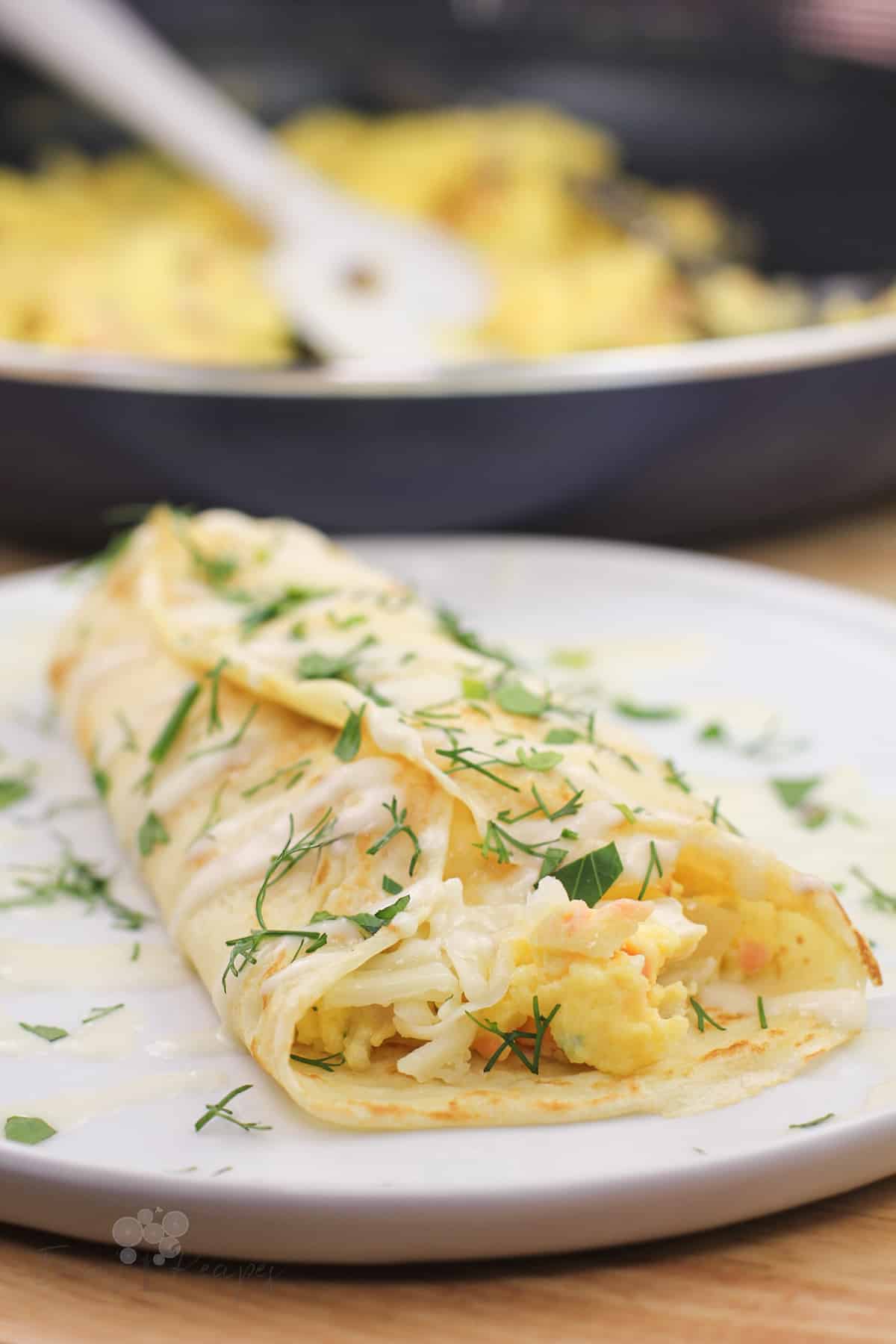 Why this recipe works
I have posted enough crepes recipes now that I am kind of thinking I need to rethink my tagline. I mean, pizza has always been and still is my favorite food – but what even is my obsession with crepes?
Easy. Like pizza, crepes are versatile. And I know that when most people think of crepes, they think strawberries, Nutella, and such as fillings. But I am here to show you that Savory Crepes are not only completely delicious, they are just as fun, versatile, and interesting.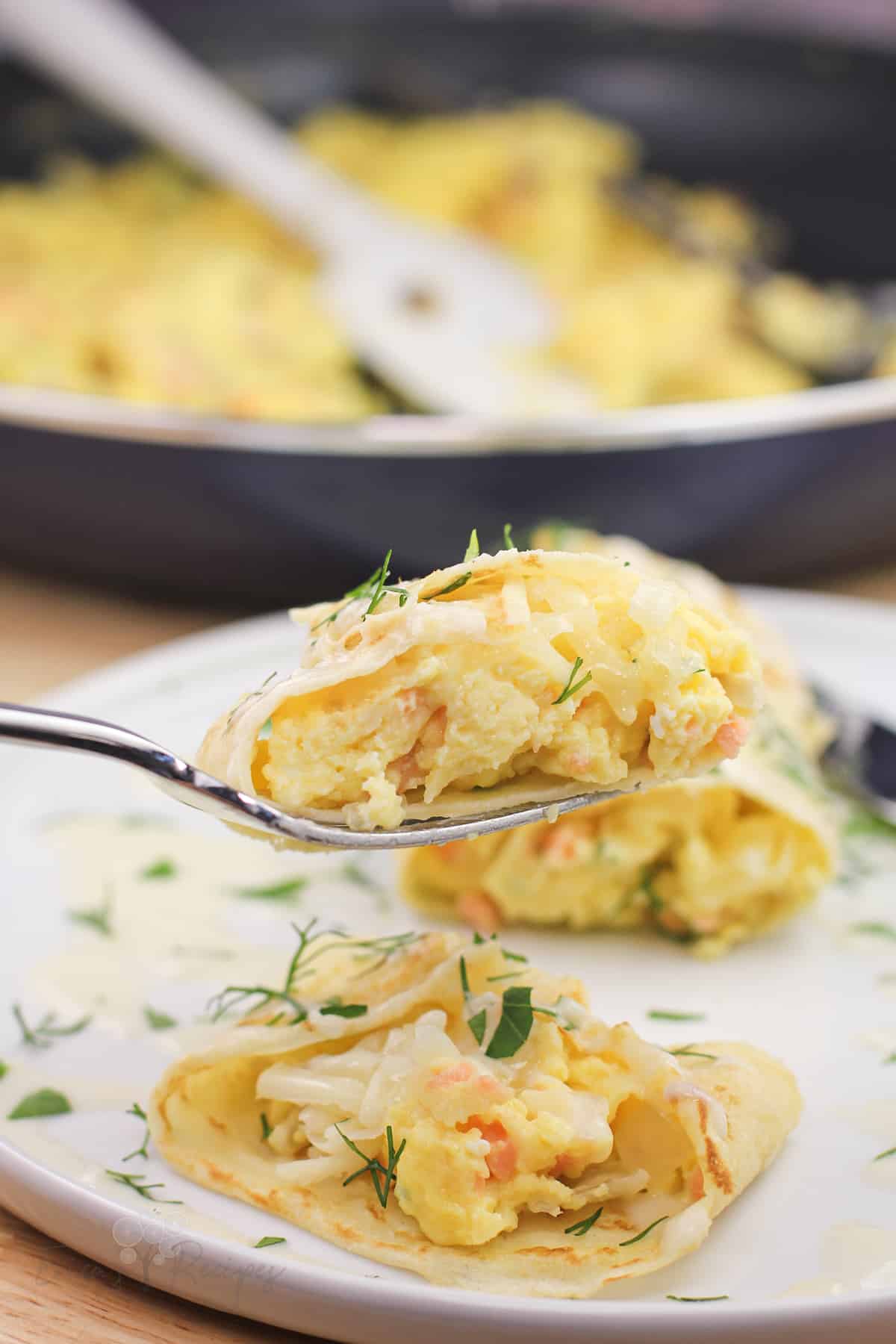 Now, THIS recipe works for a couple reasons. First, both the white wine béchamel sauce and crepes can be made a day in advance, then gently reheated. So, despite being on the fancy side, this recipe is not hard.
And two, not just the flavors, but layers of harmonious flavor. This salmon crepe recipe delivers deeply decadent and mature flavors with the smoked salmon and white wine sauce.
Yet the subtle bite of shallot, fresh dill, and hint of Dijon in the sauce are a foil. Inside delicate perfect crepes, this recipe WORKS.
Ingredients and preparation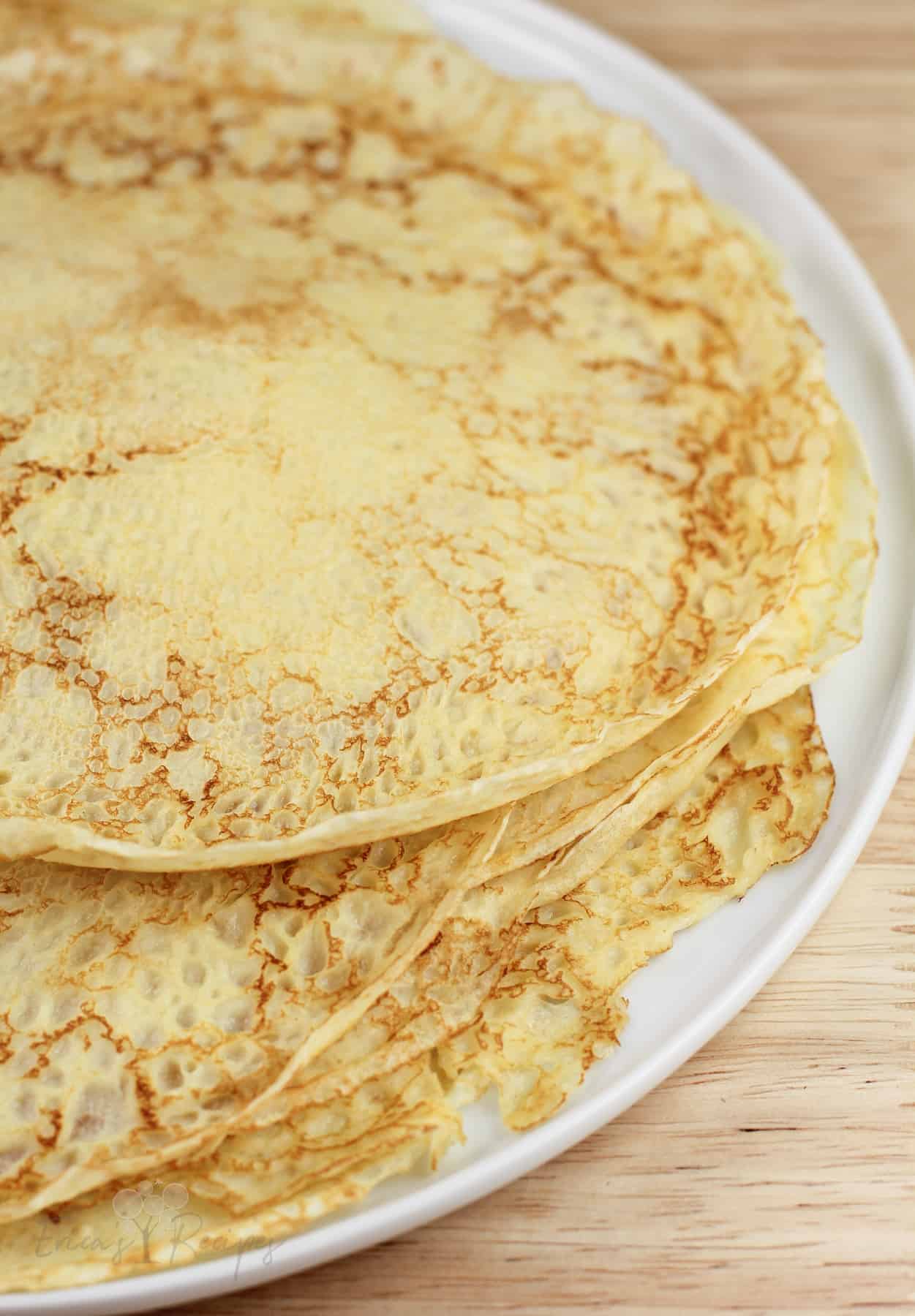 Crepes
First we make crepes, and if you check out my Savory Crepes recipe you will see that all you need is an 8-in, nonstick pan and rubber spatula for perfect, EASY crepes. I've got all the deets in that post for you.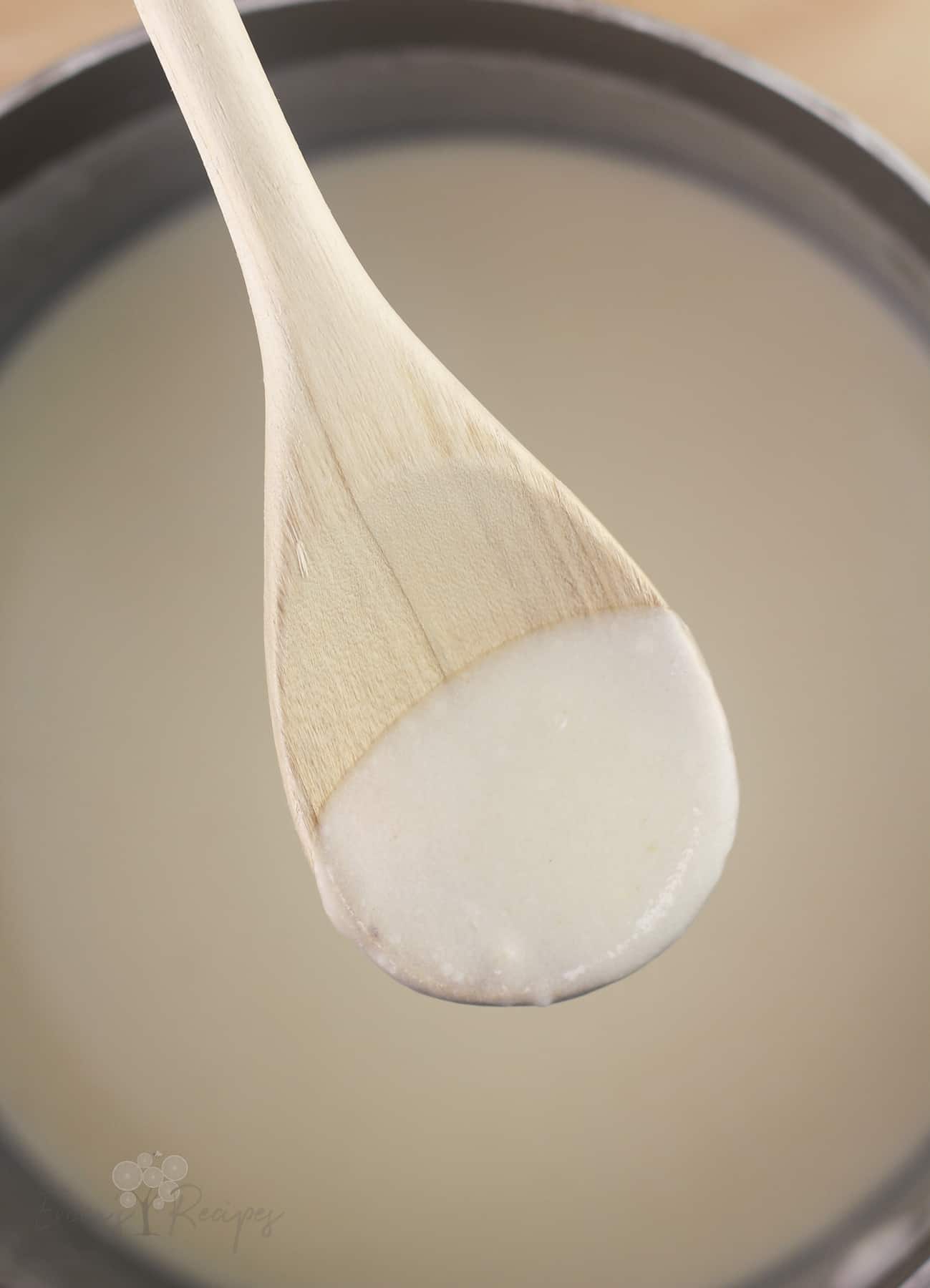 White wine béchamel sauce
First, make a roux with butter and flour. Unsalted butter (always) and all-purpose flour.
Then, we transform the roux into béchamel sauce by adding milk and dry white wine. For the milk, 1%, 2%, or whole milk will work. I do not recommend using skim milk or plant-based milk here.
For the wine, any dry white wine will work – think Sauvignon, Pino Grigio, or chardonnay. I use Pino Grigio myself. I do not recommend using "cooking wine" because it has added salt (and is plain nasty). Also, do not use Moscato, zinfandel, of Riesling either.
Cheese goes into the sauce next, and I love Fontina cheese here. Fontina is a mild, soft-ish creamy cheese that melts really well. Find it in the section with the specialty cheeses. If not available, substitutes can be white cheddar or Gruyère cheese.
Flavor enhancers finish the sauce: Dijon mustard and kosher salt. After the sauce is made and allowed to thicken, give a little taste to add more salt if necessary.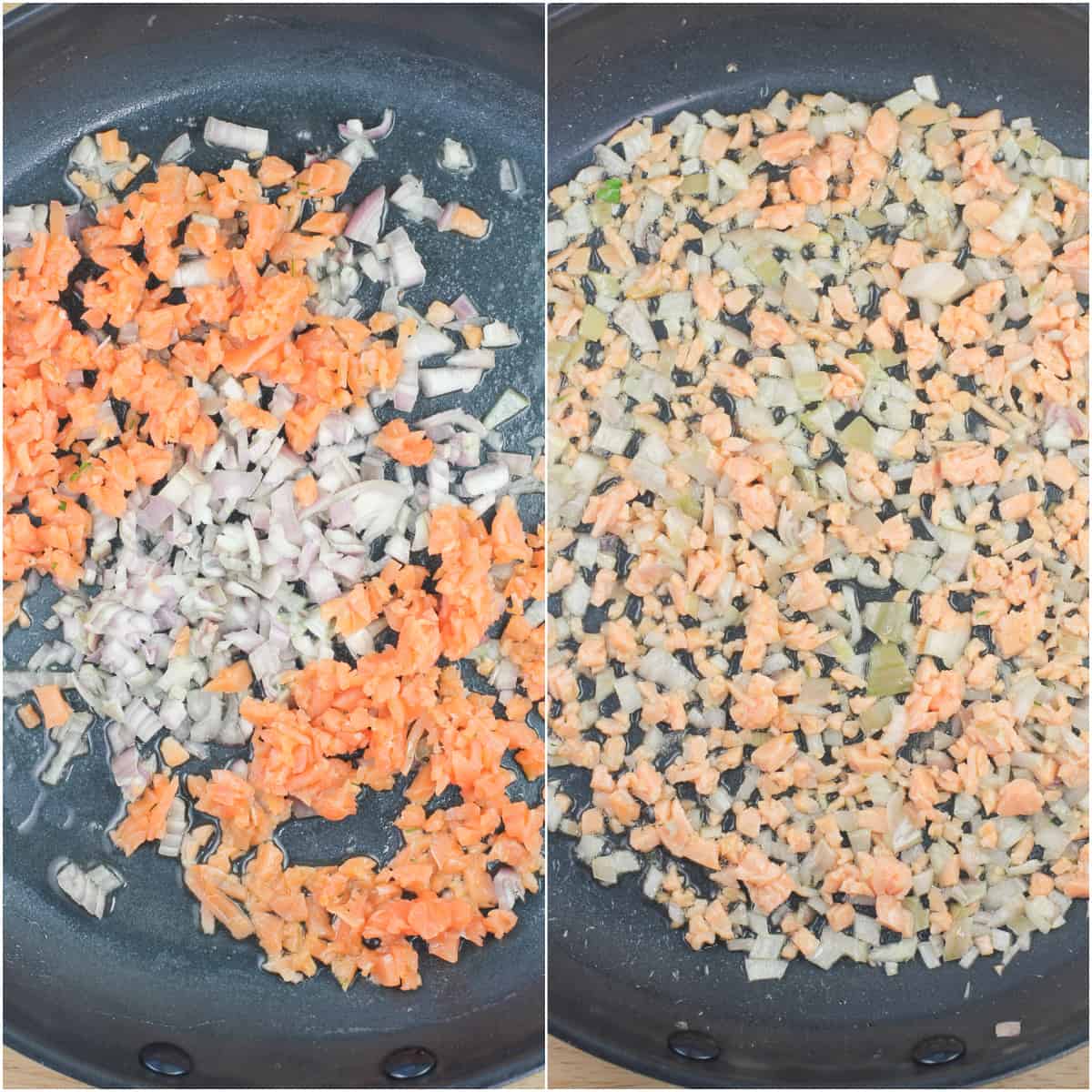 Smoked salmon scrambled eggs and assembly
This is a recipe for delicate, creamy scrambled eggs with smoked salmon. So, take care to assemble the ingredients and have everything ready to bang them out because this part is quick cook.
Start by cooking the shallot and salmon in butter. This is a quick ~2 minutes just until shallot is fragrant (the salmon will cook almost instantly).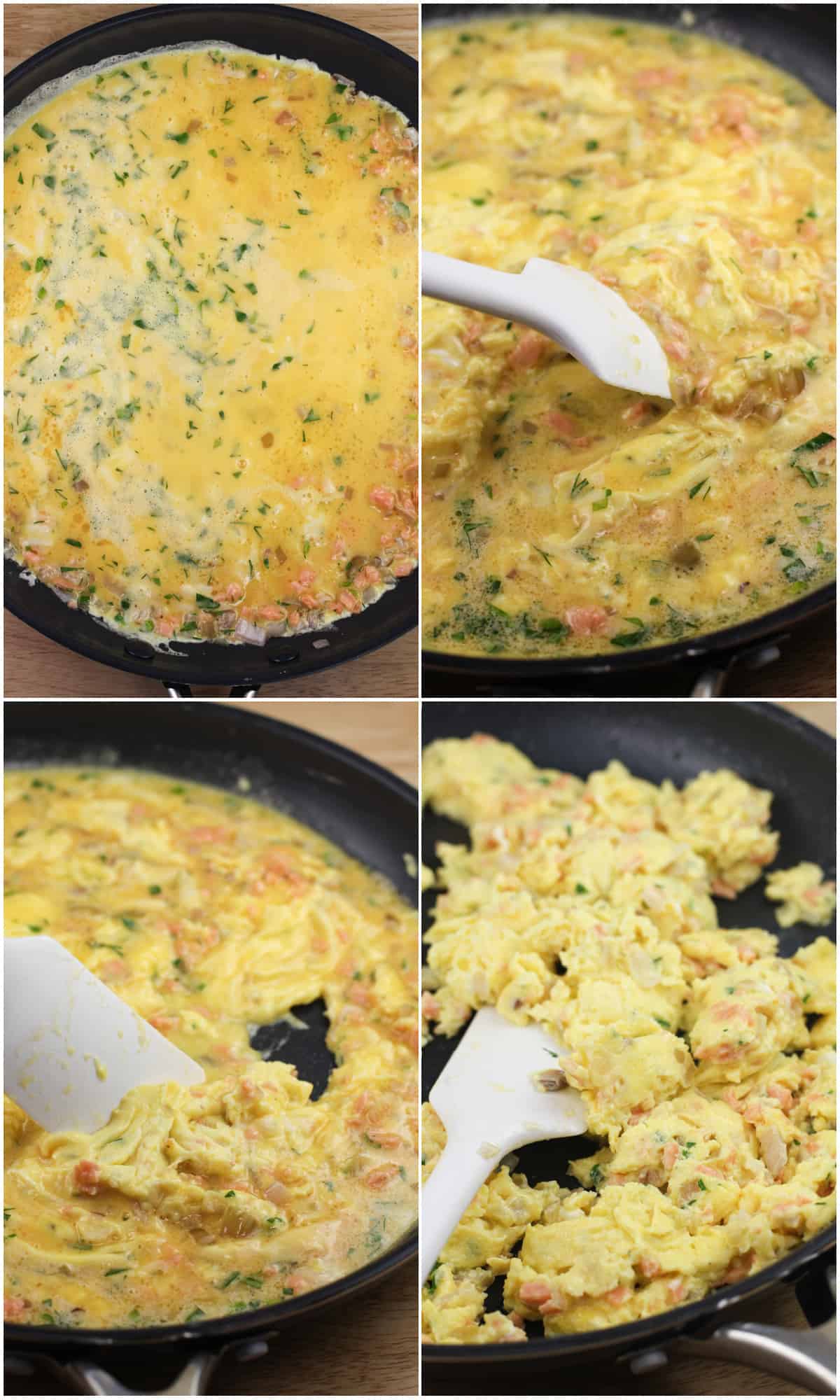 Separately, we have already combined our eggs, cream, salt, Dijon, and herbs (dill and parsley), and some of the cheese. Pour this into the pan and gently scramble making nice, long curds and by gently folding.
At this step, we really want to take care to cook over moderate, or even moderately-low heat. We want creamy luscious scrambled eggs, not a hard scramble. The cooking timeframe is just the same, just be sure to adjust cook temp on whatever surface you are cooking on – be it skillet or Blackstone.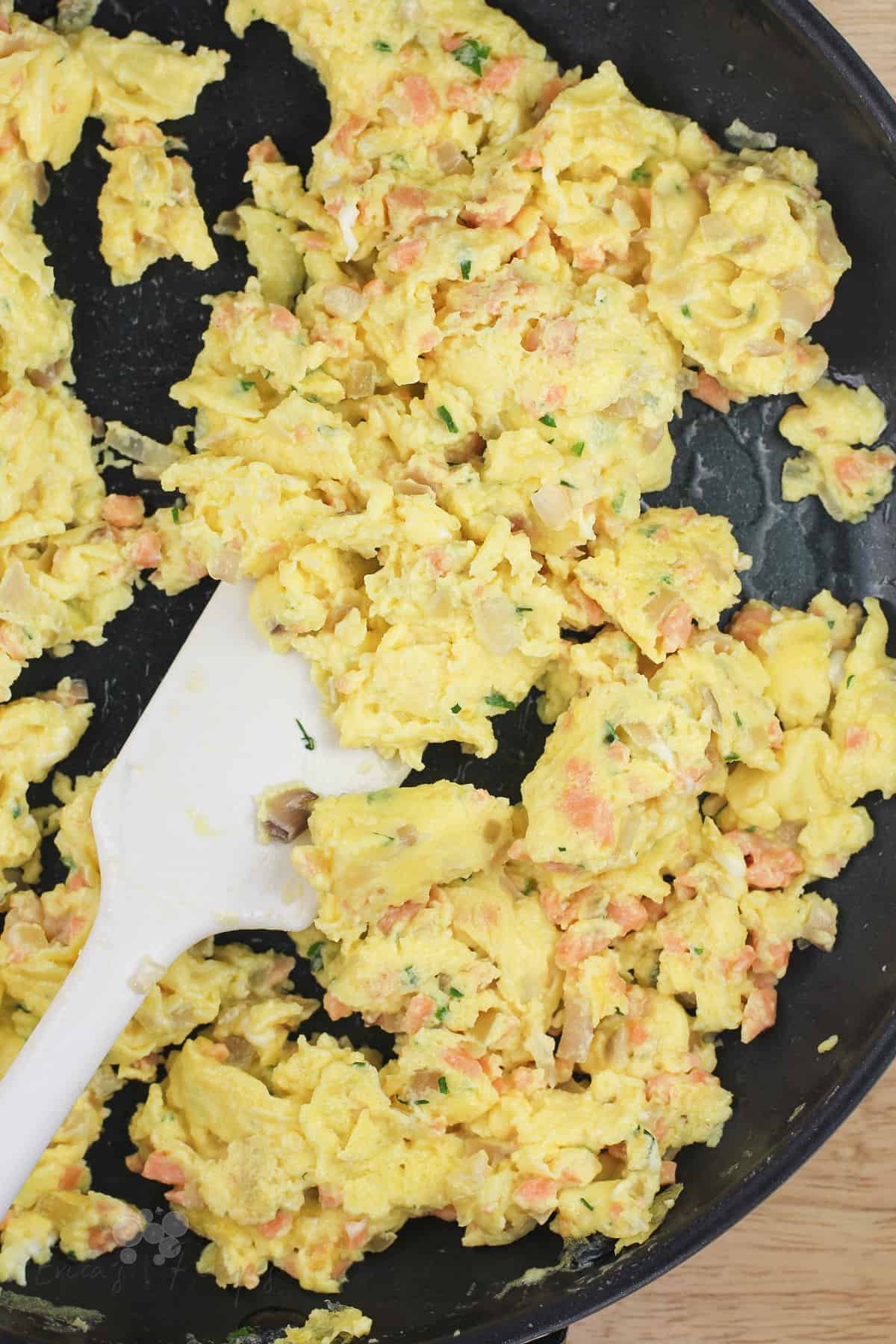 Finally, we lay out a crepe, top with egg mixture, cheese, and fold. Drizzle over sauce and garnish with herbs and serve immediately!
Tips
Assembling ingredients together prior to cooking is especially important for this smoked salmon and eggs. You will want to serve these straight away so they don't overcook or dry out.
Use a rubber spatula to make nice, long curds and gently fold the eggs as they cook. We are not wanting a hard scramble.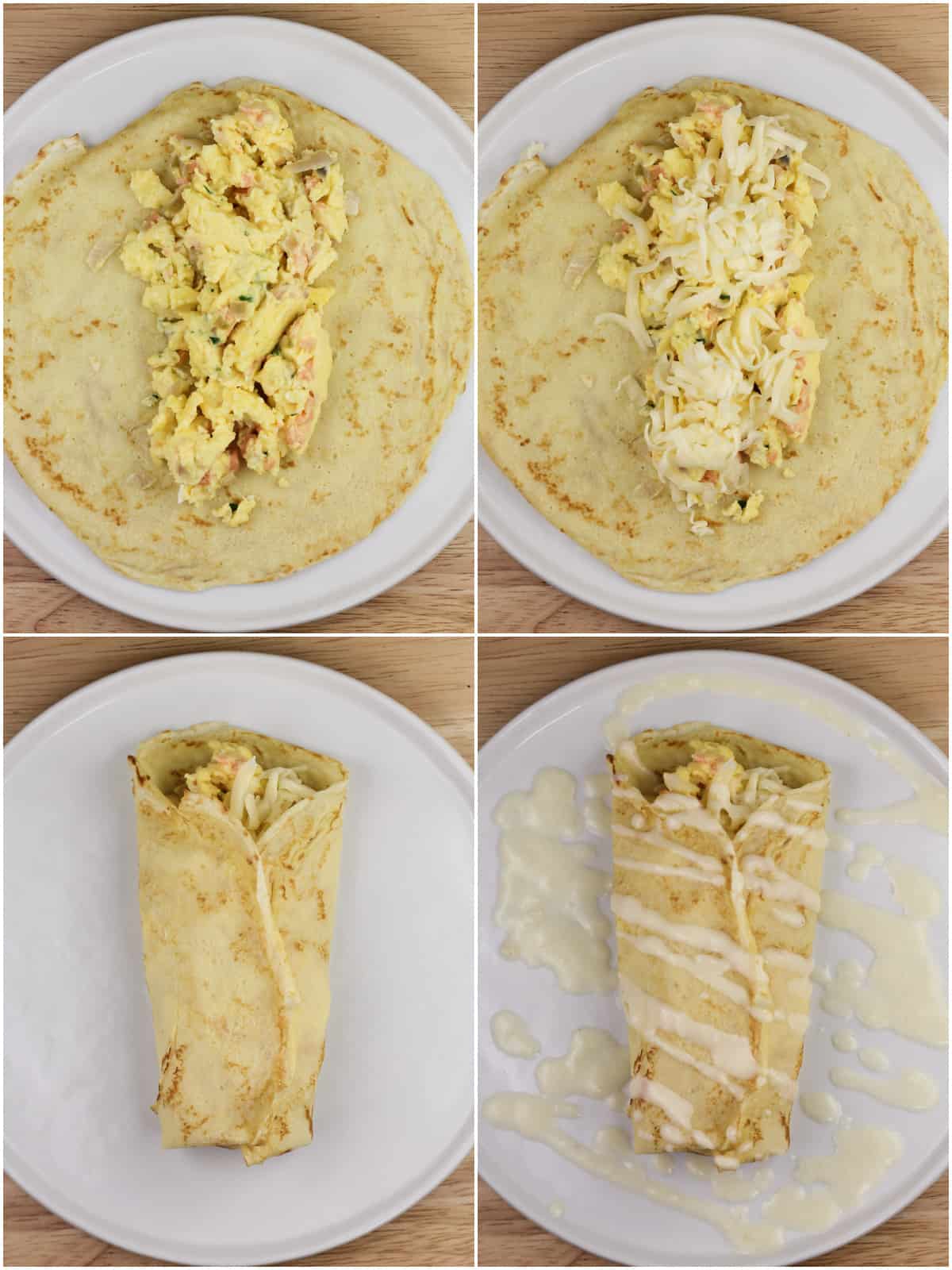 This salmon crepes recipe can be made on the stovetop or outside on a Blackstone (or other manufacturer) griddle. Directions are the same with the exception to prep the griddle (i.e. clean and season) prior to cooking according to product directions.
Both the crepes and white wine sauce can be made a day in advance.
An empty condiment bottle or dispenser is super handy to drizzle the sauce nicely over the prepared crepes.
Don't shy away from this recipe! Best tip I can ever give – I am not using any fancy techniques or anything here honestly. These steps are all completely doable. Remember, I used to not be able to even boil water without help (seriously). Just breathe and take the leap! You will be amazed what you can make!
More crepe recipes you might like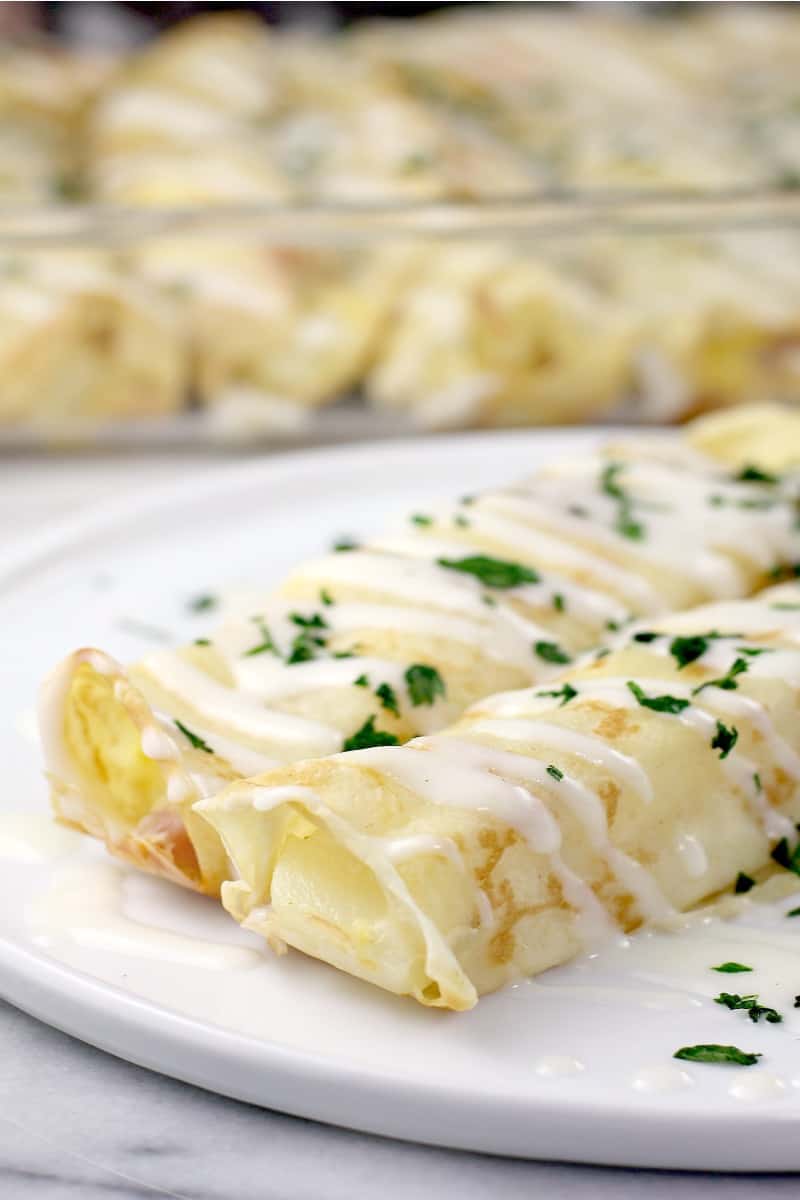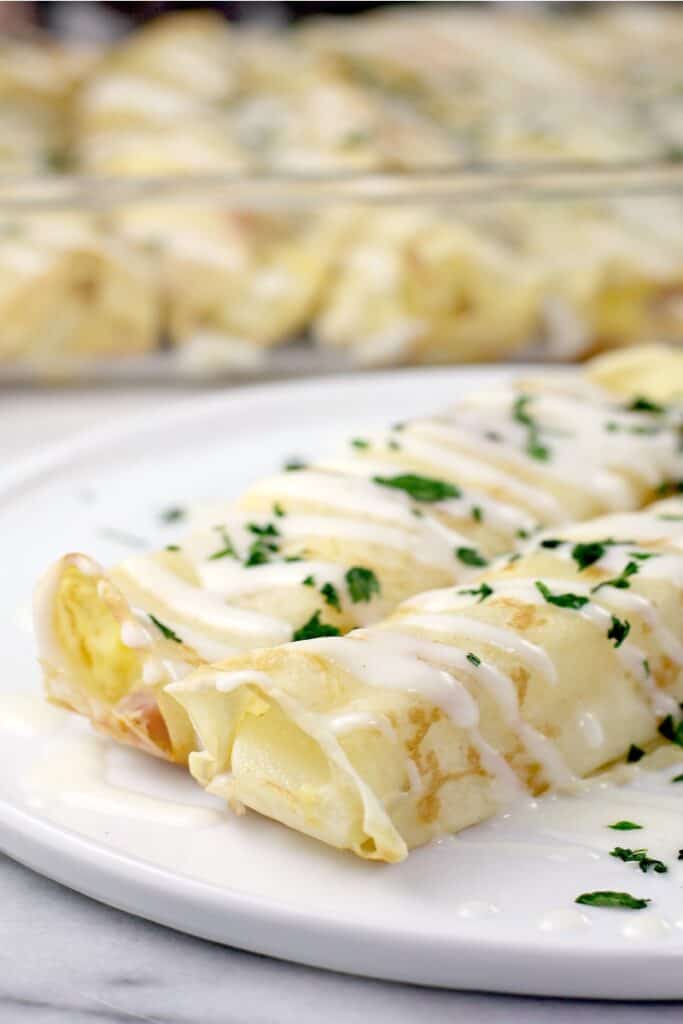 FAQs
Can canned or baked/leftover salmon be used in place of smoked salmon?
Yes! If smoked salmon is not particularly your thing, you can use non-smoked salmon. However, I am NOT a fan of smoked salmon myself, which is why I cook it (see recipe card). So, if you are on the fence, I still recommend giving this recipe a try as written.
Are smoked salmon crepes a good buffet recipe?
Ehhh, I don't think so. I am ALL about crepes in buffets or for serving a bunch of people, but the thing with eggs is that they don't have much staying power. If you want a crepe recipe that can sit out longer, check out my Crespelle Prosciutto e Formaggio.
What adjustments are needed for cooking on an outdoor griddle?
Actually, surprisingly no. When I made this very recipe on my Blackstone, I followed the same method with the same ingredients exactly. The ONE thing is cooking crepes on the Blackstone – that is trickier, the sell kits for it (with a little wood tool), and I haven't "blogged" that yet. I will come back and update if I do. The eggs and salmon are EASY on a griddle. Crepes are easier indoors on the stovetop, as is the sauce.
Can the crepes be purchased?
Sure, just make sure they are not sweet crepes and have no sugar added.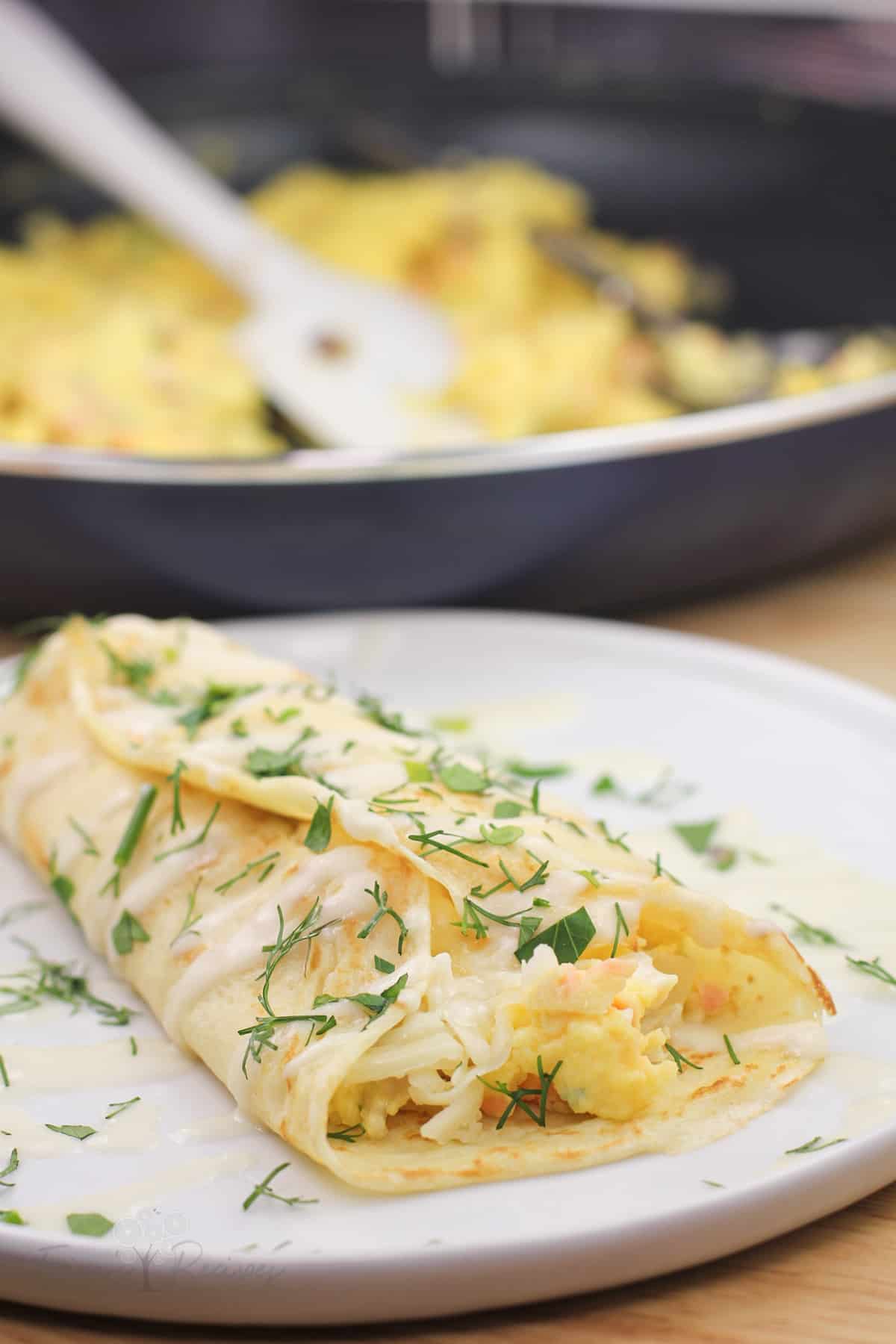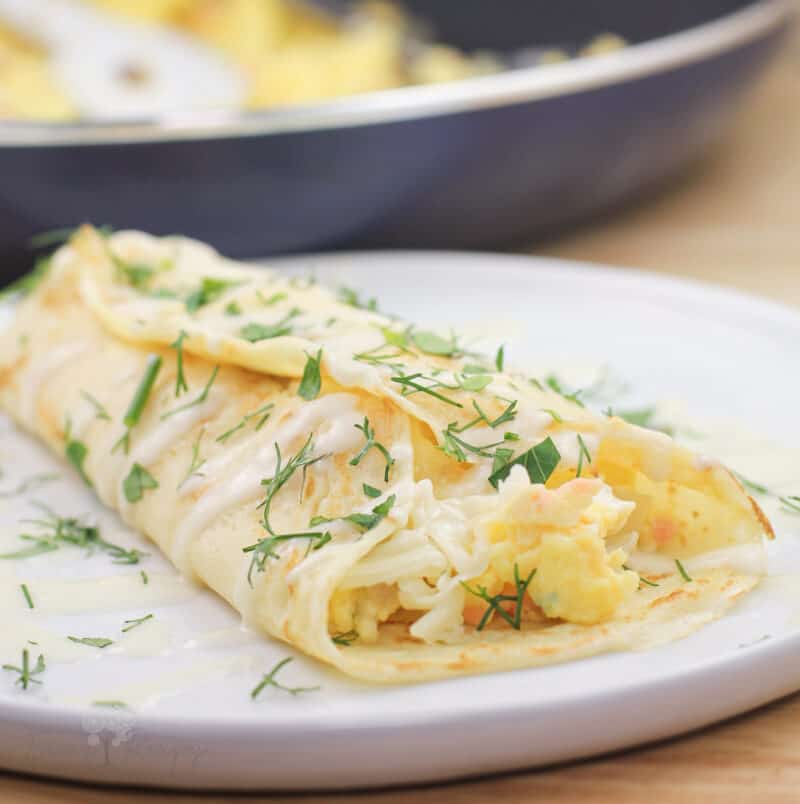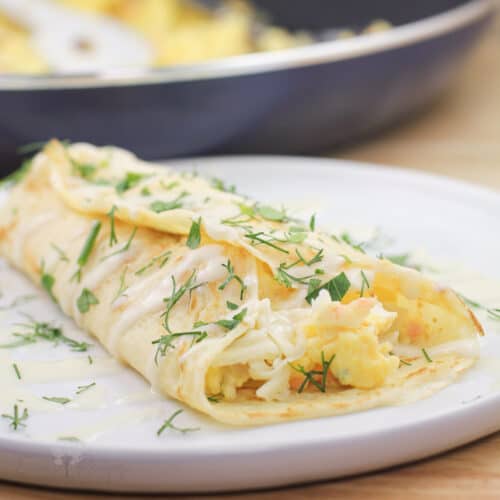 Smoked Salmon Crepes
Smoked Salmon Crepes have gently scrambled eggs with smoked salmon and shallot in delicate crepes with a creamy white wine béchamel sauce. This salmon crepe recipe is special and elegant, yet easy and approachable.
Ingredients
For the white wine béchamel sauce
2

Tbsp

unsalted butter

2

Tbsp

all-purpose flour

⅓

cup

dry white wine

1 ¼

cups

milk

2

oz

Fontina cheese

shredded

1

tsp

Dijon mustard

½

tsp

kosher salt
For the smoked salmon scrambled eggs
8

large eggs

lightly beaten

¼

cup

heavy cream

½

tsp

kosher salt

1

tsp

fresh chopped dill

1

tsp

chopped flat-leaf parsley

6

oz

shredded Fontina cheese

divided

1

large shallot

finely diced

2

Tbsp

unsalted butter

3

oz

smoked salmon

finely chopped

garnish: fresh dill and parsley
Instructions
For the white wine béchamel sauce
Heat a medium saucepot over medium-high heat. Add the butter and, once melted, add the flour. Whisk until smooth and allow to cook 1-2 minutes (to cook the flour) until lightly golden.

Whisking constantly, add the milk and wine to the roux. Heat, stirring constantly, until warmed through. Add the salt, Dijon, and cheese. Stir until cheese melted and sauce is smooth. Remove from the heat and set aside.
For the smoked salmon scrambled eggs
In a mixing bowl, whisk together the eggs. Add the cream, salt, dill, parsley, and 2 ounces Fontina cheese.

Heat a large, nonstick skillet over medium-high heat. Add the butter, shallot, and smoked salmon and cook, stirring regularly, 2 minutes or until shallot is fragrant.

Reduce heat to medium (or medium-low if your surface runs hot). Add the egg and herb mixture to the skillet. Use a rubber spatula to gently fold the eggs and made curds as the egg on the bottom cooks.

When eggs are about cooked through, but not dry, remove from the heat. The eggs will keep cooking once removed from the heat.
Assemble crepes
Lay a crepe on a plate. Top with ⅛ of the egg mixture and ⅛ of the remaining 4 ounces Fontina cheese. Fold crepe around the filling. Drizzle white wine béchamel sauce over and garnish with dill and parsley.

Repeat with remaining ingredients. Serve immediately.
Notes
Cooking time and nutritional estimation do not include my crepes. Those values are available here: Savory Crepes.
Nutrition
Serving:
2
crepes
|
Calories:
622
kcal
(31%)
|
Carbohydrates:
12
g
(4%)
|
Protein:
34
g
(68%)
|
Fat:
48
g
(74%)
|
Saturated Fat:
26
g
(163%)
|
Polyunsaturated Fat:
1
g
|
Monounsaturated Fat:
8
g
|
Cholesterol:
498
mg
(166%)
|
Sodium:
1088
mg
(47%)
|
Potassium:
393
mg
(11%)
|
Fiber:
1
g
(4%)
|
Sugar:
7
g
(8%)
Calorie count is purely an estimate calculated using an online application to serve as a guide and not to be taken as accurate nutritional information. Percent Daily Values are based on a 2,000 calorie diet.
Tried this recipe?
Leave a comment below and let me know!