Gruyere, Garlic, and Gouda Mashed Potatoes
Gruyere, Garlic, and Gouda Mashed Potatoes with French fine herbs, butter, and cream are beautifully delicious cheesy mashed potatoes to complement your main dish. Creamy Gouda and nutty Gruyere cheeses blend together perfectly in these easy mashed potatoes with cheese.
This recipe using both Gruyere and Gouda in mashed potatoes was inspired, of all things, by a photo my husband took of menu in Nashville, Tennessee. The combination of the two cheeses (and garlic and French fine herbs) spoke to me straight away and I knew I had to make it myself at home.
Read on for all the details of how to make these AMAZING mashed potatoes that are sure to delight. There are plenty of tips, especially for those that may not have as much cooking experience. For you veteran cooks, you can hit the Jump To button above to skip to the recipe card.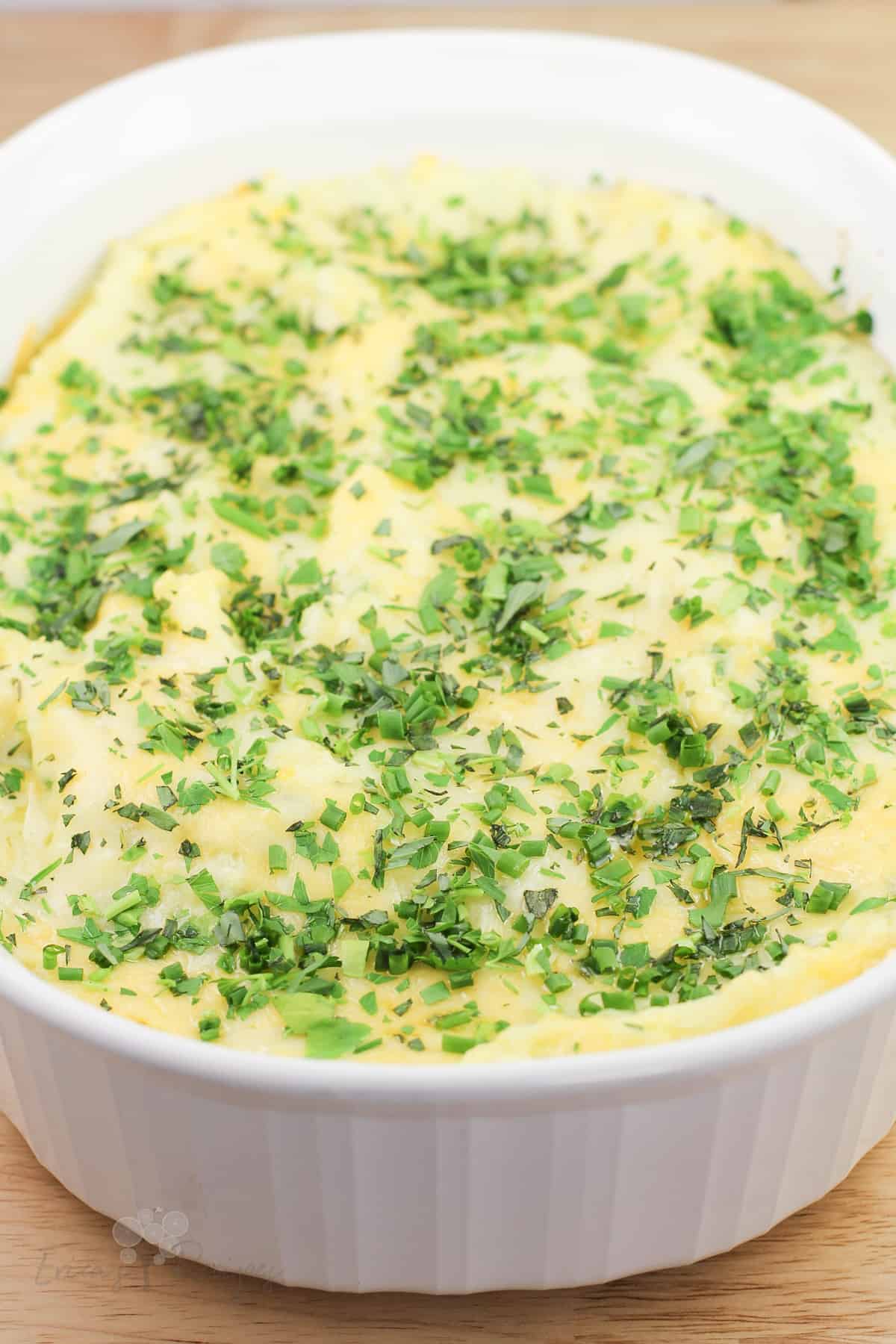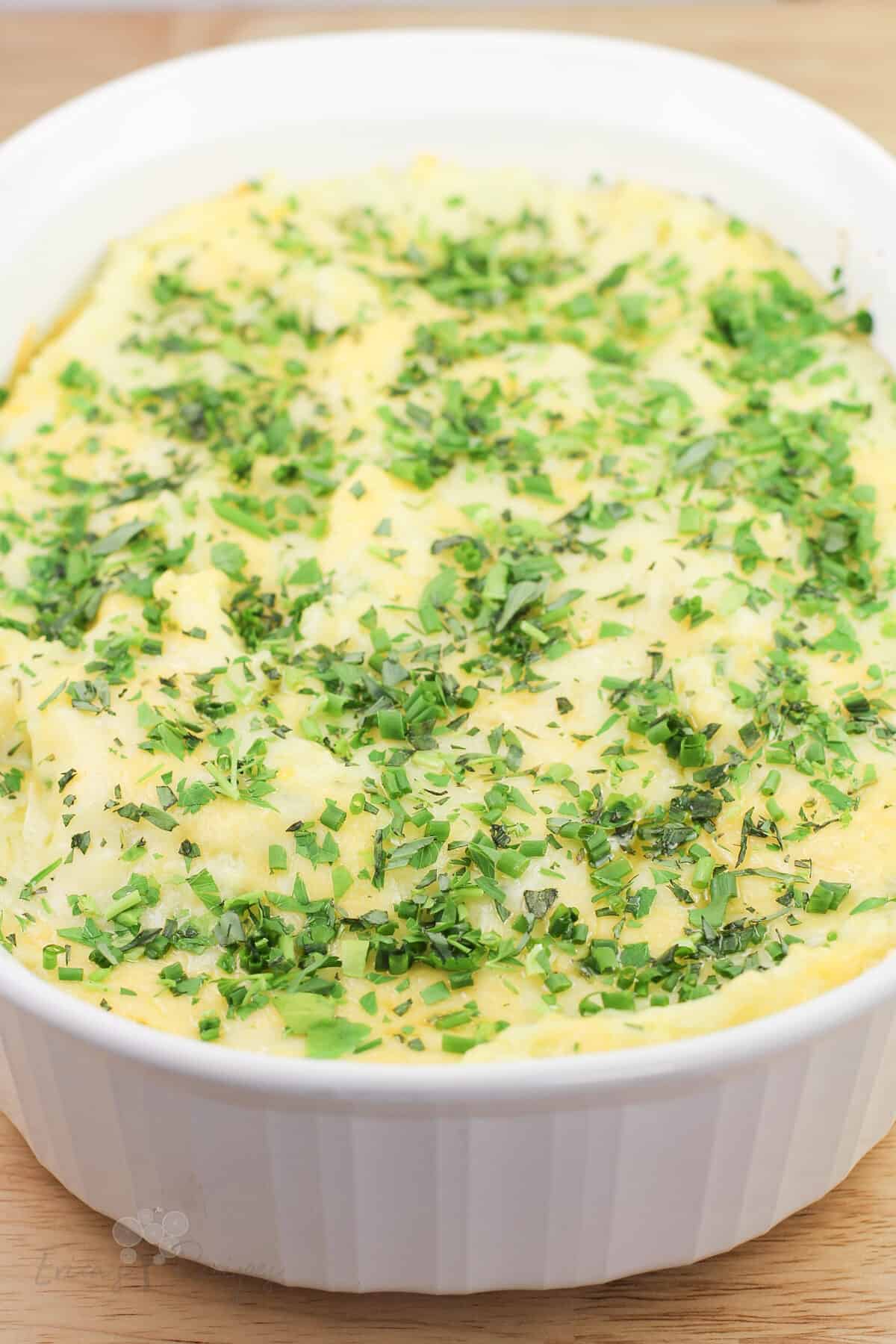 Why you will love this recipe
First and foremost is the flavor bomb of cheesy mashed potatoes goodness with French fine herbs, garlic, and TWO gorgeous cheeses, Gouda and Gruyere. Butter, cream, just the right amount of salt, and creamy yummy cheese for days – these mashed potatoes are AMAZING.
Second is the presentation. Just look at these plain taters, made all fancy. The name alone is posh: Gruyere, Garlic, and Gouda Mashed Potatoes, and then we add fresh herbs as bonus. This is why the fresh herbs are key – for flavor and because everything always looks extra special when you add fresh herbs.
Then there is how easy these cheesy mashed potatoes are to make. Aren't mashed potatoes so popular precisely because they are yummy AND easy? So, yeah, we are checking that box too.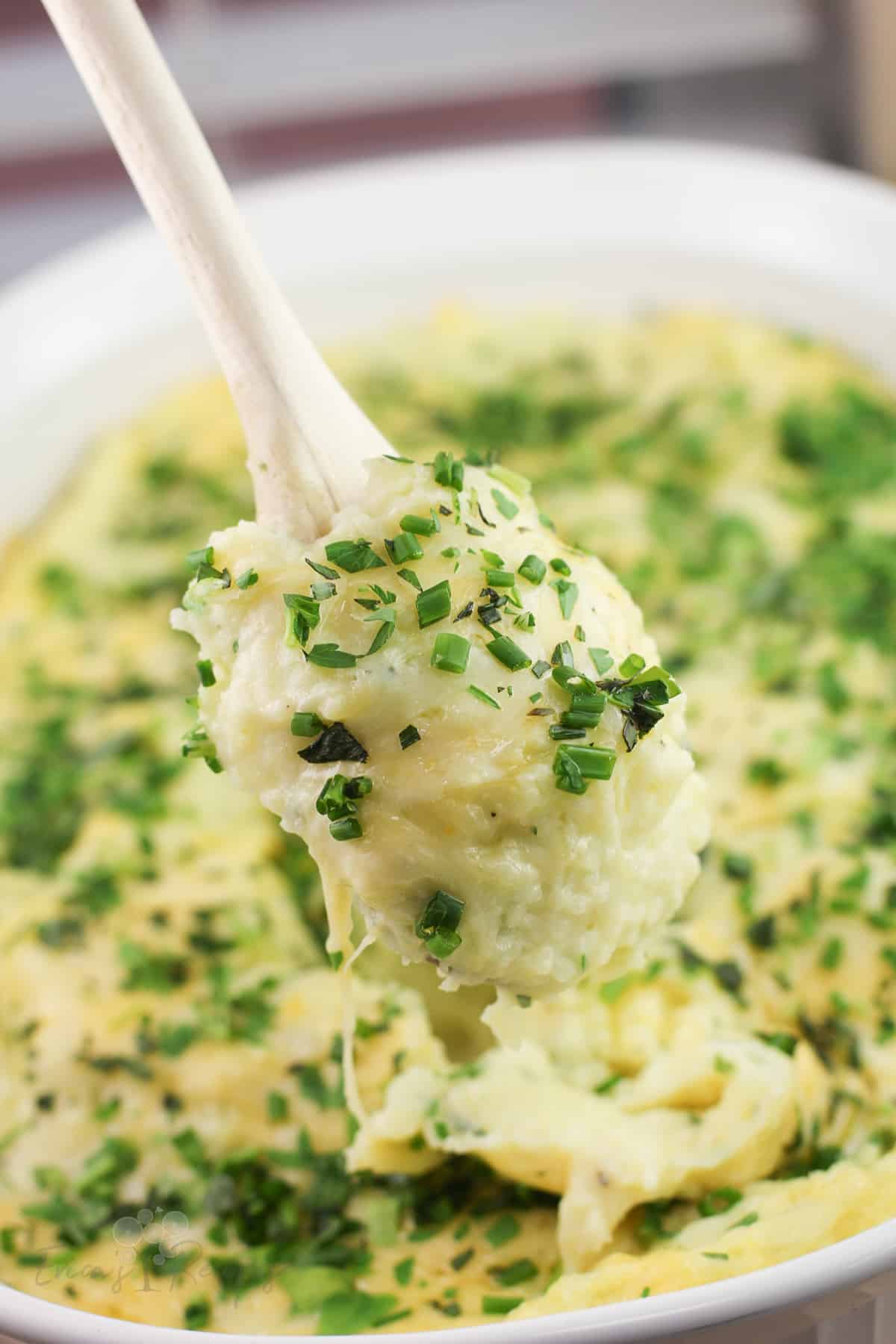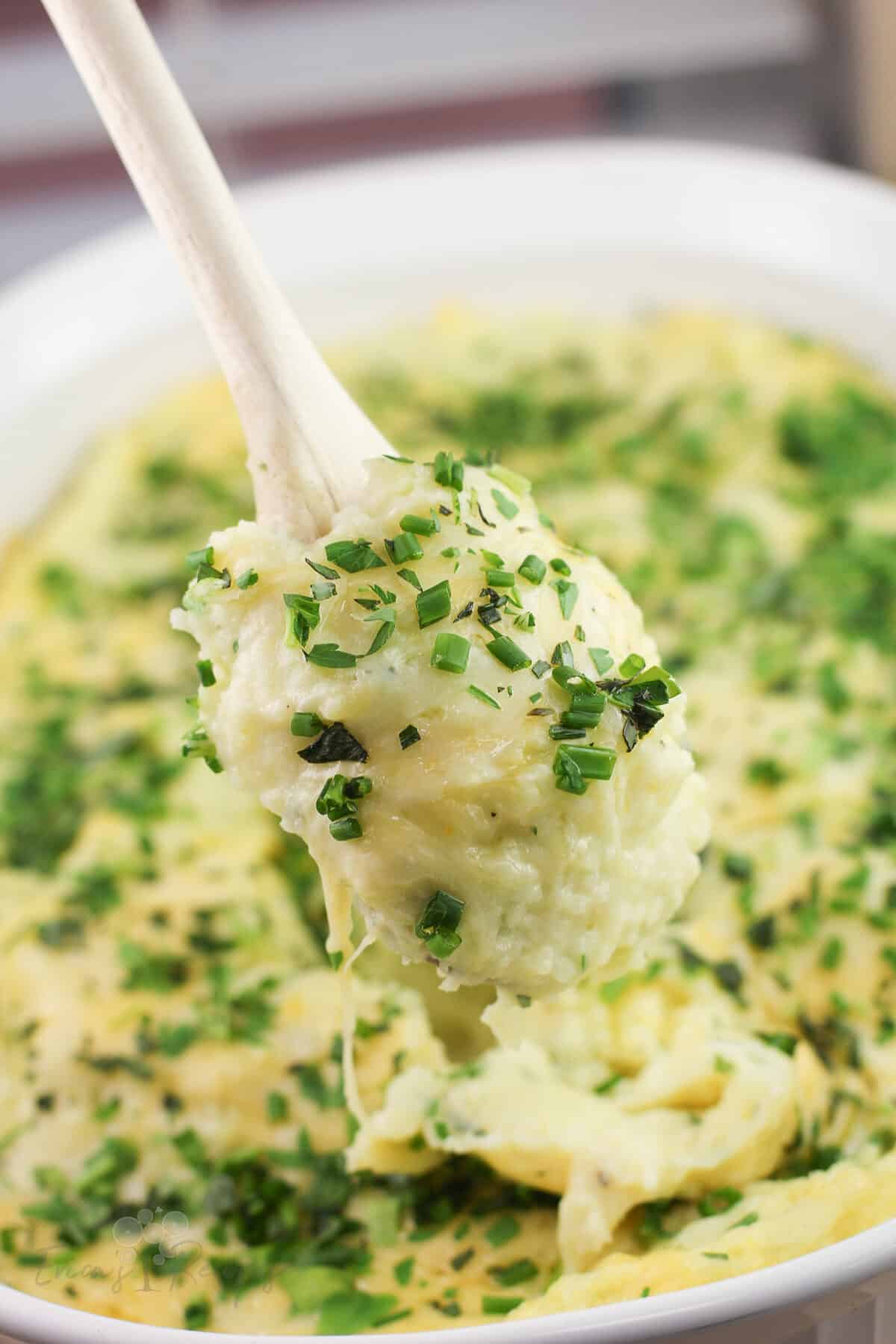 What are French fine herbs
I have already mentioned 'fine herbs' a bunch, so what even are they and why do I keep specifying French fine herbs.
By fine herbs, I mean specifically traditional French fine herbs with are mix of equal parts parsley, chervil, tarragon, and chives. Stronger herbs, like fresh oregano and basil, are not included. Other delicate fresh herbs, like marjoram, thyme, and watercress, can be used.
For these Gruyere, Garlic, and Gouda mashed potatoes, I used parsley, chives, and tarragon. I did not use chervil, because my grocery store does not carry it. I figured it is probably not available mainstream in the US, and therefore, I wasn't going to do that to ya'll. Also, chervil is in the parsley family anyway and since I had parsley, I decided to call it good and just go with the three instead of stressing for the fourth.
Extra note on the parsley — in cooking, we use flat-leaf (Italian) parsley. Always. Curly parsley tastes like grass.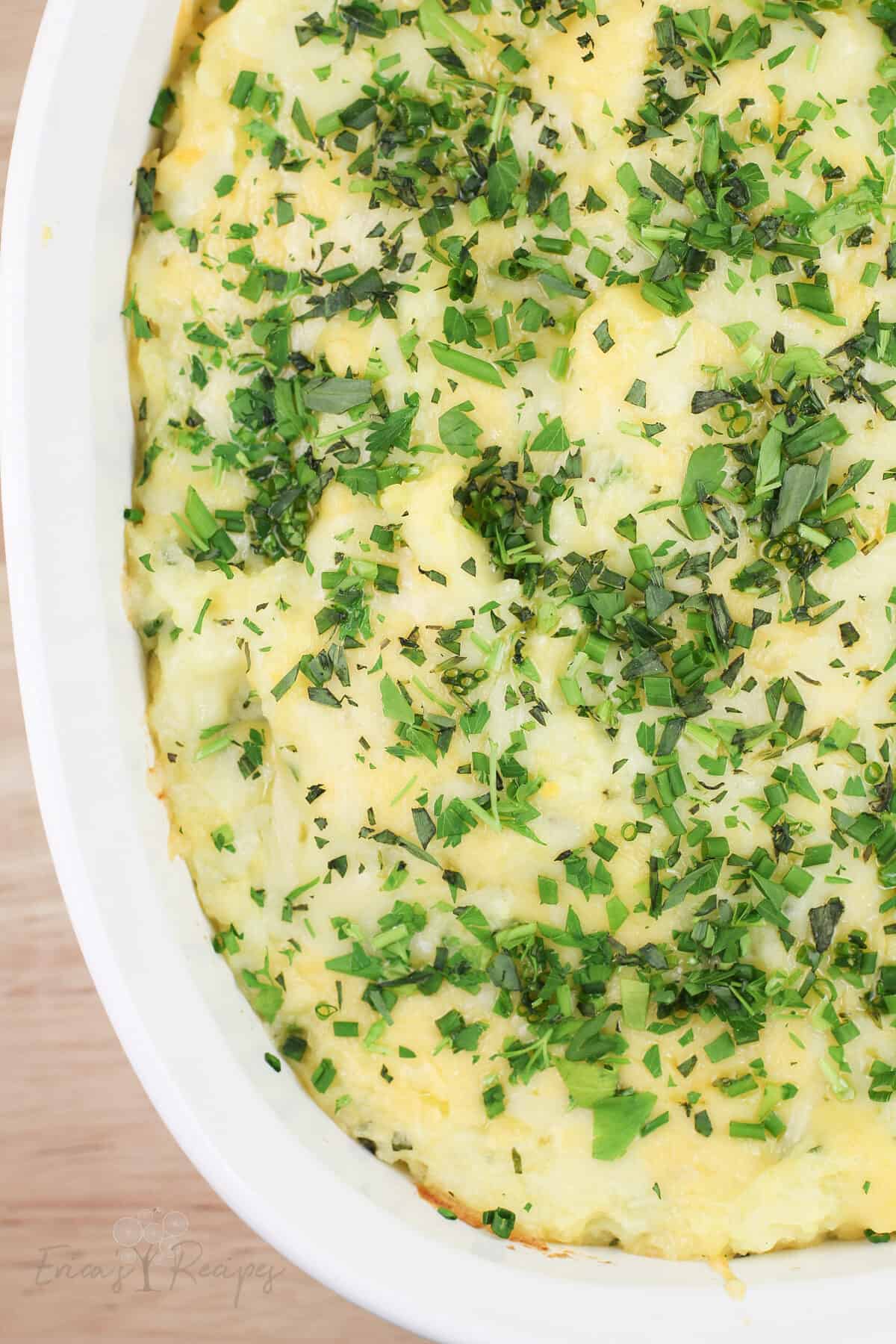 Why both Gouda and Gruyere cheeses
Gouda and Gruyere are actually very different cheeses. Gouda is a semi-soft, yellow-ish cow's milk cheese from the Netherlands. It melts creamy and has a slightly sweet flavor with a touch of nuttiness. Whether sliced on a cracker or melted into macaroni and cheese, Gouda is delicious.
Gruyere cheese (pronounced 'groo-YAIR'), on the other hand, is an aged, hard, cow's milk cheese from Switzerland, and named after the town of Gruyères. Its flavor is more assertive and earthy than Gouda, with stronger notes of fruit and nut. It is also delicious simply sliced on a cracker, but I really like to put it in popovers.
One semi-soft; one hard. One mild, sweet, and happy to melt; the other stronger and earthy. And against the blank canvas of starch that is mashed potatoes, these two cheeses sing together in this recipe.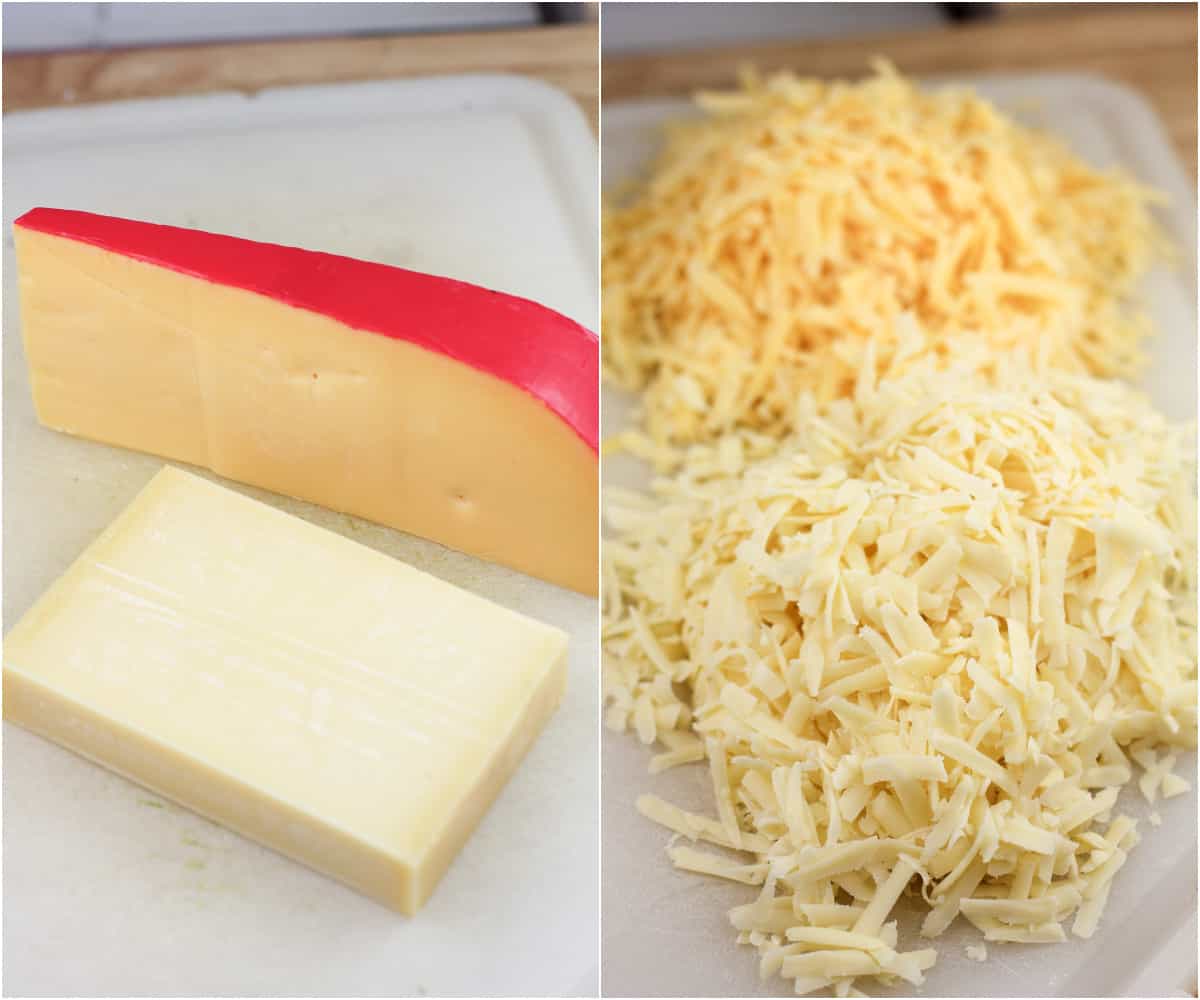 The ingredients you need
Potatoes. Duh and yeah you can use whatever potatoes you like. I used Yukon Golds because 1) I hadn't made mashed potatoes with them in like forever; 2) I wanted that golden yellow potato flesh to match both the Gruyere and Gouda; and 3) that buttery flavor of Yukons is perfect for this recipe.
Cheeses. Gouda and Gruyere. See details above and find them in the specialty cheese section at the grocery store. Also, make sure to get regular Gouda and Gruyere – NOT smoked. Both of these cheeses smoked have their place in life, just not in this recipe.
Cream, butter, and milk. With heavy cream and unsalted butter, we are fully committing to creamy delicious and richly cheesy mashed potatoes.
Seasonings. Kosher salt and fresh cracked pepper. These should surprise no one. I specify 1/2 tsp, which is decidedly less than I would normally use in mashed potatoes because both cheeses bring salt with them.
French fine herbs. Italian flat-leaf parsley, tarragon, and chives, and all fresh.
Garlic. Garlic is the understated champion in this whole recipe because I've so focused on the cheese and herbs thus far. I call for 2 cloves in the recipe card – but those cloves can be as small or as large as you like. So, garlic it up to suit your taste.
Tarragon is a singular herb with a delicious kinda-sorta-anise flavor. Think, the most subtle hint of licorice, but not in an obnoxious black jelly bean way. Think of it as in a Paris, France or fine dining sophisticated kind of way. I love it in these potatoes.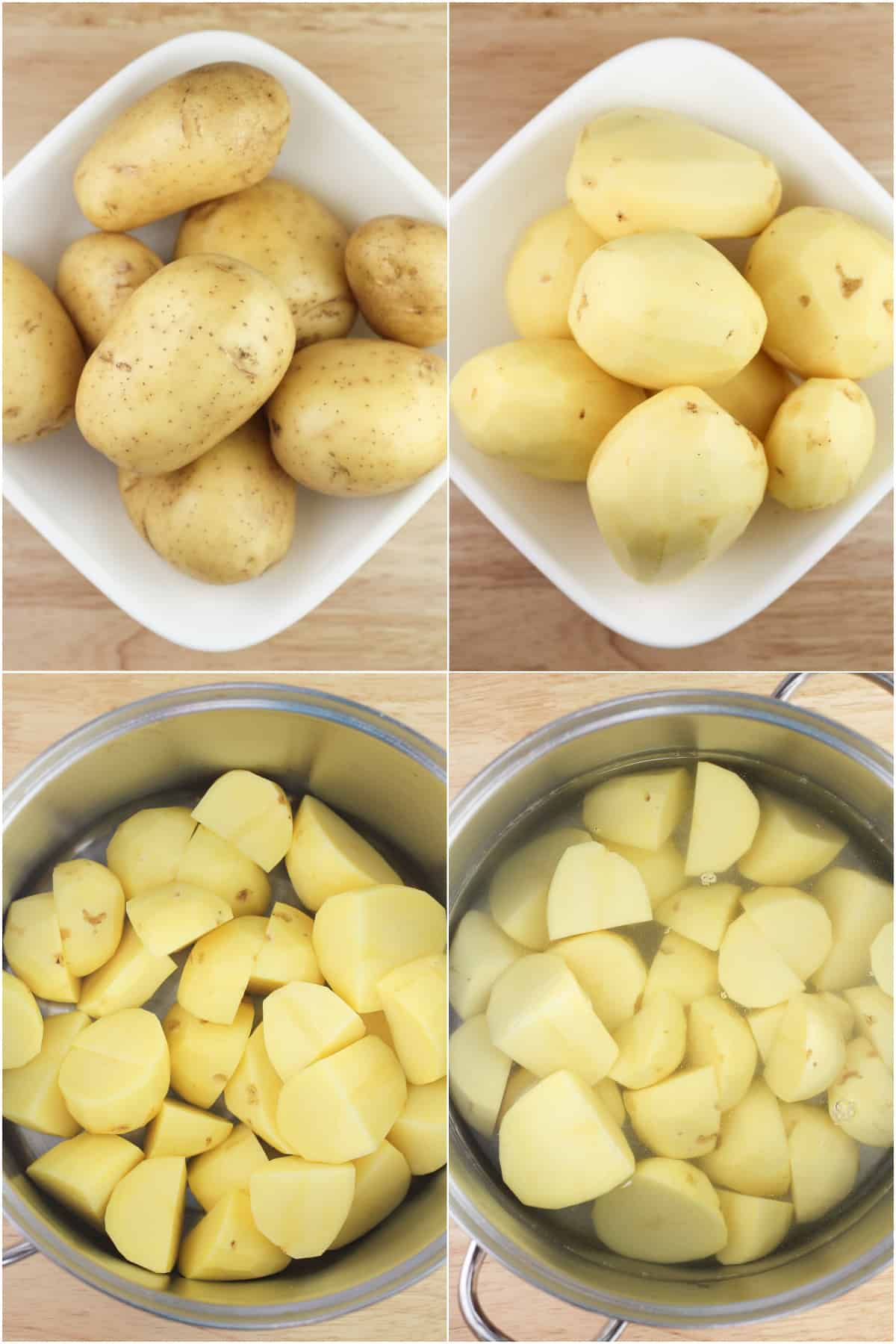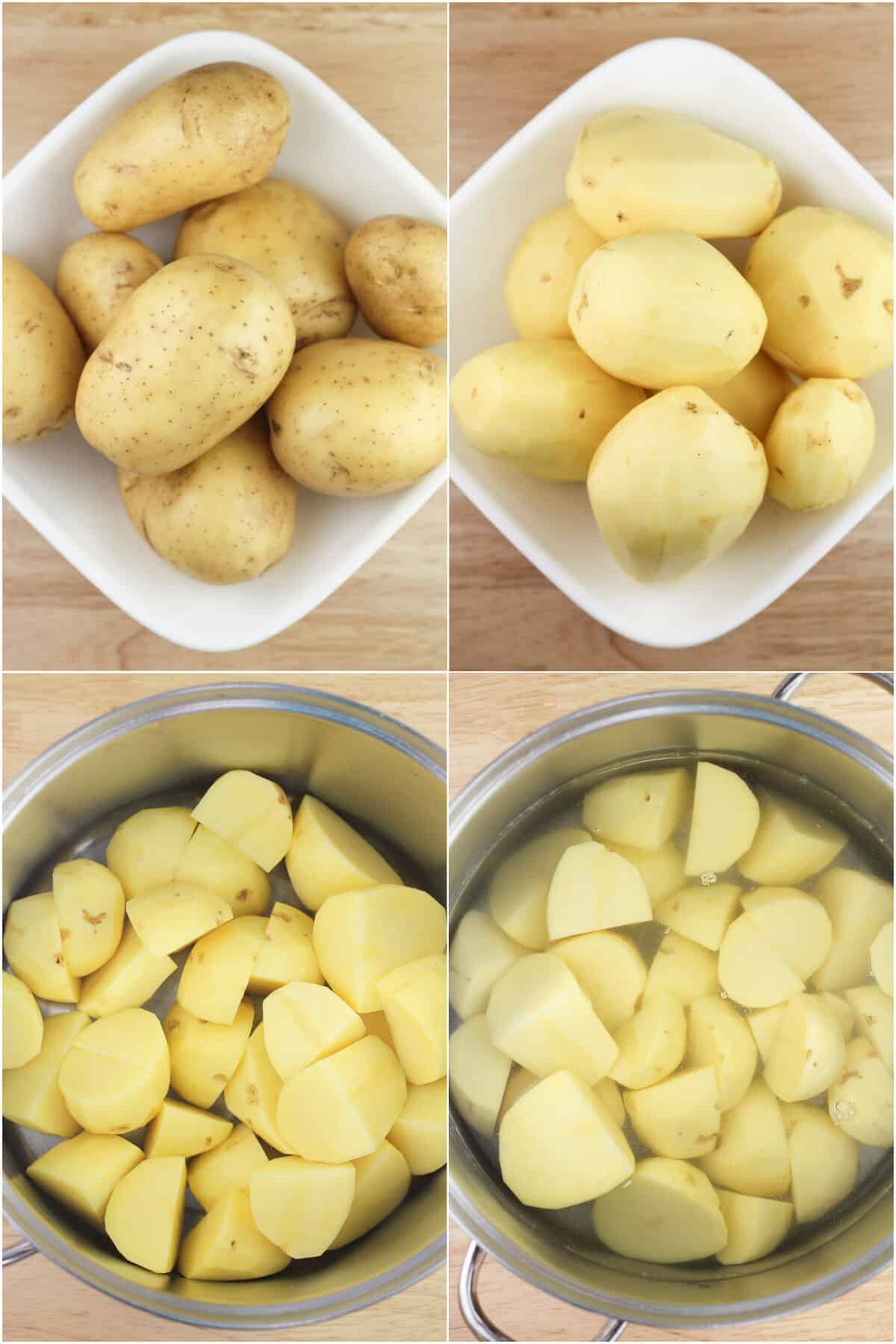 How to make these cheesy mashed potatoes
First, we cook our Yukon gold potatoes. We peel them, quarter them (or whatever to keep them all about the same size – I cut smaller potatoes just in half), put them in a pot and cover with cold water.
Turn the burner on, bring the water to a simmer, and we simmer the potatoes until they are fork tender. Also turn on the oven to preheat to 350°F.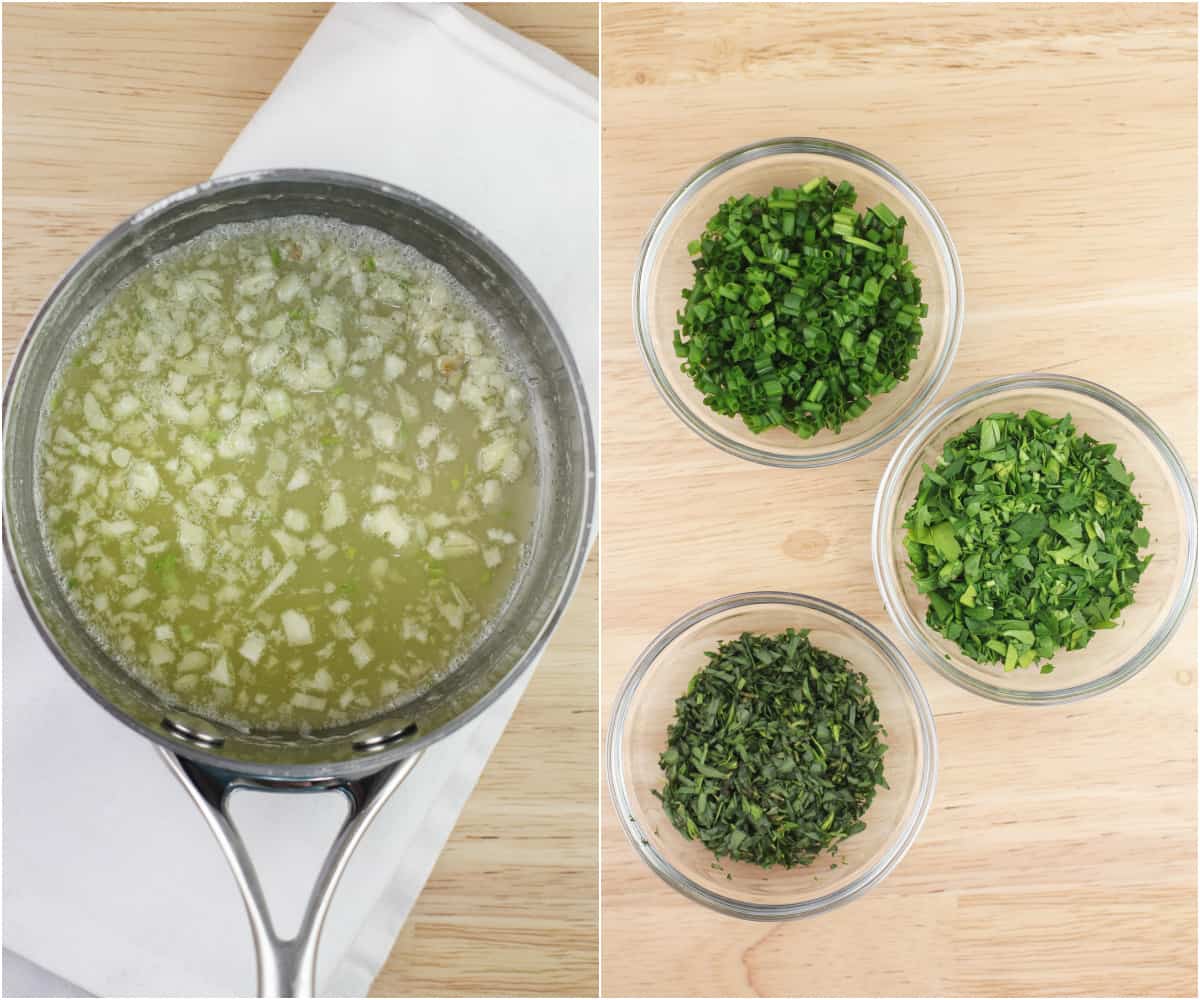 While our potatoes are cooking, we prepare the garlic-infused butter (hell's yeah).
Melt the butter in a little pot or pan. Add the garlic and give it just a quick cook (like, a minute) to infuse the butter with garlic flavor and take the raw edge off the garlic.
This also ensures the garlic flavor will be in every bite of potatoes.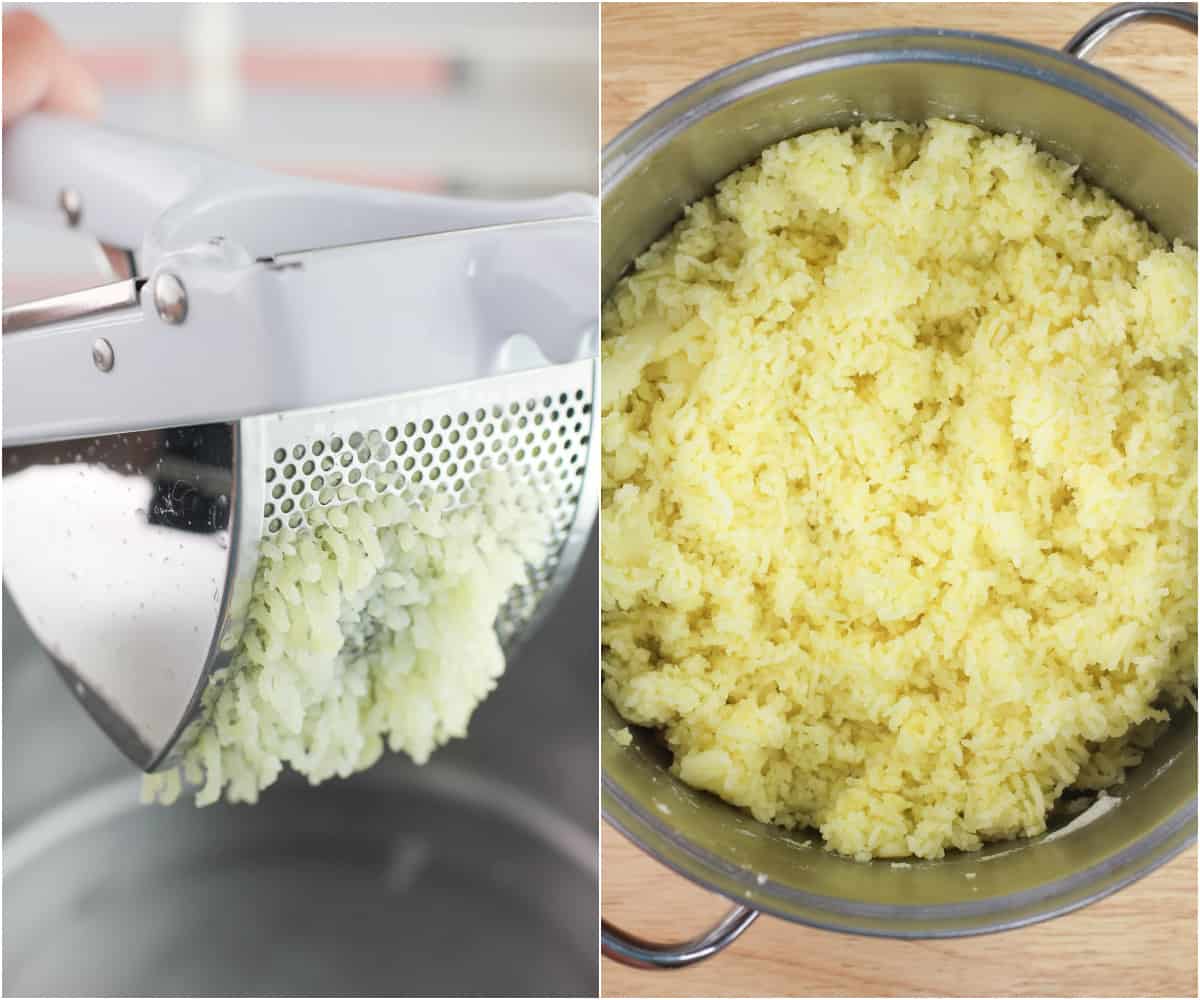 Once the potatoes are done, we drain them well to get rid of all the water. Then return them to the pot by either passing them though a potato ricer (preferred) or by putting them right in the pot and mashing.
Then we add everything else – except we are only using 3/4s (so most, but not all – just eyeball it) of each cheese and half of each herb at this point. Stir together. If a potato ricer was used, the mixture will be creamy smooth.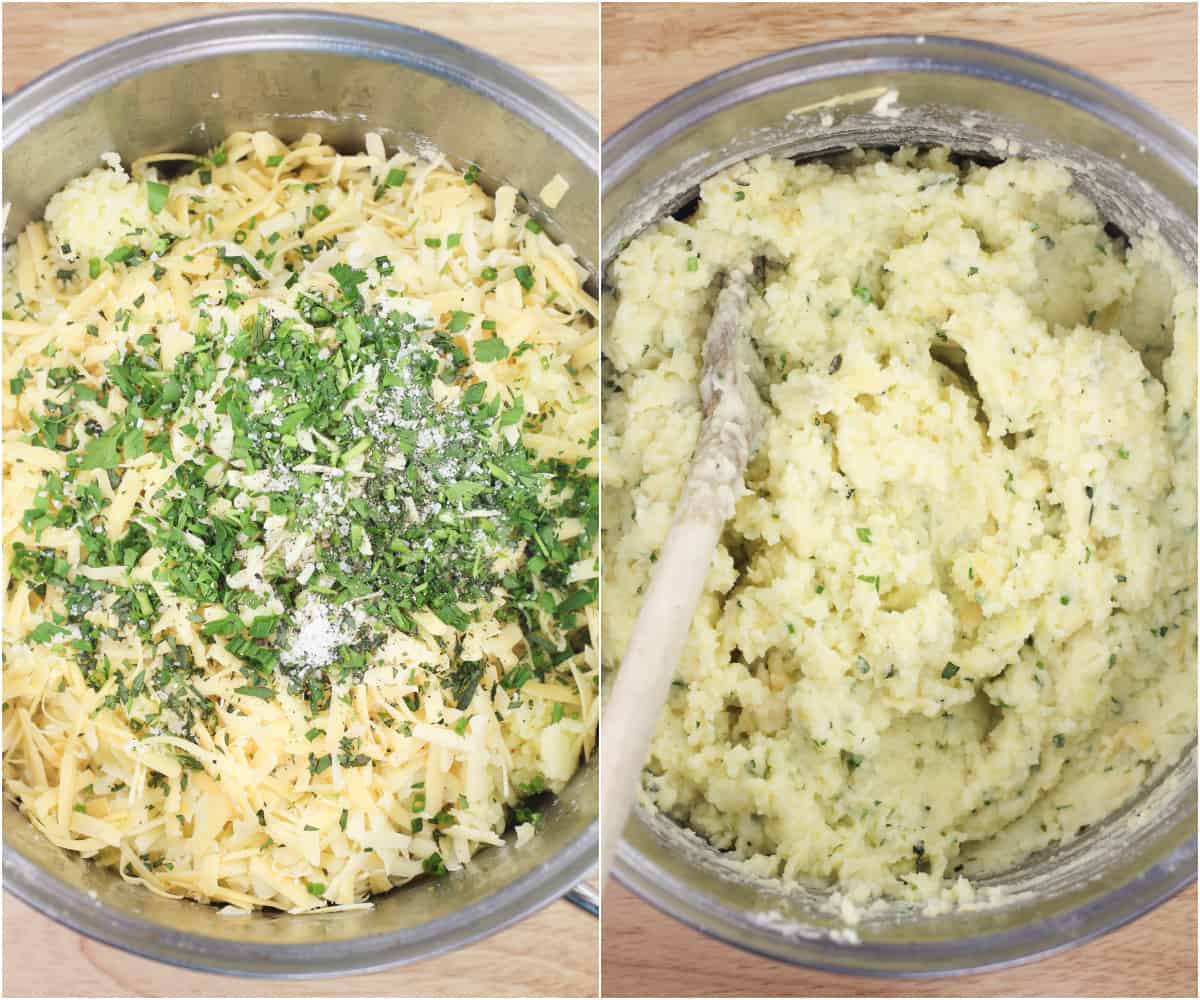 At this point – and this is KEY – we taste for salt and add more milk if necessary to ensure we have nicely seasoned and perfectly creamy cheesy mashed potatoes.
Put your lovely mashed potatoes in a 2-qt casserole or bake dish, and top with the remaining bit of Gruyere and Gouda cheeses. Bake until you can hear them talk to you (quietly, not loudly – ~15-20 minutes). Top with remaining herbs and enjoy.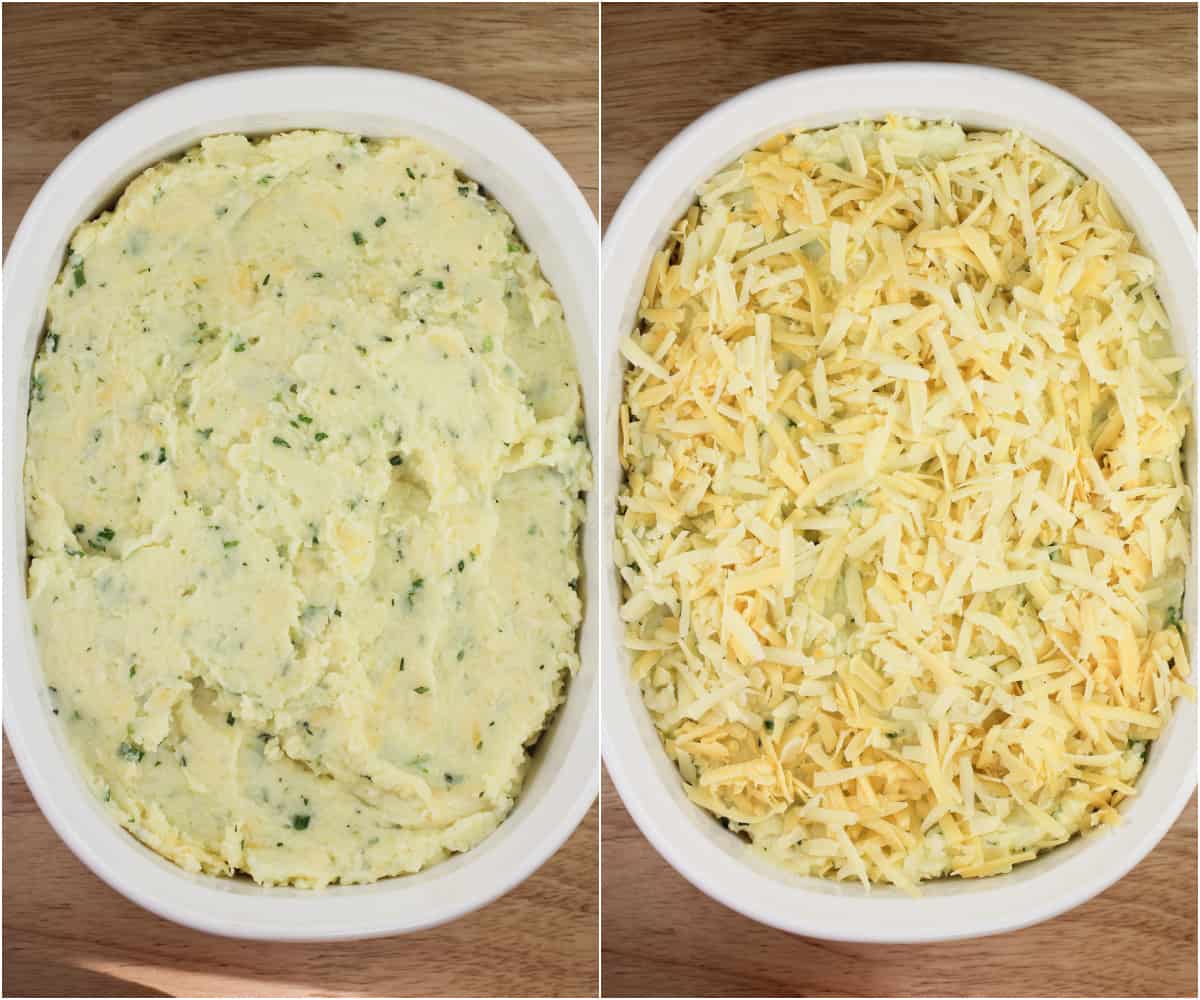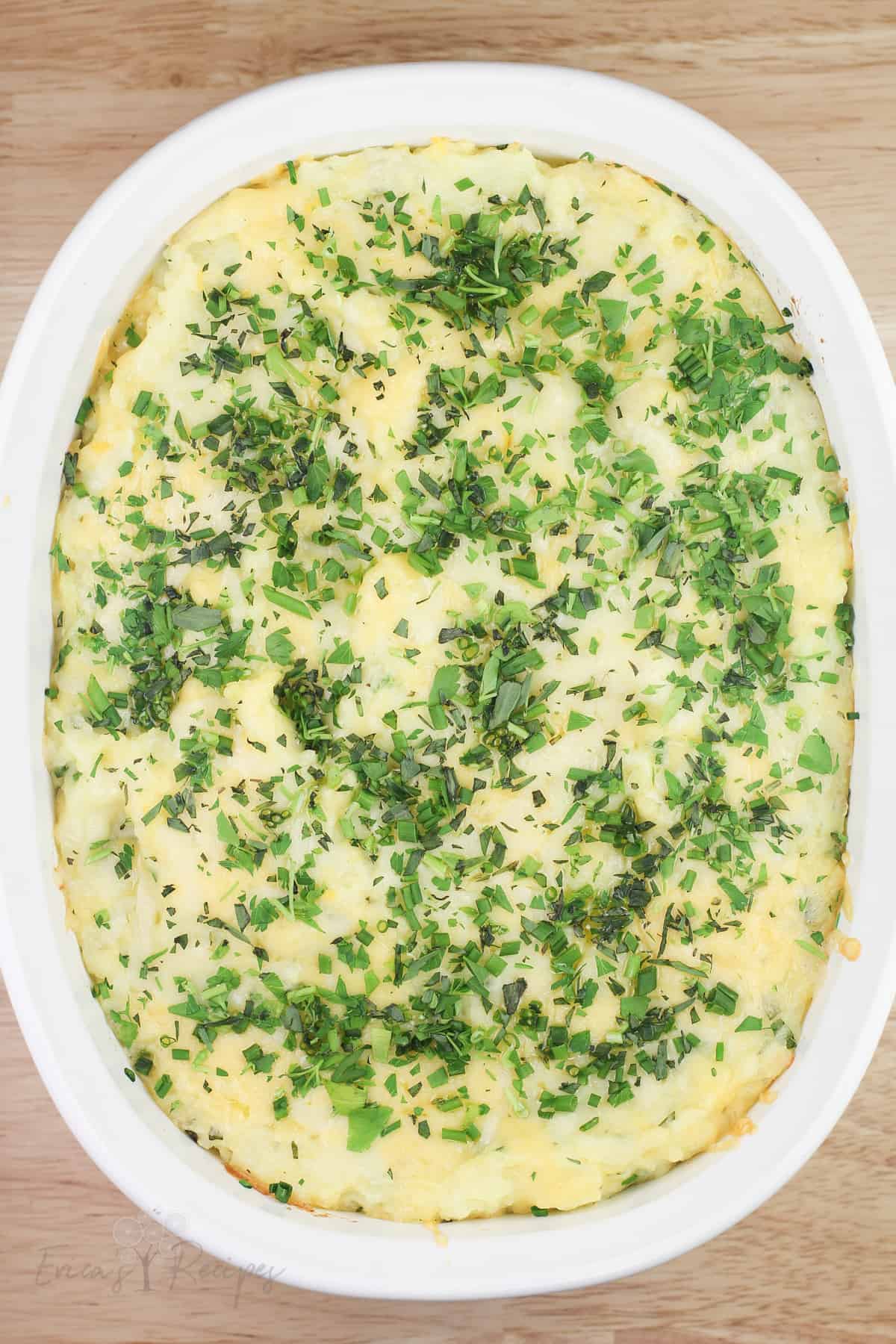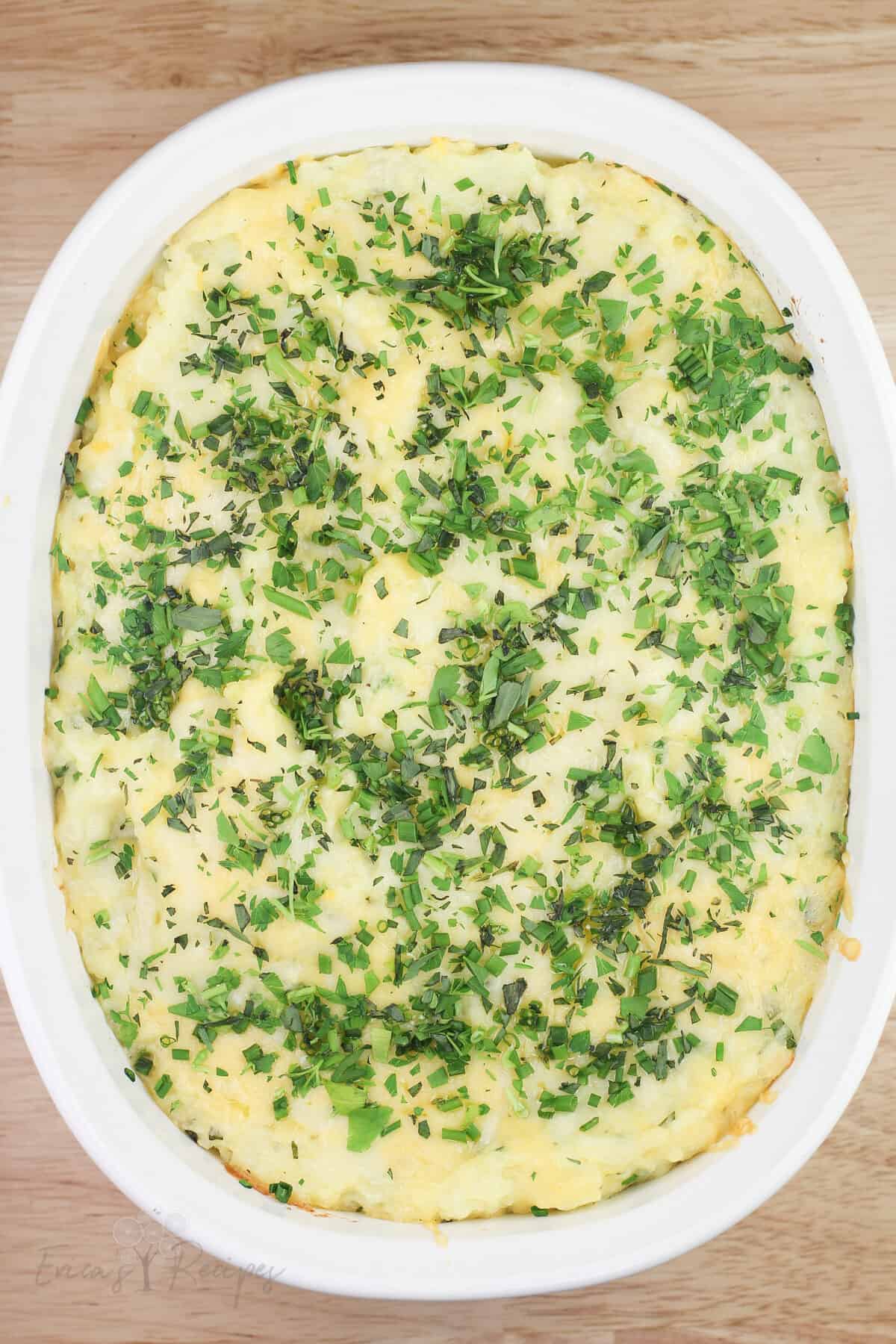 FAQs
Do I have to peel the potatoes?
Peeling the potatoes is optional. In fact, Yukon gold potatoes have nice thin skins, similar to red potatoes, so you can feel free to leave the skins on and have "smashed" potatoes if you wish.
What if my store does not carry any of these herbs?
Herbs are herbs, and fresh herbs are always delicious and special. Flat-leaf parsley should be easy to find, but if not (and my store is sometimes out), then try thyme or watercress. Arugula could even be an option. Just try to stick with herbs with milder flavors.
Can these potatoes be prepared in advance?
These cheesy potatoes can be assembled in advance, then quickly baked before serving. I do not recommend fully cooking ahead of time unless they can be kept warm because, as with all things topped with cheese, melted cheese tends to firm up again upon cooling.
What is the best way to transport this dish, such as for a potluck?
I baked these potatoes in a dish that has a glass cover. This works well for transport, as well as to keep the potatoes warm and prevent them from drying out. An alternative is to cover tightly with aluminum foil. I would also wrap in a couple towels to hold in heat.
What if either Gruyere or Gouda are not available?
Both these cheeses are readily available everywhere I have looked, but on the chance one isn't, then you can grab a different one. Alternatives for Gouda would be Muenster, Edam, or Fontina. Alternatives for Gruyere would be Comté, Emmental, or Jarlsberg. Just be sure to not get a smoked cheese.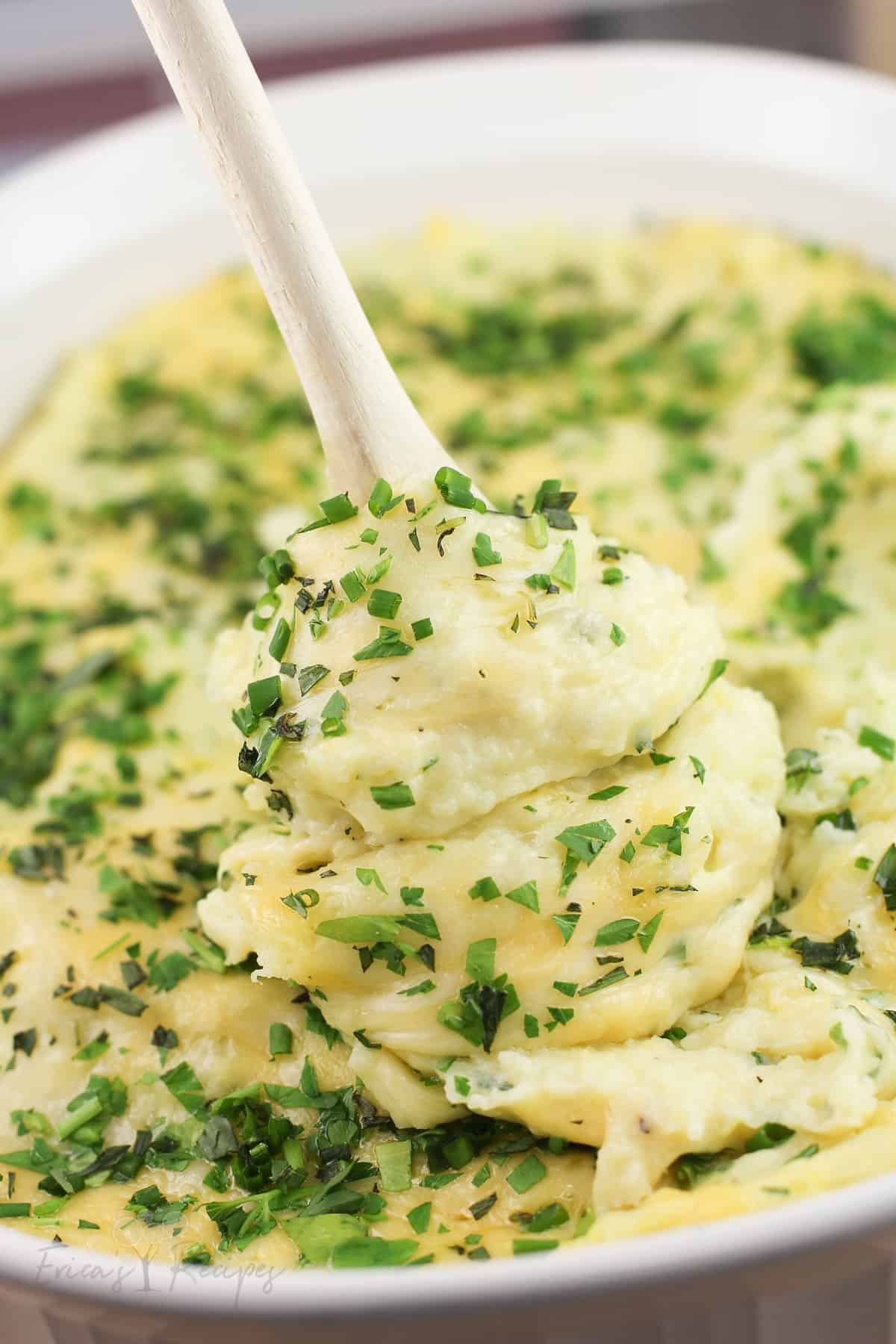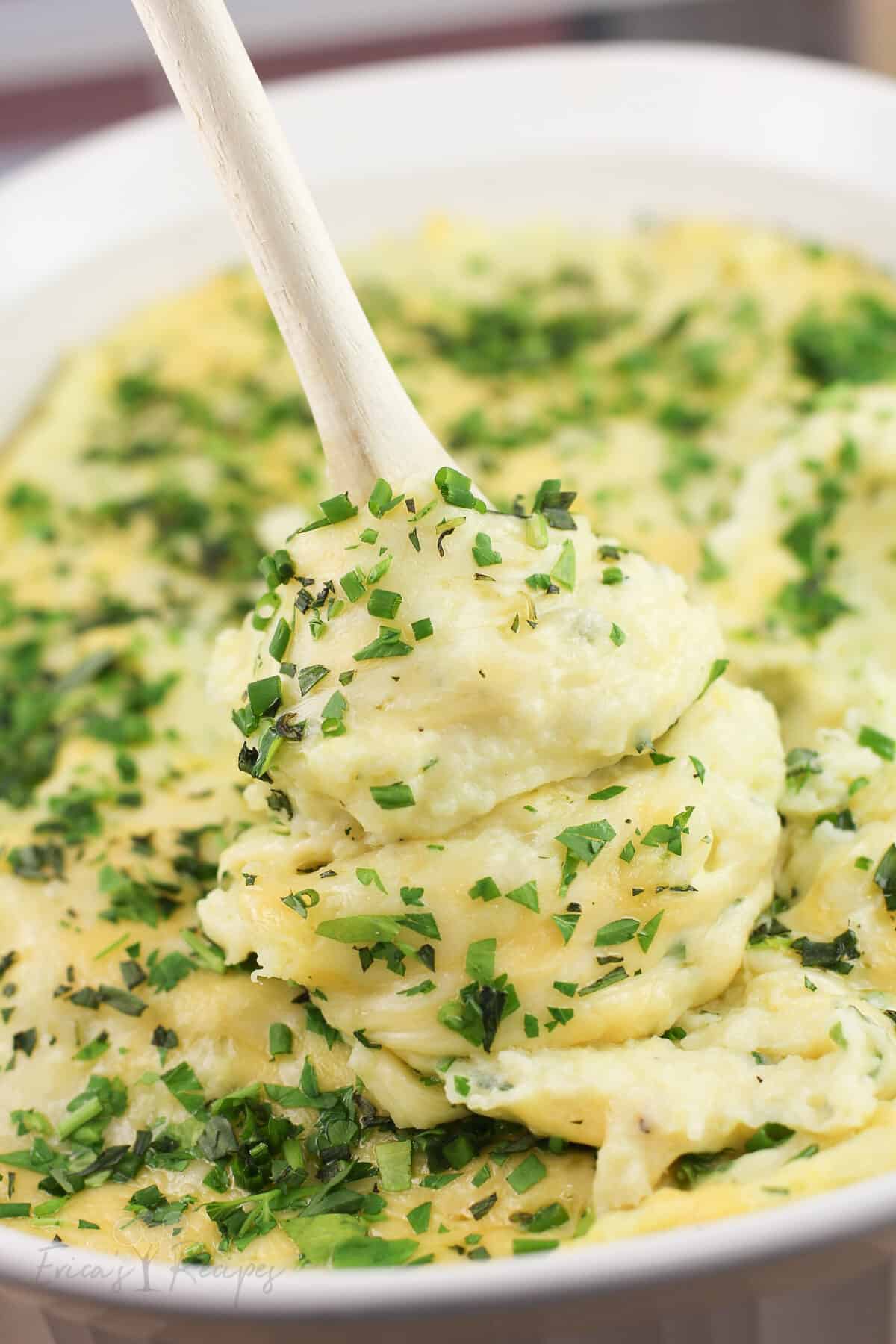 Last tips
Yukon gold potatoes have very thin skins. Be sure to not let your vegetable peeler take too much flesh as you are peeling them. I own 2 peelers, and one definitely carves deeper and takes more flesh than the other.
If you have not invested in a potato ricer, I recommend considering it. They are a great multipurpose kitchen tool. In addition to making lump-free, fluffy mashed potatoes, a ricer is useful with other vegetables such as to make purees and baby food. I use my ricer to squeeze water from spinach and other greens before adding to recipes. Multifunctional is always a win.
When shredding the cheeses, use the large holes of the cheese grater. I prefer a standing box grater so I can lean into it (sounds silly, but that's what happens!).
The amount of milk needed can vary depending on the moisture content of the potato. I added another ~2 Tbsp (i.e. a splash) of milk to get the consistency I wanted. A spoon should easily slide through the potatoes with little resistance.
Be sure to taste for seasoning. I went a touch light on the salt because both cheeses are inherently a bit salty. Be sure to taste and add more to your liking.
I do recommend lowering the temperature to keep the cooking potatoes at a simmer rather than a boil. If cooking at a rolling boil, the potatoes will cook faster, yes, but they will also fall apart because the outside will cook faster than the inside. Especially if using a potato ricer (which is the best method here), we want the potato chunks to hold together until we are ready to rice/mash them at the right time.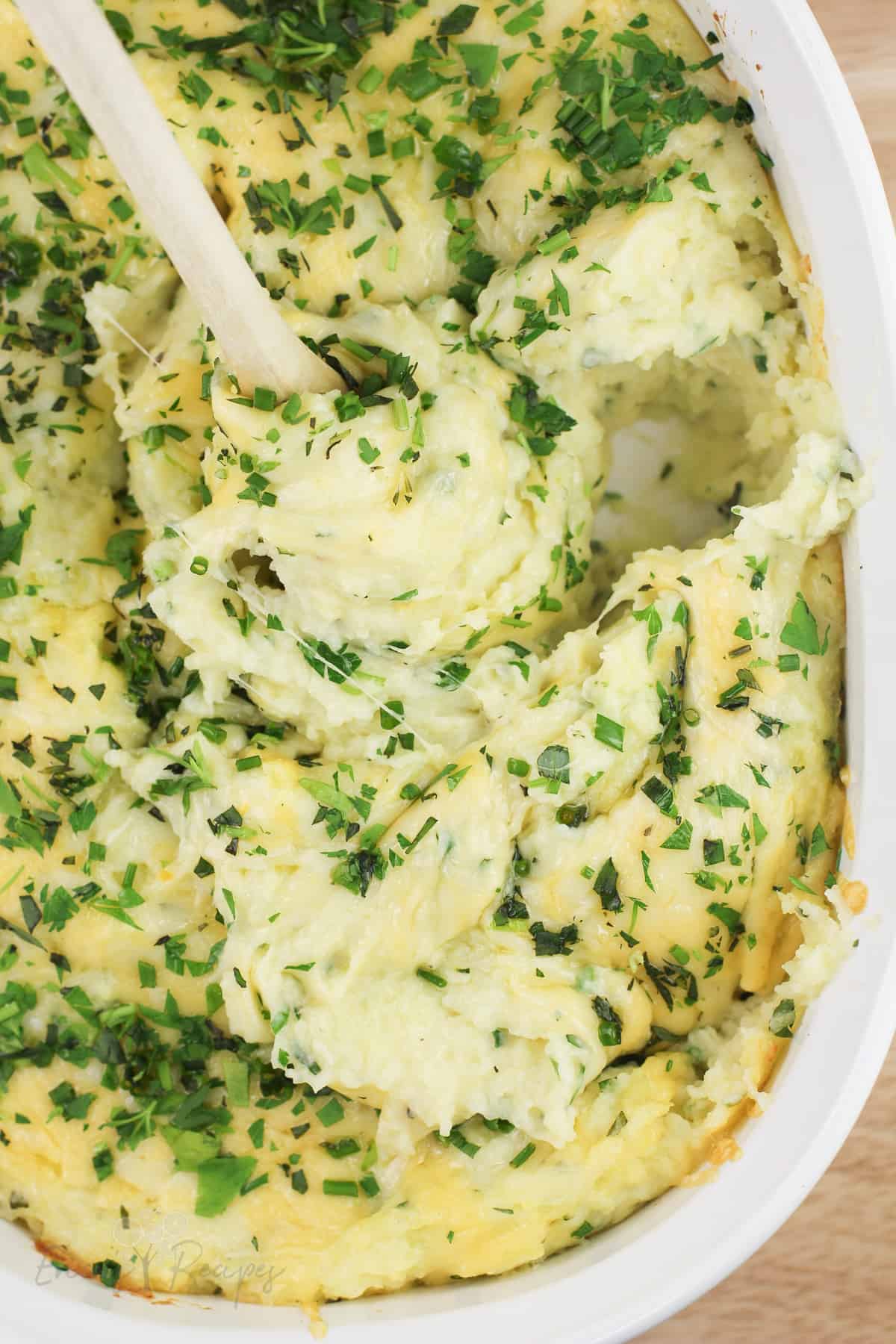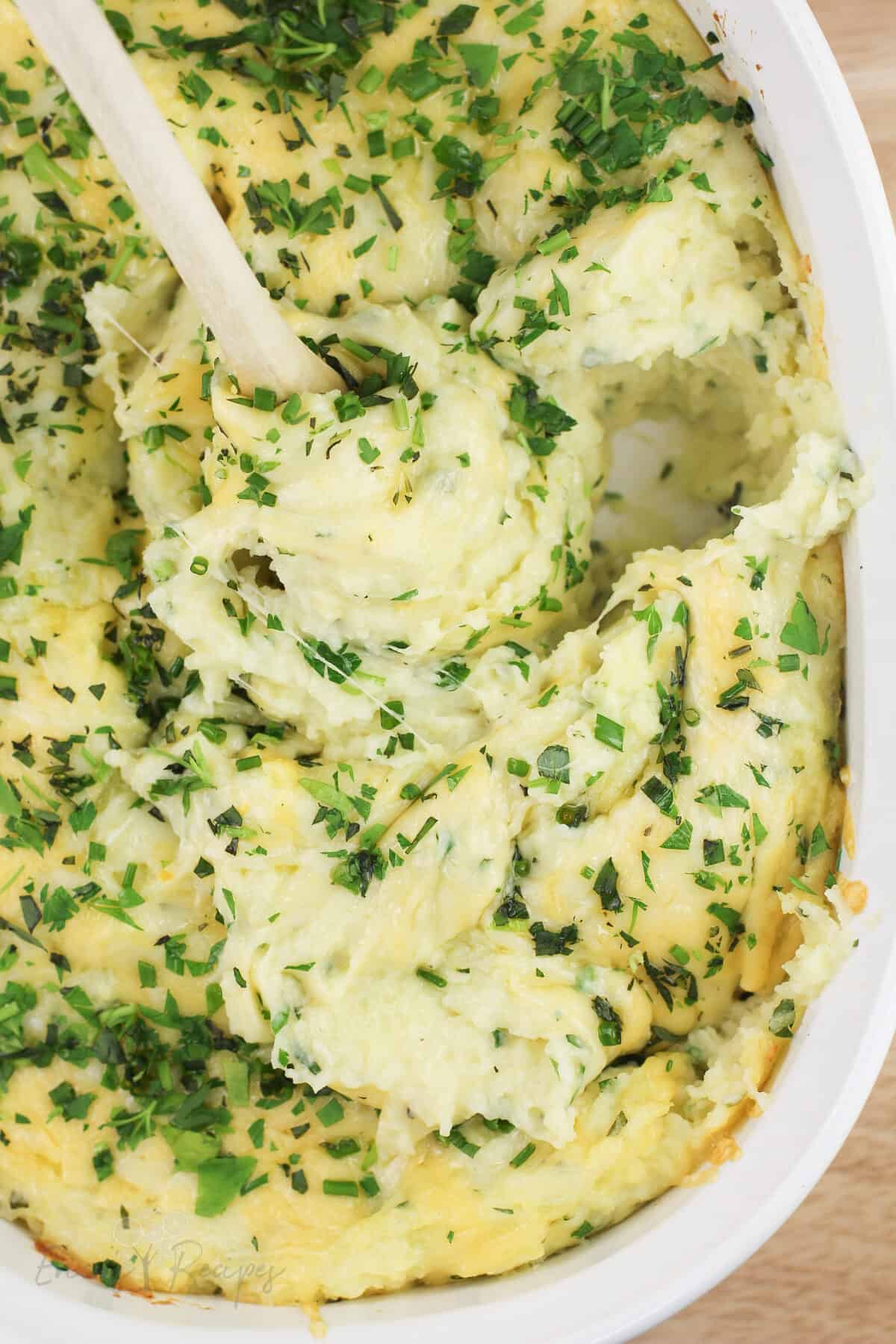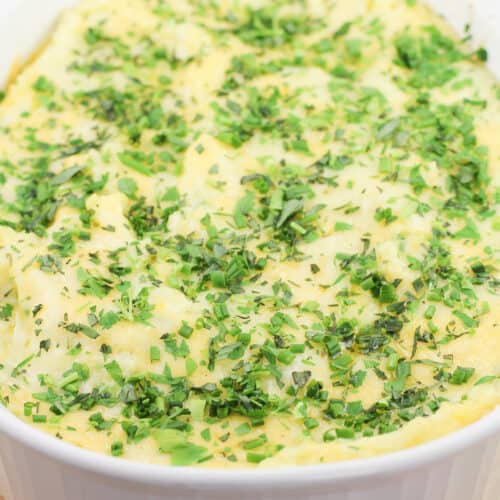 Gruyere, Garlic, and Gouda Mashed Potatoes
Gruyere, Garlic, and Gouda Mashed Potatoes with French fine herbs, butter, and cream are cheesy mashed potatoes to complement your main dish.
Ingredients
2 ½

lbs

Yukon gold potatoes

peeled and quartered

2

Tbsp

unsalted butter

2

clove

garlic

chopped

¼

cup

heavy cream

½

cup

milk

1

(5.3 oz)

pkg Gruyere cheese, shredded and divided

1

(5.3 oz)

pkg Gouda cheese, shredded and divided

½

tsp

kosher salt

2

pinches

fresh cracked pepper

2

Tbsp

minced fresh flat-leaf parsley

divided

2

Tbsp

minced fresh chives

divided

1

Tbsp

minced fresh tarragon leaves

divided
Instructions
Cook the potatoes
Put the peeled and quartered potatoes in a pot and cover with cold water. Place pot on a stove burner, turn to high heat, and bring to a simmer (this takes 5-6 minutes).

Reduce heat to medium-high and simmer until potatoes are just fork tender (10-15 minutes). During this time, adjust heat as needed to keep at a simmer and not a violent rolling boil.

While potatoes are cooking: in a small saucepan, melt the butter. Add the garlic and cook gently for 1 minute to infuse the butter and lightly cook the garlic. Remove from the heat and set aside.
Assemble the mashed potatoes
Drain potatoes well. If using a potato ricer, pass the potatoes through the ricer back into the empty pot. If not using a ricer, put drained potatoes back in the pot and mash.

Add the butter-garlic mixture, cream, milk, 3/4s each of the Gruyere and Gouda cheeses, salt, pepper, 1 Tablespoon each parsley and chives, and 1/2 Tablespoon tarragon. Stir together.

Add a splash or two more milk if necessary to the desired consistency of creamy mashed potatoes.
Bake and serve
Transfer mashed potatoes to a 2-qt casserole or bake dish. Top with the remaining Gruyere and Gouda.

Bake, uncovered at 350°F for 20 minutes until heated through with an audible little sizzle. Top with remaining herbs and serve.
Nutrition
Calories:
437
kcal
(22%)
|
Carbohydrates:
14
g
(5%)
|
Protein:
15
g
(30%)
|
Fat:
23
g
(35%)
|
Saturated Fat:
14
g
(88%)
|
Polyunsaturated Fat:
1
g
|
Monounsaturated Fat:
5
g
|
Cholesterol:
79
mg
(26%)
|
Sodium:
482
mg
(21%)
|
Potassium:
82
mg
(2%)
|
Sugar:
2
g
(2%)
Calorie count is purely an estimate calculated using an online application to serve as a guide and not to be taken as accurate nutritional information. Percent Daily Values are based on a 2,000 calorie diet.
Tried this recipe?
Leave a comment below and let me know!