Pork Belly Burnt Ends are salty, sweet, succulent bites of pork belly, cooked to divine flavor and tenderness in the Big Green Egg or electric smoker. The key is slow cooking in the presence of smoke to slowly render the fat leaving incredibly rich, melt-in-your-mouth chunks of pure pork love.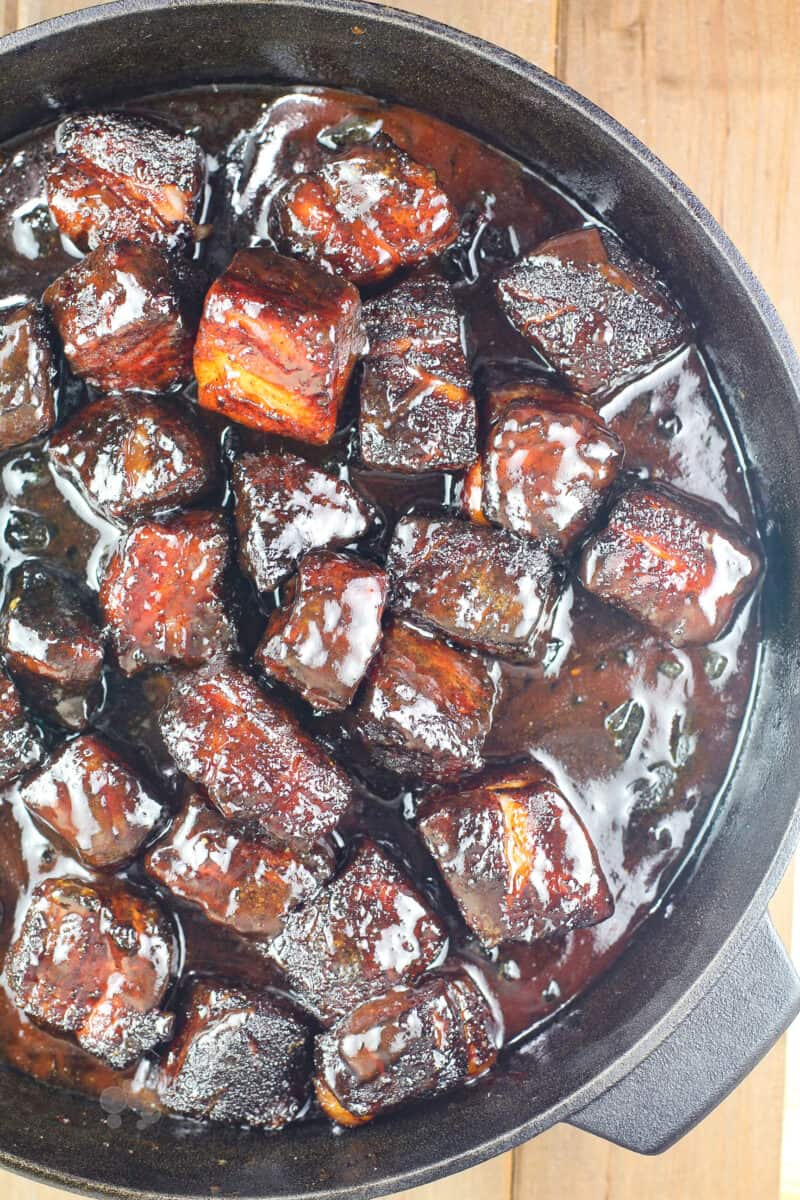 What are pork belly burnt ends
So what meat could be so deserving of all this gushing and praise? BACON. Kind of. See, pork belly is a slab of uncured, uncut bacon. Or, rather, bacon is made from pork belly.
Pork belly is a delicacy, rich in fat and flavor. And burnt ends take pork belly to a whole other level.
Traditionally, "burnt ends" are the burnt-ish ends of slow cooked brisket. However, cooking brisket is a wholly entire science in and of itself. I have yet to cook brisket properly myself, and I used to live in Texas even.
Nah… using pork belly to make burnt ends lets us enjoy these ridiculously tender, flavorful bites of barbecue much more easily and in just a couple hours. This recipe is easy and approachable, and the reward is so completely worth it.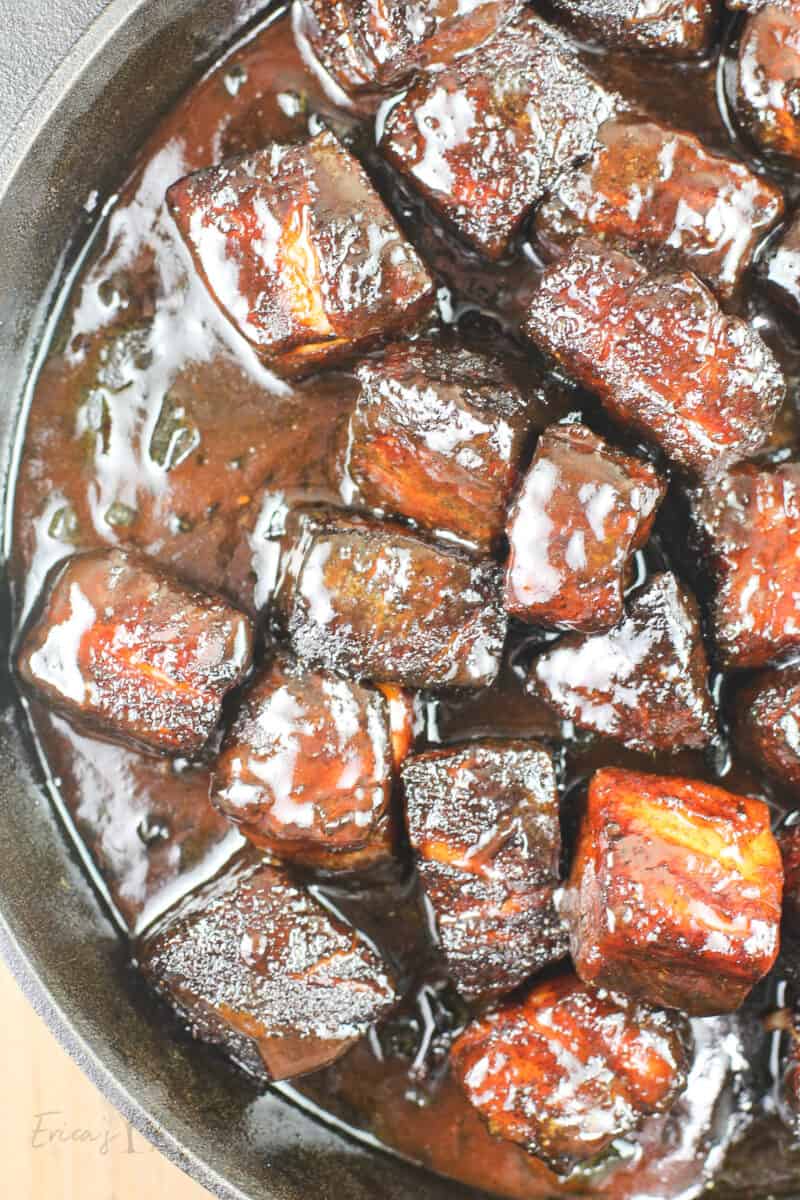 Ingredients you need
Ingredients for the pork belly
Pork belly. We are able to get pork belly at both the grocery store and local butcher shop that sold us our Big Green Egg charcoal smoker.
Dry rub. You can use our recipe or your rub of choice.
Unsalted butter.
Light brown sugar.
Honey.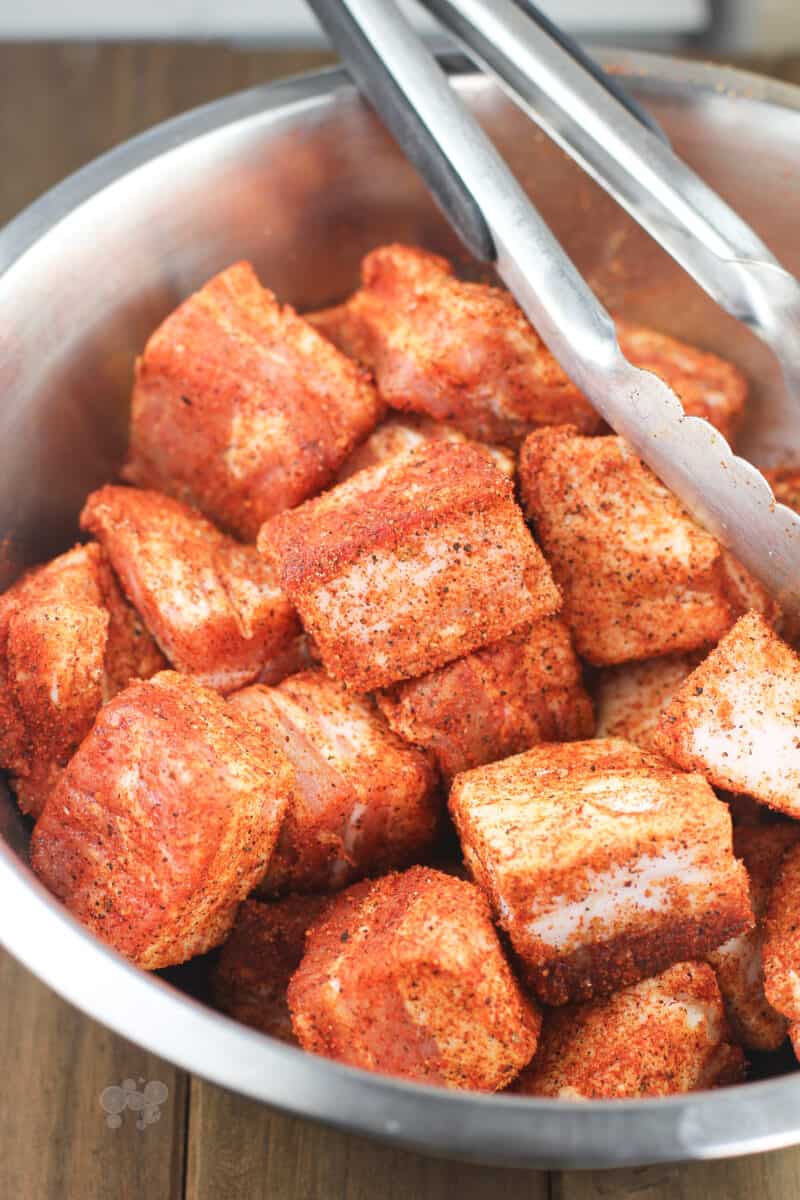 Ingredients for the glaze
Pretty darn easy ingredients, right? And you can up your game all you want and make your barbecue sauce and rub. Or you can keep it low key and just buy them. Either way, you will have yourself yummy pork belly burnt ends.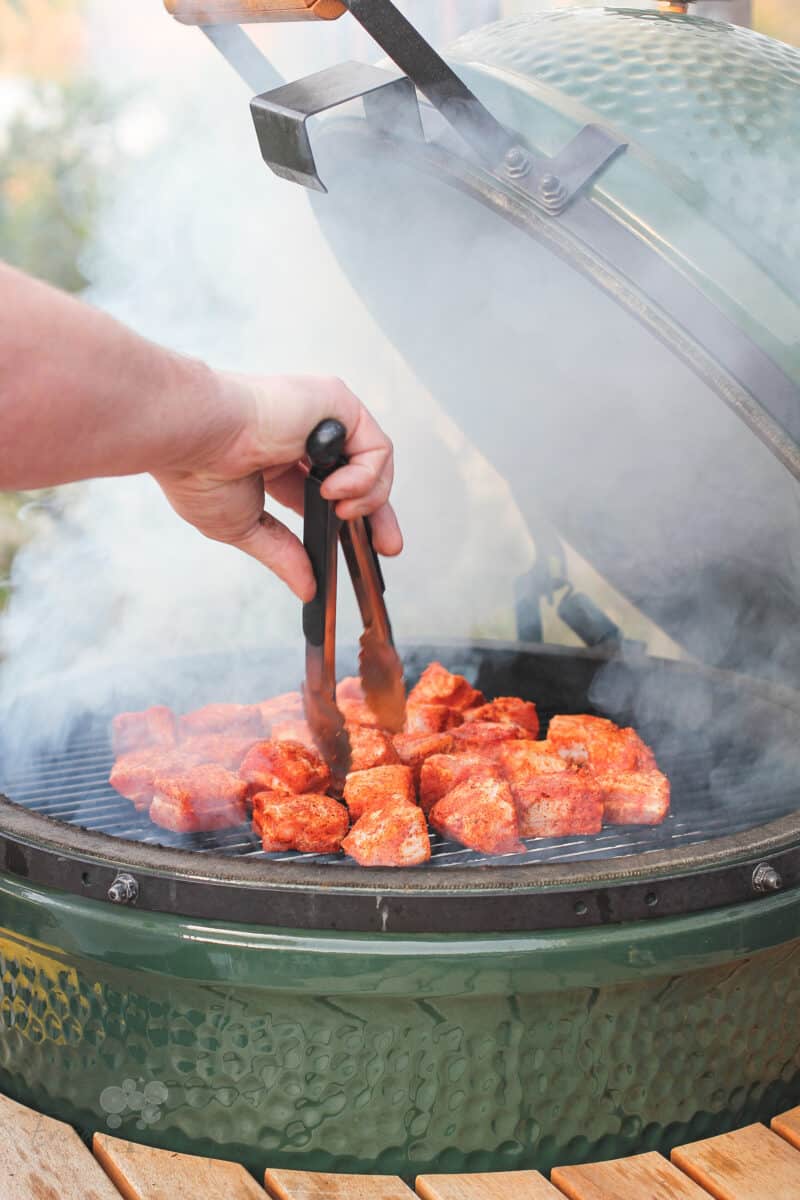 More Big Green Egg recipes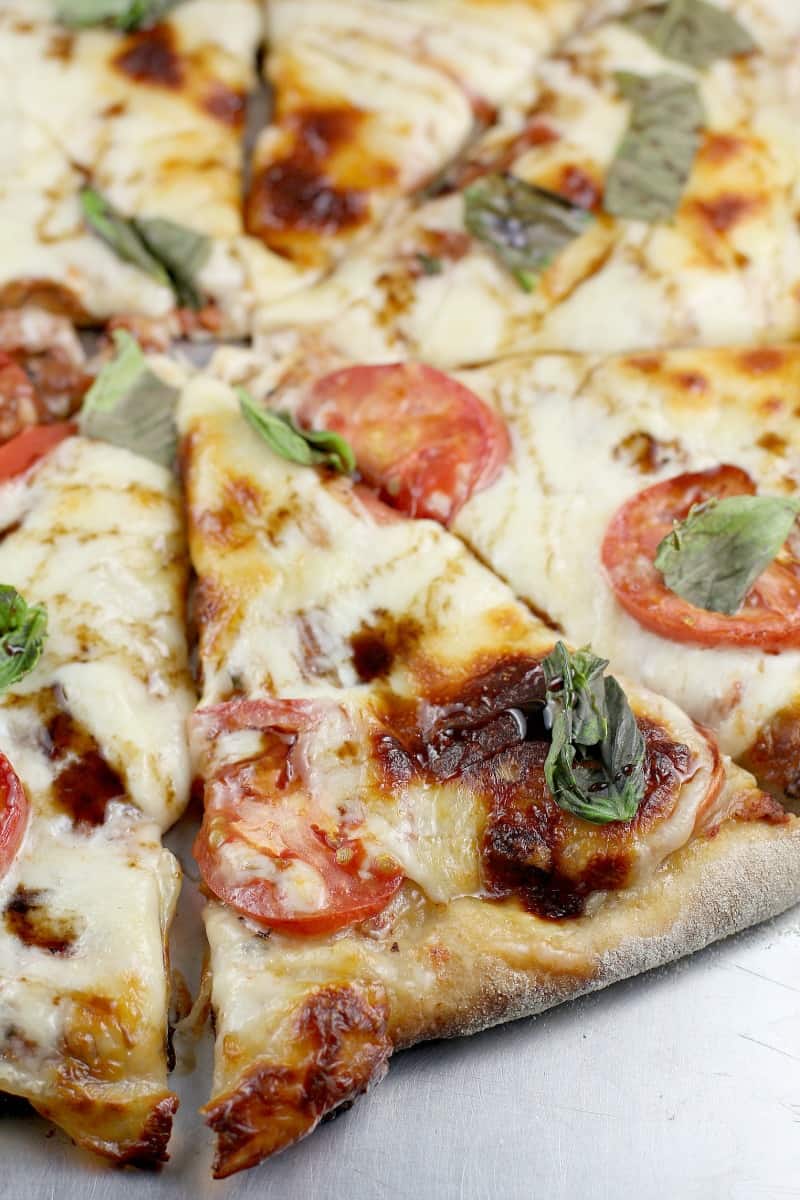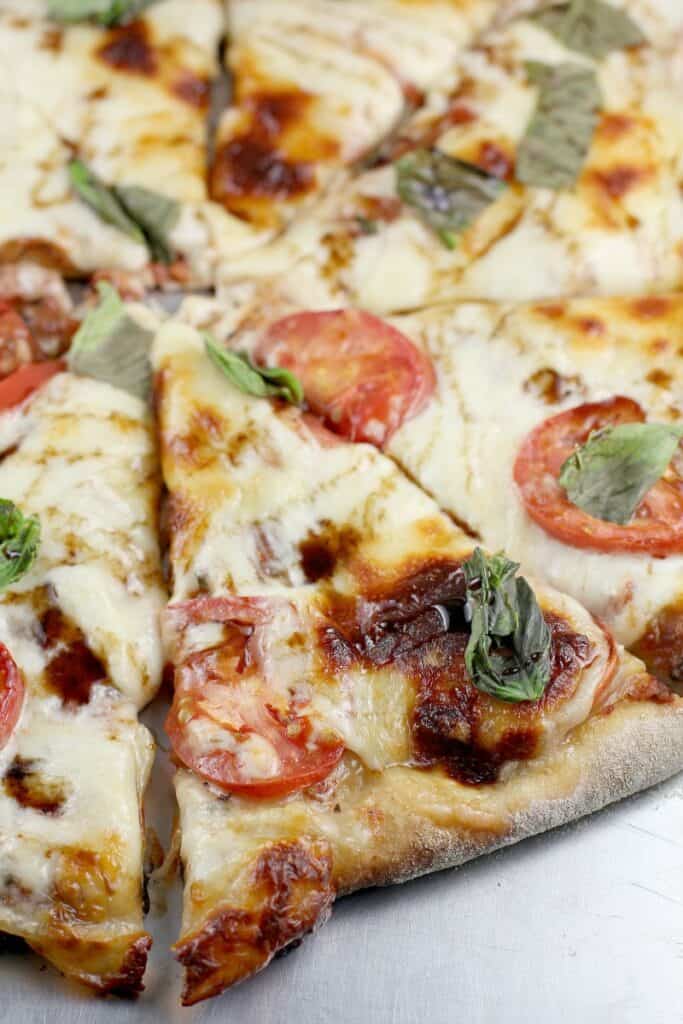 How to cook perfect pork belly burnt ends
There are 3 stages in this recipe to making burnt ends from pork belly.
Stage 1: Smoke the pork
To prepare the pork, either you or your butcher need to remove the skin off the pork belly slab. This is the only step that is a pain in the butt, but at least it only takes a couple minutes. Simply use a very sharp, straight blade knife.
After the skin is removed from the pork and the meat is cut into cubes, we season them up with our seasoning rub, and get them going in the smoker right on the grill grate.
In an electric smoker, you are set up for indirect heat by default of the smoker design. In a Big Green Egg, you need to set it up to cook by indirect heat, meaning that the plate-setter needs to be placed under the grill grate (legs up).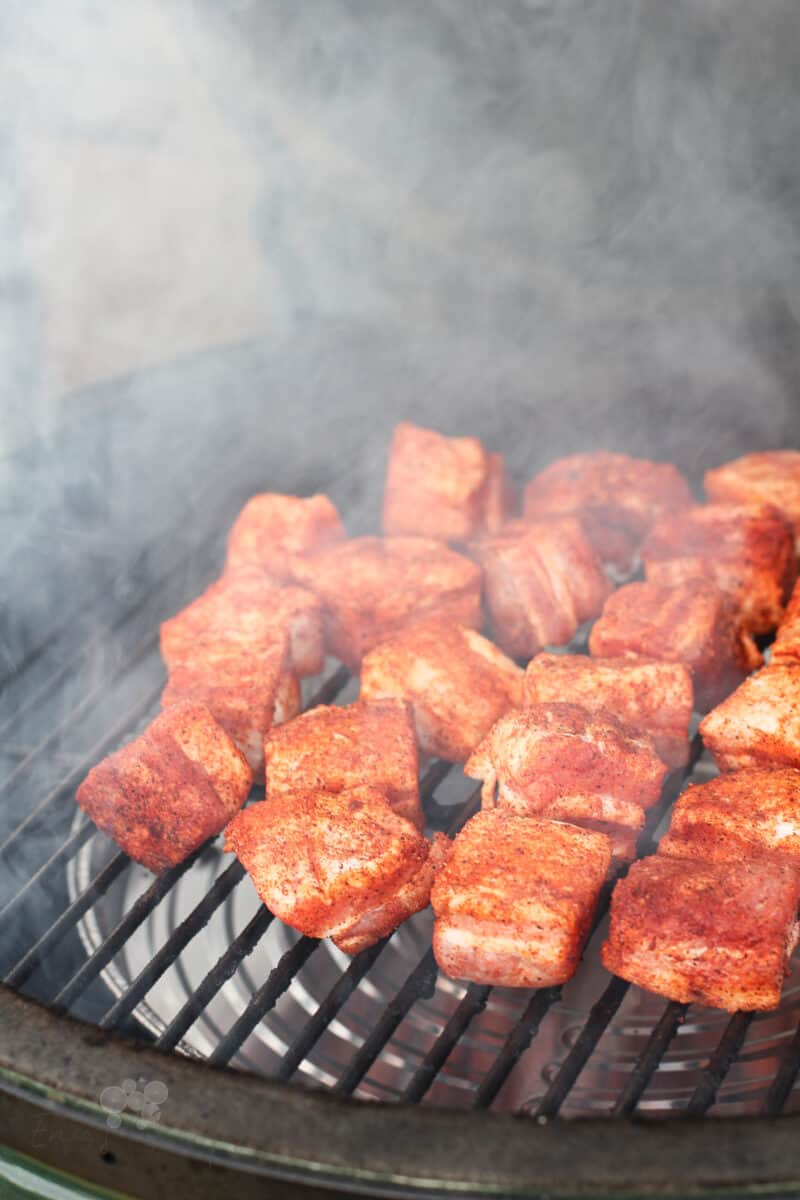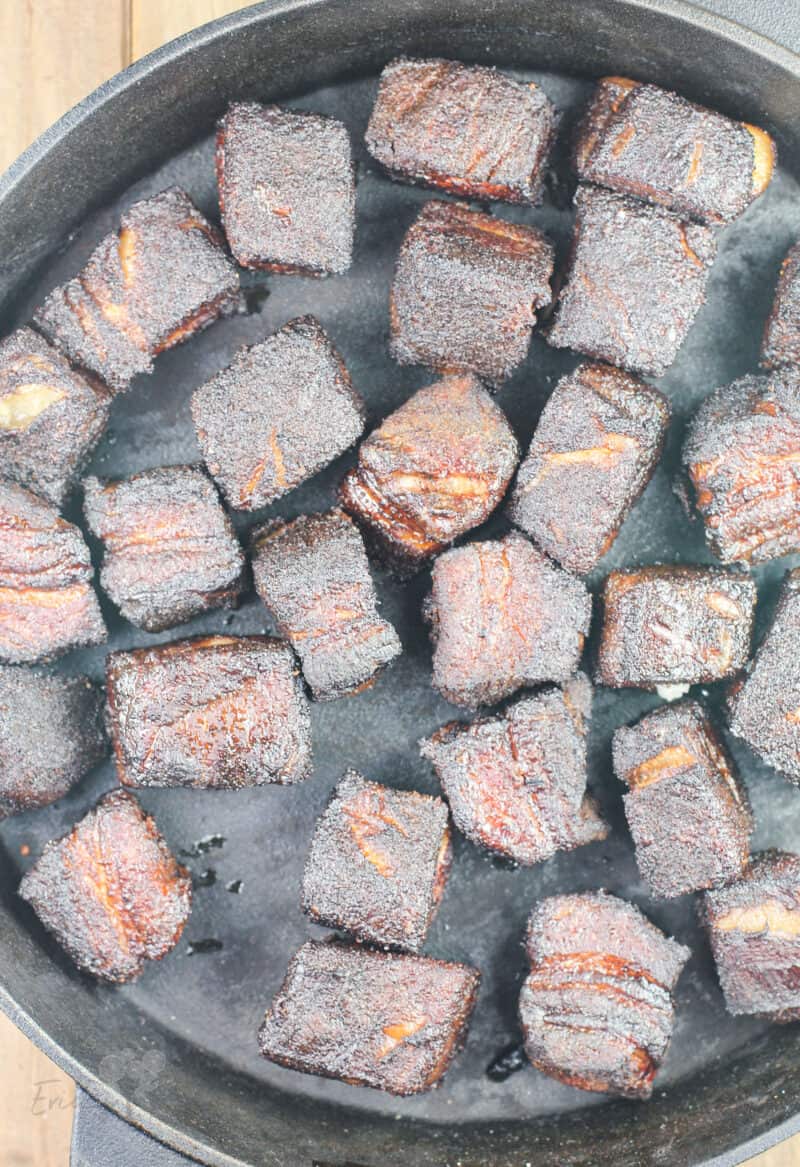 Stage 2: Start the glazing process
After the Stage 1 smoke, we transfer the pork to a pan – aluminum pan or cast iron or such, does not matter as long as it is grill-proof – then cover the pork with brown sugar, butter, and honey. Use foil to cover the pan, and put it back to cook.
During this stage, the butter, honey, and brown sugar will combine with the fat from the pork to start glazing the meat and making "burnt ends".
Stage 3: Finishing glaze
Finally, we make a quick glaze and toss the pork in it to coat. A quick cook back in the smoker to set that glaze and our perfect pork belly burnt ends are ready to savorrrrr.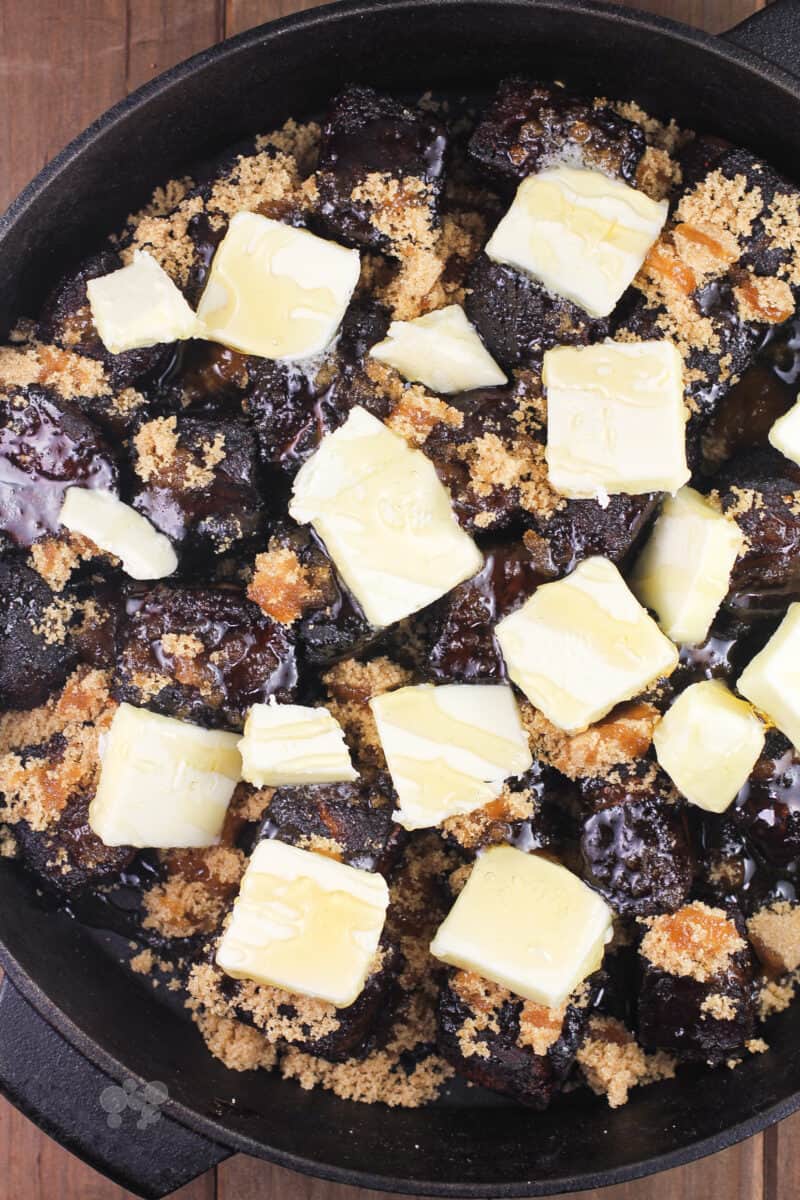 FAQs
Can pork belly burnt ends be made on a charcoal or gas grill?
It depends. If you can cook with indirect heat, then yes you should be able to make burnt ends in a regular grill. Remember, the key is slow cooking – even though we call them "burnt ends", they are not actually burnt. And you will either have to have or fashion a smoke box.
I don't have a smoker, can I make burnt ends in the oven?
Yes. The pork will not develop that signature smoky flavor of course, but hell – it's PORK BELLY. It will still be freaking tasty.
Can pork belly burnt ends be made in advance, such as to take to a party?
Absolutely and you should totally do that.
Can other jams or jellies be used in place of apricot preserves?
Yes. Apple or cherry jelly are appropriate substitutes.
Are there any shortcuts to cut down the cooking time?
No.
Is there another cut of meat that can be substituted if pork belly is not available?
Also no.
For the ultimate in Big Green Egg cooking, see my Smoked Over-The-Top Chili recipe.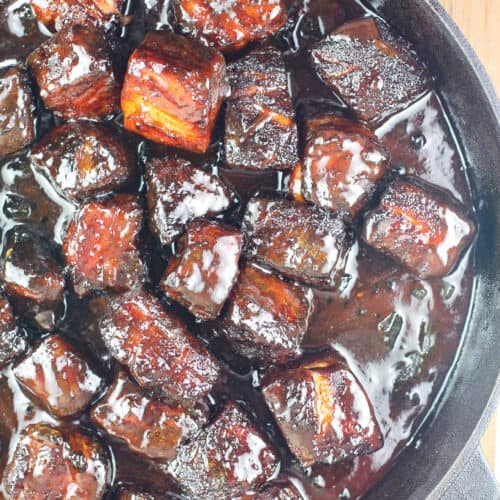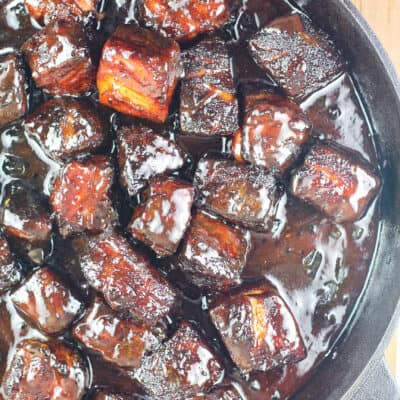 Pork Belly Burnt Ends
Pork belly burnt ends are salty, sweet, succulent bites of pork belly, cooked to divine flavor and tenderness in the Big Green Egg or electric smoker. The key is slow cooking in the presence of smoke to slowly render the fat leaving incredibly rich, melt-in-your-mouth chunks of pure pork love.
Ingredients
cherry or apple wood for smoking

6-7

lb

pork belly

skin removed and discarded, cut into 1-½ to 2-inch pieces

~½

cup

barbecue rub of choice

2

sticks

unsalted butter

cubed

½

cup

light brown sugar

¼

cup

honey
For the glaze
1

cup

barbecue sauce of choice

¼

cup

apple juice

¼

cup

apricot preserves

1

Tbsp

honey
Instructions
Set up Big Green Egg (BGE) or electric smoker to cook at 250°F with indirect heat (i.e. use a plate-setter, legs up, in the BGE).

Toss the pork in barbecue rub to coat.

Add wood to the BGE or smoker according to the manufacturer's instructions.

Place the seasoned pieces of pork on the grill grate and smoke 2 hours.

Transfer the pork to a grill-proof pan (aluminum pan, cast iron, etc), and sprinkle the brown sugar and butter pieces over top. Drizzle over the honey. Cover with foil, return to the smoker, and cook an additional 1-½ hours or until pork is very tender.

In a small saucepan over medium heat, combine the ingredients for the glaze until warm and smooth.

Drain the juices from the pork. Add the glaze to the pork and toss to coat. Return the pan to the smoker, uncovered, for 5-10 minutes to caramelize the glaze a bit. Serve.
Nutrition
Calories:
833
kcal
(42%)
|
Carbohydrates:
31
g
(10%)
|
Protein:
35
g
(70%)
|
Fat:
64
g
(98%)
|
Saturated Fat:
23
g
(144%)
|
Cholesterol:
140
mg
(47%)
|
Sodium:
382
mg
(17%)
|
Potassium:
9
mg
|
Fiber:
1
g
(4%)
|
Sugar:
19
g
(21%)
Calorie count is purely an estimate calculated using an online application to serve as a guide and not to be taken as accurate nutritional information. Percent Daily Values are based on a 2,000 calorie diet.
Tried this recipe?
Leave a comment below and let me know!
This recipe was adapted from How to BBQ Right.