100% Whole Wheat Sandwich Bread
Healthful 100% Whole Wheat Sandwich Bread, that is actually 100% whole wheat. This bread is a bit denser than other recipes because it is all whole wheat with far less oil than usually used. But this bread is TASTY, so satisfying, and makes the outstanding toast and paninis, and fantastic sandwiches for my kids.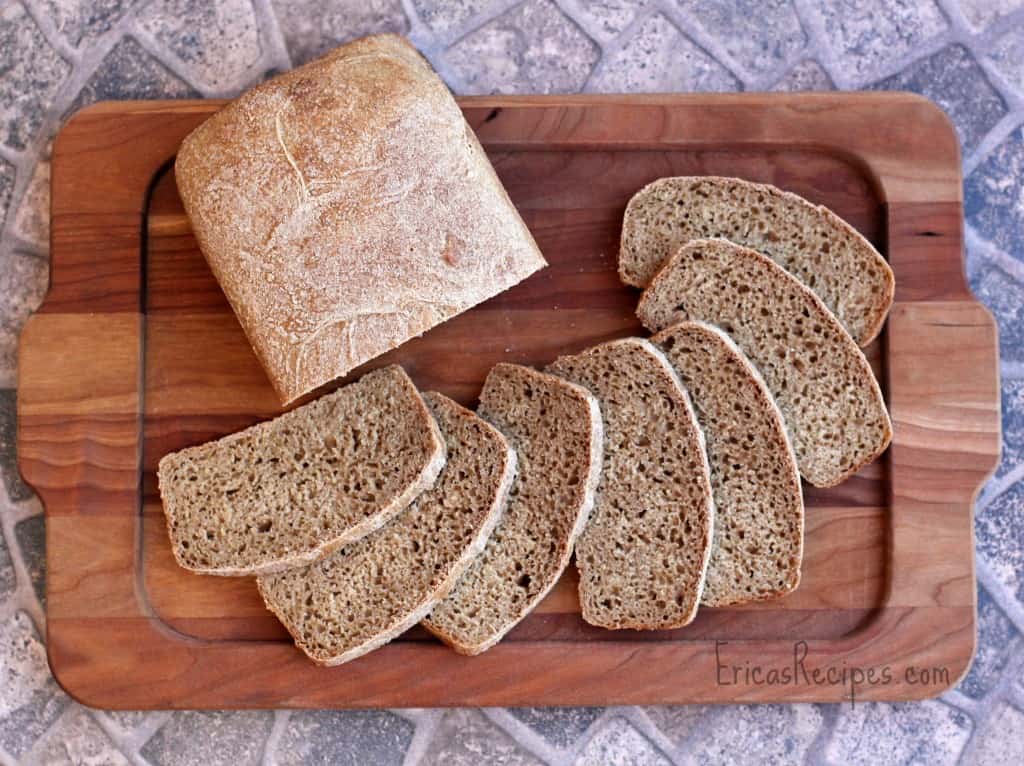 And here it is. Homemade, delicious, whole wheat sandwich bread. Oh my gosh I have made this a dozen times to get it right. Making 100% whole wheat bread is very tricky, and if you find a recipe that produces fluffy, store-bought-like bread, please let me know. I haven't been able to get any to work. Most home recipes use at least some all-purpose flour and a lot more oil than I want (like 1/3 cup!). Food companies add other awesome ingredients like corn syrup, soybean oil, "dough conditioners", and the ever-present soy lecithin. No thank you.
So I feed my kids with this very tasty, hearty, wholesome, and delicious bread. I find the key is to leave the dough wetter than I would with all-purpose flour, so the whole wheat grains have more moisture to soak up. Also, a longer rise time is required especially on the second rise. This bread is similar to artisan breads in texture, but a little lighter with a softer crust. I love that. I'm such an artisan bread fanatic, and, with the texture of this bread, I can get my fix with just a slice…or two. My 3 year old son agrees – I know this is so cliche, but he prefers his peanut butter and jelly sandwiches made using this bread. And it makes great panini bread too!
Proofing the yeast.. the yeast is added here with the honey into warm water to give them a chance to get going.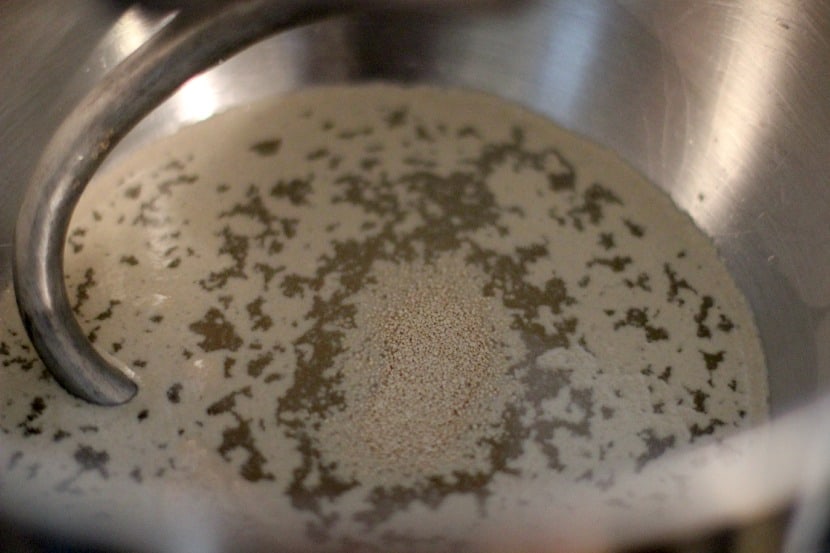 Once the yeast is awake, the remaining ingredients are added…
Mixed and ready to rise …I keep the dough pretty wet at this point so there is plenty of moisture for the whole wheat flour to soak up.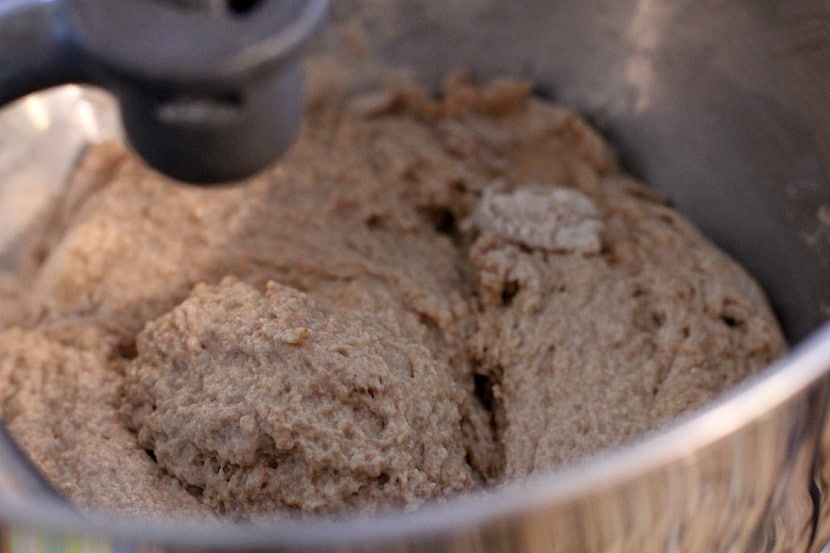 After the first rise and ready to be punched down…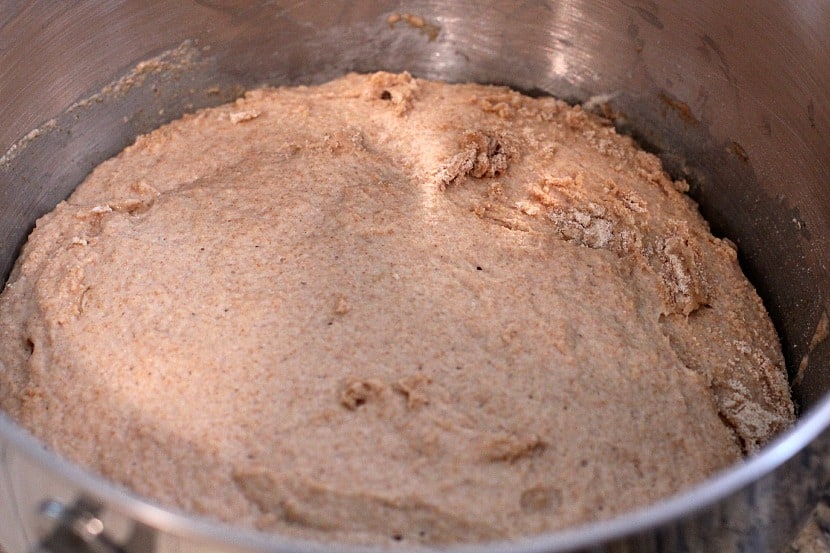 Here's the dough ready to be divided into 2 loaves. An additional ~1/4 c white whole flour was just kneaded in but not to the point of trying to make a completely smooth dough. I leave it rustic…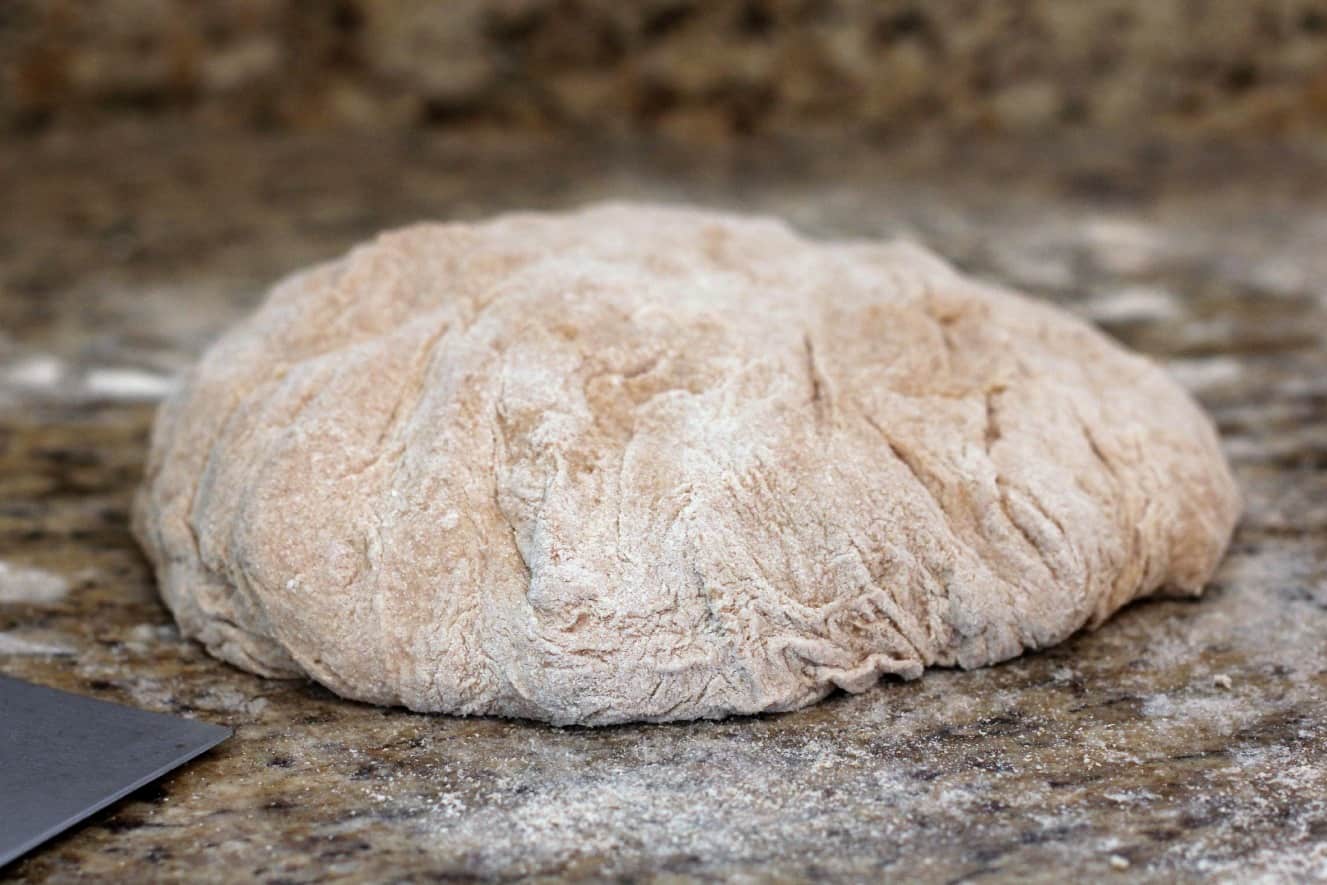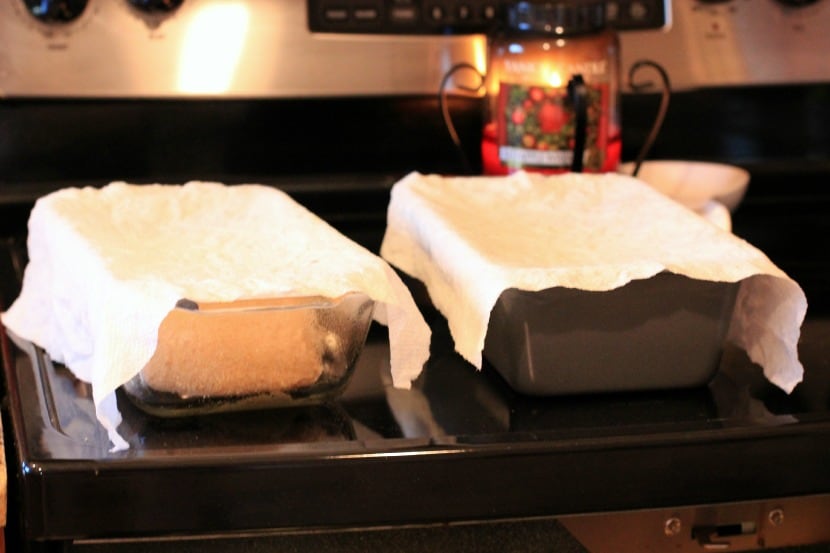 Ready for the oven..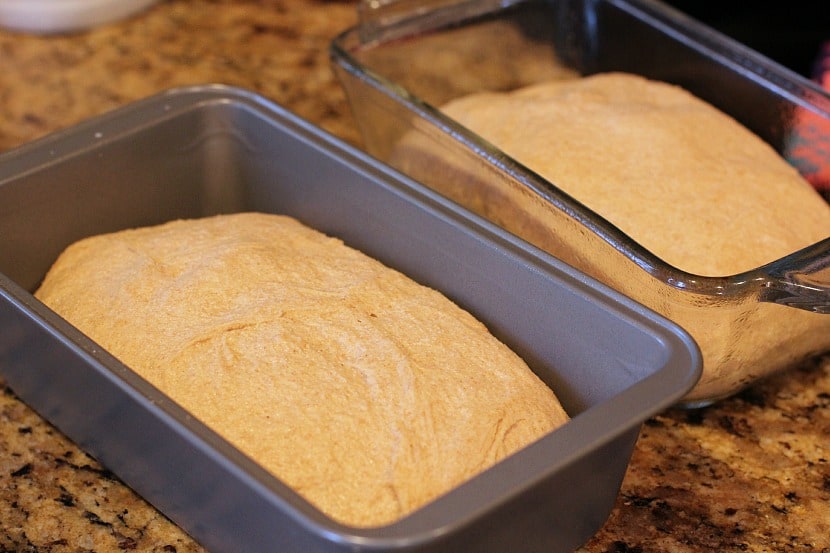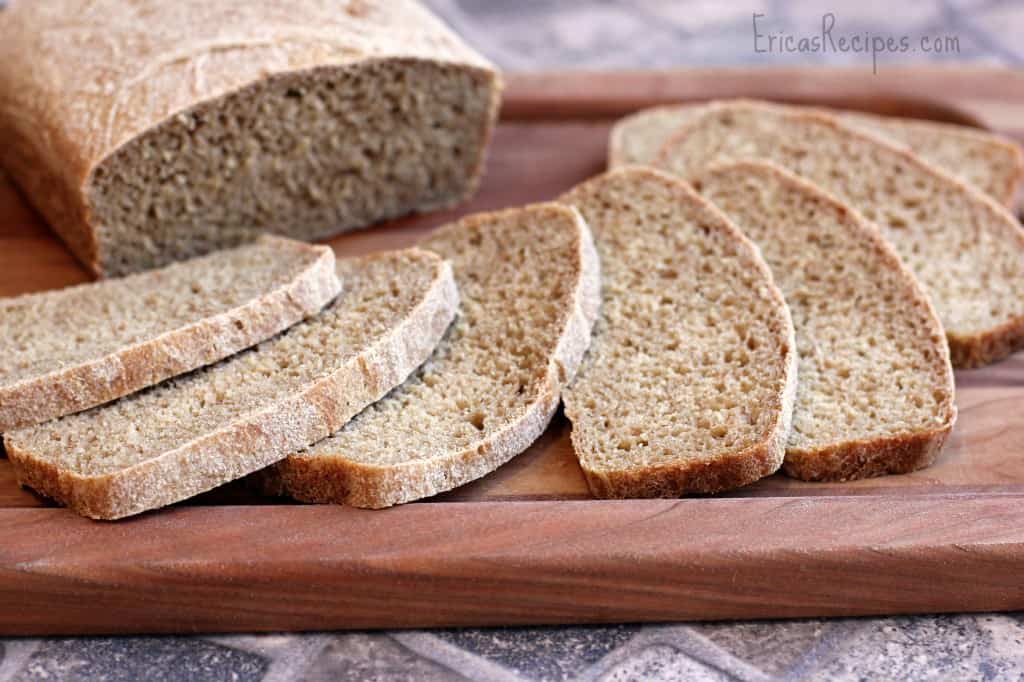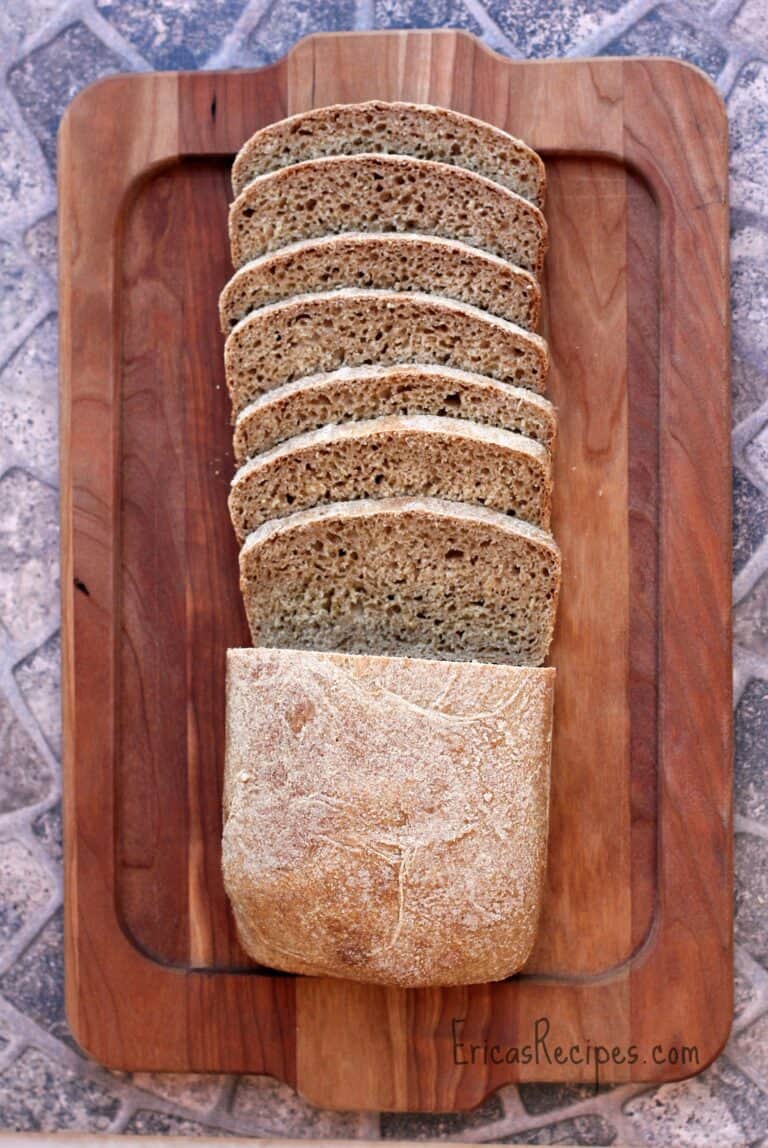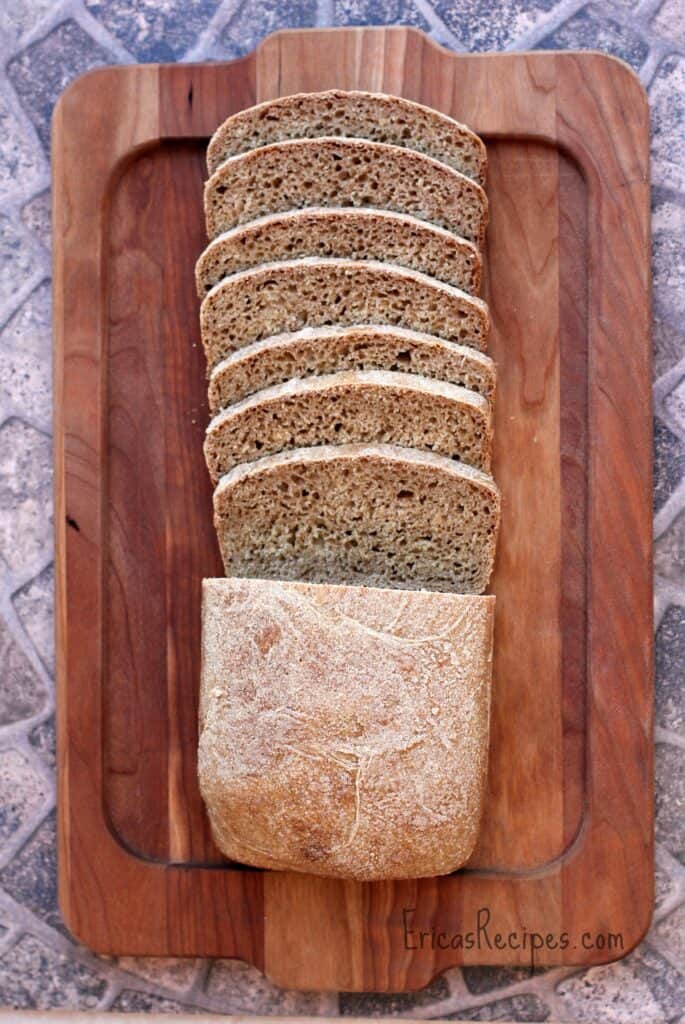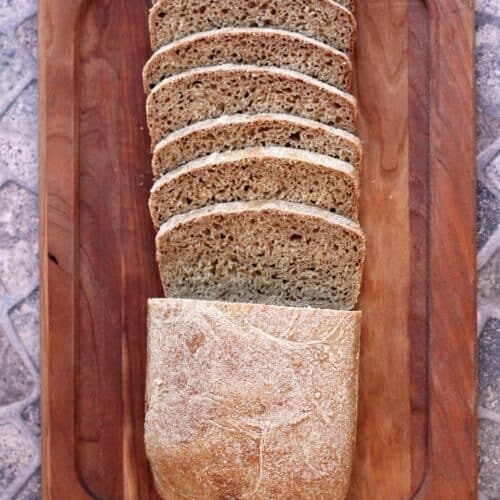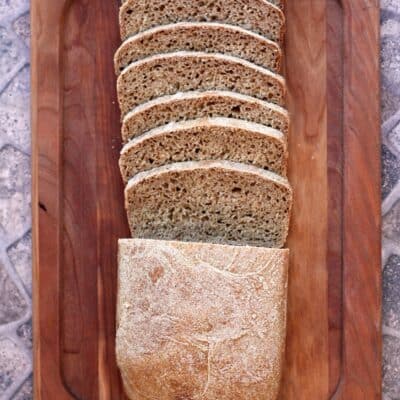 100% Whole Wheat Sandwich Bread
Ingredients
2-1/2

c

warm water

1

T

active dry yeast

2

T

honey

1

T

extra virgin olive oil

2

c

whole wheat flour

3

c

white whole wheat flour

divided

1

T

kosher salt

¼

c

vital wheat gluten
Instructions
Put the water and the yeast in the bowl of a stand-mixer. Drizzle in the honey and let the yeast proof 5 minutes.

Turn the mixer on the lowest setting with the dough hook attached. Add the whole wheat flour, oil, salt, gluten, and 2 1/2 cups white whole wheat flour. Let the mixer knead the dough 10 minutes.

Turn the machine off and let the dough rise in a warm location and covered with a damp towel until doubled (~1 to 1-1/2 hours). I blast my oven for 2 minutes, shut it off, then put the dough in there to rise.

Turn dough out onto a floured surface sprinkled with 1/4 c white whole wheat flour (a rubber spatula helps to get it out of the bowl). Sprinkle the dough with another 1/4 c white whole wheat flour. Punch dough down. Knead 3-4 couple times, incorporating in some of the new flour. Split dough into 2 portions and shape into 2 loaves. Place each in a loaf pan sprayed with olive oil. Spray the top of the loaves lightly with olive oil. Let rise again 1 to 1-1/2 hour until loaves are doubled in size.

Heat oven to 350F. Bake breads for 30-40 minutes or until golden brown. Let cool 20 minutes before removing from the loaf pans. Slice and serve or freeze until later. Yields: 2 loaves.
Calorie count is purely an estimate calculated using an online application to serve as a guide and not to be taken as accurate nutritional information. Percent Daily Values are based on a 2,000 calorie diet.
Tried this recipe?
Leave a comment below and let me know!