Broccoli Cheese Puffed Pizza
Broccoli Cheese Puffed Pizza pie is crispy puffed, cheesy, broccoli-fied and downright amazing. The recipe is simple to make too, making it weeknight perfect. Make to serve as your Friday night pie or in squares for easy entertaining. Easy, impressive, and delicious.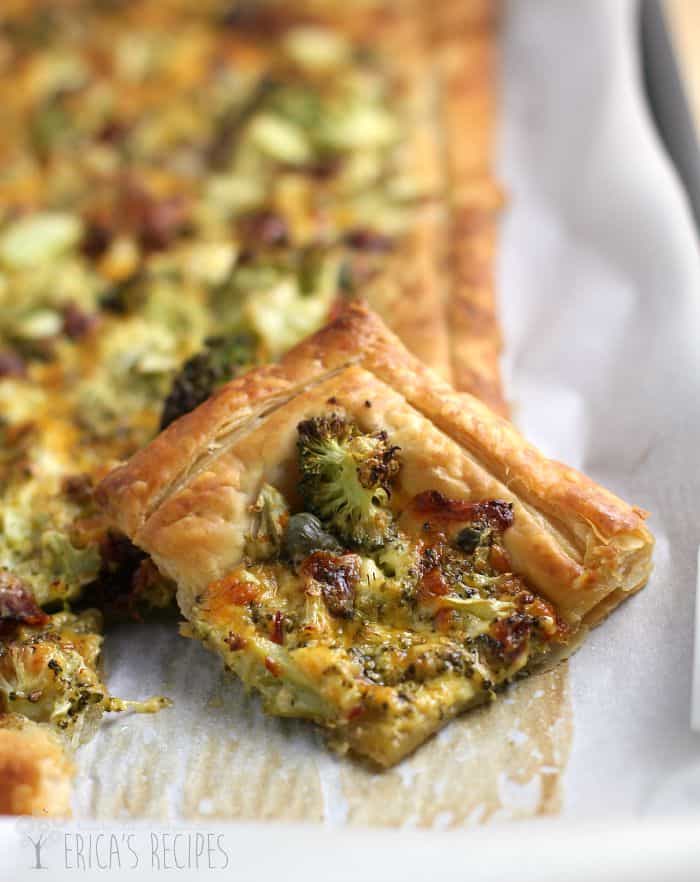 Okay, so before I talk more about this puffed pizza, I am going to go a little random and talk about a sea turtle. My desperately needed summer of zen kinda actually truly ended with me saving a sea turtle. How's that for irony.
So, a really cool story, promise…
I have mentioned before about where I live and how our beaches are important nesting ground for loggerhead and green turtles. We have special affection for turtles in my family anyway. Our son is our "Turtle" …because he looked like one when he was born. So turtles are our thing.
After my double knee surgery in March 2012, the very first race I ran ever was a fundraiser 5K for the local Sea Turtle Preservation Society. My daughter ran it with me then, and we have run it every year since. This September, we ran our fourth Turtle Krawl 5K and enjoyed this puffed broccoli pizza the night before the race.
This 5K is special. It is the largest around and has been so successful that we now have a new turtle hospital at our local zoo funded in large part by this annual race.
Which brings me to my story…
One early morning this past August, I was running on the beach. And I happened on this…
Those are babies! Holy crap thank God I did not step on one …This was my first time seeing baby turtles heading from the nest in the dunes down to the water, and it was one of the coolest things to watch ever.
…and once they all made it to the water, I resumed my run.
And on I ran, for a little while.
Until, this…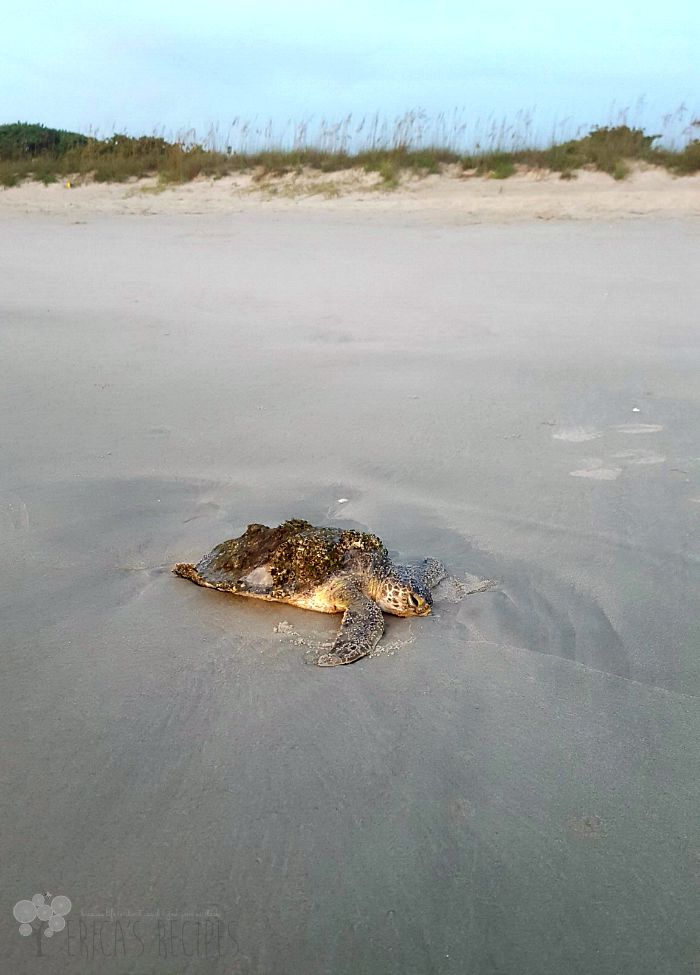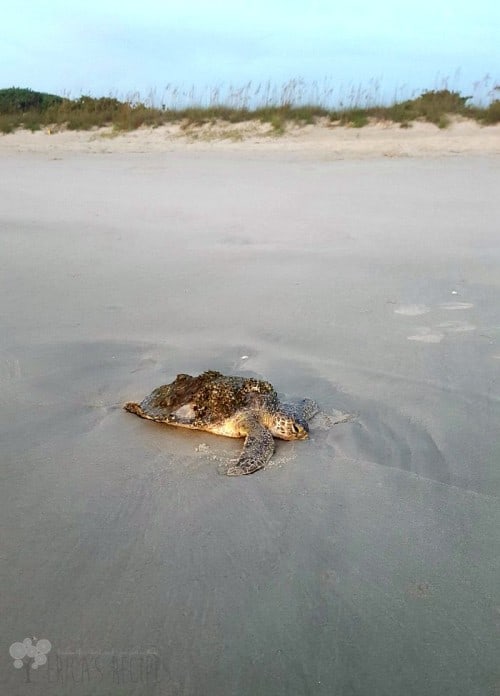 A stranded green turtle. He had not crawled ashore – there were no tracks. And he looked rough. But he was alive, so I called the Sea Turtle Preservation Society to send someone to fetch him and get him help.
Waiting for help to arrive, we spent some time together. Despite being a regular beach-goer and having a degree in Marine Biology even …I had never seen a sea turtle outside of an aquarium. So we spent an hour, staring at one another. I stood in front of him, to shield his eyes from the sun with my shadow.
And I instagrammed him of course.
And eventually help came…
The turtle hospital named him Patrick, and he recovered really really well. Even the next day, I heard from the zoo veterinarian that he was cleaned up, looking like a new man, and already improving from whatever had made him sick. He did awesome 🙂 They were not able to find definitively what made him sick, so the assumption is it passed before I found him.
…then about a week ago, he was released. And I got to be there with my kids for what is now one of the best moments of my life. Which, of course, I captured on my phone…
So that is my turtle story.
I don't know what it is about these animals that gets me, but I adore them. As adults, their only real threat is humans, and they have suffered greatly for that. Endangered, but they are coming back. The ordinances to protect the hatchlings, like keeping the beaches dark, no lights, from May to November so the babies go to the surf and not the other way, are working. They have been in place for about 20 years, which is about as long as turtles take to reach reproductive maturity. Meaning those babies that were helped by these ordinances then, are now mature and nesting. So the fact that this year we had record numbers of nests for both green and loggerhead turtles is no coincidence.
And that is awesome. And encouraging that these guys may make it. As long as we keep helping them.
~~~segue to the recipe …which I did actually make for dinner the night before our fourth time running for these animals that we adore.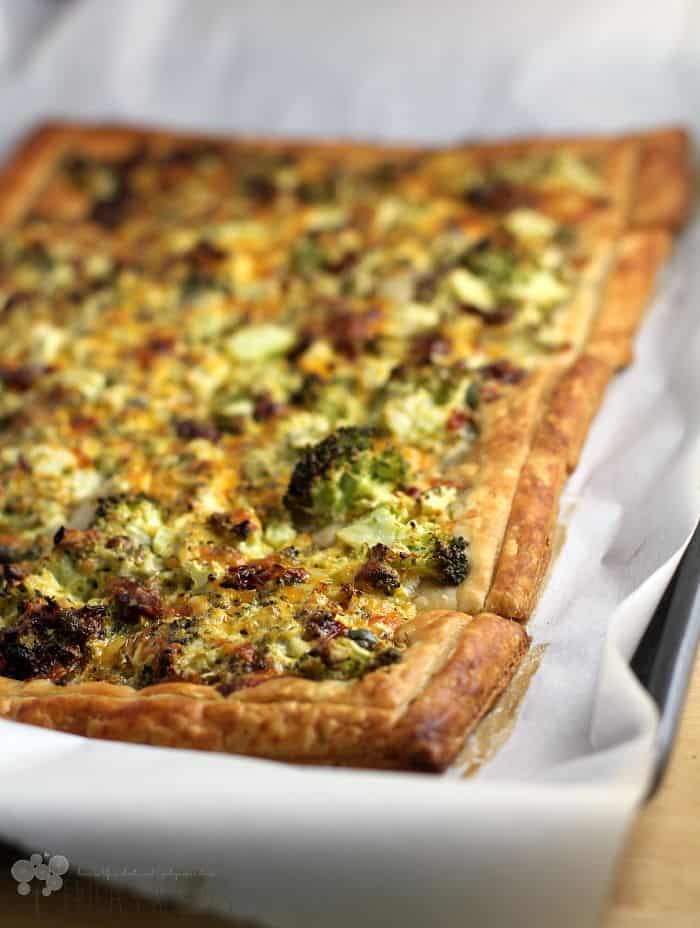 And now I'll tell you about that, and be done 🙂
This pizza though! This recipe is quick and easy, and uses puffed pastry instead of pizza dough. I added in some super tasty sun-dried tomato and the combo with the broccoli is just epic good, especially since it all sits on a creamy Dijon, white pizza sauce and flaky, buttery puffed pasty. I actually went light on the cheese with this recipe, because it just did not need it and adding more cheese would have sent it over the edge to heavy brick-in-the-stomach-ville. As is, this is all about the broccoli, with some tangy, creamy, buttery awesome-ness going on in the background. Totally balanced and legit perfect.
So kids, here is the new pie. Make this fun recipe as is, or change it up as you like. Using easy puffed pasty as the stage for a new, creative pizza is a winning idea I hope you will try.
…and remember to always leave the beach the way you found it – fill in your holes, stomp down your castles and get all the trash!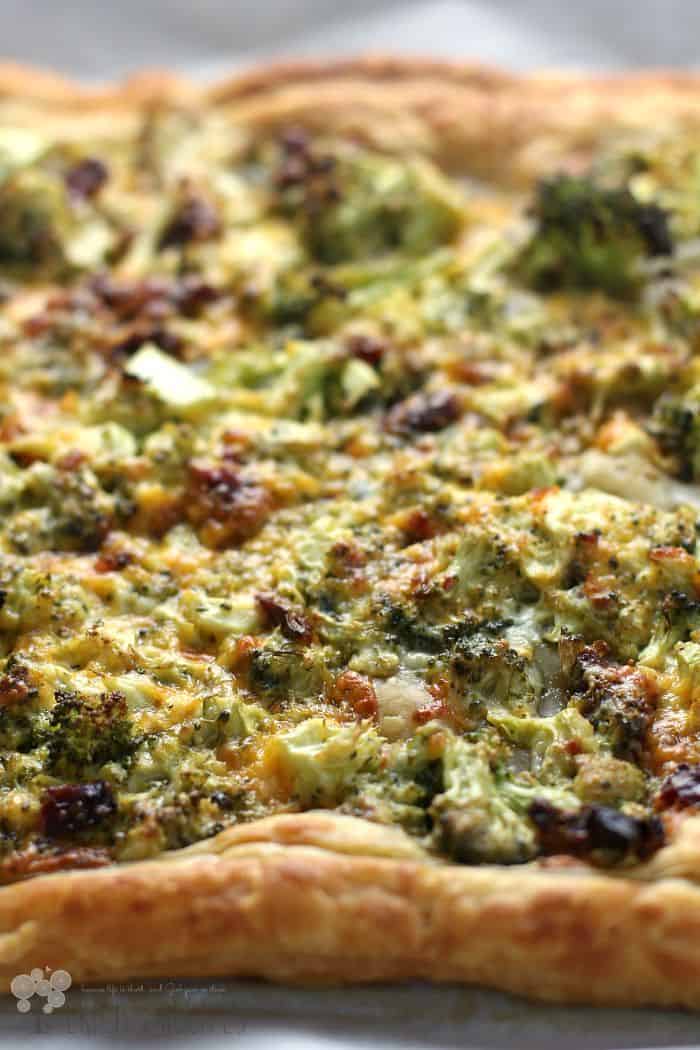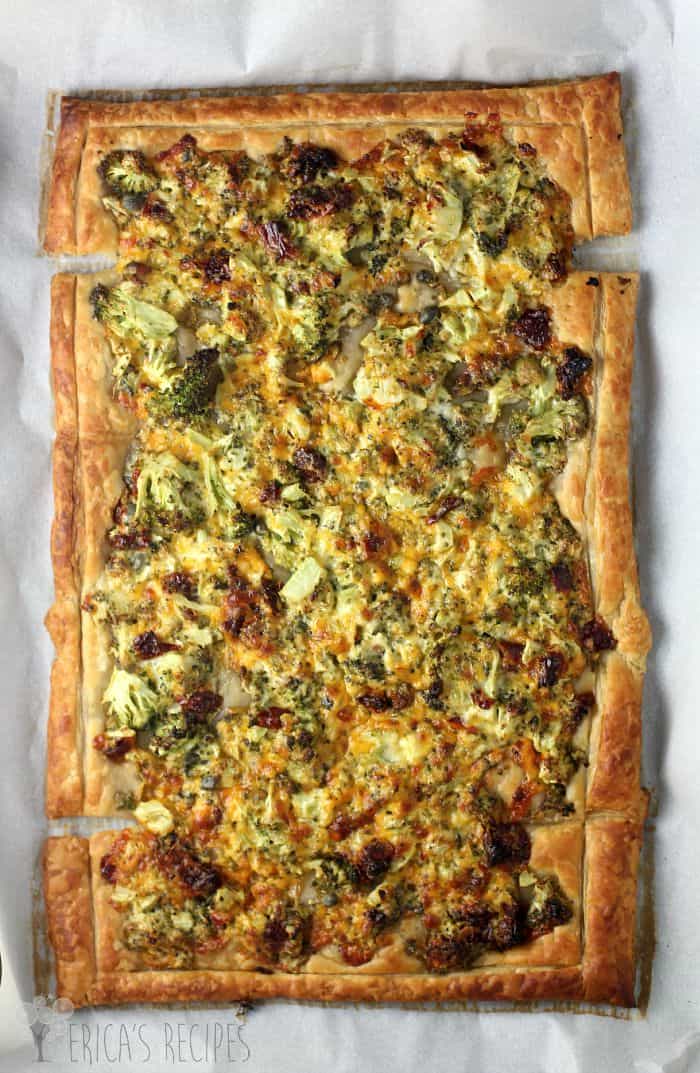 This recipe calls for a premade pizza crust, but if you are looking for a pizza dough recipe, check out my Sam Adams Beer Pizza Dough. Also see my Homemade Pizza Sauce with wine and garlic.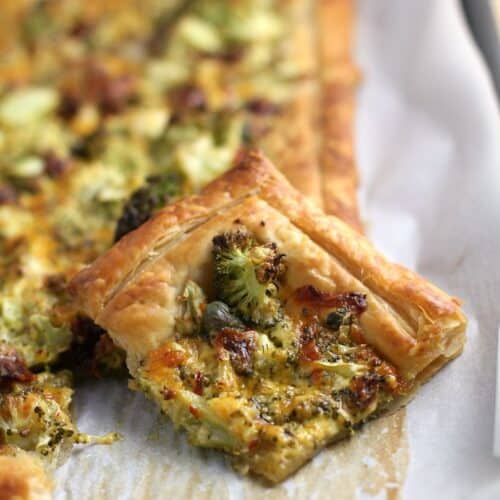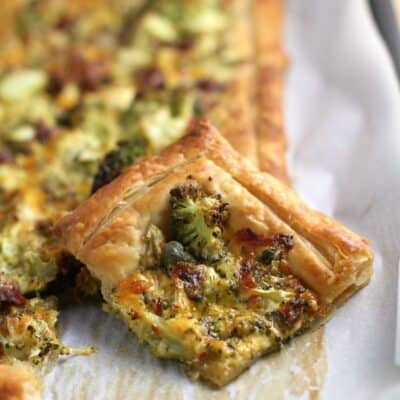 Broccoli Cheese Puffed Pizza
A delicious, broccoli-fied, pizza pie.
Ingredients
1

17.3 oz pkg puff pastry sheets

1

cup

heavy cream

1

tsp

Dijon mustard

1-1/2

cups

chopped broccoli

¼

cup

chopped sun-dried tomatoes in oil

1

Tbs

capers

pinch

kosher salt

pinch

fresh cracked pepper

1

cup

shredded sharp cheddar cheese
Instructions
Place a sheet of parchment paper on a bake sheet. Puff pastry comes in two pieces, each folded in thirds. Lay out one piece of puff pastry. Lay two-thirds of the remaining pastry next to the first, forming the pizza. Discard the last third pastry or use for another purpose.

Using a sharp knife, cut a line down each edge of pastry, ~1/2-inch in from the edge, creating a frame. Use a fork and prick holes gently all over the pasty inside the cut "frame" (the point of the cuts and fork pricks is to keep the pastry from rising).

In a medium nonstick saucepan, heat the cream over medium-high heat until reduced by half. Whisk in the Dijon mustard. Remove from the heat.

In a bowl combine the broccoli, sun-dried tomatoes, capers, salt, pepper, cheese, and Dijon-cream. Spread the broccoli mixture over the prepared puff pastry within the "frame" that was cut earlier (this leaves a margin of pastry as a crust around the edge).

Bake at 400F for 25 minutes or until pastry is cooked through. Be sure that the pastry cooks all the way through in the middle of the pizza under the toppings. Yields 4 servings.
Calorie count is purely an estimate calculated using an online application to serve as a guide and not to be taken as accurate nutritional information. Percent Daily Values are based on a 2,000 calorie diet.
Tried this recipe?
Leave a comment below and let me know!