Smoked Sausage Balls are tender, cheesy meatballs with sausage, jalapeños, and pepperjack cheese cooked in the Big Green Egg kamado cooker, grill, or electric smoker to smoky perfection. Served with honey mustard for dipping, these smoked meatballs are busting with flavor.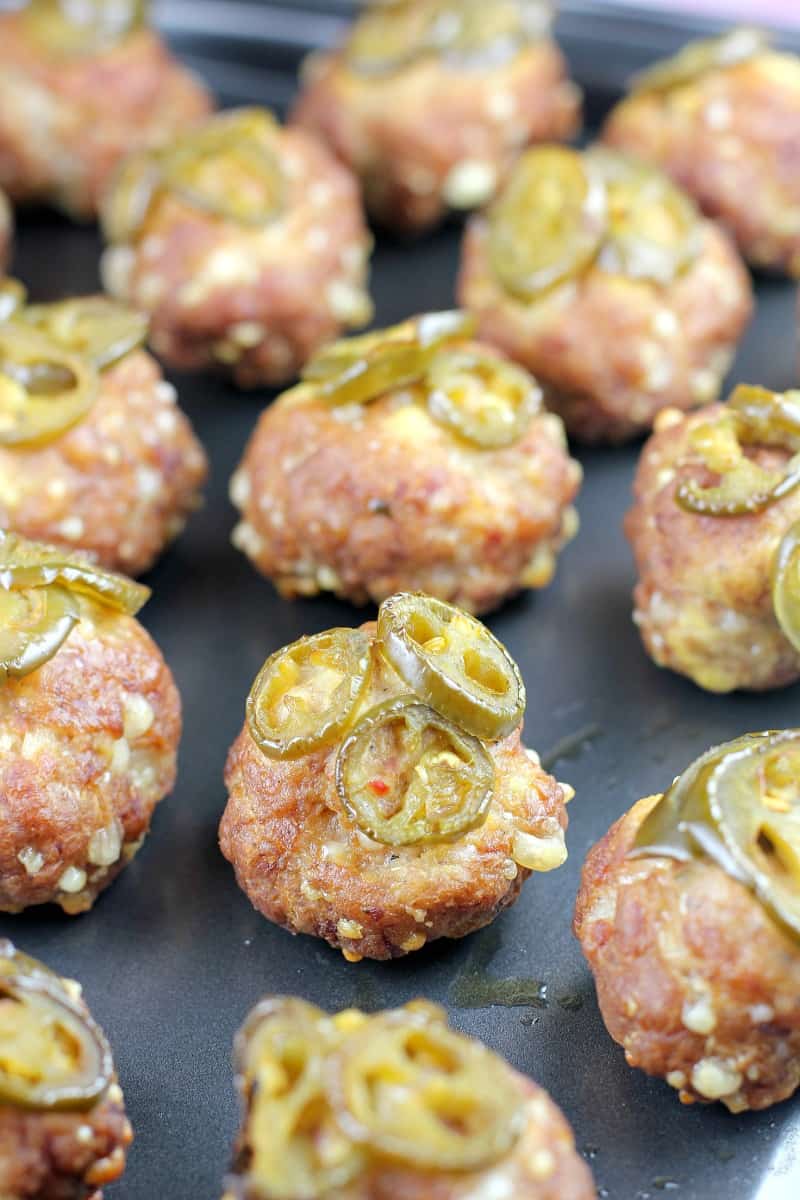 If you own a Big Green Egg and are looking for more ideas, check out my Big Green Egg Pizza Margherita, Grilled BBQ Green Bean Casserole, and Maple Bourbon Smoked Chicken Quarters. These recipes include alternative instructions as well.
Why smoke sausage balls?
As I talked about with my Pimento Cheese Sausage Balls, these meatballs with sausage are a traditional southern favorite. Made with just a couple simple ingredients and baked, they are an easy appetizer, football food, party food, and brunch idea, and never fail to be a huge hit.
Now, when we want to smoke a food, there are a couple things to consider. Is the food juicy or will it dry out? How long will it take to cook (i.e. longer and at a lower temperature than in the oven) and will that be enough time for the smoke to impart its flavor?
This recipe for smoked meatballs with sausage gives a "Hell yes!" to both these questions. With pepperjack cheese, cream cheese, and juices from the sausage, these balls do not dry out in the time it takes for them to cook.
AND that cook time (100 degrees lower and 10 minutes longer than in a convention oven) is ample time for them to take up all that wonderful smokiness.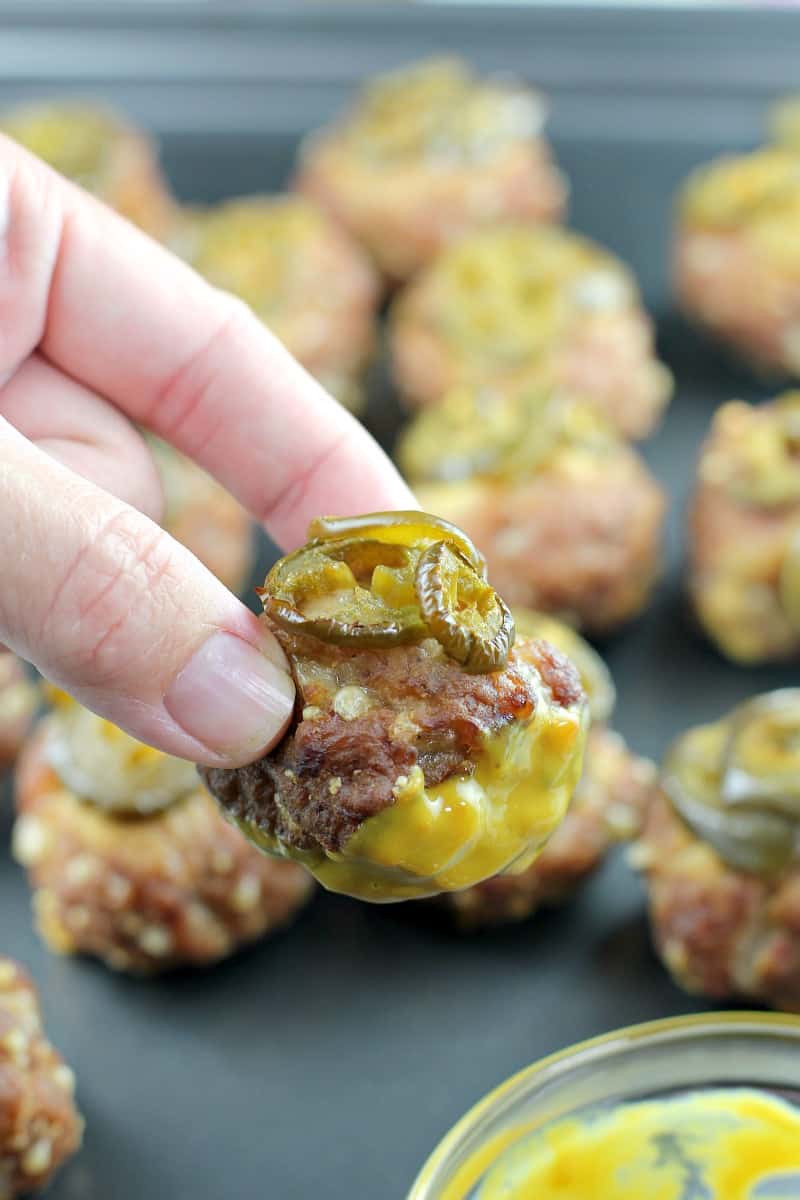 The ingredients
This is a nice, short list of easy ingredients because there really is not a lot required to enjoy yourself some smoky smoked meatballs with sausage.
For the sausage balls
Bulk breakfast sausage. This is the kind that comes in a tube, and I find it in the grocery section with the bacon. I opt for mild sausage for this recipe, because I find the cheese and jalapeno bring enough kick. Opt for hot sausage if you want more kick.
Cream cheese. Just 4 ounces of cream cheese gives extra insurance that we end up with juicy, tender, sausage balls after smoking.
Pepperjack cheese. Sausage balls traditionally use cheddar cheese, but I wanted this recipe to be different with flavors of jalapeño. Get an 8 ounce block and shred using the large holes of the cheese grater.
Bisquick baking mix. Look for this in the grocery breakfast aisle with the pancakes mixes.
Pickled jalapeño slices.
These ingredients have enough innate salt, especially the pepperjack cheese, that I do not find additional seasoning is necessary.
For the honey mustard dip
Mustard. The tangy bite of yellow mustard is a perfect foil for the rich smoky flavor.
Honey. You can adjust the amount of honey used based on how sweet you like your honey mustard. Note that the more honey you add, the looser or more runny the dip will be.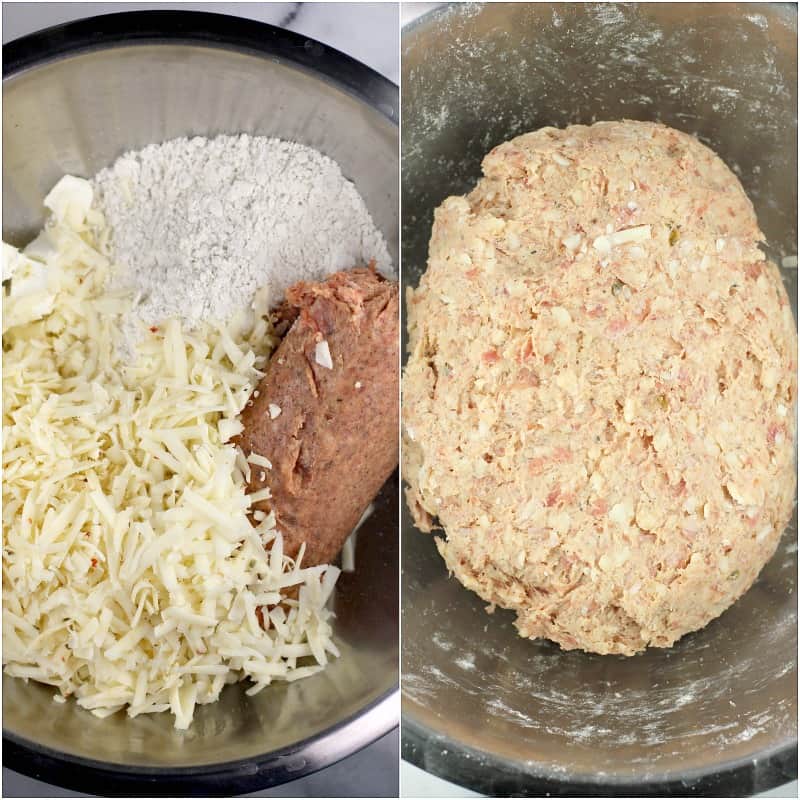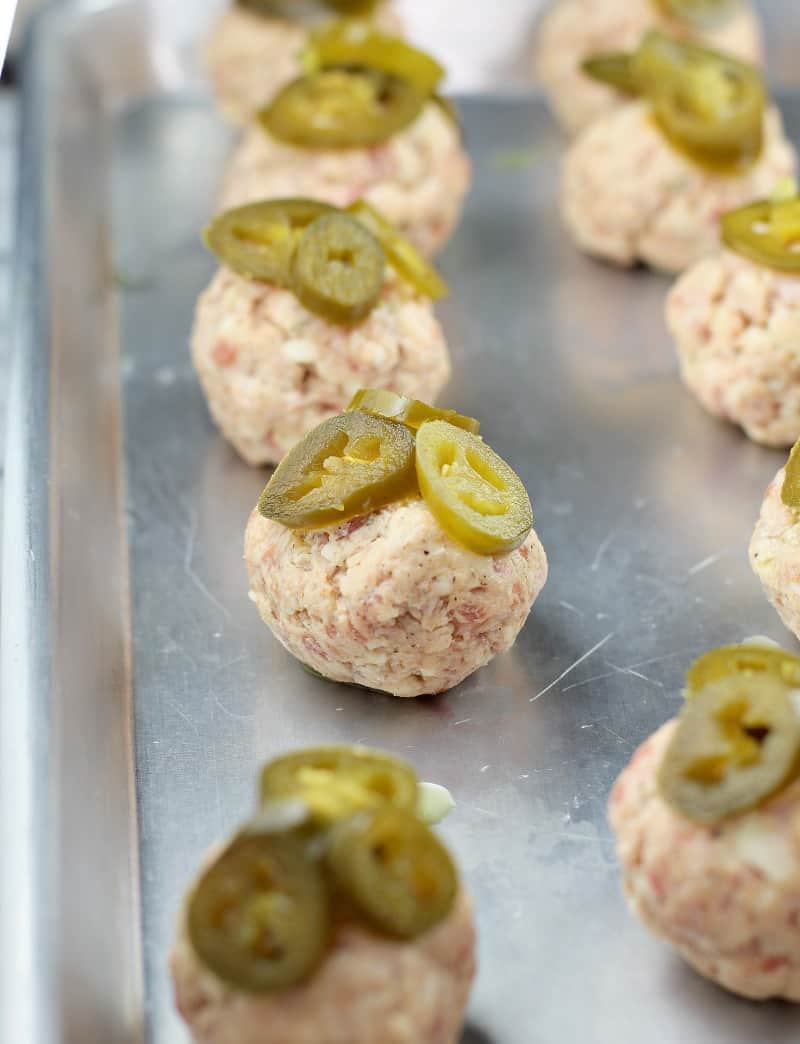 Steps for preparation
Form the sausage balls
The ingredients for the sausage balls are put in a mixing bow, and that is when we need to do a little work.
Making sausage ball dough requires us to work the ingredients, mixing, until the fat form the sausage absorbs the baking mix and this is what forms the dough. The cream cheese and shredded pepperjack cheese are just along for the ride, and they end up distributed through the dough in the process.
Once the dough comes together, form into 2-inch balls. Two inches is a bit of a larger ball than I make when baking my sausage balls, but this allows better cooking in the smoker.
Top each meatball with a couple slices jalapeño, and they are ready to cook.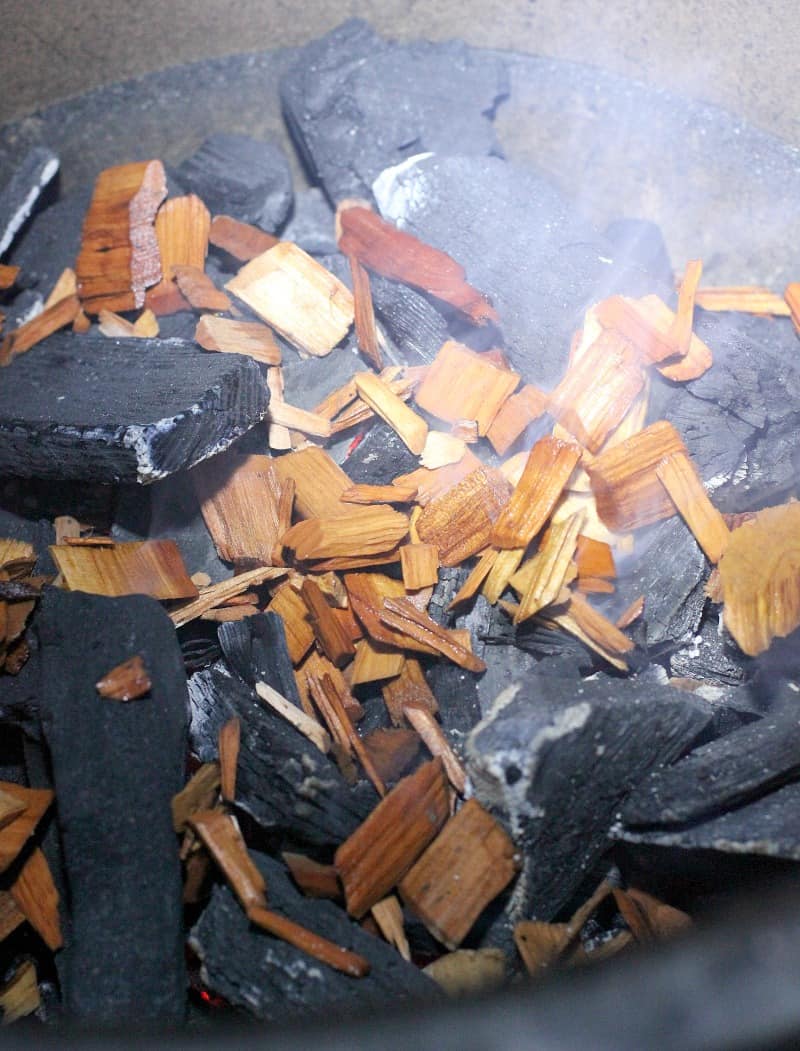 Smoke the meatballs
Regardless of your equipment of choice – be it a Big Green Egg kamado-style cooker, an electric smoker, or grill, use your manufacturer's instructions (or your own experience and expertise) to set up for smoking at a steady 250 degrees Fahrenheit.
In the Big Green Egg, we fill our coal box and light it, put in the convEGGtor (with the legs pointing upward) and top with the grill grate. Put wood to smoke (presoaked in water) on the coals under the conVEGGtor. Bring to 250°F.
In a gas grill, prepare a smoke box using a purchased metal box or fashion one from foil (lots of ways to do this, you can search the internet). Put the box directly on your burners on one side, leaving a burner or two off on the other side. You will put your sausage balls to smoke over the burners that are off (i.e. indirect heat).
In an electric smoker, add soaked chips to the proper compartment and heat smoker to 250°F.
Once ready to smoke, place the sausage balls on the grill grate taking care not to knock off the jalapenos on top.
Smoke the sausage balls for 25 minutes or until cooked through but not overdone. You are looking for a temperature of 155°F in the center of the meatball.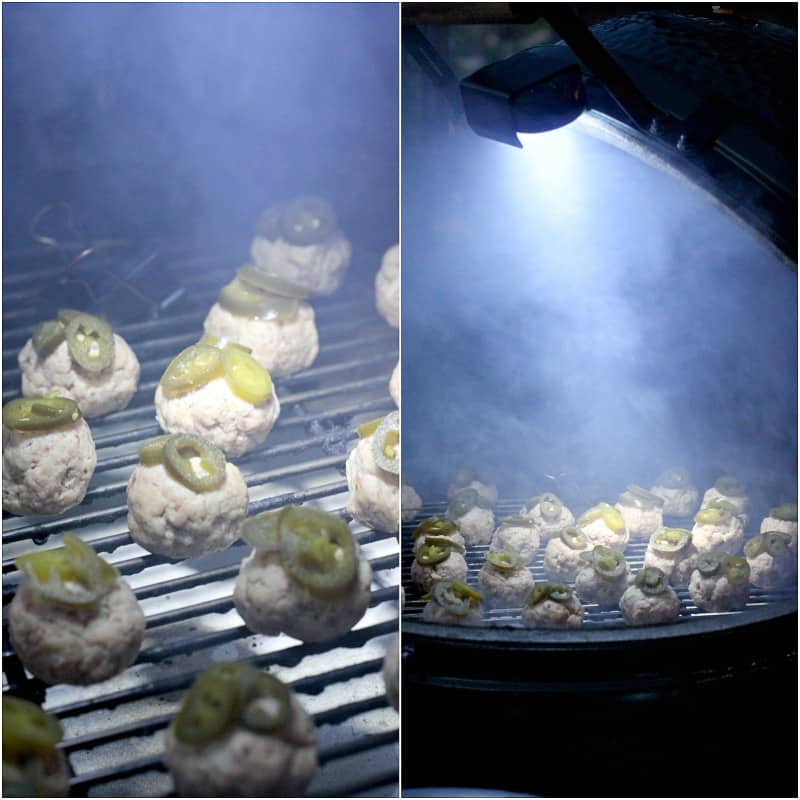 Make the honey mustard and serve
The honey mustard sausage ball dip could not be easier. Simply mix mustard and honey.
Where we have wiggle room is that we could use different mustards, such as Dijon or spicy brown mustard.
We also have wiggle room in the amount of honey we add. If you want a sweeter honey mustard, add more honey. Just know that the more honey added, the looser or runnier the dip will be, so add a little at a time to make sure you do not over do it.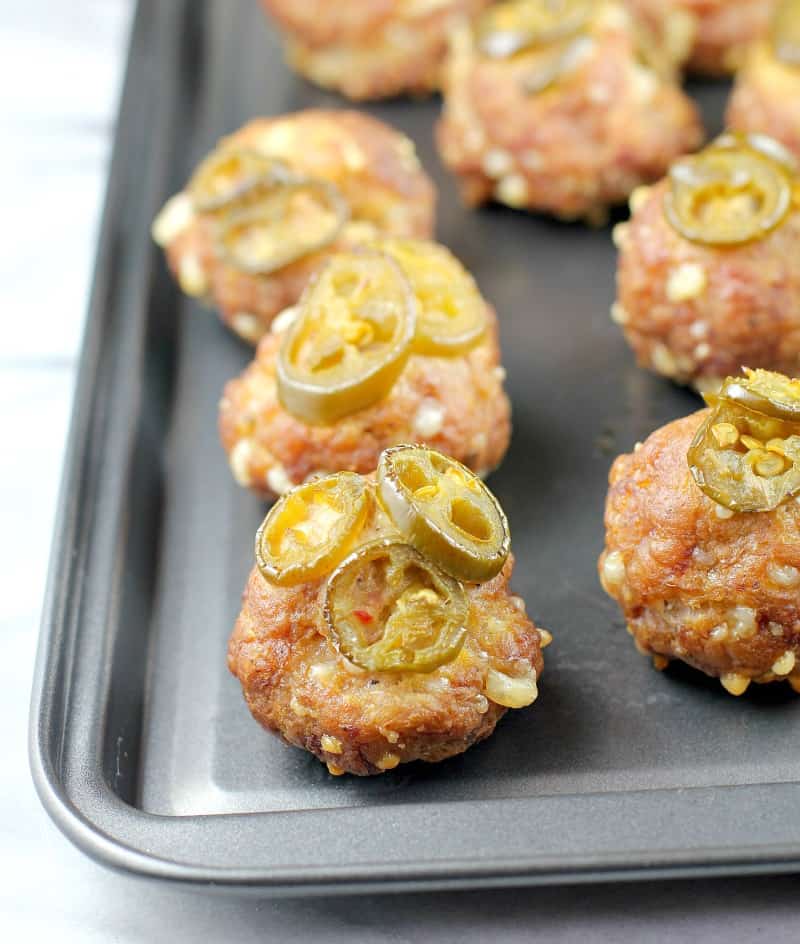 Last tips
If your temperature fluctuates a lot or runs hotter than 250°F, start checking the internal temperature of the meatballs earlier at 20 minutes.
If jalapeno slices are not available (which is unlikely, but could happen), fresh jalapeno may be substituted. Another alternative would be to add pickled diced jalapeno into the dough while mixing.
If pepperjack cheese is not available, substitute cheddar cheese. Another idea would be to use plain Monterey Jack cheese, and add diced jalapeno to the dough.
With the jalapenos on top of each sausage balls, there is plenty of spice. That said, if you want more heat, you may substitute hot sausage.
Of the Big Green Egg, grill, and electric smoker, I find getting food in and out of the smoker to be more challenging. Therefore, balls may be left on a tray or mat in an electric smoker if this helps.
It doe not take too long to overcook sausage balls, be it in the oven or an outdoor cooker. Therefore, cook until just done, 155°F internal temperature in the center of the ball, knowing that our smoked sausage balls will continue to cook a bit once taken off the heat.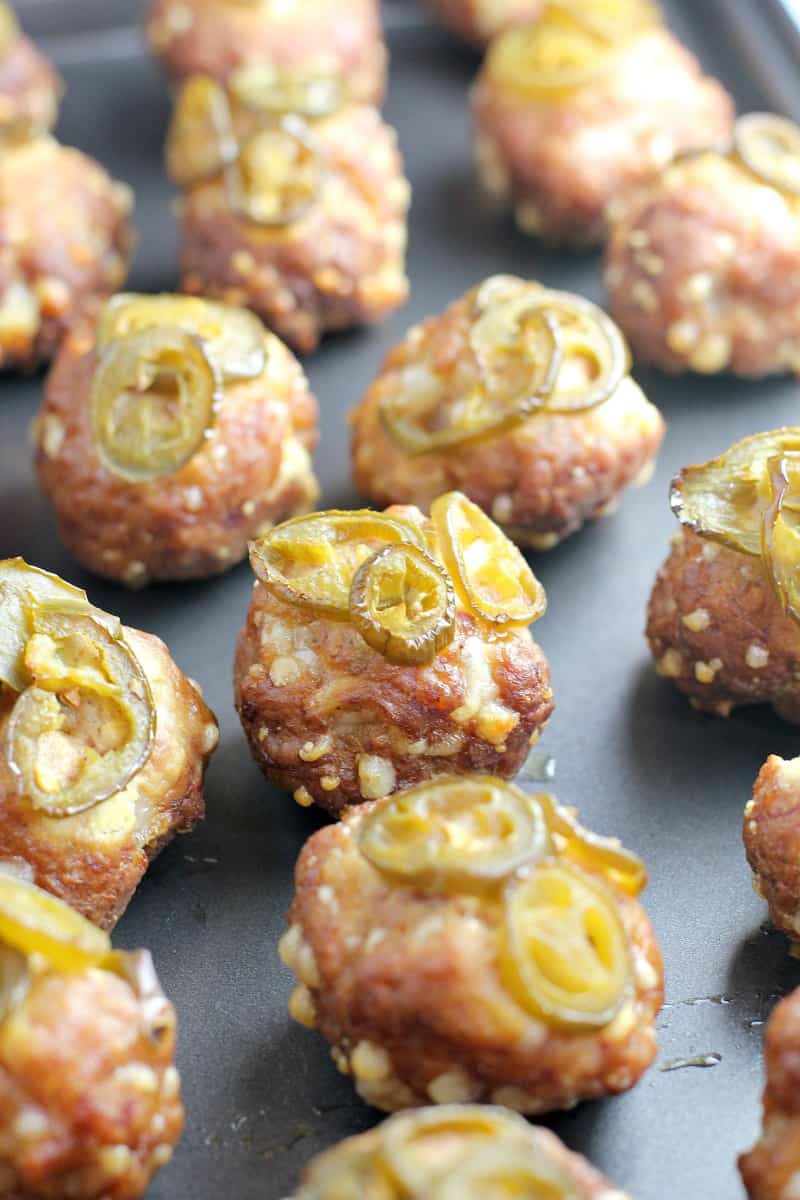 More grilling recipes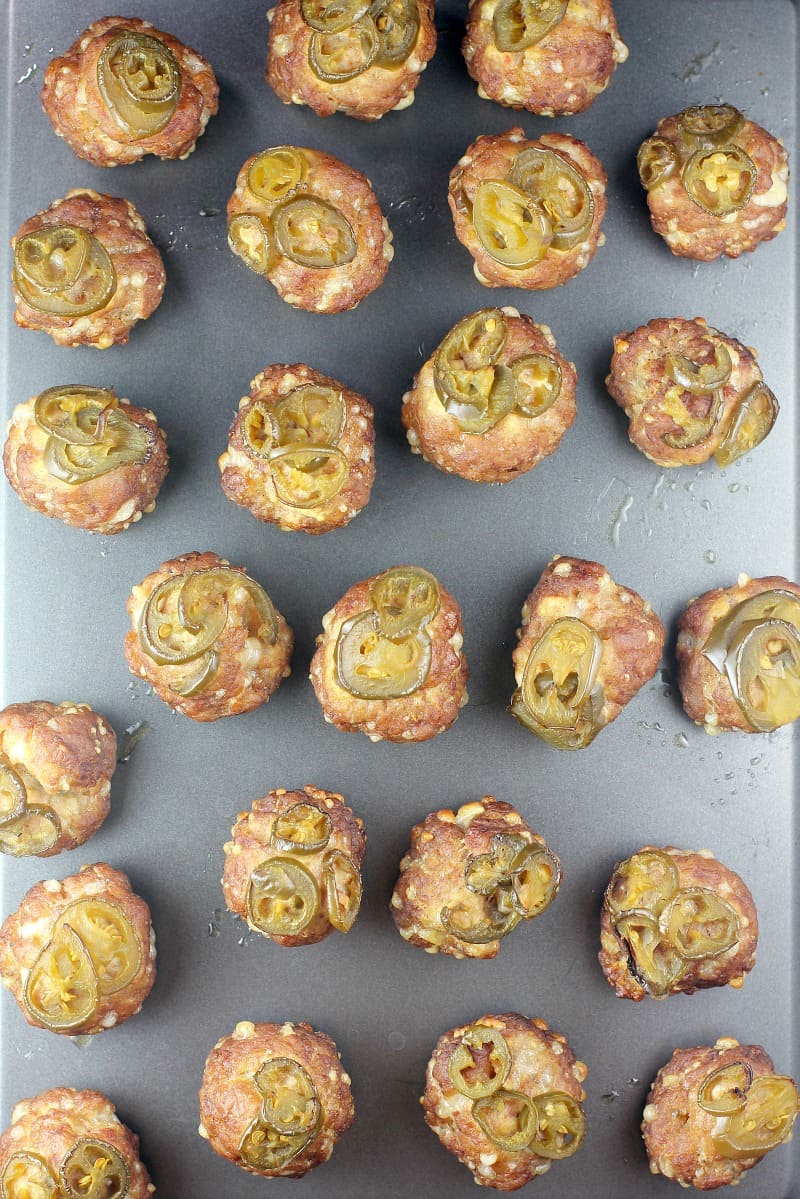 For the ultimate in Big Green Egg or smoker cooking, see my Smoked Over-The-Top Chili recipe.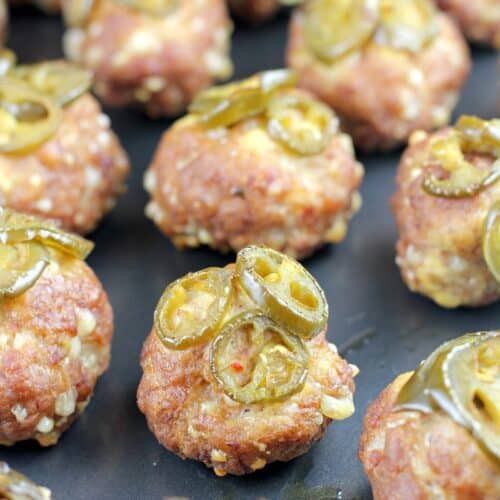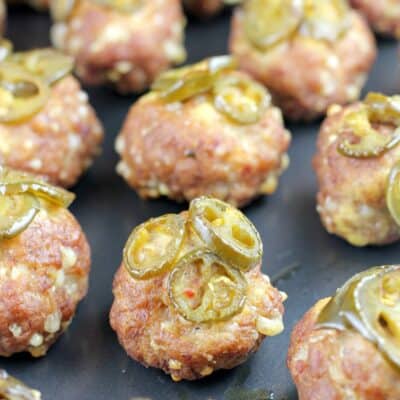 Smoked Sausage Balls
Smoked Sausage Balls are tender, cheesy meatballs with sausage, jalapeños, and pepperjack cheese cooked in the Big Green Egg kamado cooker, grill, or electric smoker to smoky perfection. Served with honey mustard for dipping, these smoked meatballs are busting with flavor.
Ingredients
1

lb

bulk breakfast sausage

4

oz

cream cheese

cubed

8

oz

pepperjack cheese

shredded

2

cups

Bisquick baking mix

½

cup

pickled jalapeño slices

¼

cup

mustard

2

Tbsp

honey

to taste
Instructions
Using clean hands, combine the sausage, cream cheese, pepperjack, and Bisquick in a large mixing bowl. It takes some elbow grease (and ~8-10 minutes), but ultimately the fat from the sausage absorbs the baking mix and the dough comes together.

Form the dough into 2-inch balls. Top each with slices of jalapeno.

Set up the Big Green Egg, grill, or electric smoker for smoking over indirect heat according to the manufacturer's instructions. Heat to 250°F.

Put the sausage balls to smoke 25 minutes or until a thermometer inserted into the center of a ball registers 155°F. Remove from the heat (balls will continue to cook a bit once removed from the heat).

In a small bowl, combine the honey and mustard.

Serve smoked sausage balls with honey mustard for dipping. Yields 24-25 balls.
Notes
See the body of this post for details and tips not included in the recipe card.
Nutrition
Calories:
166
kcal
(8%)
|
Carbohydrates:
9
g
(3%)
|
Protein:
6
g
(12%)
|
Fat:
11
g
(17%)
|
Saturated Fat:
5
g
(31%)
|
Monounsaturated Fat:
1
g
|
Cholesterol:
30
mg
(10%)
|
Sodium:
375
mg
(16%)
|
Potassium:
29
mg
(1%)
|
Sugar:
2
g
(2%)
|
Calcium:
140
mg
(14%)
|
Iron:
1
mg
(6%)
Calorie count is purely an estimate calculated using an online application to serve as a guide and not to be taken as accurate nutritional information. Percent Daily Values are based on a 2,000 calorie diet.
Tried this recipe?
Leave a comment below and let me know!