Red Pepper Coulis has onion, garlic, roasted red peppers, and a touch of balsamic vinegar for a lovely, versatile sauce. Drizzle this roasted red pepper sauce over soups, sandwiches, veggies, eggs, and more.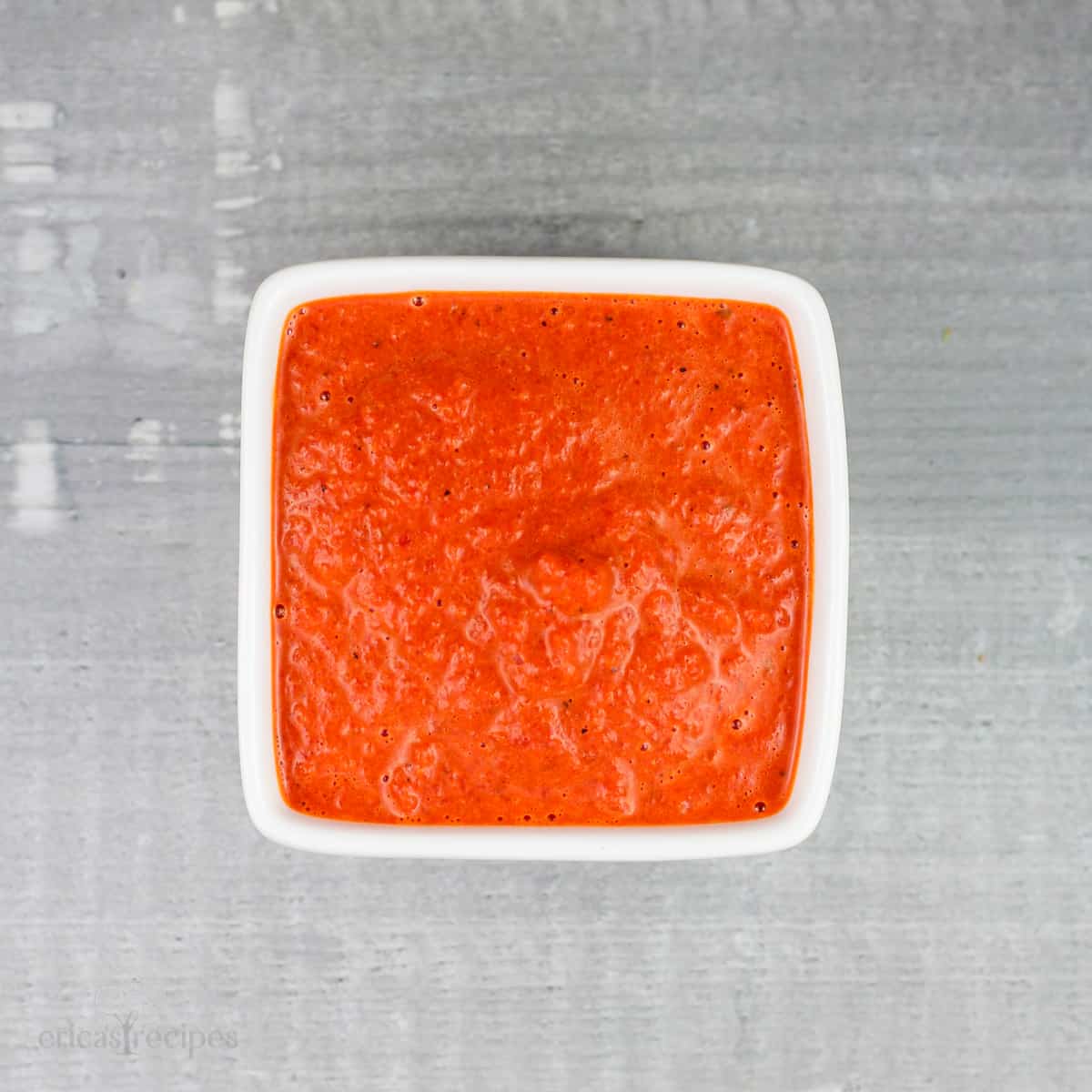 What even is a coulis
A coulis is a classic sauce of puréed fruit or vegetables. For example, you will often see raspberry coulis poured over cheesecake. Technically, the sauce is on the thinner side (i.e. not thick) and it is strained to make a smooth sauce. (I neither thinned nor strained my coulis, but more on that below.)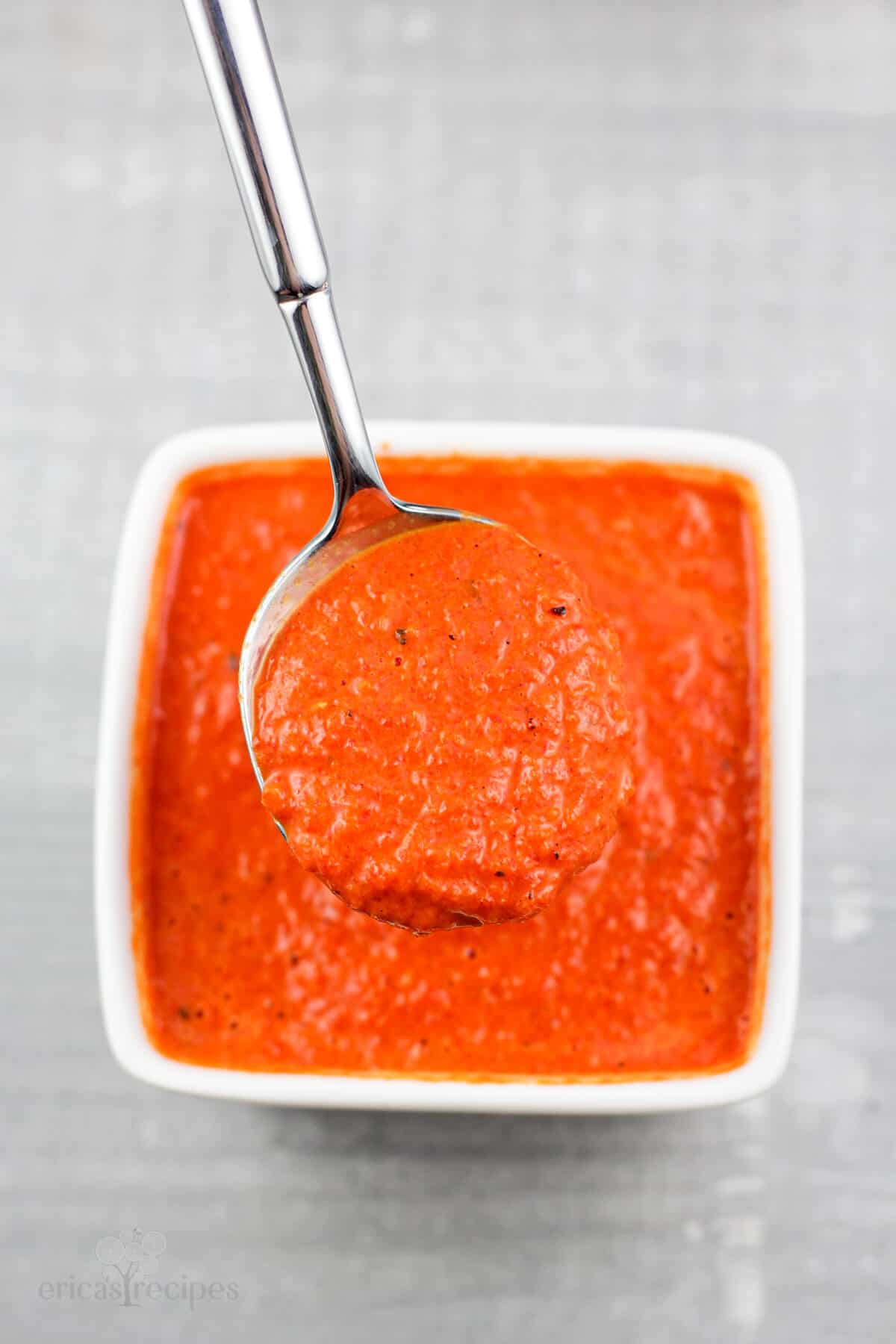 Why this recipe works
This roasted red pepper sauce works because it is so flavorful and easy to make. We just blend, give a little simmer, and we are done. No need to strain this sauce – we want those yumyums of flavor. And it is a thicker sauce, perfect over scrambled eggs, fish, roasted veggies, sandwiches, and such. It is especially good over my Pesto Chicken Crepes too.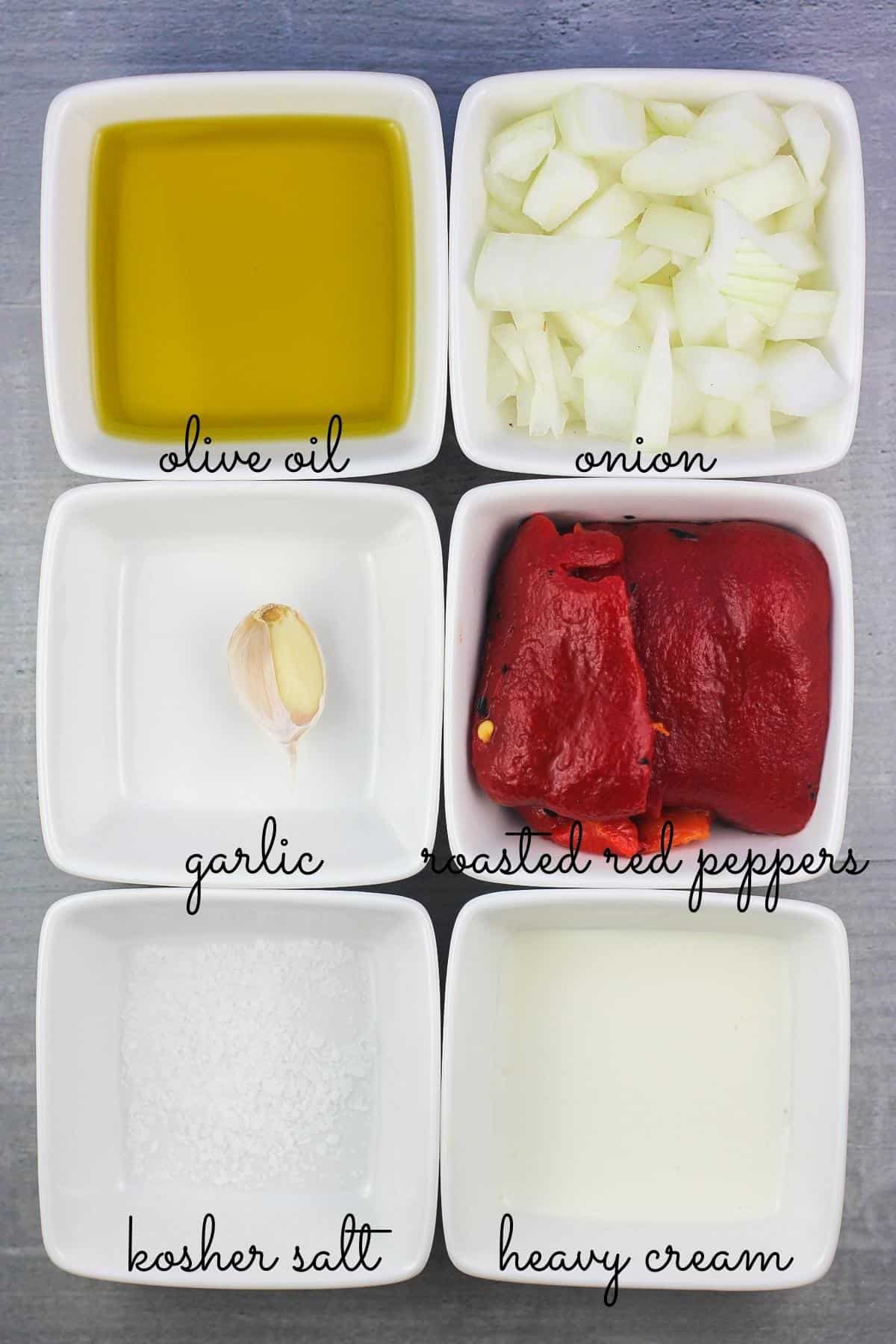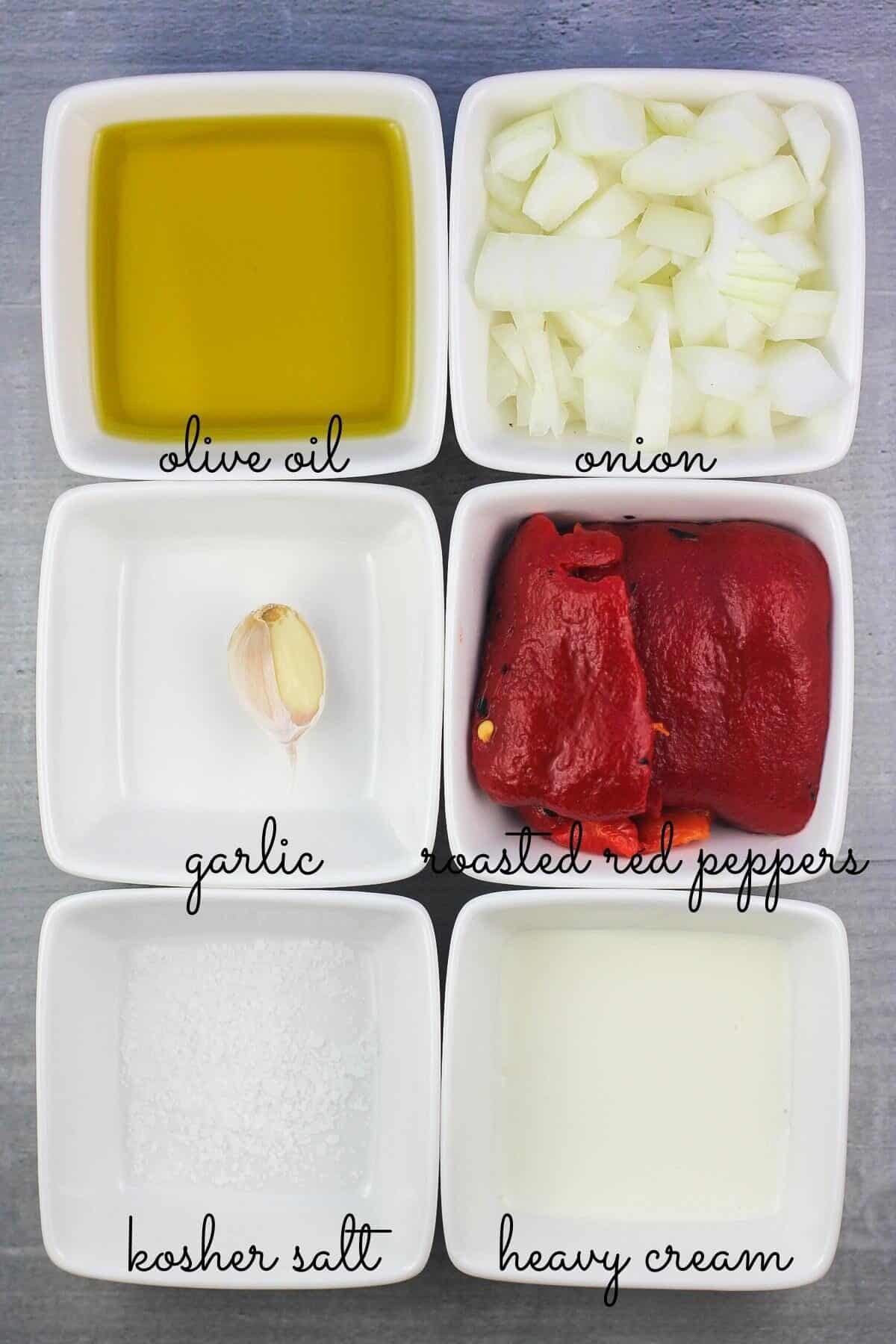 How to make red pepper coulis
This recipe for a beautiful roasted red pepper sauce is ridiculously easy to make. I think it may be the easiest sauce on my blog. My pizza sauce and ranchero sauce are both easy, but this one is just stupid simple.
Heat some of the olive oil and add the onion and garlic. Once they are nice and soft, put them in the food processor.
Add the rest of the ingredients to the food processor – except the balsamic vinegar – and process/blend until smooth. Transfer this mixture to a small saucepan, add the balsamic vinegar, and simmer 10 minutes, stirring often.
This little simmer is to blend and concentrate the flavors and to integrate the vinegar. This sauce is thick enough that it won't really simmer though – it will bubble with big messy bubbles and splatter. To control that, you just have to babysit and stir often to avoid that mess.
TIP! To do the cool zig-zag sauce thing with this coulis, you have two options. You can use a ziploc bag with a corner snipped off or use a proper drizzle bottle. I have used both and they work equally well, though the bottle is easier to control and then also to store.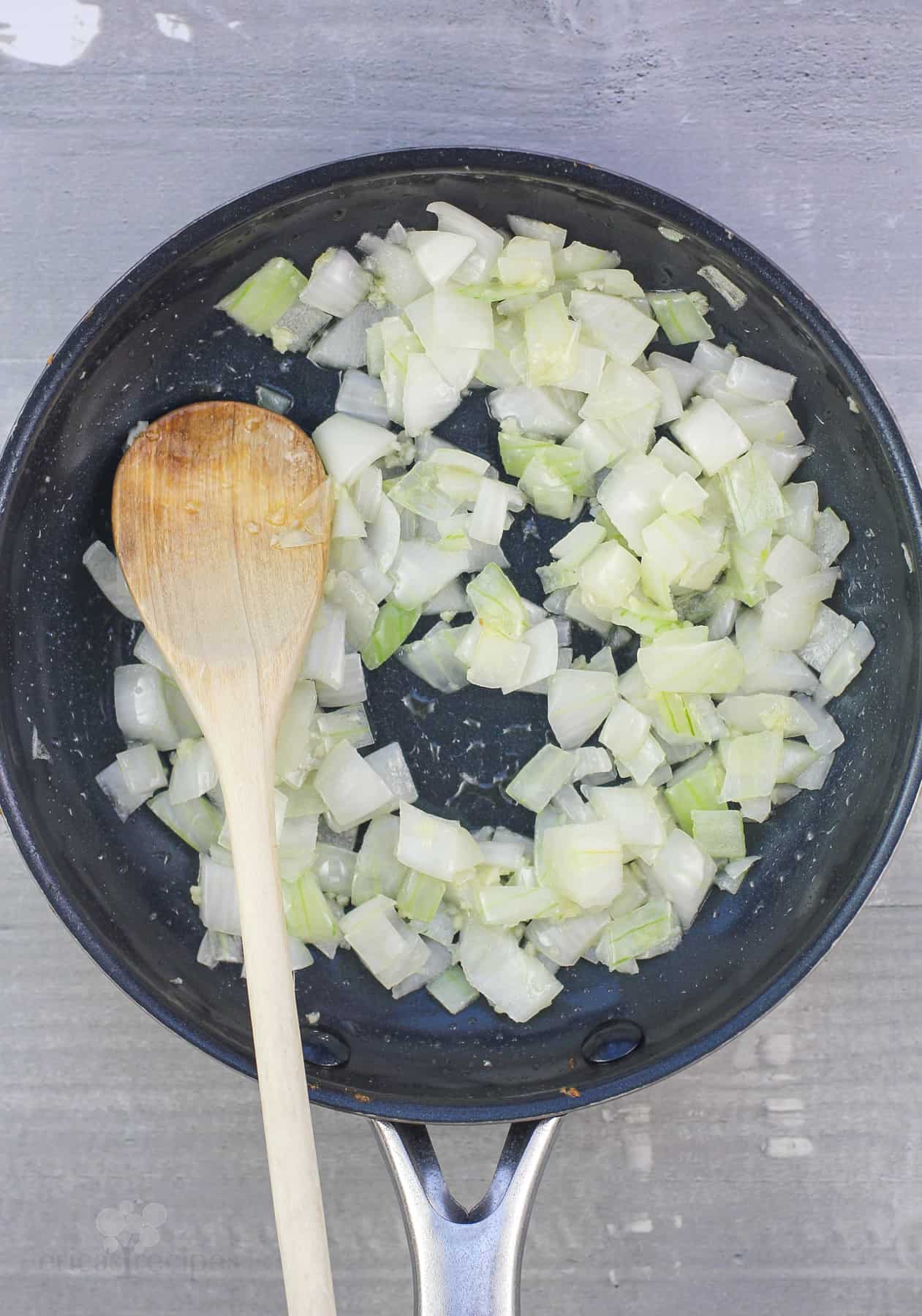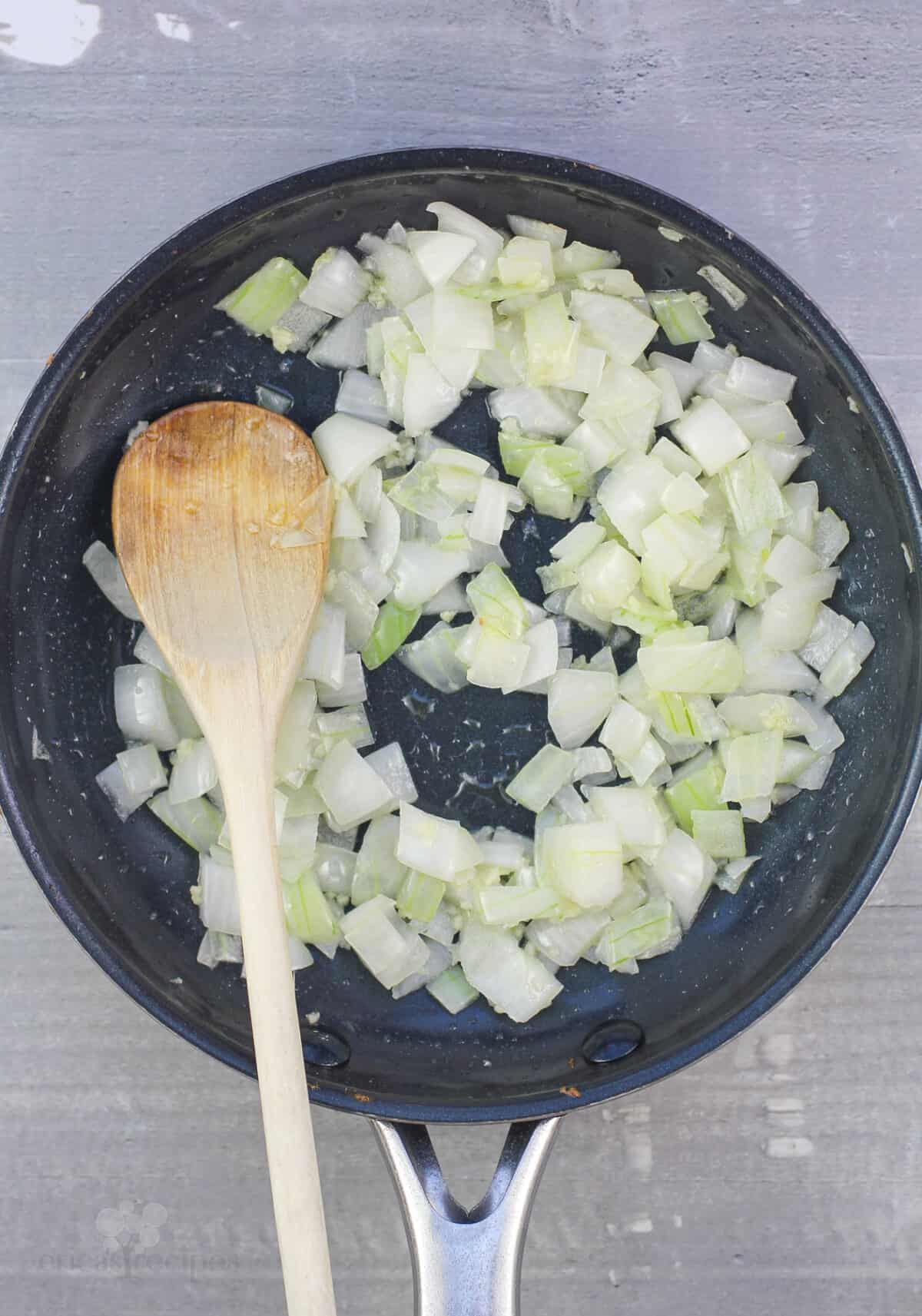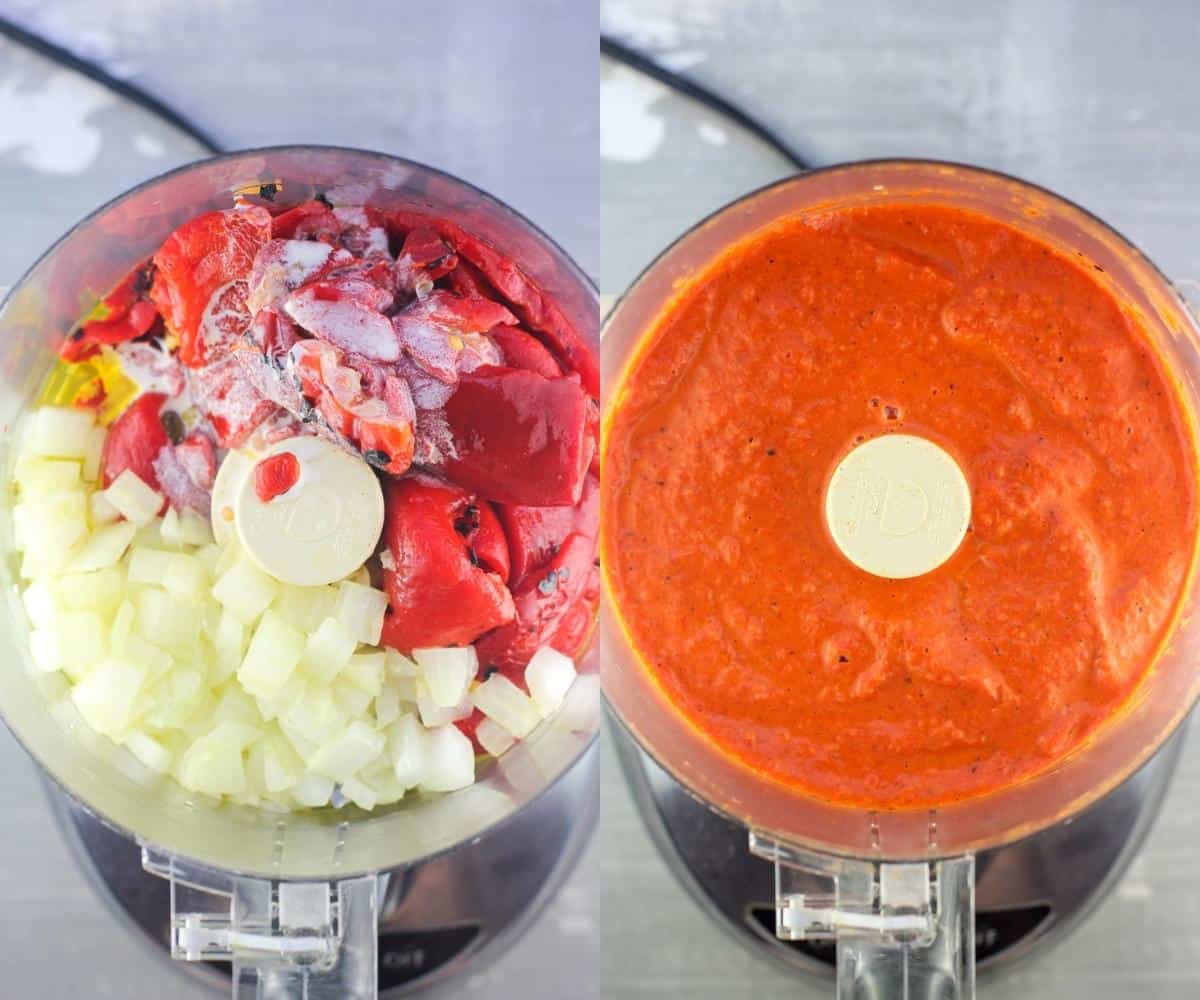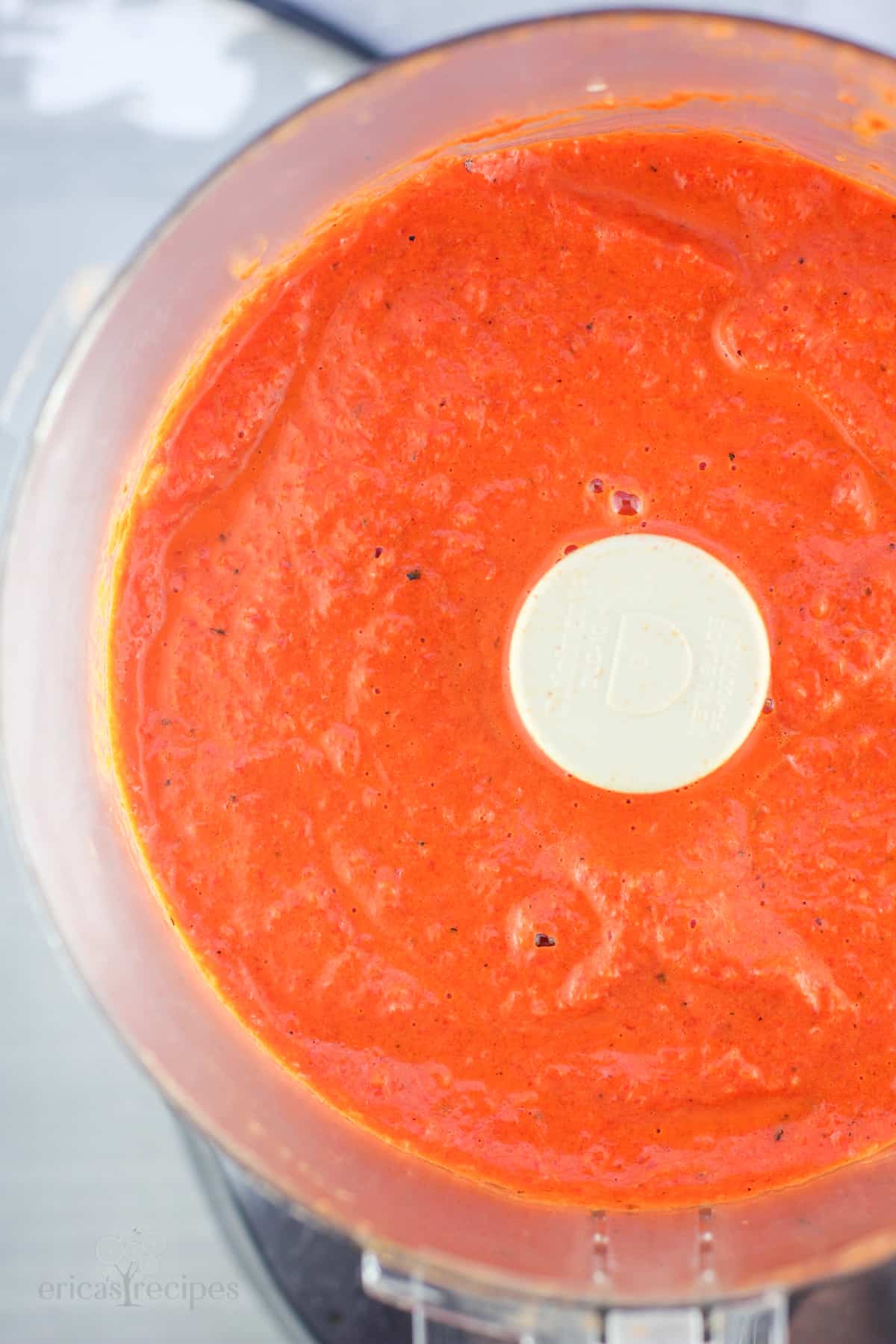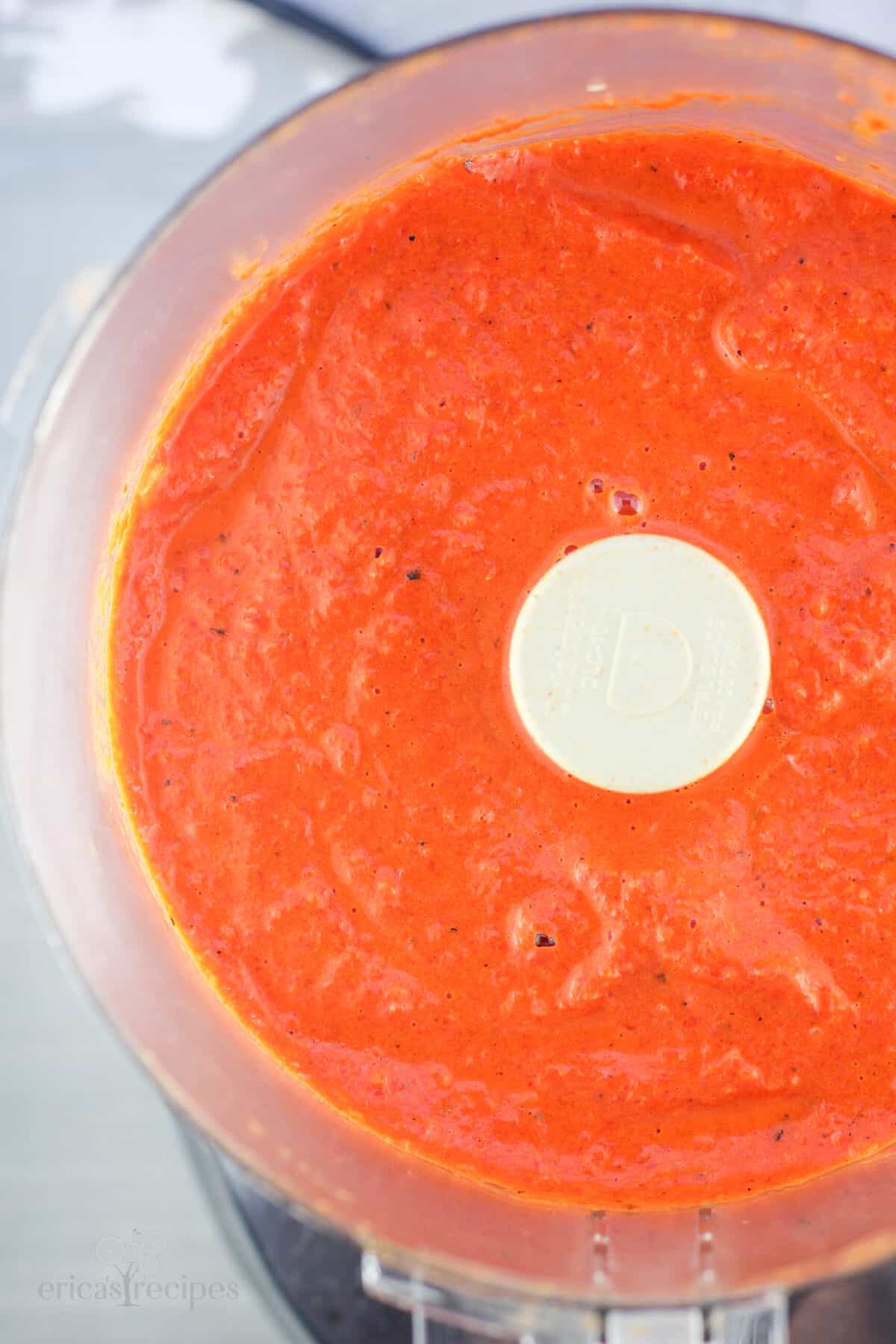 How to adjust consistency of roasted red pepper sauce
I like my red pepper sauce thick. But if you want a thinner, more traditional coulis consistency, simply add some chicken or vegetable stock during the simmer. You will want to simmer a bit to concentrate the flavors rather than simply dilute the mixture. Start with adding 1/2 cup stock, then simmer to reduce that added liquid by half.
Another way to thin this sauce is to add an additional tablespoon heavy cream. This will make the sauce more pink, but this is commonly done as well.
If you want to thicken your coulis, simply simmer to boil off excess liquid. But see my notes in the recipe card on simmering – this sauce does not simmer, but pops with messy bubbles. Simple stirring prevents that from happening.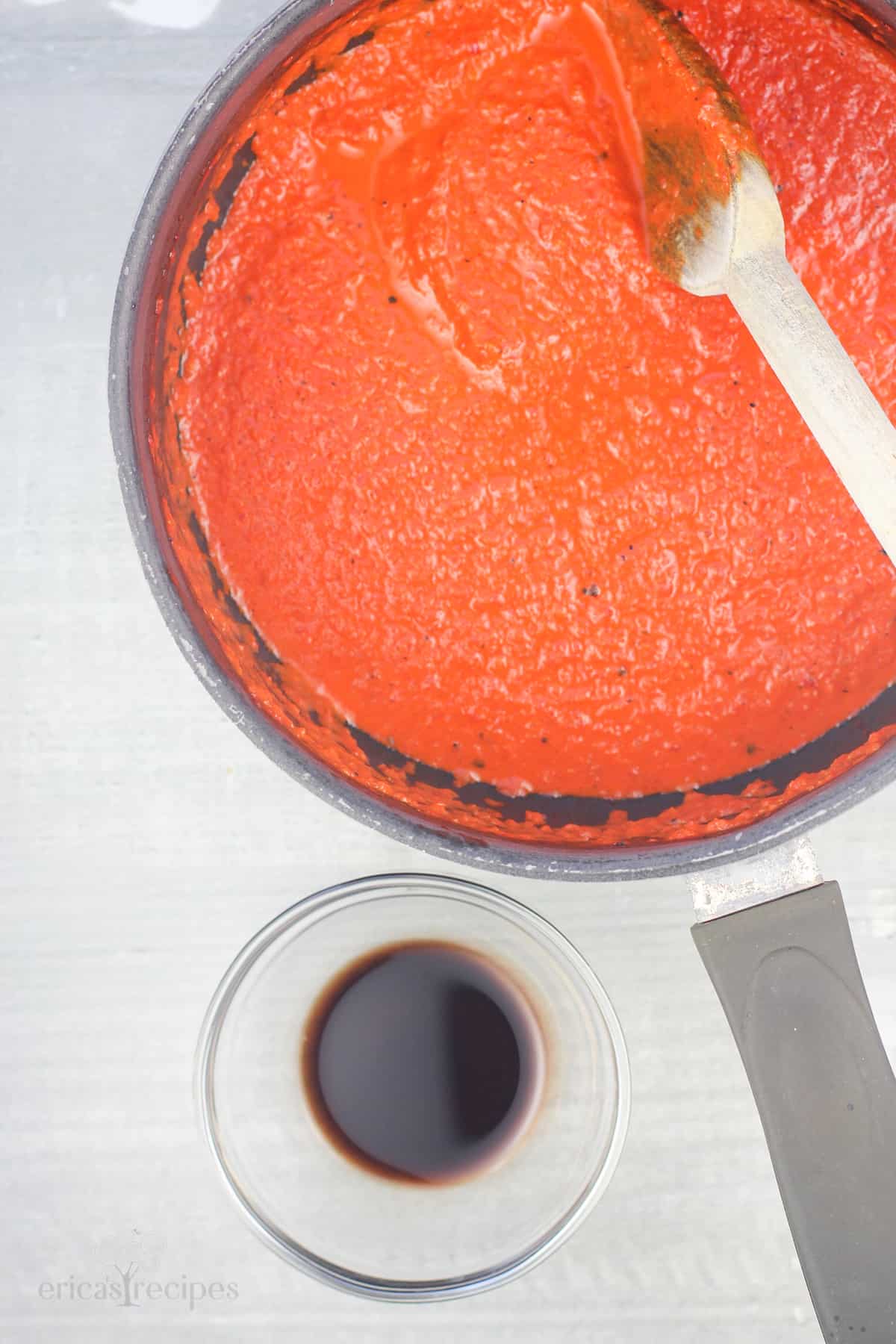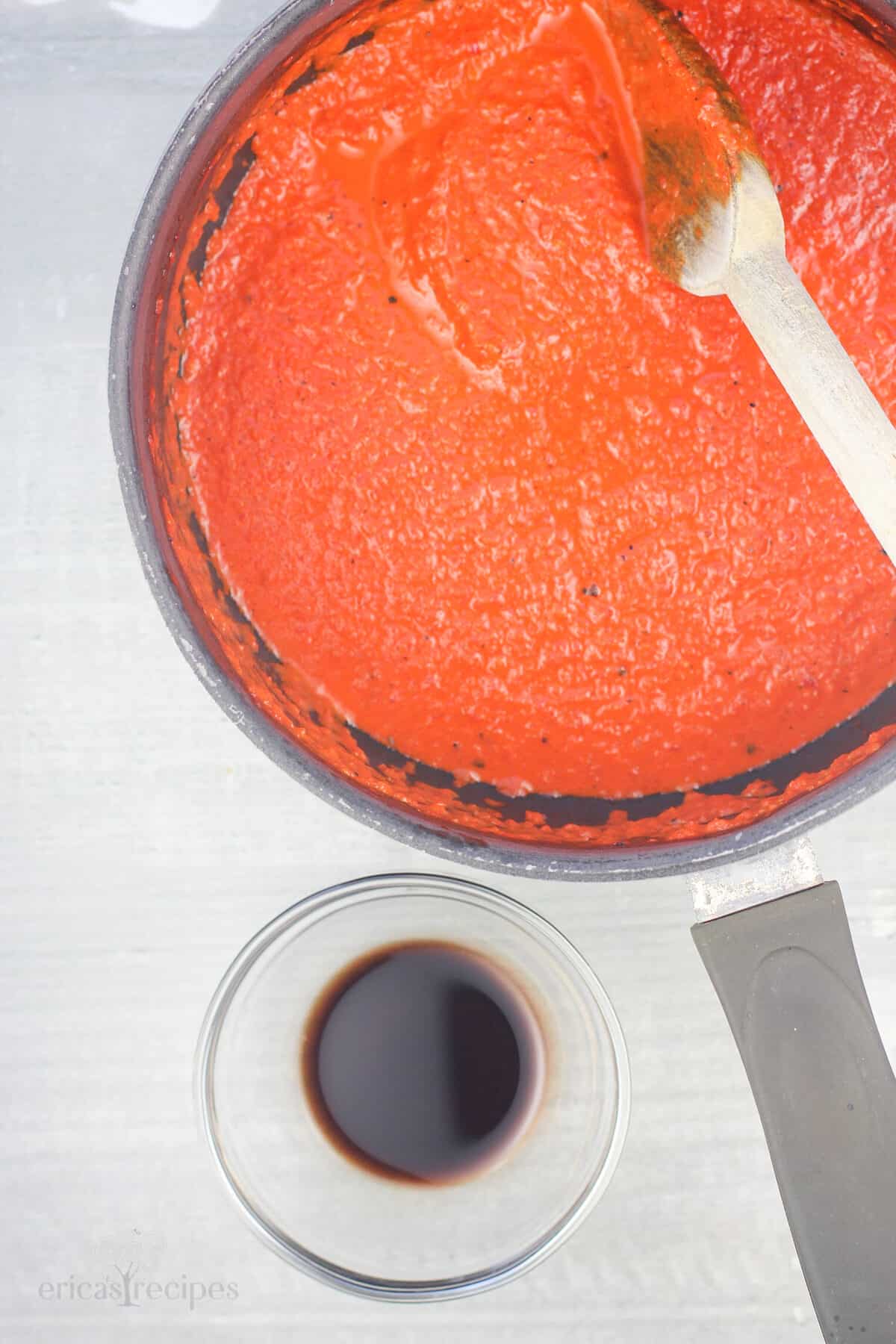 What is best way to store red pepper coulis
This coulis is best kept in a mason jar or glass container because the acidic deep red will stain plastic.
How long will red pepper coulis keep
This sauce will keep for up to a week in the refrigerator or one month in the freezer.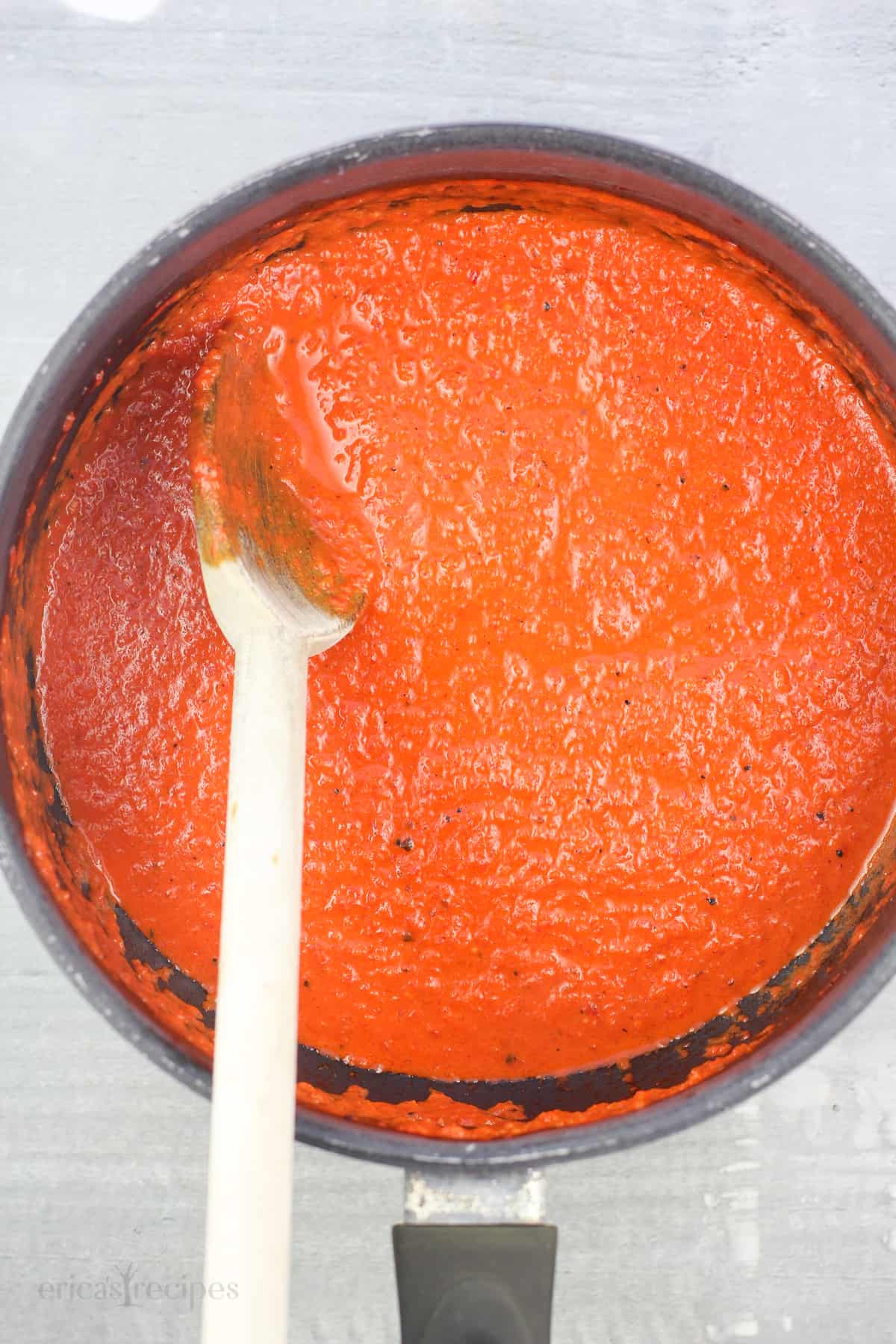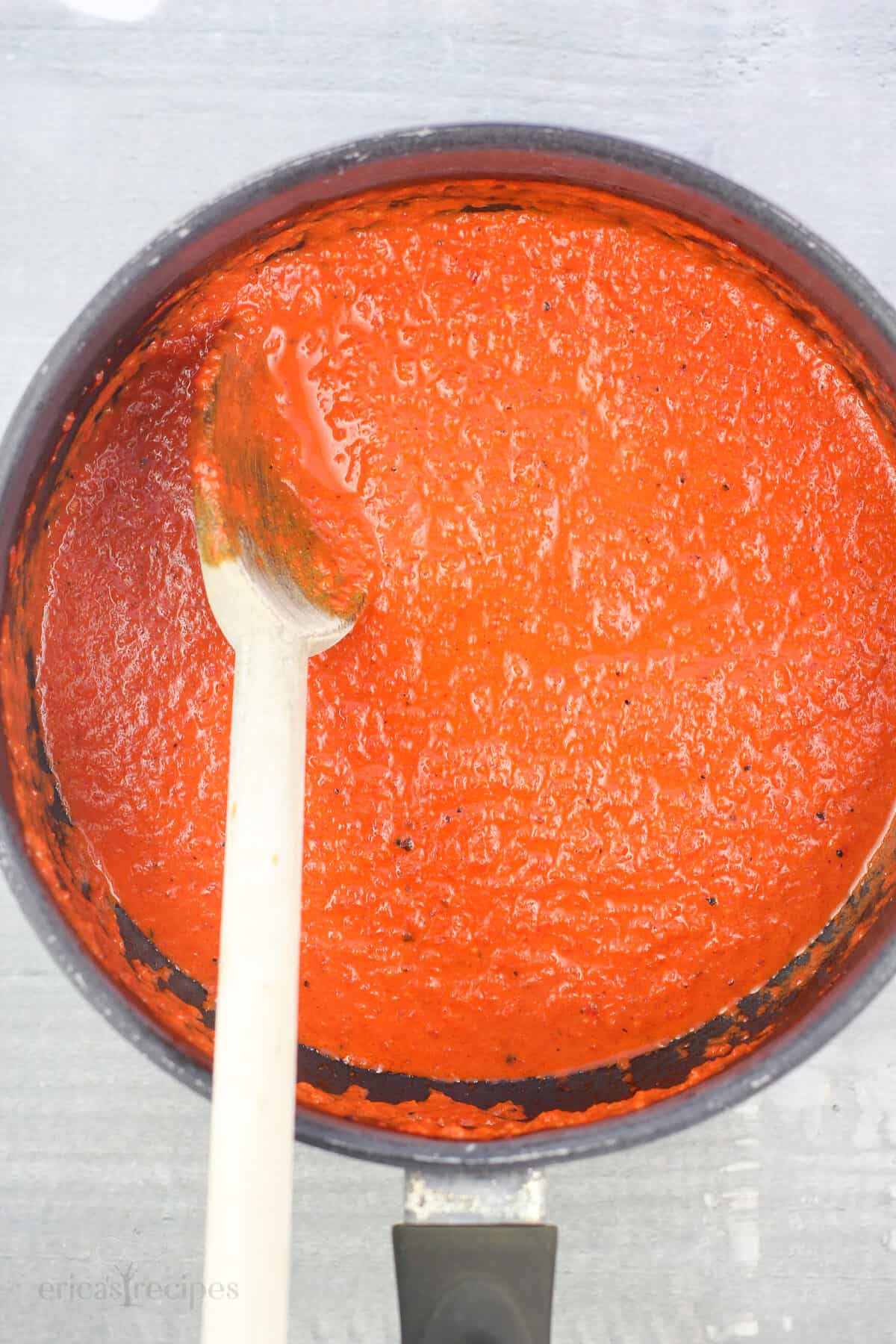 Suggested uses
Here's a little brainstorming for things I think red pepper coulis would just love on so well.
Eggs – like, any eggs. Over-easy, scrambled, Benedict, frittata, omelets, you name it.
Crepes, and I used this coulis over my Pesto Chicken Crepes.
Fish.
Grilled or roast chicken. Picture the crispy skin of chicken with this coulis on it – I can't even.
Sandwiches, especially grilled cheese. Just think about it.
Grilled or roasted veggies.
Hummus. Definitely hummus.
As a dip for crudités and pita chips.
Pizza – this coulis would rock my Broccoli White Pizza.
A big 'ol baked potato.
Steak. My Grilled Steak recipe, which includes a Horseradish Dijon Sauce, would be as amazing with this coulis.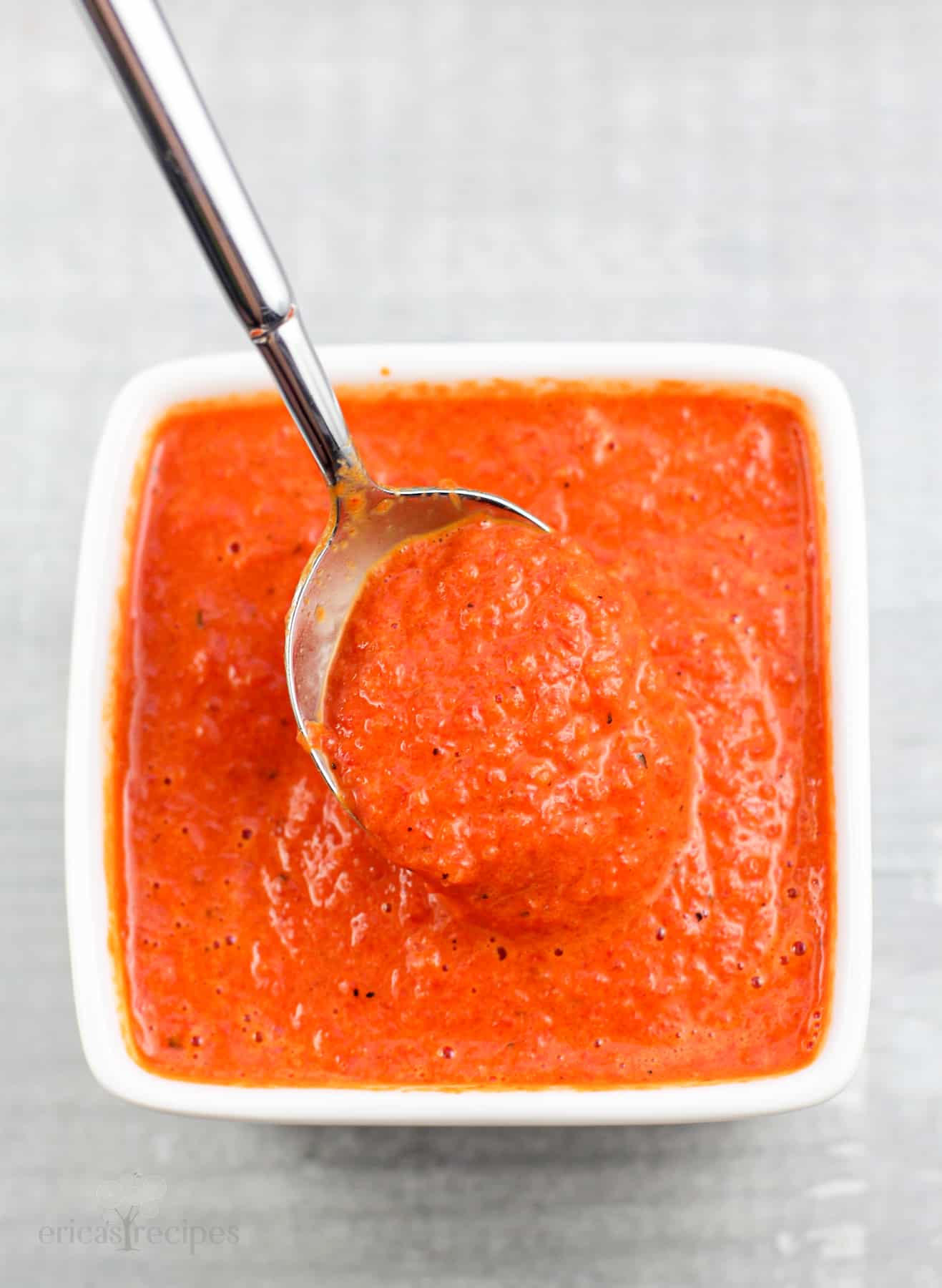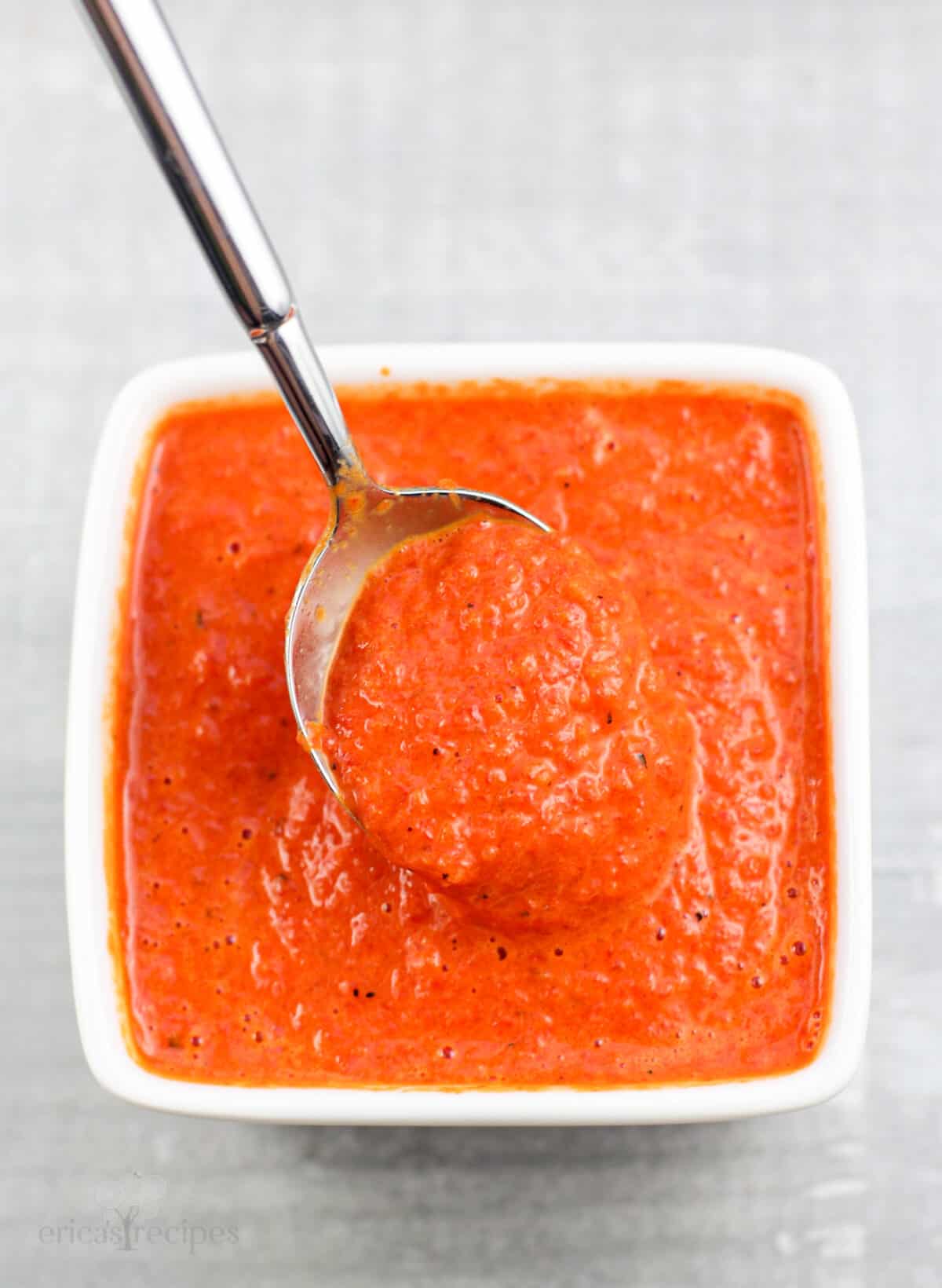 FAQs
Can this coulis be made vegan?
Yes. Either omit the cream altogether or replace with coconut or vegan cream. I do not recommend using a thin soy or nut milk.
What can be used instead of a food processor?
Any blending machine or tool of choice will work to blend up this coulis. Blender, immersion blender, and nutribullet (smoothie blender) are suggestions.
Can coulis be frozen?
Yes. Store in a container with a tight-fitting lid or even in the wells of an ice cube tray to have servings easily available.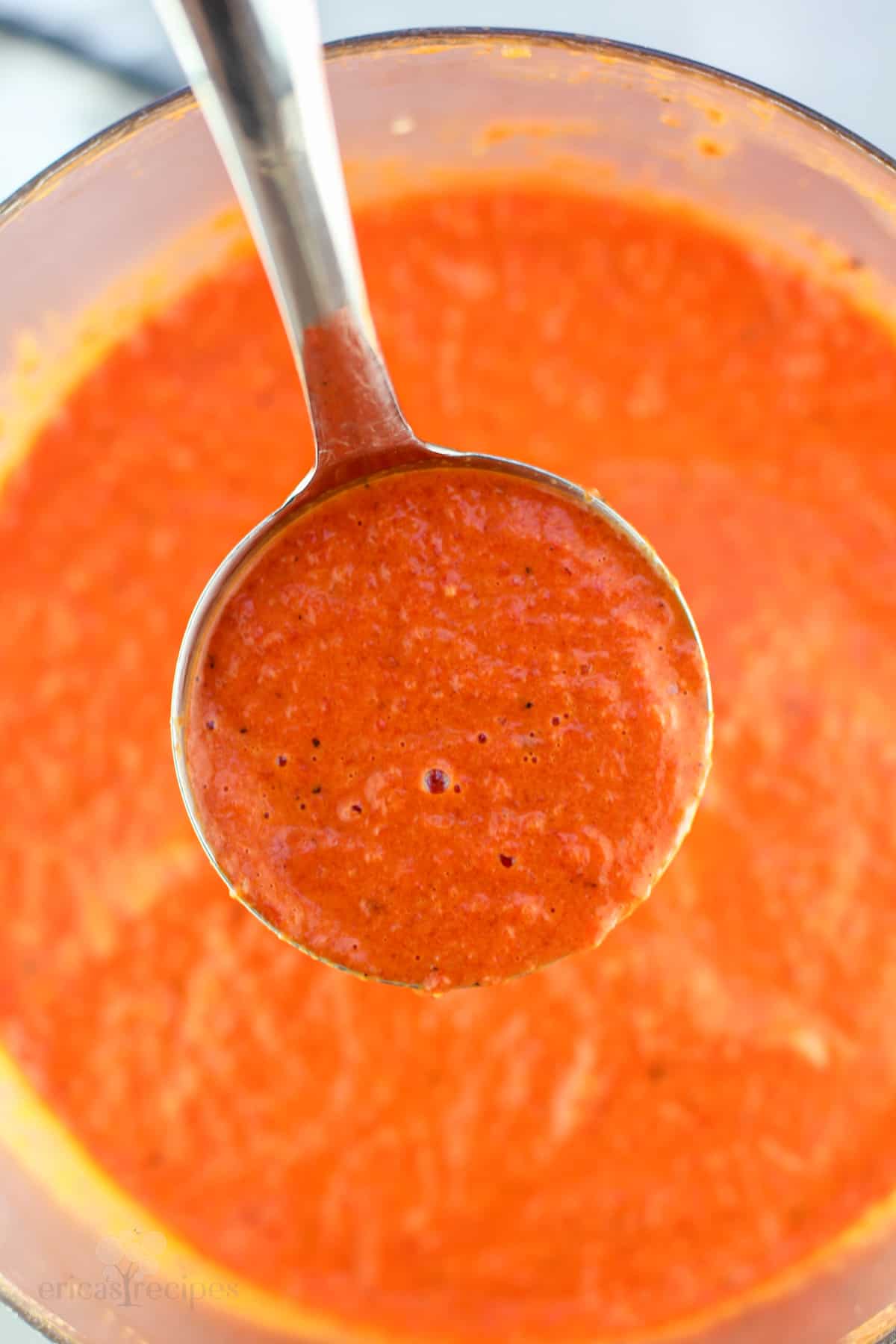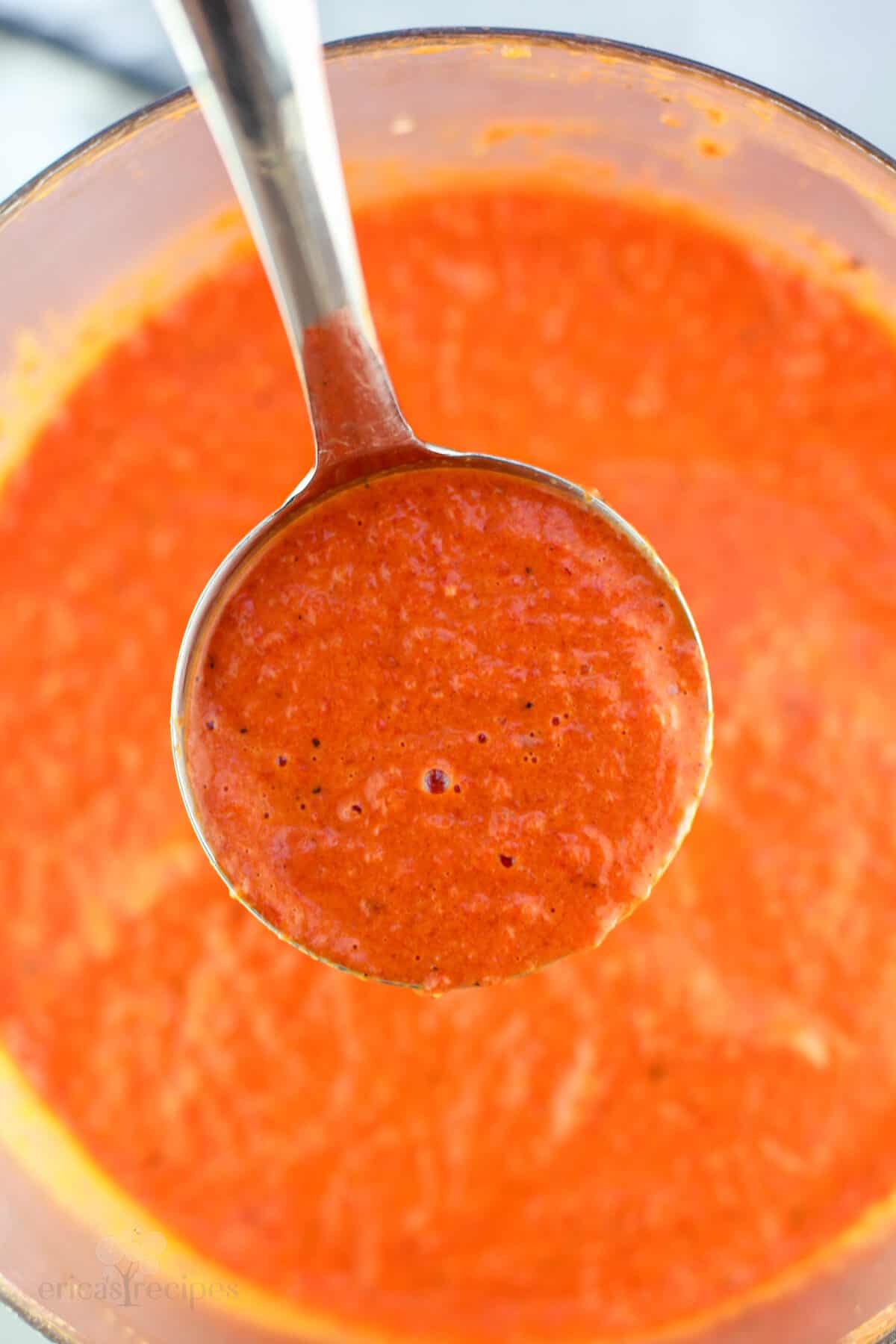 Love this recipe? Then you'll also love my Huevos Ranchero Sauce with fire-roasted tomatoes, chiles, and roasted red peppers.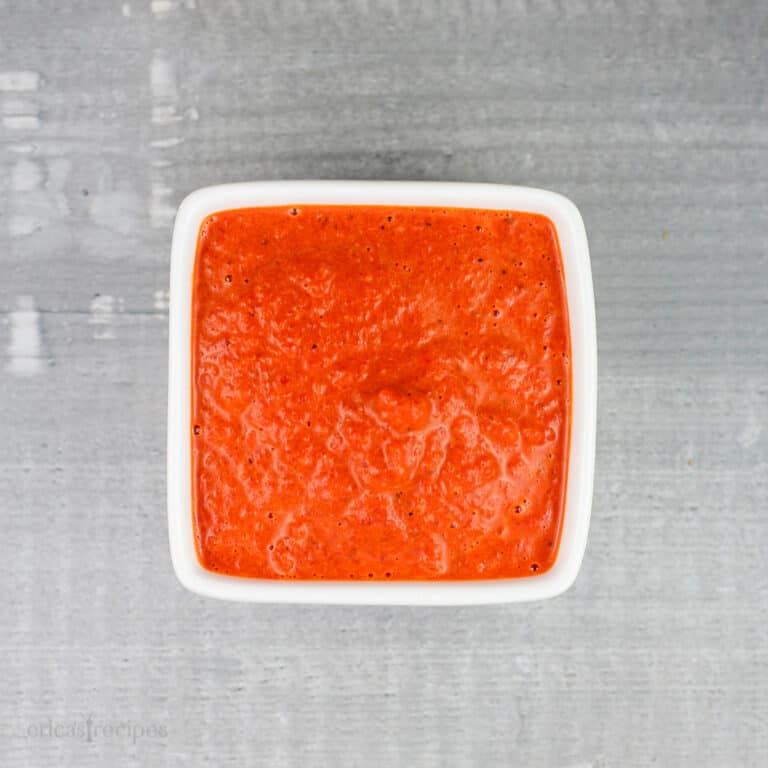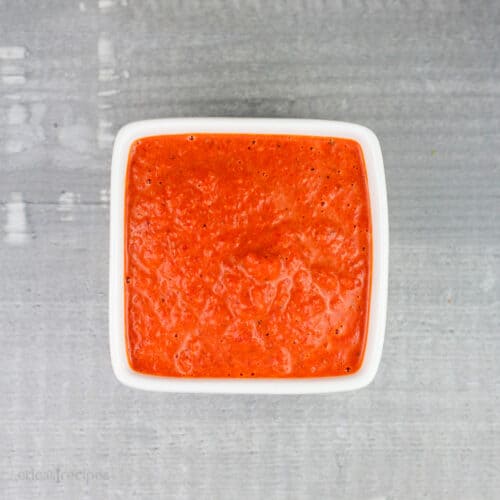 Red Pepper Coulis
Red Pepper Coulis has onion, garlic, roasted red peppers, and a touch of balsamic vinegar for a lovely, versatile sauce. Drizzle this roasted red pepper sauce over soups, sandwiches, veggies, eggs, and more.
Instructions
Heat 1 Tablespoon of the olive oil in a skillet over high heat. Add the onion and garlic and cook, tossing regularly, until softened and fragrant. Transfer to a food processor.

Add the roasted peppers, salt, cream, and remaining olive oil to the onion-garlic mixture in the food processor. Process until smooth. Transfer mixture to a saucepan.

Add the balsamic vinegar to the coulis and simmer (*see Notes) 10 minutes. Remove from the heat. Yields ~1-½ cups (12 ounces) sauce.
Notes
During the 10 minute simmer, this sauce is thick enough that rather than actually simmer, it will bubble. To avoid a mess, simply stir very often.
Nutrition
Calories:
58
kcal
(3%)
|
Carbohydrates:
3
g
(1%)
|
Fat:
5
g
(8%)
|
Saturated Fat:
1
g
(6%)
|
Polyunsaturated Fat:
1
g
|
Monounsaturated Fat:
5
g
|
Sodium:
82
mg
(4%)
|
Potassium:
1
mg
|
Sugar:
1
g
(1%)
Calorie count is purely an estimate calculated using an online application to serve as a guide and not to be taken as accurate nutritional information. Percent Daily Values are based on a 2,000 calorie diet.
Tried this recipe?
Leave a comment below and let me know!