Grandmother's Banana Bread
My grandmother's banana bread recipe is the simplest ever with no added dairy, oil, or butter. Just a couple basic baking ingredients and your ripest of ripe bananas give you this delicious quick and easy breakfast bread. Banana bread dairy free.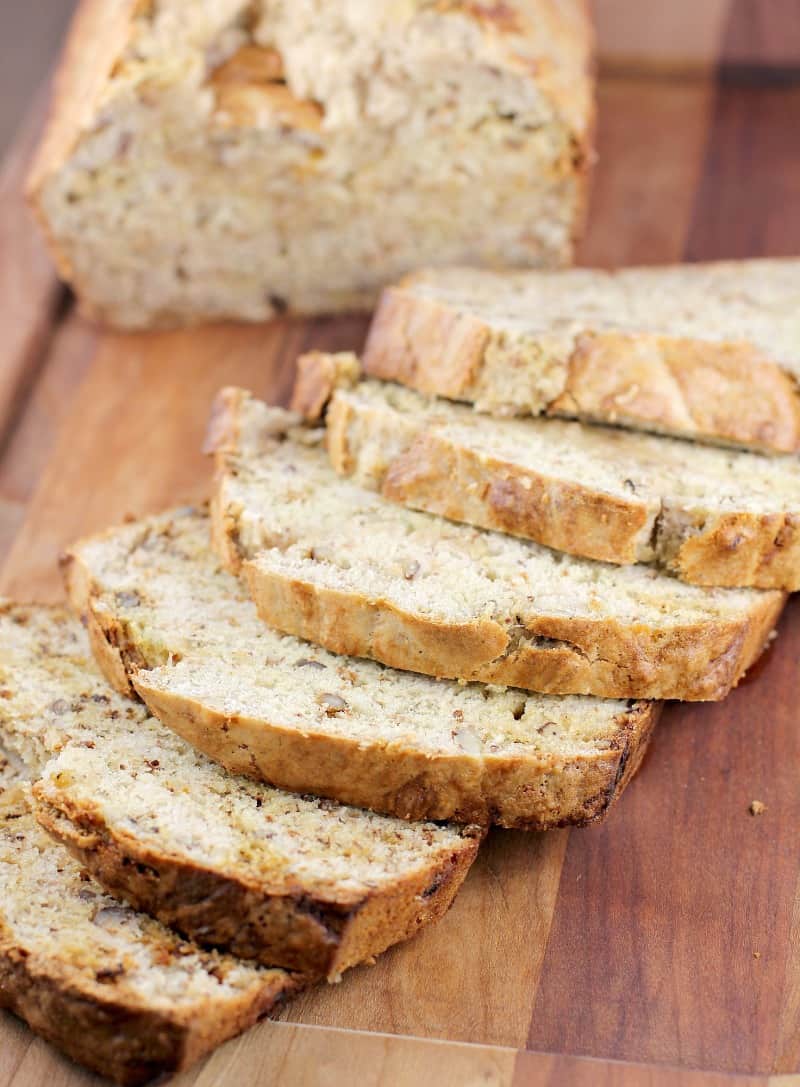 Why you need this quick and easy banana bread recipe in your life
Not every recipe needs to be a big production, right? Some can just be simple and absolutely delicious. That is what this quick bread is all about.
Take, for example, the situation where "Cr*p, I have 3 overly ripe bananas that I do not want to waste." What do you do? Yeah, you could put them in a smoothie or freeze for later….
OR what you really want is to whip up some banana bread, make your house smell amazing, and enjoy that deliciousness. BUT do you have sour cream? Pudding? Or any of the other things people like to add to banana bread? No, you don't. AND you are still in your PJs and don't want to go to the store.
THIS banana bread dairy free RECIPE saves you. It is here for you to have yourself a lovely banana bread using what you already have on hand.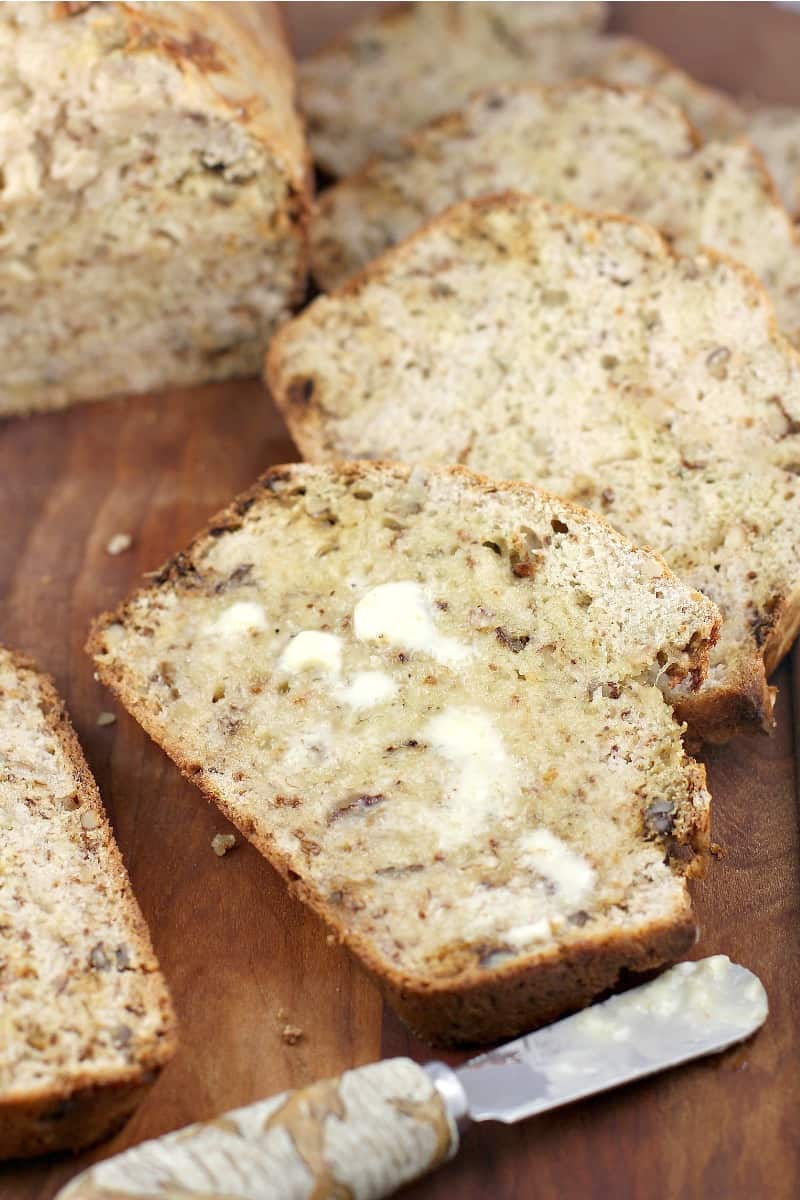 It is all about the bananas
Ok, so I have told you this recipe is easy – it is. And quick – it is quick to make, then you just got to bake an hour (can't fix that part, sorry guys). And there is no adding oil, butter, or sour cream.
So, the price you pay for all that is that your bananas need to be crazy ripe. Like, past ripe. Like, if you were starving, you would still be like "Oh lord I don't want to eat that" kind of ripe. I'm talking black skins, mush mush banana ripeness.
Those super ripe bananas (and a couple eggs) are what provide the moisture for this breakfast bread. This is why we do not have to add oil or butter or sour cream – because we are not having to compensate for sub-par bananas.
So use your ridiculously ripe bananas for this banana bread and be happy.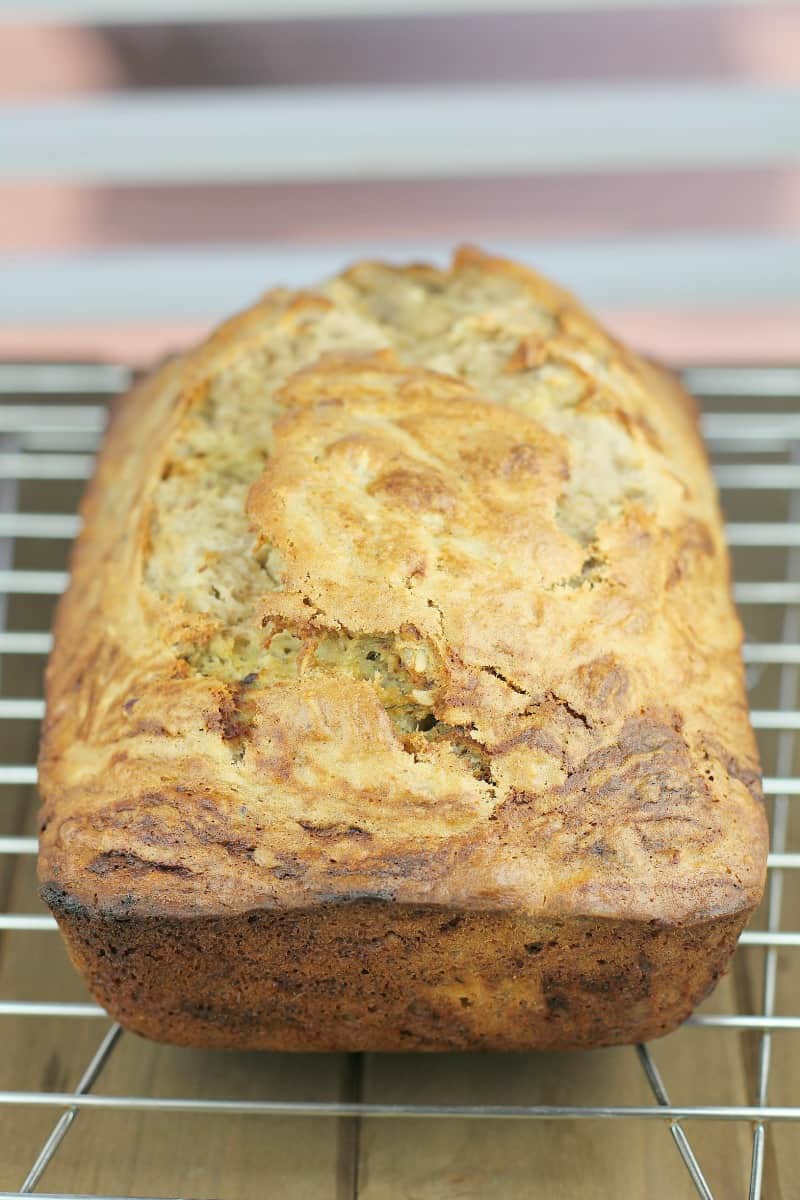 The Ingredients
Dry ingredients
All-purpose flour
Kosher salt
Baking soda
Granulated sugar
Wet ingredients
Very ripe bananas
Eggs
Walnuts
I consider the nuts not negotiable since banana and nut together are thunder buddies for life. So, if you leave the nuts out, I cannot promise the result since the nuts add bulk to the batter.
I can say though that other nuts can be substituted for the walnuts, such as pecan, with delicious results.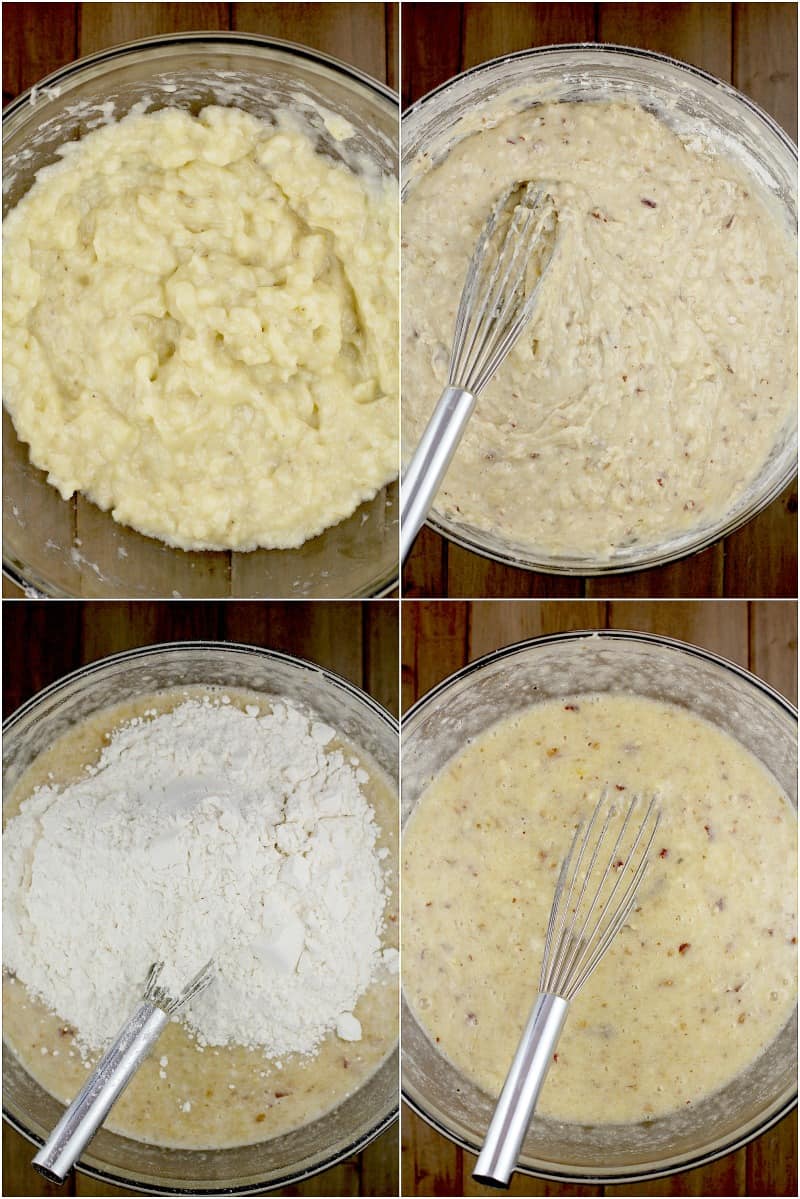 Banana bread preparation
This is the quick part!
In one bowl, mix the dry ingredients.
In a second bowl combine the wet ingredients with the sugar.
Add dry to wet, stir, put in loaf pan, and bake.
We bake at 350°F for a little under an hour and start checking. Remember, moisture is key here, so we want to be sure not to overcook this bread.
Bake just until an inserted knife comes out pretty much clean. By that, I mean that at the 50 minute mark, if you insert a knife and it comes out with some crumbs – it's done. If it comes out coated in batter – it's not done.
To prevent overcooking, the knife coming out "clean" means not coated in batter. If it has crumbs on it, that's actually a good sign.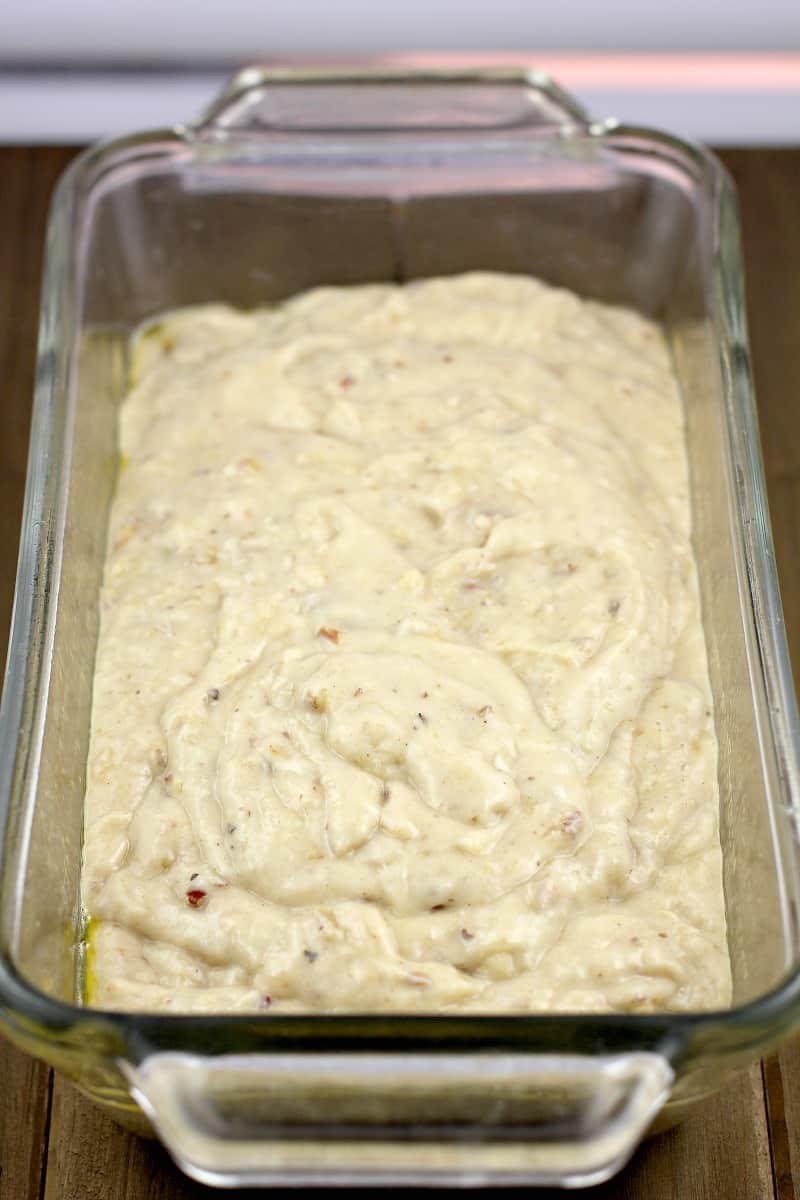 Last tips
Be sure to grease the loaf pan or you will never get your banana bread out. I use cooking spray.
RIPE bananas only. If you want banana bread and your bananas are not very ripe, don't use this banana bread dairy free recipe. In that case, you will need a recipe that adds something like sour cream to compensate for the dry bananas.
I have used this bread recipe in my dehydrator to make banana bread croutons for trail food when I hiked the Appalachian Trail and that was YUMMMAYYYY.
Start checking for doneness early and often. We want an inserted knife to come out no longer coated in batter.
You can use this recipe to make muffins! I have done so, and added flax and avocado even though in these muffins I added whole wheat flour too.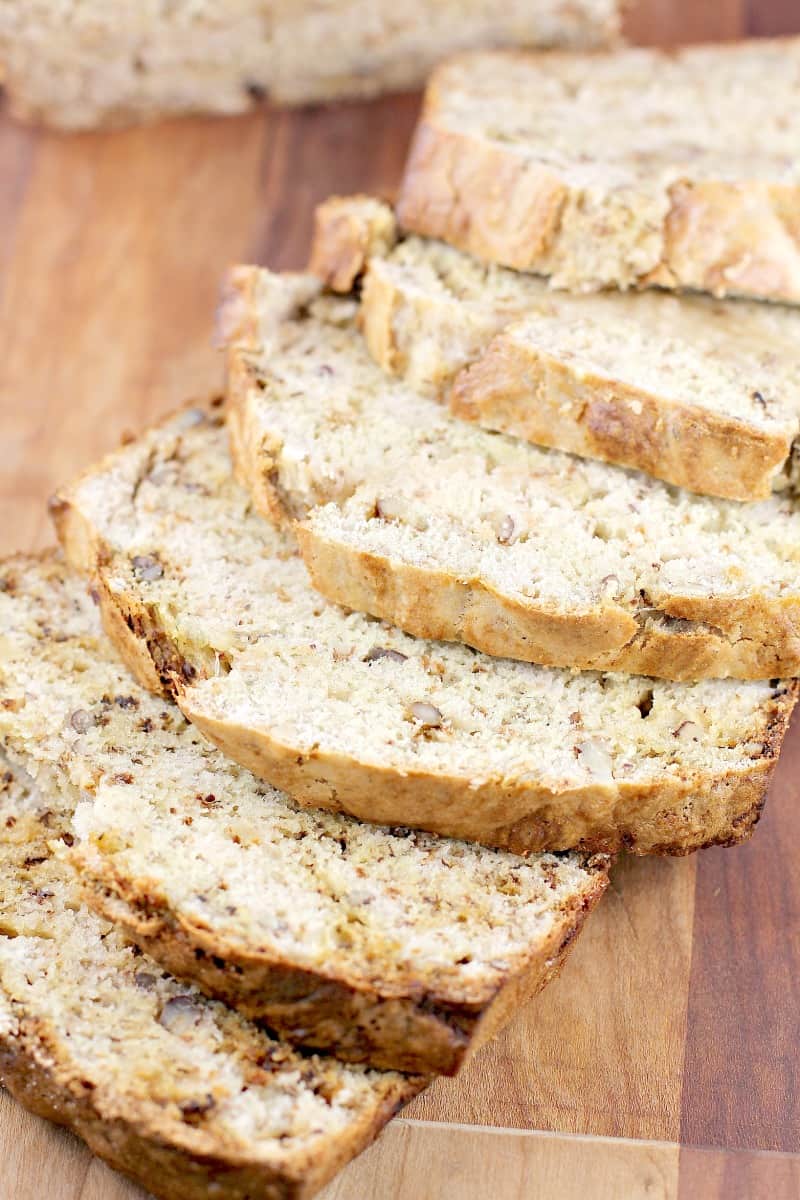 More bread recipes
If you are looking for more, browse my breakfast quick breads, muffins, and biscuits, especially my Grandmother's Cranberry Bread. Also check out my recipes for rolls and breads.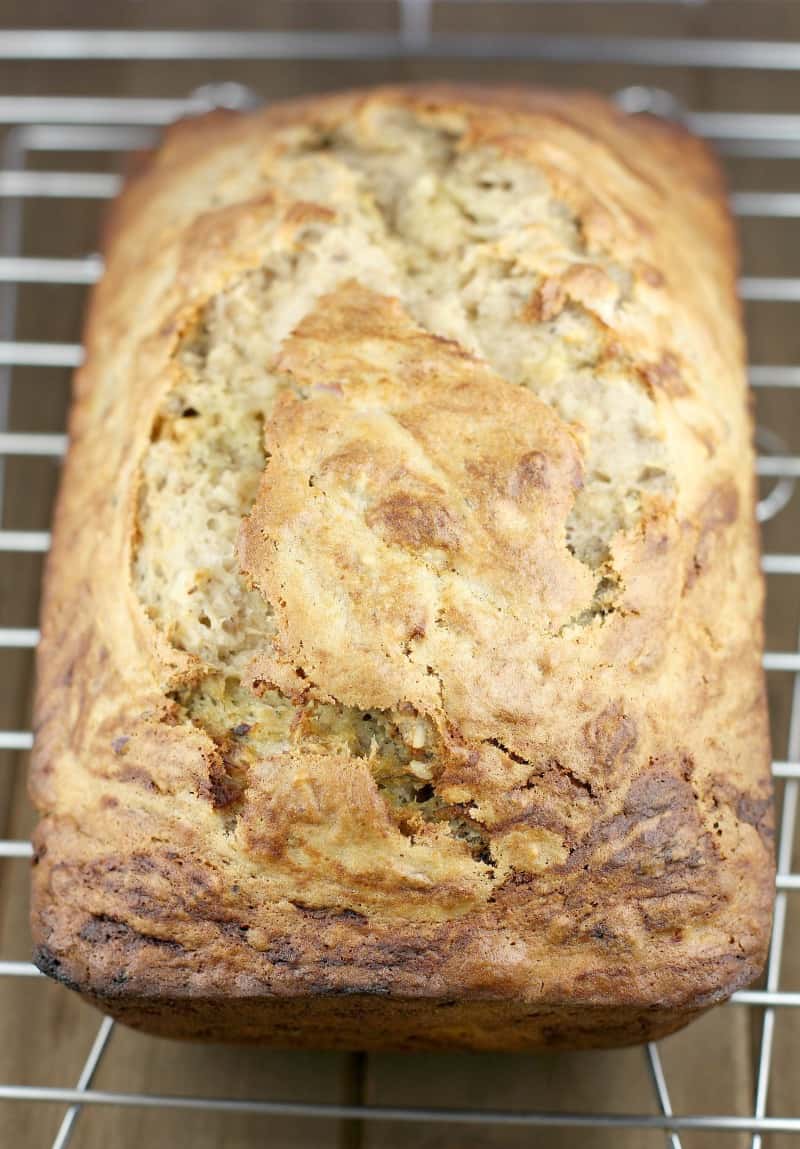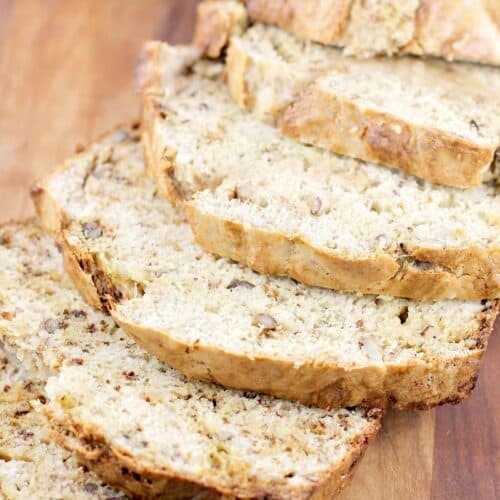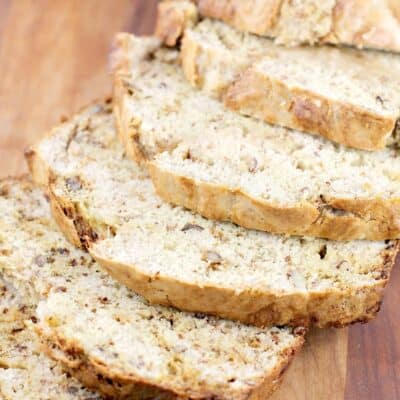 Grammy Peggy's Banana Bread
My grandmother's banana bread recipe is the simplest ever with no added dairy, oil, or butter. Just a couple basic baking ingredients and your ripest of ripe bananas give you this delicious quick and easy breakfast bread.
Ingredients
2

cups

all-purpose flour

1

tsp

kosher salt

1

tsp

baking soda

¾

cup

granulated sugar

3

very ripe bananas

2

eggs

beaten

½

cup

chopped walnuts
Instructions
Combine the flour, salt, and baking soda, and set aside. In a separate bowl, mash the bananas and stir in the eggs, sugar, and nuts.

Add the dry ingredients and stir until just combined.

Pour into a greased 9×5 loaf pan. Bake at 350°F for 50-60 minutes or just until knife inserted comes out pretty much clean.
Notes
I often add a teaspoon of vanilla or maple syrup, but this is optional.
Nutrition
Calorie count is purely an estimate calculated using an online application to serve as a guide and not to be taken as accurate nutritional information. Percent Daily Values are based on a 2,000 calorie diet.
Tried this recipe?
Leave a comment below and let me know!
~✿♥✿~