Frijoles Charros (Mexican Cowboy Beans)
Frijoles charros, or Mexican Cowboy Beans, is the essential side dish for any barbecue or cookout. With pinto beans, bacon, and jalapeno, this traditional ranch style beans recipe cooks slowly to make the most flavorful, authentic frijoles a la charra you ever had in your life.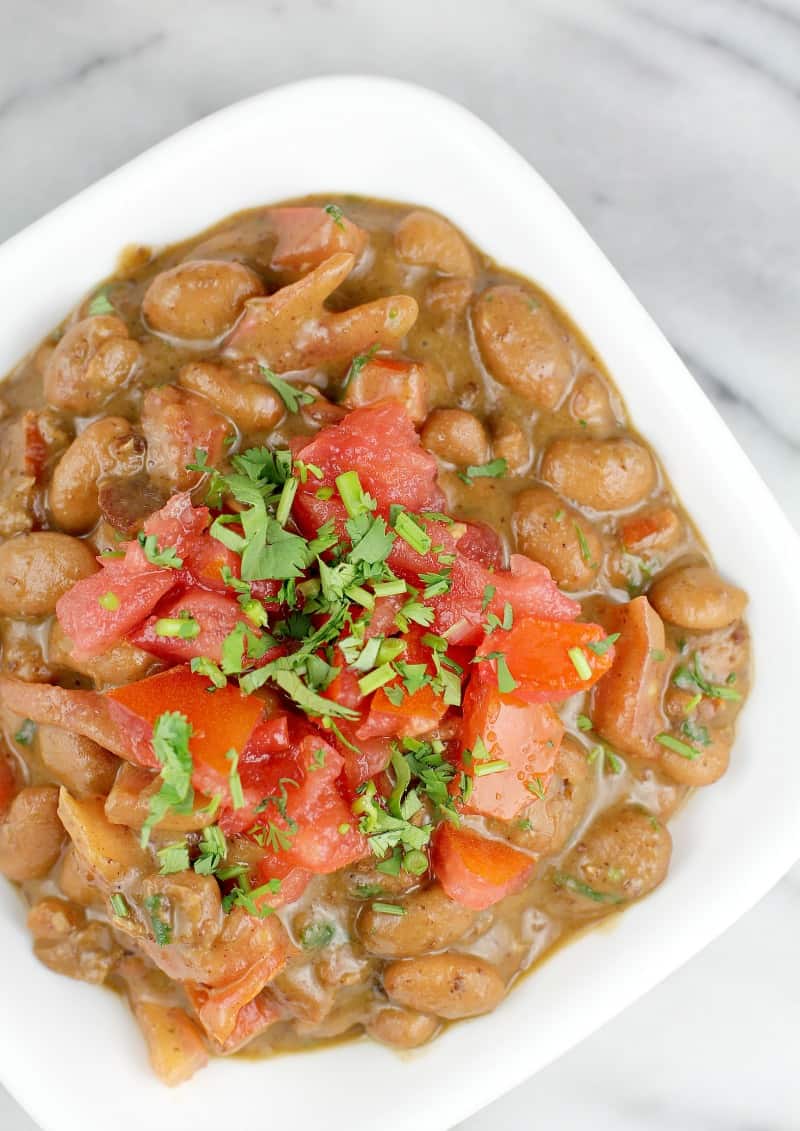 These beans a la charra are as close as I can get to what I remember from living in San Antonio.
After college, I moved to San Antonio from New Hampshire for graduate school to get my doctorate. Once I finished my PhD, I went into the Army and left Texas, with no desire to live there again.
I didn't like Texas. One, because I went through graduate school which is, by definition, hell. Add to that that I went in Texas back at a time when there were few women in my field anyway, but especially my school's microbiology department. The sexism was.. let's just say, obvious.
Two, I'm a New England girl… actually, now a Florida girl. I'm east coast, regardless. I need ocean. Land locked, omg-hot-Texas just sucked and I hated it.
And I'm not trying to offend anyone – Texans LOVE their state. It's weird… that level of devotion for there and I don't get it. And I lived there during such a tough time.
But then, there is food.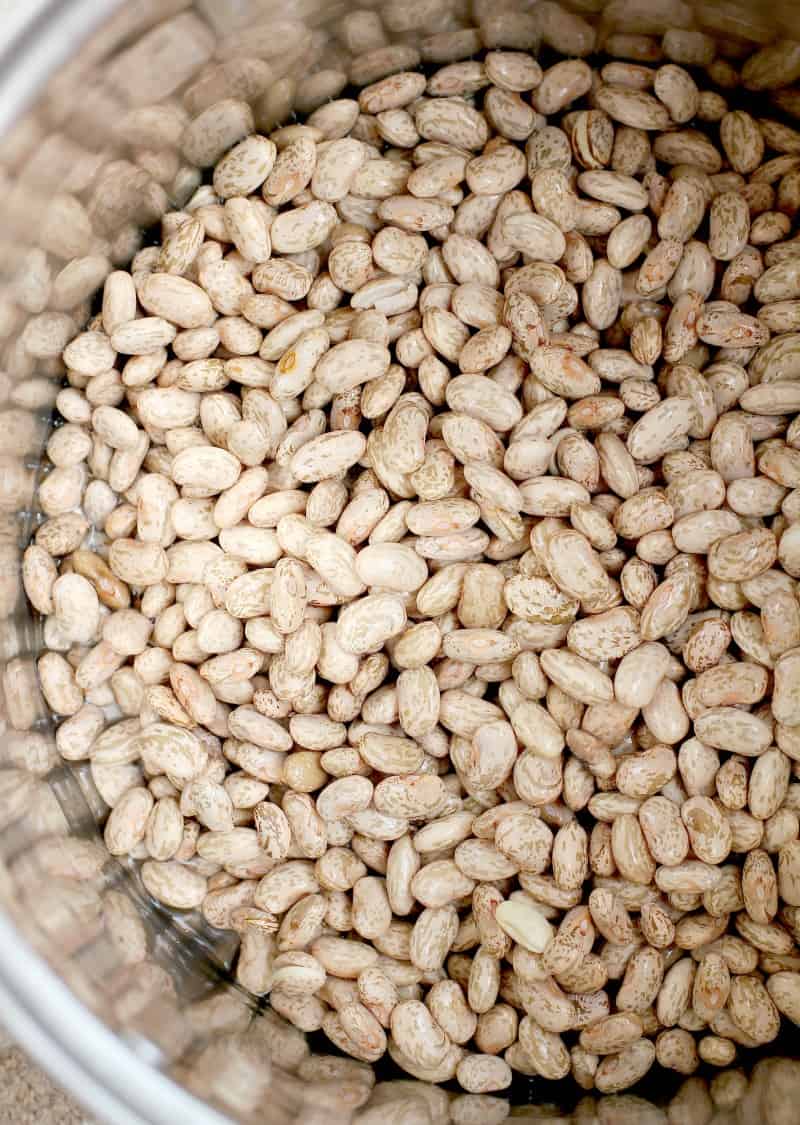 Texans can cook. Holy moly can they cook. Food in Texas is so freaking good. And I'm not talking about restaurants — I mean, HOME cooking… Friday grilled steak. Sunday brunch biscuits. Homemade salsa all the time. Folks in that state can COOK. And living there for 6 years, young in my twenties, I learned to cook in Texas.
So, years later now, though I hated living there, I do still have a special place in my heart for Texas because Texas taught me how to cook.
And this simple recipe using dried pinto beans, this humble cowboy beans recipe, especially has my heart.
What are Charro Beans?
Frijoles charros are Mexican cowboy beans. Charros essentially translates as horseman. This is peasant food, in the best way. A pure example of how a couple simple ingredients can come together to create something amazing. And because the ingredients are so simple and basic, this recipe EASILY scales up to feed a large crowd.
Charro beans, a very traditional dish, is served everywhere in San Antonio. Mexican restaurants and barbecue stops alike. So even though this is a Frijoles Charros recipe, frijoles a la charra are not just limited to Cinco de Mayo or taco night. This is a versatile side to pair with SO many possibilities.
Frijoles charros are dried pinto beans, cooked with bacon, jalapeno, and tomato. That simple.
There are all sorts of variations on the internet and such – some recipes with beef or chorizo, I've even seen one with hot dog cut up in it. …Just don't.
My recipe here is traditional and exceptionally delicious.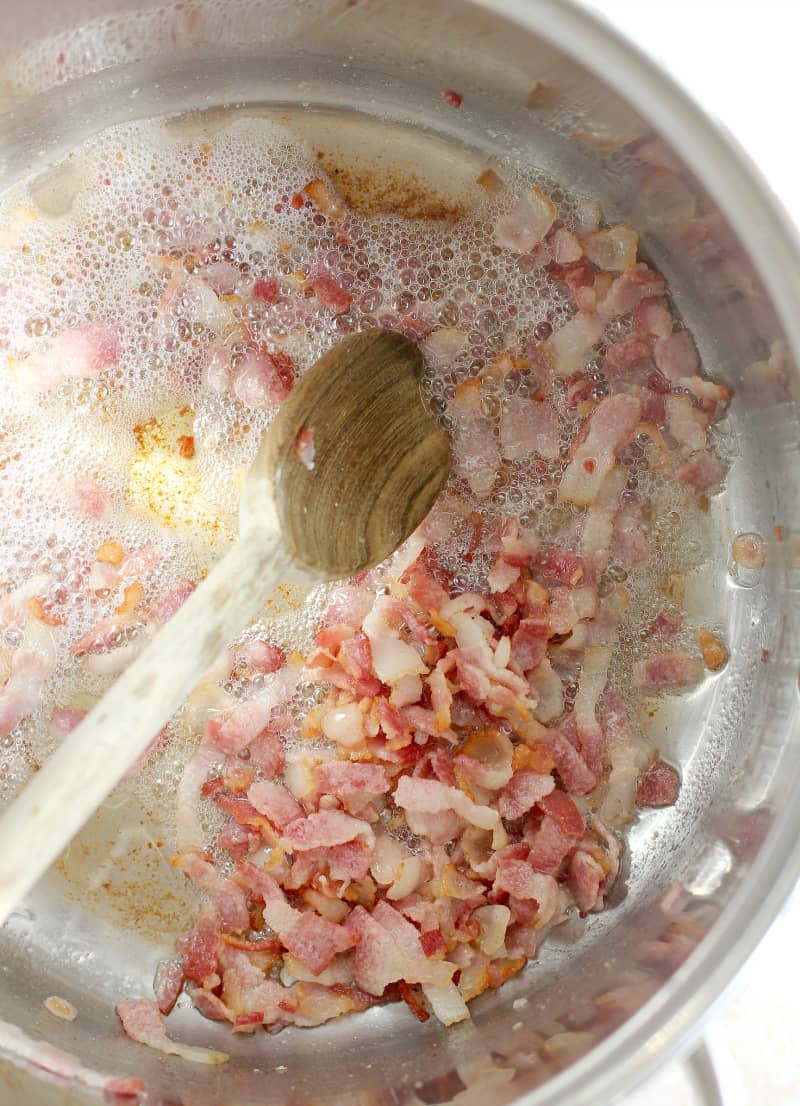 What Goes into Frijoles Charros to Make Them SO Good?
We start with dried pinto beans that have soaked in water overnight. This takes longer than using canned beans, but the result of the charro beans slow cooking with the rest of the ingredients is pure magic.
Bacon. Enough said.
Garlic. Lots of it. But it mellows during the cooking, so it's all good.
Onion and spices. Not many spices, just chili powder and cumin, salt and pepper, but they matter.
Fresh tomatoes and adding them at the end is not negotiable. We don't want mushy tomato, we want fresh tomato with texture.
Fresh cilantro! But yeah if that's not your thing (cilantro truly tastes like soap to some people from some random genetic mutation), just use parsley.
Jalapeno. Do it! These beans are NOT spicy, and jalapeno is one of the best flavors created by God. It's only 3 for the WHOLE pot. So add the jalapeno.
So yeah, there's surprisingly, or maybe not surprisingly, not a lot going on here with this ranch style beans recipe. Beans, bacon, garlic, onion, seasoning, tomato, cilantro. That's it.
That's it, but yet this homely, Mexican pot of beans is honestly, truly, seriously SPECTACULAR.
Let me tell you just how spectacular… I made my frijoles charros for 80 people for a church supper. EIGHTY.
And not only that, I served the beans in a little side cup with 1/2 cup per serving. The focus of the meal I made was slow cooked carnitas pork tacos with literally all the fixings, yellow rice, salad, and chocolate lush dessert…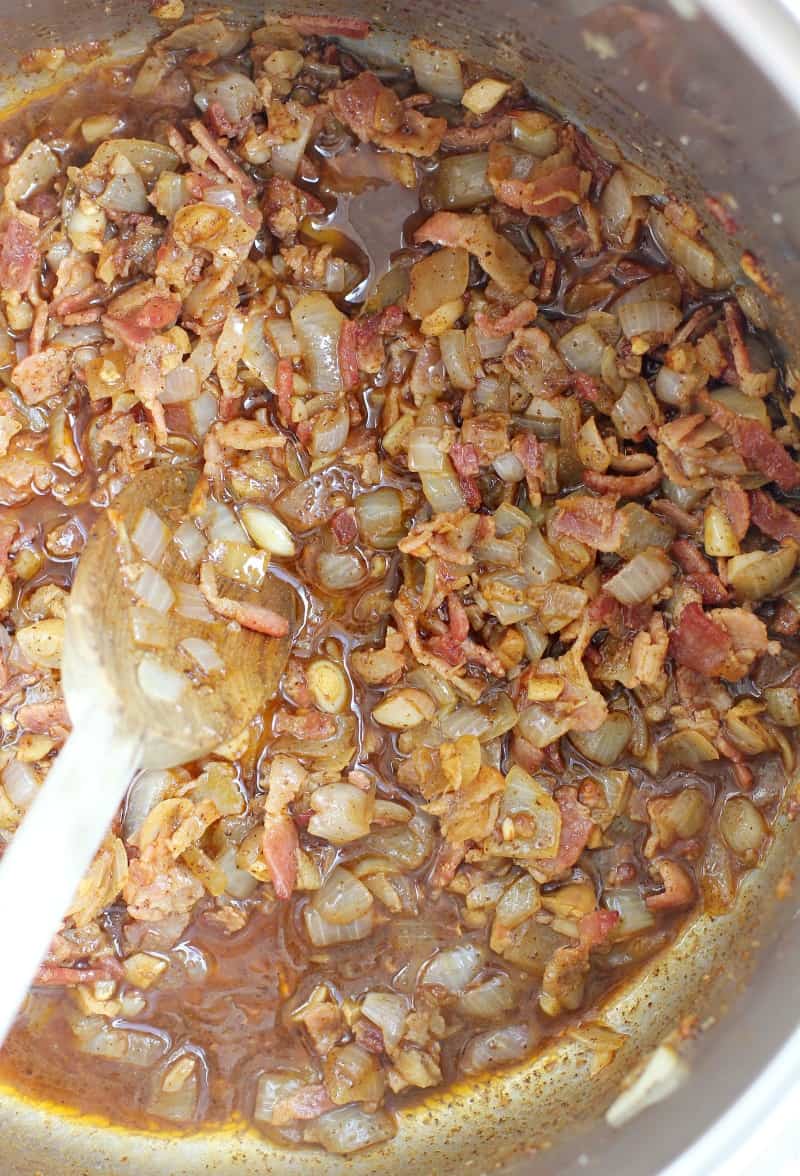 It was the FRIJOLES CHARROS that got the ravest comments. It was this little pinto beans recipe that at least 2 church ladies have told me they have made since at home on their own.
I was stunned. But at the same time, not stunned. Because more often than not, simple peasant recipes like beans a la charra are loved precisely for their simplicity, no?
How to Make Frijoles Charros
Soak dry pinto beans overnight in water.
Cook bacon.
Add onion, garlic, and jalapeno, and cook a bit.
Add beans, herb and seasoning, and water.
Cook. For a while. Until beans are soft.
Once done, add tomato and more herb and serve.
I start my frijoles a la charra in the morning, then let them simmer all day so the beans get nice and soft and my house smells amazing. Once you cook the bacon and all that, and get the beans cooking, the key is to let them gently simmer for a few hours slowwwwly.
Add water as needed to keep the right consistency, which is like a stew. this ranch style beans recipe is not like baked beans, not like Boston baked beans. It's looser. Soupy. So keep an eye on the water.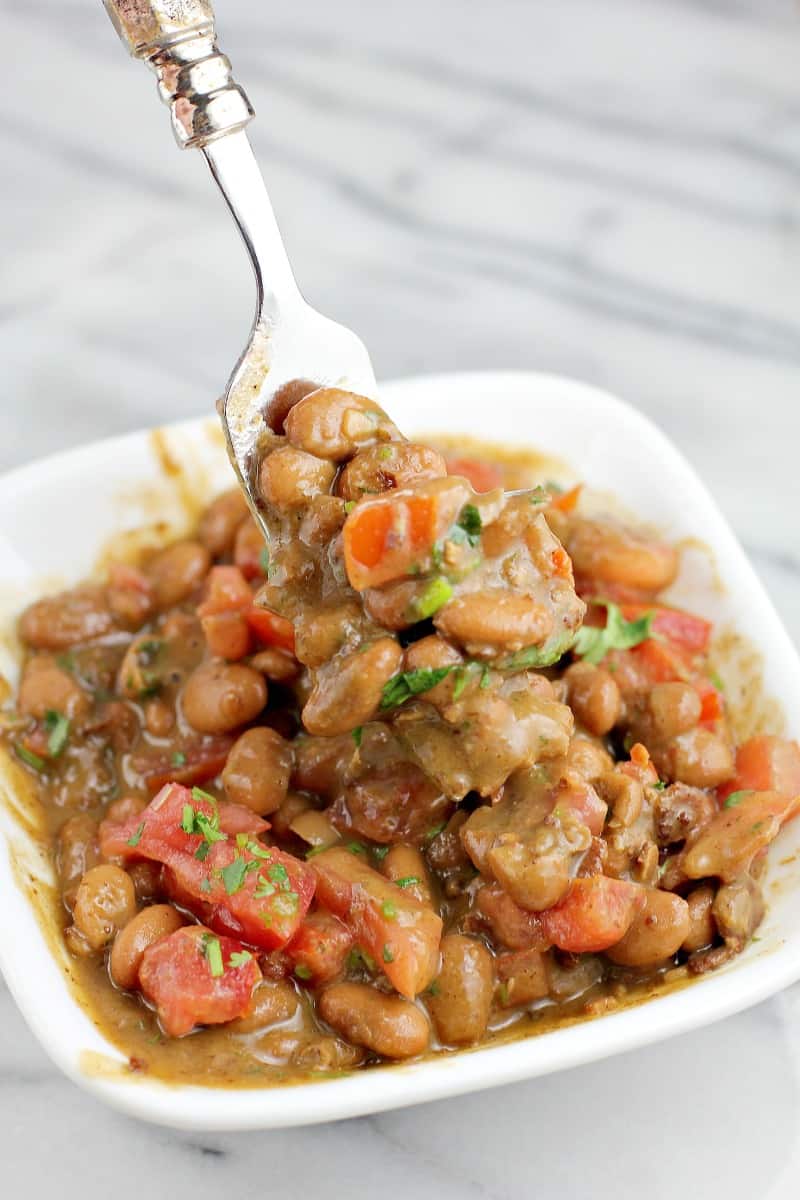 For more Texas-inspired recipes, check these out: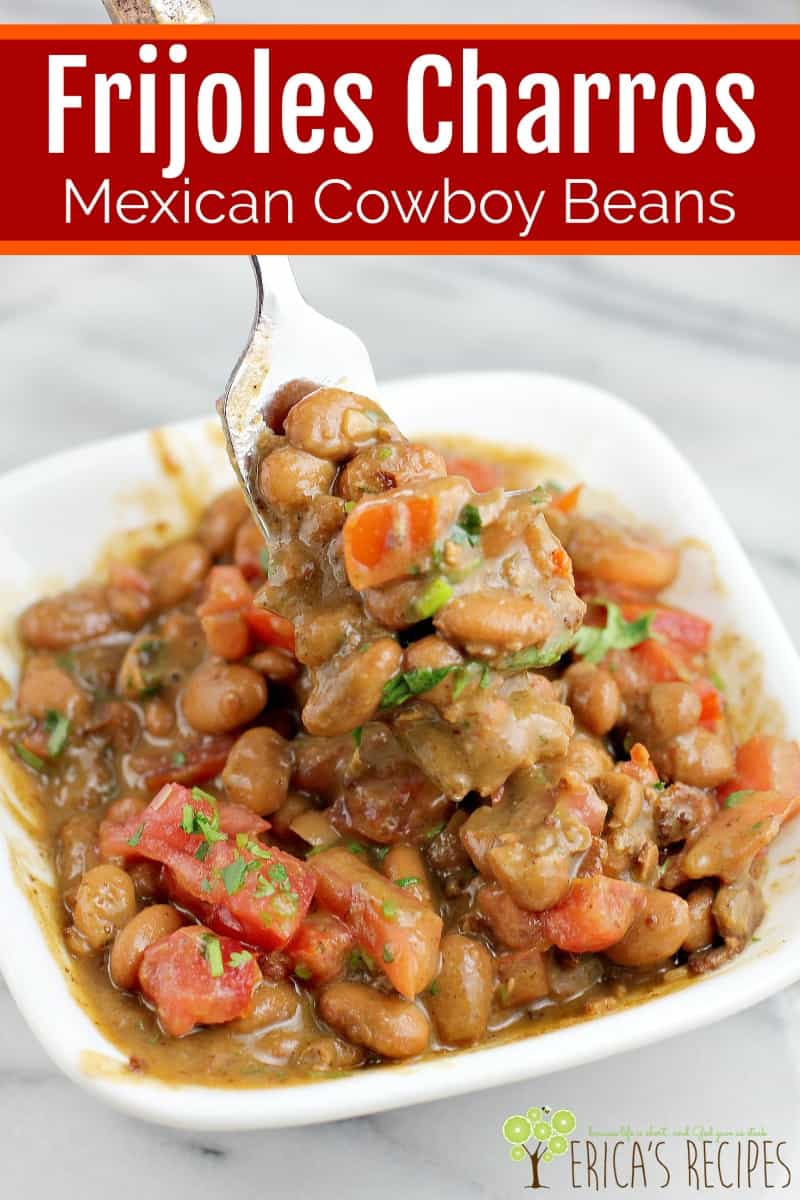 Hit the P for Pinterest button below this post to save this recipe. If you make it, post on Instagram and tag @ericasrecipes.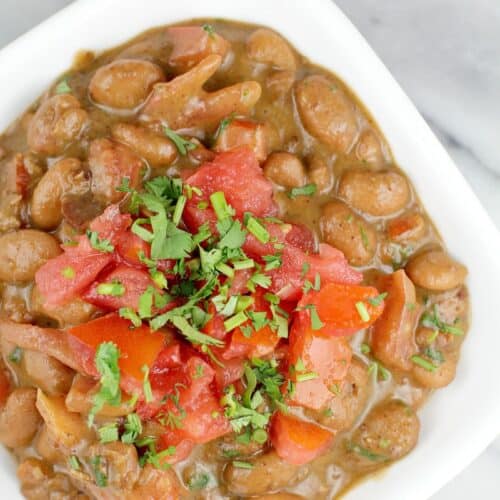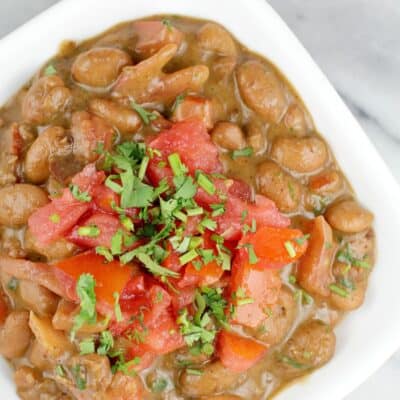 Frijoles Charros
Frijoles charros, Mexican Cowboy Beans, is a ranch style beans recipe that cooks slowly for the most flavorful, authentic frijoles a la charra ever.
Ingredients
1

lb

dried pinto beans

picked over and rinsed

½

lb

bacon

chopped

½

cup

chopped garlic

½

cup

cilantro

divided

1

cup

white onion

chopped

1

Tbsp

chili powder

1

Tbsp

cumin

1

Tbsp

kosher salt

¼

tsp

fresh cracked pepper

½

gallon

cold water

2

cup

tomatoes

chopped

3

jalapenos

finely chopped
Instructions
In a large bowl or pot, soak the beans in half a gallon of water overnight. The next day, drain and rinse the beans.

In a large heavy pot, cook the bacon until done but not crisp. Add the onion, garlic, and jalapeno to the hot bacon. Cook, stirring regularly, until onions are transparent.

Add the beans, cumin, chili powder, salt, and ¼ cup cilantro. Add ½ gallon cold water and stir with a wooden spoon to scrape the browned bits off the bottom of the pan. Turn heat to low.

Cook beans at a very slight simmer until fork tender – I let them cook all day (~5 hrs) so the beans get very soft. Stir regularly to avoid burning the bottom and add more water as necessary (you will have to add another pint or two).

When ready to serve, remove from the heat, and add the tomatoes and remaining cilantro. Taste for seasoning and serve!
Notes
I have served these charro beans to church suppers with 80 people. No recipe adjustments are necessary, just multiply. If serving a large crowd, it is best to serve these charro beans in a cup, 1/2 cup per serving.
Nutrition
Calorie count is purely an estimate calculated using an online application to serve as a guide and not to be taken as accurate nutritional information. Percent Daily Values are based on a 2,000 calorie diet.
Tried this recipe?
Leave a comment below and let me know!
~✿♥✿~