Cherry Chipotle BBQ Sauce
Cherry Chipotle BBQ Sauce is a sweet and tangy, finger-licking jar of awesome. Homemade barbecue sauce is easy to make and so much tastier than store-bought. Showcase your grilled burgers, chicken, and pulled pork with this beautifully balanced barbecue sauce. Ready in 15 minutes.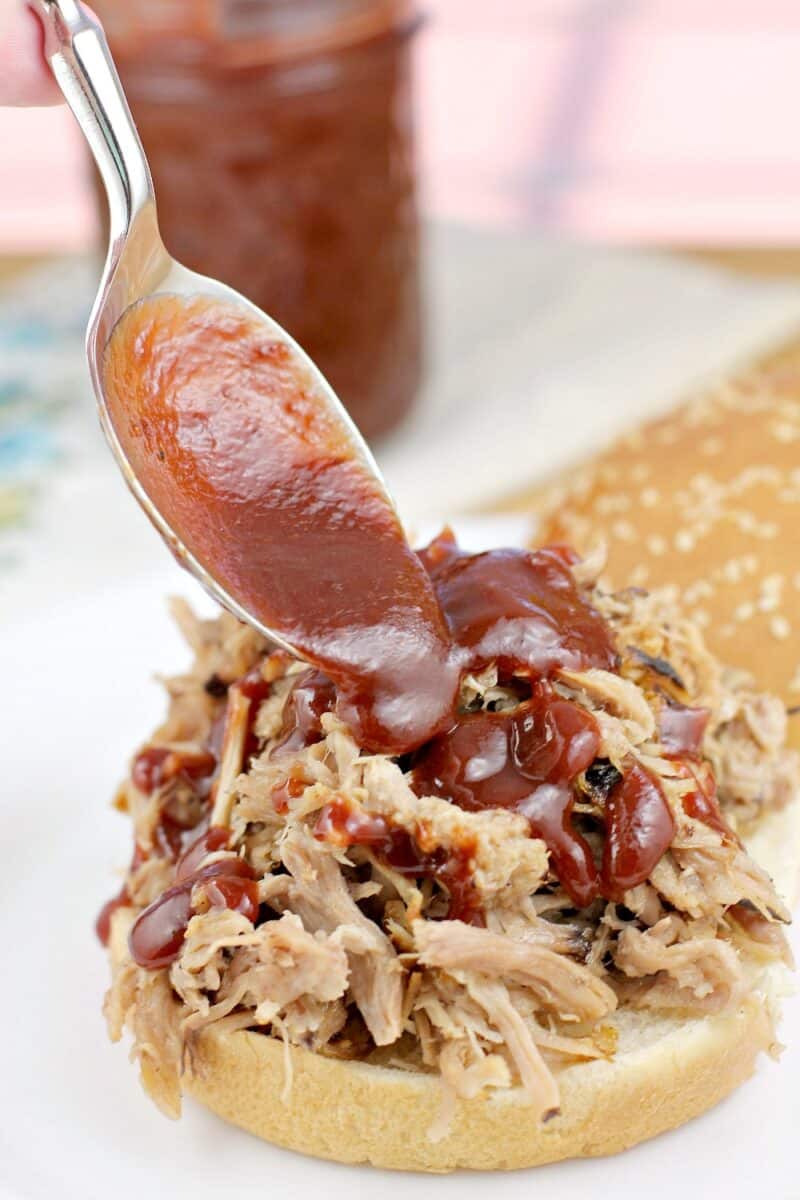 Prior to this recipe, I had wanted to have my own BBQ sauce to be proud of for ever, and this cherry chipotle BBQ sauce recipe right here is the one. And it is ready in only 15 minutes.
Sweet dark cherries with a zip of chipotle are a delicious fusion perfect for a homemade barbecue sauce. This is a grown-up recipe, with grown-up flavor.
Not overly sweet, and not overly tangy. Thick, but not too thick. Just the right balance, worthy of all the grilled meats.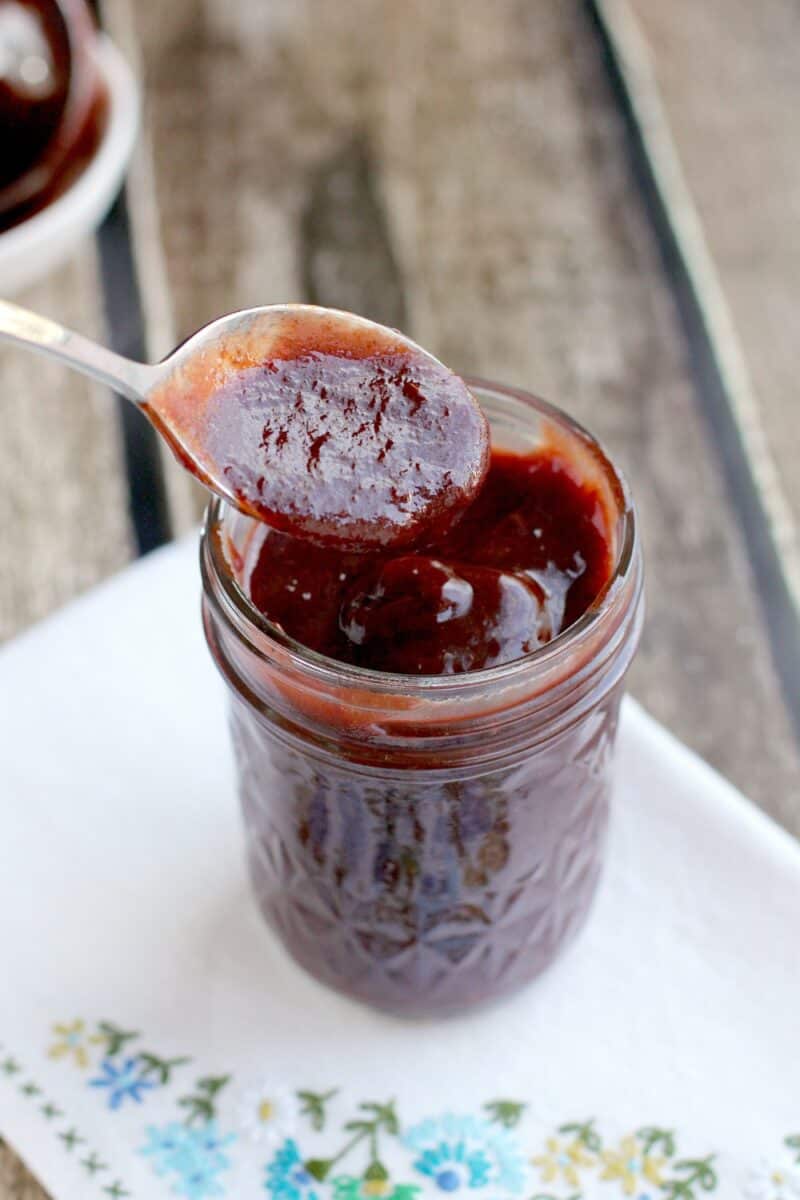 What are chipotle peppers?
Chipotles are jalapeno peppers that have been smoked, dried, then rehydrated in a sauce of vinegar, garlic, tomatoes, and seasonings. The result, and what comes in the can you buy, is a spicy mix of peppers (now called chipotle peppers) in "adobo" sauce.
How chipotle peppers and/or the adobo sauce are used depends entirely on the desired level of heat and spice you want in your dish. Add a little adobo for a bit of zip and depth of flavor. Or add a chopped chipotle pepper and set your game on fire.
But be warned! Start small and build it up. If you've never cooked with chipotle before, a whole pepper (or even half) may be way too much. So, add a bit at a time, to get it just right.
In this cherry chipotle BBQ sauce recipe, I used just a bit of adobo to keep it kid-friendly. But by all means, increase it if that is your taste.
Chipotle peppers in adobo sauce are found in the section with other Mexican ingredients like taco seasonings, salsas, and such. This section is usually in the "International foods aisle" of the grocery store if your store has one.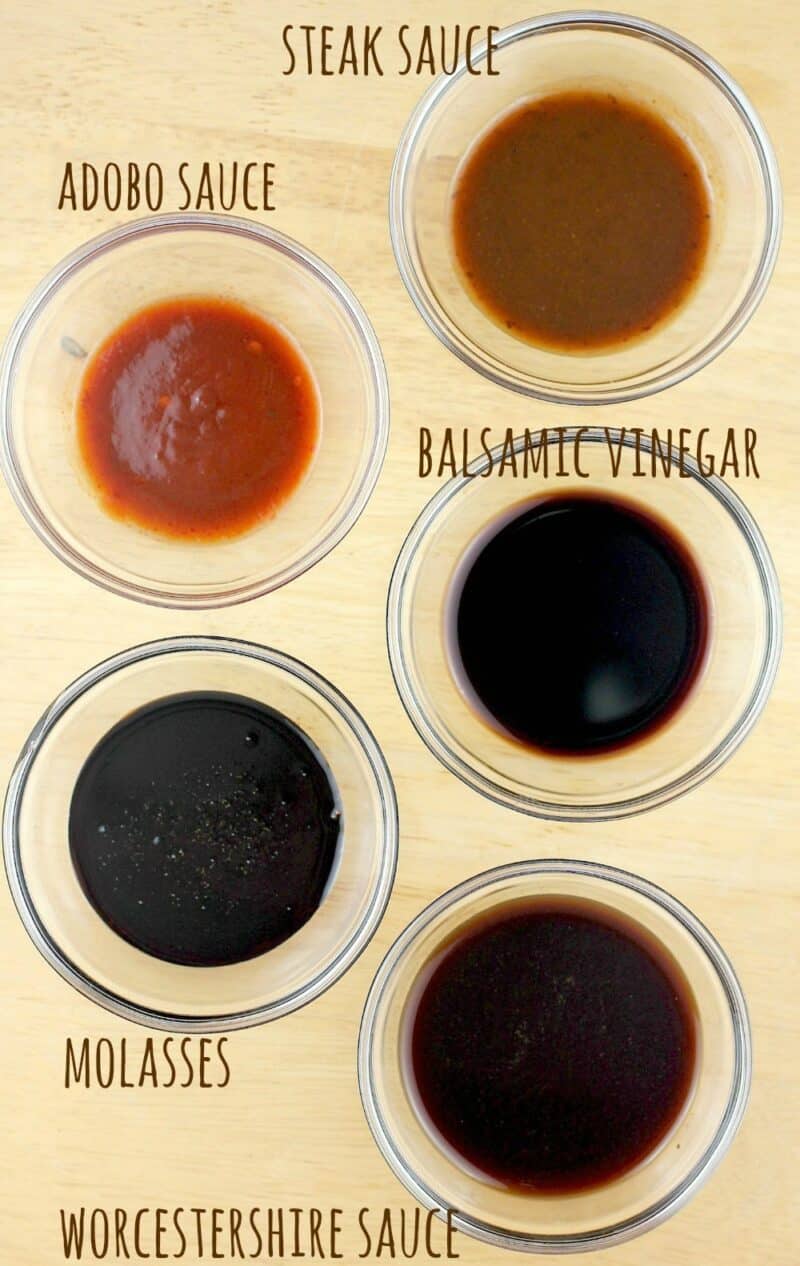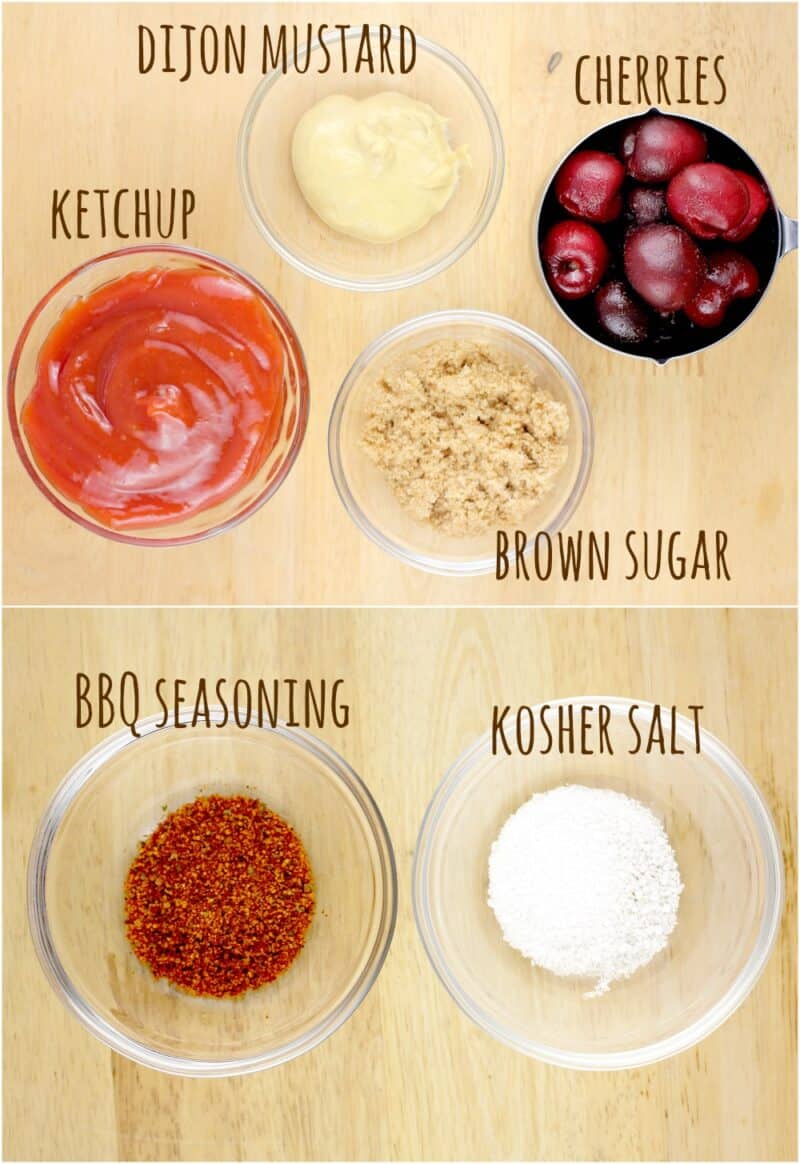 BBQ sauce ingredients
Cherries. Use fresh or frozen, dark sweet cherries. Just ensure that the pits are removed.
Ketchup. Everyday ketchup is fine, although you can opt for reduced- or no sugar added.
Balsamic vinegar. Balsamic brings depth of flavor, as well as needed acid.
Worcestershire sauce. Like the vinegar, Worcestershire brings depth of flavor.
Light brown sugar. Not a lot, just a bit to complement the sweet of the cherries.
Molasses. Luscious molasses delivers umami and is a thickener.
Dijon mustard. A bright note to foil the deeper flavors listed above.
Steak sauce. Delivers a punch of flavor in just a tablespoon.
Adobo sauce. For the delicious chipotle flavor and touch of spice.
Seasonings. Kosher salt and BBQ seasoning (of choice).
Sweet cherries. What goes better in barbecue sauce than a little hint of sexy cherry sweetness? You can either use them fresh when in season, or grab a bag in your grocer's freezer. Both work just as well.
Then we add grown-up, full bodies flavors of balsamic, Worcestershire, molasses, and Dijon. The pungent flavor combination matches the cherries and gives you just a DELICIOUS sauce and perfect complement for the heartiest of grilled food.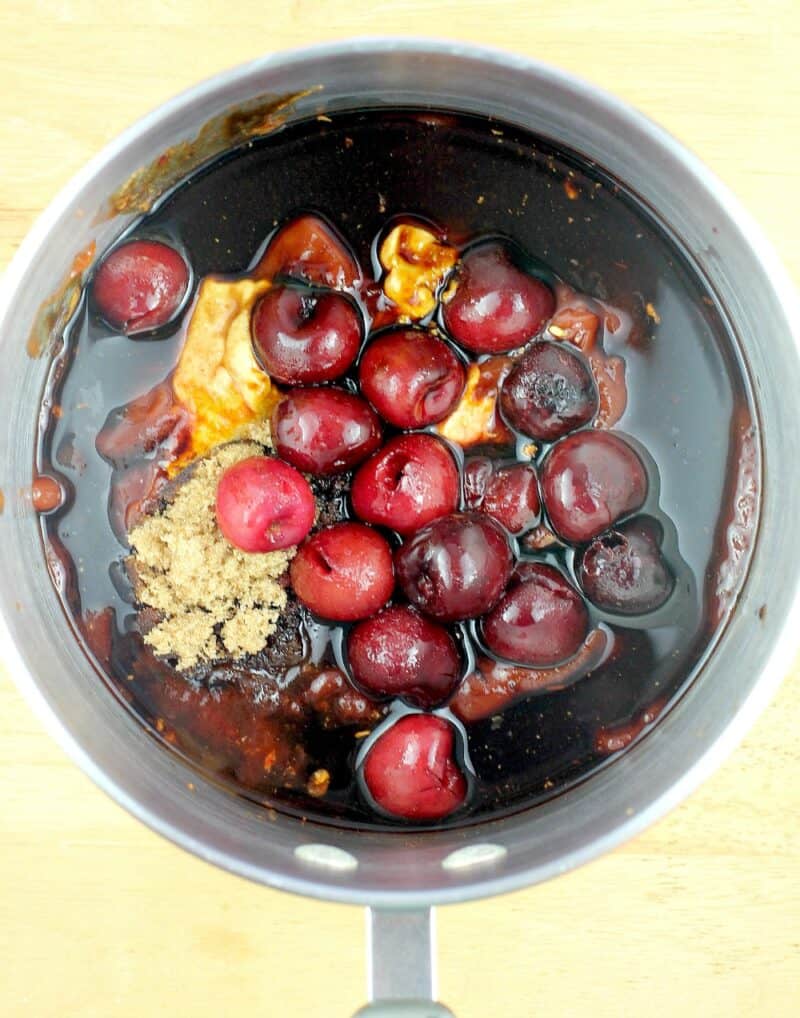 Steps for preparation
There are only 2 easy steps to make this homemade barbecue sauce:
Combine and heat the ingredients.
Blend and taste.
Cherry Chipotle BBQ Sauce is SO easy to make, you just throw these ingredients in a little saucepan, let it warm up. The heat dissolves the brown sugar, but also softens the cherries and brings out their flavor. Then blend, and you are ready to go.
After blending, it is important to taste and to see if you want to add more heat. Add another teaspoon adobo sauce for a little more spice, or add 1/4-1/2 chopped chipotle pepper to really bring some bold heat.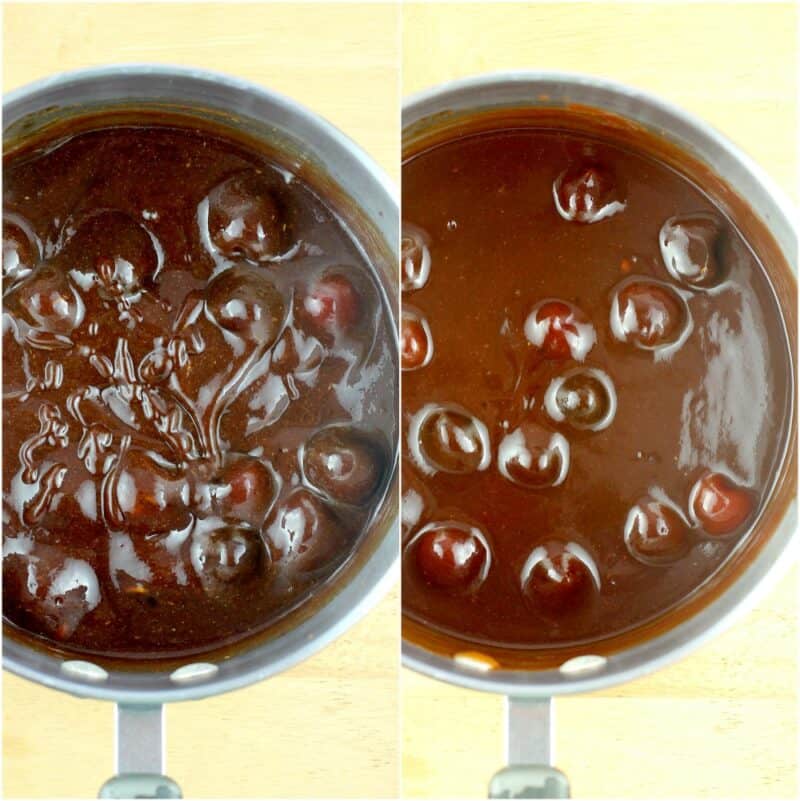 Methods to blend the barbecue sauce
By far, the easiest way to blend this sauce smooth is to use an immersion blender. These handy kitchen devices are not expensive, and I recommend them as one of the handiest tools that I use.
If an immersion blender is not available, a blender or food processor will work just as well. However, let the sauce cool a bit before transferring to the plastic bowl of a food processor or the glass of a blender. Also, don't risk spattering and burning yourself.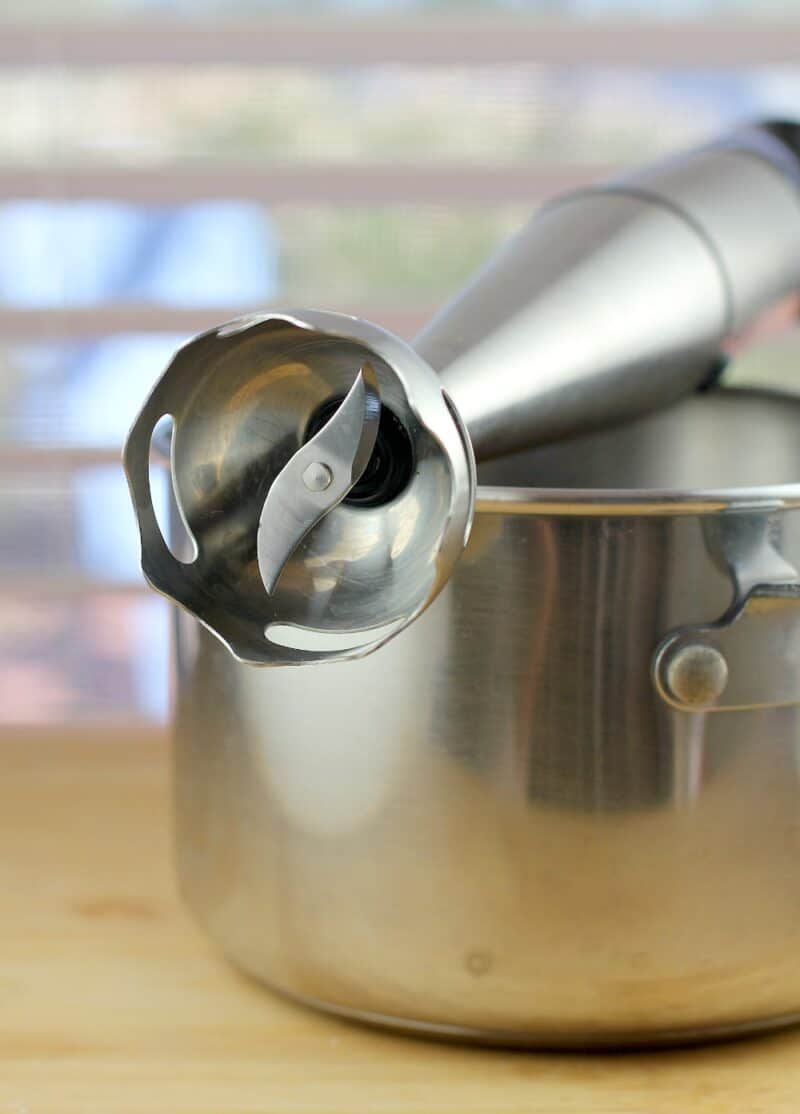 How long will this sauce keep?
This sauce will keep as long as any homemade barbecue sauce (2 weeks) since it is mostly (but not entirely) comprised of ingredients that not only do not spoil, but, in fact, preserve. I recommend storage in a glass container or mason jar as this mixture will eventually stain plastic.
Can the sauce be frozen?
Yes. Once cool, transfer to a resealable freezer bag, get out as much air as you can, and seal. Lay flat to freeze in the freezer.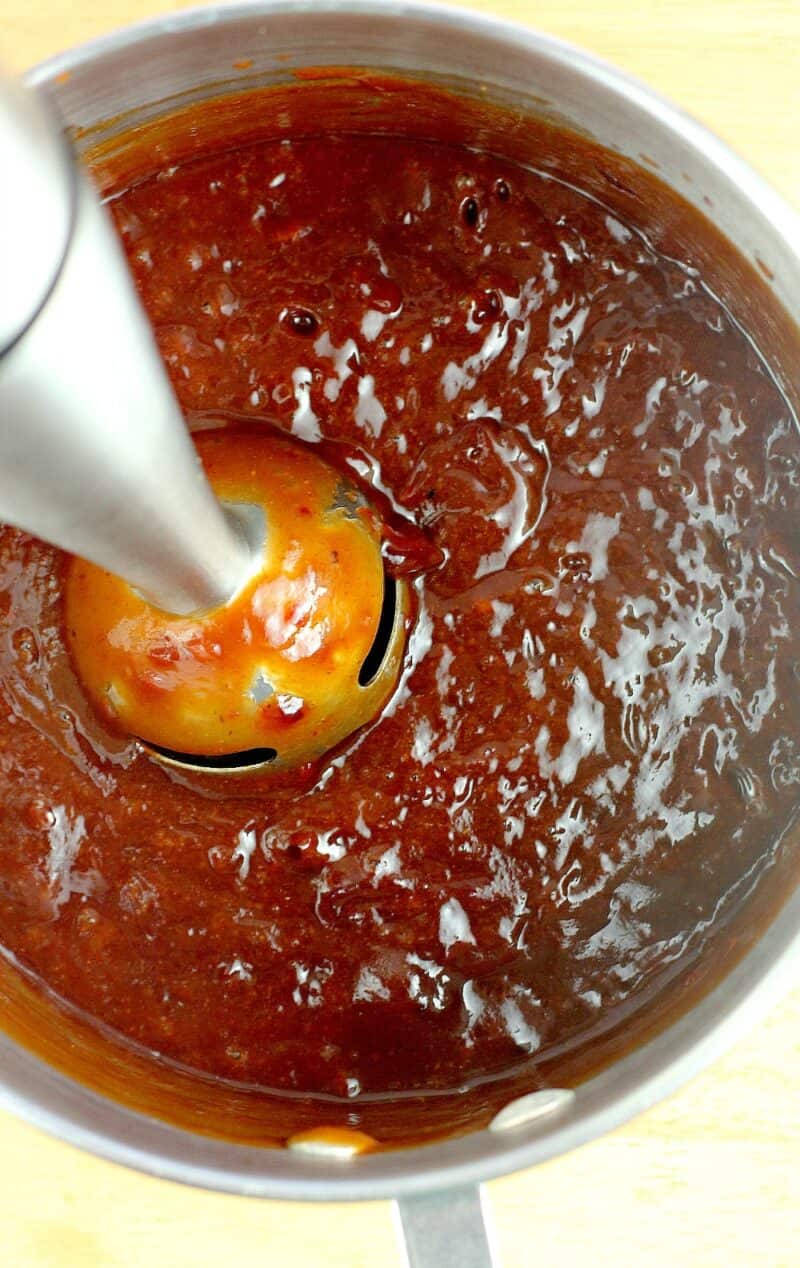 When should BBQ sauce be applied to meat while grilling?
So here is where we have to have a little lesson on barbecue sauce…
The essential elements of barbecue sauce are sugar and vinegar. Everything can vary, but at the end of the day, BBQ sauce is about making a sweet and tangy condiment.
Of course, unless you are making North Carolina barbecue, in which case you use mop sauce and that is a whole other thing.
Thicker barbecue sauces have the sugar component to them, and sugar burns pretty easily. This is why the timing of brushing on sauce is important.
First, for skinless chicken or if you have marinated your meat in the BBQ sauce, start cooking with the sauce brushed on the meat but reduce heat and cook on lower heat so as not to burn the sauce over your food. This is also better for lean chicken breast anyway to keep it from drying out.
For chicken with the skin on, start the meat skin-side down with no sauce. Cook until almost done (flipping mid-way). Then to finish, brush with BBQ sauce, cook a couple minutes; flip, brush more sauce, and repeat (maybe repeat again), to caramelized the sauce on and until chicken is cooked through.
For cooked meat that is finished on the grill (i.e. after first cooking in a slow cooker or oven), add the sauce when putting the meat on the grill and keep on higher heat for caramelization.
For example, I find the best way to get tender ribs is to steam in the oven first, then brush with BBQ sauce and grill over high heat. Turn-brush sauce-turn-repeat a couple times until all is nicely glazed.
Side note: an oven broiler can also be used to make that nice caramelized BBQ coating. Just be sure to watch so it doesn't burn.
Finally, for meat not cooked on the grill or for chickie tendies or whatever, simply serve cherry chipotle BBQ sauce on the side. We cooked the pork in the sandwich below in a smoker coated with dry rub. This sauce was the perfect complement to a big beautiful pork roast lovingly tended to for 14 hours.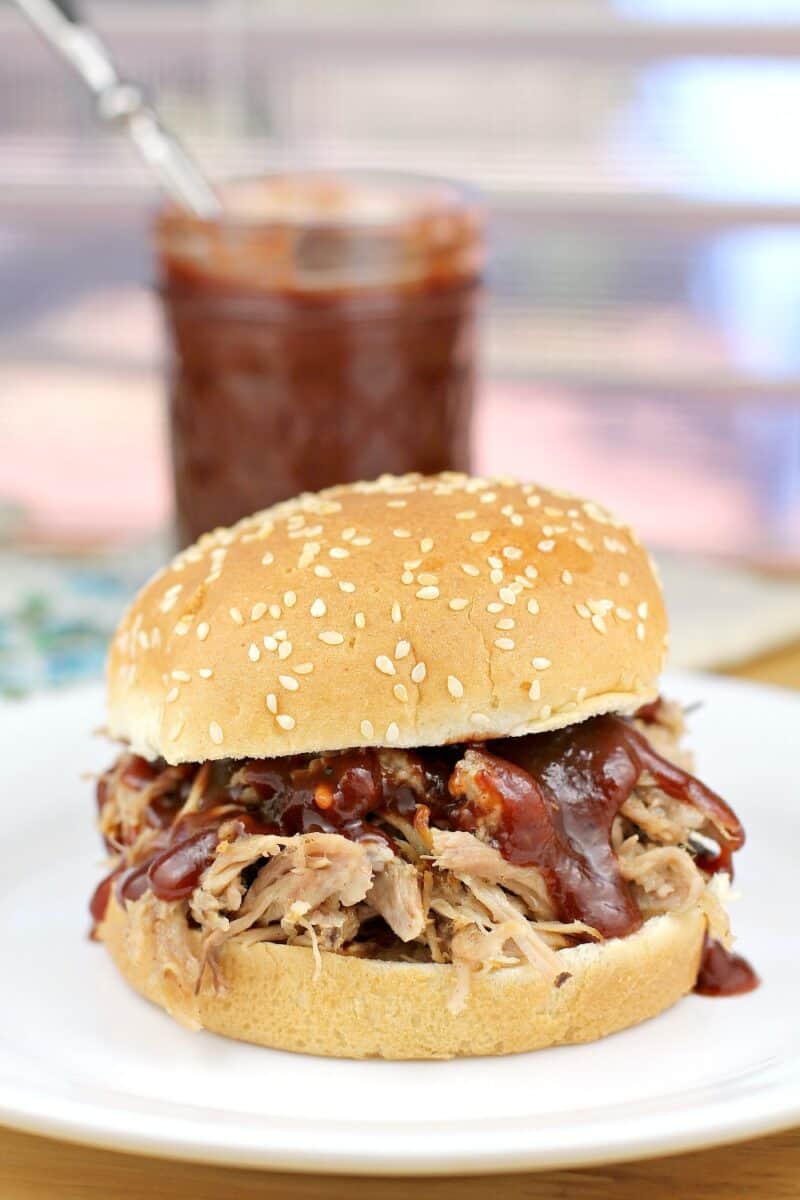 Recipes to try with this BBQ sauce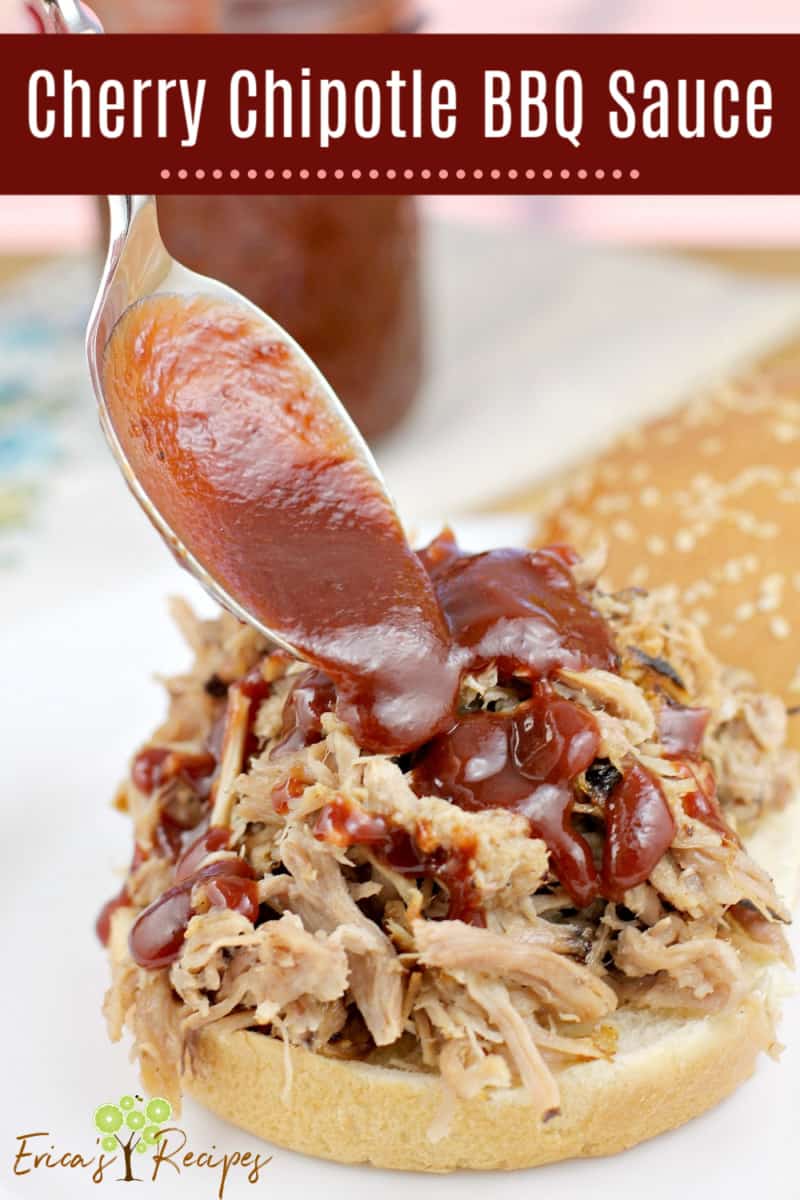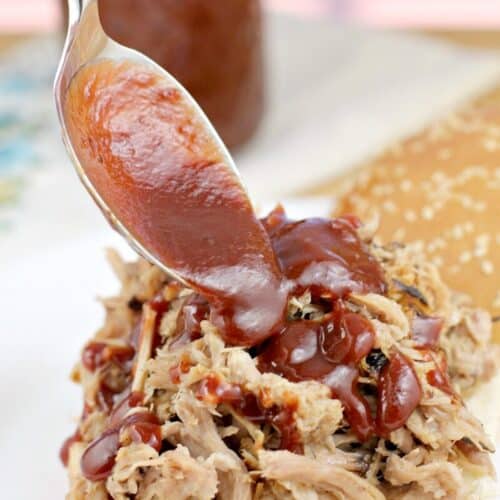 Cherry Chipotle BBQ Sauce
Cherry Chipotle BBQ Sauce is a tangy, sweet, finger-licking jar of awesome. Homemade barbecue sauce is easy to make and so much tastier than store-bought. Showcase your grilled burgers, chicken, and pulled pork with this beautifully balanced barbecue sauce.
Instructions
Combine all the ingredients in a medium saucepan. Heat on medium-low heat to combine flavors until warmed through.

To blend in the cherries, use an immersion blender right in the sauce pan. This can also be accomplished in a blender or food processor.

If making ahead, store in the fridge. Yields about 2 cups.
Notes
As written, this recipe has a kid-friendly level of heat. If you want real spice, add more adobo or some chopped chipotle pepper. I recommend doing this in small increments because a little goes a long way. See writing in the body of this post for more details.
Use whatever BBQ seasoning is your preference or you can use my Grilling Rub for Pork.
Be sure to add the BBQ seasoning prior to the salt, then add the salt to taste. This is because BBQ seasonings blends vary greatly in the salt they contain.
This recipe can be easily doubled. 
Nutrition
Calorie count is purely an estimate calculated using an online application to serve as a guide and not to be taken as accurate nutritional information. Percent Daily Values are based on a 2,000 calorie diet.
Tried this recipe?
Leave a comment below and let me know!
~✿♥✿~