Slow Cooker Italian Pepperoncini Chicken
This simple, pulled chicken slow cooker recipe takes just minutes to throw together into the crock-pot for a healthy, delicious Slow Cooker Italian Pepperoncini Chicken supper.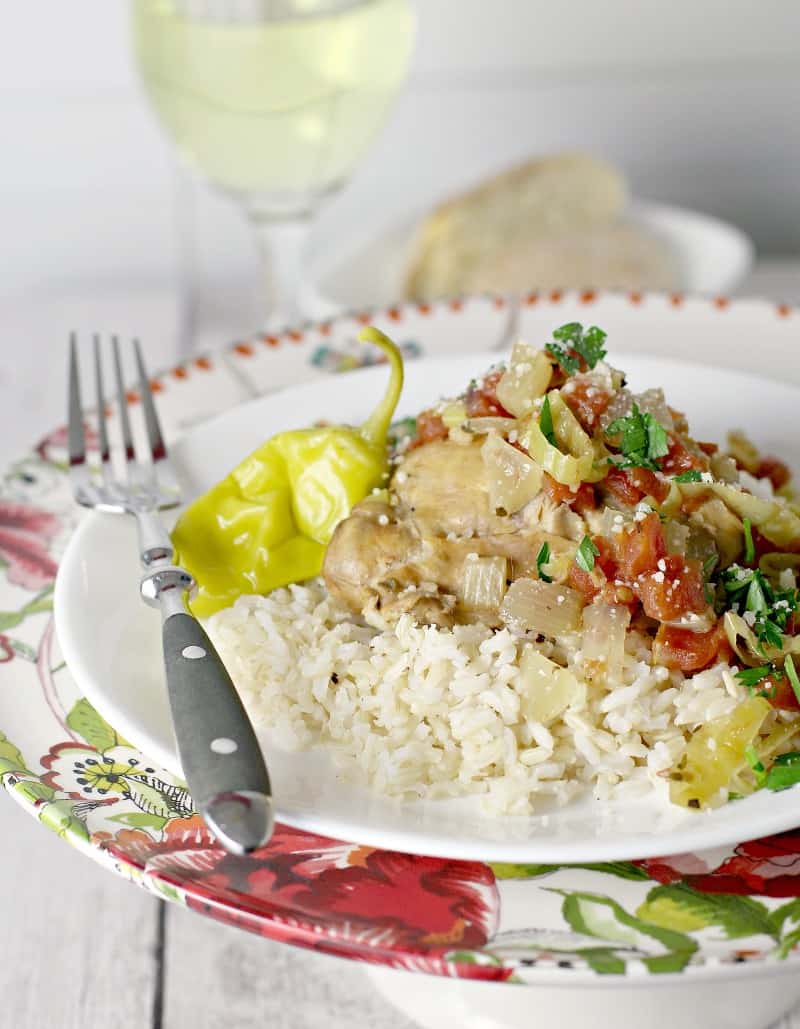 So what is new with you?!!! I'm typing this on Veteran's Day, so I am home today with the kids icing my toosh. Classy, I know, but it seems I overdid it running, biking, or both, and I appear to have inflamed my piriformis.
The piriformis is a butt-cheek muscle, google it. …I have a half marathon in less than three weeks and my first half Ironman in nine weeks, so I am not freaking out. Not at all. I am not stress eating – not one bit…
…wait till you see the sweet treat I have for you next post. Made that today too.
Anyway, I had bone-in, skinless chicken thighs in the refrigerator to grill for lunches as is common for me. And I specify bone-in, because when I grill almost anything, I prefer for there to be the bone – it helps with the cooking and flavor, and it helps keep the meat from drying out.
But then I saw my crock pot in the pantry. "Love me", it said. "Loooove me."
Creepy? Not at all – your slow cooker is like a husband. Feed it and it will make you happy. So I did.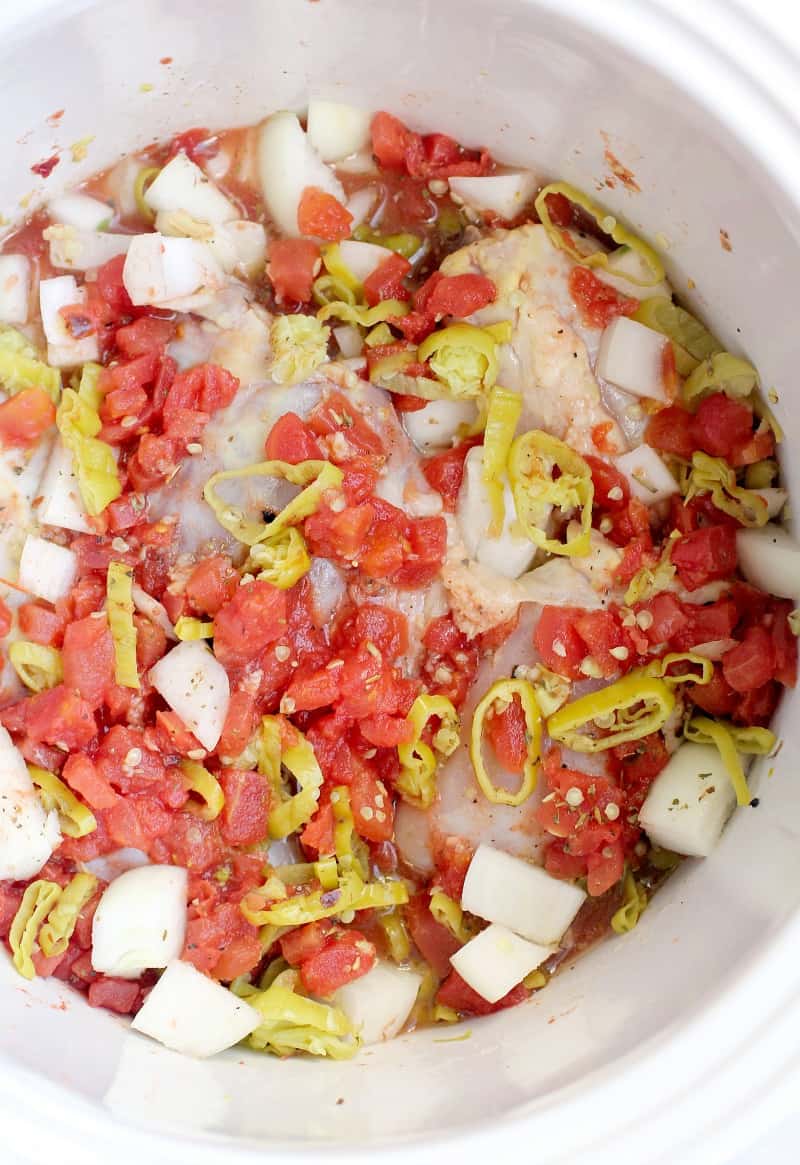 Slow Cooker Italian Pulled Chicken
So pepperoncini, right? Where the hell did that idea come from.
Well, this pepperoncini chicken recipe was actually inspired by one of my favorite bloggers, Libby at Lemony Thyme.
First, Libby loves pantry-cooking (which is totally what I did here). And second, Libby has a Pepperoncini Pot Roast and every time I see it, I think "damn that's brilliant".
So I have had cooking with pepperoncini peppers in the back of my mind for a while thanks to her. And so here we are.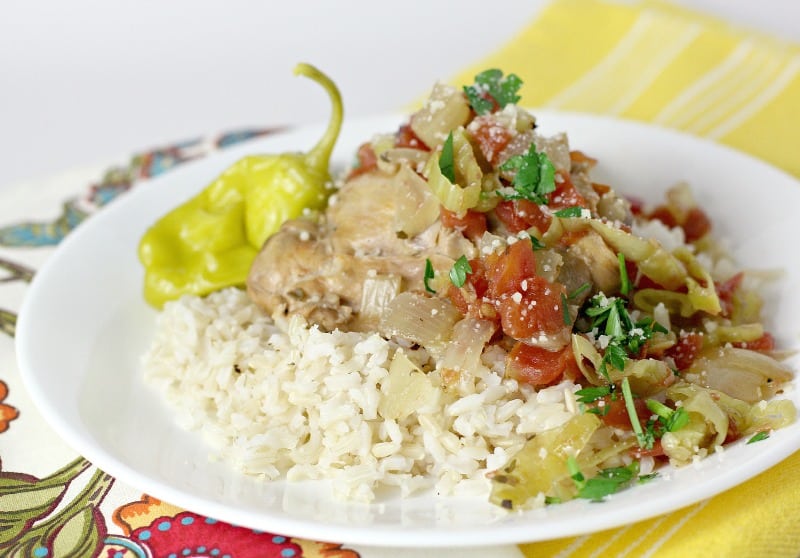 Pepperoncini vs Banana Peppers
Pepperoncini and banana peppers are very similer, but they are not the same so I don't recommend substituting one for the other.
Both peppers look similar and both have heat from capsicum.
While banana peppers can be mild and have no heat, pepperoncini always have a bit of heat.
They don't taste the same. Banana peppers are sweet and pepperoncini are more tangy.
They also look different. Banana peppers are longer and pointier, looking more like a banana (duh). Pepperoncini are more rounded.
Banana peppers also have a smooth skin while pepperoncini are wrinkly.
So, it is easy to confuse the too and tempting to use them interchangeably.
But in the end, pepperoncini and banana peppers aren't the same, and for this Italian pulled chicken dinner, we want pepperoncini.
But what if you don't like pepperoncini peppers? Make this anyway! Seriously! This is not a pepperoncini peppery dish, trust me. It is a slow-cooked, flavor-melded plate of love.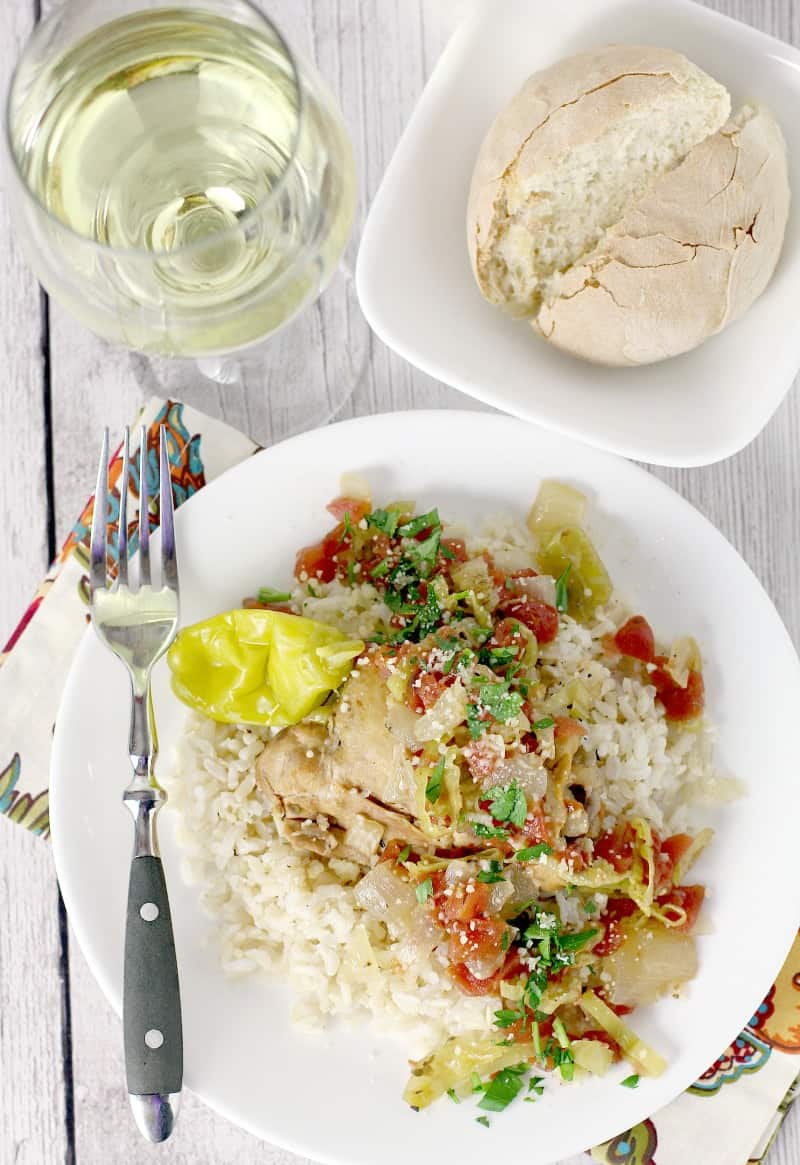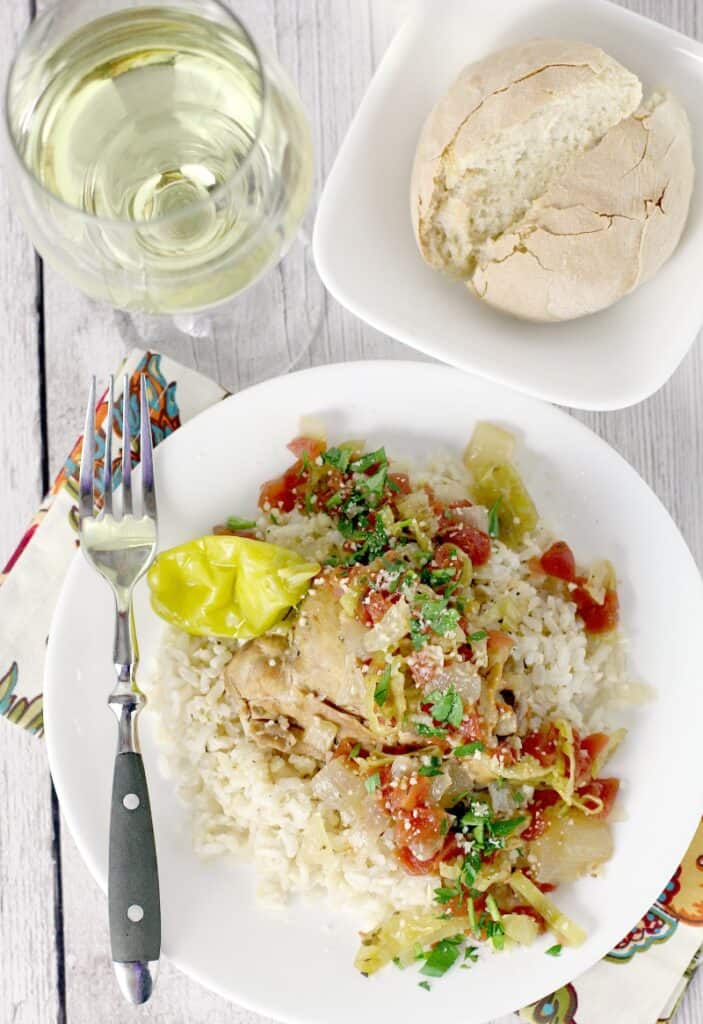 Steps to Make Italian Slow Cooker Pulled Chicken
I love this recipe because it was born of the idea that sometimes you just got to throw stuff in the crock-pot and see what happens.
Get out crock-pot.
Dump ingredients into crock-pot.
Leave.
Come back.
Break the chicken into pieces.
Eat.
The only thing not included in the steps above is cooking the rice. Since this is a healthy dinner – literally just chicken, tomatoes, and pepperoncini peppers, I recommend keeping it healthy by serving over brown rice rather than pasta.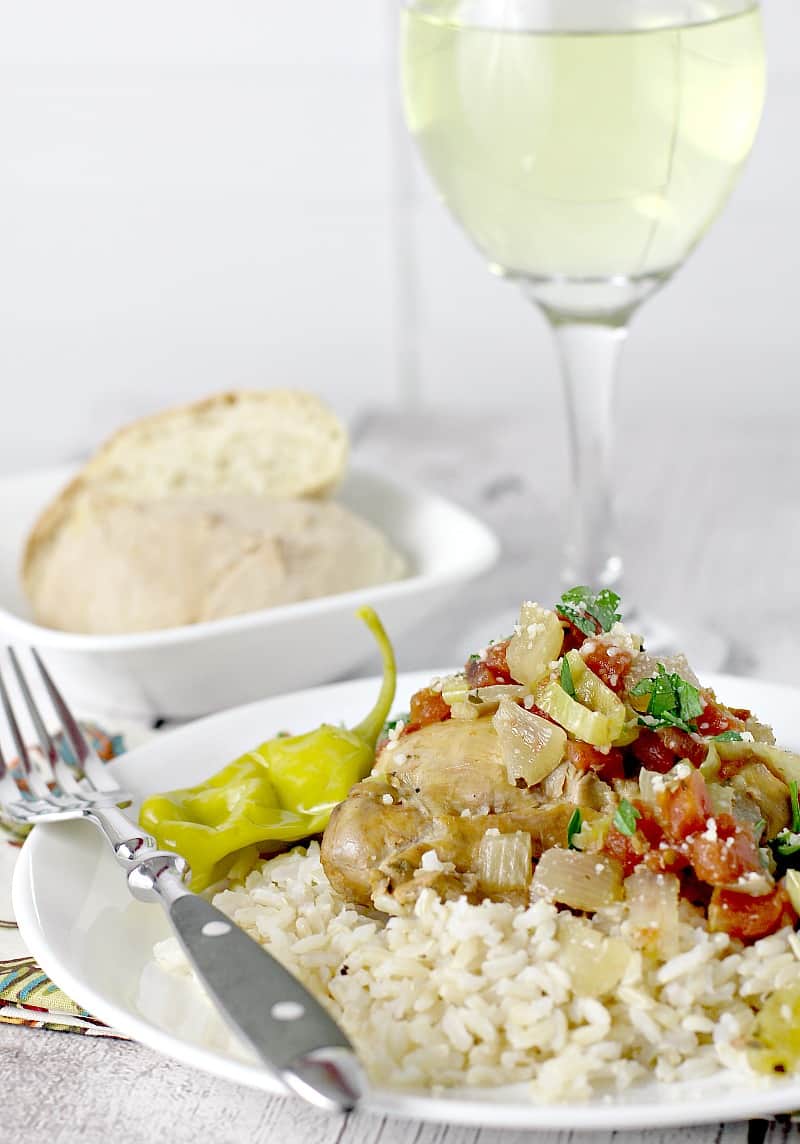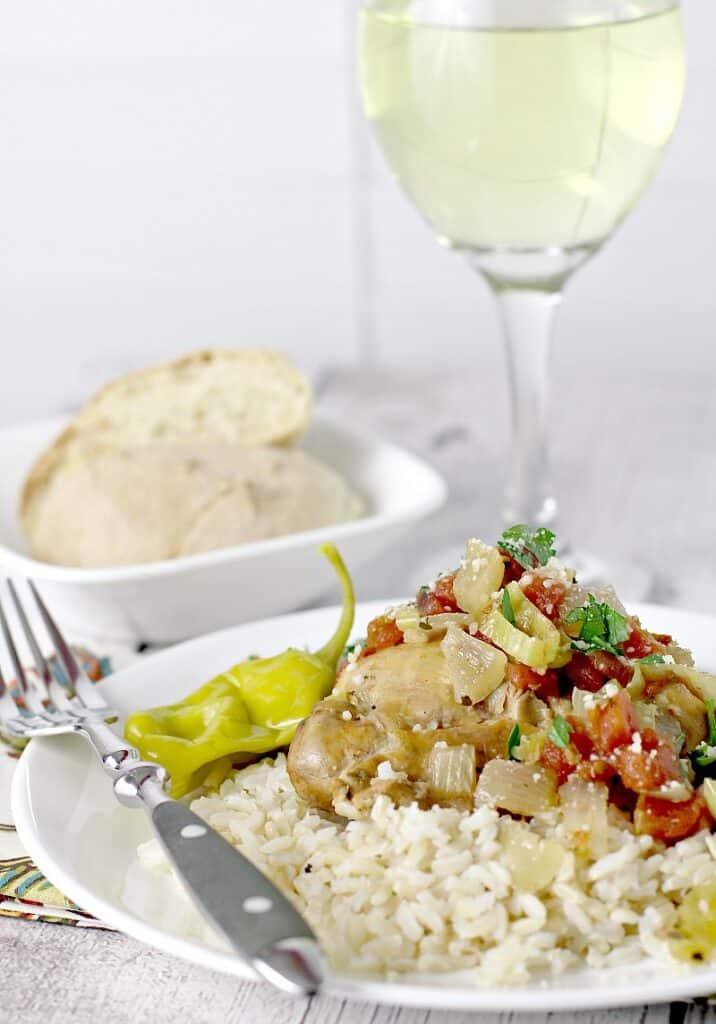 Also, if you want a super easy, fool-proof way to cook Perfect Brown Rice, I got you boo.
This recipe reminds me of something I imagine you would get in France or Italy – a simple recipe where magic just happens.
I was worried that with the tomatoes and peppers that this would come out tangy, but it really is not at all.
It all comes together into this total umami moment and you will lick your plate clean.
Here are More Italian-inspired Recipe Ideas
So that's it folks. This simple pulled chicken dinner is as easy as it gets, giving you healthy, delicious, clean eats for din-din.
Pepperoncini chicken is balance, flavorful, and so easy you just have to try it.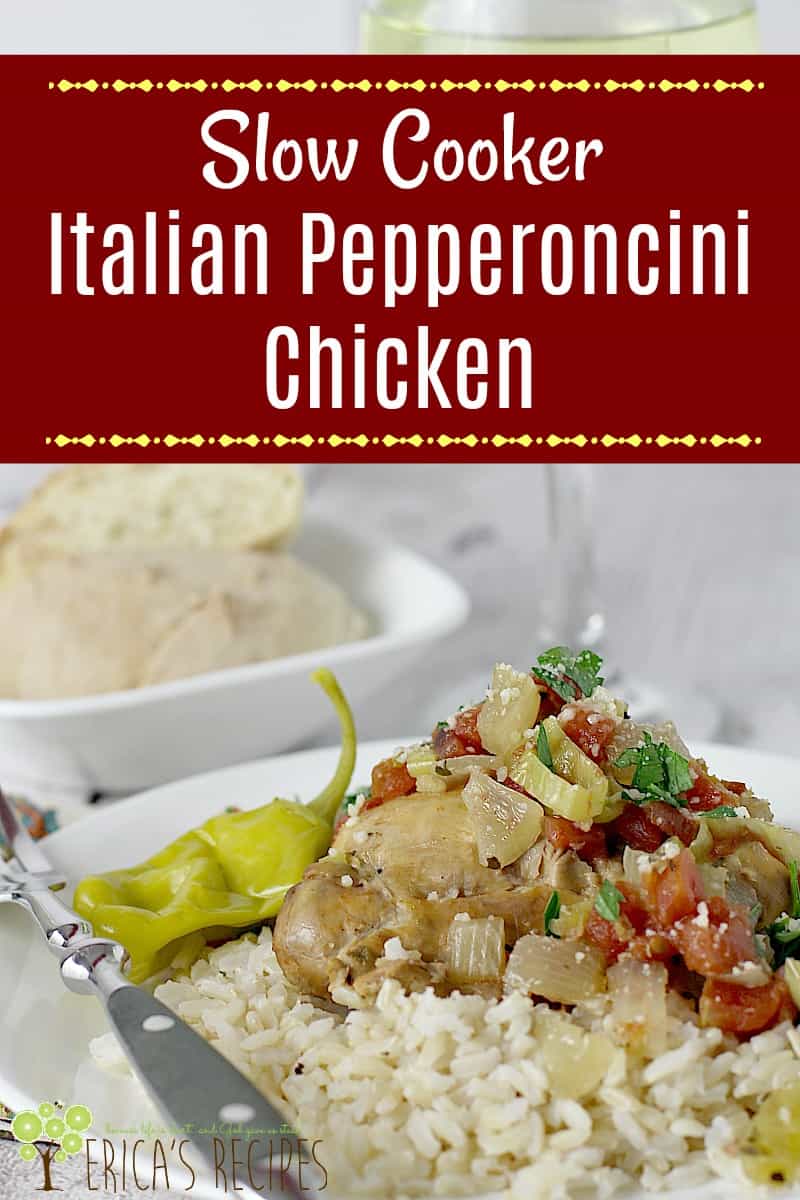 Hit the P for Pinterest button below this post to save this recipe.
If you make it, post on Instagram and tag @ericasrecipes.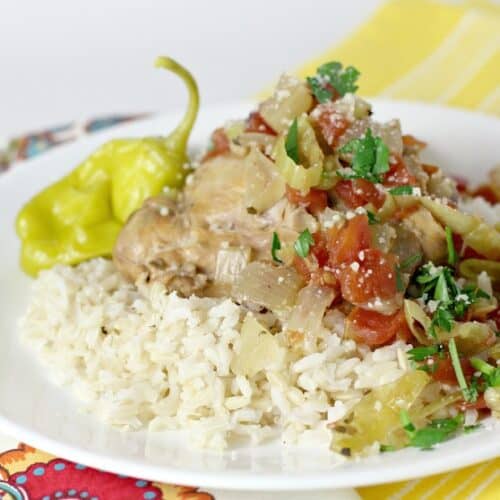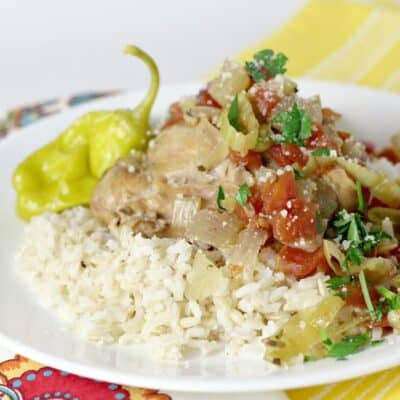 Slow Cooker Italian Pepperoncini Chicken
Slow Cooker Italian Pepperoncini Chicken supper takes just a couple minutes to throw together into the crock-pot for a healthy, delicious dinner.
Ingredients
2 to 2-1/2

lbs

bone-in skinless chicken thighs

½

tsp

dried Italian herb seasoning mix

or just dried oregano

pinch

crushed red pepper

2

cloves

garlic minced

1

small onion

diced

1

cup

thinly sliced pepperoncini peppers

1

can diced tomatoes

with the juice

1

oz

reserved pickling juice from the pepperoncini jar

garnish: fresh chopped parsley and grated Parmigiano-Reggiano cheese
Instructions
Put the chicken in a single layer in the crockpot. Season well with salt and pepper.

Sprinkle over the Italian seasoning and crushed red pepper. Layer in the garlic, onion, peppers, and tomatoes (with the juice!).

Lastly, add in the reserved pickling juice from the pepperoncini.

Set pot to low and let her go 8-10 hours. 

Use 2 forks to break up the chicken into chunks. Discard the bones and cartilage.

Use a slotted spoon to serve over rice, topped with a sprinkling of parsley and cheese. Yields: 4 servings.
Notes
I recommend serving this healthy dinner over brown rice. For the easiest brown rice directions EVER, see mine here.
Note that the calorie count is an estimation and is only for the ingredients listed.
Nutrition
Calorie count is purely an estimate calculated using an online application to serve as a guide and not to be taken as accurate nutritional information. Percent Daily Values are based on a 2,000 calorie diet.
Tried this recipe?
Leave a comment below and let me know!
~✿♥✿~