Grown-up Mixed Berry Shortcake
Blueberries and strawberries simmered with red wine to make a beautiful, elevated sauce to top light and sweet angel food cake. This red, white, and blue Grown-up Mixed Berry Shortcake is a perfect dessert for your next patriotic party.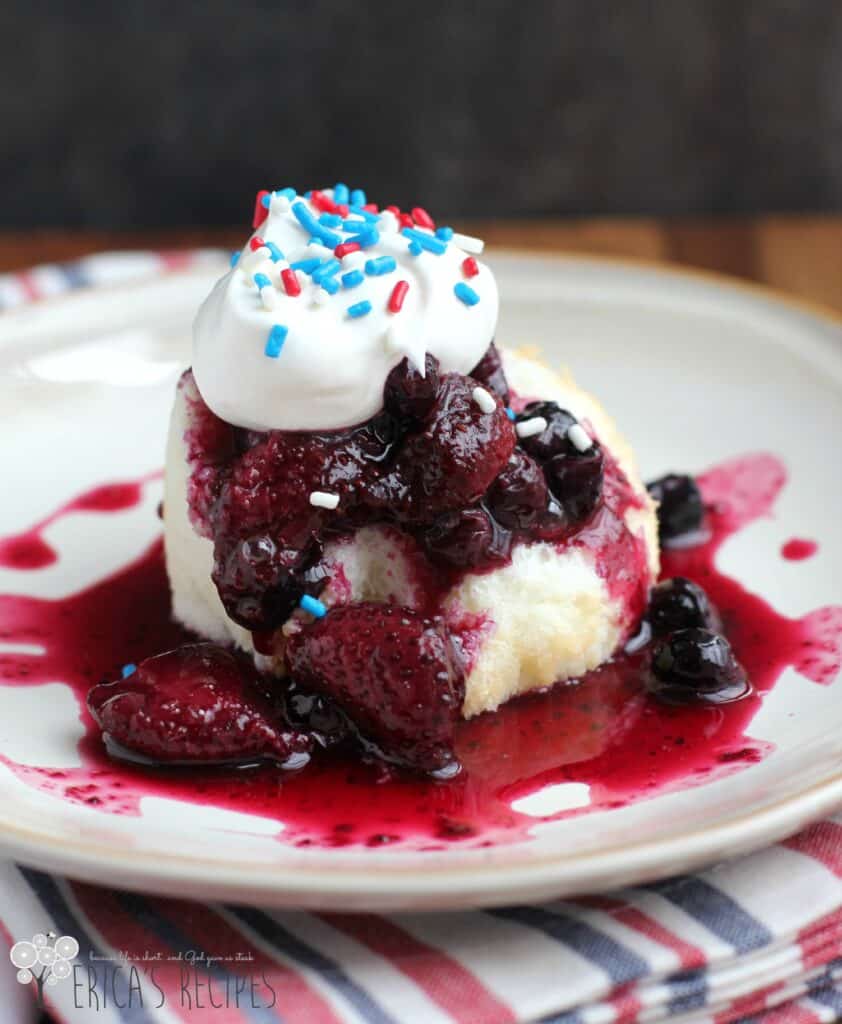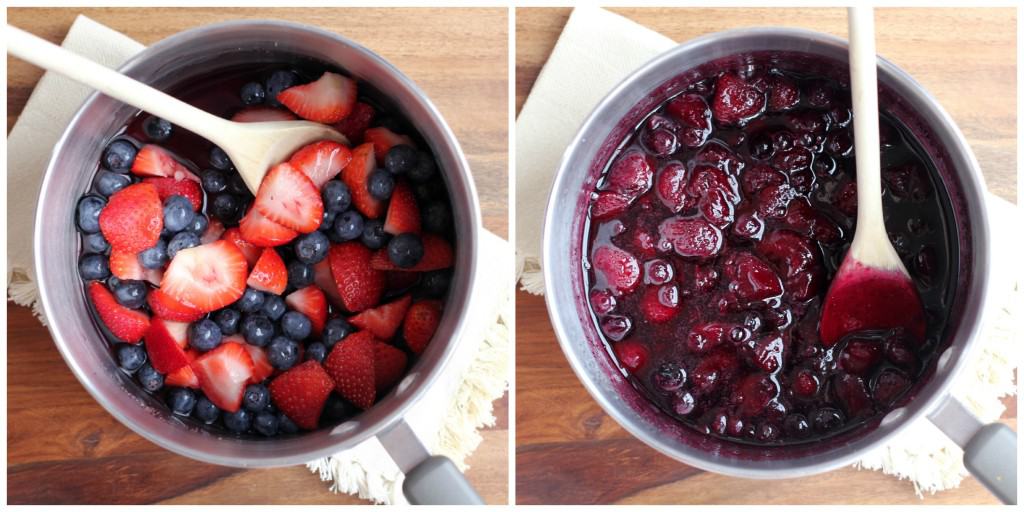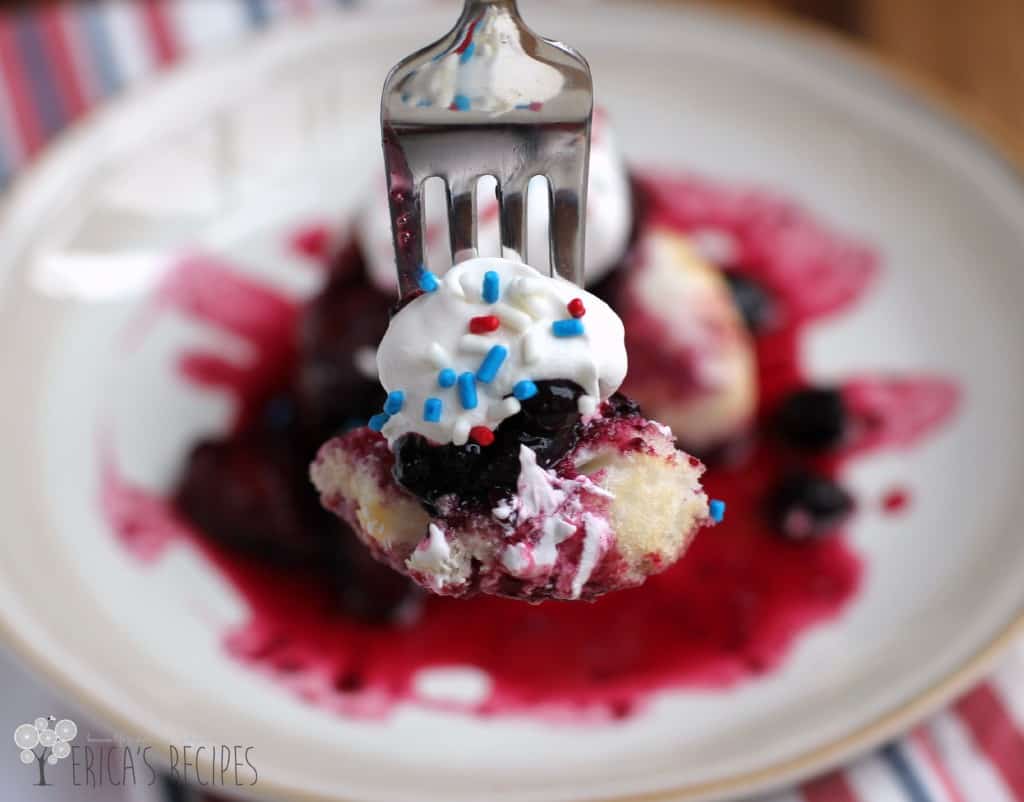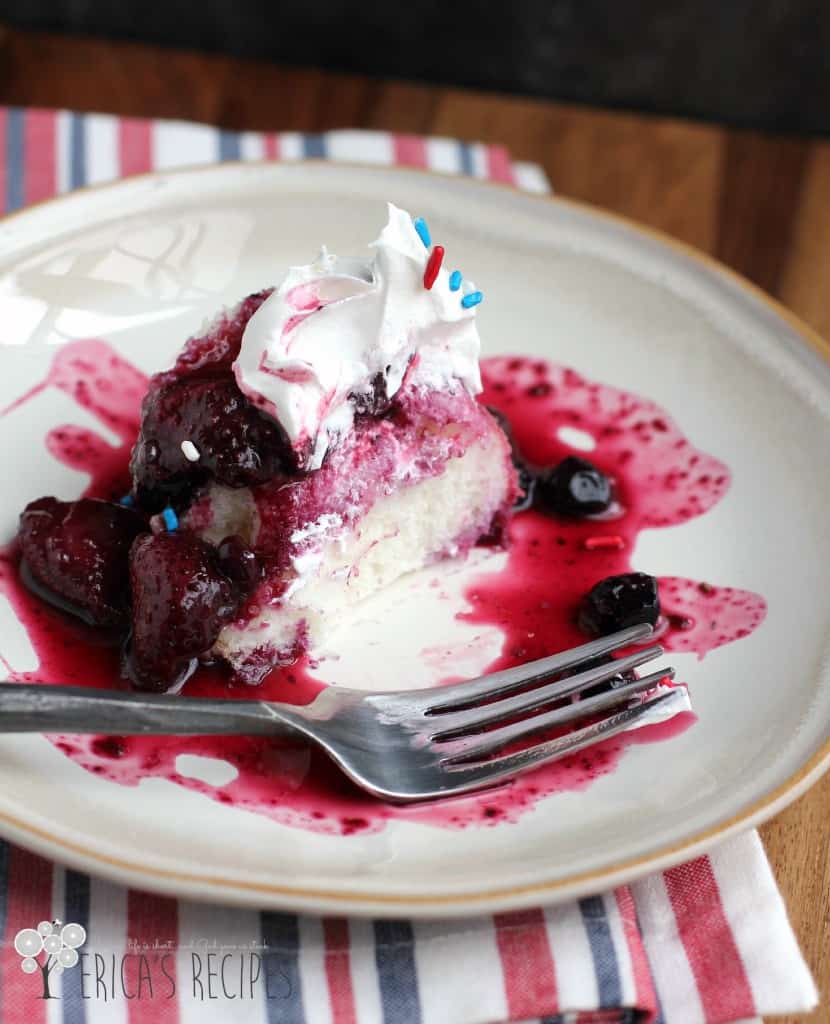 Isn't this dessert perdy?! We enjoyed this bit of heaven for 4th of July this year. As I said with my Red Velvet Cake Mix Cookies, we do get into our Patriotic Desserts in my house!
First, we've got berries. Yummy, sweet, beautiful berries. Who doesn't get happy with berries! I'm calling this recipe "grown-up" because I cooked these berries in red wine to make them even awesome-er, but this festive dessert is not just for grown-ups. That's because the beautiful thing about cooking with booze is that the booze cooks off. So, with this elevated – dare I say sophisticated? – berry sauce, I let my kids have right at it.
Then there's cake. In lieu of true "shortcake", I went with light, fluffy Angel food cake. And I used boxed cake. Proudly. …Why? Because I wanted to keep this easy. Because on a holiday weekend where I'm grilling and chilling with my family, I am not going to make Angel food cake from scratch. Ain't gonna happen. But I did add some vanilla to the mix to cut the sweetness some and step up the flavor a bit further.
If I wanted to get really lazy, I could have use purchased whipped cream or topping, but I drew the line there. Only takes some cream, sugar, and a cold bowl to whip up cream quickly, and flavor-wise there's just no comparison.
All together, this dessert was crazy sexy tasty, and one we will enjoy time and again!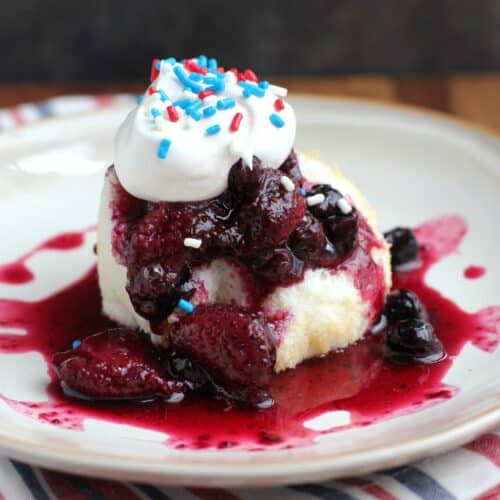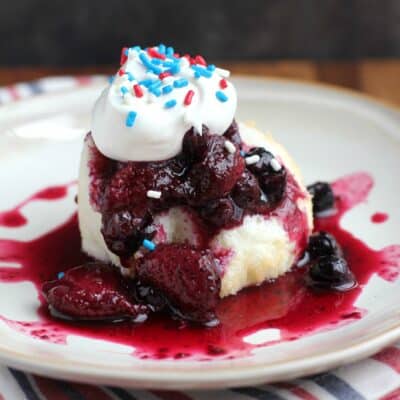 Grown-up Mixed Berry Shortcake
Ingredients
1

16 oz box Angel food cake mix

1

t

pure vanilla extract

4 

c

strawberries

stemmed and quartered

2

c

blueberries

½

c

granulated sugar

¼

t

lemon zest

2 

t

vanilla

½

c

red wine

pinch

salt

1

c

heavy cream

1

t

granulated sugar

multicolored jimmies

aka sprinkles
Instructions
Prepare the Angel food cake according to package directions in a large bundt pan, except add 1 teaspoon vanilla to the batter. Once done, remove from the oven and set aside to cool.

To a medium saucepan, add the strawberries, blueberries, lemon zest, sugar, vanilla, and wine. Bring to a boil, reduce heat to medium, and simmer 30 minutes to get the berries all macerated and happy. Remove from the heat and allow to cool completely. (Note: Once cooled, this sauce will thicken a bit. I didn't find it necessary, but a little cornstarch can be added to thicken the sauce further if desired.)

In a chilled glass bowl, whip the cream to soft peaks. Whip in 1 teaspoon sugar or more to taste.

To serve, put a slice of cake on a plate. Top with berry sauce and whipped cream. Finish with some sprinkles. Yield: 8-10 servings.
Calorie count is purely an estimate calculated using an online application to serve as a guide and not to be taken as accurate nutritional information. Percent Daily Values are based on a 2,000 calorie diet.
Tried this recipe?
Leave a comment below and let me know!
~✿♥✿~