Gorgeous fresh salmon, melty cheese, a little schmere of flavorful yogurt dip, and toasty bread. These are the required elements to give you the Best Salmon Melt sandwich. Ever.
This website uses affiliate links which may earn a commission at no additional cost to you. As an Amazon Associate I earn from qualifying purchases.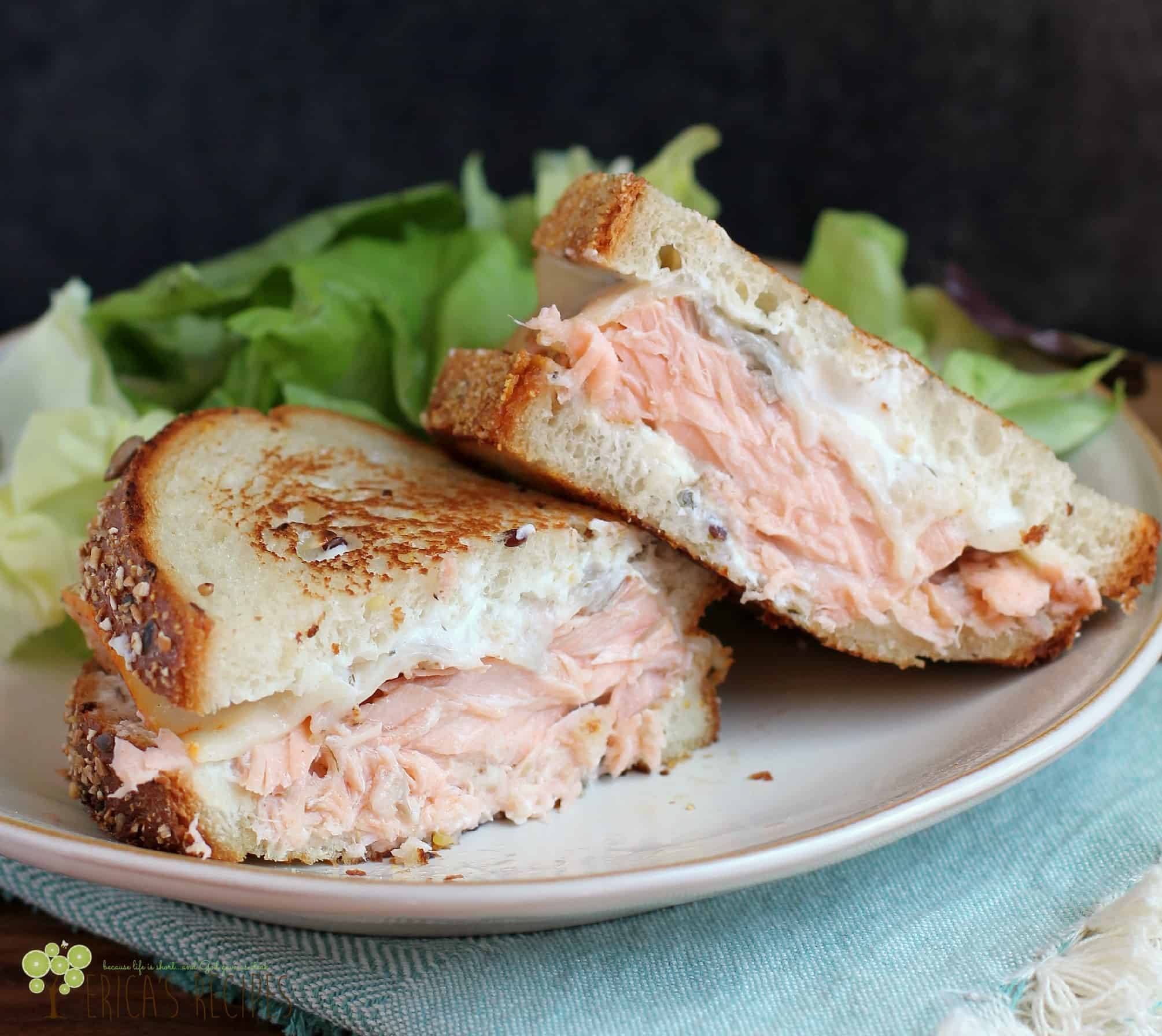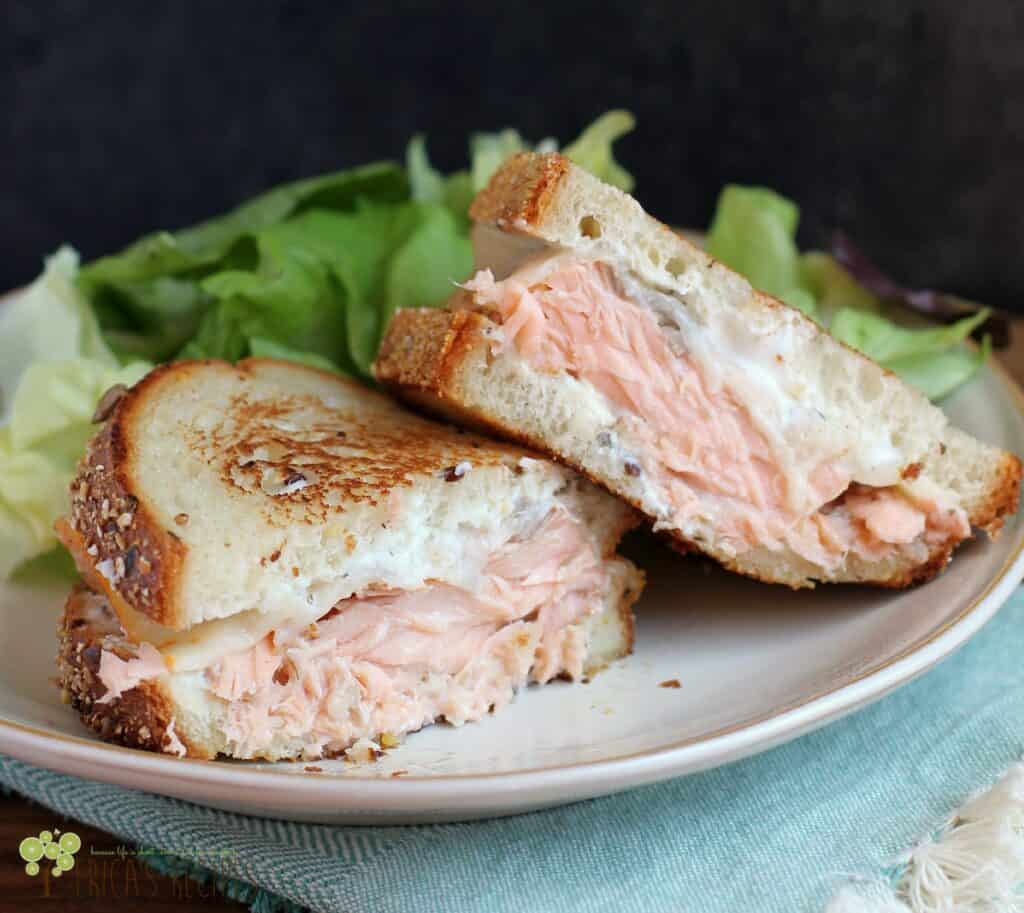 Confession ….I am a pescetarian. At least, I have been for the past week anyway…
My daughter came to me a week ago and said she wanted to give being a vegetarian a go, but she still wanted to keep seafood because a) seafood is just too awesome and b) even at 11 years old, she recognizes the importance of protein (putting aside the whole debate on animal vs vegetable sources of protein, I'm just happy she's thinking about nutrition). I told her "there's a term that!" and, seeing an opportunity to 1) have a new "thing" with her to bond over and 2) just get her to eat more veggies, I agreed to join her.
What will this mean for Erica's Recipes? ….nuthin. You may see a few more seafood and vegetarian dishes, but my husband is certainly not signing on to this and I have no intention of changing my healthy 75% / splurge 25% formula. So rest assured, you'll still get a bit of everything here!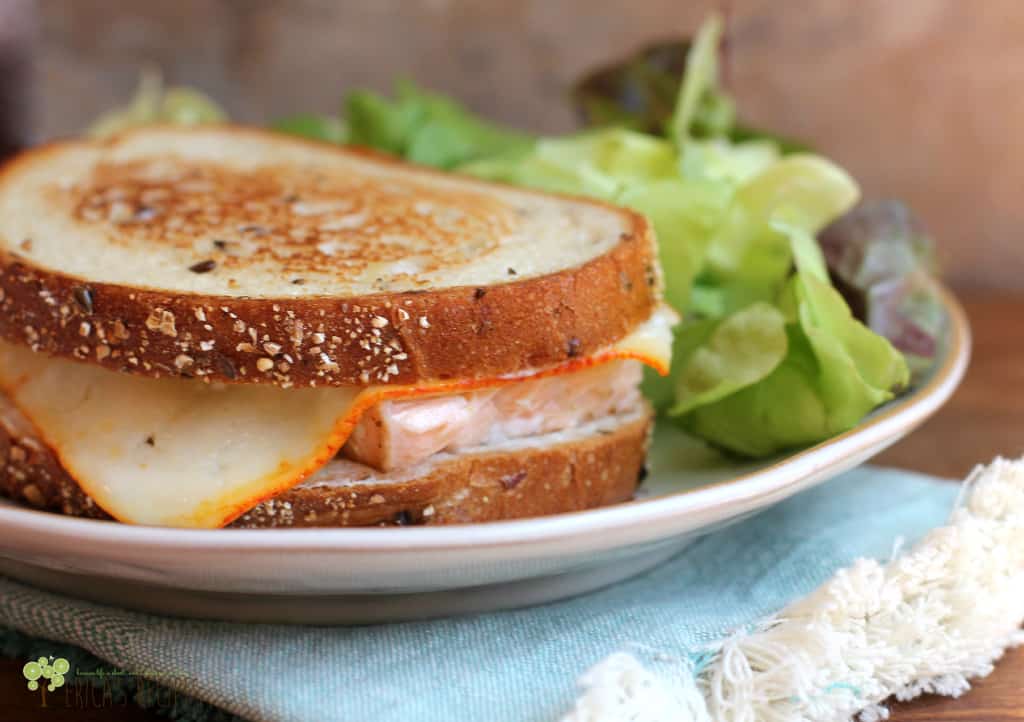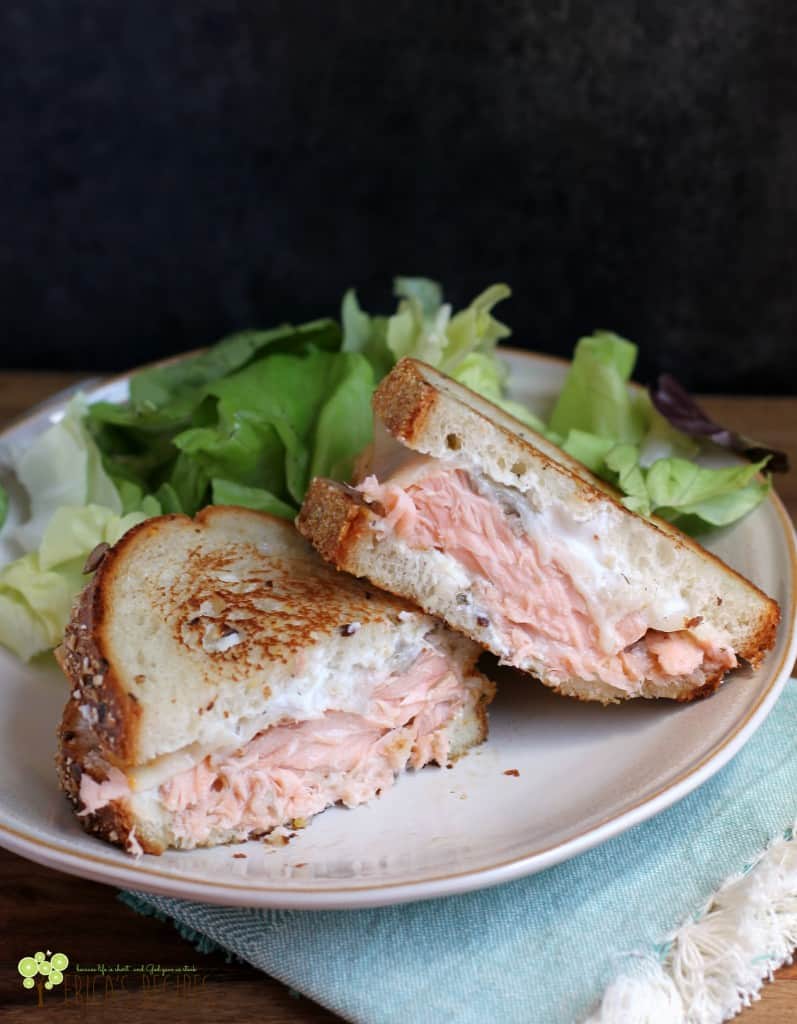 The Best Salmon Melt Sandwich
Now about this Best Salmon Melt sammie! I use the word "best" to describe my recipes very very rarely …actually I have only used it once before on this site (see my Sausage Stuffing for the best EV-AH!). But saying I make the best of something is just silly – have I tasted every such-and-such in the world? Do I think I am the best there is? Will other people agree? Cuh-LEARLY no.
But I do know this – this sandwich, kept simple with fresh salmon, toasty bread, a little added creaminess, and just a touch of dill – is how this a Best Salmon Melt should be. I have made salmon melts with all kinds of lettuces, herbs, sprouts, cheeses, breads, etc etc etc, but this way right here is the best. It just is.
What we do here is take some DELICIOUS fresh salmon, season with seafood seasoning (yes, I mean Old Bay), and give it a quick bake. Layer that on bakery bread with creamy Muenster cheese and flavorful yogurt dip (I bought some, but you can make some EASILY), and give a quick toast in the pan.
Voila! Toasty delicious sandwich, with succulent juicy pink salmon.
So that's it folks! A scrumptious sandwich that is as pretty as it is toasty tasty. Try something different from the old tuna melt, and make yourself this fresh salmon recipe, the Best Salmon Melt ever.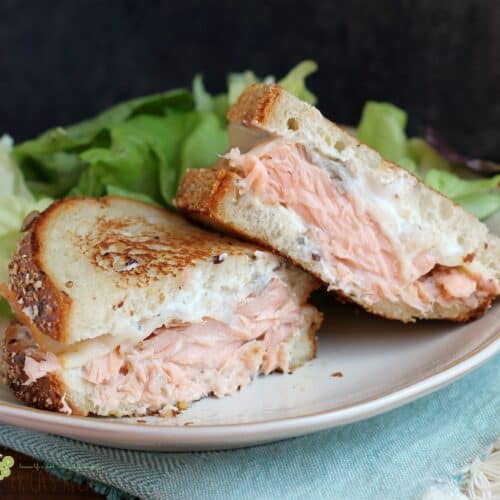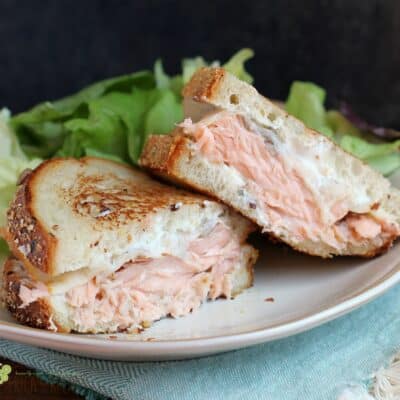 The Best Salmon Melt
Gorgeous salmon, melty cheese, a little schmere of flavorful yogurt dip, and toasty bread. These are the required elements to give you the Best Salmon Melt. Ever.
Ingredients
1

lb

salmon

with the skin on

pinch

kosher salt

pinch

fresh cracked pepper

2

pinches

Old Bay seafood seasoning

4

slices

Muenster cheese

½

cup

Greek yogurt dip with cucumber and dill

such as Oikos brand, available in the dairy aisle (see Notes)

8

slices

multigrain Italian bread or other good bakery sandwich bread
Instructions
Place the salmon, skin-side down on a bake pan (you can line the pan with foil to make cleanup much easier). Season with salt, pepper, and, generously, Old Bay. Bake at 400°F for ~12 minutes until fish flakes with a fork and is just barely cooked through. Remove from the oven and set aside.

Put a large, nonstick pan to heat on medium-high heat.

Lay out the 8 slices of bread. Spread each bread slice with Greek yogurt dip. Place a slice of cheese on 4 slices of bread. Top the cheese with a piece of salmon. Top the salmon with another slice of bread.

Spray the top of the bread with cooking spray. Also spray the heated pan. Place each sandwich in the pan with the side down that was sprayed with cooking spray. Cook until the bread is toasty. Spray the other side of bread (the side up at this point) with cooking spray and gently flip the sandwich to toast the other side. Serve immediately.
Nutrition
Calories:
478
kcal
(24%)
|
Carbohydrates:
46
g
(15%)
|
Protein:
37
g
(74%)
|
Fat:
16
g
(25%)
|
Saturated Fat:
7
g
(44%)
|
Monounsaturated Fat:
2
g
|
Cholesterol:
72
mg
(24%)
|
Sodium:
861
mg
(37%)
|
Potassium:
73
mg
(2%)
|
Fiber:
3
g
(13%)
|
Sugar:
2
g
(2%)
Calorie count is purely an estimate calculated using an online application to serve as a guide and not to be taken as accurate nutritional information. Percent Daily Values are based on a 2,000 calorie diet.
Tried this recipe?
Leave a comment below and let me know!
If this fresh salmon recipe looks good, check out these other seafood ideas.