Scallion Olive Party Dip Christmas Wreath
Wow your crowd with an epic Christmas appetizer made with the most delicious party dip. Scallion Olive Party Dip recipe is quickly shaped into a Christmas cheese wreath for your best party presentation ever.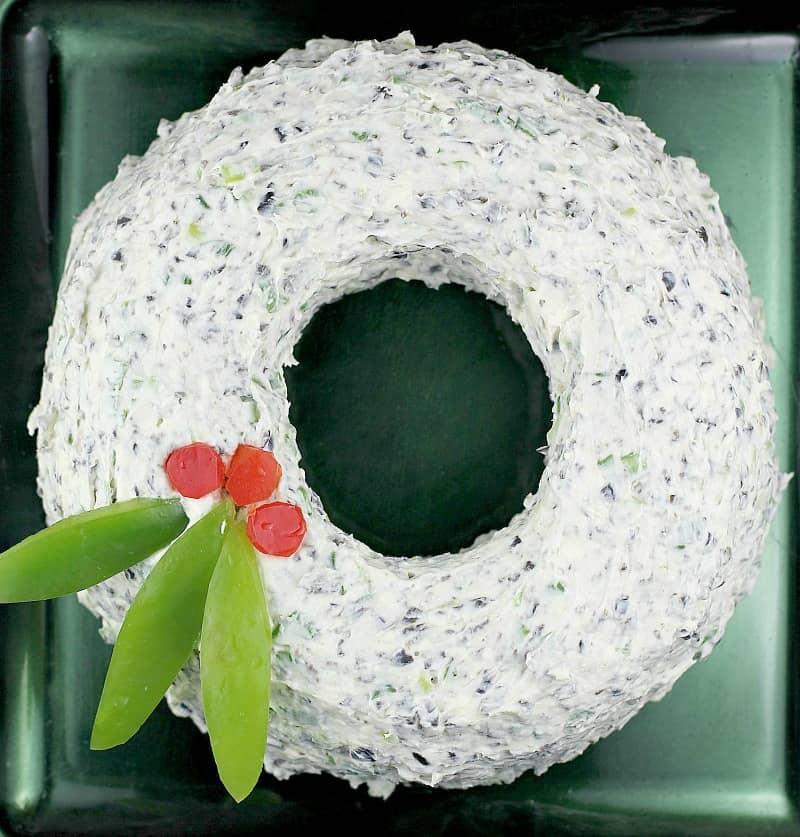 This post was first published April 2013 and updated December 2019 for photos and content.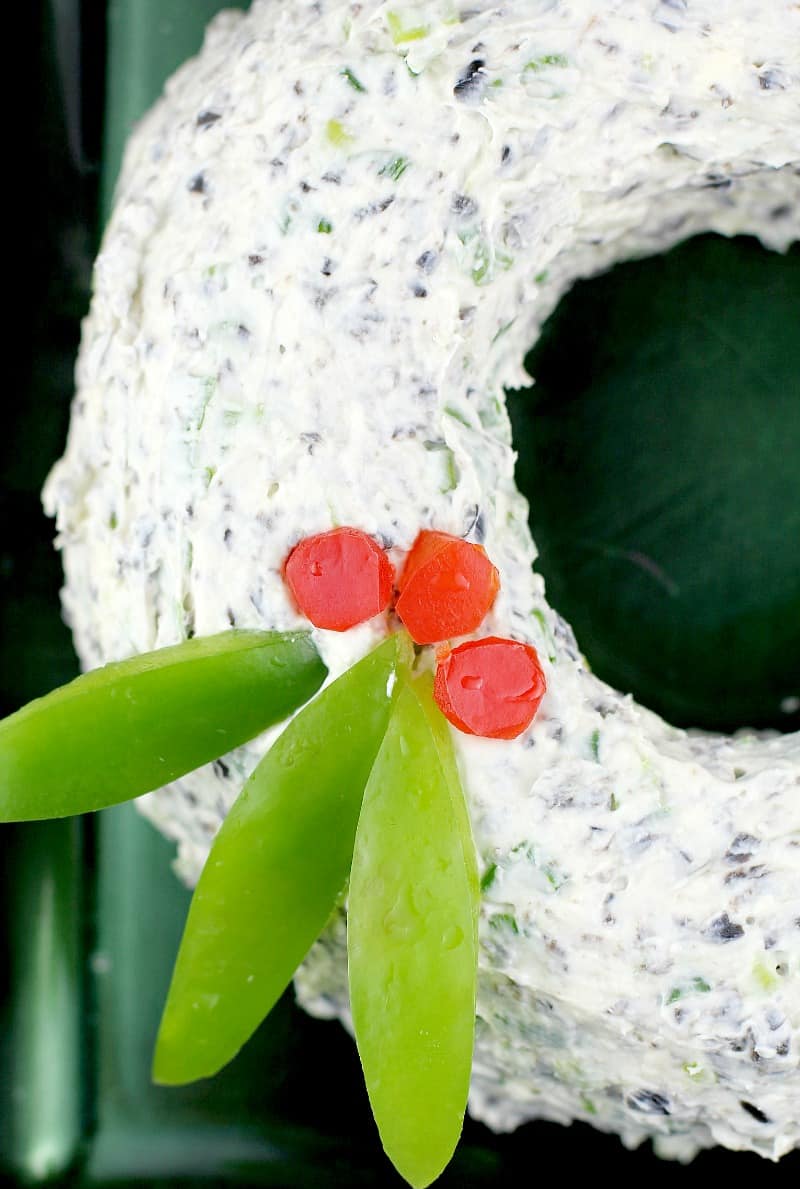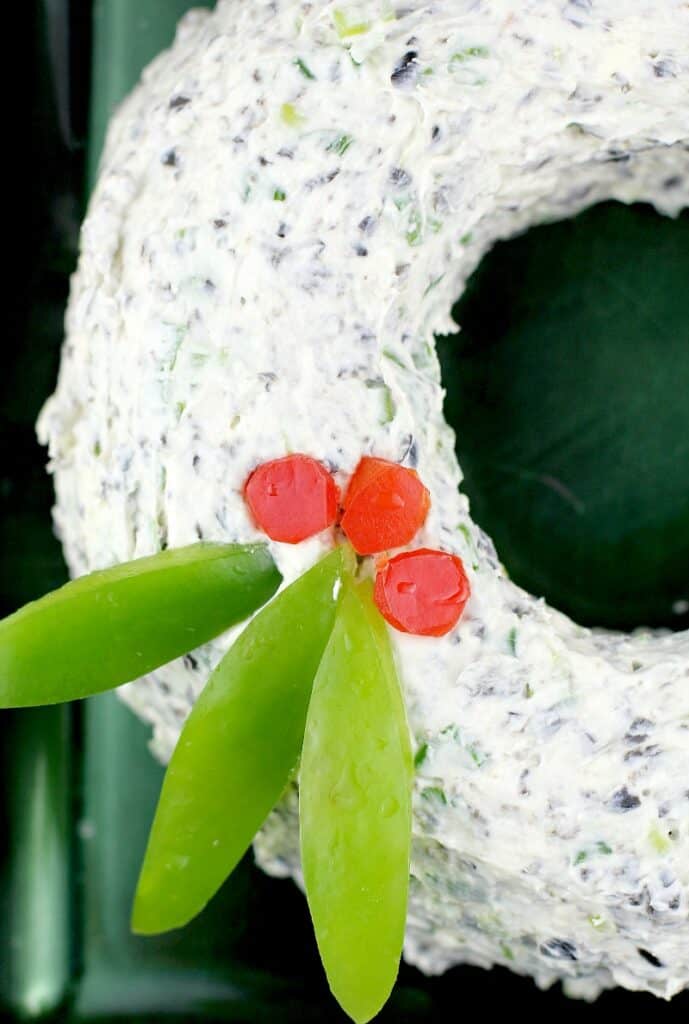 This Scallion Olive Party Dip recipe is really special to me. It is one of the first recipes I learned to make in my life (another being Tuna Noodle Casserole, and maybe egg salad sandwiches before that).
The first time I ever had it, I was a kid. I don't remember if I was a kid kid, or a teen kid, but I was kid. We had gone to my grandparent's sailboat for the day, and my mom brought it.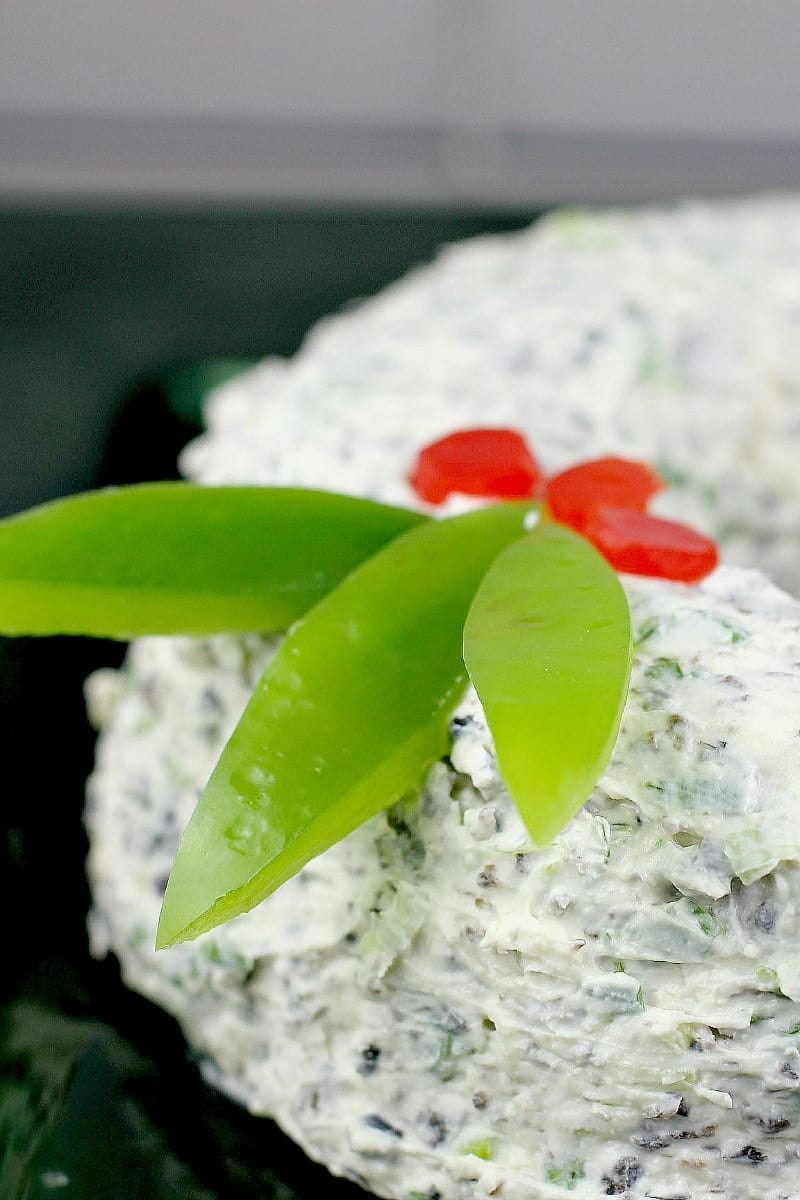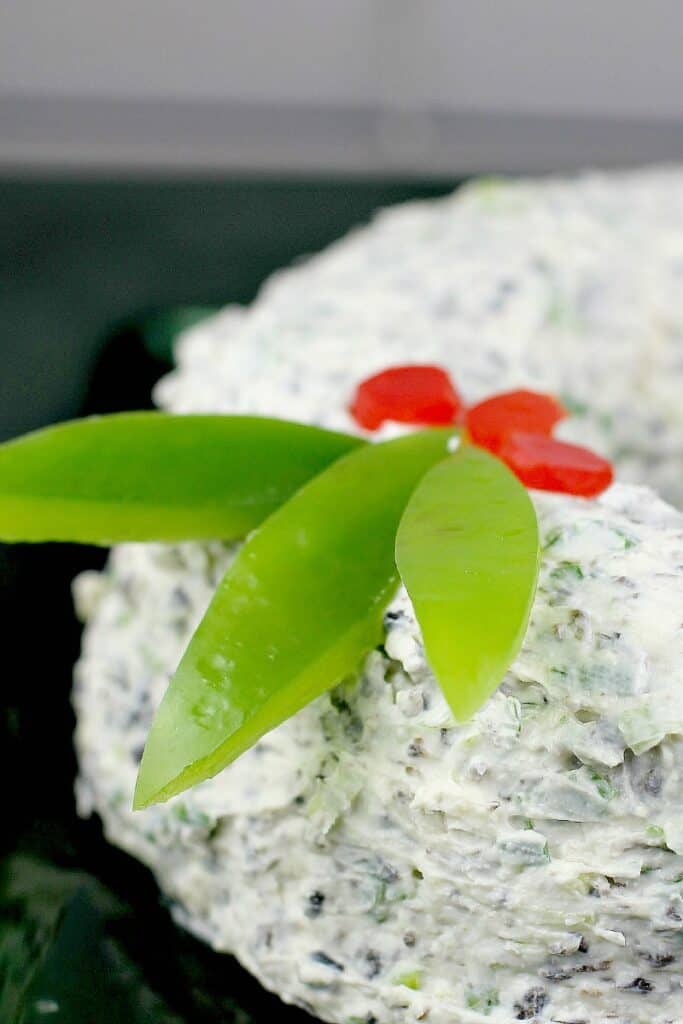 When she told me what was in it, my young self recoiled. But, there were crackers and I am all about cheese and crackers, so I gave it a try.
It was love. I'm not a fan of olives. This dip is not even about them.
This dip is about what magic happens when black olives and green onion and cream cheese and butter come together. It is MAGIC.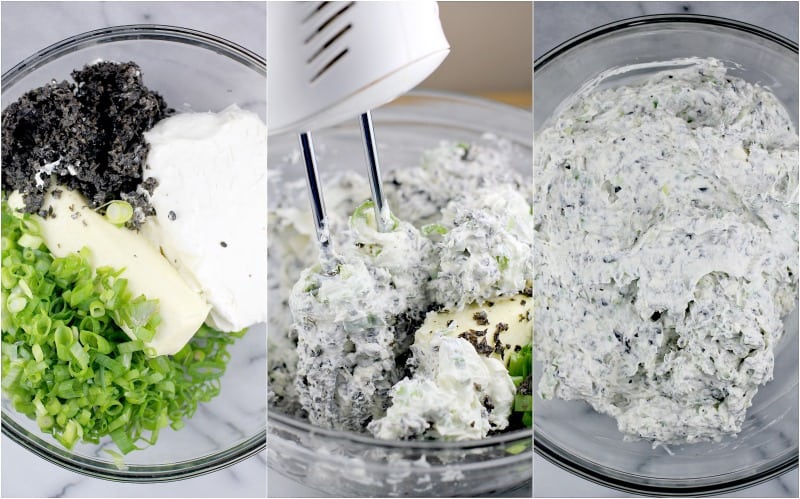 Scallion and olives together may sound like a strange combination – and it is. But this seriously becomes the most amazing spread of my life. Long, long-time family favorite.
This dip itself is super easy to make and I ADORE it. You can make it and put it is a bowl to serve at any occasion. Or in December, you can make the CHEESE WREATH!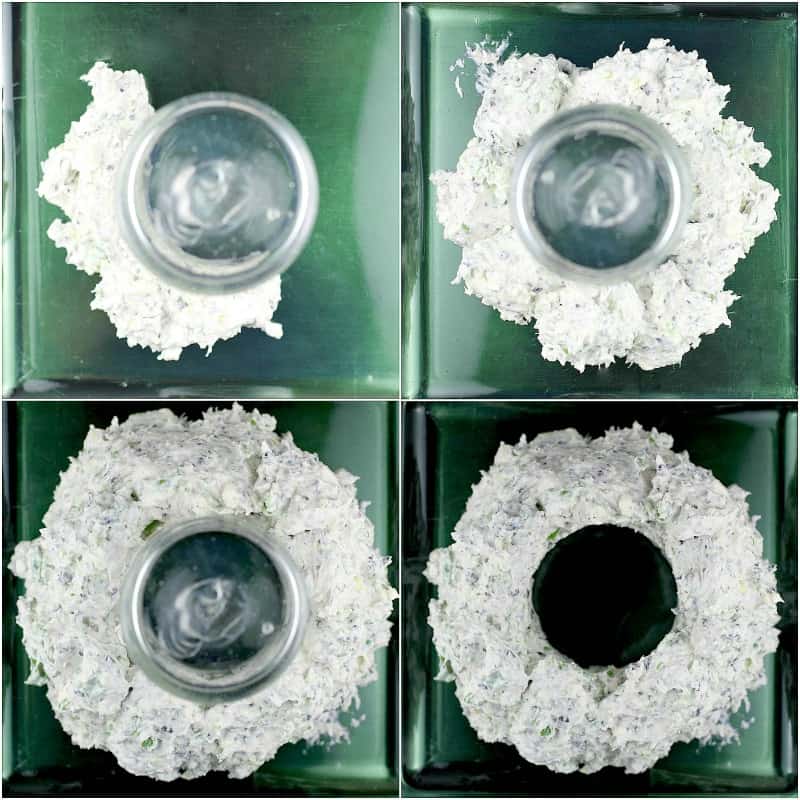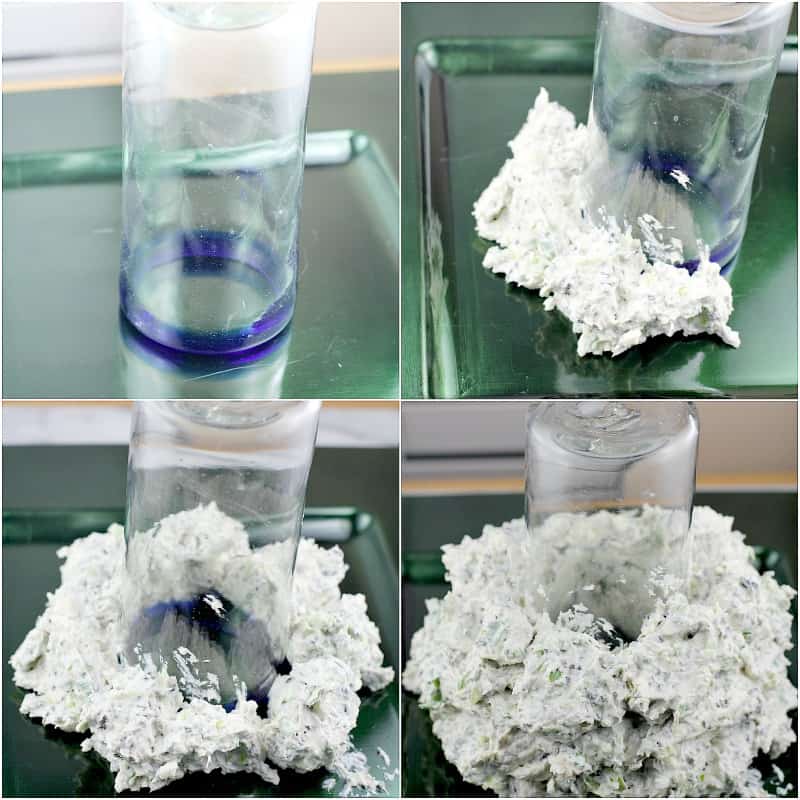 What are the ingredients for Scallion Olive Party Dip
The ingredients for this dip are so simple it's not even fair.
Neuchatel cream cheese (or regular cream cheese)
Butter
Green onion
Black olives
That is all. No salt. No garlic powder. Nuthin, because nothing else is necessary. It is so good as is.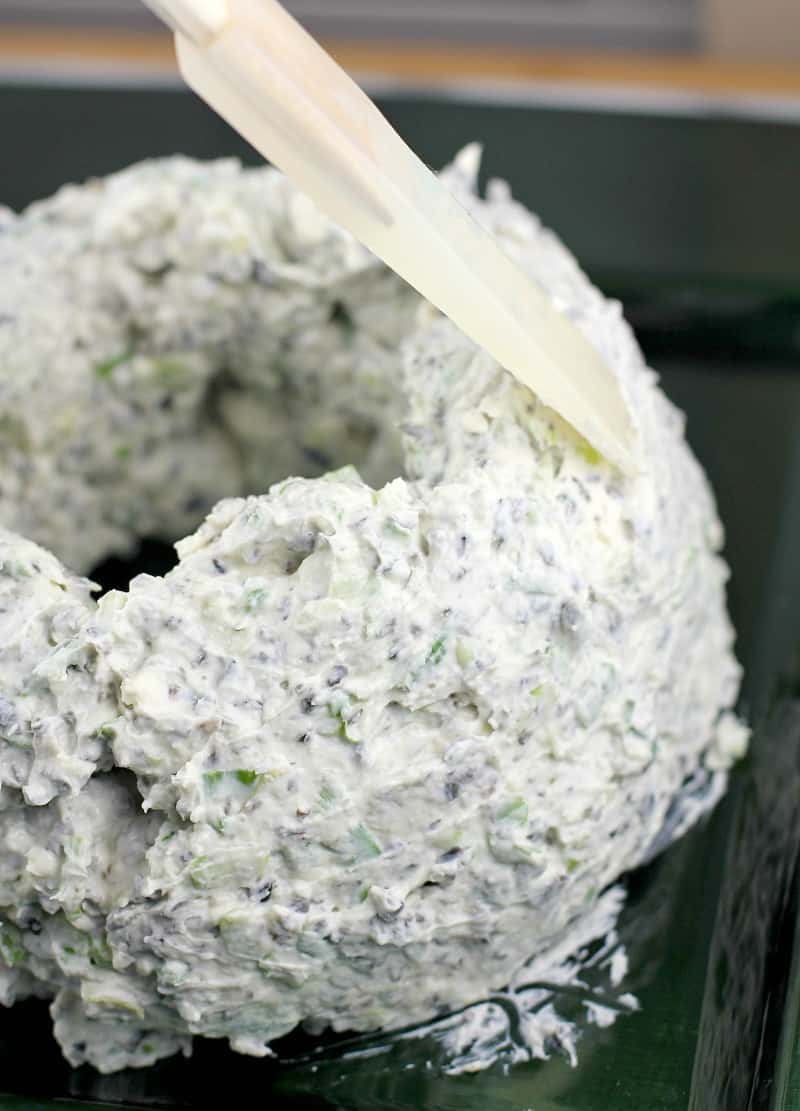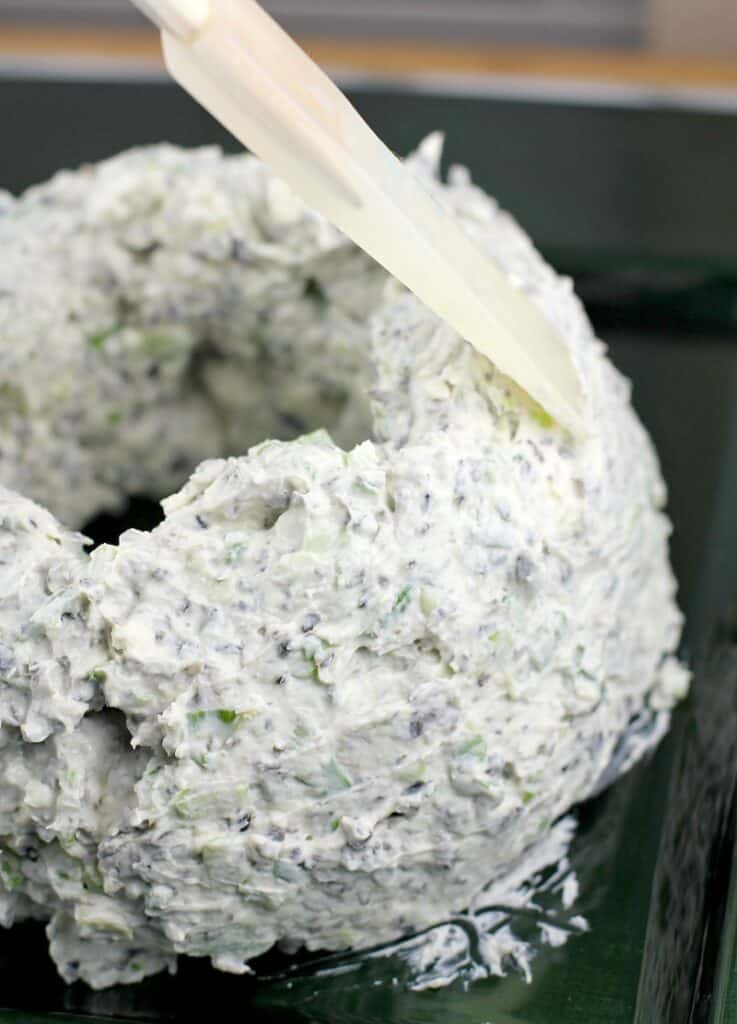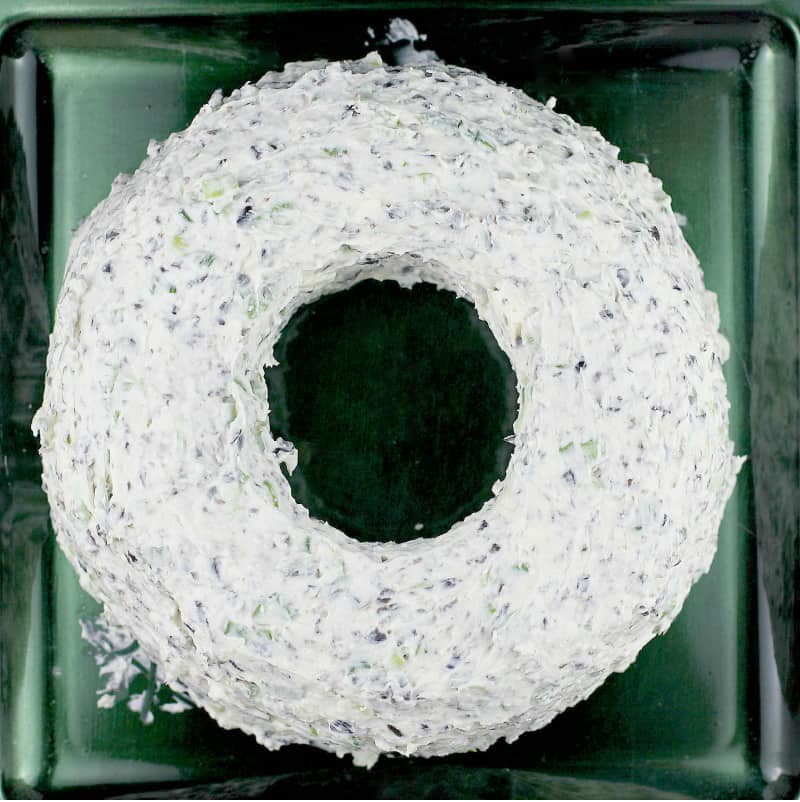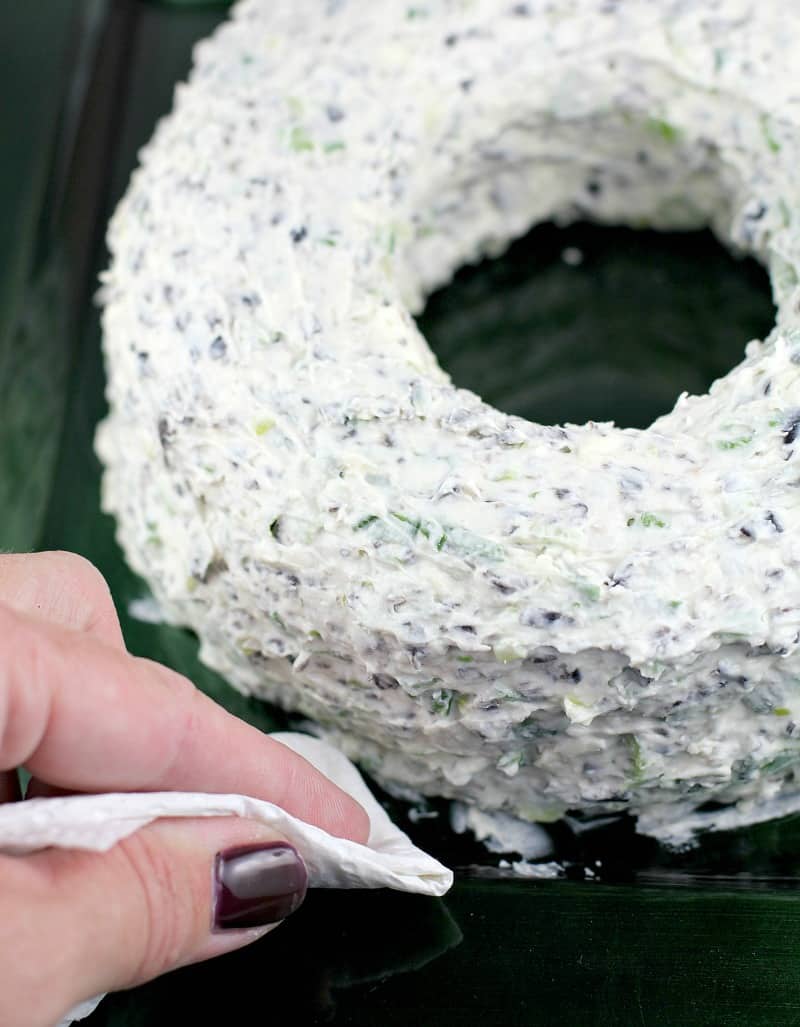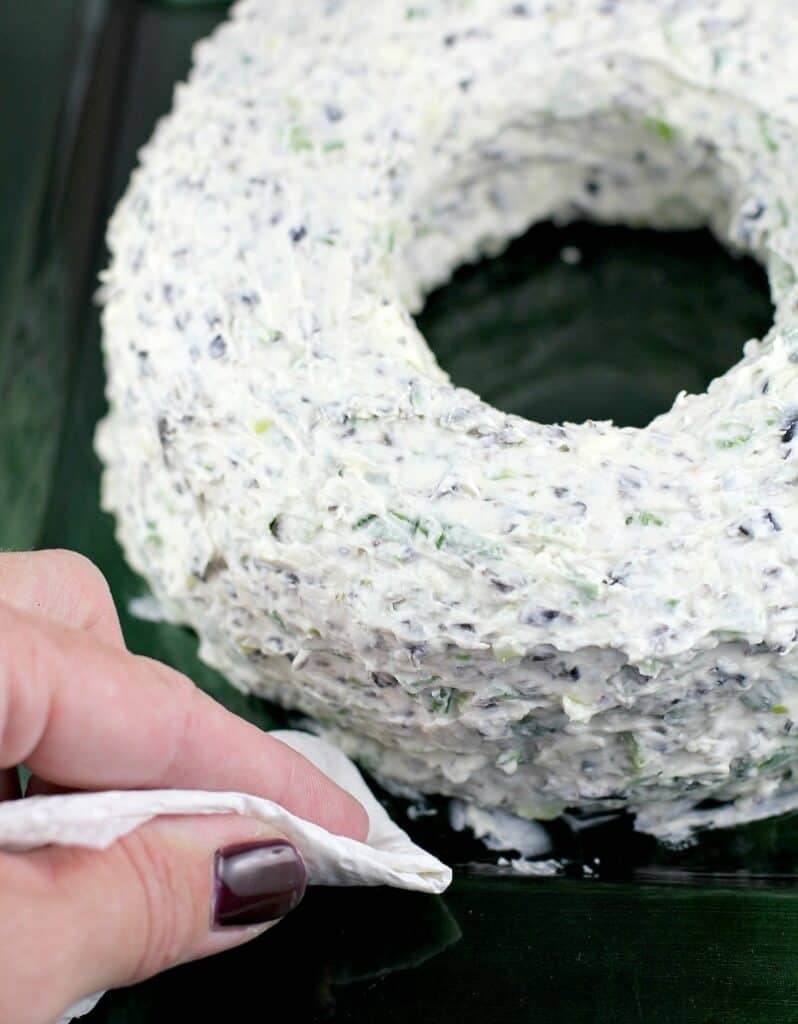 What are the steps to make this party dip
Put all the ingredients in a bowl.
Mix them up.
This dip is the easiest thing ever, so this is really all there is to it.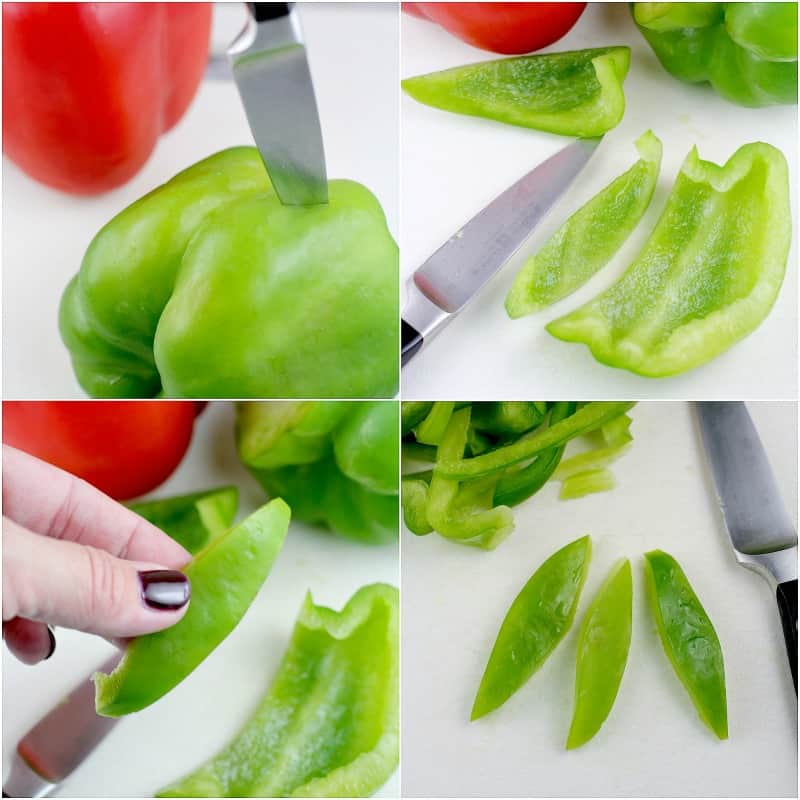 What special tools are need to make this Christmas Appetizer?
All you need to make this party dip is…
Cutting board and knife to chop up the scallion.
Mixing bowl and rubber spatula, because we don't want to leave any behind. We also need the spatula to make the cheese wreath.
Electric mixer – not required, but it makes mixing things up much easier.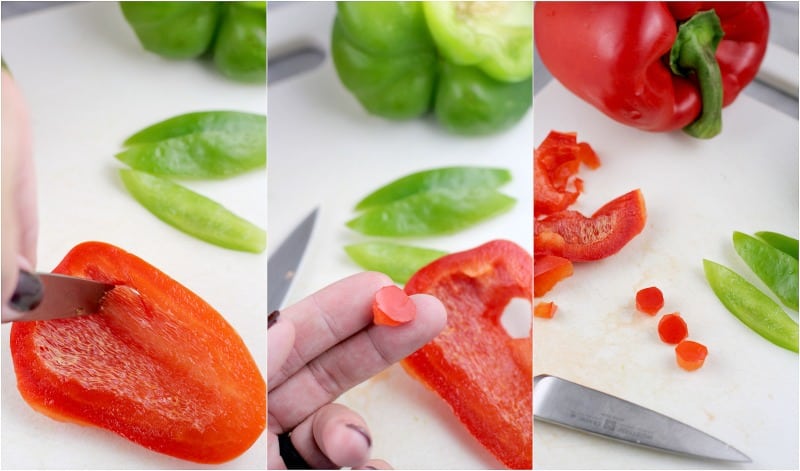 Can this Christmas Appetizer (or anytime snack really) be made ahead?
Yes! you can make this up to 3 days in advance of serving. At the very least, once you mix up this dip, let it chill in the fridge at least 2 hours to let the flavors meld.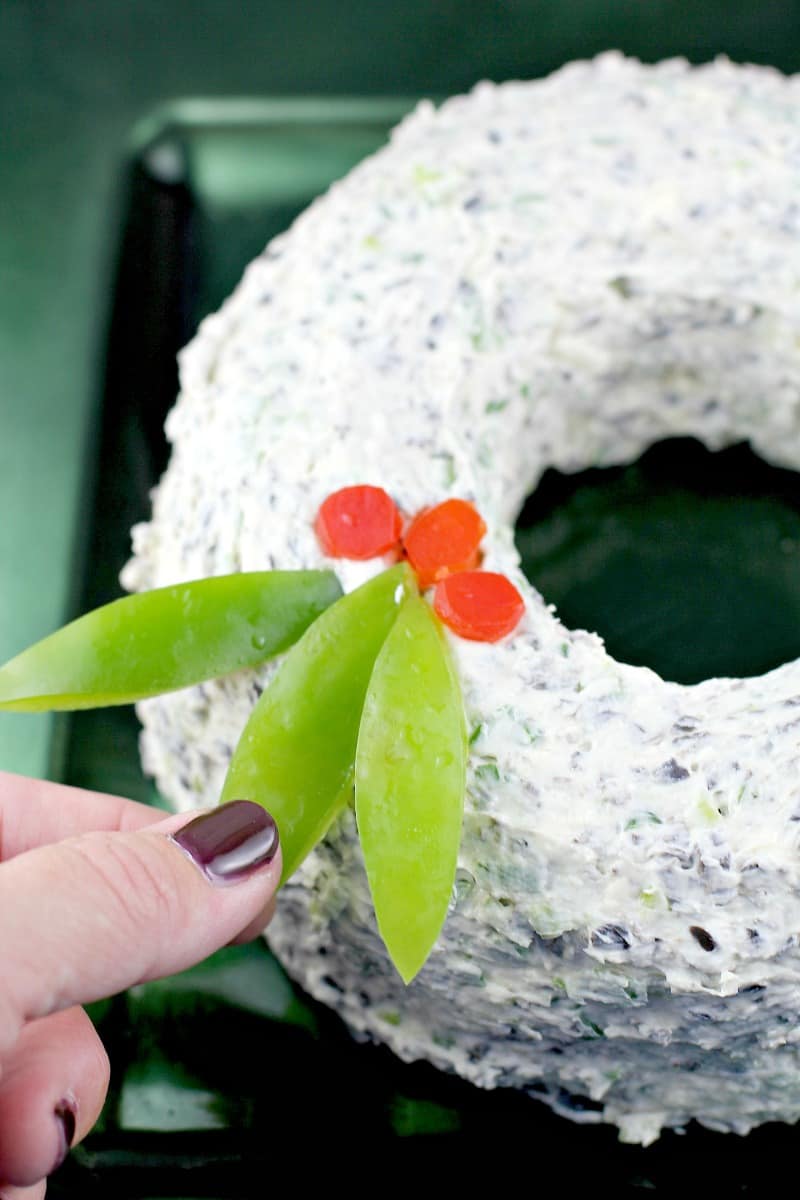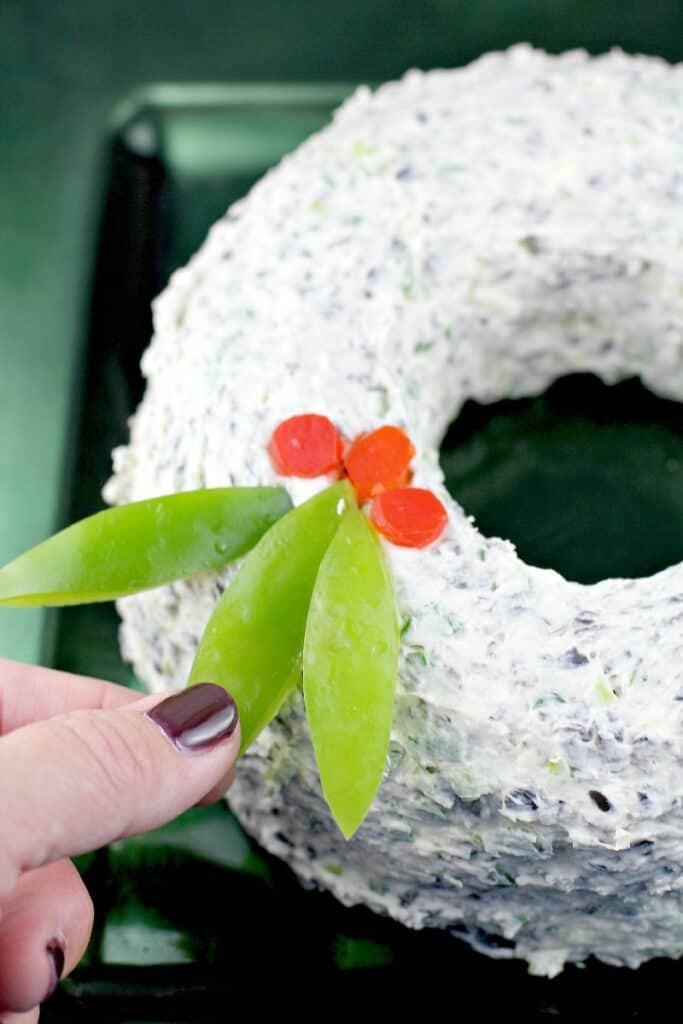 What to serve with this party dip?
Crackers! The following all work, and yes… I have Tried Them All.
Pepperidge Farm Trio Crackers
Pillbury Toasted Party Pack
Keebler Club Crackers (Original or Multigrain)
Triscuit Thins Crackers
Town House Pita Crackers with Sea Salt
Town House Club Crackers
And in a pinch, you can go with Wheat Thins or tortilla chips, but they're not as great as the cracker list above.
I have not yet tried Stacy's Pita Chips with the Scallion Olive Dip, but damn, doesn't that sound good.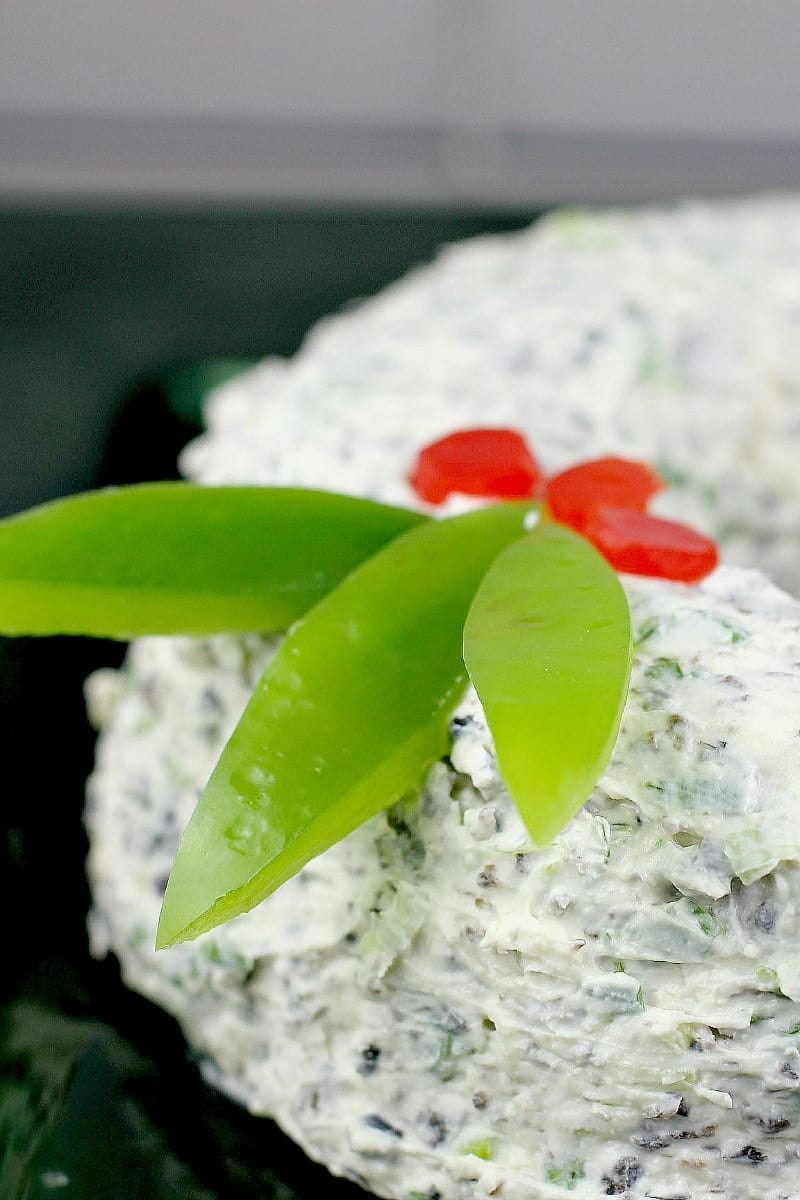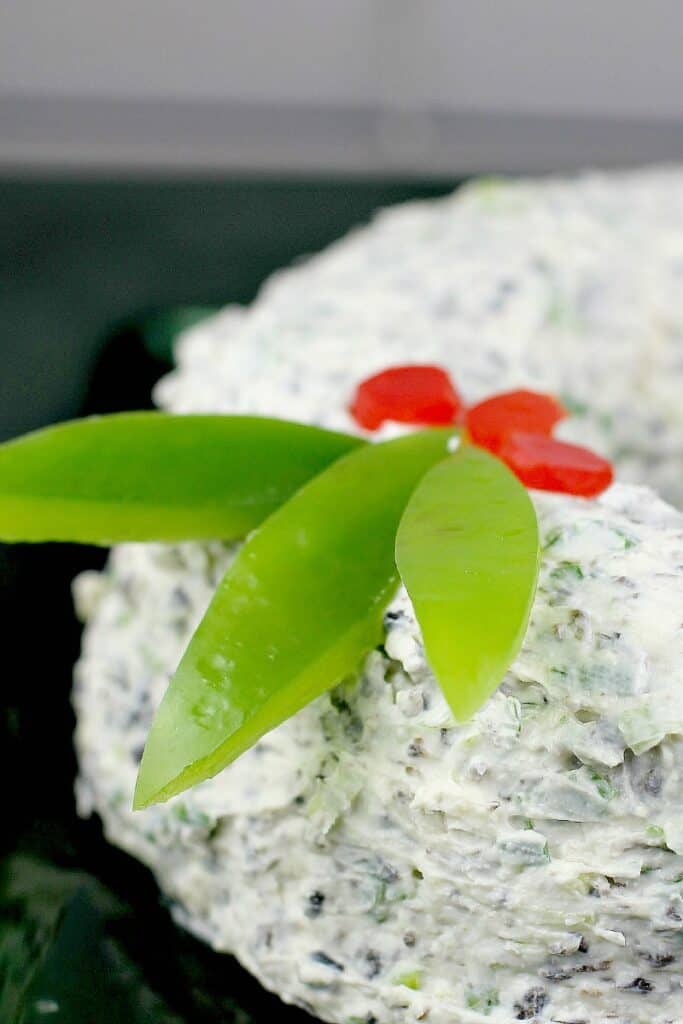 How to make the Epic Scallion Olive Party Dip Cheese Wreath
Okay, this is probably why you're here… for how to make a CHEESE WREATH to literally rule any Christmas Party.
Put a glass on a plate.
Spoon the dip around the glass.
Smooth out the spoonfuls of dip.
Add the garnish, pepper cutouts, to make holly berries and leaves.
This is one of those recipes that looks like it should be hard but Really Isn't. It is easy. And I've done it dozens upon dozens of times.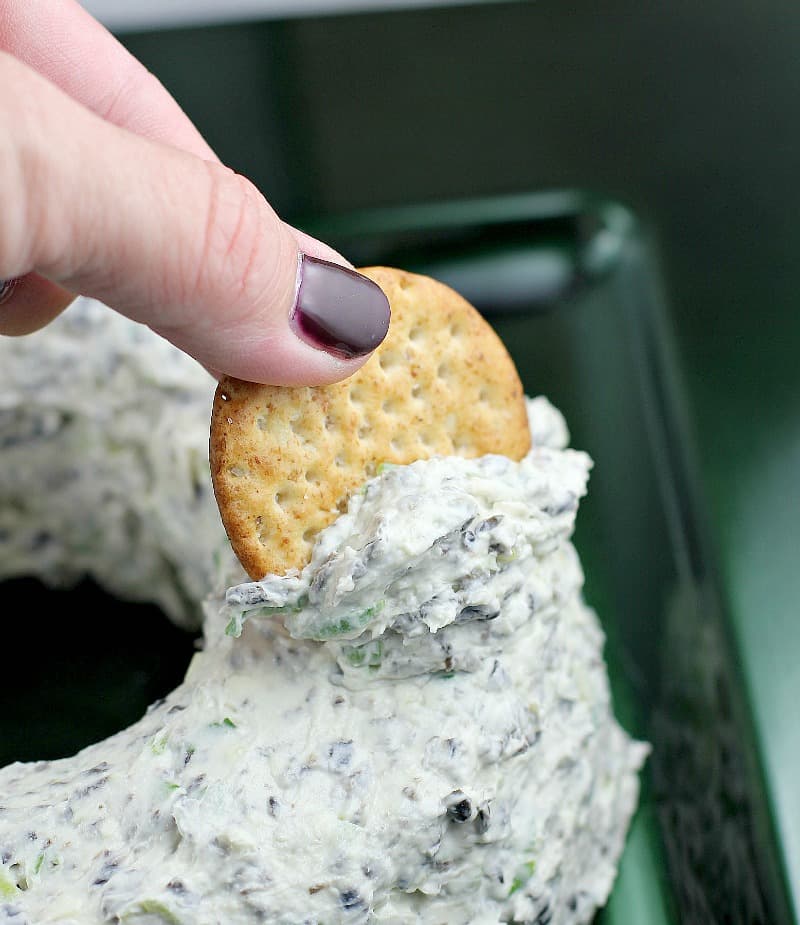 My ONE TIP for the wreath is this… As you are spooning the dip around the glass, spoon up not out – meaning, make the wreath taller rather than wide.
The reason is because as you smooth the cheese out, it will go down. But if you start with a flat-wide wreath, you'll end up with a flatter, wider wreath once you press on it to smooth it out.
So, spoon it stacked, then smooth it out, and easily shape it into a gorgeous bit of party food.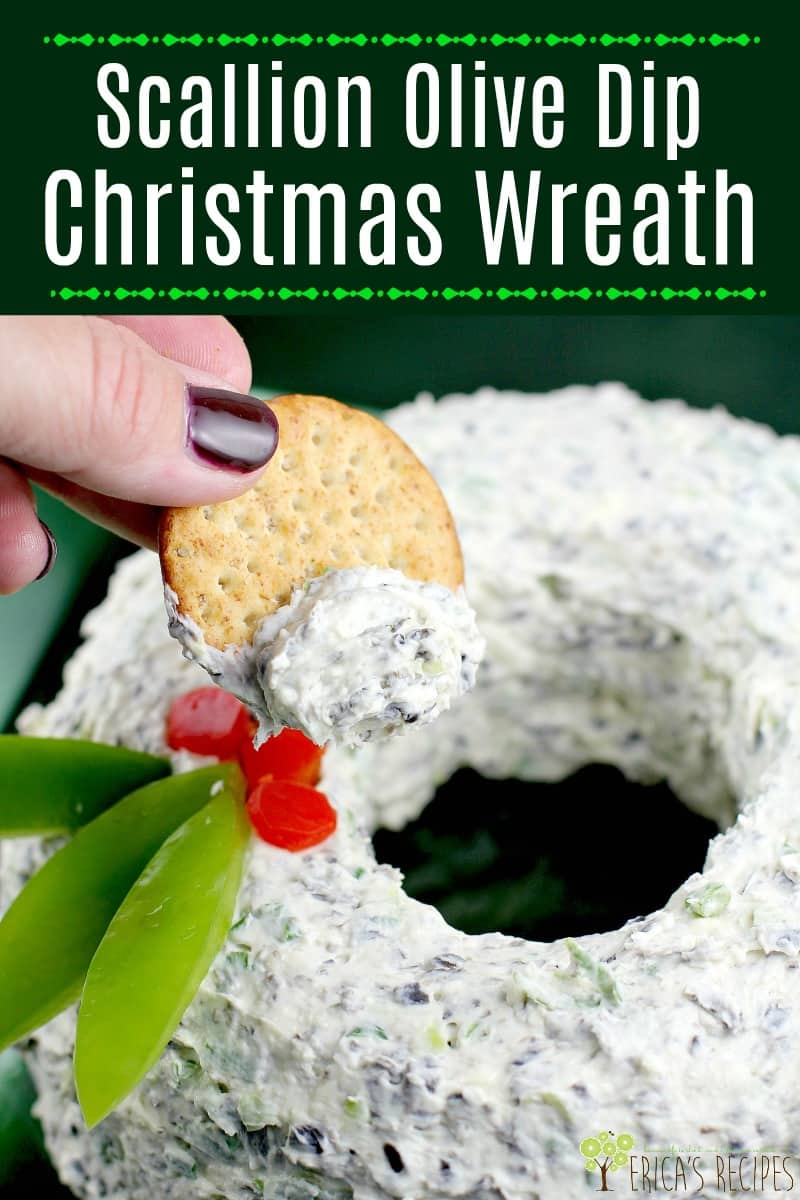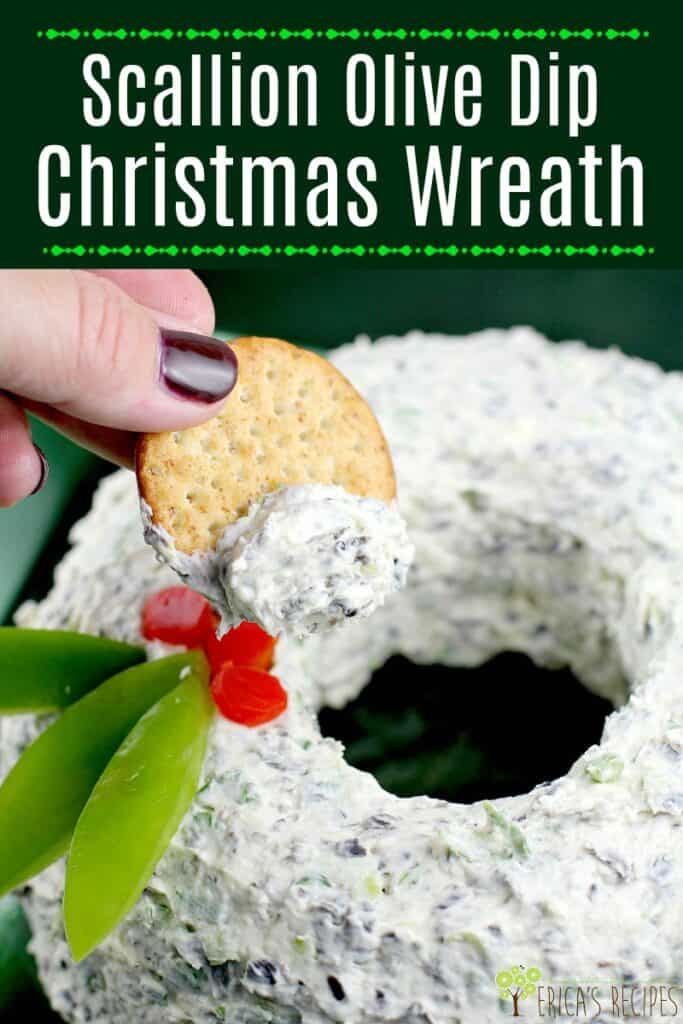 So that's it folks. A delicious and truly special Scallion Olive Party Dip easily transformed into beautiful Christmas appetizer.
For more Christmas recipes, check out my Christmas Soup, Christmas Croissant Breakfast Casserole, and Christmas Cranberry Meatballs. Also check out another holiday favorite, the Best Stuffing Ever.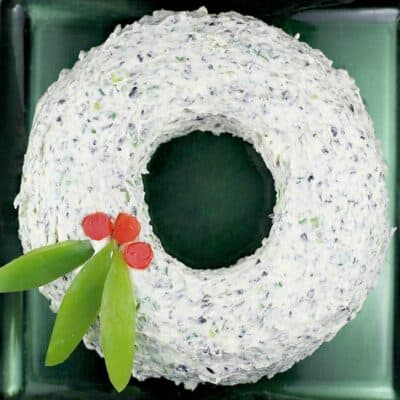 Scallion Olive Party Dip Cheese Wreath
An epic Christmas appetizer made with the most delicious party dip. Scallion Olive Party Dip shaped into a Christmas wreath for your best party ever.
Ingredients
2

8oz packages Neufchafel cream cheese, softened

1

stick unsalted butter

softened

2

bunches green onions

chopped

1

4oz can chopped black olives
Instructions
For the Scallion Olive Party Dip
Combine all ingredients in a mixing bowl. Using an electric mixer makes this easy.

If making just the dip and not a cheese wreath, transfer party dip to a serving bowl. Chill in the refrigerator for at least 2 hours before serving with crackers.
For the Christmas Cheese Wreath
Put a drinking glass in the center of a serving plate.

Drop spoonfuls of Scallion Olive Party Dip around the glass (using 2 spoons helps, similar to dropping spoonfuls of cookie dough on a bake sheet).

Gently twist and remove the glass. Use a rubber spatula to smooth out and form the cheese ring. Use a paper towel to remove smudges and clean up the edges around the cheese ring.

Use a sharp paring knife to cut shapes cut from the bell peppers to make holly berries and leaves.
Notes
Calorie estimation is approximate and does not include crackers.
This recipe can be made up to three days in advance of serving.
Nutrition
Calories:
117
kcal
(6%)
|
Carbohydrates:
2
g
(1%)
|
Protein:
1
g
(2%)
|
Fat:
12
g
(18%)
|
Saturated Fat:
6
g
(38%)
|
Cholesterol:
36
mg
(12%)
|
Sodium:
141
mg
(6%)
|
Potassium:
25
mg
(1%)
|
Sugar:
1
g
(1%)
Calorie count is purely an estimate calculated using an online application to serve as a guide and not to be taken as accurate nutritional information. Percent Daily Values are based on a 2,000 calorie diet.
Tried this recipe?
Leave a comment below and let me know!
~✿♥✿~