No-Bake Spinach Artichoke Dip (DF, V)
Creamy vegan spinach artichoke dip with all the flavor and fun of traditional recipes, but dairy-free and vegan! Simple to make and perfect as is with no cooking required. So fill up your bread bowl and make your party perfect with No-Bake Spinach Artichoke Dip.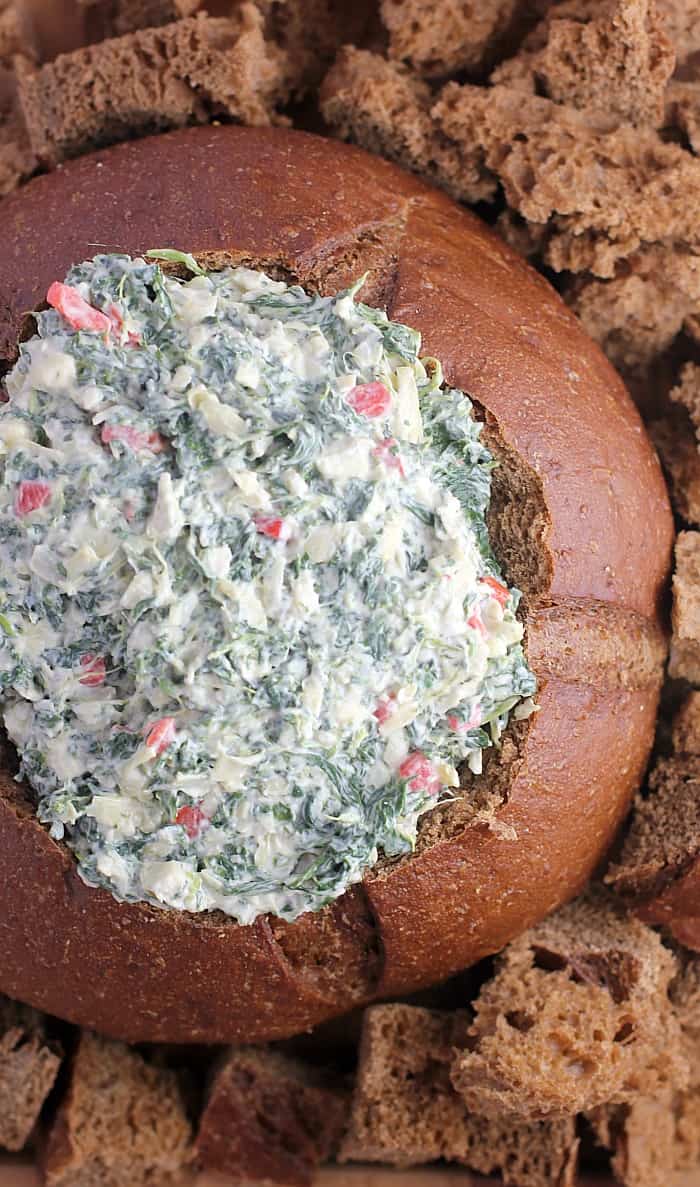 Aaaaannnd, it is time to get our holidays ON! We just passed Thanksgiving, the house is decorated, and now it is time for Christmas. And such. Cool nights, warm blankets, and lots of cookies. …So. Many. Cookies.
And of course DIPS. Mmmmm.
So, Thanksgiving. This year was, perhaps, maybe – definitely – one of the best Thanksgivings I have every had. My mom came down from Boston, our nephew lives with us this school year, both my kids were here, no spats or worries or issue of the day, and ev-er-y single thing I touched in the kitchen came out magical…
…No lie. I have not wanted to cook in months. During and after Ironman training, "the busy season" with the kids' school, activities, and such. I have just been so done. But Thanksgiving morning, Joe installed our new kitchen faucet, and (hear: angels singinggggg) that put me in a mood to cook like I have not been in in ages. And, GET THIS, I created no less than SEVEN completely new recipes that day. And all vegan, mostly (I threw a couple eggs in the stuffing). Seven! My nephew cannot eat dairy and I am vegan-ish, so it was a Very Merry, No-Dairy Thanksgiving.
What did THAT all look like then for foods? ..and I am going through this to give out ideas for Christmas or whatever ifever you celebrate, because this is how I went about making this group of 6 people happy…
We started with Deviled Eggs, crackers and assorted cheeses (a ridiculous amount cheese, put out by my daughter, the Italian), pickled things like jalapeno slices, olives, and pepperoncini, and a new cashew cheese spread I will share soon. And this new vegan Spinach Artichoke Dip in a pumpernickel bread bowl.
That was lunch.
Dinner was fried turkey, Dijon Thyme Gravy, creamy vegan smashed potatoes (these were a particularly big hit), cranberry sauce, vegan green bean casserole (complete with fried onions), a vegetarian stuffing with sausage and beer (omg I can't even…), Hawaiian Sweet Rolls, Walnut Pumpkin Pie, vegan pumpkin pie, and apple pie.
Yes, all of it. It was glorious. We even ate in the dining room on the good dishes. That like never happens.
So let's talk dip… Spinach and Artichoke dip. It has been so done, right? We're so over it?? …Nope nope nope. Because it usually has cheese or sour cream or yogurt – dairy dairy. So I wanted a dairy-free version just as good, if not better, as the rest. Given that dips like this tend to be bland, even with the cheese, I used a tactic here similar to my Artichoke Dip and Skinny Spinach Jalapeno Dip. In this case, jalapenos and pimentos – pimentos for color, jalapenos for flavor. Not enough to make this spicy at all – I repeat, this dip is NOT spicy – but just enough for that wonderful jalapeno flavor to be there and elevate this dip from potentially bland to totally delicious. With no dairy, and we don't even miss it.
A note on the ingredients… This post is not sponsored by any company, so I am only providing brand names of what I use because if you are starting to make the switch to a less-animal-product lifestyle, you may be looking for suggestions. In my opinion, dairy-free "cheeses" are terrible. At least what I have tried. That may change – I just picked up some vegan Parm that I have high hopes for, but generally DF cheeses are concoctions that we don't need in our life. And they don't melt right anyway, so why bother.
…So, why the vegan cream cheese then Erica??? Vegan cream cheese is actually much better than shreds or slices. I wouldn't eat it plain on a cracker, but adding a bit (in this case, a 1/4 cup), adds that creaminess and luxurious texture that we want in a dip like this, with a mild flavor that blends in nicely with everything else. Because we don't want our dip to be straight-up mayonnaise. But TRUST me, the flavors that shine are the spinach, artichokes, a little onion and jalapeno, hint of Dijon. Truly a new favorite dip for me.
So that's it folks! Just LOOK at this dip and all its holiday glory. I may have made this for Thanksgiving, but I was channeling Christmas when I did. Just an easy vegan Spinach Artichoke Dip dip, full of flavor. A new spin on a classic that I hope you will try and love.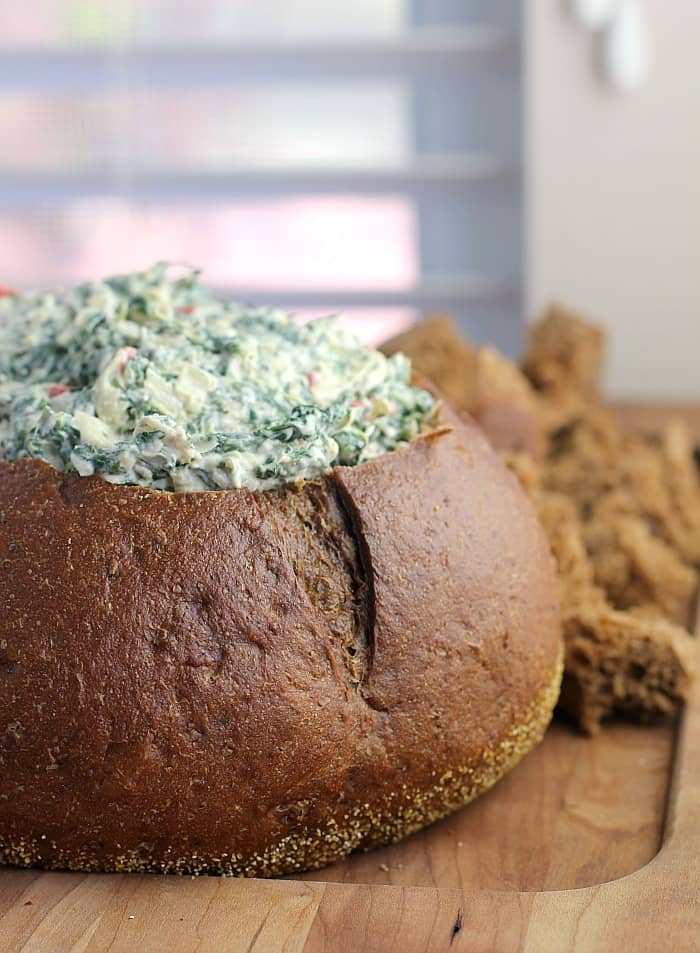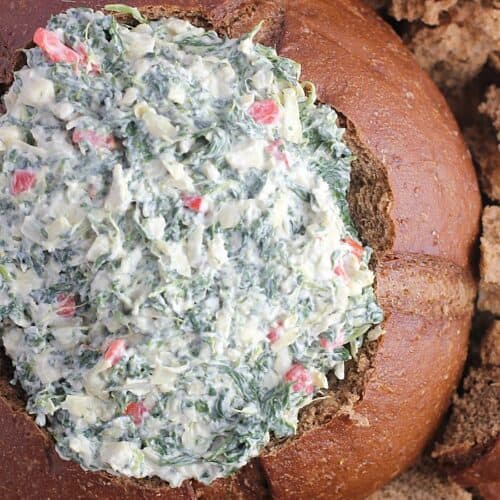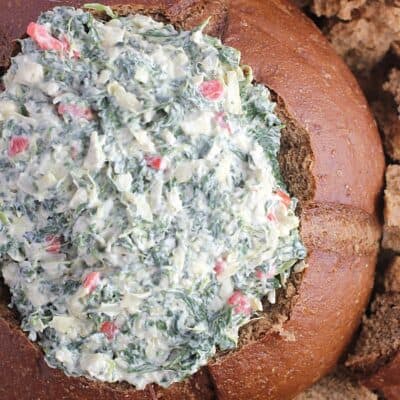 No-Bake Spinach Artichoke Dip
Creamy spinach artichoke dip with all the flavor and fun of traditional recipes, but dairy-free and vegan.
Ingredients
1

10 oz pkg frozen chopped spinach leaves, thawed and water squeezed out

1

12 oz jar marinated baby artichoke hearts, drained and chopped

1

cup

vegan mayonnaise

such as Just Mayo or light mayonnaise

¼

cup

vegan cream cheese

such as Tofutti or soft Neufchatel

2

tsp

Dijon mustard

1

Tbs

finely diced pickled jalapeno

1

Tbs

Italian flat-leaf parsley

finely chopped

1

tsp

dried minced onion

2

Tbs

chopped pimento

¼

tsp

kosher salt

¼

tsp

garlic powder

pinch

fresh cracked pepper
Instructions
Combine all the ingredients and put in the fridge to chill an hour or two. Serve in a bread bowl with the bread pieces. Alternatively, serve with crackers. Yields: 8 servings.
Notes
If you want options other than mine for mayo and cream cheese, a light or olive-oil based mayo and soft Neufchatel cheese (is dairy) would work for this recipe.
Calorie count is purely an estimate calculated using an online application to serve as a guide and not to be taken as accurate nutritional information. Percent Daily Values are based on a 2,000 calorie diet.
Tried this recipe?
Leave a comment below and let me know!
~✿♥✿~
For more vegan appetizer ideas, check out these recipes