Finally. I am an Ironman.
Ironman. A 2.4 mile open water swim, 112 mile bike, and a 26.2 mile marathon run. Done sequentially. To a triathlete, Ironman is the ultimate everything. The goal, the dream. And October 9th, 2016, after 14 hours, 23 minutes, I crossed the finish line at Ironman Louisville and heard the words I had dreamt of hearing for so long. "Erica Schwarz, you are an Ironman."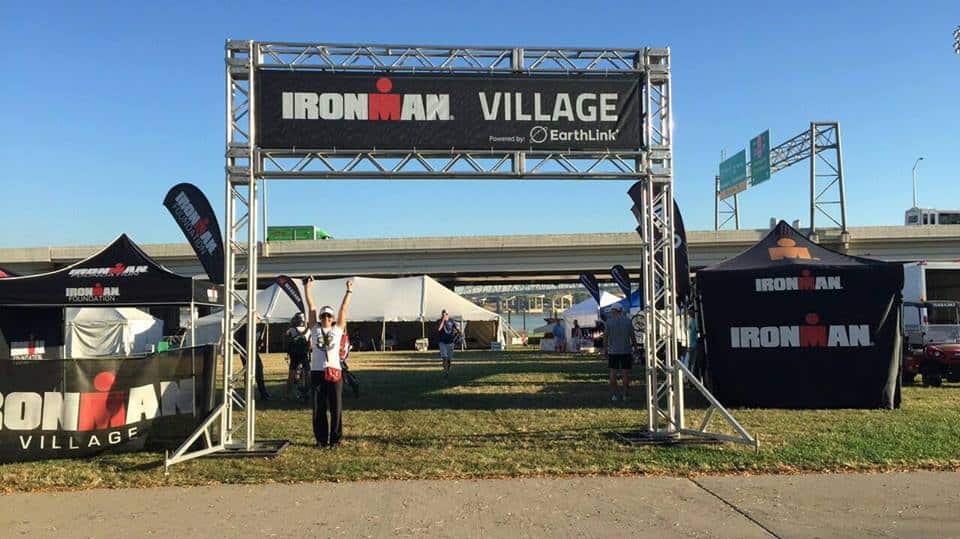 Why would I ever do such a crazy thing… I am asked that all the time. By people that just do not get the concept. The same kind of people that asked why I would get a PhD or go into the Army …Choosing to do something intimidating. Daunting. Something that takes a shit-ton of work and preparation. Something you have to work your life around. And then actually do it for the sole purpose of achieving it. To get there, wherever there is. I am amazed how many people just do not see that as desirable in the slightest.
But then, there is everyone else. Most everyone else, I think. They respect the goal and get the idea of wanting to accomplish something that, on its face, seems unimaginable, but with the work and progress, becomes imaginable. …after I finished, my husband said "Just wait until you see your Facebook feed". Zillions of notifications. People I knew, people I didn't know – so many friends and strangers chiming in support all day long. It blew me away.
Anyway, here is my recap. I went in with a plan that I had worked out with my coach in the training months leading up to the day. I had practiced it all. Repeatedly. And I stuck to it on race day. Totally. …This is one of the biggest things about Ironman. You go in with a plan – know your pacing. Know your nutritional needs and timing. This is key as much as being able to do the distances. And my plan for my first Ironman attempt was to go slow and steady so I could finish.
Before the Plunge….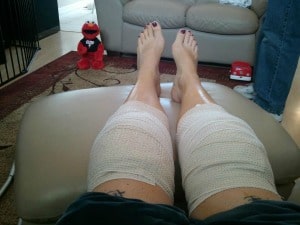 The only way to understand my Ironman story is to know a bit about my knees. See, there was a time when I could not run. At all. This time was a long time, 40 years. My knees would not let me without severe, sharp pain. My daughter called them my Rice Krispy knees, because that was what they sounded like. Finally, March 9, 2012, two weeks before my 40th birthday, I had both knees reconstructed. Both knee caps were relocated and corrected, and both of my poor, shredded meniscuses were repaired. After my surgery, weeks of therapy followed. Then months of strength training essentially to make quads from scratch because I had none, and if that hadn't happened I was looking at permanent disability. September 2012, I ran my first 5K. Sunday, April 14, 2013, I did my first sprint triathlon. My Ironman journey started that day.
Choosing my Ironman….
From 2013 through 2015, I competed in triathlon after triathlon, increasing the distances along the way, and I have shared those experiences on this blog. When I crossed the finish line at my first half Ironman in Naples, January 2015, I think the first words I said to my family was "No way am I ever doing a full" or something like that. I'm sure cursing was included. But by the end of 2015, I was thinking of little else, it was just a question of which race would be my first Ironman.
Horses. I'm a horse girl, or at least I always wanted to be. Before my son was born, I leased a horse and showed a little for a couple years. My daughter rode too. So, Ironman Louisville, Kentucky, stood right out as a potential. I still researched them – IM Lake Placid was out for this Florida girl because of the huge hills. IM Maryland was out because of the weather (the run at IMMD 2016 ended up being more of a swim with flooded roads, so I was right!). Beach to Battleship (now IM North Carolina) looked fantastic except it is not very spectator friendly for my family. And IM Florida sells out right away (ended up I was wrong on this – as WTC has added races, individual races have not been selling out as fast).
Louisville has Churchill Downs, home of the Kentucky Derby. It has the Corvette museum a couple hours away. It has the Louisville Slugger baseball bat factory. It gave me selling points for my family. It is a fall race, good potential for beautiful weather. An easy, river swim that would be likely wetsuit legal. Rolling hills on the bike, but nothing too steep or crazy. And a pancake flat run.
And IM Louisville has the single best finish line of any Ironman. Ironman Louisville was the one.
Getting ready…
By the end of 2015, I felt I needed a break for a bit, but I was actually wrong on this. Because that "break" turned into 2 months and 15 pounds. What I know now is the concept of active recovery, but a year ago I didn't. By February, when I seriously needed to get active again, drop weight, and start training for IMLOU, I floundered. The answer, for me, was to hire a coach, and Coach Scott from Big Sexy Racing was the single best decision I made. Following the plan he gave me was reassuring to me, and it broke down the distances so they were mentally manageable. Instead of just jumping in to swim 2000 yards, which is all I had done previously, now I had drills and segments, breaking it up so it seemingly went by faster allowing me to add distance and not hate life. His help with nutrition was invaluable too. I was completely on the wrong path with nutrition, and he straightened me up. The training was dooable, manageable, and it only got super time-consuming during the final build. I also truly believe working with Scott kept me consistent and it kept me from over-doing it. I went through training from February to October with no injuries and no illness. That says a lot.
Days before the event….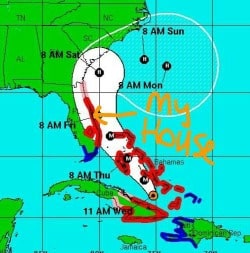 Oh my God. Holy Shit. One of the most stressful times of my life. I live in Melbourne, Florida, and Hurricane Matthew was breathing right in our face for the week preceding IMLOU. So much so, I ended up having to fly with my kids to Louisville Thursday before the race, while my husband stayed behind to care for the house and our nephew who lives with us. So, there I was, trying to prepare for this thing while worrying about their safety and our home. While also trying to make the best of things in Louisville for my kids. By the grace of God, the storm shifted slightly east in the last hours before it was forecast to hit, and we were spared its full severity. But my husband's flight was still cancelled, and I was trying to figure out how I was going to do this race with my kids, 14 and 6, unsupervised all day. I had arranged VIP passes for them weeks before, so there were designated areas they would be in with catered food available all day, but still… it was a stressful mess. I was a stressed mess.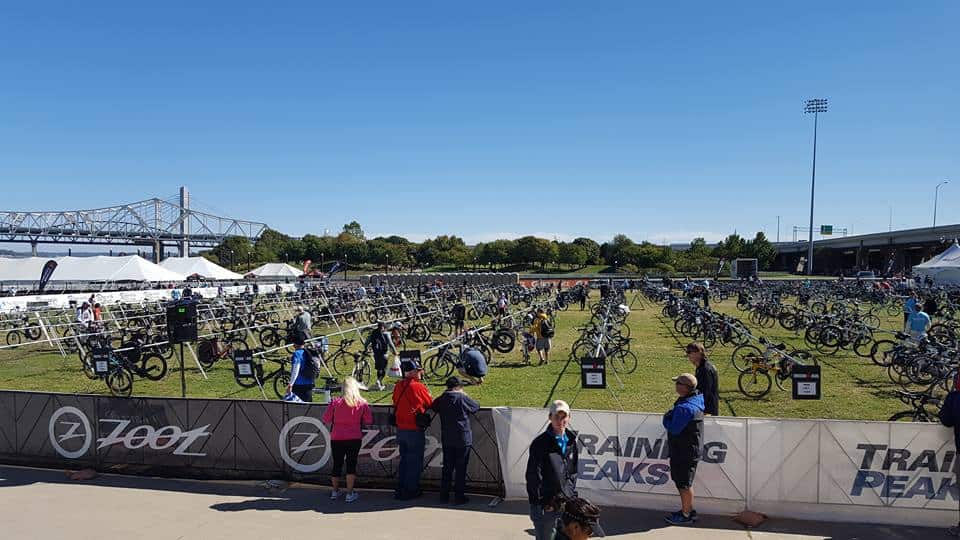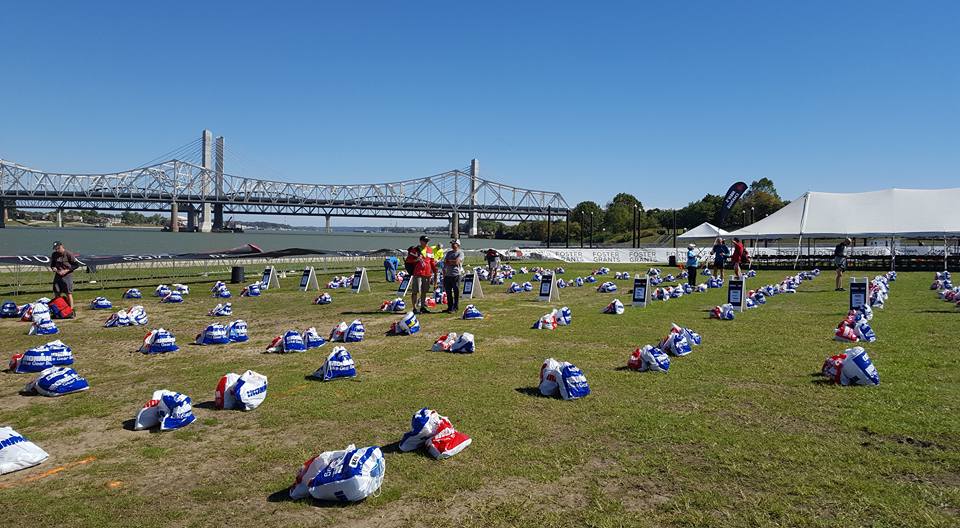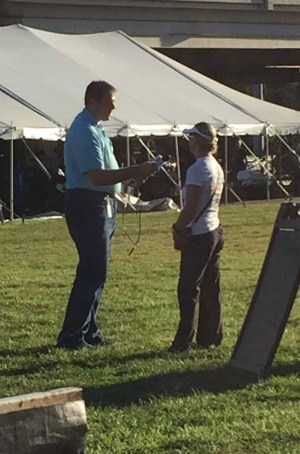 The day before Ironman Louisville, when I checked in my bike and gear bags, it all hit me hard, and I started to freak out. I texted a cry for help to Coach Scott. He told me to get off my feet and have some downtime, and that is exactly what I did. I got back to the hotel, told my kids to wake me in a couple hours, and I had a kinda/sorta nap which helped. Then we met friends for dinner – I am SO grateful some longtime friends drove over from Dayton, OH, to support me. Getting caught up with them and having a couple laughs was exactly what I needed that afternoon.
One of my friends, Mike, said that he remembered talking to me years ago about going for a run, and I described how blown my knees were and that I could never run. "Erica, if anyone had told me 7 years ago that you would someday do an Ironman… This is awesome." I loved hearing that.
Then, something fantastic happened. Prayers were answered. Back in the hotel room, at around 7:45pm, there was a knock on the door. It was my husband. He had managed to snag a flight out of a different airport and surprise us. He was there. All was right with my world.
That was when I knew I would finish. One-by-one, every single thing that could have gone awfully wrong had fallen into place. As I told one friend, I figured out God was tapping me on the head. "Relax child, don't you trust me?"
Now, I was ready.
Race morning…
Coach Scott told me to get in 600-800 calories by 5:30am before the race. So I set alarms – at 2am, I had a Clif bar; at 4am I had another. I got my super cute, super pink tri kit on. I quadruple checked that I had my timing chip on. Then I made some coffee and sat on the toilet praying for the Poop gods to smile on me then, rather than later.
This is the order we want things folks. Every. Race. ☕–>?–>?
Ironman changed the race start for 2016 in Louisville. IMLOU has always had a rolling start, unlike the mass swim start at other races. This year, each athlete had 16 hours to complete the race. So, it did not matter whether you were first in the water or last, you had 16 hours. This addressed previous years' craziness where people were lining up at 4am to secure more time to race. It leveled the field for time. It also meant we didn't have to rush to the swim start, and I let my family get some more sleep.
We left the hotel at 5:30am. By staying at the Hilton Garden Inn, we were a block from the finish line, and only a 5 minute drive from transition. We got there no problem, and easily found parking across the street from transition. I went to my bike and loaded her up with my nutrition (an 800cal bottle of concentrated PhD Glyco Durance and 3 bottles of PhD Battery electrolyte drink, 80cal each). I mounted the Garmin I was using for the bike portion (my old 910xt Forerunner). I handed in my special needs bags (with the same nutrition bottles I had put on the bike to pick up at the bike special needs stop). I had to scramble to find a bike pump and really wish I had not left mine at the hotel. Whenever a pump was spotted, we descended like zombies on a kill to use it. If only I had seen the bike tech tent with pumps earlier…
Once I was set there, I reunited with my family and we proceeded to walk the mile up the river to get in the swim line with the other 2651 athletes.
Waiting in line for the race to start, I was surprisingly calm. Excited. I knew I was going to make it. As we got closer, we got our wetsuits on and shed the sweatshirts, shoes, and such. These items were placed in a "morning bag" which we turned in near the front.
Walking up the ramp, the platform was particularly cold underfoot from the morning chill, and wet with urine as people were emptying their bladders in their wetsuits before jumping in the water. As I walked up to start, my family was right there, perfectly situated to see me off (getting the VIP passes was so worth it).
I turned the corner, and jumped in a little after 8am.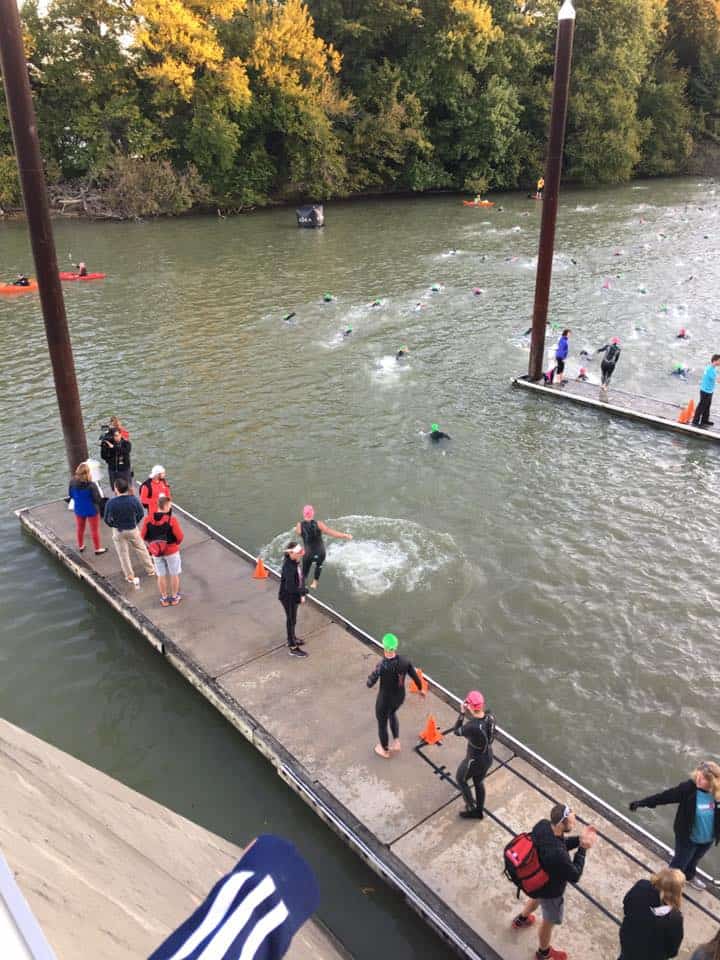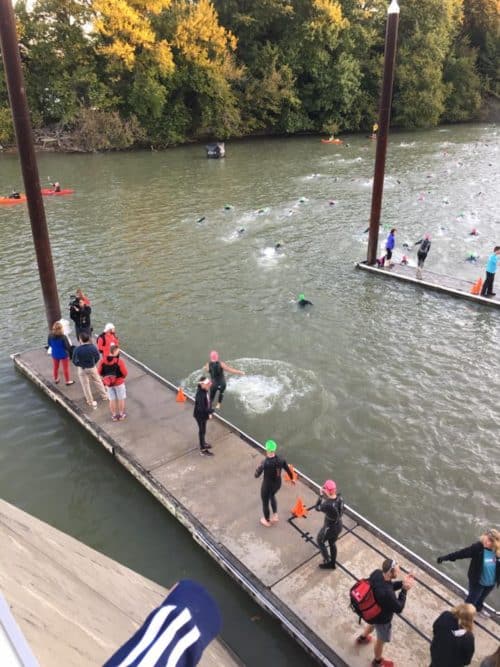 The swim….
The water was 73deg perfect. No visibility, but I am used to that so it does not faze me. With most of my races in ocean or brackish water, the fresh water was a delight – except the 10 minutes I was sure I was swimming through pure urine, but let's not talk about that…
I quickly found my comfy pace and set out on my plan to swim buoy-to-buoy. The swim for IMLOU starts in a channel. We swam this channel, heading upstream (there was no current that I could sense), hit the turn buoy at ~900yds, then turned into the Ohio River to swim downstream to the swim exit. I really enjoyed the swim – I had space. No one swam over me. I didn't get kicked (gotta watch for those big guys doing breast stroke!). I generally love the craziness of mass starts, but for this race I was grateful for what it was. At one point, I paused to look around and take it all in. I was so happy. I was finally doing it!
The only issue I had on the swim was that my sports bra seam rubbed my armpits pretty badly. I had biked in it, run in it – countless times. But I had never swum in it. Oyyyy mah pits. I paid for that little oversight the rest of the day.
Once around the island, I went away from the buoy line more to the center of the river to take advantage of the current. Sighting was simple – there was a huge steel bridge to aim for. Then a second one. Before I knew it, I was heading to shore, up the stairs, and out of the water. I looked at my watch and was delighted to see my time was better than I had expected by several minutes. I found my family right there, gave my son a smooch, and trotted off to transition.
Swim time: 1 hour, 14 minutes.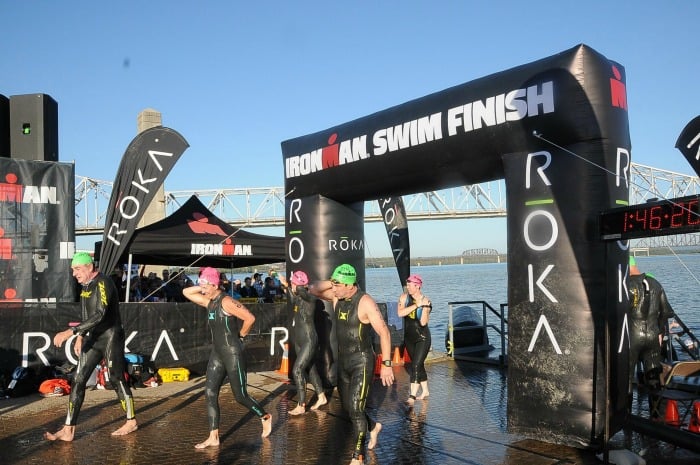 The bike….
Now while the swim was warm and comforting, the bike was cold and intimating. With the air temperature in the 50s still at that point and being wet, I was cold. I had planned for this and I have raced much colder, but I still hate being chilled. It was manageable though. My plan for the first part of the bike was to take it easy. I wanted to settle down, keep my heart from racing, let my stomach settle a bit before taking in nutrition, and, most importantly, let the crazy fast badasses pass by me. After all, I had never been in a race with anywhere near this many people. So, I stayed to the right of the lane, averaging about 16mph for the first 10 miles. I wanted to stay safe.
A couple miles up the road, someone pointed out that something like a rubber band was on my bike and I should take a look. I pulled over, looked and HOLY shitballs a cord like from a rug or blanket or something was caught up in my lower pulley. This would have caused a catastrophe. Thank you God and baby Jesus for that rider that spotted it, and that I was quickly able to fix it.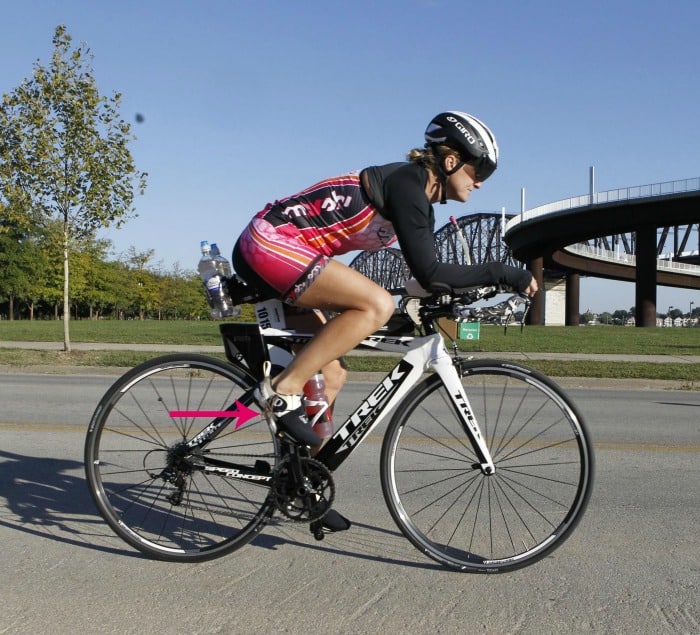 After 10 miles, the hills started. Call them rollers, to me they are hills. I live in flat Florida. They are hills. Now, in my training, I had driven Saturdays to bike in Clermont, Florida, 80 miles from home where there are hills very similar to those on the IMLOU bike course. I saw pretty quickly that the IMLOU hills were comparable, so I relaxed right away and handled them fine. I was trained and ready – I felt that, and it was a relief. I also handled descending fine too (meaning, not riding the brakes). When I first started riding in Clermont, I had to get over a crippling fear of descending fast, and that training completely paid off at IMLOU.
There was one point when I suddenly heard a noise that made me think I had a flat. "Buckle up Buttercup, here we go!" was all I could think. I was a DNF last year at a half Ironman because I screwed up filling my tire after a flat. So, I pulled over but immediately saw a piece of black electrical tape fall to the ground. Hmmm, I wondered if that got in my wheel and when it whipped around if that made the noise I had heard. I started off again, and yep. No noise. I had a good laugh of relief over that too.
I got to the special needs spot at mile 60, and reloaded my nutrition. By then I was in dire need of lip balm, and I had one in the bag! Yayyy, preparedness.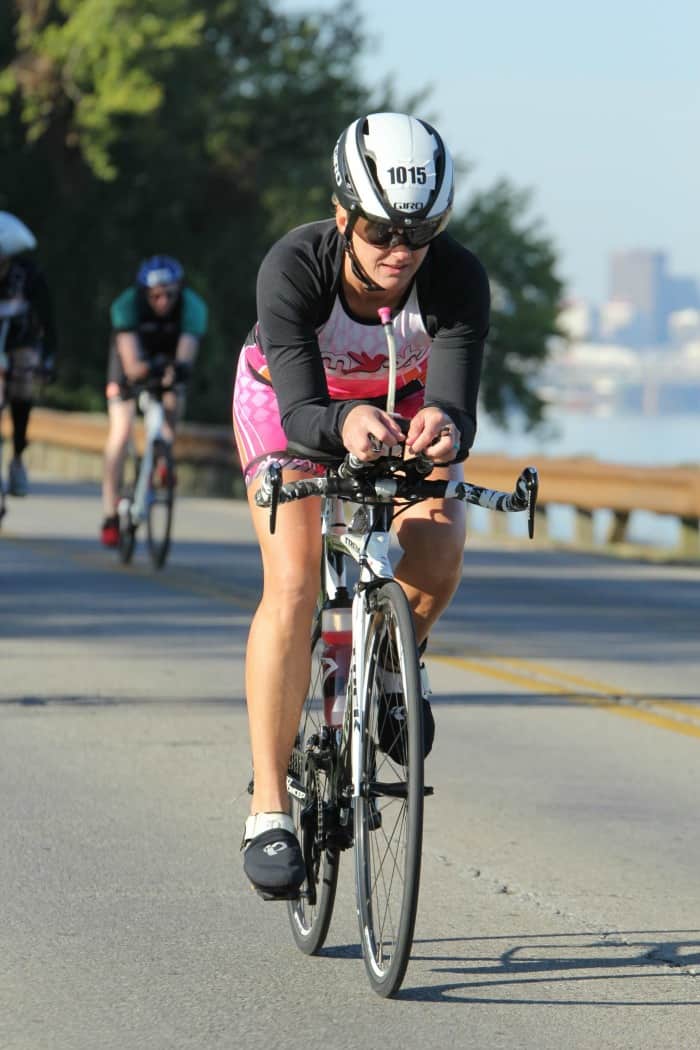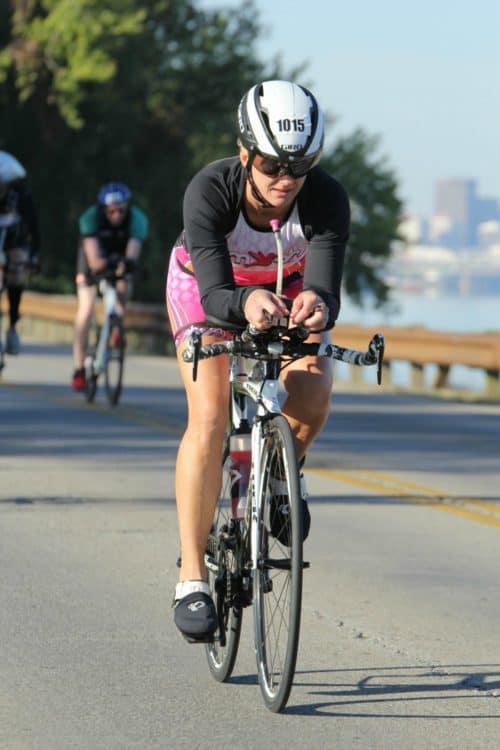 For the first 60 miles, it was fun. Then it wasn't…
See, another skill I planned to put to full use that day was peeing on the bike. First hour, second hour, third hour, I peed each hour like a champ, reassured to know I was hydrating well.
At the bike special needs stop:
Me, taking a water bottle and hosing my shorts down with it: "Don't ask".
Volunteer helping me: "I never do".
But then my super ability to pee on the bike stopped. Stuff down there stopped working. I couldn't pee anymore. Three hours went by, and ugggg no pee. I would go through an aid station, grab some water, and see the lines for the porta-potty – and nope nope nope, I was not going to stop for that! So I kept going. But then my stomach swelled from my full bladder so much which was so uncomfortable. Add to that, I had biked 60-70-80 miles and my ass was starting to hurt, my neck, shoulders. I was just over it. By mile 88, my bike and I no longer had anything to say to each other. Being aluminum and not a carbon frame, she made sure I felt ev-er-y single bump in the road. Bitch.
So finally, I don't know when, but finally I summoned all the willpower I could to MAKE myself pee. I literally WILLED it to happen. We are talking deep-down-in-my-soul willpower. I haven't summoned up sheer will like that since I had my first kid. "Just push it out ERICA!" ..Finally, it came. And came. And came. And came. Anyone behind me must have thought it strange I was dumping out a water bottle – because that is exactly what it looked like. For 5 freaking minutes.
And I am not even exaggerating.
…side-note and point-of-order, for the whole 112 miles, I only saw one horse. In Kentucky. Just saying.
Anyway, after my pee-a-thon, I was a new woman. The hills finally ended, and we brought it back to transition. My goal for the race was to average 15mph to come in at 7½ hours, averaging from the slow 6-10mph climbs and 25-30mph descents.
Bike time: 7 hours, 26 minutes.
The run….
Coming in from the bike, I was grateful that at Ironman, you pass your bike off to a volunteer, grab your bag, and scurry into the change tent. In the tent, I grabbed my baby wipes and cleaned myself up a bit. Not enough to actually do anything, but enough to use more time than I would have liked. So next time, I won't bother. I did get Vaseline from a volunteer – and I shmered that all up under my arms, suffering from the good rubbing they got during the swim. There were boobs and butts everywhere as people changed, but I didn't. I prefer to start in a tri kit, and finish in the same. Being grody goes with the territory, and it doesn't bother me.
Before this race, the furthest I had ever run was 16½ miles. I had never run a marathon before. What I knew starting this portion was what would eventually start to hurt – my sacroiliac joint (lower back, left side), hips, feet (bunions). It was only a matter of time. Normally, something (or everything) tender kicks in for me around miles 9-10. At IMLOU, it started around mile 5. But it was manageable, as long as I kept it slow and steady and did not stop to walk. The only walking I did was through the aid stops, taking in cola and water at each. Then there were about 3 potty breaks, and maybe a minute of walking at one point around mile 9 because I got a little dizzy. But I knew if I stopped, I would not start again. My knees, which were performing surprisingly perfectly, would stiffen right up if I stopped. I had to keep going.
Training gets you mostly there, but your heart gets you to the end.
At IMLOU, the run is an out-and-back. Twice. So, you leave the city for 13 miles and return. You are approaching the finish line. You can see it. You hear it. People cheering. Music blasting. Celebrating ..Then you have to turn a corner, go around the block, and head back out to run it a second time. By that point, I was sore. Really sore. I honestly did not know how I was going to make it, but I still knew that I would. I saw my family then and that helped so much. I did not bother to stop at run special needs. I just plodded off into the darkness for the second half of the run.
My heart rate stayed solidly around 145bpm, which is upper Zone 2 for me. Which means I could have pushed it, but it was the rest of my body that was like "Nope nope nope" when I tried. So, jogging with a relaxed heart rate and never out of breath, I stayed. It was what it was.
As I plodded along, I started to focus on reaching mile 18. Mile 18 is a big one. That is where walls are hit. Where bonks happen. Where tears come and doubt takes over. If you can get through mile 18, you're golden. That is what I had read countless times anyway. Get to mile 18. …And mile 18 came, then 19, and 20, and I still just plodded along. I was alright. Sore, but okay.
The last 4 miles were the longest. It was dark. The streets were quiet save for some people still out with their signs and cowbells. As I went along, it felt like I wasn't going anywhere. So strange. But then suddenly, I was back in the city. I perked up, knowing the end was around the corner. Then there it was. I made sure to listen for the words as I crossed. "Erica Schwarz, you are an Ironman."
Run time: 5 hours, 22 minutes.
Total time: 14 hours, 23 minutes, 53 seconds.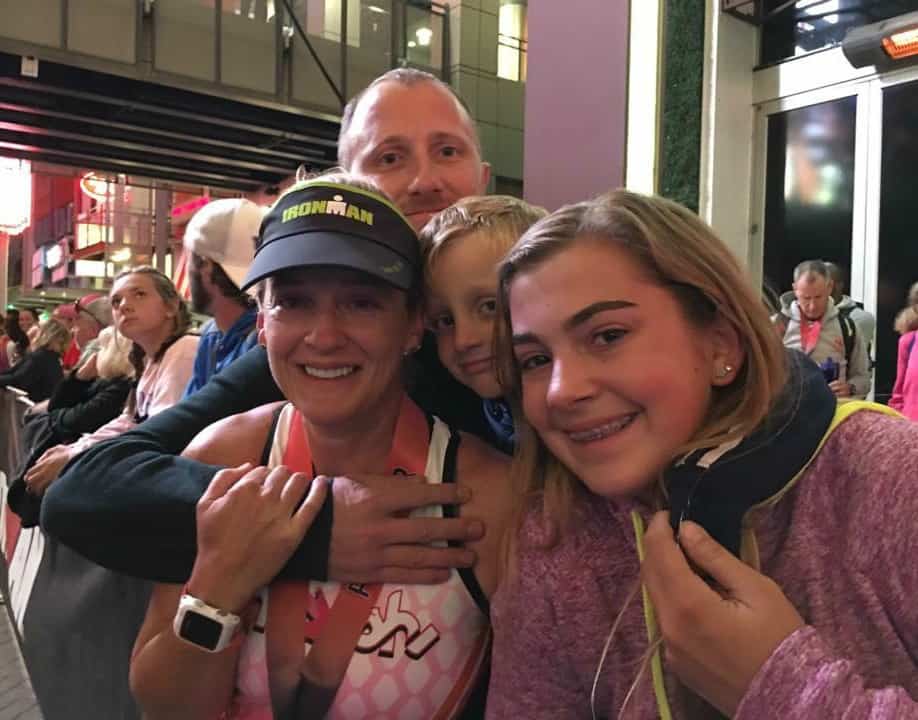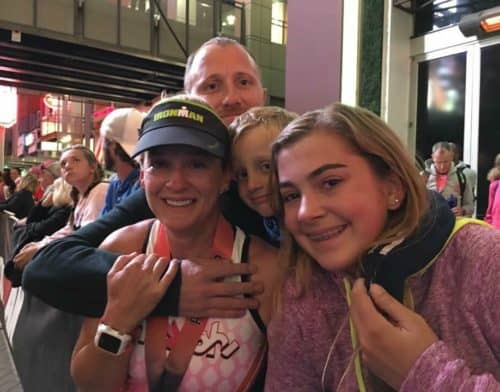 Then what…
Quickly after finishing Ironman Louisville, I spotted my family on the side of the chute. My daughter, my biggest supporter, was happy crying. We embraced and I started sobbing. My husband and son got in on it too. That family hug after crossing that finish line – my family – was the singular best moment for me ever.
My kids watched me go through the rehabilitation after my knee surgery. They saw the tears that came doing the exercises until I could walk again. They saw me go to the gym, often twice a day, for months to get to the point where I could walk up stairs again. All the knee injections, patellar straps, braces, PT taping, ice, stretching, modified physio-ball squats for dayz, so I could get to the point where I could run at all, then to run farther. Then this year, all that time training. So. much. time. training. This was all mommy talked about. It probably seemed like all I cared about sometimes. But they get it. They understand that you can have a goal that seems unimaginable, but it becomes imaginable if you do the work.
A couple months ago, I came home from my first ride out on those Clermont hills. Those hills handed my ass to me that day. I went home, defeated. "How am I ever going to do this race?!" I exclaimed in the middle of my house. "But mommm, you practice Every Day!" said my son, complete with hand gestures for emphasis. I was silenced. He was right.
~✿♥✿~
A couple days after Ironman Louisville, I did what every triathlete does after finishing a race. I signed up for another. If interested, I will be doing Capt. Hiram's Sprint Tri in Sebastian, FL, on Sunday, November 20, if you'd like to join me! Then next on the calendar is the Space Coast Half Marathon, November 27, and Disney Marathon, January 8.
A huge shout-out and tons of love to the volunteers at IMLOU 2016! Every single person I spoke with and that helped me was invaluable. Thank you so much for being an integral part of one of the best days of my life.