Garden Transformation: Trainwreck to Bee Haven
Transform that otherwise useless strip of yard into a Bee Garden! Here is my Garden Transformation, start to finish, complete with Do It Yourself bee hotels, Mason jar lights, and beer bottle hummingbird feeder.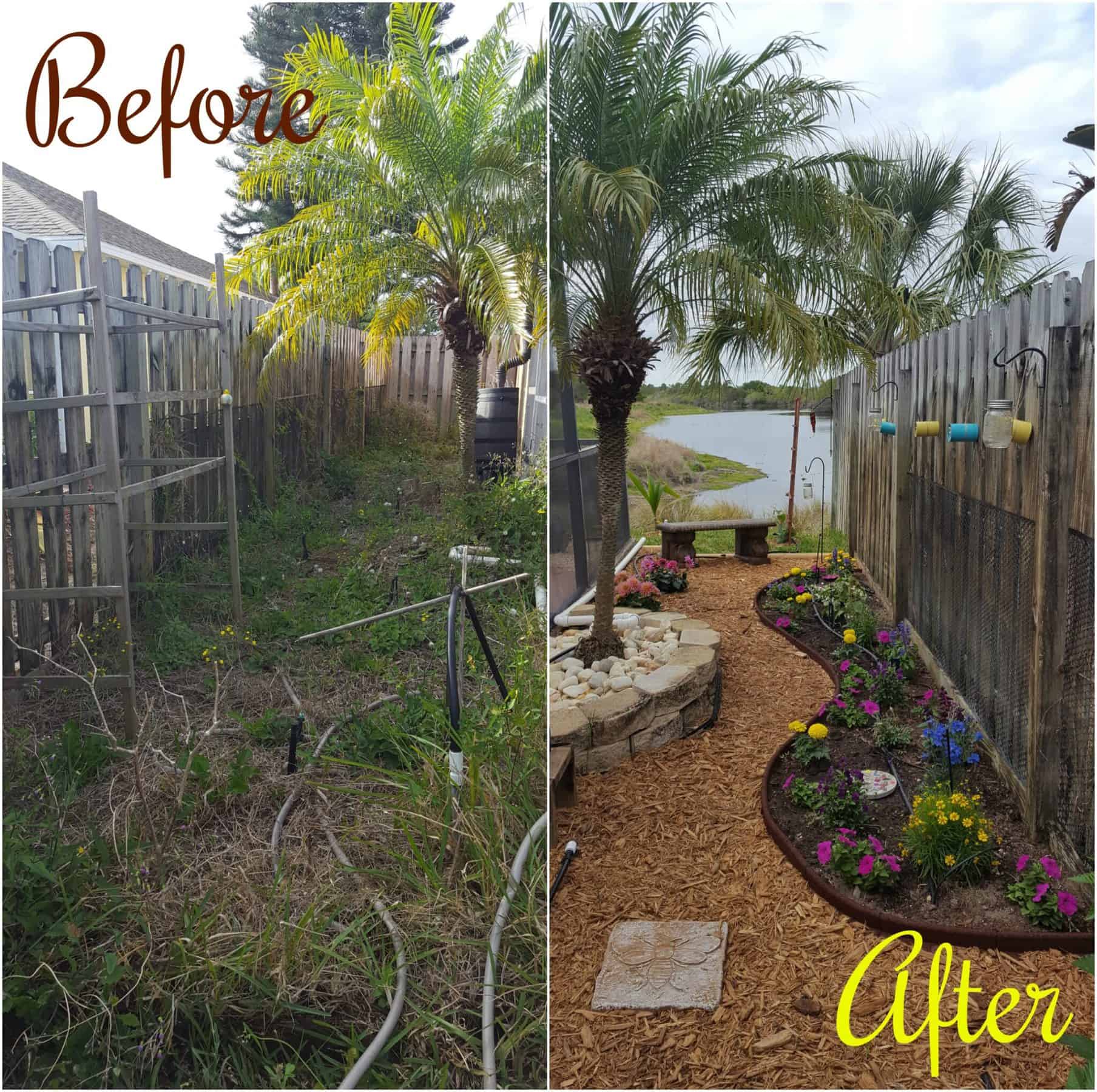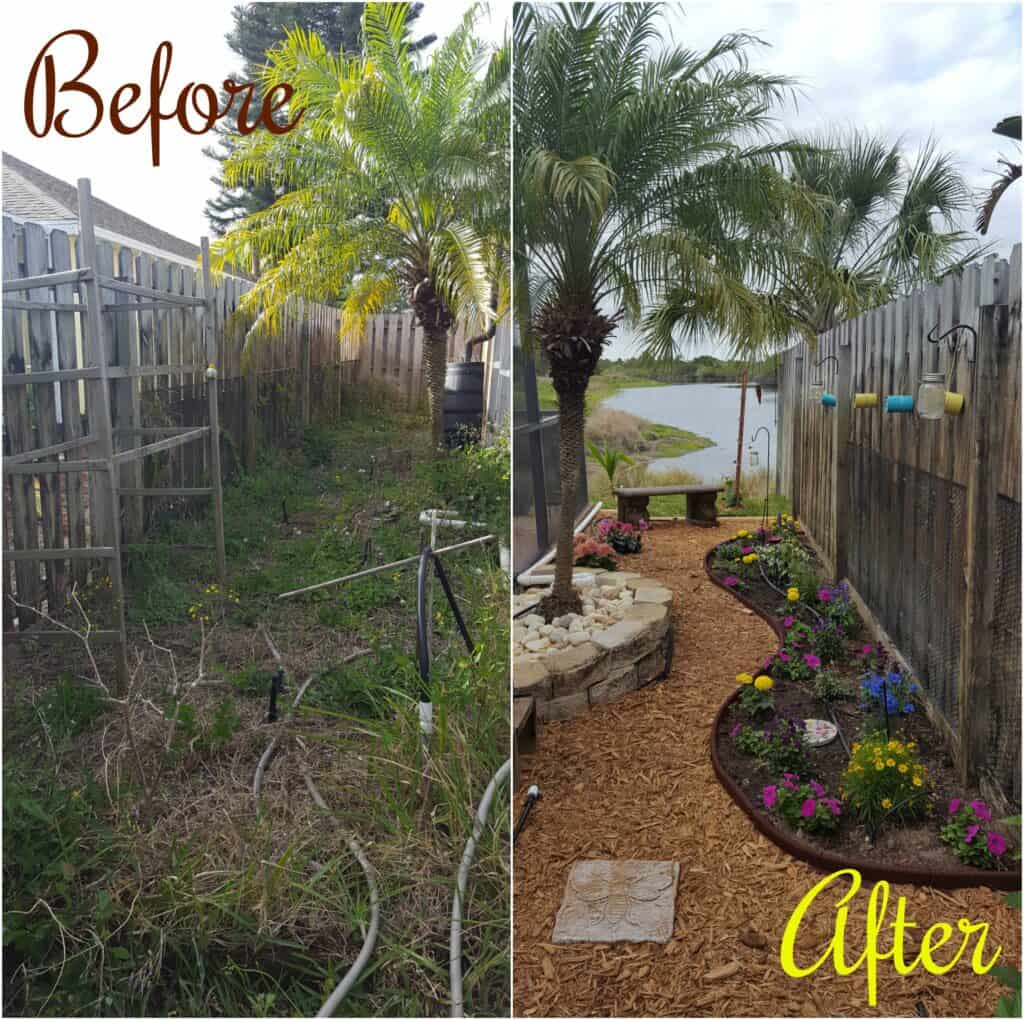 Affiliate links are included in this post. A whole bunch of them, because I'm saving for a pony. …Actually, to show exactly what I used for this garden remodel, including DIY solar mason jar lights and bee hotels, and because I might as well make a little (very little), no?
Garden Transformation
I have a stretch of yard out in the back that is pretty useless. The earth is dry and grass never grew there well. It gets too much shade. It is tight with not a lot of space to do much with it. It is just a useless strip of land along the side between our screened pool area and the fence.
A couple years ago, I made a vegetable garden there. Good idea, right? Not having a clue what I was doing. Not knowing a thing about gardening, in coastal sandy soil, in zone 10 sunny, bug-heaven Florida… And so that little patch of ground became a ton of work – weeds, pests, water, and sure-as-shite, every year come August, Mother Nature would win. I would cave and let it all go. Every. Dang. Year.
The best was slaving away, nurturing, protecting broccoli plants all season to end up with enough for each of us to have 1 glorious floret each. Just one. …Screw that.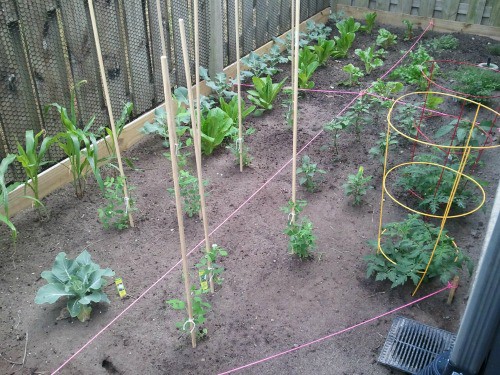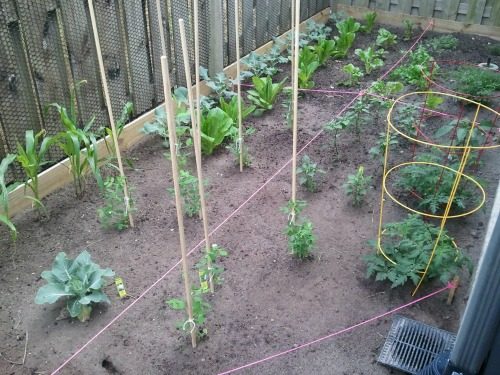 Until February, when I would clear it out and start all over again. ? [eye-roll. big one]
Forward to 2016, the year of my Ironman. If you know a triathlete and their yard starts looking like this….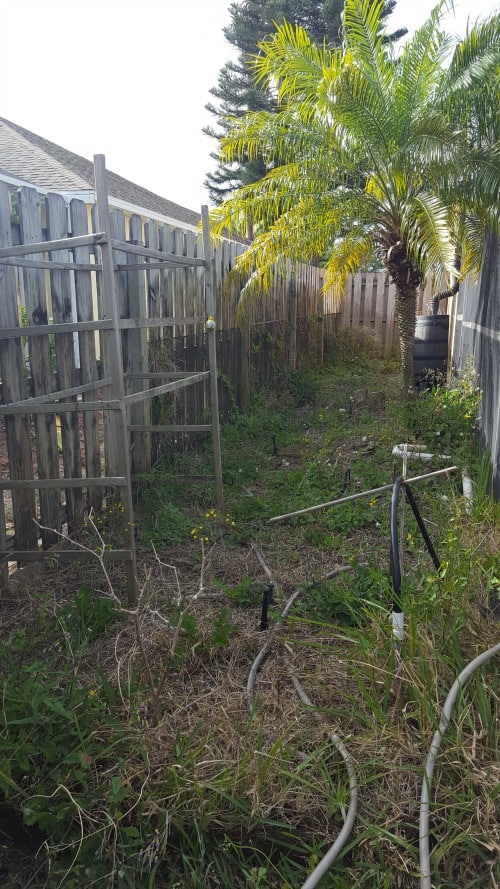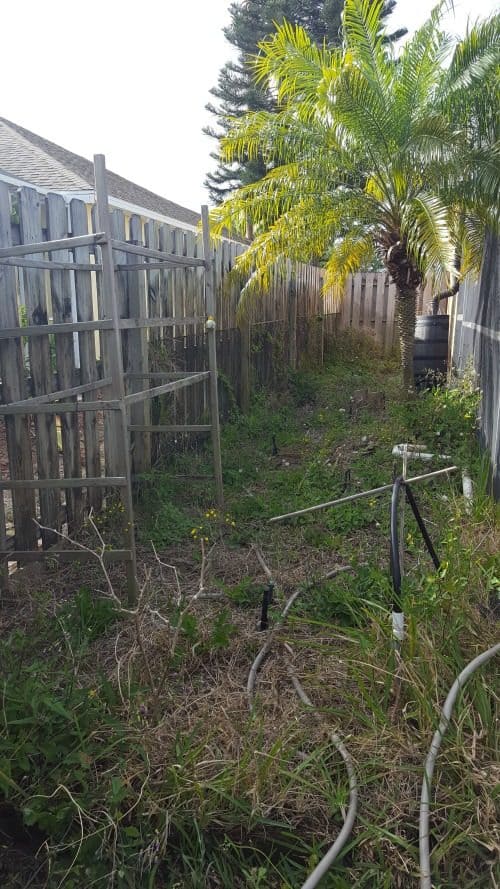 …chances are they are training for an Ironman.
Yeahhh, so this was my fantastic situation a month and a half ago. And had been for a while. But then randomly, very suddenly, out of the blue, I got super motivated to fix this situation for good. To come up with a different plan. To triumph!
…because, don't tell my family …but I am slightly considering doing another Ironman next year. Shhhhhh.
I wanted to do something completely different from what I had done before because a) it really had not worked before, and b) I needed less maintenance: I needed to less irrigation issues, I needed natural pest control, I needed help with weed control.
And so I took the next day off from work and made this happen…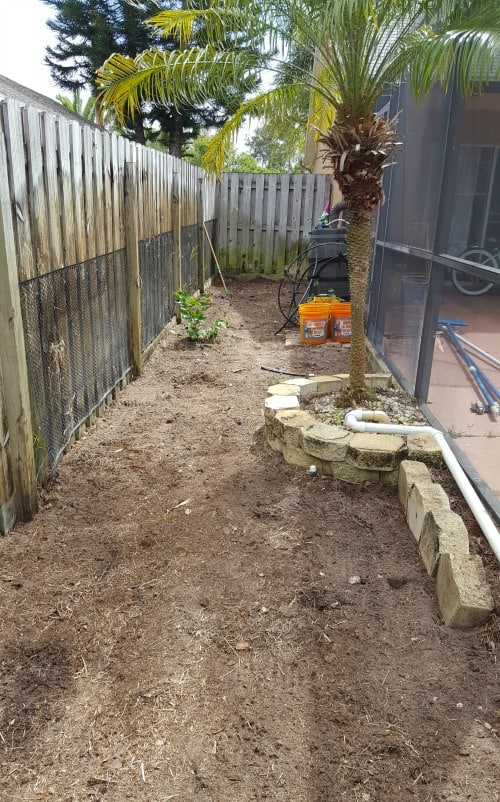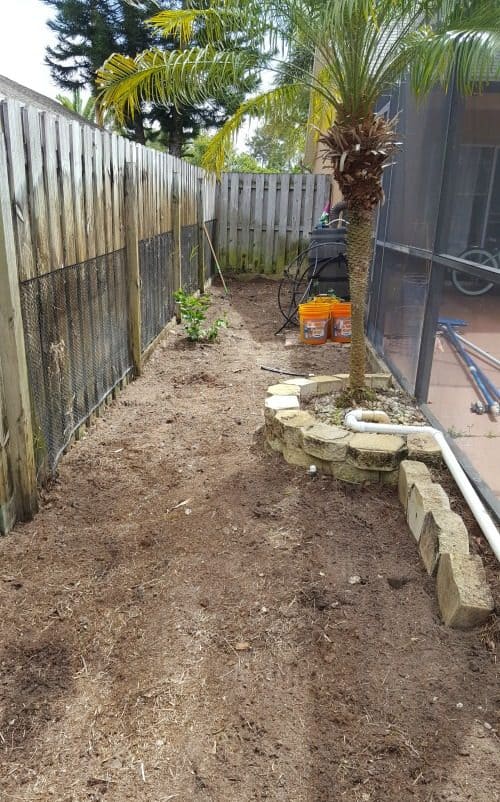 Off to a great start! Motivated, I mapped out on paper the two goals I wanted: to relegate the veggies to a much smaller area with only plants I knew could grow, and to make a BEE GARDEN. A Zen Bee Garden with pretty flowers, bee houses, and a bee bath.
Because, #beeswelcome.
Some species of bees were put on the endangered species list this year, 2017. BEES of all things. This is shocking and so upsetting because bees are ecologically crucial. To nature. To us. To life. Few lifeforms have such a central importance for the survival of other lifeforms. And speaking of life, what is happening to life on our planet is even scarier. It is the sixth mass extinction, and it is happening now. Look it up, read about it from reputable sources. Life is going away, fast. This is not theory, and it is because of us. It is sad, tragic, and maddeningly preventable. If each of us cared, even a little.
(for 25 Ridiculously Simple Ways To Not Be An Asshat To The Planet, visit here for my suggestions).
So, I wanted to do something for the bees, a BEE SAFESPACE. (Yeah, I went there) And for me, I wanted it to be a zen garden: a chill, peaceful space for us to enjoy too.
Veggies. Once my husband saw what my plan was and how much I accomplished the first day, he decided I was not crazy and jumped in to help. AND the result was a raised veggie bed, made from timbers which we got at Home Depot. We stocked it with fresh soil, my own compost, and manure. We put in the irrigation (more on that below) and got to planting. I also put a couple flower boxes on a simple scaffold off the ground for lettuces, because we have rabbits (photo is below).
I put the tomatoes and some peppers in buckets with holes drilled out the bottom, lined with gravel to allow drainage, then soil and compost. Pests (caterpillars specifically) in the tomatoes has consistently been the biggest problem for me, especially late summer. I have spent HOURSSS picking off the little effers, squishing them one by one. So my idea is that in the buckets, when one plant becomes infested, I can remove it and put it in "quarantine", work around it, etc. Then lastly, I added marigolds throughout as a natural pest repellent (this may be anecdote or wives-tail but given my prior experiences, I'm willing to give them a try).
Plants planted: yellow summer squash, green bell pepper, yellow bell peppers, poblano peppers, jalapenos, banana peppers, Thai chili peppers, pimento peppers, mini Mexican peppers, yellow tomatoes, heat resistant tomatoes (solar flair), beefsteak tomatoes, red cherry tomatoes, yellow cherry tomatoes, cilantro, chives, parsley, rosemary, thyme, dill, and basil.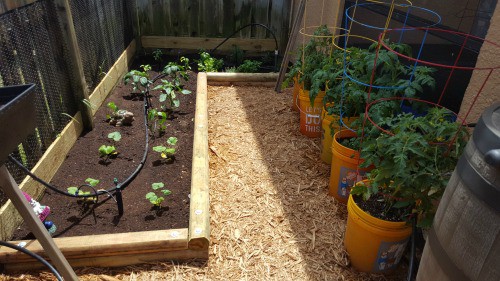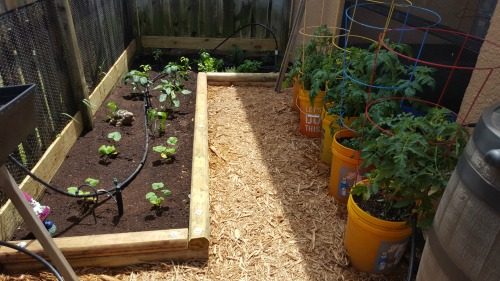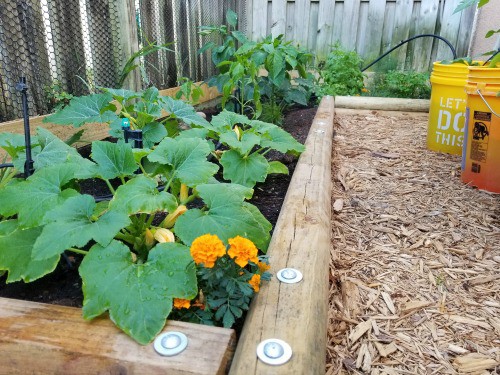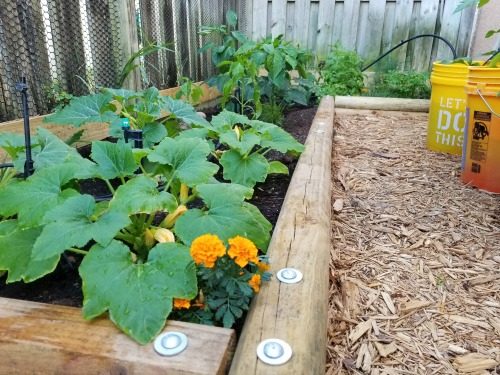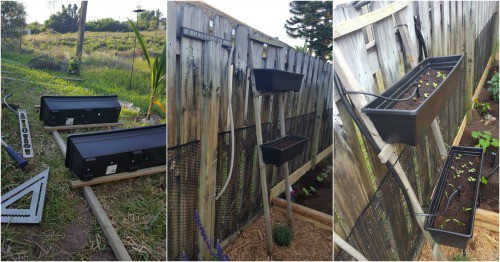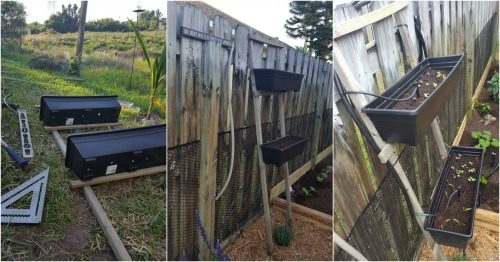 Next is the bee garden, and this is where it got really fun. First, I cordoned off the area with edging (more on that below). Next, I did some research for flowers to plant. Honey bees, Mason bees, and Florida natives all like different flowers. Fat and fluffy bumble bees like flowers with wide petals to act like landing pads: black-eyed Susans, pansies, petunias, marigolds, and such. Some like longer flowers: salvia, snapdragons, lavender, and such. But after that research, I ended up just looking for a variety of flowers that already had bees in them at the nursery.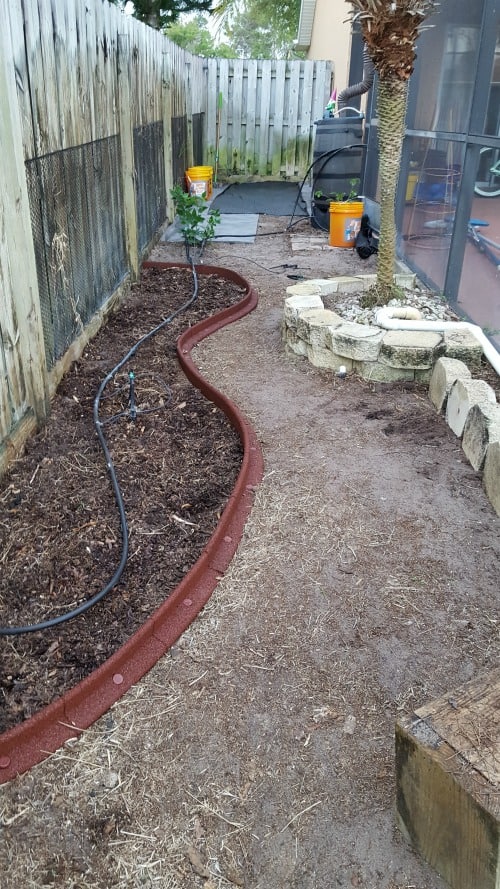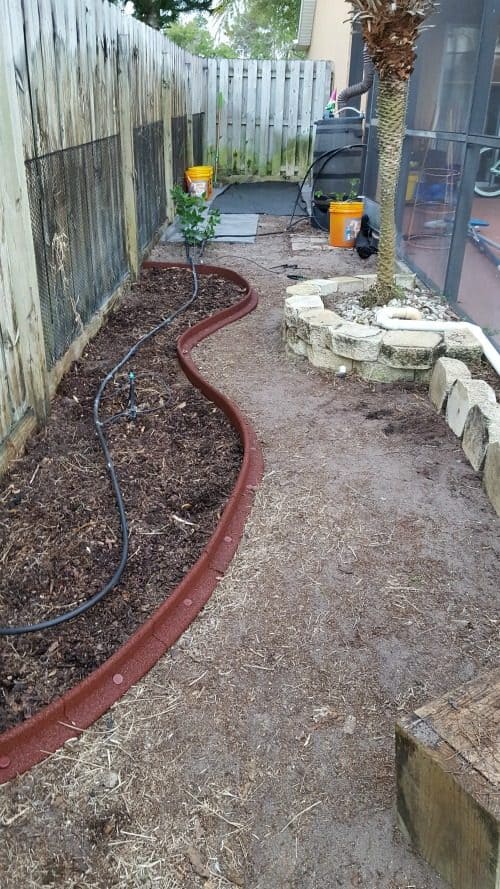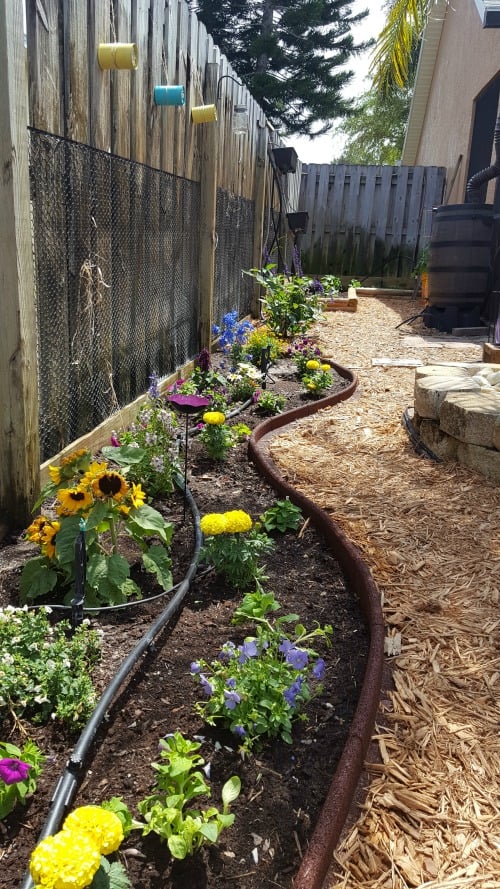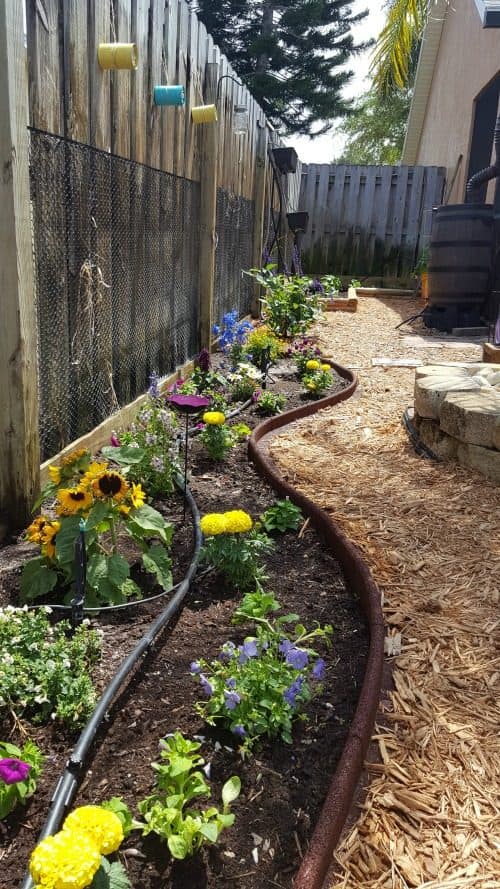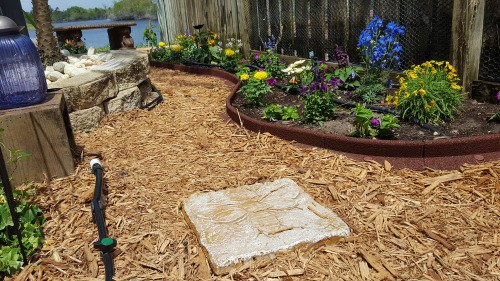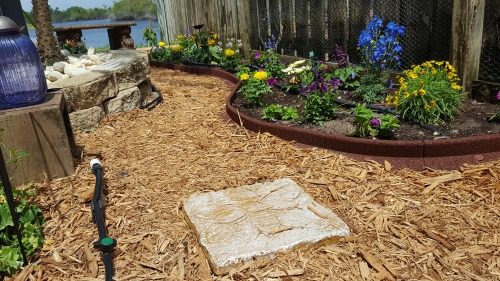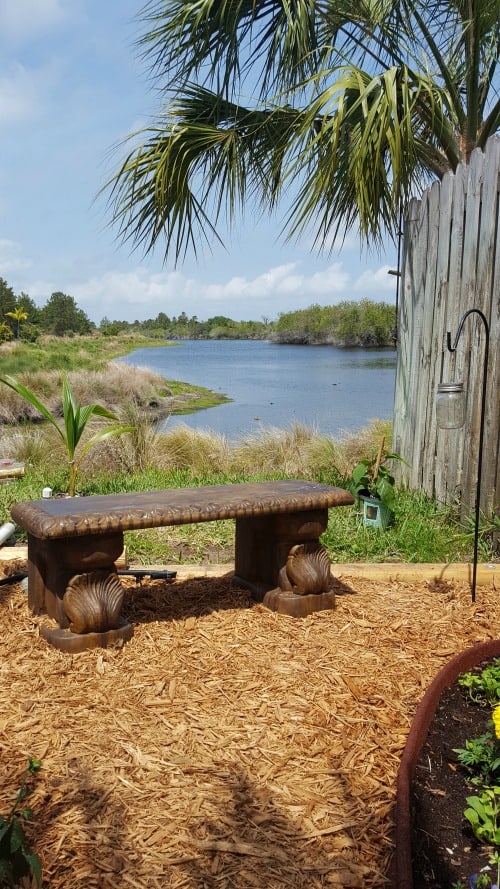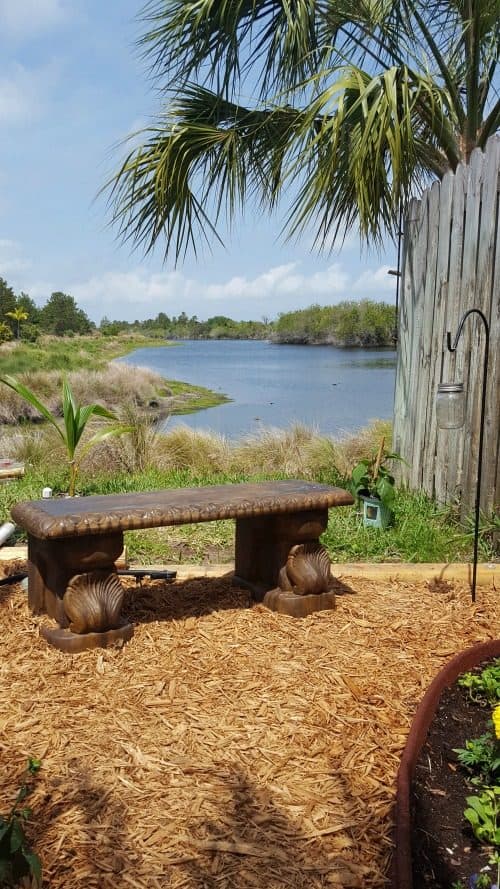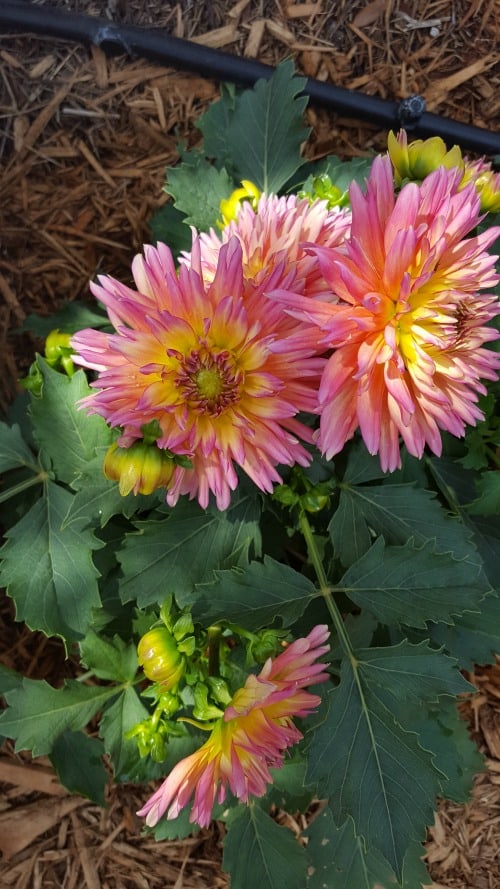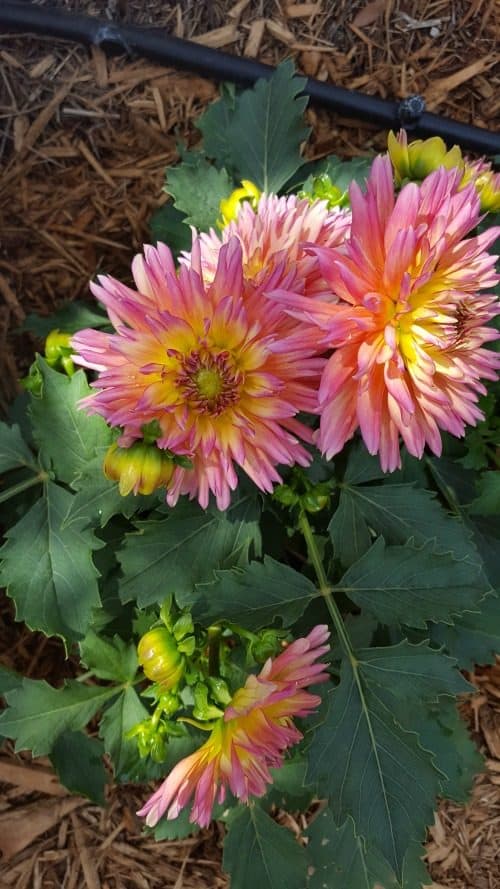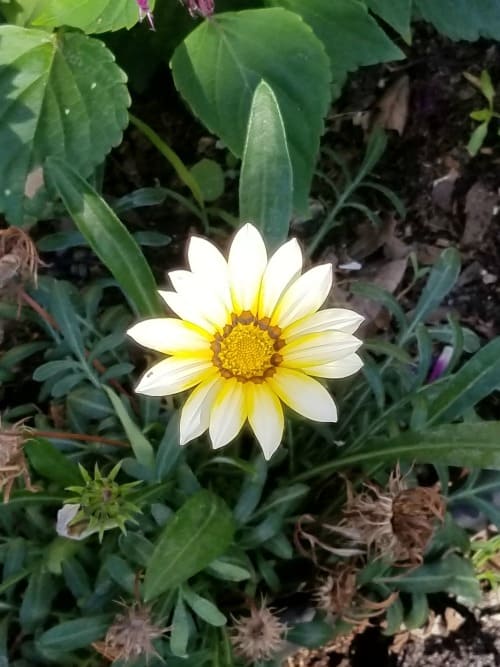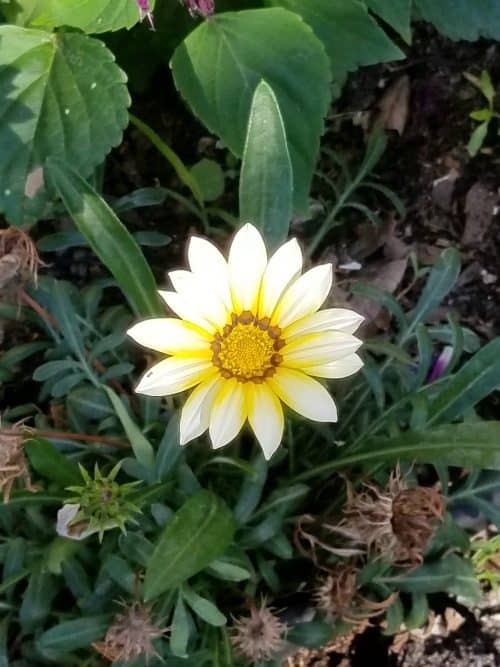 If you spotted all the black tubing everywhere, that is my irrigation. I target the water to the plants rather than watering the whole area as a way to cut down on weeds. I use the Rain Bird irrigation system (link below), and I have it attached off my sprinkler system, which we have connected to a Smart Home thingie to only water if there is no rain in the forecast. Fancy, but this irrigation will work off a simple spigot as well. I recommend it especially because all the irrigation I put in was re-purposed from my previous garden attempts – it is that versatile. Then, the edging I mentioned above is another bit I am very happy with. Made from recycled tires, this flexible edging was simple to put in and so nice looking that we put it around the whole pool too.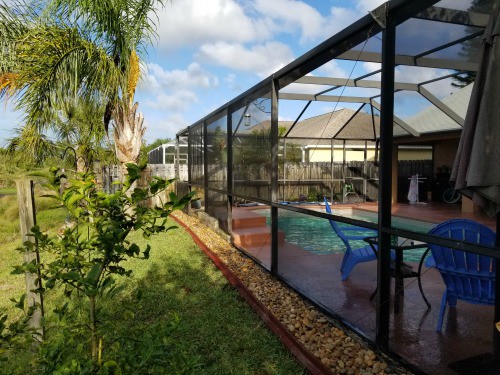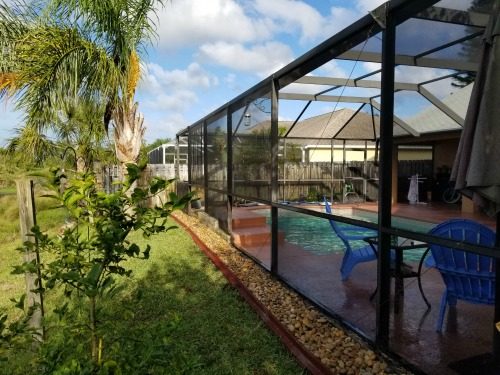 Now, my extra little touches are DIY …the bee houses, garden lights, and hummingbird feeder. ❤
First, the BEE HOUSES. REALLY easy, all I did was spray paint empty soup cans with Rustoleum color paint, then I stuffed them with paper straws cut to size. The size holes in the straws are perfect for Mason bees, and because they are paper, they dry out after getting wet and don't get moldy. And the colorful ink on them is non-toxic. Then I just hung them with some rustic string, and they were done. The advantage of these versus ones with bamboo-based bee hotels you can buy is that you can always just replace the straws if need be – like, if they get grody or if something you don't want starts living in them.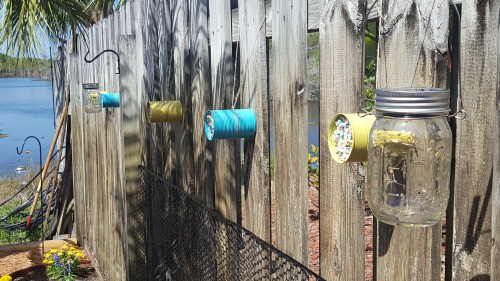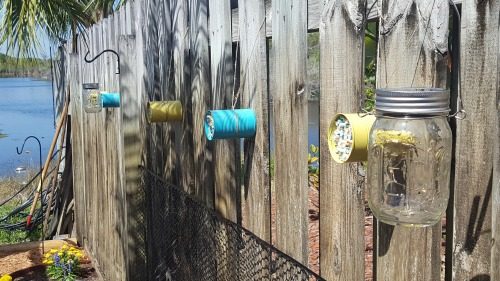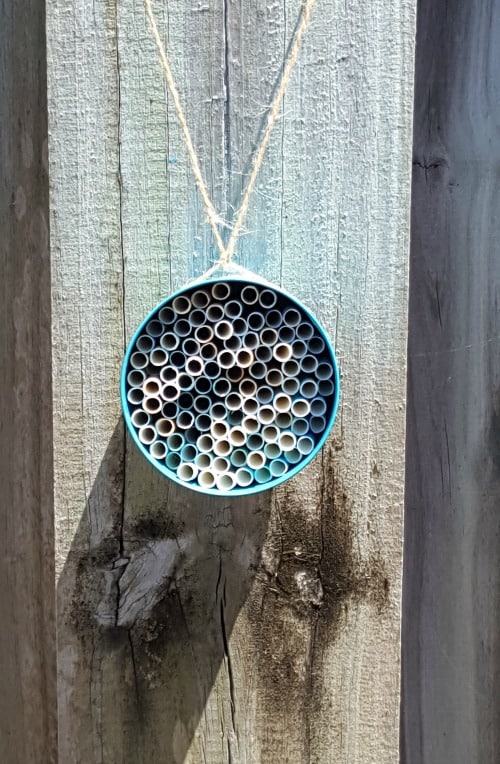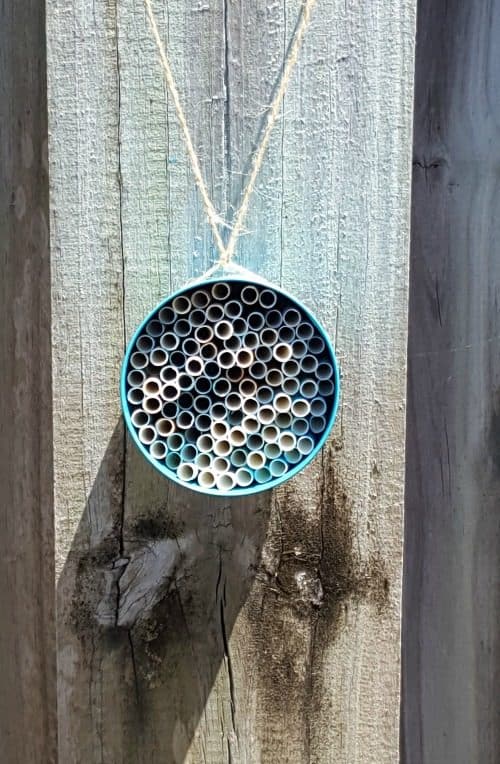 Next were the GARDEN LIGHTS for nighttime, and I made two kinds.
First, I went to the thrift store and found a large, tinted glass jar with a metal lid. I spray painted the lid with Rustoleum paint to protect it and make it look better with a hammered metal look, then I added a long string of solar fairy lights inside. These lights run dusk to dawn automatically, all by themselves.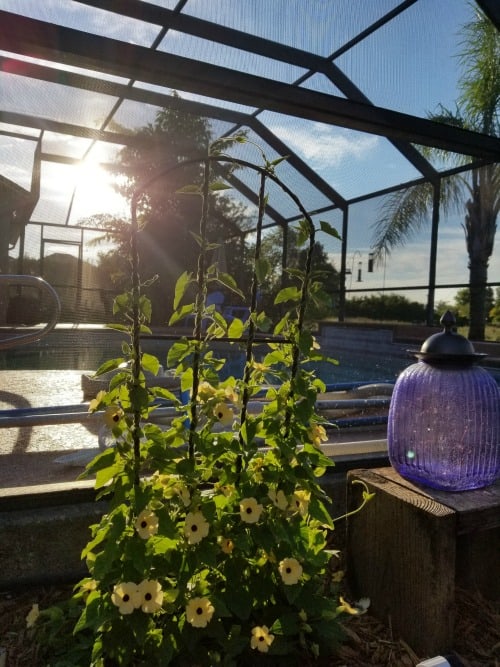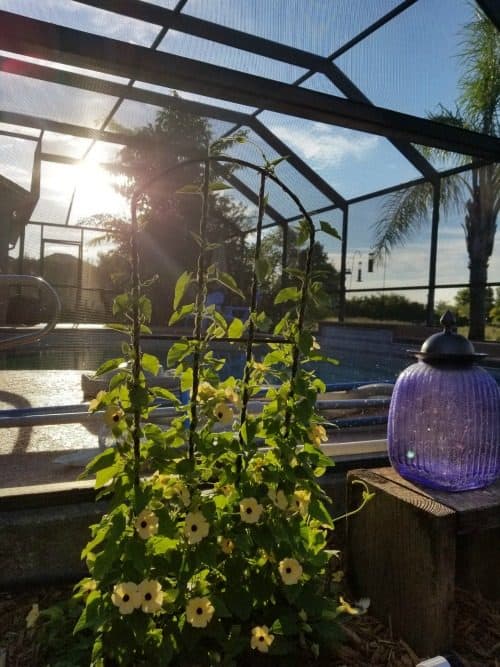 Then I made MASON JAR LIGHTS. These are by far one of my favorite things and so simple. Just take regular, pint-sized mason jars and replace the lid insert with one that is a little solar panel with …a little string of fairy lights! Fantastically easy and at night, so so pretty. Add a handy jar hanger, and just hang them everywhere. These lights run dusk to dawn automatically, all by themselves too like the larger one. I put half a dozen around the garden and pool area and they create such an atmosphere I love. The one thing I will warn is that water does get into them from rain – it hasn't affected them working, but I may at some point drill holes in the bottom because it bugs me. Other than that, I have been so happy with my mason jar lights.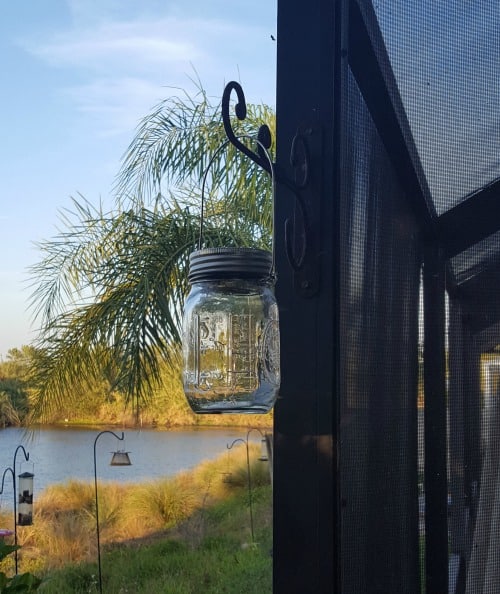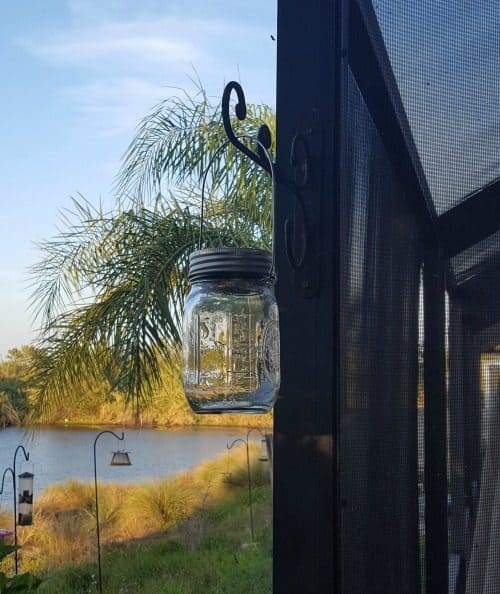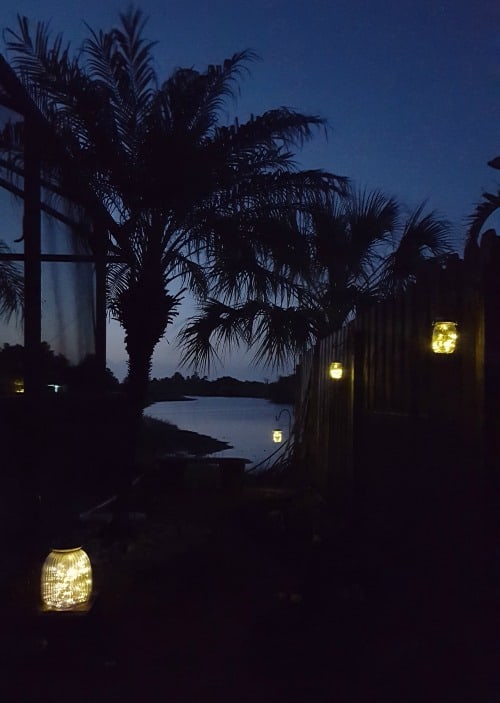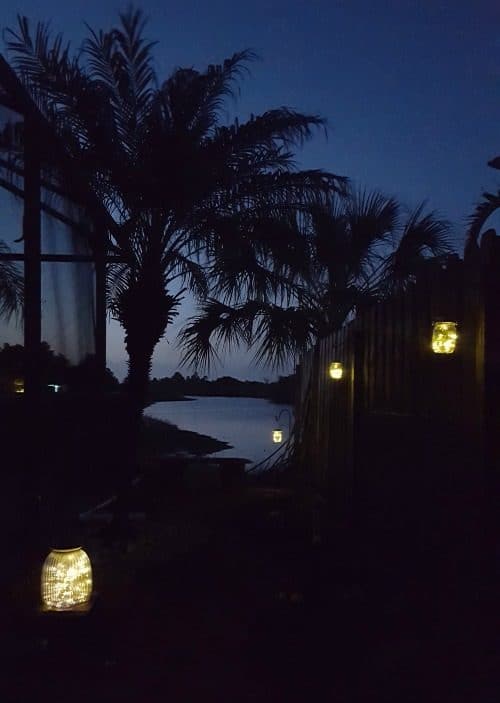 Then, for last, I made a HUMMINGBIRD FEEDER …out of a beer bottle! Not the most elegant thing ever, but I love it. It is just a clean beer bottle with a spout and copper wire wrapped around. I didn't add any bobbles or anything, but of course you could. I read a bunch of spout reviews on Amazon (mostly bad), and the important thing is to make sure that there is a ball bearing in the spout to prevent the liquid from just pouring through. And for the wire, I just picked up a couple feet of 8 gauge copper wire from Home Depot, then used good sturdy pliers and a rag to protect the wire and bent it around. A little ridiculous yes, but I just love it. So there.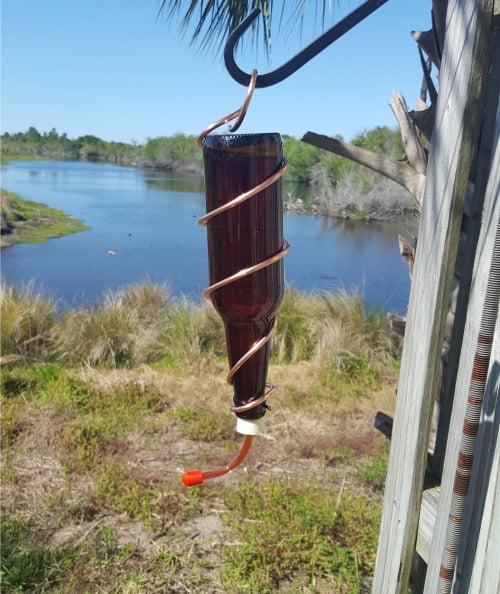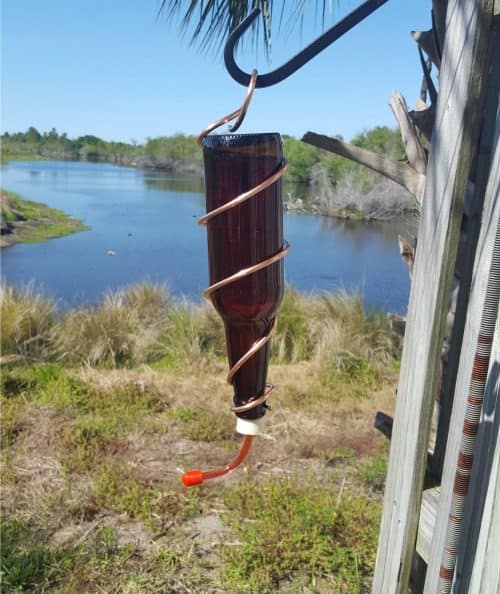 So that's it folks! A lot of work but it was so worth it. My young son goes out there quite a bit (he's even brought out a girl with him – them sitting on the bench together was beyond adorable). But the big point of this project was to scale back, simplify, and do a couple things smarter. Weeks later, I now declare this garden is so much more enjoyable, so pretty with the flowers especially seen from my pool area, and so so so so so much easier to manage. It's only early June, and I know I have summer ahead to go. But so far this design, particularly with the targeted water and fertilizer, is helping drastically reduce the weeding. And the plants are happy happy.