Winter Crostini with Mushrooms, Broccoli, and Hominy
This luxurious appetizer, while quick and easy to make with inexpensive ingredients, is sophisticated and divine with mushrooms, broccoli, and hominy kernels, cooked in wine, garlic, and butter. Piled on crusty crostini toast, this Winter Crostini with Mushrooms, Broccoli, and Hominy recipe is the perfect touch to add to any holiday spread.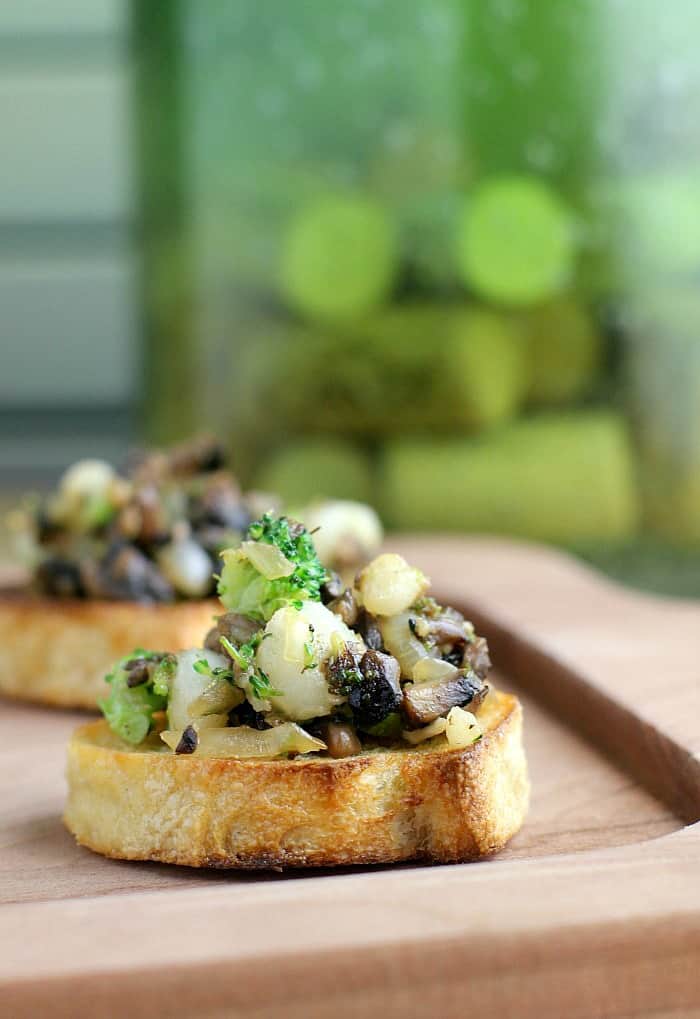 Merry Christmas and Happy Holidayzzz! We are all in the thick of it right now, aren't we? Amazon Prime, thank you for existing.
This is precisely why I wanted to make this recipe. To give you something easy to prepare, but have it still be all perdy and grown-up and elegant and healthy and posh and just a really great addition to a holiday spread.
Okay, so hominy. This is actually the first time I have ever had it straight up. I literally opened the can, poured it out, tasted, and declared "Yes. Yes I will cook with this". Hominy are corn kernels that have been dried, then soaked in a mineral lime bath. This softens up the kernels, loosens the hulls, and makes them double freakishly in size. They can then be made into masa, and this is where we get such necessities in life as tortillas and tamales. Long story short, they end up surprisingly not-corn-like, but instead are beautiful, little starchy gems with a flavor more reminiscent of potato to me than corn.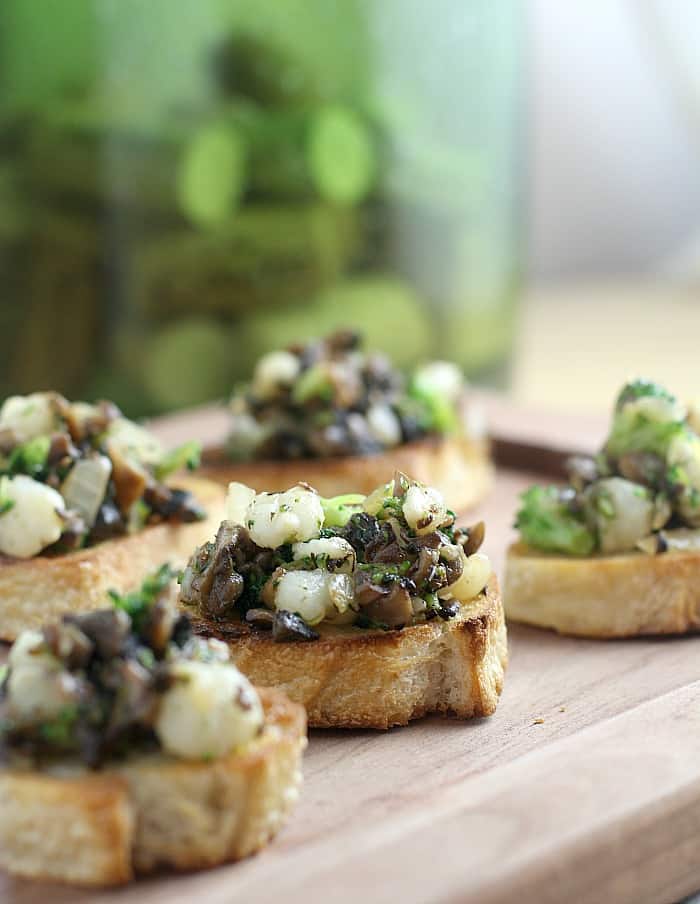 And THAT is why I used them in this recipe. I wanted a pretty, mushroom-based something on toast, but I wanted it be creative and different from what is already out there (a Google search for "mushroom crostini recipe" yields 471,000 results. Oyyy, try competing with that). …So, I was feeling a winter vegetable bruschetta-meets-hash kinda thing. But I wanted it easy, so I ditched my original idea of using potato (which would take much longer to cook), and instead opted for my first foray into hominy-ville. This cut the cooking time in half and I was so happy the flavor melded with the other ingredients prefectly to result in a delicious bite. My mission for this tasty nibble was accomplished.
The preparation here takes just a couple minutes. We saute some mushrooms, then add the broccoli, onion, and garlic. We add a bit of white wine, then boil that off leaving that flavor that complements all food ?. Hit it with some butter, the hominy, and fresh herbs, and it is ready to be piled onto crunchy, toasty crostini rounds. Yummayyy.
The flavor here is all Earth. Does that even make any sense? Maybe not, but that was my reaction – a sexy, scrumptious earthy flavor. Really different in such a good way. Subtle crunch and gorgeous color from the broccoli, zippy hint of onion. Fresh herbs. Garlicky and buttery. This just works.
So that's it folks. Here is a brand new party app, fresh from my kitchen to you, the world. With all the Christmas love in the world. Peace. ?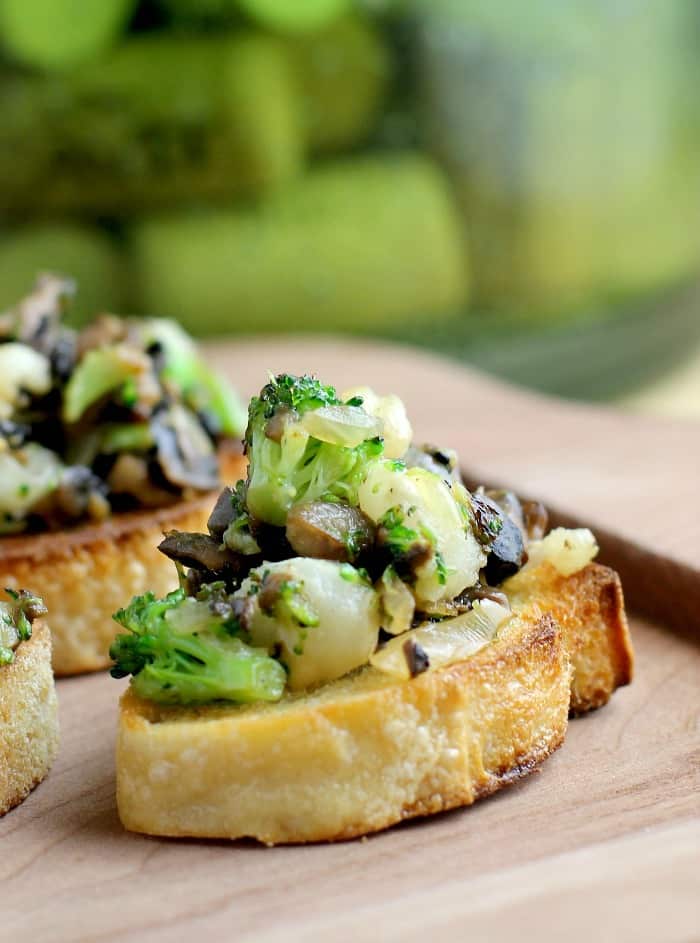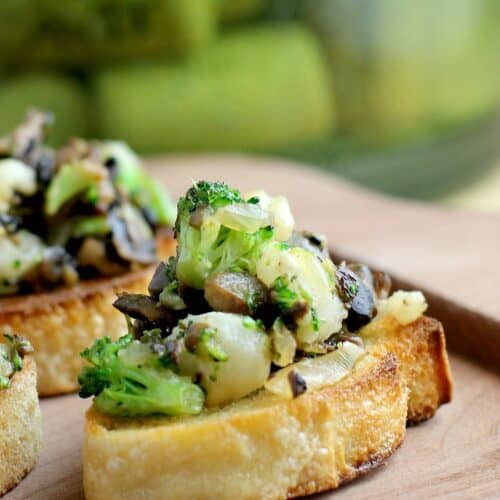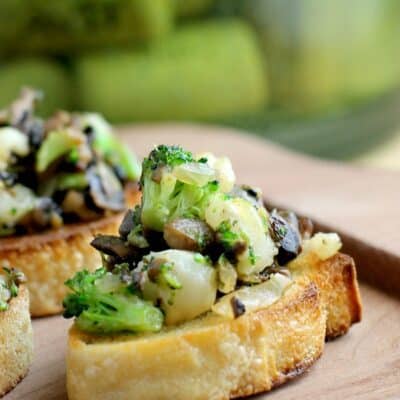 Winter Crostini with Mushrooms, Broccoli, and Hominy
Mushrooms, broccoli, and hominy kernels, cooked in wine, garlic, and butter, then piled on crusty crostini toast. This easy recipe is the perfect touch for any holiday spread.
Ingredients
1

Tbs

extra virgin olive oil

1

8oz pkg button mushrooms, chopped fine

1

cup

broccoli florets

1

large clove garlic

minced

¼

cup

finely diced onion

¼

cup

white wine

½

heaping cup canned hominy

drained

2

Tbs

vegan butter

such as Earth Balance

1

tsp

fresh thyme leaves

1

tsp

fresh sage leaves

minced

fresh cracked pepper

1

skinny French baguette

sliced into ~3/4-inch slices

olive oil in a mister or cooking spray
Instructions
Heat the olive oil in a large, nonstick skillet over high heat. Add the mushrooms and saute until nicely browned.

Meanwhile, finely chop the broccoli. Add the chopped broccoli, onion, and garlic to the mushrooms. Saute until the garlic is fragrant. Add the wine and cook, stirring often, until the liquid is dissolved and broccoli is tender. Add the hominy, butter, and fresh herbs, and toss well until heated through. Season to taste with salt and pepper. Set aside.

Turn on the oven broiler. Lay the crostini out on a baking sheet. Spray both sides with olive oil. Broil, 1-2 minutes per side, until golden toasty.

To assemble, spread the toasted crostini on a serving dish. Top each with a spoonful of mushroom mixture. Yields: ~14-16 appetizers (depending how much is spooned on each crostini round).
Notes
This recipe can easily be scaled up to make more servings. Simply double the ingredient amounts.
Calorie count is purely an estimate calculated using an online application to serve as a guide and not to be taken as accurate nutritional information. Percent Daily Values are based on a 2,000 calorie diet.
Tried this recipe?
Leave a comment below and let me know!
~✿♥✿~