Beer Barbecue Tater Tot Nachos
Sweet and salty, smooth and crunchy, Beer Barbecue Tater Tot Nachos are The Deal. Sweet Boston baked beans are spruced up with sausage, barbecue sauce, and beer for a super easy, DELICIOUS flavor combination. Then we layer our Beer Barbecue baked beans onto crunchy tater tots (Air Fryer instructions included!) and top with cheese to complete our totchos (aka tater tot nachos).
It is football season, the season of perpetual hope and crazy tasty gameday food, so add these tater tot nachos to your next line-up. (see what I did there??)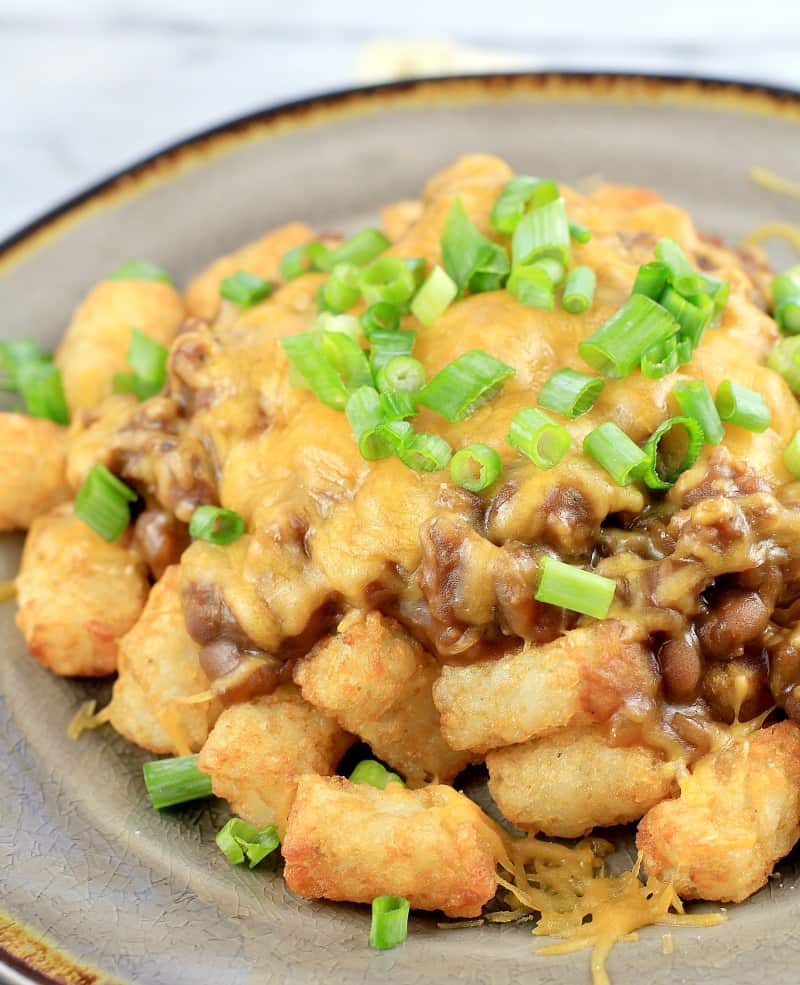 Beer Barbecue Tater Tot Nachos
Oh glory glory, do I love munchy, meant-for-grazing, football food. While other bloggers are all about all things pumpkin right now and rolling out the new cookie recipes for Christmas, here I am just making football food. Last post: Buffalo Bacon Chicken Dip. This post, TOTCHOS.
"Totchos", sounds silly right? And it is. It's a stupid play on nachos, clearly. Tater TOT+ nachCHOS = Totchos [eye rollll]. I'd never heard that term until not that long ago, and, in general, making a nacho-like dish with tater tots seems pretty obvs.
Not that I'm one to throw any stones whatsoever… I made nachos with kettle chips so I'm just as guilty (and I even made them "loaded", such the token blogger move).
Good grief, what is my point and what am I rambling about?? My point is that a recipe idea may look token. It may look SO done before already and let's just get over it already …but sometimes you have to dig deeper. My nachos with kettle chips are amazing because I used freaking flavorful Sriracha pulled chicken. SO not token. And these tater tot nachos are in that camp as well.
Why? Here's why…
Why these NEW tater tot nachos rock:
Boston baked beans
Sausage
Barbecue sauce
BEER
Cheese
All put on lightly crispy-crunchy tater tots. YYUMMMM.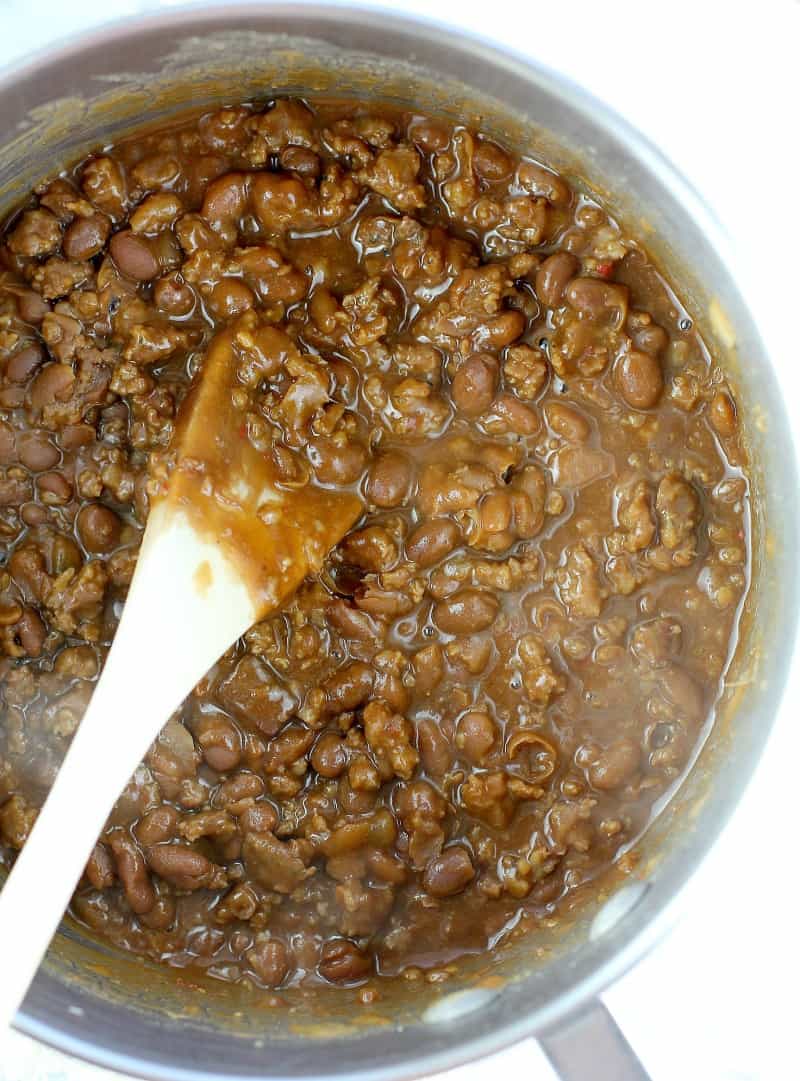 If this recipe looks good check out these other recipes with beer
Clearly, I like cooking with beer. And if you still aren't convinced, check out these 41 Recipes that Prove Beer is the Best Ingredient. Boom.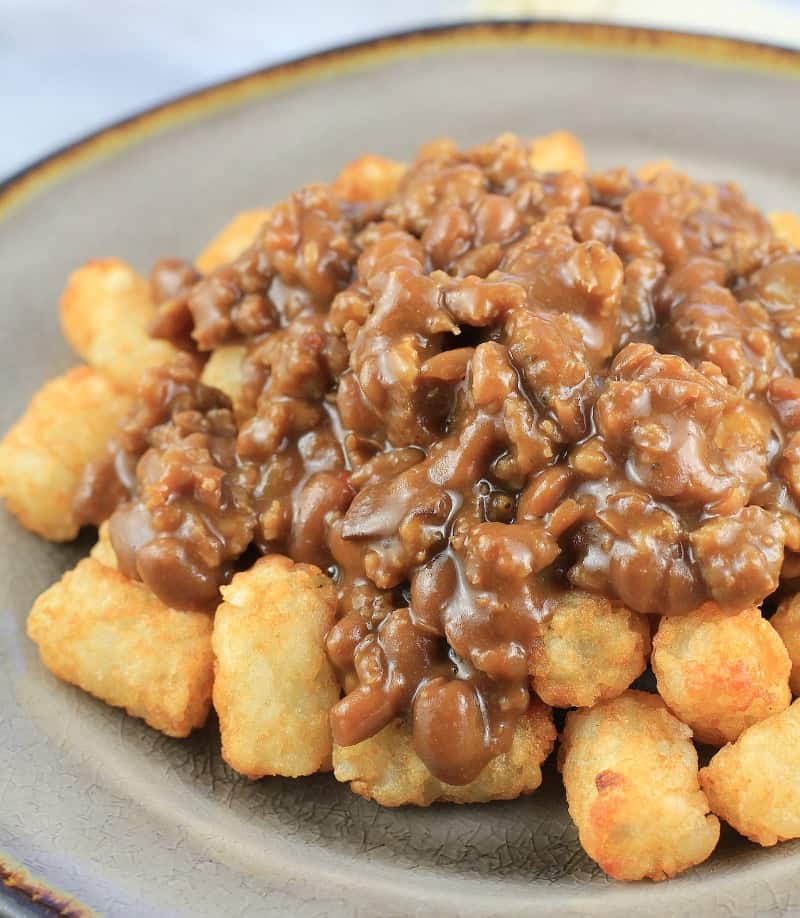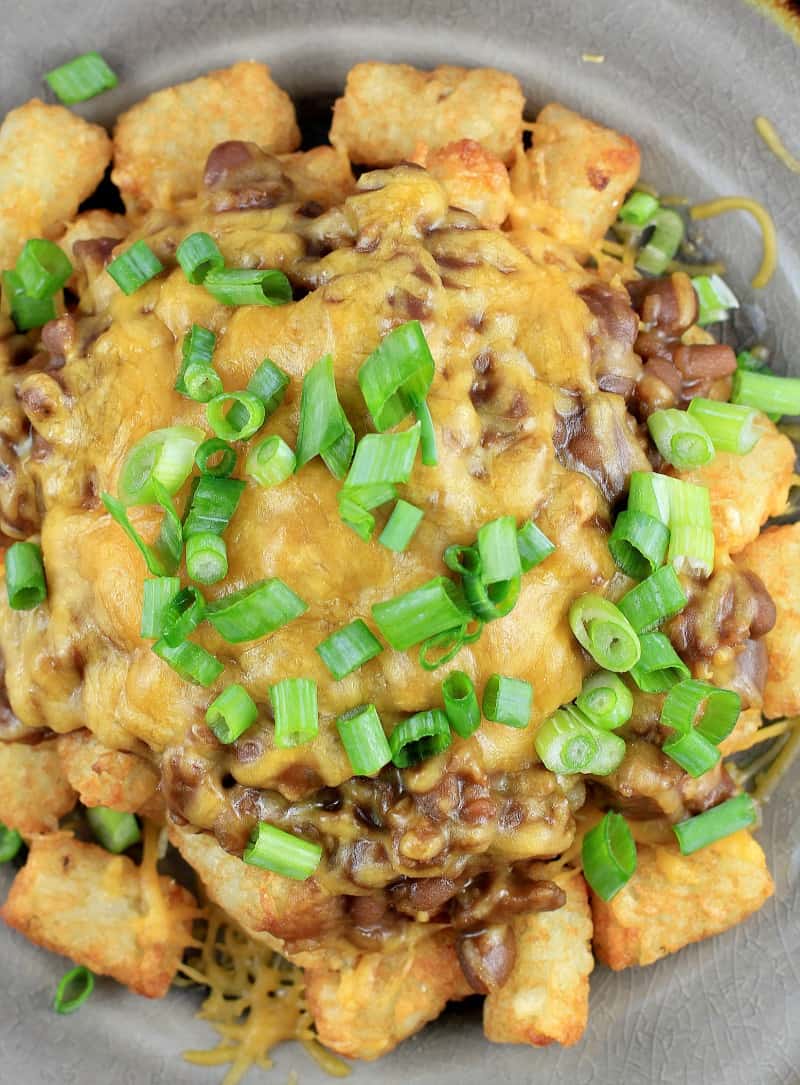 This recipe is super duper easy. I used that old-time favorite, BOSTON baked beans (I am from Boston, in case you didn't know), and doctored it up with a couple ingredients: cooked pork sausage (which makes a magical combination with baked beans I have found), barbecue sauce, beer, and ground mustard.
Now, note: once you add these ingredients, if you taste it will not YET be all that great because the ground mustard adds a bite initially. But once we let these ingredients simmer simmer a bit, the mustard mellowwwws, and it allll becomes suh awesommme.
Next are the tater tots. I LOVE mini tater tots especially, because we get more crisp to soft ratio, but get what you like, and cook according to package directions – which means, bake, fry or whatever.
I used an Air Fryer which does a fantastic job of making crispy tots with no additional oil. But this is a new toy of mine, and I understand obviously not everyone has one, sooooo if I didn't have it I would def bake. Baking is as easy and as not messy. Frying in oil (though they taste great), isn't worth the effort I think. but that is just my opinion, you do up your little tots as you like.
Then, lastly, we get super complicated ….cheese and green onion. That's it. I didn't do bacon, because we already have sausage. I thought about doing a stout queso to complement the stout beer in the beans, but then I got lazy. And honestly, nothing else was needed. The baked bean-barbecue sauce-beer mix is SO good, then crunchy tots, then cheese and a little bite of mild green onion. It Is Enough. AND we've kept this recipe easy easy.
So that's it kids. Crazy easy, tasty, football-perfect totchos ..or whatever you want to call them. Salty sweet, cheesy good and a crowd-winning must-try.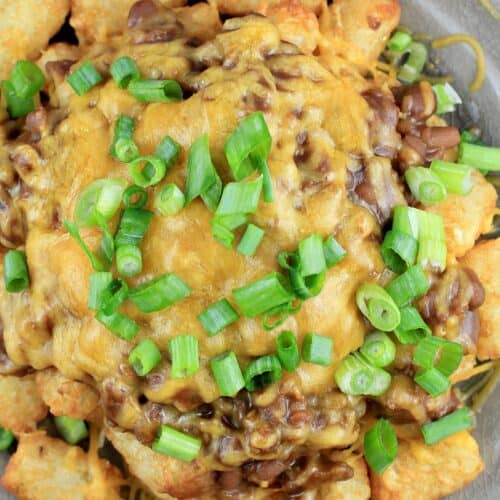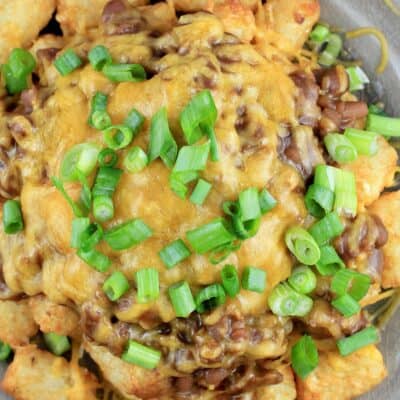 Beer Barbecue Tater Tot Nachos
Sweet and salty, smooth and crunchy, Beer Barbecue Tater Tot Nachos are The Deal.
Ingredients
1

16 oz can Boston baked beans

½

lb

bulk pork sausage

cooked and crumbled, fat drained

¼

cup

barbecue sauce of choice

½

cup

extra stout beer

¼

cup

finely diced onion

½

Tbsp

dried ground mustard

1

28 oz bag tater tots

8

oz

shredded sharp cheddar cheese

¼

cup

thinly sliced green onion
Instructions
In a medium saucepan, combine the beans, sausage, barbecue sauce, beer, onion, and ground mustard. Simmer, stirring regularly, over medium-low heat for ~45 minutes until well thickened (alternatively, this can be done in a slow cooker for 4 hours on low heat).

While beans are cooking, cook the tater tots according to package directions. Alternatively, I cooked mine at 400F for 15 minutes in an air fryer.

To serve, layer tater tots, bean-sausage mixture, and cheese on a serving plate. Place under a heated broiler for ~1 minute to melt the cheese if needed. Top with green onion and serve. Yields: 6 servings.
Notes
When I made this recipe, I used mini tater tots because I find they cook better in the air fryer. Regular tater tots work just as well for this recipe.
Nutrition
Calorie count is purely an estimate calculated using an online application to serve as a guide and not to be taken as accurate nutritional information. Percent Daily Values are based on a 2,000 calorie diet.
Tried this recipe?
Leave a comment below and let me know!