Barbecue Meatball Waffle Sliders
Saucy barbecue meatballs in crispy little waffle sliders with melty cheese, tomato, and Arugula aioli for easy party finger food. So, be the rockstar and try this little appetizer. This post was sponsored.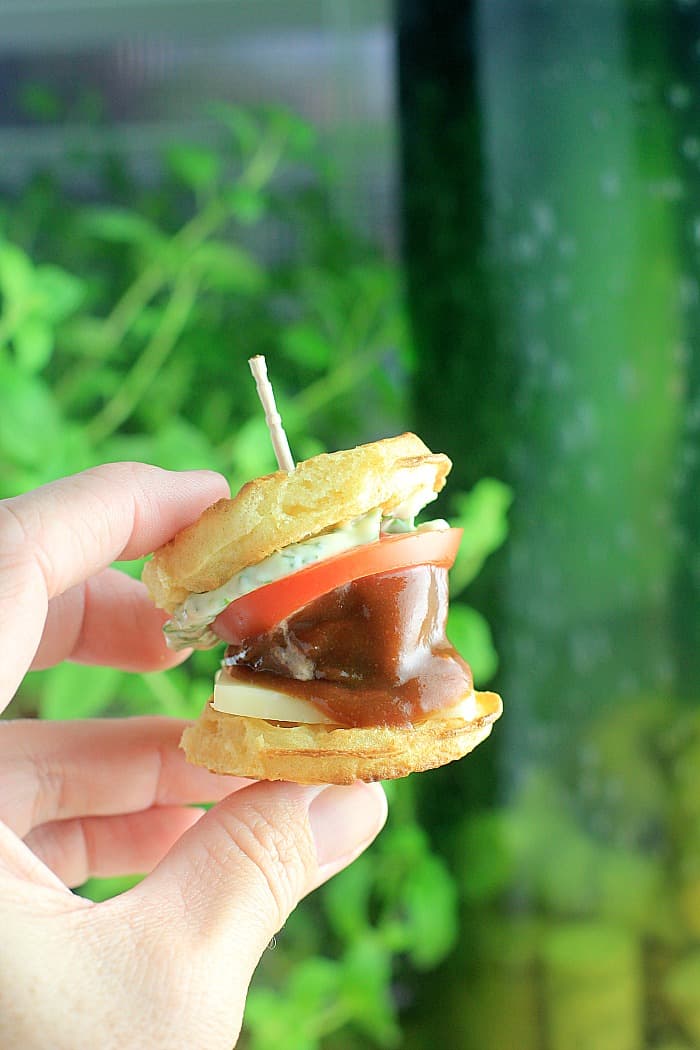 About the waffles
Good news guys! Kellogg's overhauled the ingredient profiles for their entire line of waffles. Kellogg's Eggo Mini Waffles and all the others in the whole product line now have colors and flavors only from natural sources. And no artificial flavors. I do love when companies listen to their customers.
Especially when I want to make a recipe that requires teensy little waffles that I am not about to make on my own.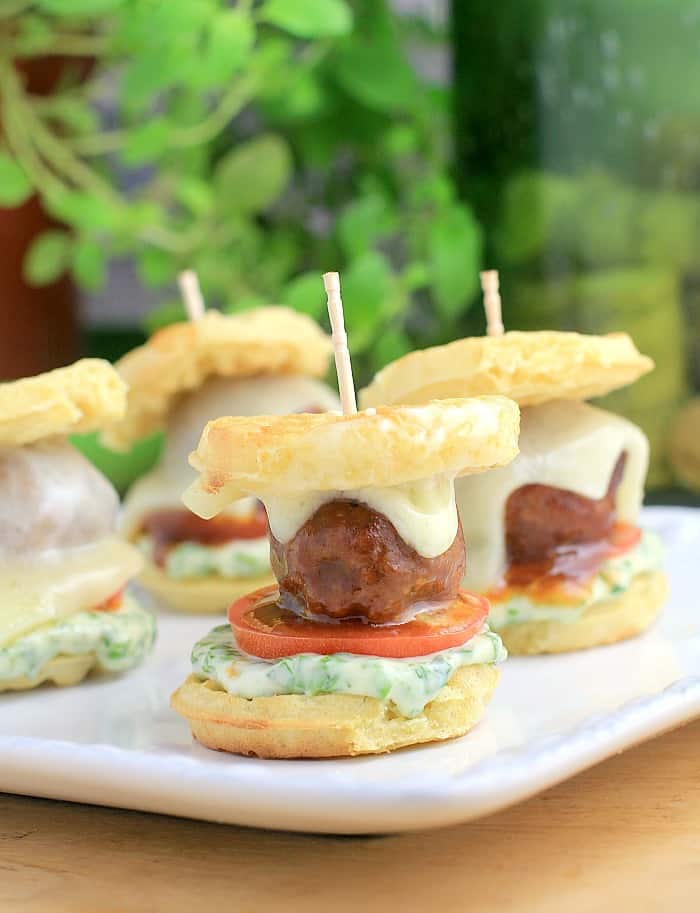 So, I love waffles. Who doesn't, right? But I like realllly love waffles especially in savory recipes where you would not expect them.
Prime example is my Honey Sriracha Pulled Chicken and Waffles. That is good stuff right there. Really really good. Is it weird that I prefer to use waffles in non-breakfast recipes? I'm talking dinner waffles.
And during the hectic workweek especially, I have been known to pick up some of these frozen waffles as an easy shortcut. …Don't judge.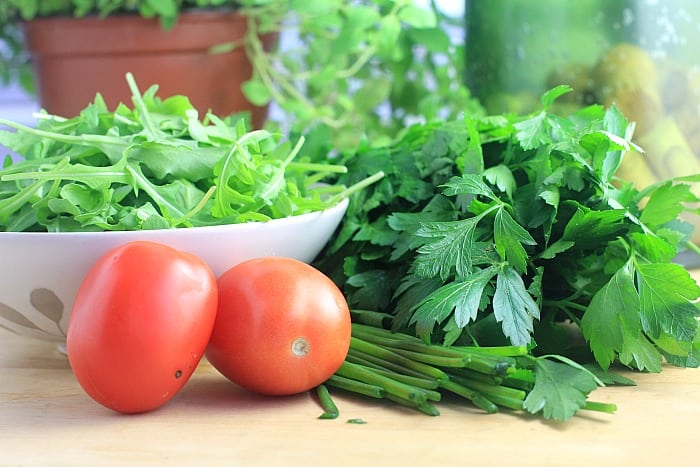 I also love sliders. In general.
Little complete burgers or whatever in one big bite. I love the whole concept of sliders, because you can make a bunch, try different things, then people will try them ALL because each one is not that much food.
Anyway, to work with Kellogg's Eggo Mini Waffles, I immediately wanted to do a little waffle slider – something I have not done before.
I wanted the recipe to be ridiculously easy. Like Eggo Minis are easy – you just stick them in a toaster and BAM! …And I wanted them to be pretty.
I wanted them to be easy, but impressive enough that if put out at a party or for an occasion, they would get all scoffed up YUM.
This discussion is so first world. I get it.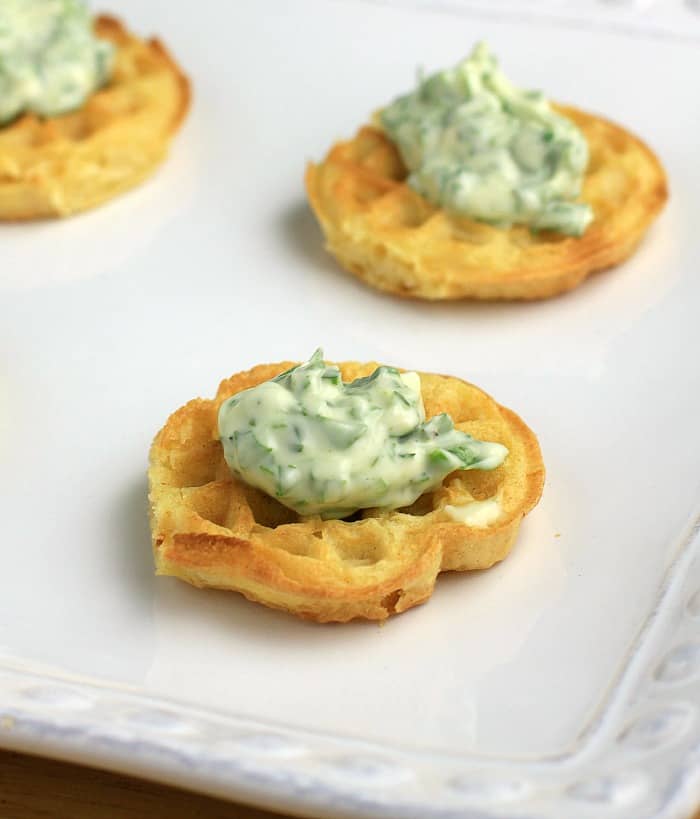 And these little Eggo Mini Waffles delivered too. Because they get so toasty, they held up perfectly – and I do mean literally perfectly.
In fact, I was quite pleased how the nice crunch remained even after they had sat out a bit on the platter. Party Perfect.
And so, I give you …the Barbecue Meatball Waffle Slider. Which may seem obvious. It may seem not that creative on its face, but let's dive in a little into this recipe, shall we? …because the key is everything else.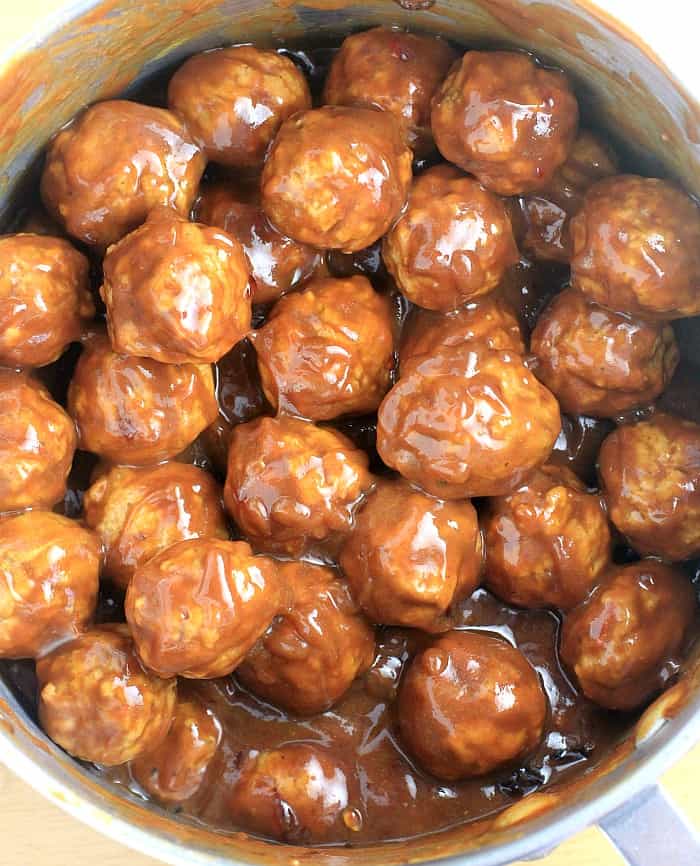 Ingredients
Meatballs.
Barbecue sauce. Spruced up with a little mustard.
Tomatoes.
Sharp white cheddar cheese.
Mini waffles.
Arugula aioli.
Arugula, lemon, and fresh herbs in an aioli (which is legitimately my new favorite thing and I am going to use it everywhere), fresh tomato, melty cheese, and tangy BBQ sauce.
The flavors combine for an epic, delicious, phee-nom-enal waffle slider bite. This appetizer was loved by all, and I do serve a tough crowd so that says a lot.
HA! And oh by the way, the photo at the top, the first one you saw that got your mouth all watering?? THAT is NOT a meatball! THAT is a vegan beef tip, along with all the other ingredients I used). Fooled yuh.
This is what I do a lot now – cook something like this for my family and make a vegetarian version for myself. It is all just too easy.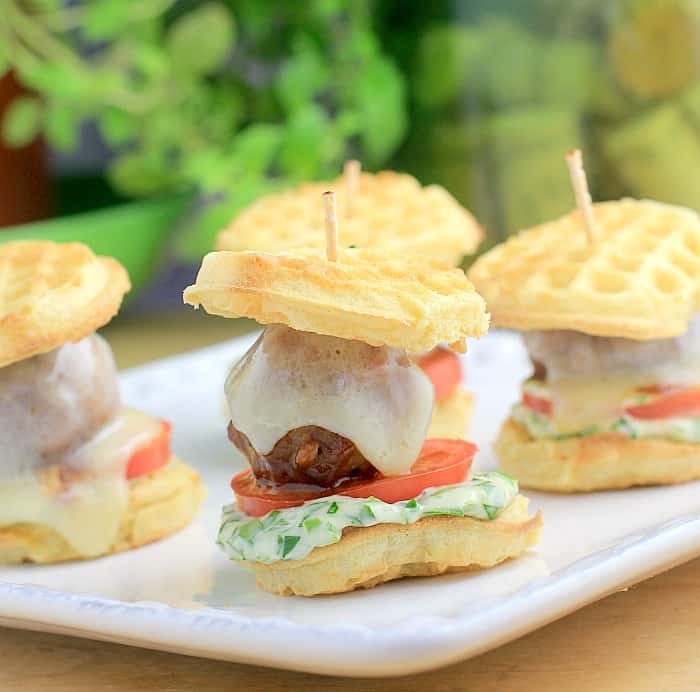 Steps
The steps to make these meatball sliders are fantastically simple.
Heat the meatballs in the barbecue sauce.
Make the arugula aioli.
Assemble the remaining ingredients: cheese and sliced tomato.
Toast the mini waffles.
Assemble and enjoy.
Too easy!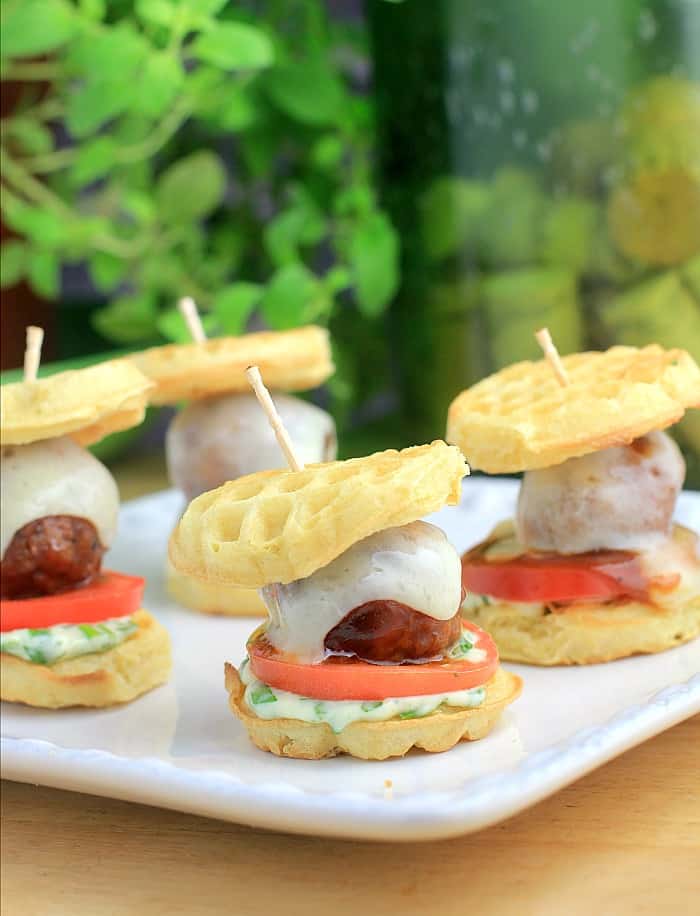 So that's it folks, and there we are. With such a scrumptious bite. Simple to make and fun, but grown-up and pretty too. I adore this little recipe and I hope you will too.
More party bites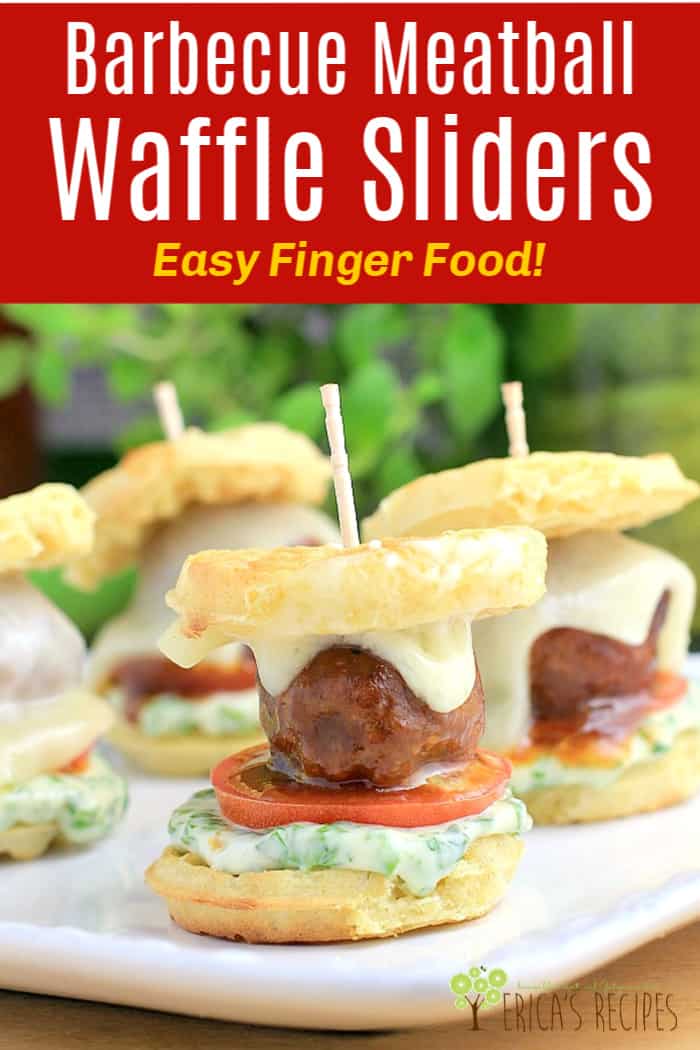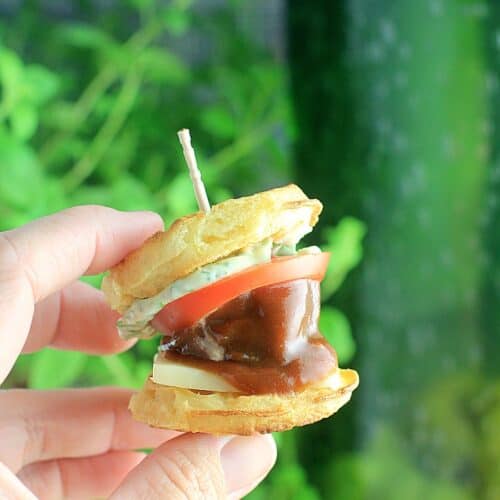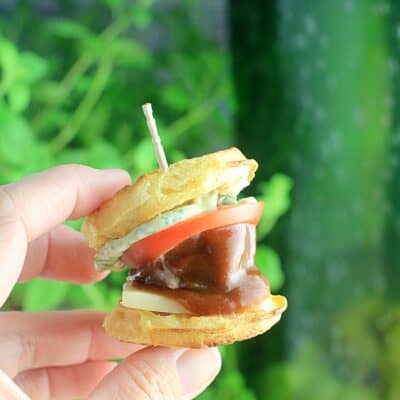 Barbecue Meatball Waffle Sliders
Saucy barbecue meatballs in crispy little waffle sliders with melty cheese, tomato, and Arugula aioli for easy party finger food.
Ingredients
20

frozen meatballs

thawed

1

19 oz bottle barbecue sauce

1

Tbs

yellow mustard

20

slices

Roma tomatoes

20

slices

slider size white sharp cheddar cheese

2

Kellogg's Eggo Minis Waffles
For the Arugula Aioli
⅓

cup

mayonnaise

¼

cup

finely chopped Italian flat-leaf parsley

2

Tbs

finely chopped chives

½

cup

finely chopped arugula

1

tsp

fresh lemon juice

pinch

kosher salt

pinch

fresh cracked pepper
Instructions
In a medium saucepan, add the meatballs, barbecue sauce, and mustard. Let it go on low for a while until the meatballs are heated through and it all gets saucy. This can be done in a slow cooker.

In a bowl, combine the ingredients for the aioli.

Toast the Eggo Minis Waffles until lightly browned and toasty.

For each slider: layer a waffle, a teaspoon aioli, meatball, cheese, and another waffle. If you would like your cheese melty, sliders can be popped in the microwave for 10 seconds.
Notes
For a vegetarian option, substitute meatballs with vegetarian meatballs or "beef tips".
Nutrition
Calorie count is purely an estimate calculated using an online application to serve as a guide and not to be taken as accurate nutritional information. Percent Daily Values are based on a 2,000 calorie diet.
Tried this recipe?
Leave a comment below and let me know!
~✿♥✿~
Leave me a comment! Otherwise, I'm just talking to myself here. Do you do sliders?