Stuffed Mushrooms Parmigiana! It has been quite a while since I have given you pretty party food ….so, here you go! A new stuffed mushroom. From me with love.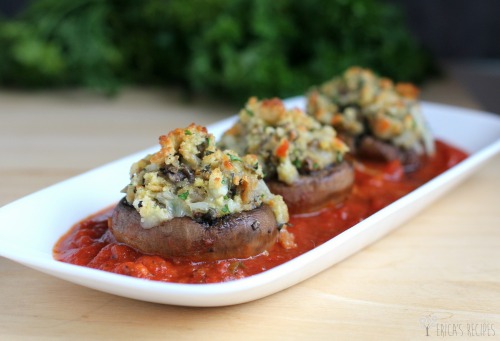 I made these on a lovely Sunday afternoon (with fabulous natural lighting I might add) to be football food. I am a football fan and it is football season. So I am supposed to rock out cheesy, gooey, spicy, salty, finger-licking, goes-great-with-beer yum-yums every weekend now, right? …But look at these lovelies! I had such a total chick moment in my kitchen when the idea occurred to me to make them too – I think I even burst out loud "OH, they'll be so pretty!!!" ..They are so not football food, but they are so so tasty …and pretty.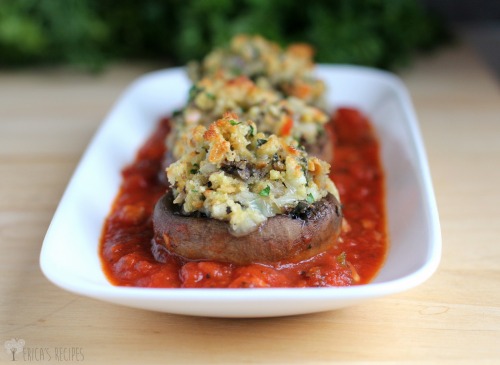 Cuz we all need recipes for pretty little bites too right?
These mushrooms are very easy to make. This cheesy stuffing is made with simple ingredients like bread and fresh herbs, and stuffed gingerly into big, beautiful white button mushrooms that you just know are going to bake up juicy and tasty sitting on top of easy Marinara. Nom nom nom nom nom. They even reheated really well for lunch at work the next day. Love when I get that bonus.
So here they are – my new 'shroom. I hope these look as good to you as they tasted to me!
Stuffed Mushrooms Parmigiana
2014-10-25 11:10:28
Ingredients
8-10 large white mushrooms
1 c Marinara
extra virgin olive oil
1 c fresh bread crumbs, made from day-old baguette
1 T fresh oregano leaves, chopped
1 T chopped fresh Italian flat-leaf parsley
1/2 t kosher salt
pinch fresh cracked pepper
2 T freshly grated Parmigiano-Reggiano
1/3 c shredded mozzarella cheese
1 egg, lightly beaten
Instructions
Heat oven to 400F.
Take a 2- or 3-qt bake dish and add the marinara in a layer.
To prepare the mushrooms, gently brush the dirt off each using a damp paper towel. Break off the stems, chop the stems, and set aside. Take the mushroom caps and brush tops and bottoms very lightly with olive oil. Place them, bottom-sides up, into the bake dish on the marinara.
In a mixing bowl, use a fork to combine the chopped mushrooms stems and remaining ingredients. Mound the stuffing into the mushrooms caps. Bake for 20 minutes until stuffing is heated through and lightly browned on top.
Erica's Recipes https://ericasrecipes.com/
~✿♥✿~