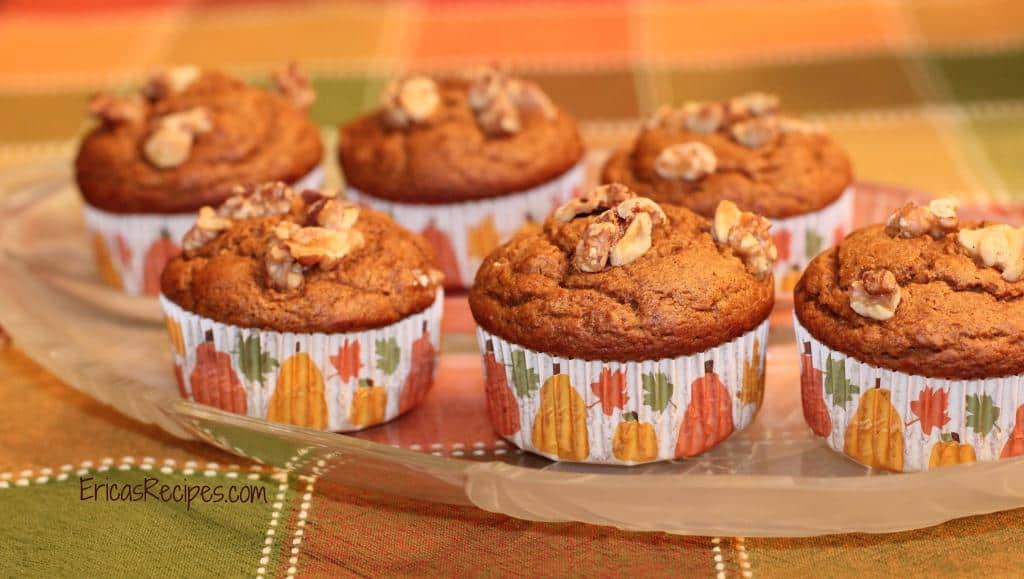 These freeze really well. In fact, if these aren't going to be eaten within a day or two, I do freeze them because I don't add any oil or preservatives and they won't keep. So after I freeze a batch, then I just grab one, give it a quick zap in the microwave, and I have a yummy muffin! This recipe was adapted from one by Ellie Krieger.
Healthy Pumpkin Muffins
cooking spray
1 c flour, all-purpose
1 c flour, whole-wheat
1 t baking soda
1/2 t kosher salt
1 t cinnamon, ground
1/2 t ginger, ground
1/4 t cloves, ground
1/8 t nutmeg, ground
3/4 c firmly packed, light brown sugar
3 T molasses, unsulphured
1/4 c applesauce, unsweetened
2 eggs or 1/2 c egg substitute
1 c pumpkin, solid pack
1 t vanilla extract
3/4 c buttermilk, low-fat
Heat oven to 400. Coat a 12 muffin tin with cooking spray or paper liners. In a medium bowl, whisk together both flours, baking soda, salt, and spices.
In a large bowl, whisk together sugar, molasses, applesauce, eggs, and buttermilk until combined. Whisk in the pumpkin and vanilla. Stir in the flour mixture just until combined (this is important because if it's overmixed, they won't come out fluffy). Pour batter into muffin tins, filling each ~2/3 full. Bake 20 minutes.
Note: before baking, you can top with some pumpkin seeds or chopped walnuts for crunch.
~✿♥✿~