Ham, Egg, and Dijon Gravy over Butternut Squash Biscuits
Ham, Egg, and Dijon Gravy over Butternut Squash Biscuits uses leftover holiday ham and butternut squash, perfectly repurposed for breakfast. Let this creative Butternut Squash Biscuits spin on biscuits and gravy become a new, post-holiday tradition in your home.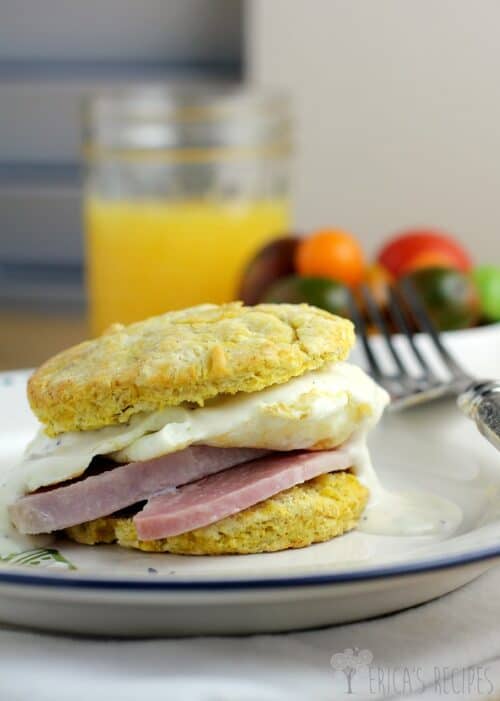 So holy holy check this recipe out. We are tackling two leftovers here in one dish. Two! And not just by layering them on top of each other in a sandwich and calling it a recipe …well, that's exactly what we're doing. But you know what I mean. The squash is being recreated into buttery, yummy biscuits. Throw in a sunny runny egg and creamy gravy, and next thing you know, you will be picking up ham and squash just to make this.
Most holidays, I make my Grammy Peggy's Mashed Butternut Squash. She made it every single holiday while I was growing up. But not only do I have that childhood attachment to mashed butternut, it is also very healthy because we do very little to it. This is kinda the only healthy holiday thing I make actually. So for this recipe, I used my leftover squash to make biscuits. Ima clever gurrrl.
Then we have the ham. For Easter, I normally make a ham. But many people do hams at Christmas, and for me to get you this leftover ham idea nowww… we had ham for Thanksgiving. …that is all kinda messed up, I know. But lots of people do that too, so whatever. Besides, I cooked a turkey a week ago for the Thanksgiving party at work, so I got my fix. All is well.
I find leftover ham to be particularly easy to deal with. You can throw it in about everything – like hash, gnocchi mac and cheese, a breakfast strata. This is the first time I have tried the Hormel Cure 81 ham, and I opted for the Cherrywood smoked …cuz, duh. Cherrywood.
The Hormel Cure 81 ham came with a glaze included, but I opted to use my own recipe and mustard-brown sugar glaze – I always love my ham with those little pearls of whole mustard grains. I also studded it all over with whole cloves. That is where cloves belong. To ensure copius leftovers, I got an 8+ pounder, and I have already frozen the leftovers in 1/2-lb batches to thaw, chop, and throw in all sorts of quiches, soups, and casseroles for the next month. Even just yesterday this leftover ham found its way into tasty sliders for football. It is definitely a tasty tasty ham.
Now, what I am shooting for with this recipe is a special new breakfast for the day after your big event. But honestly, after a big holiday meal, I tend to take time off. Let my family fend for themselves. Let the microwave do all the work. What I do love to do and started doing in recent years is to bang out biscuits New Year's morning, especially for my daughter who loves them so much. I think that will be my plan again.
So now that I have jabbered on enough, here are some yummy photos…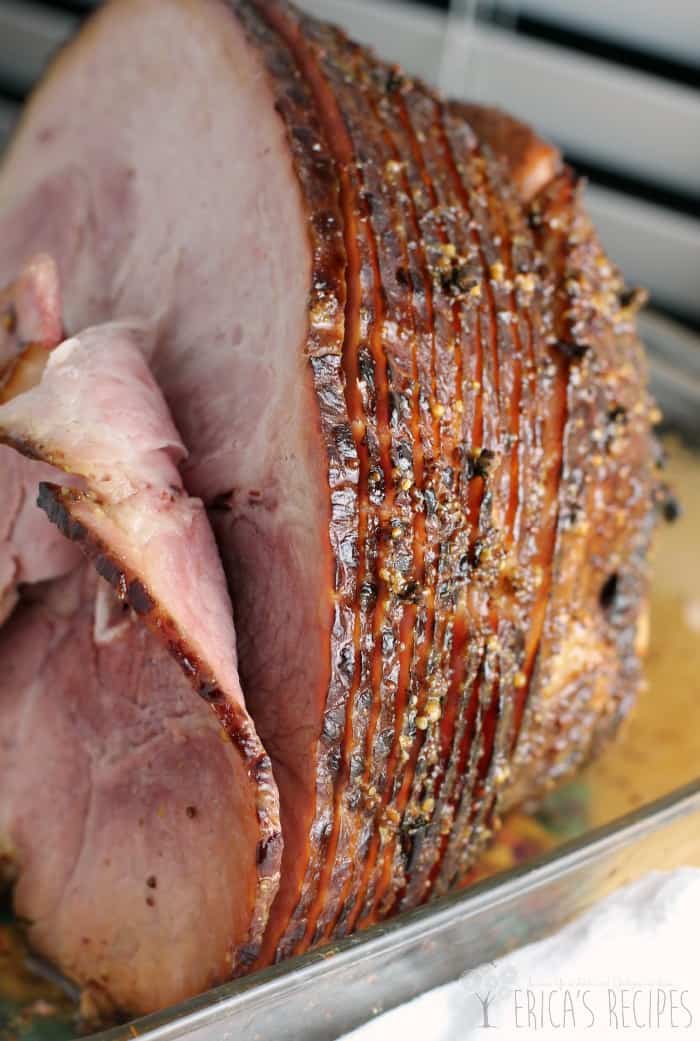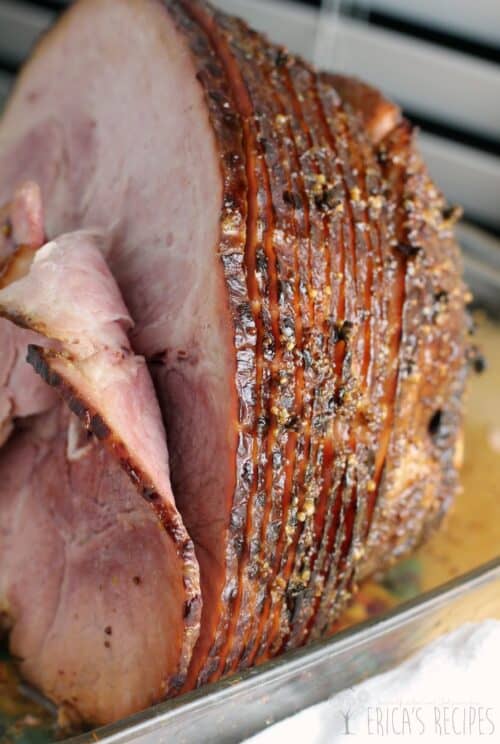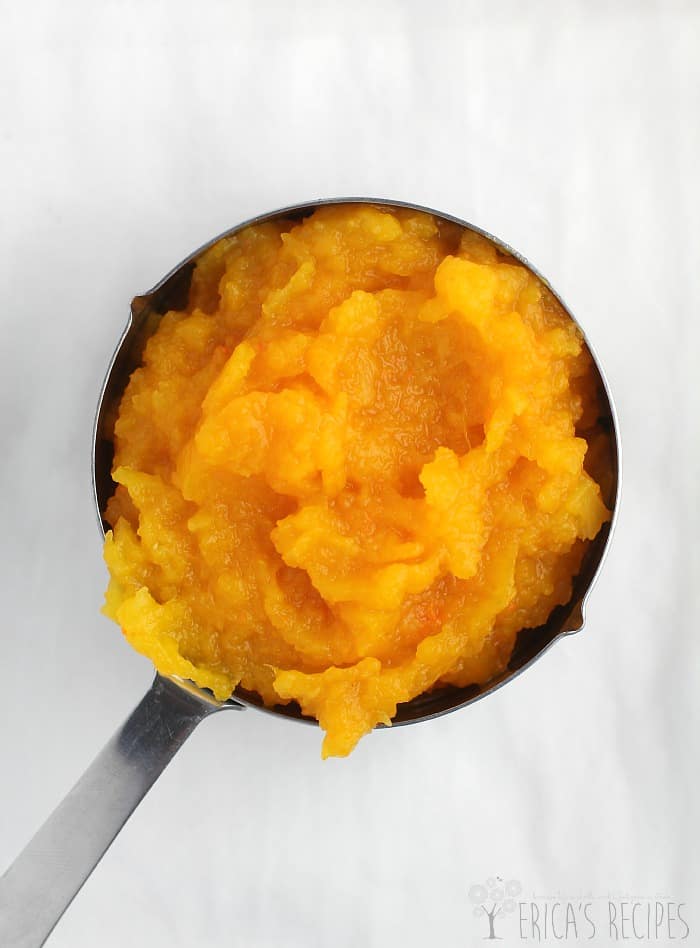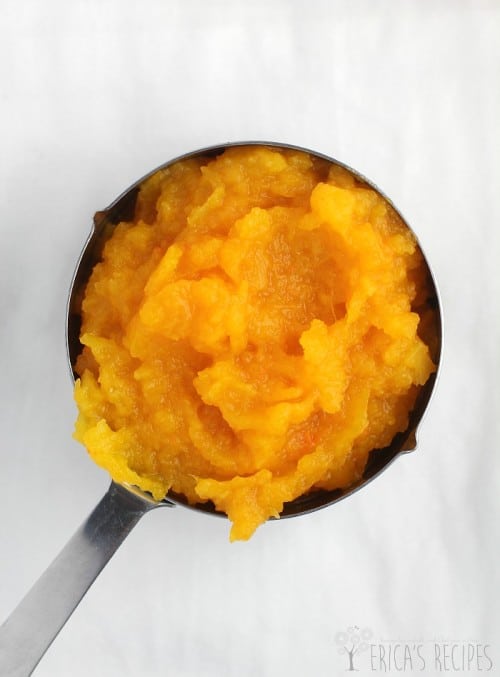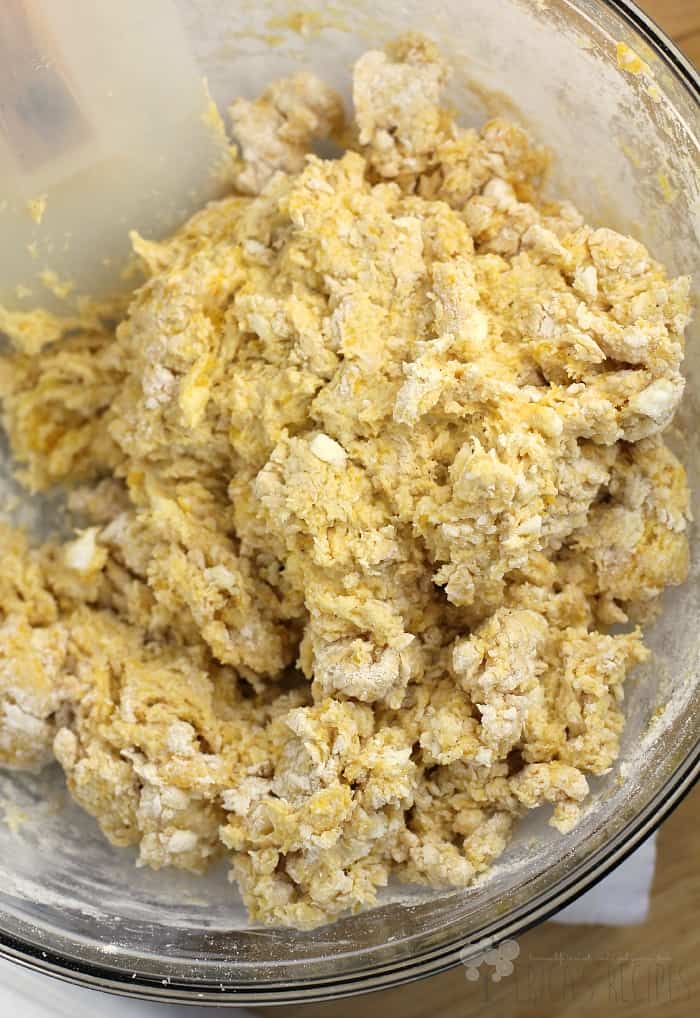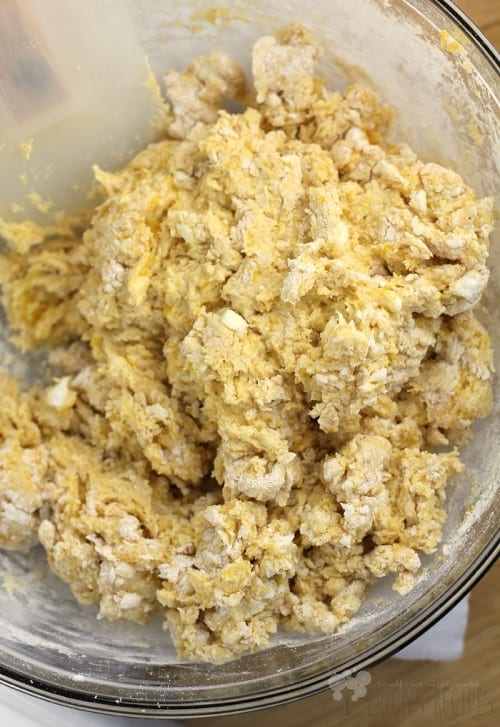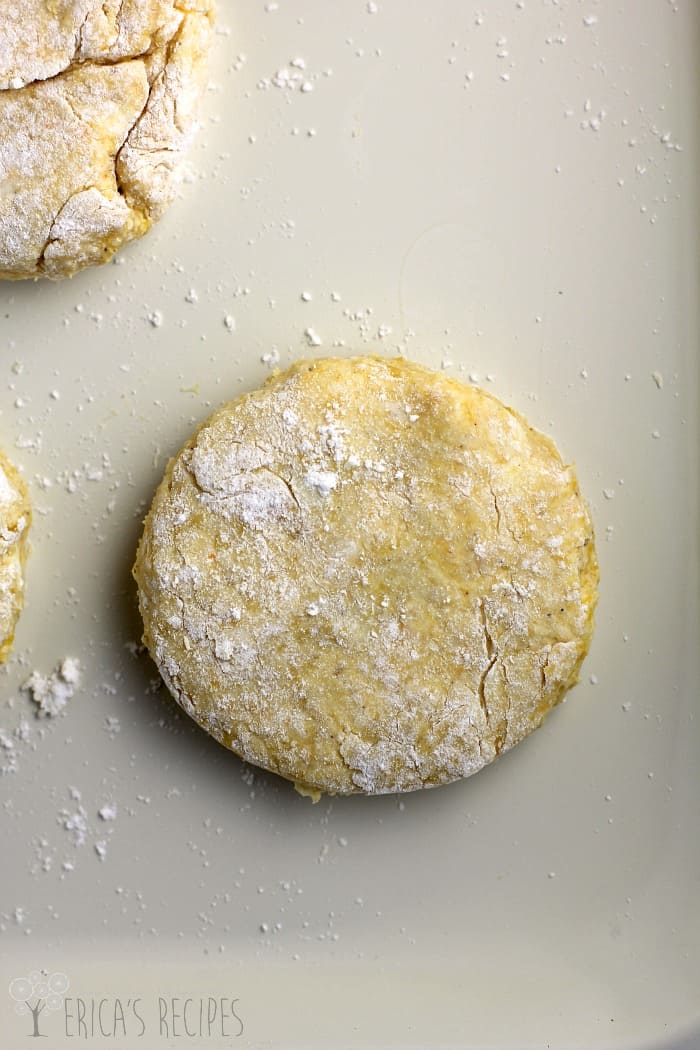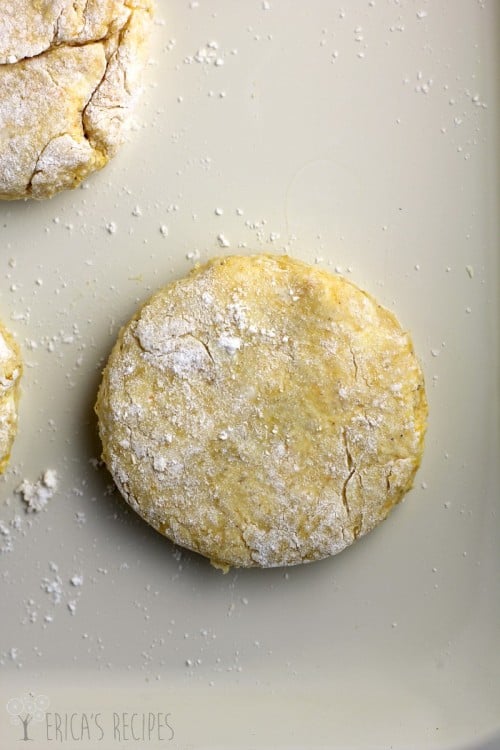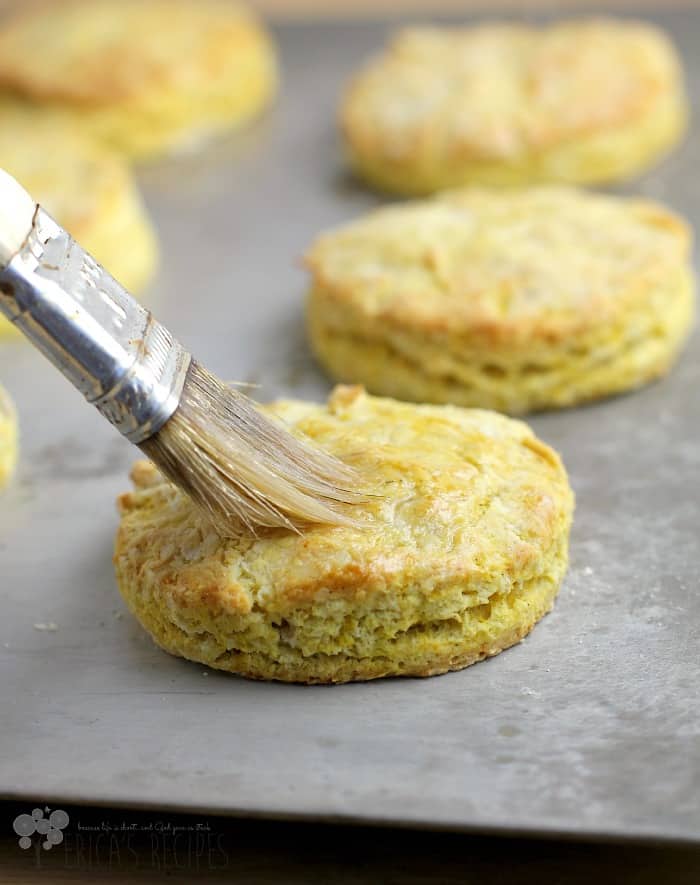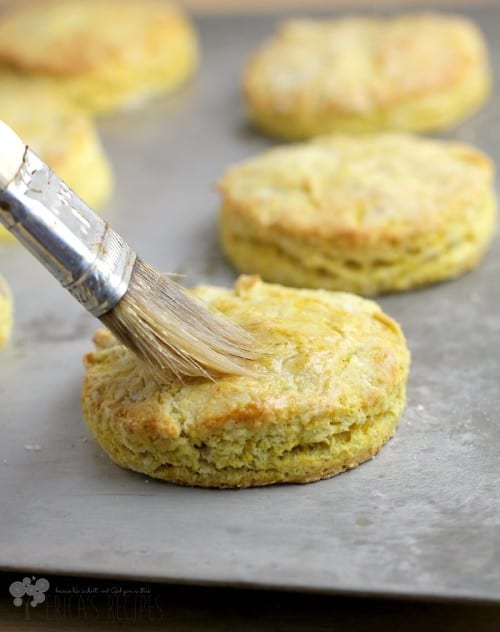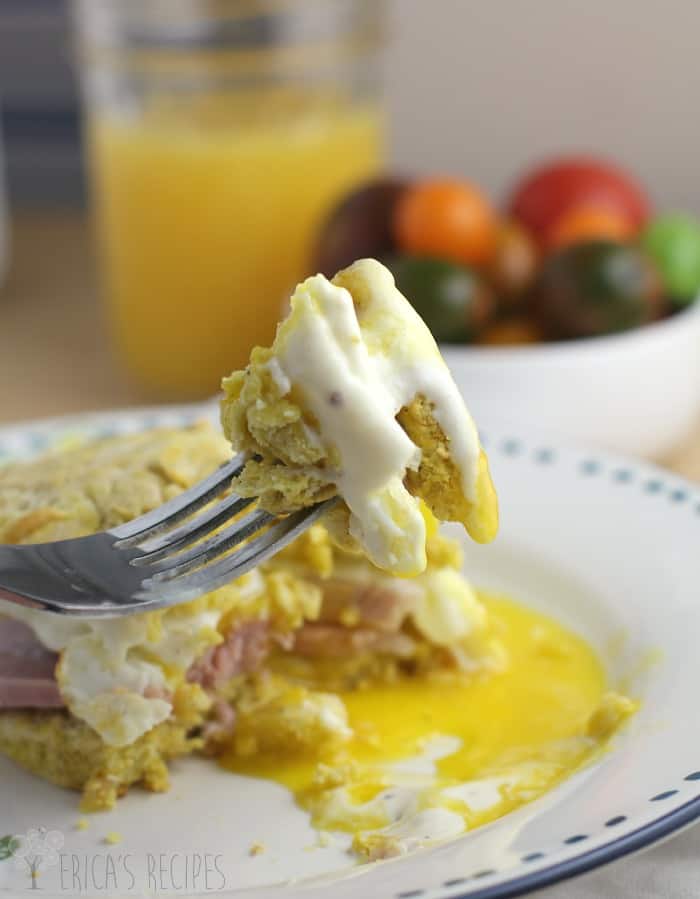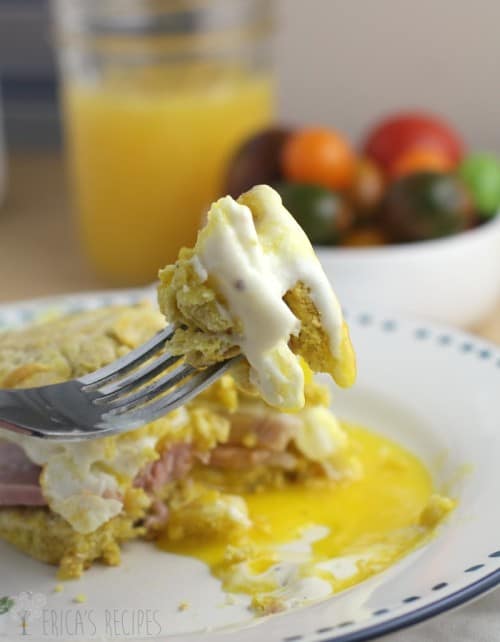 Yes, you spotted that right – I use cheap paint brushes from the hardware store for brushing and basting. Like, the cheapest cheapies I can find.
So, there are a couple little tricks to these biscuits that I include in the recipe instructions, but these are tips generally true of all biscuit recipes. So don't miss them. I kept the rest of this breakfast very simple, opting just for some OJ and a mix of baby heirloom tomatoes I found at the farmer's market. Why make it more complicated – I already made biscuits. From scratch. No reason for more work.
So that's it kids. These components really come together for a delicious dish I am super happy with. I mean, biscuits and gravy folks. What is not to love. And it is that time of year for all the traditions. Like, all of them. …I truly hope this breakfast will become one of yours too.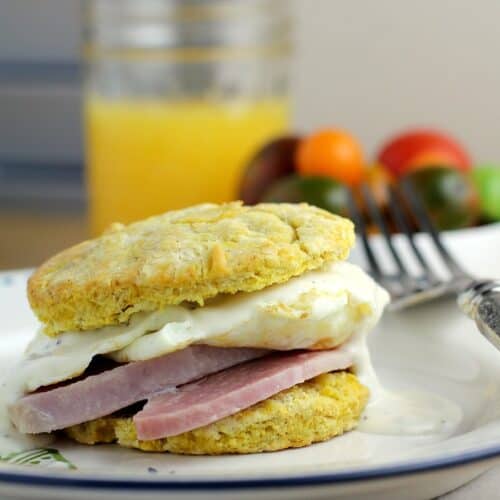 Ham, Egg, and Dijon Gravy over Butternut Squash Biscuits
Leftover holiday ham and butternut squash, perfectly repurposed for breakfast.
Ingredients
leftover Hormel Cure 81 bone-in ham

I got Cherrywood smoked

eggs

cooked over easy (1 per serving)
For the Butternut Squash Biscuits
¾

cup

butternut squash puree

2

Tbs

cup half-and-half

1-1/2

tsp

kosher salt

1

tsp

sugar

¼

tsp

ground cinnamon

2

cups

all-purpose flour

1

Tbs

baking powder

1

tsp

baking soda

6

Tbs

cold unsalted butter

cut into 1/2-inch cubes

1

Tbs

melted unsalted butter
For the Dijon Cream Gravy
2

Tbs

all-purpose flour

2

Tbs

unsalted butter

2

cups

half-and-half

1

Tbs

Dijon mustard

generous pinches each kosher salt and fresh cracked pepper

to taste
Instructions
Preheat oven to 450F.

In a mixing bowl, combine the squash, half-and-half, sugar, and cinnamon.

Add the flour, baking powder, baking soda, salt, and the butter into a food processor and pulse until mixture is crumbly (alternatively, this can be done in a bowl with a pastry cutter). Add the flour-butter mixture to the squash mixture in the bowl. Stir with a fork just until flour is moistened.

Turn dough out onto a lightly floured surface, and quickly/gently form into a 1-1/2-inch thick disk (see Notes). Cut with a 2- or 2-1/2-inch biscuit cutter. Place biscuits on a baking sheet. Bake at 450 for 10-14 minutes or until golden. Remove from the oven and brush with melted butter. Makes 10 biscuits depending on the size biscuit cutter used.

While the biscuits are cooking, prepare the Dijon Cream Gravy: cook the butter and flour together over medium heat for a minute or so to make a roux. Add the half-and-half and cooking, stirring, a couple minutes until thickened. Remove from the heat and add the salt, pepper, and Dijon.

To serve, put the bottom half of a biscuit on a plate. top with ham, and over-easy egg, and Dijon Cream Gravy. Place the top biscuit half on top and serve. Yields: 10 servings.
Notes
In making the dough, there are a couple tips. First, once the dough is turned out onto the floured surface, you do not want to over work it or the biscuits will come out flat and tough. Also, the exact shape of the dough "disk" is not important either. What is important is just to work quickly so the butter doesn't warm up. Knead the dough a couple times, if needed, to get it to come together, then quickly use your hands to flatten it out.
Also, these biscuits will not rise substantially so take care not to press the dough too thin to begin with.
Calorie count is purely an estimate calculated using an online application to serve as a guide and not to be taken as accurate nutritional information. Percent Daily Values are based on a 2,000 calorie diet.
Tried this recipe?
Leave a comment below and let me know!