This appetizer shop has been compensated by Collective Bias, Inc. and its advertiser. All opinions are mine alone. #MakeGameTimeSaucy #CollectiveBias
Macaroni and cheese with a bold flavor boost from salsa verde, fried into crunchy awesome, game-day party food. And surprisingly easy to make! Head to Walmart and grab the new Pace® Salsa Verde to bring this genuine southwest flavor to this recipe and all your snacks and dips for football season.
You guys! I just can't. I cannot EVEN get over this recipe. Crayyyyyzeee fun football food, and DELICIOUS. You have got to give this a try and wow everyone.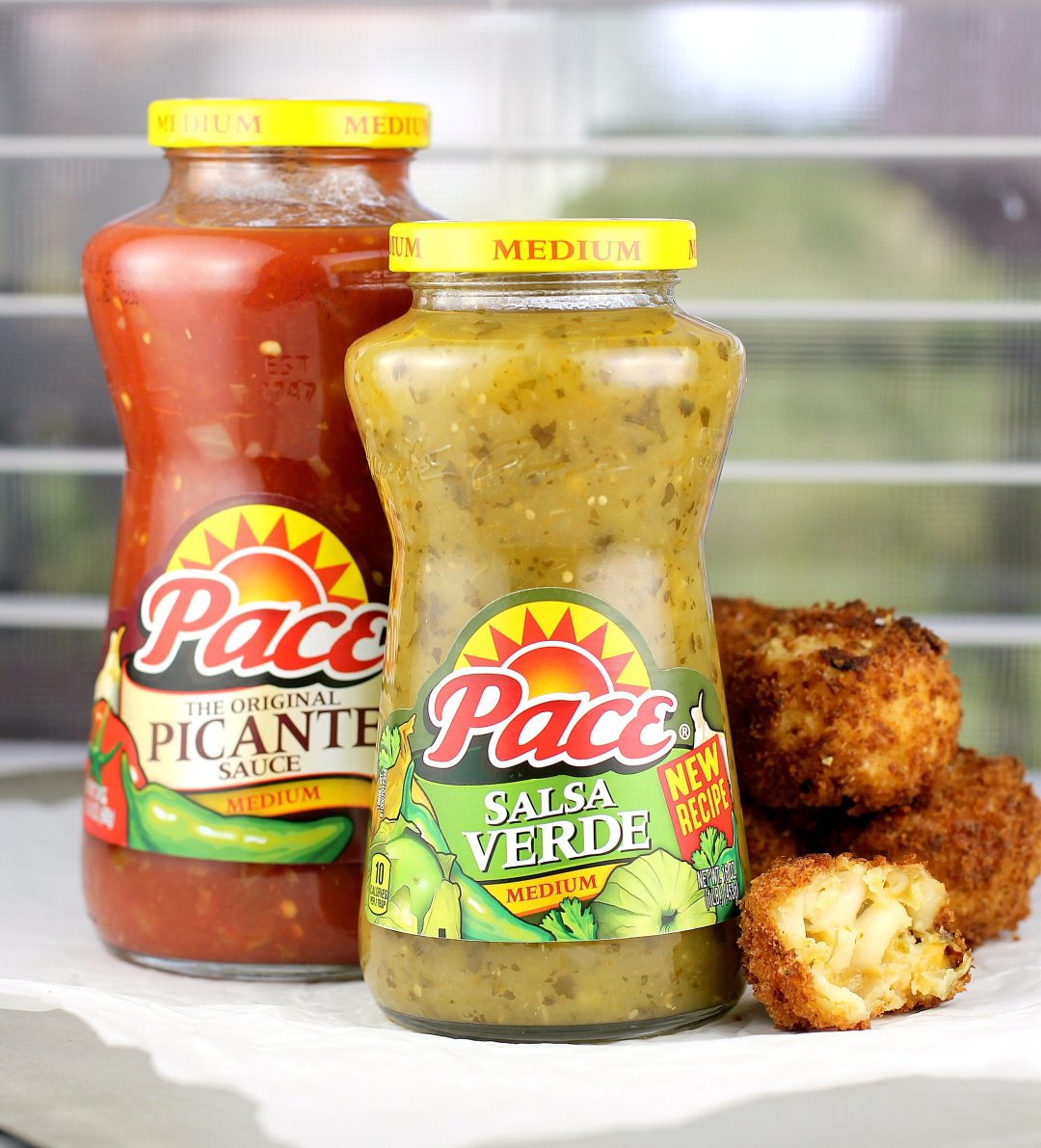 Ready to shop? Hover over the photo to click through to Walmart.com and purchase your Pace® product of choice. The Pace® Salsa Verde is also available in a 24oz bottle.
The first key to this recipe is the Pace® Salsa Verde. Macaroni and cheese, as classic and awesome as it is …can actually be bland. That's why it needs love – it needs attention to detail. So because I was making football food, to easily inject great flavor and "ban that bland" if you will, I added Pace® Salsa Verde. Holy win! This new salsa is SO good, with a great kick of flavor that will never disappoint. For chip-dipping snacks or incorporated into a recipe like this, Pace® Salsa comes in a variety of heat levels and textures, like the 24 oz. Pace® Picante Sauce I also picked up. I love adding Pace® to recipes like my Mexican Bruschetta pretty much because they bring all that flavor with no effort required on my part. Then, in trying the new Pace® Salsa Verde with tomatillooo and jalapenooo, I was REALLY happy with that Southwestern flavor it brought to my cheesy mac.
The second key is making the balls, and honestly it was not hard at all but because there is some fridge time required, you do have to just plan ahead. We make our Salsa Verde Macaroni and Cheese, then let that chill in the fridge overnight so that it chills to a firm texture that can be shaped into balls. The next day, I used a medium scoop to make the portions and shaped into balls. Then those go in the freezer for two hours. Then we bread them and fry them up – basic stuff. And then we have our glorious FOOTBALL READY, PARTY PERFECT bites.
By the way, be sure to serve with extra Pace® Salsa Verde for dipping. In my opinion, all fried food requires a dip. And it just works so do it. 👌
So that's it kids. Fried Salsa Verde Macaroni and Cheese Balls. Because every once in a while, you see something on the internet that is awesome but kinda ridiculous at the same time and you totally want to try it.
Fried Salsa Verde Macaroni and Cheese Balls
2017-10-10 17:39:15
For the Salsa Verde Macaroni and Cheese
8 oz elbow macaroni, uncooked
3 Tbs unsalted butter
3 Tbs all-purpose flour
1-1/2 cups milk
1 cup Pace® Salsa Verde
1 (8 oz) bag colby-jack shredded cheese mix
1/2 tsp kosher salt
couple pinches fresh cracked pepper
For the Balls
all-purpose flour
egg wash: 2 eggs + 2 Tbs water
1 cup crushed buttery crackers
1/2 cup plain panko breadcrumbs
kosher salt
fresh cracked pepper
oil for frying
Instructions
Heat oven to 350F.
Bring a pot of water to a boil and put the pasta to cook to al dente.
Meanwhile, whisk the butter and flour together in a medium saucepan over medium-high heat until bubbly. Add the milk and Pace® Salsa Verde, whisking constantly, until smooth and heated through. Remove from the heat and add the cheese, salt, and pepper.
Once pasta is done, drain and add to the cheese sauce. Transfer to a 13x9 bake dish. Bake 20 minutes. Cool, cover with foil, and put in the refrigerator overnight.
Use a scoop or spoon to scoop out macaroni and cheese, and shape into balls. Put balls to freeze for at least 2 hours.
Set up a breading station with flour, egg wash, and crumb mixture (the crackers and panko breadcrumbs combined). Season each with salt and pepper.
One by one, coat a mac and cheese ball with flour, then egg wash, then crumb mixture.
Bring oil to 350F. This can be done in a fryer, or, alternatively, I used a medium cast iron skillet and put the oil to ~1-inch depth.
Working in batches, add 4-5 balls and let them fry (turning if using a skillet) until nicely browned all over. If balls were completely frozen, this will take a couple minutes to ensure center doesn't stay frozen.
Once done, transfer balls to a plate lined with paper towels. Season with salt. Serve with more Pace® Salsa Verde for dipping. Yields ~24 balls.
Notes
When I add the cheese to the milk-roux mixture, I don't stir too much because I wanted a bit of the separate white and orange cheeses to show in the finished balls.
As written, this recipe is kid-friendly in that it is not spicy. If making for adults-only, I highly recommend kicking up the heat by adding either 2 tsp hot pepper sauce to the mac and cheese.
Lastly, if making this recipe simply to enjoy a big plate of this Salsa Verde Macaroni and Cheese without making the balls, then reduce the butter and flour each to 2 Tbs.
Erica's Recipes http://ericasrecipes.com/
~✿♥✿~
How are you going to ban the bland with Pace®? Get recipe inspiration here.
Also, Pace® has an Ibotta® offer available at Walmart! Earn $0.50 cash back with Ibotta® when you purchase a jar of Pace®! (Offer is valid on any ONE (1) 15 oz. or larger Pace® Salsa or Pace® Picante Sauce.)
And leave me a comment! Have you ever fried up mac and cheese?