Red Cabbage and Radish Spring Rolls
Crispy spring rolls filled with the most DELICIOUS red cabbage, mushroom, and radish filling you could ever hope for in your life. Uncomplicated, beautiful, impressive, and party perfect. This Red Cabbage and Radish Spring Rolls recipe is for those that want easily-obtainable, restaurant quality food at home. And pretty too.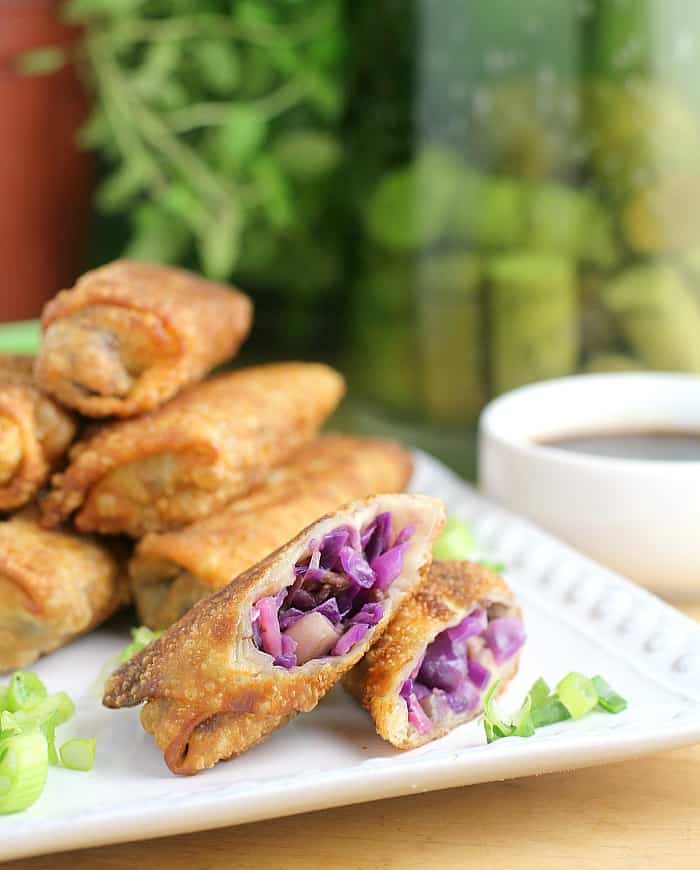 Spring rolls! Yummmmayyy! So this is the first time I have even made them, can you believe it? And they were devoured. I literally made these Red Cabbage and Radish Spring Rolls, piled them on a tray, and walked them out for a neighborhood thing. I had made this filling before, but I made potstickers then which were tasty …but gummy and kind of a pain in the ass. Nice, but not blog worthy. Here they are to the right, right here >>>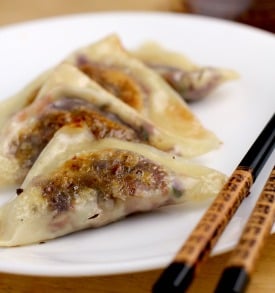 Again, tasty, but just not quite right. Sooo, I have had this recipe in the background of my brain for a while. What to do, what do to with it. And eventually, as all things do, it just came to me. Fry! Fry it. …Clearly.
Because fried things are yummy.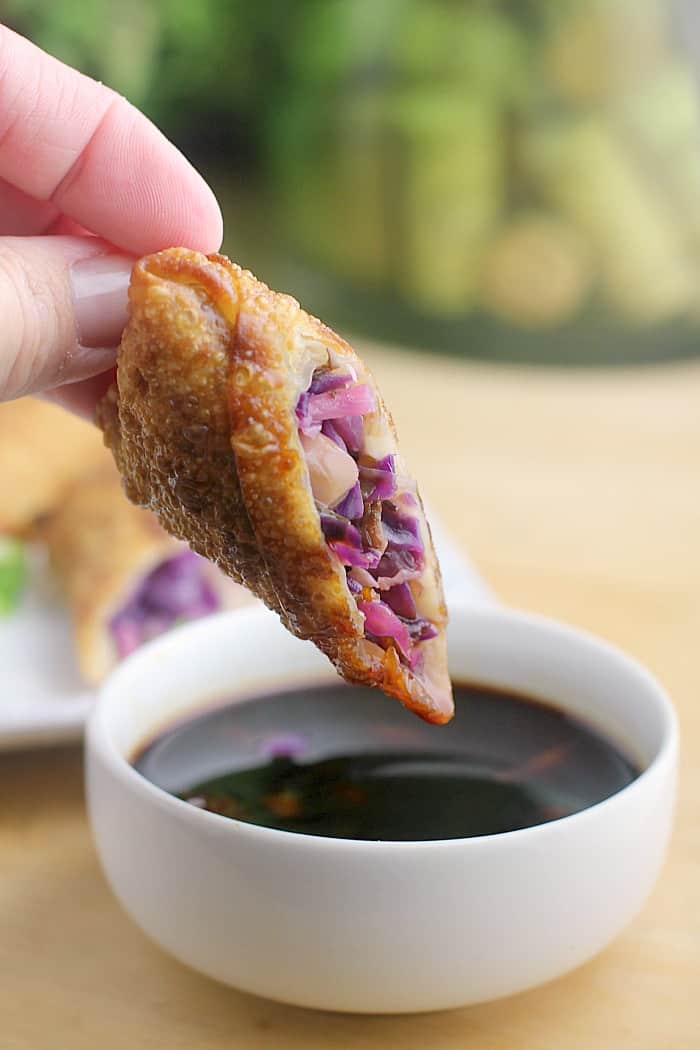 So what did I do here…. Spring rolls look like they should be a lot of work, but they honestly were not. You saute up some veg, roll them up in wrappers, then fry them up …and get a lot of satisfaction in the process. Ain't but a thing, and the flavor is INSANELY good. I used red cabbage instead of plain, and spiced it up with radish. This combination turned out to be fantastic, and I am still, at this moment, patting myself on the back for this little bit of brilliance.
So that's it folks! Amazing Red Cabbage and Radish Spring Rolls for you to make at home. Beautiful, incredibly good, and so worth it.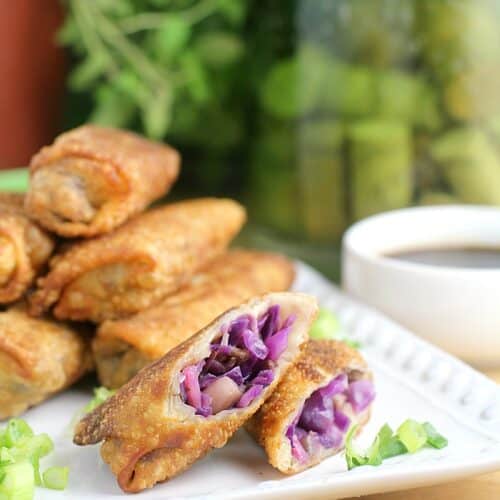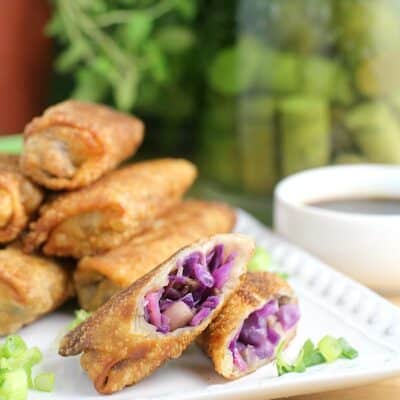 Red Cabbage and Radish Spring Rolls
Crispy spring rolls filled with the most DELICIOUS red cabbage, mushroom, and radish filling you could ever hope for in your life.
Ingredients
2

Tbs

canola oil

divided

1

8oz pkg mushrooms, finely chopped

3

cups

finely chopped red cabbage

1

Tbs

freshly grated ginger

1

large clove garlic

finely chopped

1

Tbs

honey

or substitute agave nectar to make vegan

1

Tbs

mirin

2

Tbs

rice vinegar

½

Tbs

sesame oil

½

cup

shredded radish

¼

cup

heaping thinly sliced green onion

1

1 lb pkg spring rolls wrappers

oil for frying
Instructions
Heat the oil in a large skillet. Add the mushrooms and saute until browned. Add the cabbage and saute until just slightly softened and fragrant (just a minute or two). Add the ginger, garlic, honey, mirin, vinger, sesame oil, radish, and green onion. Saute until most of the liquid is evaporated. Remove from the heat.

Using your finger dipped in water, gently wet around the four sides of the spring roll wrapper. Place 2 heaping tablespoons on a spring roll wrapper. Fold up one corner of the wrapper to the center, then the two side corners, then roll up to form the spring roll. (The package for my wrappers illustrated how to do this. Also, if you Google "how to fold a spring roll" and look at images, helpful photos pop right up.)

Heat a large rimmed pan with ~1/2-inch of canola oil. Working in batches, add spring rolls and fry, turning once, until nicely golden. Transfer to a plate with lined with paper towels.

In a small bowl, combine the ingredients for the dipping sauce. Serve with the spring rolls! Yields: ~21 servings (how many wrappers were in the package I had).
Calorie count is purely an estimate calculated using an online application to serve as a guide and not to be taken as accurate nutritional information. Percent Daily Values are based on a 2,000 calorie diet.
Tried this recipe?
Leave a comment below and let me know!
~✿♥✿~
Leave me a comment! Otherwise, I'm just talking to myself here. Have you made spring rolls at home?