Easiest Pumpkin Cheesecake
This Easiest Pumpkin Cheesecake is a mod to the traditional cheesecake between layers of crescent dough. If you think everything is better with pumpkin, then this is definitely the recipe for you.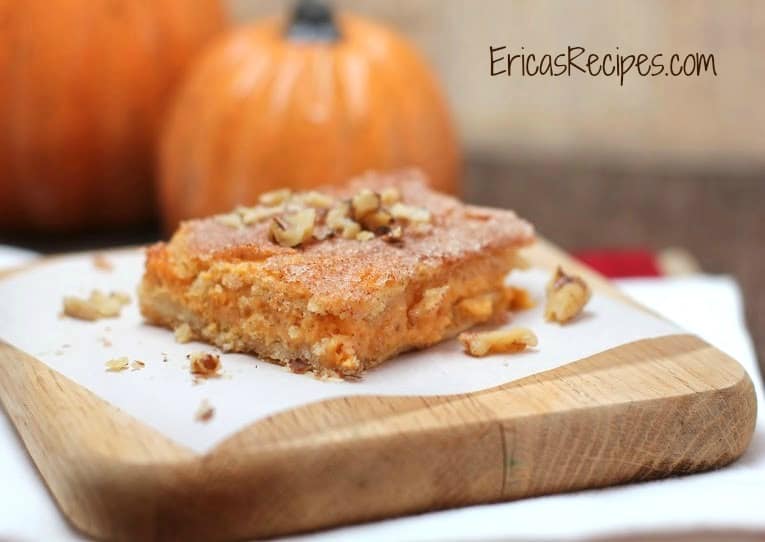 I may have gotten my hair done this weekend, but my New England roots are showing. I've been so inspired – and a little homesick frankly – by the flurry of fall desserts especially ones with pumpkin that I've seen. This recipe is adapted from the classic cinnamon cheesecake using crescent rolls. So easy and now with pumpkin – YUM!
Easiest Pumpkin Cheesecake 
2 (8 oz) packages Neufchatel cheese (or cream cheese), softened
1/2 c pumpkin puree
1 c sugar
1/8 t ground cloves
1/4 t ground nutmeg
pinch kosher salt
1 t vanilla
2 (8 oz) tubes Pillsbury crescent dough
1/2 c sugar
1 t cinnamon
1/4 c unsalted butter, melted
garnish: chopped walnuts
Preheat oven to 350F.
In a large mixing bowl, beat the cheese, 1 c sugar, pumpkin, cloves, nutmeg, salt, and vanilla together until smooth.
Separately, in a small bowl, combine the 1/2 c sugar with the cinnamon.
Line a lightly greased 13×9 baking dish with the dough from one tube of crescent dough, pulling to stretch and pressing together the seams. Layer the cream cheese-pumpkin mixture. Top with the dough from the second tube of crescent dough, again pulling to stretch and pressing together the seams (helps to do this on a cutting board and then transfer it over). Pour the melted butter over top. Lastly, sprinkle the cinnamon sugar over top. Bake 35 minutes or until cooked through. Remove from oven and put to chill and set in the fridge. Serve with chopped walnuts sprinkled over.
~✿♥✿~
*Note: in the photos for this batch, I made half this recipe. It was a weeknight and I was only cooking for my family. So cutting the recipe in half, and using a smaller bake dish, works beautifully too!
Here's the first layer of crescent dough….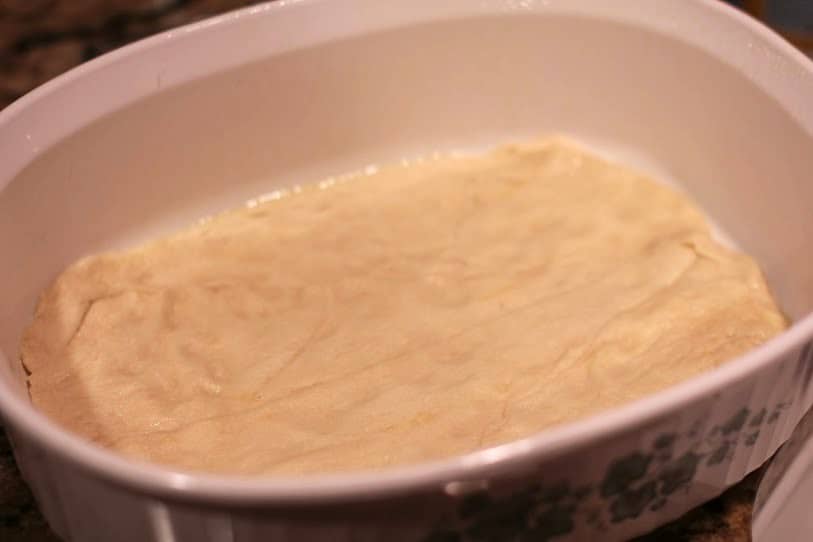 Cream cheese-pumpkin layer…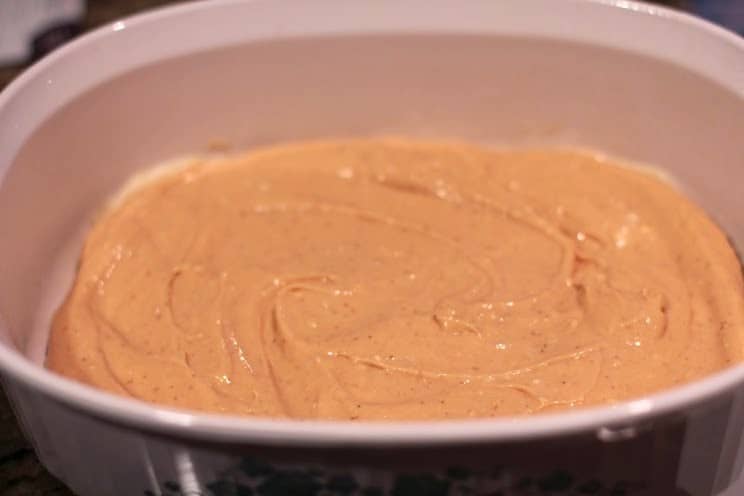 Second crescent dough layer – doesn't need to be perfect because once it gets cut to serve, it'll be fine…