Warm Jalapeno-Shrimp Dip is a ridiculously easy party dip that is ALL REWARD. Lightened up thanks to a couple ingredient swaps, this less-damaging chip dip or cracker spread uses ingredients you can easily keep stocked and ready to roll when you need a fantastic dip in a hurry.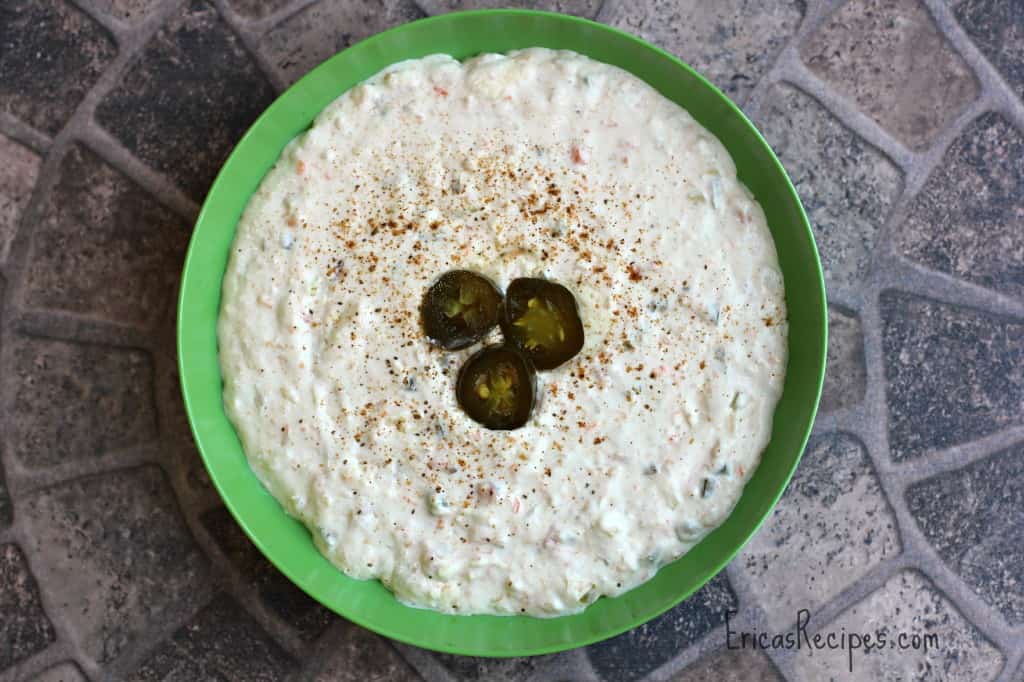 Warm Jalapeno-Shrimp Dip
I was asked by Dan from Platter Talk, A Culinary Blog, Food, Wine, and Friends, to do a guest post so of course I said yes! I love Platter Talk's dishes and can tell we share very similar tastes. And with the Superbowl around the corner, it seemed only fitting to make football food! This is a very easy, just-throw-it together and nuke, delicious dip. It's also perfect to bring to a party because it can be assembled in advanced, and then just zapped quickly in the microwave at the destination. If you are afraid of the heat from jalapenos, another option I have also done is use pepperoncini or banana peppers in place of the jalapenos – the result will be much milder but also delicious. But I love jalapenos. And seafood. And they go together so well in this dip.
This dip is also less damaging on the hips and the wallet YAY! First, using Neufchatel and light mayo saves calories, fat, and saturated fat. Second, this dip is reminiscent of a warm crab dip, but canned shrimp costs a fraction compared to fresh lump crab (as a rule, canned crab is never a good idea). Lastly, this recipe uses pantry ingredients that keep a long time – I keep them on hand, then just whip them together when I have a sudden need to serve someone dip.
Sounds great doesn't it?! Well, it is! So to see my recipe, visit Platter Talk, A Culinary Blog, Food, Wine, and Friends HERE

~✿♥✿~