Print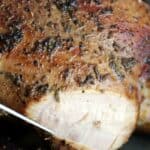 Applewood Smoked Organic, Free-Range Chicken
This Applewood Smoked Organic, Free-Range Chicken post includes not only how to make this smoky lovely, but also my tips on how to eat more organic affordably.
Total Time
2
hours
20
minutes
Heat up your smoker according to package directions.

Meanwhile, rinse your bird and pat dry with paper towels. In a small bowl, combine the Old Bay, olive oil, and herbs to make a paste. Spread over the whole bird. Season the inside and outside of the bird with salt and pepper.

Stand the bird up and put onto the can of beer (pour off - or drink - ~1/4 of the beer from the can first). Position the legs to help the bird stay up. Insert a temperature probe to moniter cooking into a breast but not touching bone.

Put in the smoker and smoke 2 hours or until the internal temperature reaches 160F. Remove to rest 10 minutes, then carve and serve.
For this occasion, I used a mix of rosemary, oregano, thyme, and chives from my garden. Just use what you have on hand. If you have to buy, I especially recommend rosemary and fresh oregano for this recipe.