Print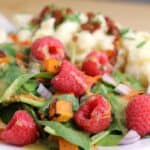 Sweet Winter Salad with Butternut Squash and Raspberries
Serve up the lettuces of the season, like chard, kale, and spinach, fresh sweetened with butternut squash and berries for a salad loaded with the vitamin goods.
For the salad
1

5 oz container mixed winter super greens, including Swiss chard, spinach, and kale

1

red onion

finely diced

4

large carrots

finely shredded

1

butternut squash

peeled, seeded, and diced (1/2-inch dice)

1

6 oz container raspberries

extra virgin olive oil

kosher salt

fresh cracked pepper
Heat oven to 450F.

Toss the diced butternut squash in a light drizzle of olive oil and a pinch each of salt and pepper. Spread in a single layer on a baking sheet and roast at 450F for 8-10 minutes or until fork tender and lightly browned. Set aside and cool completely.

In a small bowl, whisk together the ingredients for the Vinaigrette.

To assemble the salad, on each of 4 plates layer in the following order: salad greens, carrot, onion, roasted butternut squash, and raspberries. Drizzle vinaigrette over top and serve. Yields 4 servings.
If good, fresh raspberries are not available, substitute with 1/4 cup dried cranberries.