Taco Salad with Grilled Veggies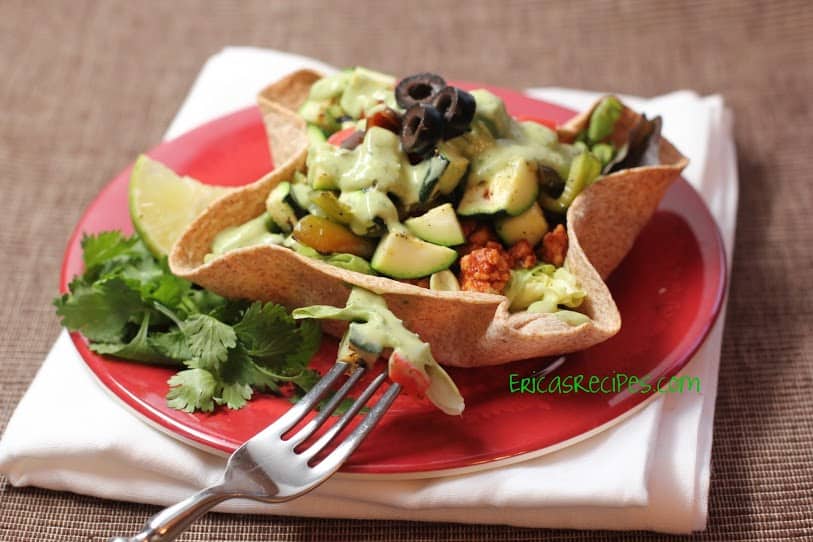 Here's a light dish that doesn't taste light! By using a healthy Avocado Herb Dressing, you won't even miss the cheese or sour cream in this taco salad. I also use ground chicken breast and bake the shells. Super healthy, but with no deprivation here whatsoever!
Taco Salad with Grilled Veggies
4 whole wheat tortillas
olive oil (in an oil mister or cooking spray)
kosher salt
fresh cracked pepper
1 lb ground chicken breast (or turkey)
2 T Taco Seasoning
1 (4 oz) can tomato sauce (preferably with no added salt)
1/2 c water
1 medium zucchini
1 large green bell pepper
1 large red bell pepper
2 poblano peppers
sliced black olives for garnish
4 c chopped butter lettuce
Preheat oven to 350F. Heat grill to medium-high heat.
For the shells:
Spray both sides of each tortilla with olive oil spray. Using an inverted muffin tin, form the shells (see photo below). Bake 10 minutes or until lightly browned and crispy. Remove from the oven and set aside.
For the taco meat:
In a large, nonstick skillet, cook the chicken over medium-high heat, breaking the meat up into bits, until chicken is no longer pink. Add the tomato sauce, taco seasoning, and water. Lower heat to medium-low, and simmer gently for 10 minutes to thicken.
For the veggies:
Slice, remove the ribs, and seed the bell peppers and poblano peppers. Remove the ends, and slice the zucchini lengthwise into 3-4 long slices for grilling. Spray both sides of the veggies with olive oil and season with salt and pepper. On the heated grill, place all the veggies, putting the peppers skin side down. Flip the peppers after 1 minute (you don't want the skin to blacken and blister). After another minute, flip the zucchini. After 2 more minutes, remove all from the grill. By cooking this way, the veggies will be flavored by the grill and just a little cooked, but will still be firm for the salad instead of completely roasted. Move the veggies to a cutting board and chop into bite-sized pieces.
To assemble:
Place a tortilla shell on each of 4 plates. In each put the following, in order: 1/2 c each chopped butter lettuce, taco meat, and grilled veggies. Drizzle Avocado Herb Dressing. If you want a larger salad, spread additional lettuce and veggies on the plate around the taco shell. Serves 4.
~✿♥✿~
Use an inverted muffin tin to form the taco shells…