Sweet Lime Cannoli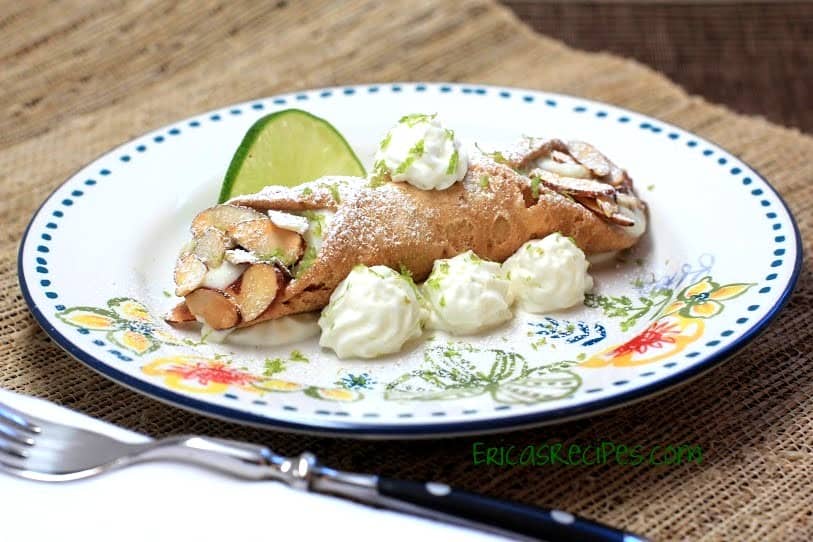 My big, beautiful Persian lime tree is one of my favorite things about our home. We planted it five or so years ago, and it has just taken off. And unlike my lemon tree, which is temperamental, my lime tree is happy year round. Even now, there are some fruit on their way out and new babies on the way in. The idea for making cannoli with limes came when I spotted empty shells at my grocery store. They are kept that way to fill to order. Threw the bakers a bit when I asked to buy them empty 🙂
Sweet Lime Cannoli
6 purchased, empty cannoli shells
1/2 c sliced almonds
Cannoli Filling:
1 (15 oz) container ricotta
1/4 t pure vanilla extract
1/2 c powdered sugar
1 T heavy whipping cream
zest of 2 limes
pinch salt
Lime Whipped Cream:
1 c heavy whipping cream
zest of a lime
3 t granulated sugar
Preheat the broiler in the oven. Put the sliced almonds on a small baking sheet and put under the broiler until lightly toasted. (Watch them or they may burn quickly).
In a small mixing bowl, combine the ingredients for the cannoli filling. Using a ziploc bag with a corner snipped off, pipe the filling into the shells. Gently press some toasted almonds on the ends. Put in the fridge to chill while you make the Lime Whipped Cream.
In a cold, non-reactive mixing bowl, whip the cream until lightly fluffy. Add the lime zest and sugar, and continue beating until soft peaks form.
Serve the cannolis with the Lime Whipped Cream. If desired, also dust with powdered sugar and top with a little more lime zest.
~✿♥✿~