Let's take stress from the holidays by simplifying with this table spread of assorted nibbles, Kaukauna® cheese, and the easiest stuffed Bacon Cheddar Jalapenos ever. With just a couple easy tricks, we can put out these appetizers in no time, to save time for what really matters – friends, family, the holidays. [This shop has been compensated by Collective Bias, Inc. and its advertiser. All opinions are mine alone. #InspireWithCheese]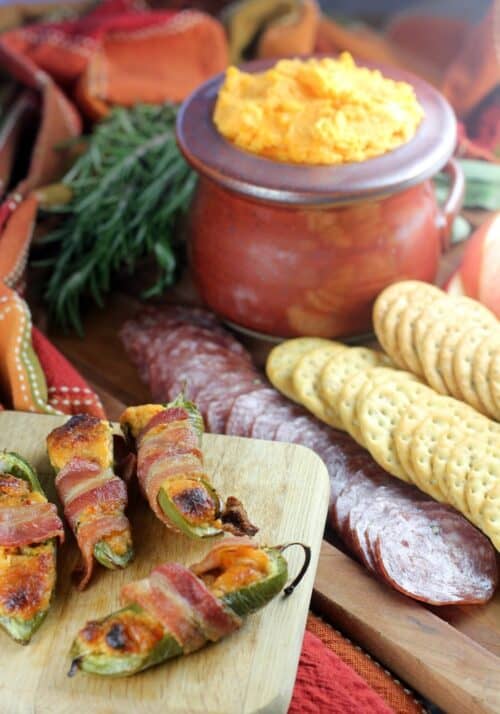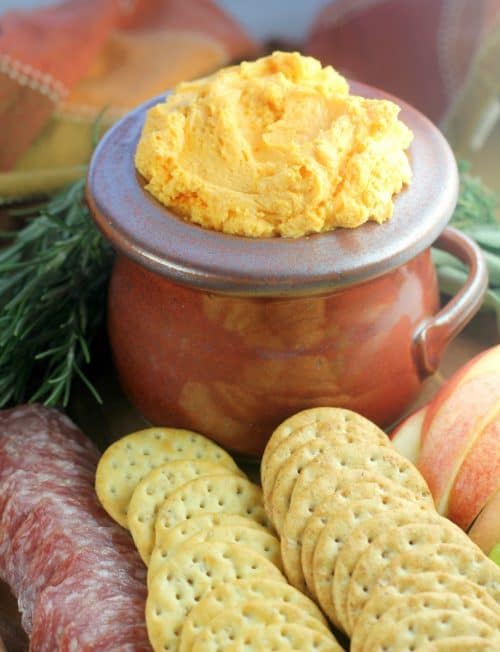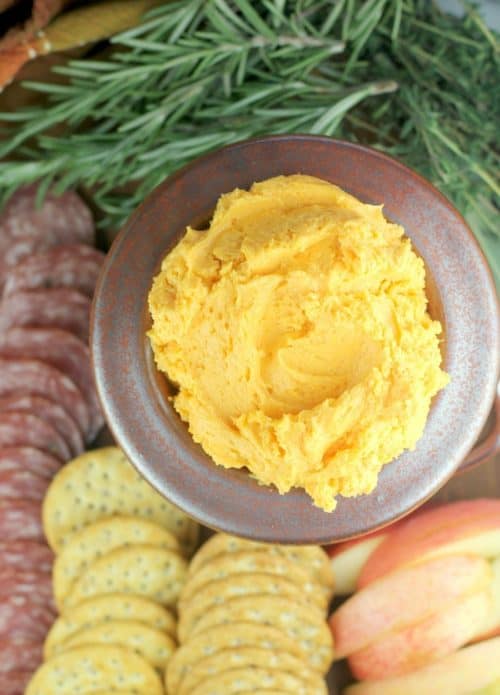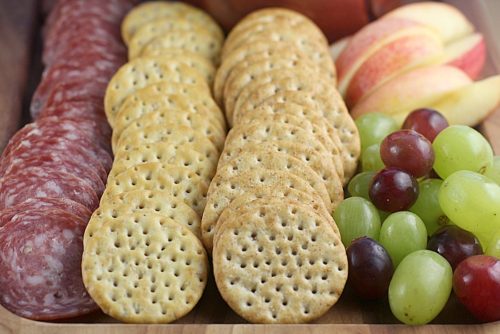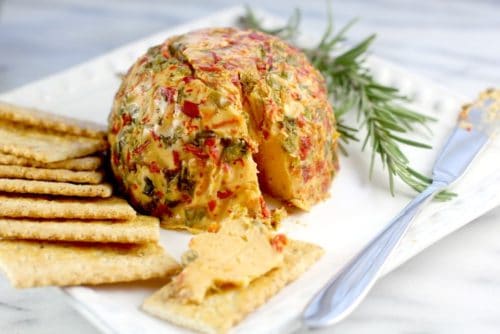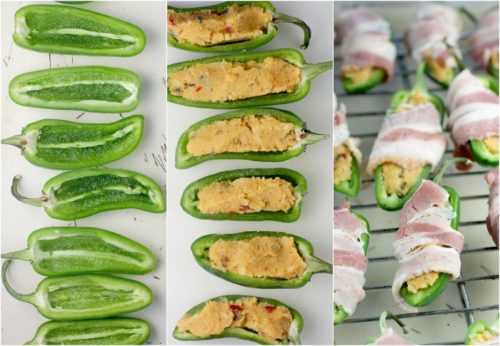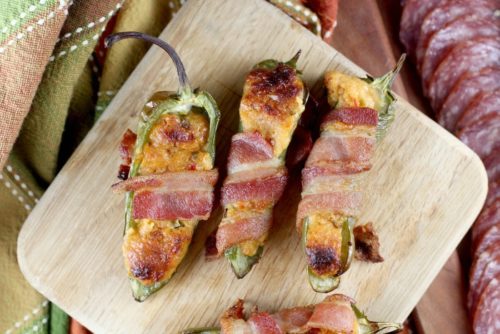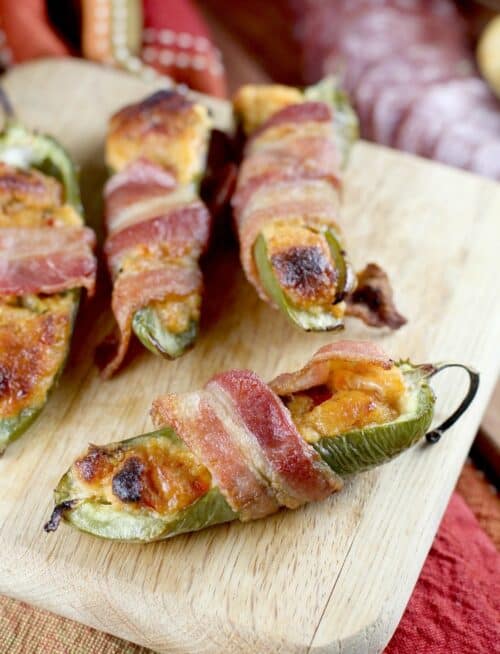 It used to be that I would slave away in the kitchen before, during, and even after any kind of big holiday meal. But not anymore! I am over it and am so much better now about simplifying so I can spend more time with those I love. So that comes to the meals I prepare for my family including for the holidays …and dare I say it, but I am even trying to get my holiday shopping done before December GASP! Yeahhh, we'll see, but that's my goal. I want no last minute craziness is the thing.
So in this post, I am working with Kaukauna® cheese. Kaukauna® is 100% cheddar cheese and comes in cups, logs, and balls, and the great thing about it is you can serve it up straight on crackers or use it in recipes like my Bacon Cheddar Jalapenos. This isn't the first time I've used it – in fact, THE biggest recipe on my blog here has it, my infamous Garlic, Bacon, and Beer Macaroni and Cheese. So, my love for this cheese is real.
My trick with this charcuterie-ish spread here is first the Kaukauna® cheese. I am from New England, we have cheese and crackers …always. By serving Kaukauna® though, I don't have to cut anything up. Literally put it out with assorted crackers and be done. Then I served grapes to have something sweet and fresh, and sliced sopressata (which I bought already sliced) because it's yummy. Super simple, yes?
But THEN, I did want to have my wow bite – the one that people would scoff right up and ask for the recipe – and you can never go wrong with stuffed jalapenos. So, the day before, I prep my jalapenos. Then this recipe is so simple – use a Kaukauna® Bacon Jalapeno cheese ball, because it already has all the ingredients you need for flavor, add some jack cheese and breadcrumbs for structure, stuff the jalapenos, wrap in bacon and bake. This way, in addition to all the very simple things we basically just threw on a board, we have that one nibble that took just a touch more effort (but not too much) to make everyone feel special.
And it also totally distracts them from noticing how many other corners you cut. ?
So there we have it – let's keep the holidays simple shall we? Life is just too short for us not to enjoy the moments. And with a couple tasty tricks up our sleeve, we can save time and our sanity. ?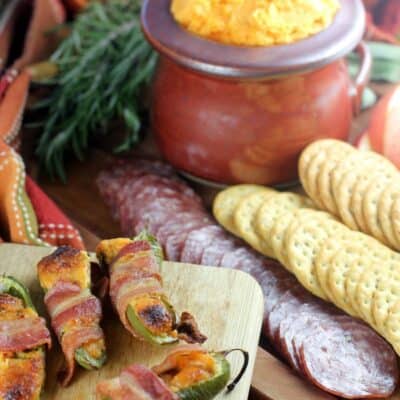 Simple Holiday Entertaining plus Bacon Cheddar Jalapenos
Let's take stress from the holidays by simplifying with this table spread of assorted nibbles and the easiest stuffed Bacon Cheddar Jalapenos ever.
Ingredients
For the Cheese Tray
Kaukauna® Sharp Cheddar Cheese Spread

red and green grapes

sliced meat such as sopressata

assorted crackers
For the Bacon Cheddar Jalapenos
1

8 oz Kaukauna® Bacon Jalapeno Cheese Ball, softened

4

oz

shredded jack cheese

2

Tbs

plain bread crumbs

24

jalapenos, cut in half, seeds and ribs removed

8

strips bacon, cut in half
Instructions
For the jalapenos, combine the Kaukauna® Bacon Jalapeno Cheese Ball, jack cheese, and breadcrumbs. Stuff the cheese filling into the jalapenos. Wrap each jalapeno in bacon. Bake at 400F for 15-20 minutes until the bacon is just crisp. Take care not to overcook because the cheese filling will burn.
~✿♥✿~
For more entertaining ideas visit the social hub here, and for more information about Kaukauna® visit their site here.