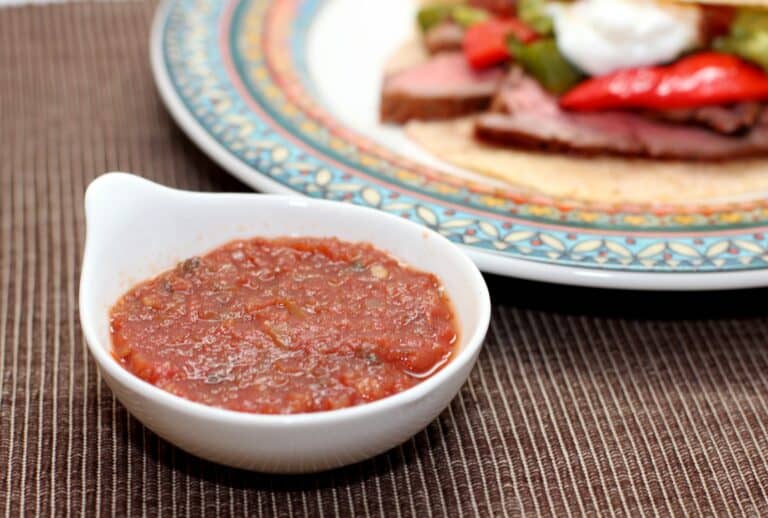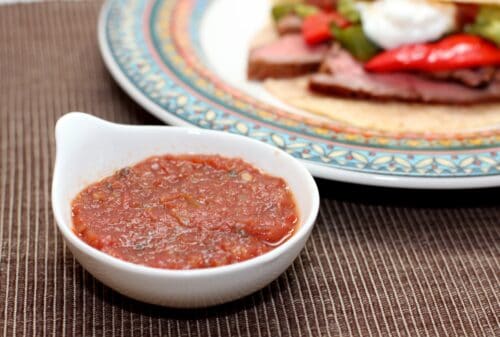 I keep this Roasted Tomato Salsa stocked – some in the fridge and some canned in the pantry. I love the roasted flavor, especially next to ultra-fresh Guacamole.
Roasted Tomato Salsa
5-6 dried Arbol chili pods – get these at a local Mexican or specialty mart.
1/2 dried ancho chili peppers
1 large clove of garlic, minced
1 medium onion, cut in thick slices
5-6 tomatoes, sliced in half and seeds scooped out (about 2 lbs)
kosher salt or fine sea salt
olive oil
Put the onions and tomatoes on a rimmed baking sheet. Drizzle or brush very lightly olive oil (I use an oil mister). Sprinkle with salt. Broil on high until charred awesome (don't want to overcook them or else you'll end up with ketchup).
Lightly toast the arbol chilies in a nonstick pan on high (watch them – they burn quickly). Let them cool a bit, then crack open and dump out seeds. Put the arbol chilies and the ancho in hot water to soften.
Place tomatoes, garlic, onion, and chilies in a food processor. Pulse a few times to combine, and season to taste. Yield: 2 cups.