Pumpkin Banana Spice Bread
With chocolate chips and a little bit of RUM, this Pumpkin Banana Spice Bread is over the top good.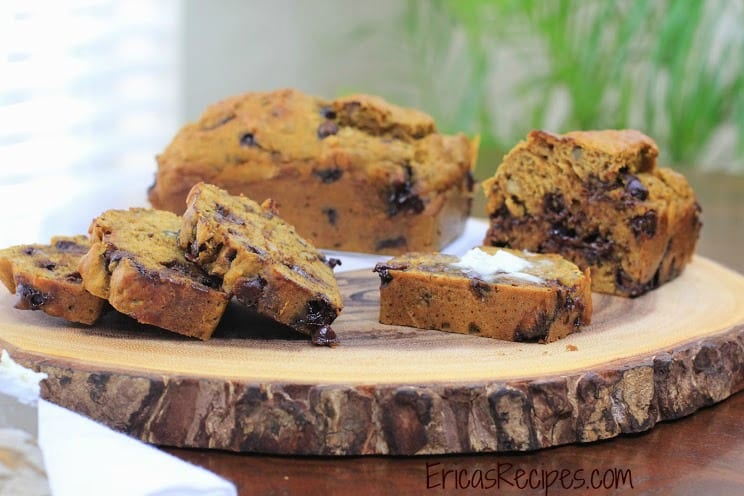 With a little help from a secret ingredient (…rum), this bread is perfect for fall.
Pumpkin Banana Spice Bread
2 c flour

1 1/2 t kosher salt

1 t baking powder

1/2 t baking soda

2 ripe bananas

3/4 c sugar

2 eggs, beaten

2 T rum

1 t vanilla

3/4 c pumpkin puree

1/2 t cinnamon

1/4 t ground cloves

1/4 t nutmeg

1/2 c chopped walnuts

1/2 (11.5 oz) bag milk chocolate morsels
Preheat oven to 350F.
In a medium bowl, combine the flour, salt, baking powder, and baking soda. Set aside.
In a large mixing bowl, mash the bananas. Add the sugar, eggs, rum, vanilla, pumpkin, cinnamon, cloves, nutmeg and walnuts. Add the flour mixture to the wet ingredients stirring until just combined. Stir in the chocolate chips and transfer to a non-stick loaf pan(s) sprayed lightly with cooking spray.
Bake at 350F for 30-50 minutes (depending on the size of pan – my 3 smaller ones were done in 30 minutes; my full size pan would take longer ~50 minutes) until an inserted toothpick comes out clean.
~✿♥✿~