My Writing Process – A Blog Tour
We'll get right back to our regularly scheduled food love, but tonight I am taking a little detour for my fellow food bloggers as part of "A Blog Tour".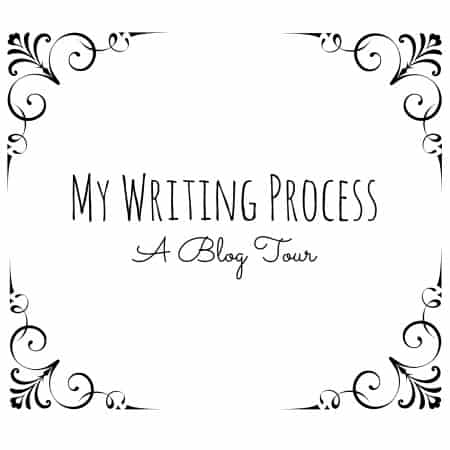 See, in my article about my first 8 months of blogging (I'm now at 14 months WOOP!), one of the things – the first thing actually – I mentioned was "Just because you build it does not mean they will come". Just because I post a delicious, cheese-laden bit of food porn does not mean a single person will ever see it. Traffic has to be driven. And one of best and most gratifying ways for me to do that is by participating in a community with other bloggers.
Bloggers drive traffic to each others' sites – we share each others' creations, we visit each others' sites, we comment, "like", and so on. Without that help, my site would be nowhere near where it is today. I have many to be thankful to. One such individual is Libby at Lemony Thyme. Libby was one of the first bloggers I connected with last year and she was the one that gave me my first real "bump" so to speak. I adore her blog – she has tastes similar to mine and her photos are gorgeous. I have learned so much from staring at them. And drooling.
Any-who, it was Libby that invited me to participate in this blog tour, which is kind of a pay-it-forward sort of thing. For part of this, I will introduce you to three awesome bloggers below. But first, I have been provided a couple questions about the process I use to write …so if you'd like a glimpse into this process and into my often random mind, read on….
1. What am I working on?
I use a spreadsheet to track recipes and plan grocery lists, and I use a color system (red, amber, green – a holdover from being in the Army) to track a post's development. Currently ….wait for it …. I have 30 new ideas I haven't tried yet, 20 or so that I have made but need to remake for better photos or to tweak the recipe, 10 that need last editing, and 3 posts that are finito! …wow, I need a life.
2. How does my work differ from others in my genre?
I have times when I splurge and times when I behave, and I have always been this way. I have a triathlon this Sunday, so this week I'm being really good — hence, the Zucchini Spaghetti I posted yesterday. But I looooove verboten goodies too, so my cooking is like a pendulum swinging between healthy weeks and not-so-healthy weekends. I am also crazy about pizza to the point that it's ridiculous, I have strange addictions to Boursin cheese and Old Bay seasoning, and I particularly like dishes with the word "balls" in the title.
3. Why do I write what I do?
For the scientist in me, cooking is like performing an experiment – I have an idea, put it together, and see what answer I get. Then I get to eat it -bonus! And with my blog, I'm able to share my "results" with the world …and not have to go through a peer review committee to do it. Aside from the recipes themselves, the photography and writing are still new to me and I hope to improve to add to this site and get more folks to want to visit, but at the end of the day, for me it's all about the food.
4. How does my writing process work?
It starts with an idea for a dish that gets jotted down. The inspiration can come from anywhere – a meal at a restaurant, something I spot online, or sometimes just staring at my Home Page and realizing "gee, I am in dire need of a salad". The lucky ones make it to the spreadsheet. The luckier ones are actually attempted.
Sometimes I end up with a recipe and photos …and absolutely nothing else to say about it. Those posts are the ones where I just say a little something and lob it onto the blog. My Weeknight Ravioli with Spinach, Salmon, and Boursin Cheese Sauce is a good example. But then there are times when I have something special to say. Like after an important triathlon with my Lobster Gratin. Like venting after a bad week with my Chili Cheeseburger Pizza. Even discussing a pair of panties with my Poblano and Pepperjack Popovers (yes, this happened). Or sharing a special moment with my daughter with my Peace, Love, and Nutella Cookies. I never know where I'm going to go until I get there, and I love this process of finding out.
~✿♥✿~
So now the fun part – I get to introduce you to three bloggers and tell you why they rock!
Life Tastes Good. First is Marion from http://ourlifetastesgood.blogspot.com/. Marion is another blogger that I connected with early on last year. All you have to do is look at the Beef Short Rib Sandwich she posted last night and you will be hooked! Or her Homemade Tomato Salsa which looks so beautiful and fresh. Marion makes comforting foods – foods that will remind you of some special memory or just give you a hug – food I want to eat.
Culinary Ginger. Next is Janette from http://www.culinaryginger.com/. Just today, Janette posted these brilliantly creative Cheddar Caprese Bites that look absolutely amazing! And with dishes like her Baked Gnocchi with Sage and Cheese Sauce (and the beautiful photos that go with), you know the girl has got skills. …skills as in she made the gnocchi. Wish I could just sit in a vat of this stuff it looks so good. Lots of creativity and wholesomeness at her site to love!
Life Currents. And third is another favorite of mine, Debi from http://lifecurrents.dw2.net/. I've been following her every dish for quite some time, but the Mexican Flatbread Pizza she posted last week sent me over the moon. Debi's photos are beautiful – they are always so colorful! She even made Homemade Rice-a-Roni look glorious. Debi has lots and lots of vegetarian and healthy dishes to try!
So that's it! A little glimpse into how I go about this and some other fabulous foods to share. Some posts are more involved or intricate than others – either in the recipe or the photography or the construction, but it's all put together with love. Peace! -Erica