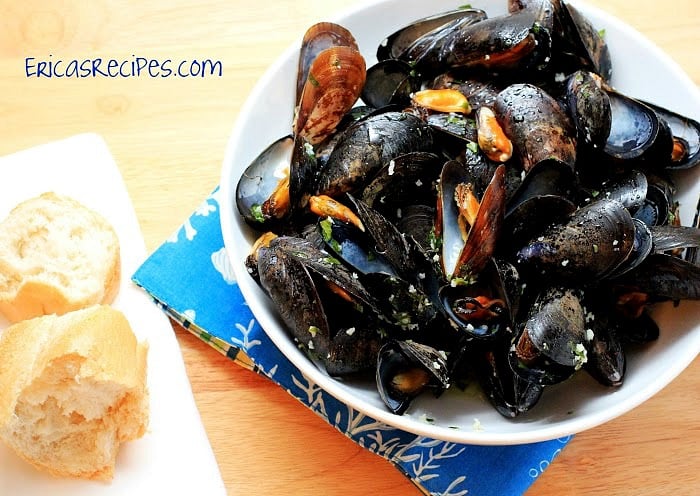 This recipe is a pride and joy – a perfect balance of easy, quick, and delicious, and my family begs for it. I could take a bath in this broth. Seriously. This very recipe is one that helped turn me into a food snob at restaurants – mussels are so easy, there's no excuse for them to ever be tough 🙂
Mussels in Garlic Butter
2 lb fresh, cleaned mussels
splash of dry white wine
3-4 cloves garlic, minced
scant 1/4 c fresh parsley, chopped
3/4 stick unsalted butter at room temperature
crusty Italian bread
Combine the butter, garlic, and parsley in a small bowl.
Preheat oven to 450.
Look over the mussels to make sure they are still alive. If the shell is open, squeeze it shut and if it's still alive, the mussel will contract. Discard any that are dead and remove any beards.
Place the mussels in a large saute pan with a fitted lid. With your fingers, drop the butter/garlic mixture on top. Splash with wine. Cover and bake 15 min (or until the mussels open). Discard any that do not open.
Remove from the oven and dump it all (mussels and broth) into a serving bowl. Serve in the middle of the table with plenty of crusty bread for all to sop up the juices. Serves 4.