Leek and Swiss Chard Quiche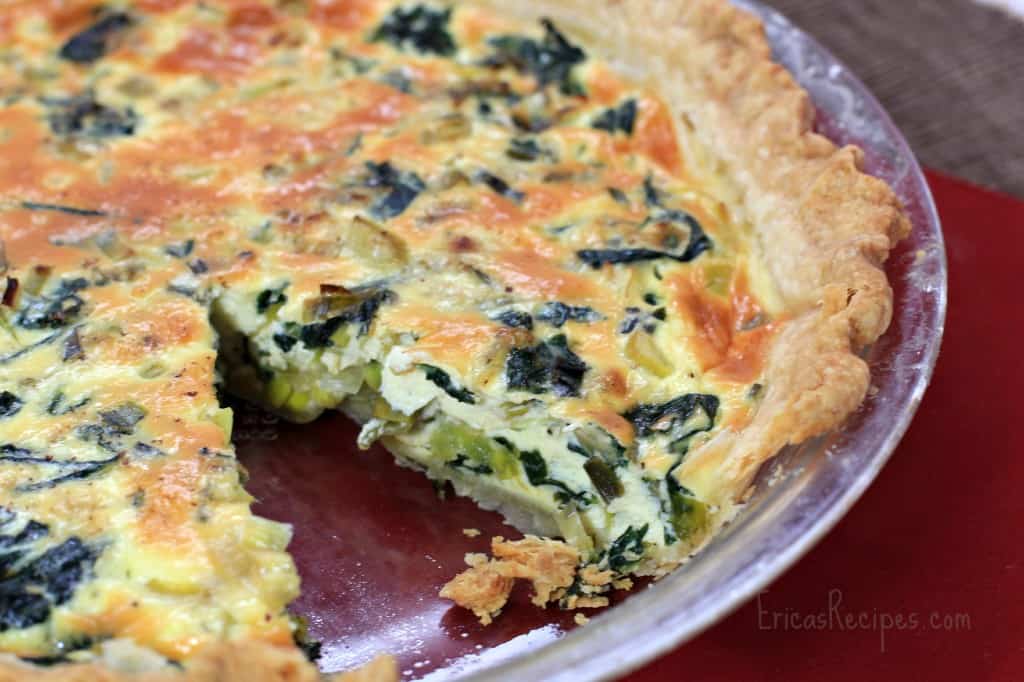 While I usually have to force veggies, there's just something about Swiss chard that I absolutely love. It's gorgeous, it's tasty, and it is the one green I can honestly say I truly love. I have made this quiche many times, and I can even tell you it freezes well. This is also the only quiche where I prefer it without any cheese.
Leek and Swiss Chard Quiche
1 Perfect Pie Crust recipe
2 T unsalted butter
3 large leeks (white and tender pale green parts), thinly sliced and rinsed well to get rid of the dirt
1 small clove garlic, minced
1/2 bunch Swiss chard, ribs removed, leaves chopped
2 t fresh thyme
1/4 c dry white wine
1 1/4 cups half and half
4 large eggs
1 t Dijon mustard
1 t kosher salt
1/4 t fresh cracked pepper
pinch nutmeg
Preheat oven to 425F.
Roll out pie crust and press into a 9-inch pie dish. Prick the bottom all over with a fork. Line dough with parchment paper, and fill with beans. Bake at 425, 10 min. Remove beans and paper. Set the crust aside.
Reduce oven to 375F.
Heat the butter in a large skillet over medium-high heat. Add the leeks, season with salt, and saute until the leeks are tender (~7 minutes). Add the garlic and saute 1 minute. Add the wine, thyme, and chard, and saute until the chard is wilted, ~2 minutes. Remove from heat and transfer into crust.
In a bowl, whisk together the half and half, eggs, Dijon, salt, and pepper. Pour into the crust over the leek-chard mixture. Bake at 375F until the filling is puffed and golden brown, ~25-30 minutes. Cool 5-10 minutes before cutting.
~✿♥✿~