Chocolatey fun right here! Halloween Nutella and Candy Corn M&M Cookies are colorful, festive, fun, and DELICIOUS.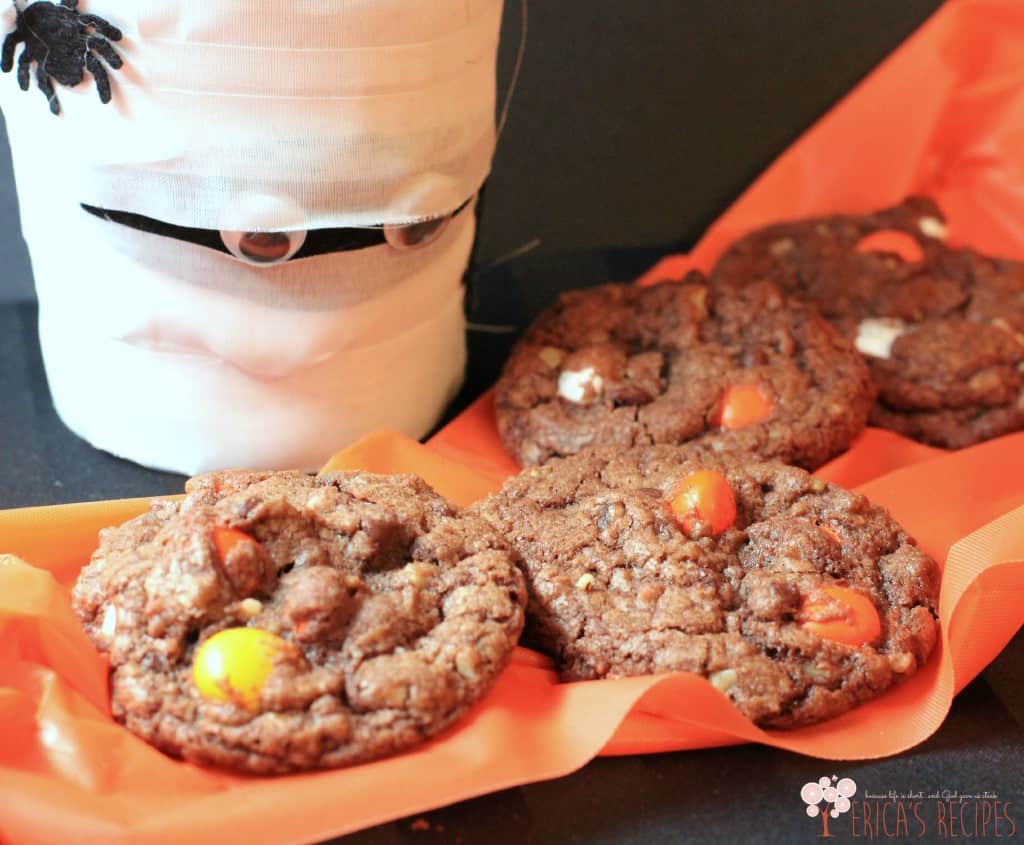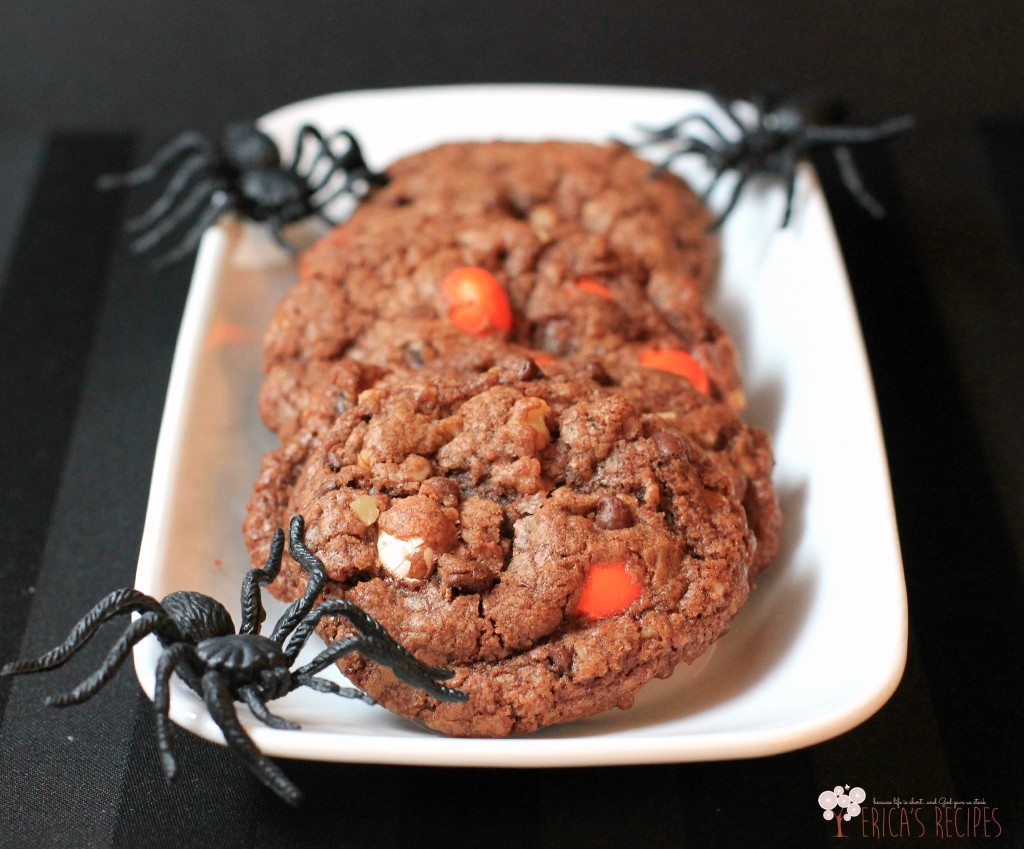 My daughter's birthday party is tomorrow and I wanted to make some treats. She and I made up the base for this cookie dough when we made our Peace, Love, & Nutella Cookies. So with a couple modifications, I now have a festive batch of absolutely scrumptious cookies ready for her to share with her friends tomorrow. These "candy corn" M&Ms are really just white chocolate M&Ms with candy coatings colored like candy corn. And they are so so good.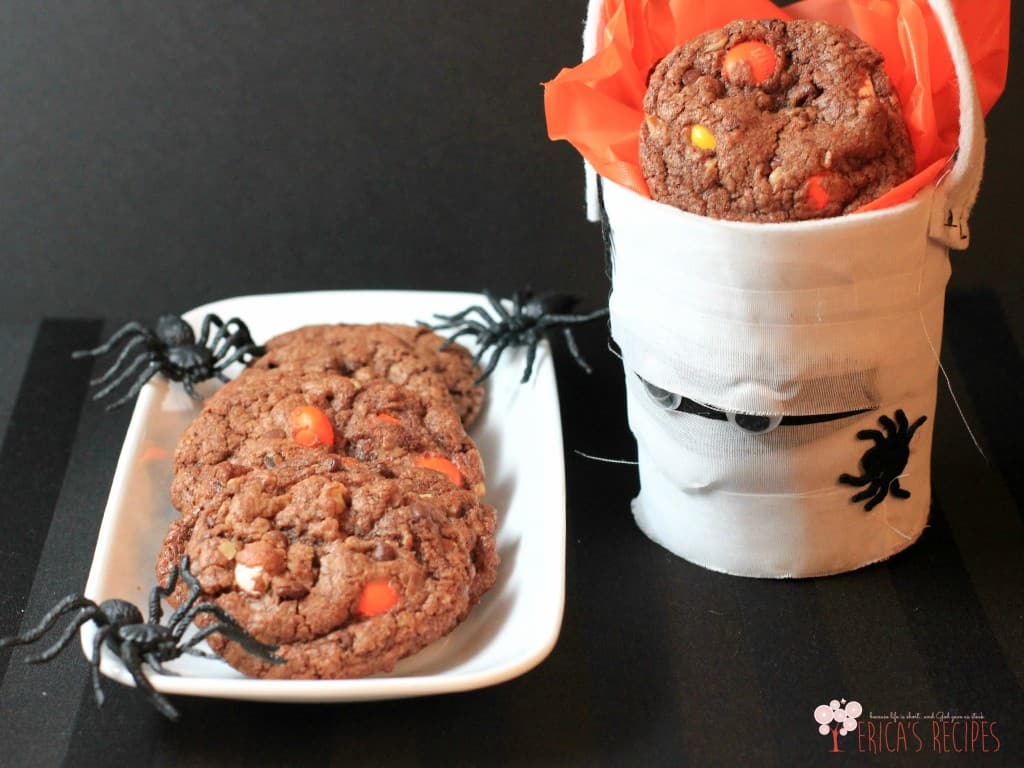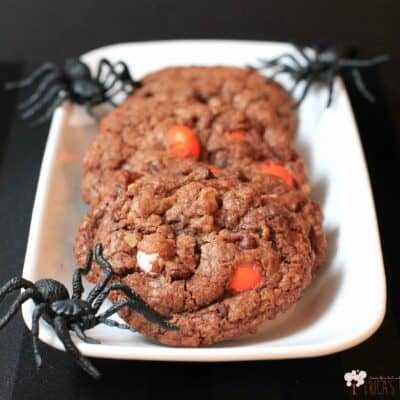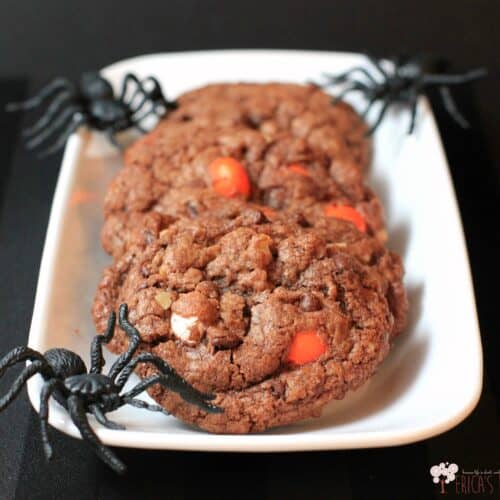 Halloween Nutella and Candy Corn M&M Cookies
Ingredients
1

c

+ 2 T all purpose flour

1/2

t

kosher salt

1/2

t

baking soda

3

T

cocoa powder

1/2

c

shortening or unsalted butter

softened

6

T

sugar

6

T

light brown sugar

1/2

t

pure vanilla extract

1/4

c

Nutella spread

1

egg

1/2

c

finely chopped walnuts

1

9.9 oz bag White Chocolate Candy Corn M&Ms (can substitute other flavor M&Ms or white chocolate morsels)

1/2

c

Hershey's semi-sweet chocolate morsels
Instructions
Preheat oven to 375F.

In a medium mixing bowl, combine the dry ingredients – the flour, salt, baking soda, and cocoa powder.

Separately in a large mixing bowl, combine the wet ingredients – the shortening, sugar, brown sugar, vanilla, Nutella, and egg.

Add the dry ingredients to the wet and stir to incorporate. Add the walnuts, M&Ms, and chocolate morsels.

Using 2 spoons or a cookie scoop, scoop out ~1½-in mounds onto a large baking sheet. Bake at 375F for 10-12 minutes until just toasted around the edges. Take cookies out of the oven and let them cool 2 minutes, then gently transfer them to a cooking rack so they can cool completely.
~✿♥✿~