Griddle hash browns with eggs, onion, and green bell pepper are easy to prepare and so flavorful to complement breakfast or brunch. Make these hash browns on your Blackstone or griddle, then cook the eggs on top. The runny yolk is the silky sauce to finish our breakfast potatoes to perfection.
Got a griddle? How about a Blackstone griddle? If you have not yet invested in a propane-fueled, outdoor griddle, you can go right ahead and add it to your wish list. We procured one a couple months ago to add to our fleet of outdoor cookeries since we live in Florida and can cook outdoors all year. And let me tell you, having a big outdoor griddle was a great addition.
And of the delicious foods we have learned to cook on our Blackstone, far and away – and completely surprising no one – is breakfast.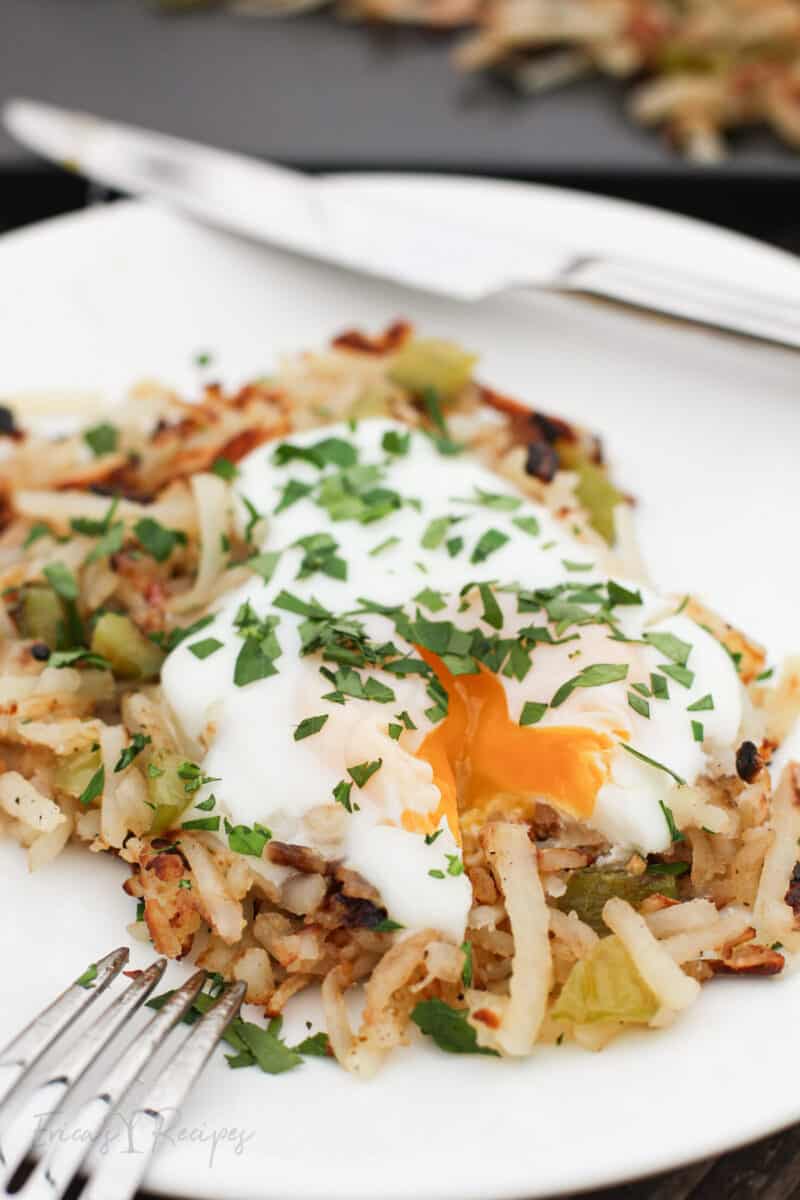 Why this recipe works
Cooking hash browns and eggs together is a straight up win for ease of prep. We cook our hash browns with garlic, green bell pepper, and onion to almost being done. Then we crack eggs over top, put on the cooking dome to hold the heat, and set the eggs while the hash brown potatoes finish cooking through completely.
So, this recipe is so good because we have starchy potatoes, a little bite of garlic and onion, plenty of seasoning, a fatty luscious yolk (so good!), AND the flavor that the griddle adds by itself because that is its very nature.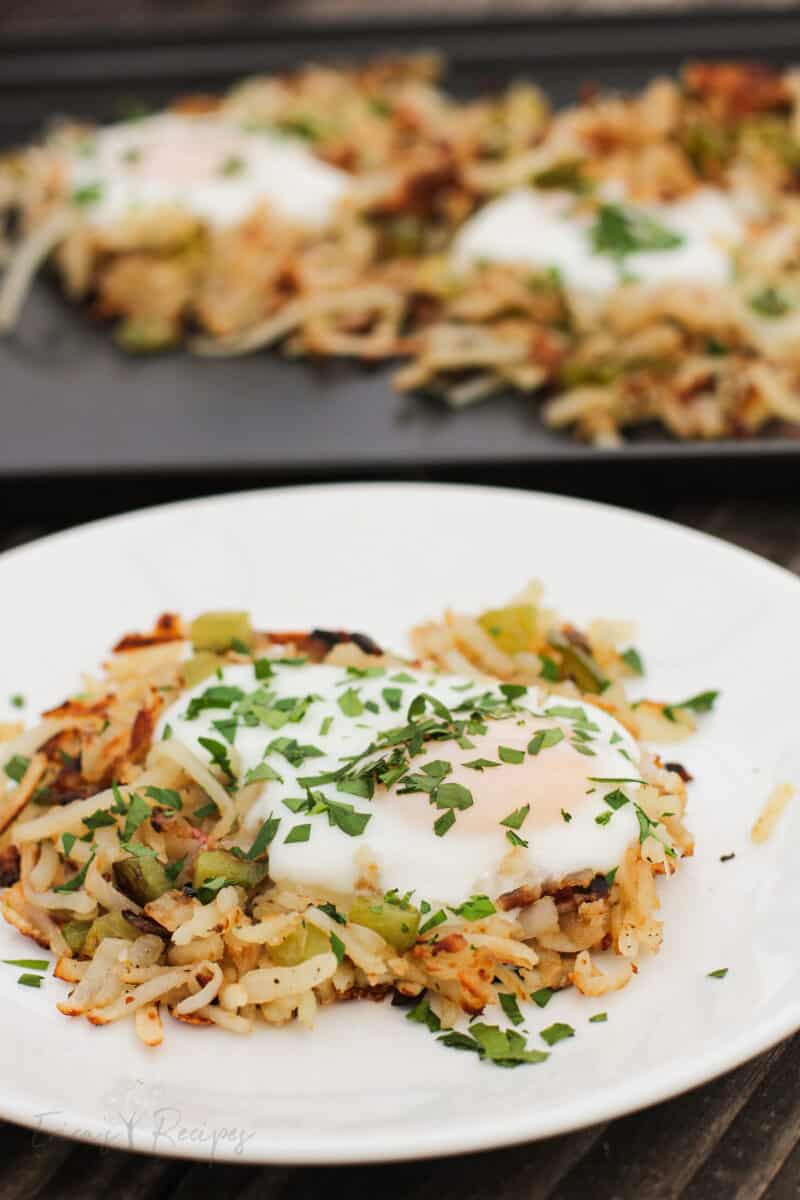 And actually, now that I lay that all out, this is starting to sound like great hangover food, no?
But I digress… this recipe works because it takes humble, generic ingredients and cooks them together in such a way, that we have wonderful new breakfast potatoes to enjoy. And who doesn't love that.
BTW be sure to check out my Blackstone Croissant Breakfast Sandwiches! They are the BEST.
Ingredients
Unsalted butter. Yes we use a good bit of butter but that is because 1) griddle cooking requires that so that we cook – and not burn – the potatoes (and a lot of it does end up left behind on the griddle honestly), and 2) cooking hash brown potatoes also requires the addition of a good bit of butter. Is what it is.
Shredded hash brown potatoes. I prefer the kind that you find in a refrigerated section of the grocery store, but frozen is perfectly fine too – just thaw them first.
Green bell pepper, onion, and garlic. Any of these can be omitted or substituted depending on your taste or what you have available. Don't have an onion? Use dried minced onion. Or red onion or shallot or green onion. Same with garlic – garlic powder can be used. If green bell pepper isn't your thing or not available, try another pepper – red, poblano, whatever. This is a great recipe for using up ingredients on hand.
Eggs. Self-explanatory.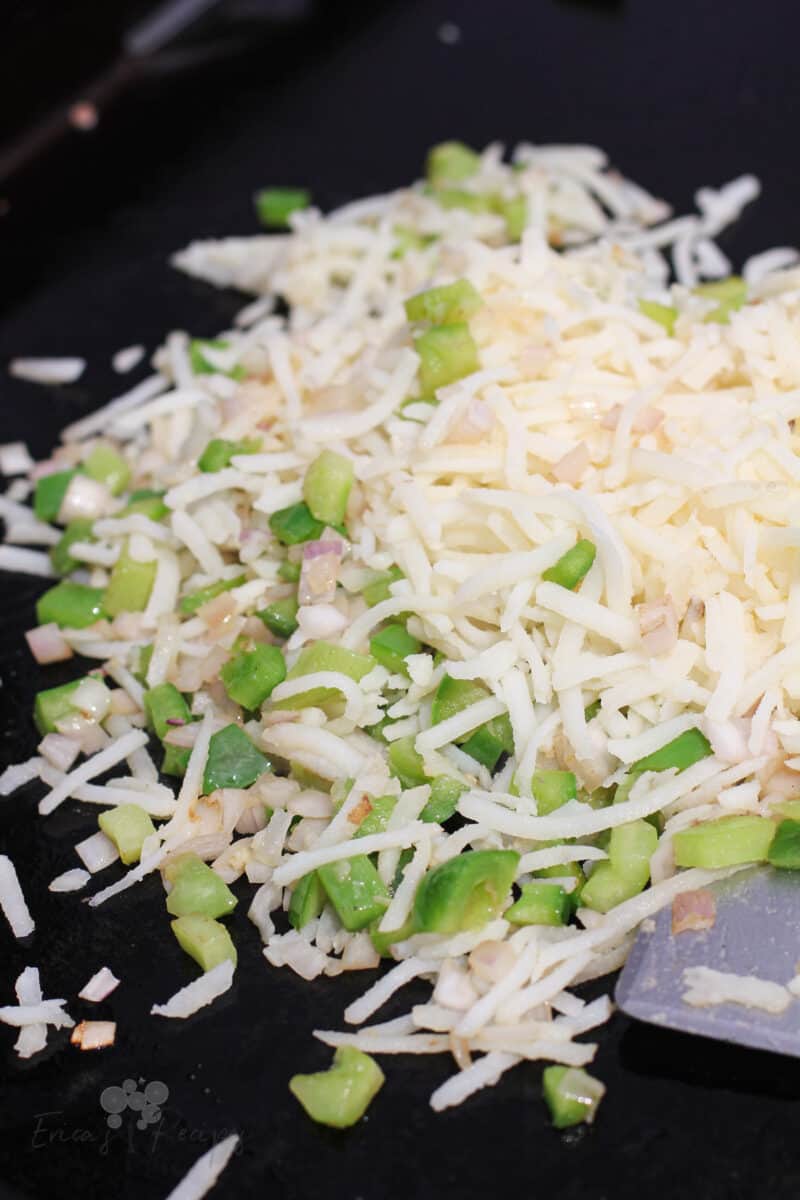 Note what I did not include is cheese. No reason, it was just that we were also making egg, bacon, and cheese breakfast sandwiches in croissants the same morning I made these griddle hash browns is all.
So, I am just throwing this out there that you can add cheese if you like, and cheddar or freshly grated parmesan come to mind. I just did not.
Another suggestion is that you could totally finish with a sprinkling of crumbled bacon too.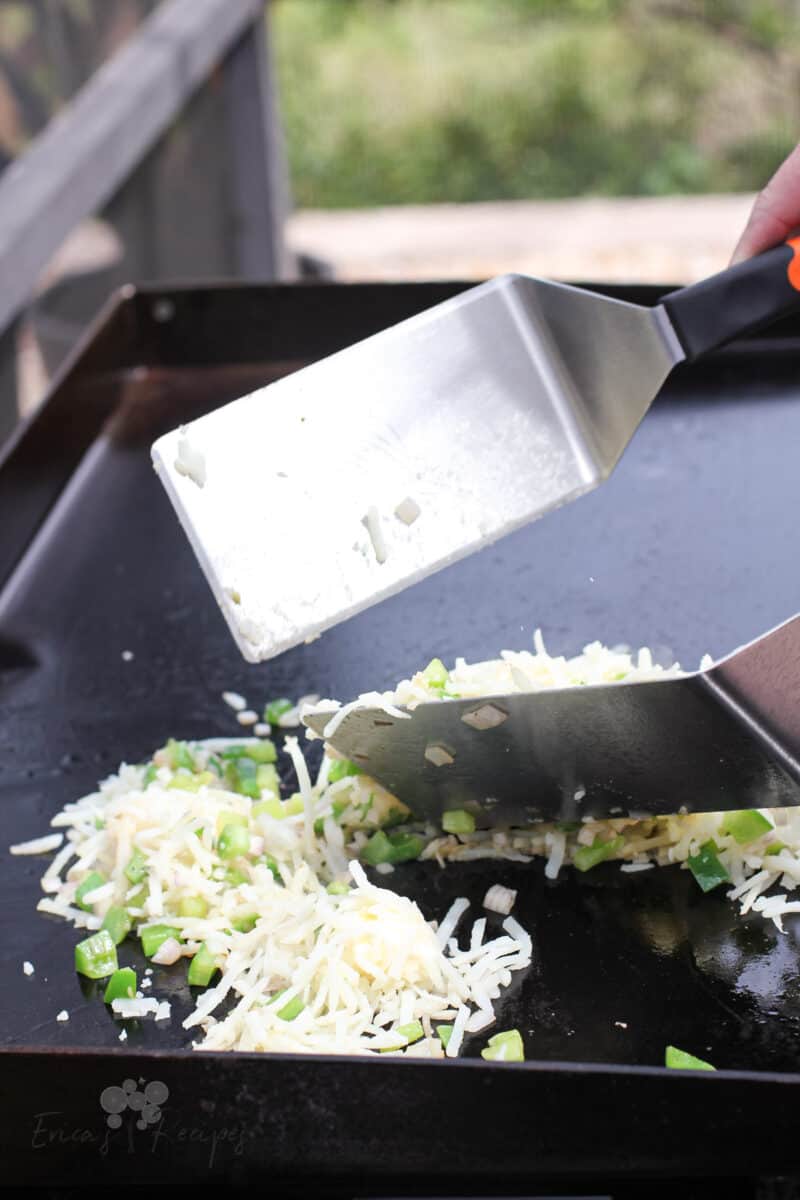 Preparation Tips
The recipe card below contains complete instructions for making these delicious Blackstone griddle hash brown potatoes with eggs (YUM). But here are extra tips anyway.
As always, follow the instructions that came with your Blackstone or griddle. In in those instructions there are undoubtedly directions on seasoning the griddle. Proper care and feeding – err, seasoning – of the cast iron is integral to it being nonstick, imparting the amazing flavor it does, key for easy cleanup, and will give your griddle a long life.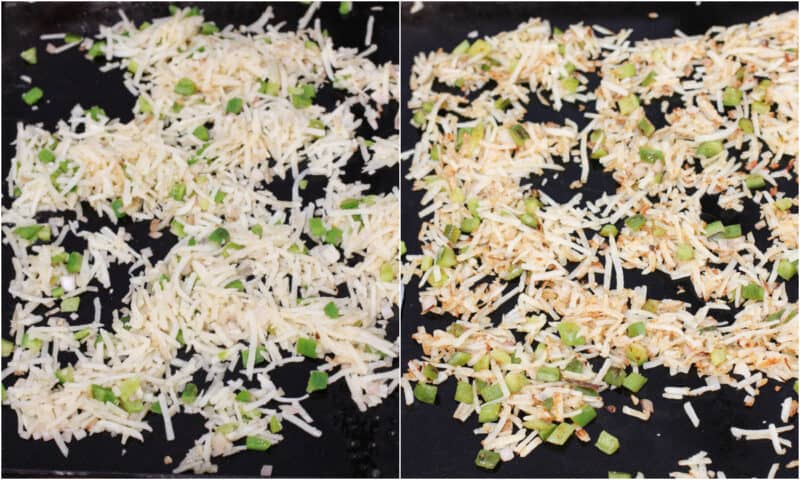 This kind of goes without saying, but I am going to say it anyway – get all the ingredients prepped and ready before starting anything. You don't want potatoes burning because you were running when you should have been monitoring to see if you needed to turn down the temperature – which has totally happened to me. So, don't be like me.
In the same spirit as the above, you also want your utensils and plates on hand. For utensils, I use 2 large spatulas to flippity flip the potatoes. As they cook, I use a fork to occasionally taste for doneness (it's really the only way to know). And then I use a spoon to make the wells for the eggs in the potatoes, and the cooking dome.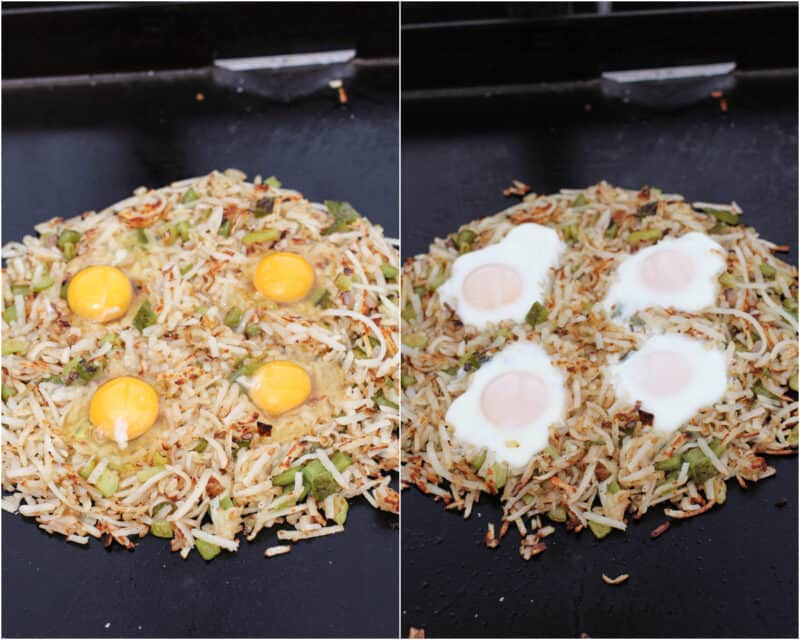 FAQs
Can griddle hash browns be made in advance?
Nope. Sorry, but just like roast potatoes or French fries, hash browns need to be cooked and then served up right then. If not, crispness of the browns will be lost. And generally, potatoes don't reheat well, with the exception being mashed potatoes.
What if I do not have a cooking dome?
If you have made the investment for a griddle, you have probably picked up a cooking dome because it is very handy. But if not, a metal mixing bowl works as well.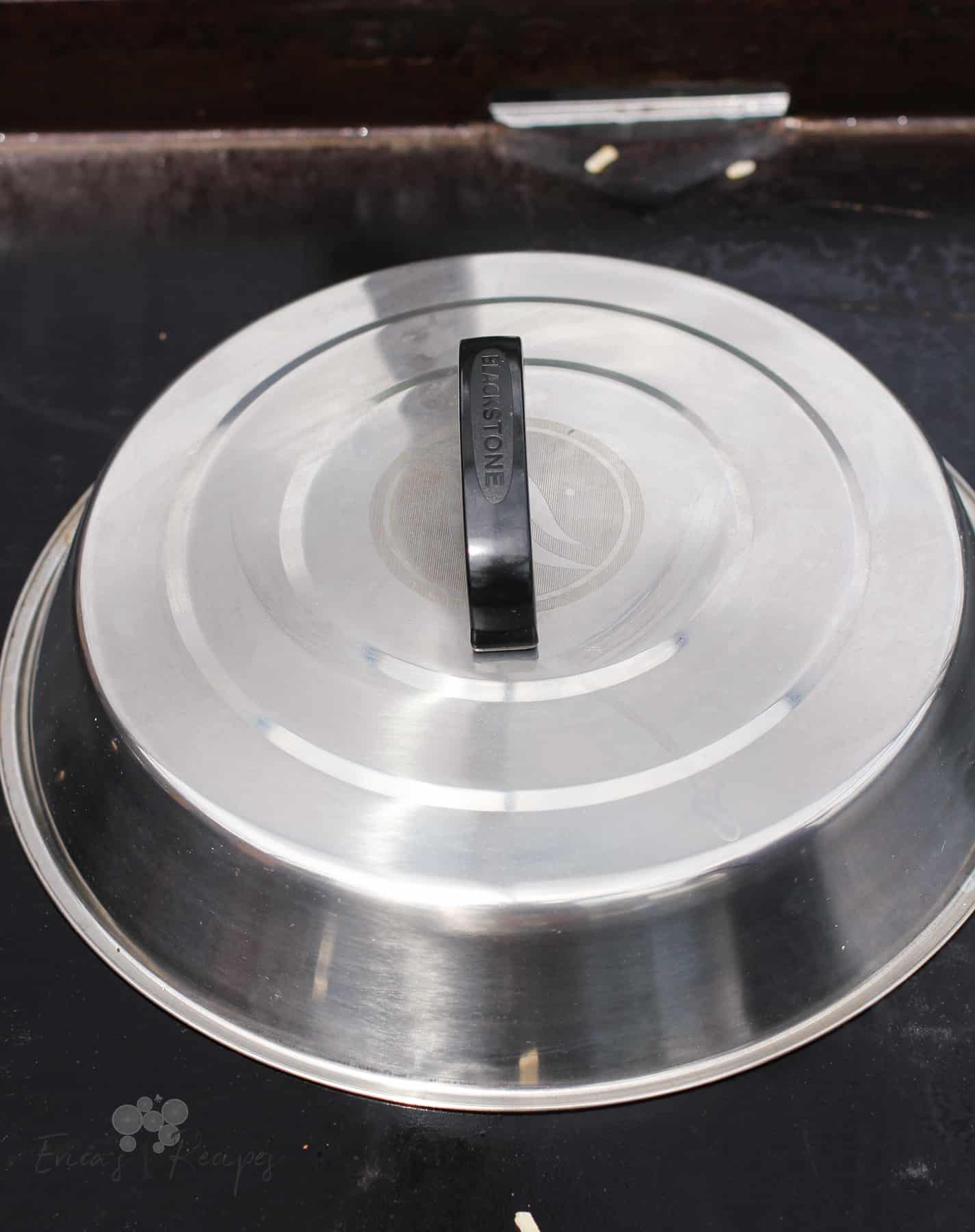 Can I add meat?
Of course. Ham, steak, sausage – any of these would work well in these Blackstone griddle hash browns especially because you can cook, brown, or reheat them on the other side of the griddle while the potatoes are cooking, then add them in before the eggs.
Why are the seasonings (salt and pepper) added towards the end?
Adding salt to any food causes it to give up moisture, so adding salt at the wrong time can interfere with the cooking process when we are wanting to brown something – be it mushrooms, onion, or, in this case, potatoes.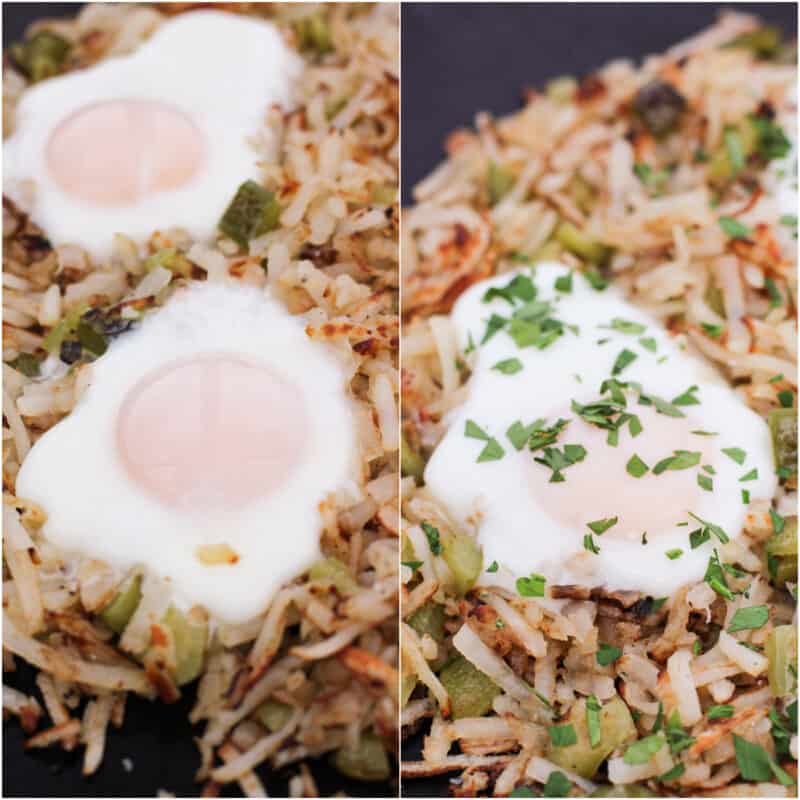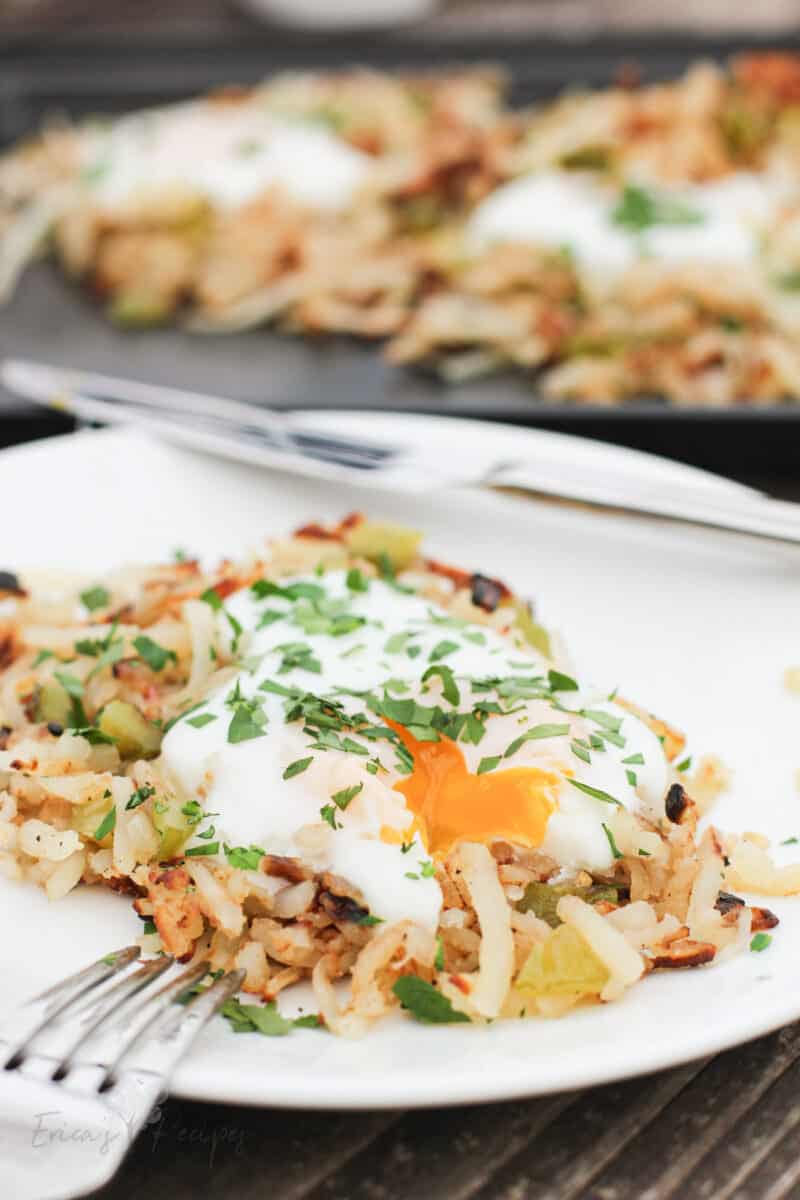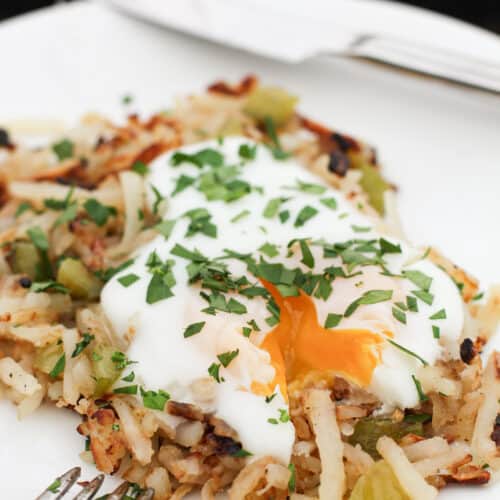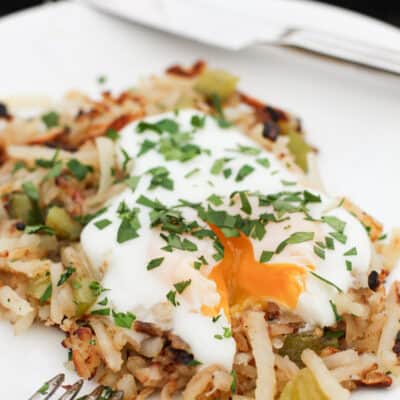 Griddle Hash Browns
Griddle hash browns with eggs, onion, and green bell pepper are easy to prepare and so flavorful to complement breakfast or brunch. Make these hash browns on your Blackstone or griddle, then cook the eggs on top. The runny yolk is the silky sauce to finish our breakfast potatoes to perfection.
Ingredients
4

Tbsp

unsalted butter

softened

20

oz

shredded hash brown potatoes

thawed if frozen

1

large

green bell pepper

seeded and diced

½

cup

diced white or yellow onion

2

cloves

garlic

minced or chopped

½

tsp

kosher salt

¼

tsp

fresh cracked pepper

4

large eggs

garnish: chopped flat-leaf parsley
Instructions
According to the manufacturer's directions, prepare the griddle or Blackstone. The griddle should be clean and seasoned. Once prepared, put heat to medium.

Gather together all the ingredients on a tray to take to the griddle. The potatoes, green bell pepper, onion, and garlic can go into a bowl together.

Add the butter onto the griddle. The griddle should be hot enough that the butter melts quickly with some sizzle, but not burn straight away.

Add the potatoes, green bell pepper, onion, and garlic, and toss into the butter to coat. Cook, tossing regularly, to lightly brown the potatoes and until they are almost (but not completely) cooked though (~5 minutes). Take care not to toss too often – the potatoes need to sit directly on the hot griddle to brown. Take a taste occasionally to check for doneness.

Add the salt and pepper, then gather the potatoes into a ~12-inch wide pile. Use a fork or spoon to make 4 wells in the potatoes. Gently crack an egg into each well. Cover the potatoes with a cooking dome and cook, checking after 5-10 minutes, until egg whites are set (*see Notes) but yolks are not.

Garnish with parsley and serve immediately.
Notes
I used the cooking dome to hold the heat and cook the eggs, but this can also be done to get the potatoes to cook through if they aren't cooperating prior to adding the eggs.
The egg whites are done when they are just set. Meaning, if you give a little push with a fork, there will be a slight resistance. They will not be firm like hard-boiled egg. Also, the whites will continue to cook a bit once removed from the griddle.
A metal mixing bowl works well if a cooking dome is not available.
Nutrition
Calories:
314
kcal
(16%)
|
Carbohydrates:
32
g
(11%)
|
Protein:
8
g
(16%)
|
Saturated Fat:
9
g
(56%)
|
Monounsaturated Fat:
3
g
|
Cholesterol:
215
mg
(72%)
|
Sodium:
310
mg
(13%)
|
Potassium:
157
mg
(4%)
|
Fiber:
5
g
(21%)
|
Sugar:
2
g
(2%)
Calorie count is purely an estimate calculated using an online application to serve as a guide and not to be taken as accurate nutritional information. Percent Daily Values are based on a 2,000 calorie diet.
Tried this recipe?
Leave a comment below and let me know!