Creamy caramelized onions with roast beef and buttery browned mushrooms loaded onto a cheesy fancy pizza. Put this one on the bucket list folks, because this French Onion Pizza is really special.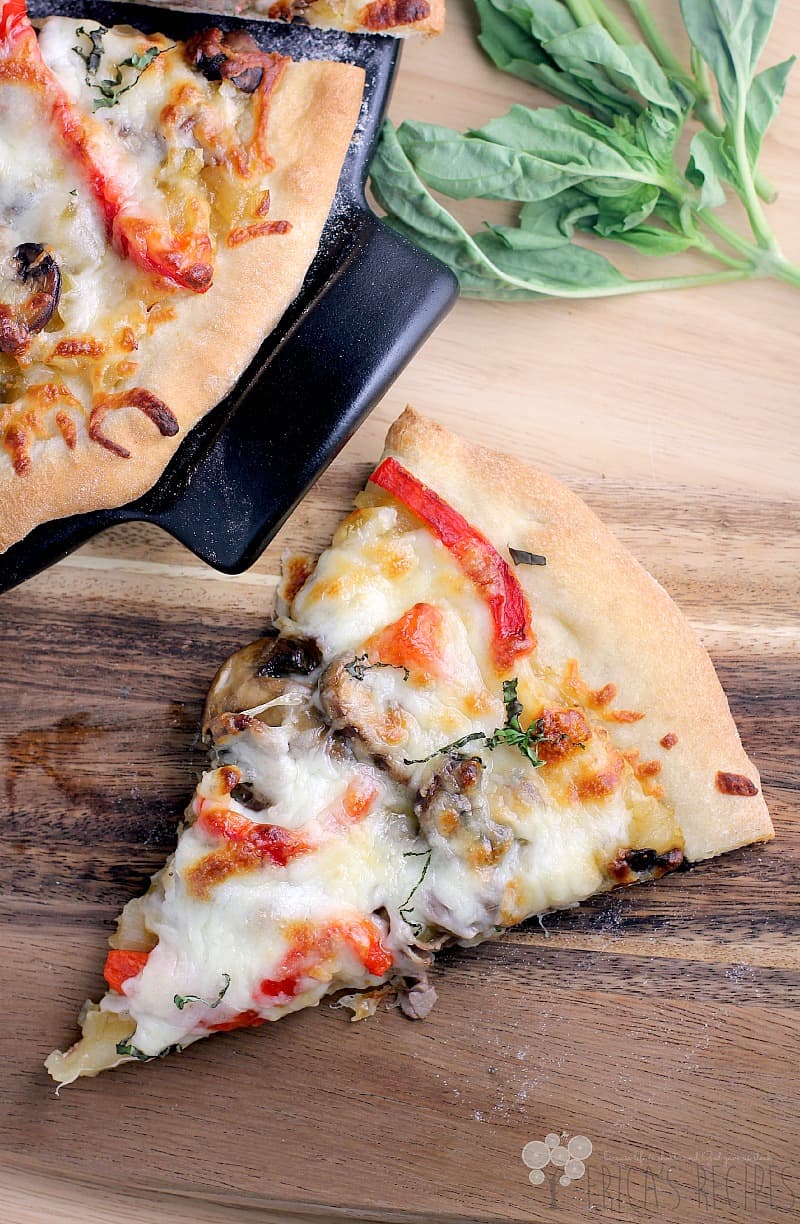 You guys! I have kinda spent the past week trying to come up with something new for you. Something stellar. …And nuthin. Complete blank. I think I'm in a bit of an all-around life funk right now anyway.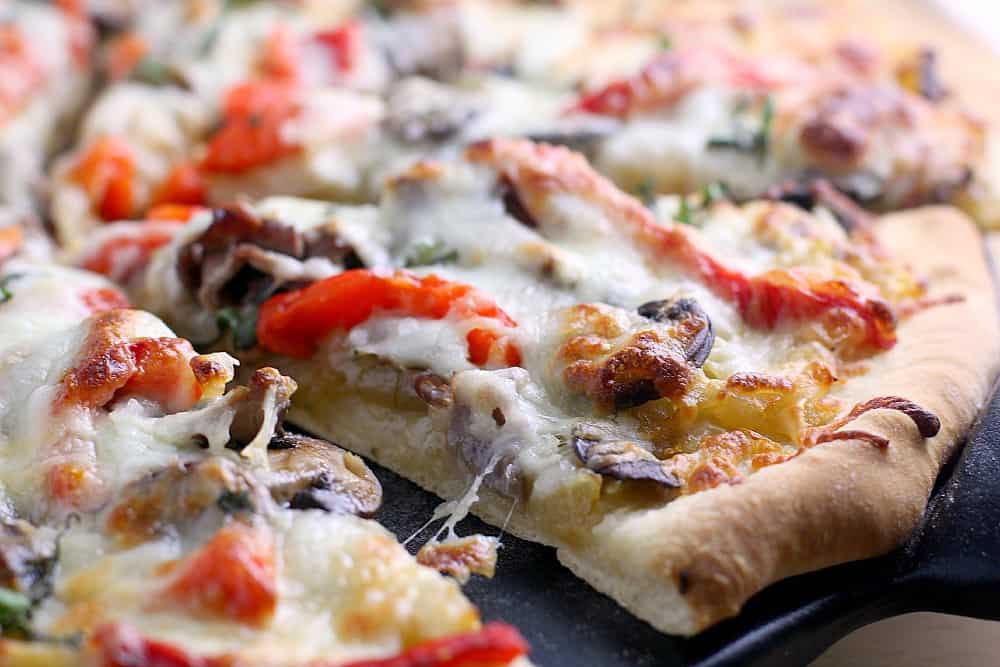 Nothing major, nothing a good spa day can't cure. Just classic cold + losing my motivation to workout cuz it's February (even though it's gorgeous out) + taking a graduate nuclear engineering class (yes, really) and that sure sucks + it's the middle of the school year for my daughter and I'm making uber-important life decisions for her for middle school next year cuz apparently 12 is the new 18… is it summer yet?
But I was really wanting to hit something out of the park for you, you know? Of course you do.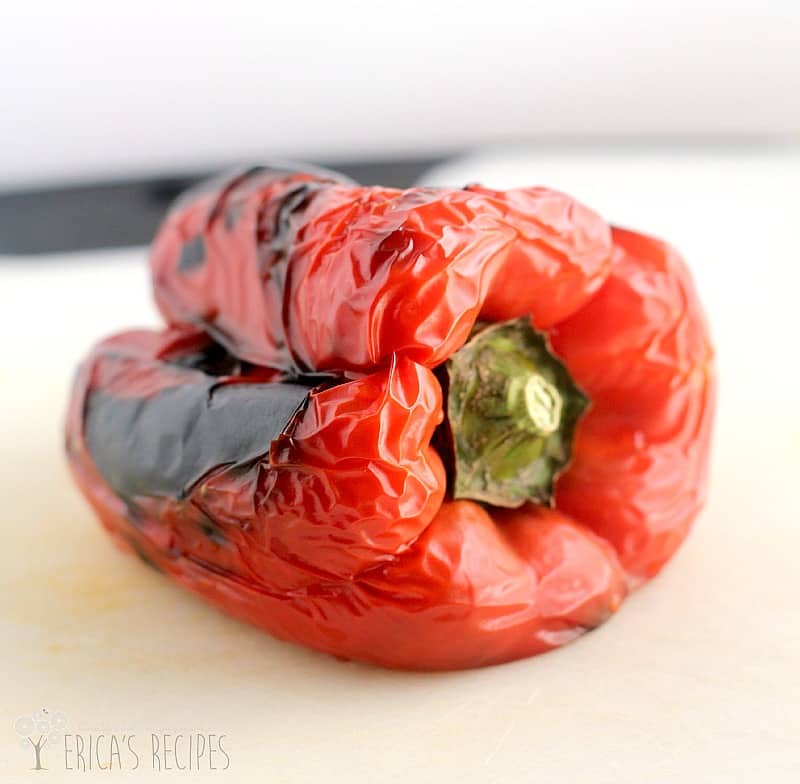 So there I was, putzing around on the internet for ideas. And I saw something with caramelized onions. I don't remember what that was, but "BOOM do a pizza".
I have not done a new pizza in a long time and pizza is my favorite food, right? So there it was. I went to the store, threw in a pedi, got ingredients, came home, and Made It Happen.
French Onion Pizza.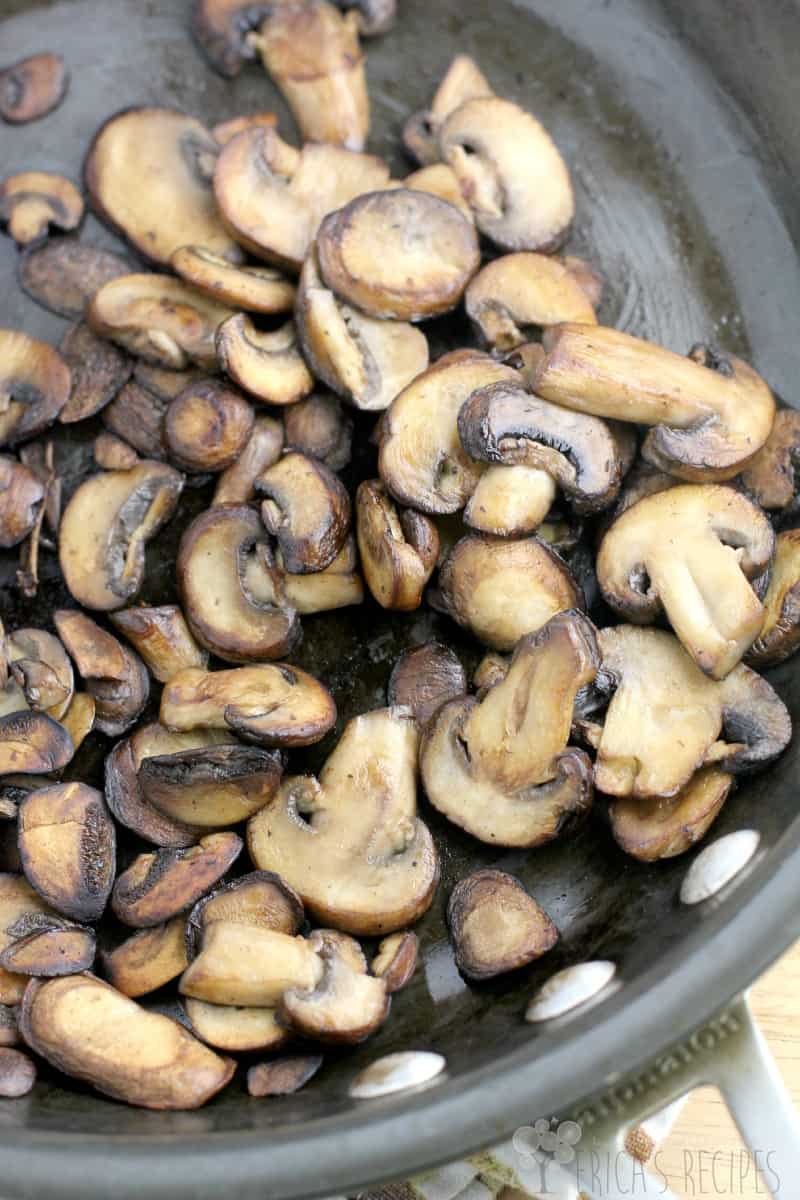 And this. French Onion Pizza. This is the tastiest pizza I have ever made, and this is the tastiest pizza I have ever eaten. I can die now. I'm good. And I think God would want me to bring Him a slice.
This is not just a pizza. This is caramelized creamy love on dough. It is a labor of love …but this caramelized onion pizza recipe is That Damn Good. And can I just tell you how caramelizing onions makes your house smell amazing?
Unexpected bonus.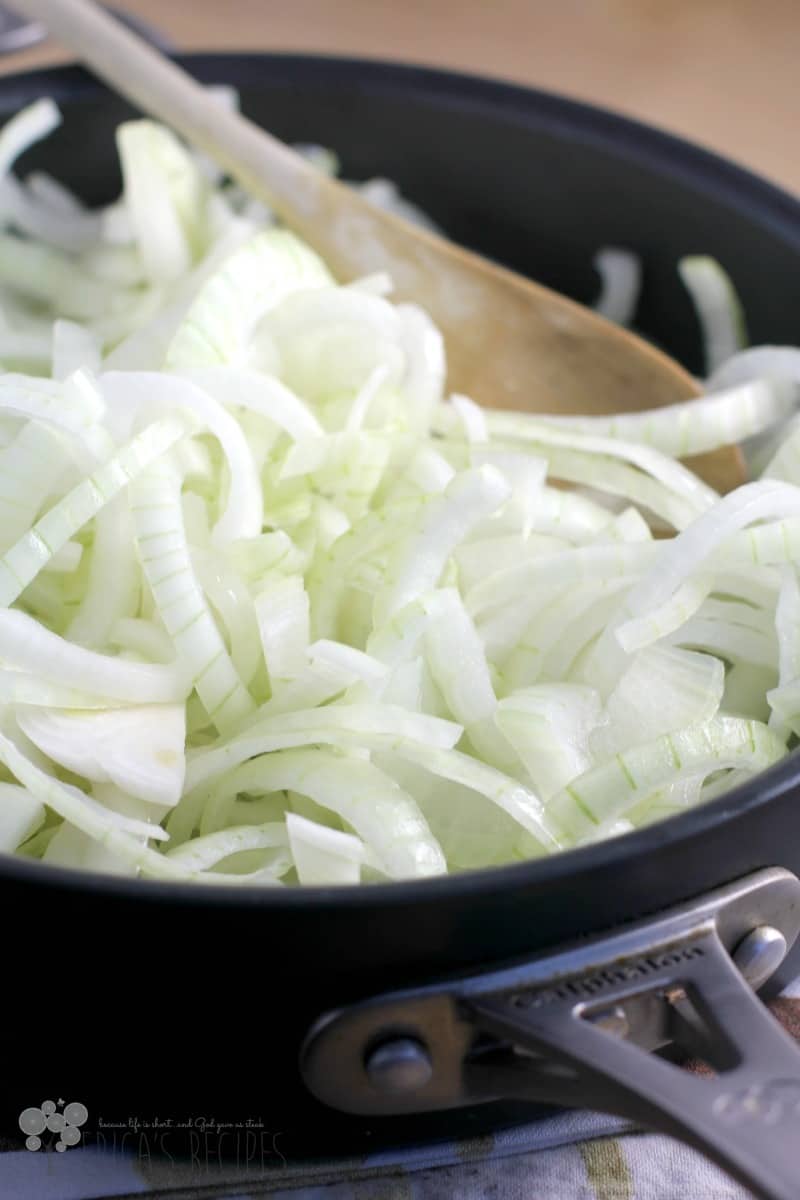 The directions are long, but I'll break it down for you.
How to make French Onion Pizza
Have dough. Make it or buy it, whatever.
Caramelize onions – which involves nothing more than cooking them slowly for a bit.
Roast red bell pepper.
Brown mushrooms.
Grab the roast beef.
Make the French Onion Pizza.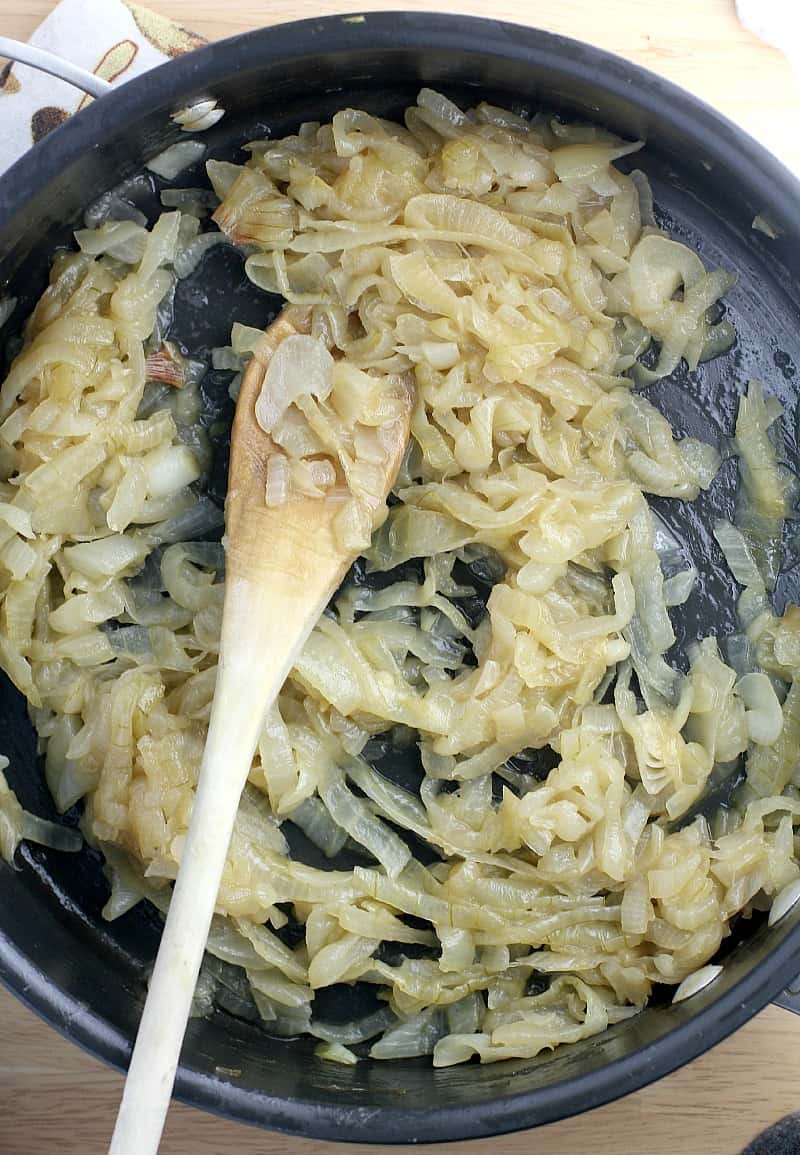 That's it. It's really not that much work. And it is toooootally worth it.
Tips for making this gourmet bistro-style pizza
The trick to caramelize onions is to be patient, and cook them slowly and lowly (as in, lower heat). If your heat is too high, the onions will cook too quickly (i.e. saute) and won't develop that amazing caramelization.
The trick to browning mushrooms is the opposite of the onions… we want high heat. For more details on browning mushrooms, see my post about just that.
A pizza stone really does make pizza better. I am not a big kitchen gadget person (I have a small kitchen, I can't be!), but I love my pizza stone. Works awesome for baking breads too.
And if you want to kick up the onions another notch, check out my Honey Bourbon Caramelized Onions.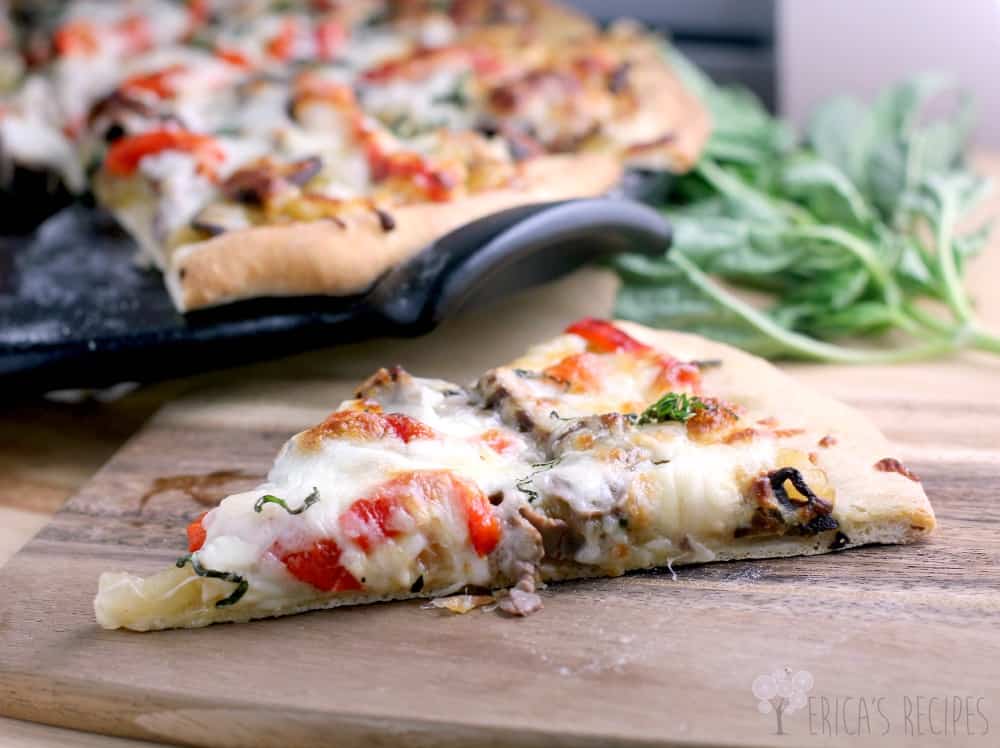 This pizza is fun to make and DELICIOUS in flavor. The buttery mushrooms, roast beef, and all the cheese good grief this is so good. And the caramelized onions…. sophisticated, rich, interesting, AMAZING are words that come to mind.
This one blows me a way.
So here she is. French Onion Pizza, my new baby.
If you try just one of my recipes, make it this one.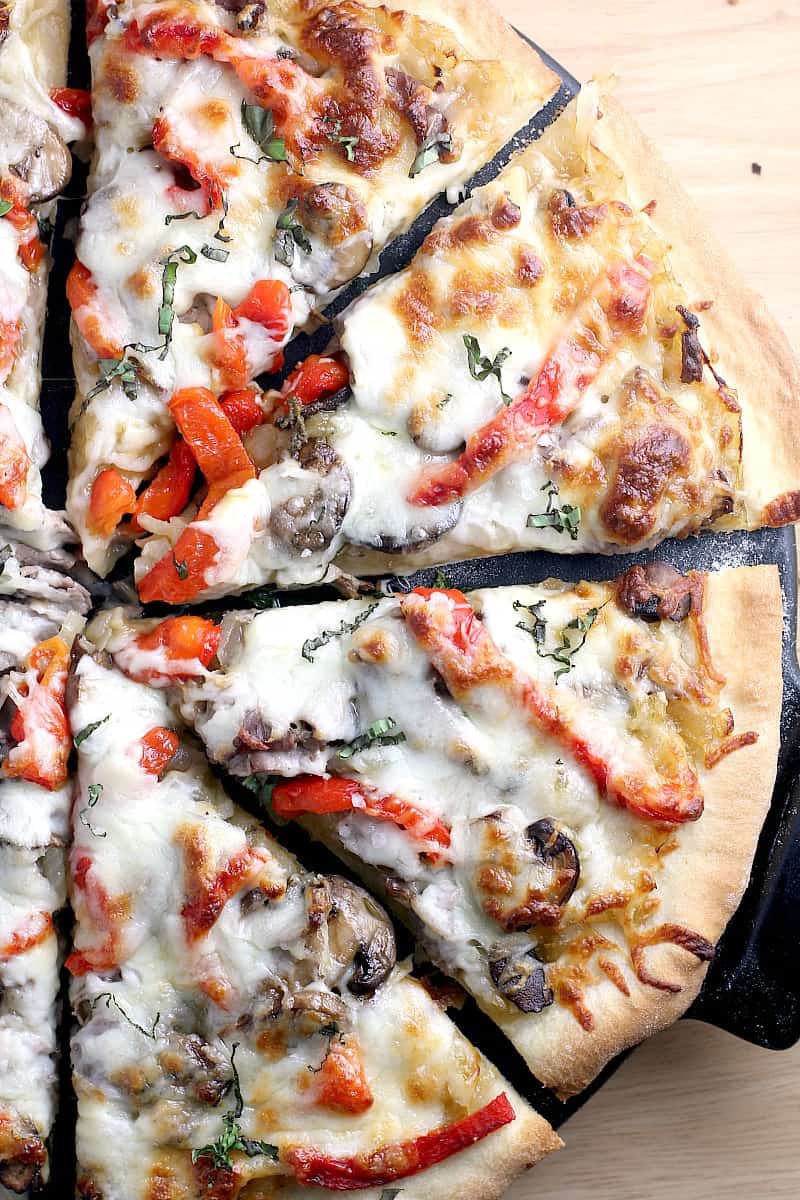 Here are more recipe ideas!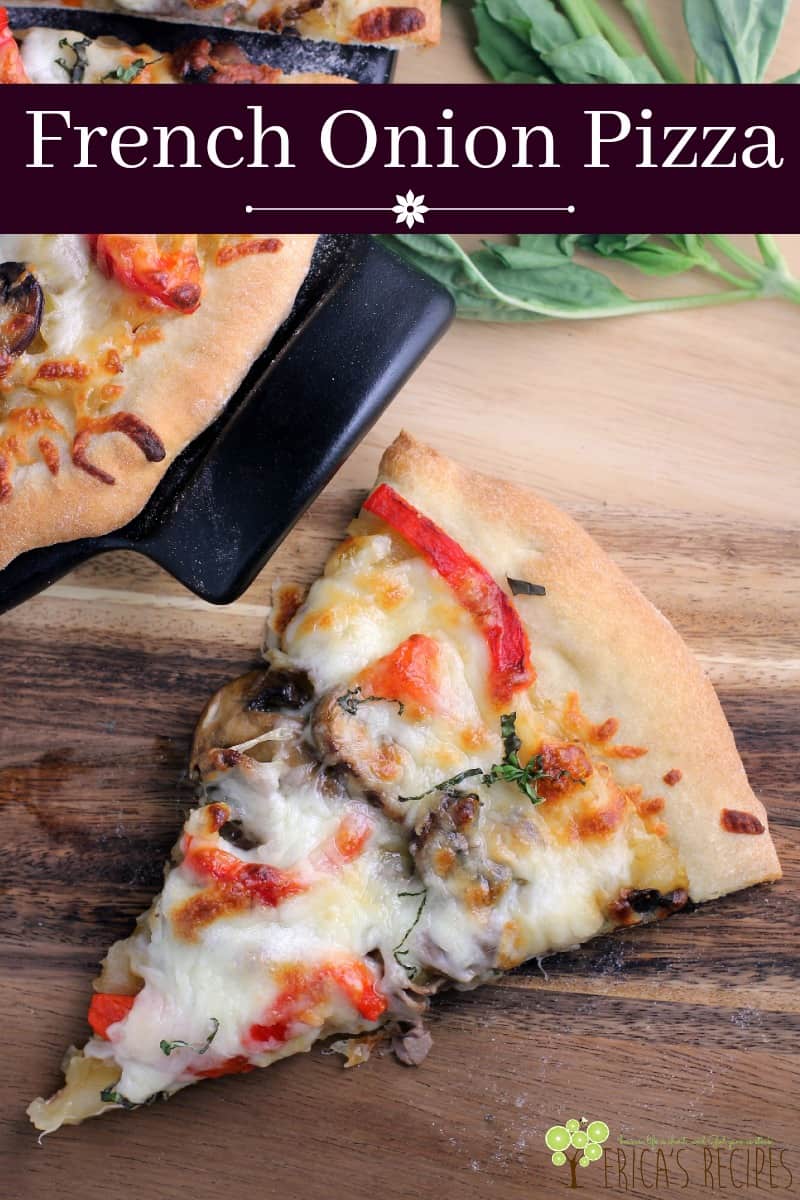 This recipe uses my Sam Adams Pizza Dough made with beer. Also check out my Homemade Pizza Sauce with wine and garlic.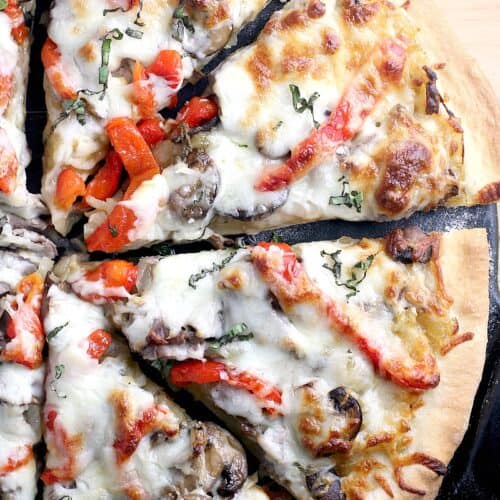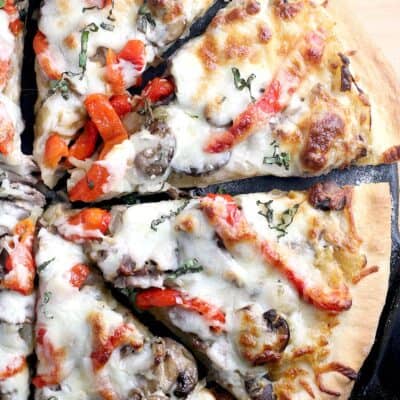 French Onion Pizza
Creamy caramelized onions with roast beef, roasted bell pepper, and buttery browned mushrooms loaded onto a cheesy fancy bistro-style pizza.
Ingredients
3

large Vidalia onions

3

Tbs

extra virgin olive oil

divided

1

tsp

granulated sugar

¼

cup

sherry

8

oz

sliced baby portabello mushrooms

1

red bell pepper

¼

lb

deli roast beef

cut into strips

½

cup

shredded Swiss cheese

2

cup

shredded part-skim mozzarella cheese

½

recipe Sam Adams Beer Pizza Dough

couple pinches kosher salt

couple pinches coarse sea salt

for sprinkling

couple pinches chopped fresh basil

oregano, or thyme leaves, for sprinkling
Instructions
Heat 1 tablespoon olive oil in a medium saute pan over medium heat. Add the onions and sugar and cook on medium until they start to talk to you. Lower the heat to low and cook slowly, stirring occasionally, for about 45 minutes or until the onions are very soft and caramelized.

While the onions are cooking, roast the bell pepper. Turn on the oven broiler. Roast the pepper right under the heat for 20 minutes, turning a quarter turn every 5 minutes. Remove from the oven and seal in a ziploc bag to steam.

Put your oven stone into the oven and turn to heat to 425F.

Turn up the heat on the onions to medium-high. When they start to sizzle a bit, add the sherry and cook 3 minutes to deglaze the pan and boil off most of the liquid. Remove from the heat and set aside. Season with a pinch of kosher salt.

Heat 1 tablespoon olive oil in a medium saute pan on high heat. Add the mushrooms and cook, tossing occasionally, until well browned. Remove from the heat and set aside. Season with a pinch of kosher salt.

Remove the bell pepper from the ziploc bag. Remove the blistered skin and discard. Discard the stem and seeds and cut into strips.

Assemble the topping ingredients in one area, ready to load onto the dough once you get that ready.

On a floured surface, roll out the pizza dough. Remove the pizza stone from the oven and transfer the dough onto it. Brush the dough with the remaining tablespoon olive oil. Top with the pizza fixins in the following order: caramelized onions, browned mushrooms, the bell pepper, roast beef, Swiss cheese, and mozzarella cheese. Sprinkle coarse sea salt over top.

Bake at 425F for 10-15 minutes or until dough is nicely browned and crispy. Sprinkle a little fresh herb over top. Slice and serve. Yield: 4 servings.
Nutrition
Calorie count is purely an estimate calculated using an online application to serve as a guide and not to be taken as accurate nutritional information. Percent Daily Values are based on a 2,000 calorie diet.
Tried this recipe?
Leave a comment below and let me know!
~✿♥✿~