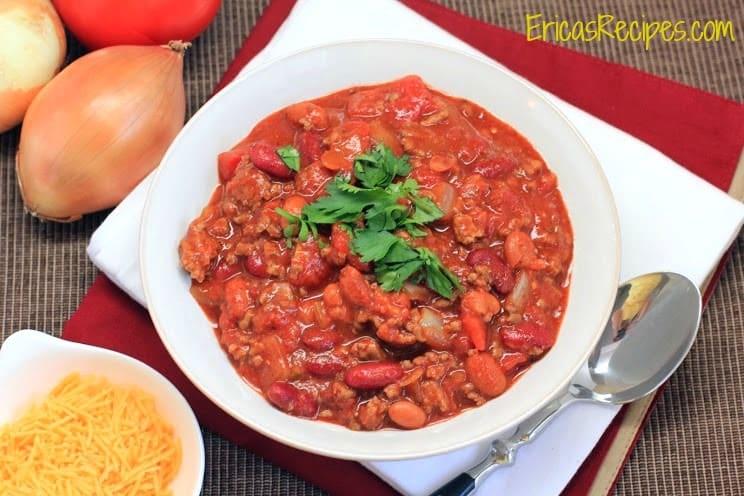 Chili is one of those things you should be able to throw together and have it be perfect. For me, this is that chili! I serve this with Tostitos or Jalapeno Buttermilk Cornbread.
Easiest Chili Ever
1 lb lean ground hamburg
1 medium onion, diced
1 clove garlic, minced
3 T chili powder
1/2 t chipotle chili powder
3/4 t kosher salt, divided
1/2 t fresh cracked pepper
1 (10.75-oz) can condensed tomato soup
1 (14.5-oz) can diced tomatoes, undrained
1 (10-oz) can mild Rotel, undrained (*see NOTE)
1 (16-oz) can chili beans in medium sauce, undrained (*see NOTE)
1 (15-oz) can red kidney beans, drained and rinsed
garnish: fresh cilantro and shredded sharp cheddar cheese
In a large nonstick skillet over medium-high heat, brown the beef until no longer pink. Add the onions and 1/4 t salt and cook 4 minutes. Add the garlic and cook another minute or until onions are softened.
In a large saucepan, add the remaining ingredients including the remaining 1/2 t salt. Add the cooked meat and onion mixture and stir. Set heat to low, and simmer 1 hour on low heat. Serve topped with a little cilantro and shredded cheddar. Serves 8.
*NOTE: As written, this chili has medium heat, meaning a pretty good kick to it. If you want it milder, such as if kids are eating, use chili beans in MILD sauce. On the other hand, if you want a more fiery chili, use Original Rotel instead of mild.
~✿♥✿~