Baked Rigatoni with Grilled Summer Veggies
Baked pasta dishes are sheer comfort, aren't they? But they're also usually heavy and you don't see them much during the summer – at least not from my kitchen. So, I wanted to make a dish with that familiar feeling of comfort, but in summer veggie bliss 🙂
Baked Rigatoni with Grilled Summer Veggies
2 T olive oil
summer vegetables such bell peppers, onion, zucchini, yellow squash, eggplant – you want enough to end up with 4 cups chopped veggies
8 oz uncooked rigatoni (or ziti)
2 c (4 oz) shredded part-skim mozzarella cheese, divided
2 T chopped fresh basil
2 T chopped fresh oregano
1 t kosher salt, plus more to season the veggies
fresh cracked pepper
1/2 c (4 oz) part-skim ricotta cheese
1 large egg, lightly beaten
Heat grill to high heat.
Meanwhile, prepare the vegetables by cutting or slicing to grill. Brush or rub each with olive oil. Season with salt and pepper. It helps to skewer onion, if using, and the garlic so they don't fall between the grill grates.
Grill the veggies until scored and slightly softened, about 4-5 minutes per side. Remove from the grill. If using bell peppers, place the peppers in a ziploc bag for 5-10 minutes to steam, then remove the skins. Dice all the veggies to half-inch or bite-size pieces. Mince the garlic.
Preheat oven to 400F. Put a large pot of water to boil.
In a large bowl, combine the ricotta, 1 t salt, egg, basil, oregano, and 1 c mozzarella.
Cook the pasta according to package directions in heavily salted water to al dente; drain. Add to the ricotta mixture. Add the veggies and mix as well. Pour all of this into a 2-qt baking dish, and top with the remaining 1 c mozzarella. Bake at 400F for 15-20 minutes until browned and just bubbly. Serves 4-6.
~✿♥✿~
Random selection of veggies, yes. I even grabbed a purple bell pepper. But that's what recipes like this are for.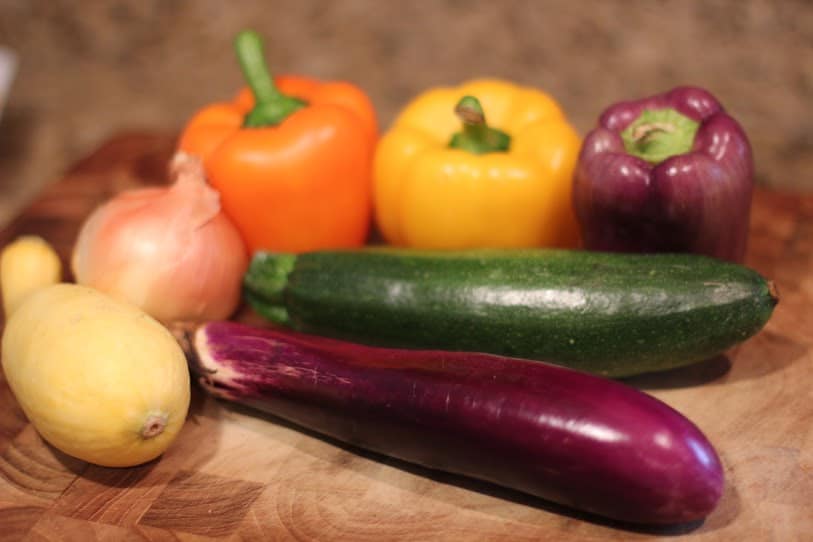 Fresh off the grill! The peppers subsequently went into a ziploc to steam the skins off…