This dinner recipe takes tried-and-true, florentine-style stuffed shells, and elevates them to a new high with fresh blue crab. Blue Crab Marinara with Stuffed Shells Florentine is elegant, but approachable and so straightforward to make.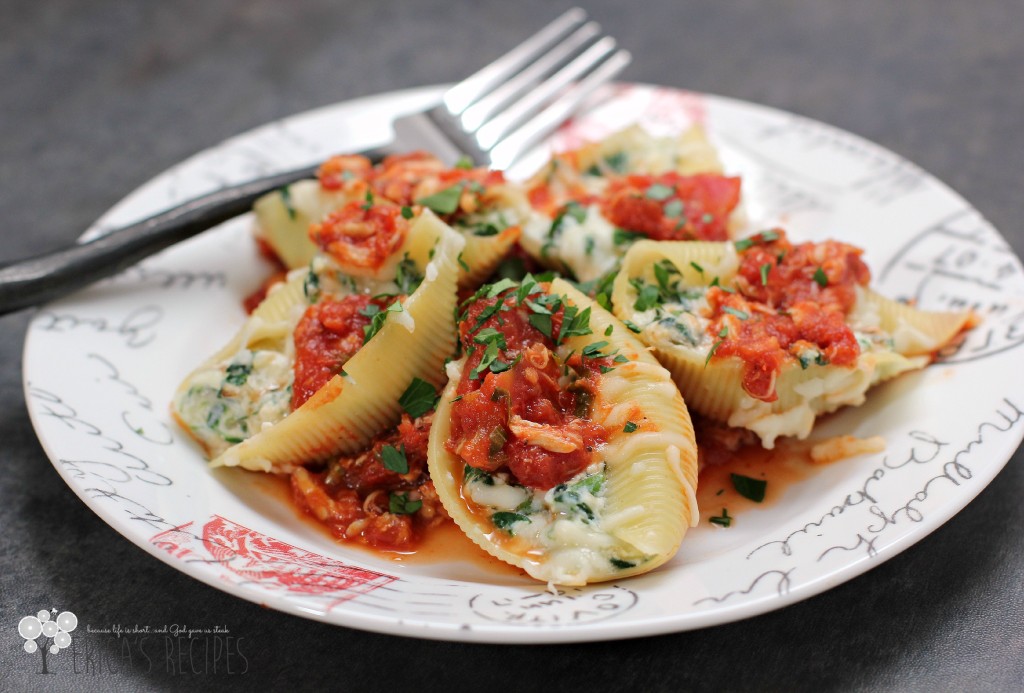 There are about a zillion ways to stuff pasta aren't there? ..So here's another! But in this recipe, we don't just have a great filling, I went a little crazy and added crab to the sauce. I know, CRAZY right?! You're thinking, "Woo! I never expected that!" Alright maybe you didn't think "woo", but this is exciting stuff, no? …Yes I am a dork.
So let me explain why I charted into such well-covered territory by stuffing shells. –Bachelors. I work with a lot of them and they eat out like ev-er-y night. And I have repeatedly heard from these guys about a local crab shack and their awesome crab marinara. I have never been to the restaurant, but crab marinara sounded pretty great. So I stole that idea and put it over stuffed shells!
This recipe was very easy to assemble and really really delicious. And like any stuffed pasta, the leftovers taste even better the next day.
Blue Crab Marinara with Stuffed Shells Florentine
2014-10-25 11:22:46
Ingredients
30 large pasta shells, uncooked
2 c Marinara
8 oz fresh lump crab, preferably Blue Crab
1 T extra virgin olive oil
1 medium yellow onion, diced
2 cloves garlic minced
5 oz fresh spinach leaves (~4 cups)
15 oz part-skim ricotta
1 egg, lightly beaten
1/4 c chopped Italian flat-leaf parsley
1/4 c chopped fresh basil
1 t kosher salt, plus more for the pasta water
1/4 t fresh cracked pepper
1/2 c fresh shredded Parmigiano-Reggiano
2 c mozzarella, divided
Instructions
Heat oven to 350F.
In a bowl, combine the marinara and crab. Set aside.
Bring a large pot of water to a boil. Add a handful of kosher salt and the pasta shells. Cook to al dente as package directions dictate. Drain and rinse quickly with cold water.
While pasta is cooking, heat a large, nonstick skillet on medium-high heat. Add the oil, onions, and garlic. Saute until the onions are translucent. Add the spinach and cook, tossing, until spinach is nice and wilty. Transfer the spinach mixture to a cutting board and chop finely.
In a medium bowl, combine the chopped spinach mixture, ricotta, egg, salt, parsley, basil,  pepper, parmesan, and 1 c mozzarella.
In a 9x13 baking dish, spread the crab marinara. One by one, take a pasta shell, spoon in a couple tablespoons of ricotta-spinach mixture, and place on the crab marinara in the baking dish. Cover baking dish with foil and bake at 350F for 30 minutes. Remove foil, top with remaining 1 cup mozzarella cheese, and bake another 5 minutes. Serves 6.
Erica's Recipes https://ericasrecipes.com/
~✿♥✿~