Sometimes you just want an obnoxiously good burger. And when you do, why not served up BBQ Bacon Double Cheeseburgers on Homemade Pretzel Buns.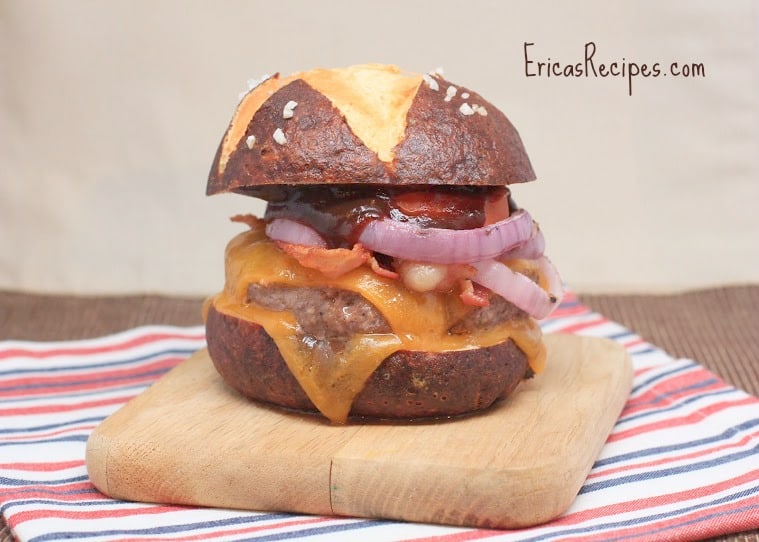 BBQ Bacon Double Cheeseburgers on Homemade Pretzel Buns
2014-11-04 21:20:40
Ingredients
1 batch Pretzel Bread, prepared to make 4 buns
1 red onion, sliced (don't separate the rings until after grilling)
1 lb lean ground beef
1/2 t kosher salt
1/4 t fresh cracked pepper
1 t McCormick Grill Mates Roasted Garlic and Herb seasoning
1 t McCormick Grill Mates Montreal Steak seasoning
couple sprinkles Worcestershire sauce
1 T half and half (*see Note)
8 slices bacon, cooked
8 slices sharp cheddar cheese
4 slices tomato
purchased BBQ sauce (I use Jack Daniels brand)
Instructions
Heat grill to high heat.
Put the beef, salt, pepper, Garlic and Herb seasoning, Montreal Steak seasoning, Worcestershire sauce, and half and half into a large bowl. Quickly stir using your fingers until just combined. Form 4 large, flat patties.
Spray the burgers and the onion slices on both sides with cooking spray. Grill the burgers to desired doneness (I do 3 minutes per side for medium-rare on my grill). Grill the onions as well.
To assemble the burgers, place the bottom half of a pretzel bun on the plate. Layer a slice of cheese, a burger, 2 slices bacon, a second piece of cheese, a tomato slice, then some bbq sauce. Finish with the top half of the bun. You can give it a quick zap in the microwave if you want the cheese melty. Serves 4.
Notes
I added the half and half to compensate for the fact that I was using 93% lean ground beef (that's what I found in my freezer). If I were using ground chuck or beef with more fat, I would omit the half and half.
Erica's Recipes https://ericasrecipes.com/
~✿♥✿~